More Time for Yourself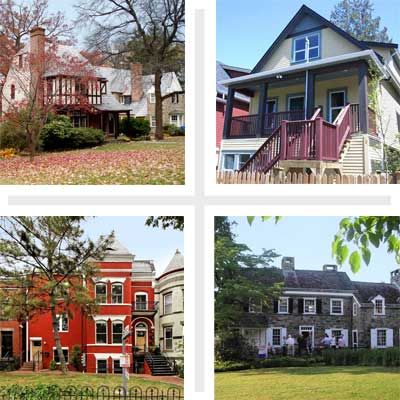 Tired of spending half the day in the confines of your car? These places are all located close enough to cities—sometimes within the cities themselves—and other employment centers to make that drive to work and back as quick and pleasant as possible. They're just a few of the 61 vibrant neighborhoods from coast to coast where you'll find one-of-a-kind period houses. Read on to see which ones are situated near desirable places of employment, or see all the neighborhoods and categories.
Merrimack Mill Village, Huntsville, Alabama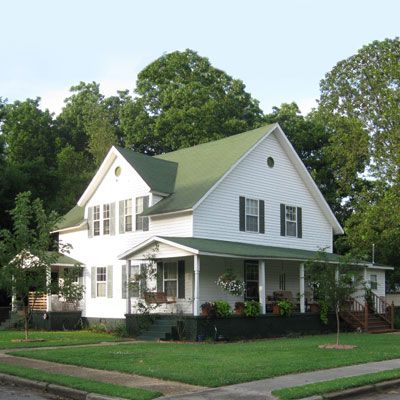 Jim Marek says the quiet streets and friendly vibe of Merrimack Mill Village remind him of the working-class neighborhood where he grew up, in Chicago. That's why he jumped at the chance to buy a well-built fixer-upper here, at a pretty great price. "If you're willing to invest the sweat equity, you can have a nice home," he says. As the center for propulsion research for NASA and the U.S. Army, Huntsville is nicknamed The Rocket City, but for much of the last century, cotton manufacturing was the focus of the local economy. At its peak production, in the mid-1950s, the Merrimack Mill employed about 1,500 people, out of a population of just 25,000. "It's remarkable how many lives this neighborhood touched over the years," Marek says.
The Houses
Merrimack Mill Village, with nearly 300 structures built for the mill's workers in the first half of the 20th century, was added to the National Register of Historic Places in 2010. Most of the houses are simple wood-frame cottages or side-by-side duplexes that can be converted into single-family homes. A one-story, 1,200-square-foot fixer-upper cottage starts at around $40,000. A 2,200-square-foot duplex costs around $80,000.
Why Buy Here?
Merrimack Mill Village is about a 10-minute drive from both downtown Huntsville and the Cummings Research Park, so commuting's a breeze. Aside from rockets, the medical and life-sciences industries are booming here, and new jobs are pouring into town. In 2009, Huntsville was named America's best city to live in by Kiplinger's magazine. It seems like rockets aren't the only thing taking off in Huntsville.
Among the best for: The South, Fixer-Uppers, Bargains, Easy Commute, American Heritage
Arapahoe Acres, Englewood, Colorado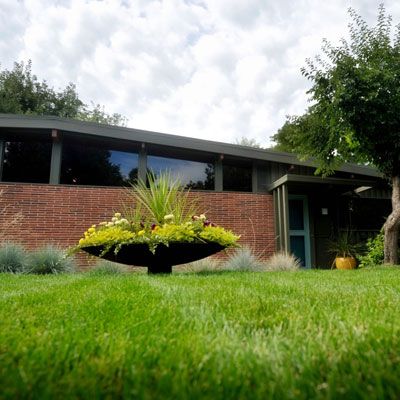 David Steers was surprised when his wife, Yvonne, came home from a long walk one day in 1999 and proclaimed she wanted to sell their Craftsman bungalow in Denver and move to Arapahoe Acres. But when he saw the 1955 mid-century modern she was talking about, he could see where she was coming from. "I had to admit, it was pretty cool," says David, who is now the proud owner of that very house. Arapahoe Acres was the brainchild of mid-century builder and home designer Edward B. Hawkins. Inspired by Frank Lloyd Wright, Hawkins was determined to build a neighborhood of custom houses featuring modern design elements. In 1949, he purchased 30 acres of land in Englewood and embarked on his dream. The first houses were designed by architect Eugene Sternberg, an advocate of two- and three-bedroom plans that, while incorporating high design, remained affordable. But Hawkins sought a more affluent market, and he parted ways with Sternberg to begin designing the larger, more elaborate houses he preferred.
The Houses
The neighborhood consists of 124 dwellings constructed between 1949 and 1957. Most are one- or two-story houses, with some split-level ranches, too. Many of the designs were inspired by Frank Lloyd Wright's Usonian style, with open floor plans, low-pitched roofs, and ample use of stone, wood, and brick, as well as wide banks of windows, and built-ins like desks and even sofas. Prices range from about $270,000 to $525,000.
Why Buy Here?
In 1998, the neighborhood became the first-ever post–World War II development to be placed on the National Register of Historic Places. The fact that it's a 20-minute drive to downtown Denver and has good public schools sweetens the pot.
Among the best for: The West, Easy Commute, Family Friendly, Walkability, American Heritage
Avondale Estates, Georgia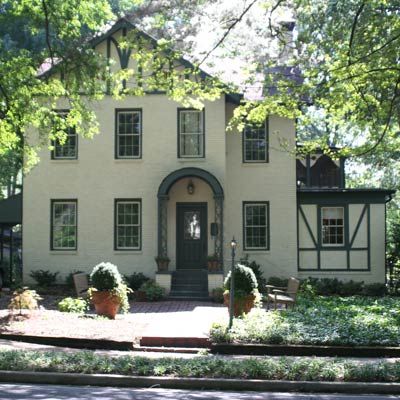 From the Tudor Revival commercial buildings downtown to its stone pathways and tennis club, Avondale Estates has the unmistakable feel of a storied English village. And that's no accident. After visiting Shakespeare's birthplace of Stratford-upon-Avon in the 1920s, founder George Francis Willis commissioned internationally known city planners, civic engineers, and landscape architects, including Philadelphia landscape architect Robert Cridland, to turn what was once a small farming community into a Peach State version of the Bard's hometown. Nowadays, this small city of about 3,000 draws new residents with its lush, undulating landscapes, pocket parks, and its centerpiece, Lake Avondale, which offers fishing and an enduring sense of tranquility.
The Houses
The English Tudor style predominates among the assortment of English Cottage, Dutch Colonial, Colonial Revival, and Craftsman homes. Most are from the 1920s, though there are several ranch-style houses that were built beginning in the 1950s. Look for thoughtfully crafted details including elaborate brick or stone work, decorative brackets, or red tile roofs. Fixer-uppers start at $120,000, while thoughtfully updated larger houses run from $200,000 to $500,000 to a high of $700,000.
Why Buy Here?
Despite its quaint village atmosphere, Avondale Estates is just a few minutes from downtown Atlanta, by car and two rapid-transit stations. The city's own downtown area is a quick walk and features many restaurants, pubs, and specialty shops owned by residents. Two high-performing charter schools draw families, and the spacious backyards and pocket parks appeal to kids and parents alike.
Among the best for: The South, Easy Commute, Fixer-Uppers, Small Towns, Family Friendly, Parks and Recreation, Walkability
Sandpoint, Idaho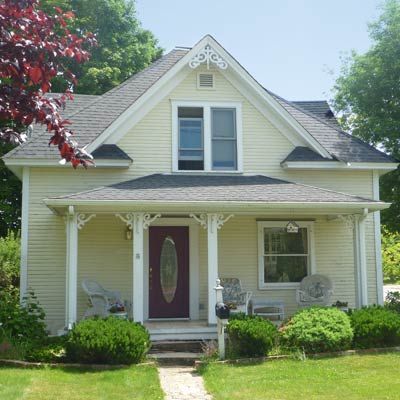 This little town of 8,500, nestled in the crook of Lake Pend Oreille, halfway between Coeur d'Alene and the Canadian border, gets more traffic than you'd think. "We're the hub of Bonner County, with two state highways," says Carrie Logan, who sits on the Sandpoint City Council. "And it's the only place in Idaho with passenger rail service." Good thing, since timbering gave way to tourism in the 1990s. The list of favorite activities among the town's locals and visitors alike is long: skiing, biking, hiking, sailing, volleyball, "and then there's 'Lost in the 50s,'" says Melissa Bethel, a planning assistant for the city. Picture 500 of the country's best-dressed 1950s-era street rods lined up, hoods popped, engines gleaming. The time warp, inaugurated in 1985, happens the third weekend in May every year.
The Houses
Queen Annes and Craftsman-style bungalows make up most of the homes built here in the early 20th century, when logging and mining were the main industries. Other styles include Dutch Colonial Revival and Tudor Revival. An 1,800-square-foot, three-bedroom abode goes for around $200,000, though some period houses can run up to $300,000.
Why Buy Here?
Clothing chain Coldwater Creek started here, as did Quest Aircraft. Perhaps it's the fresh air or the easy access to Schweitzer Mountain Resort, which had boasting rights to some of the most skiable conditions in the United States this winter, but entrepreneurs have found a happy home in Sandpoint. Retirees appreciate that major services—hospital, entertainment, shopping—are closely located; there's also a free bus system.
Among the best for: The West, Cottages and Bungalows, Victorians, Waterfront, Small Towns, Family Friendly, Easy Commute, Parks and Recreation, Retirees, Lots to Do
Beverly, Chicago, Illinois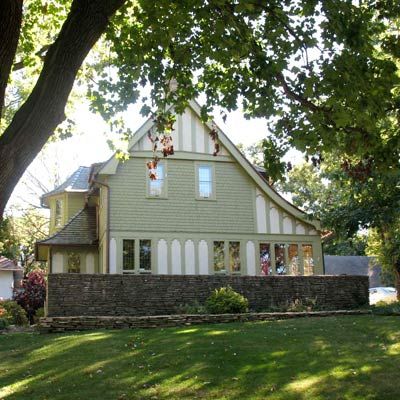 Not long ago, the Chicago Sun-Times called this hilly South Side Chicago neighborhood "Boomerang Beverly," referencing the number of kids who move away, try another place on for size, then move back to raise their own kids. It's easy to understand why. A neighborhood with safe streets, terrific schools, and seven Metra stations that'll transport you downtown in 30 minutes is nothing to sneeze at. "This is definitely the kind of place where people come to settle down and start a family," says Grace Kuikman, who's lived in a Chicago Bungalow here since 1979. Beverly is also a diverse community, though it leans strongly Irish-American, with its many Guinness-pouring pubs, a replica of an Irish castle, and an Irish film festival that runs each year at the Beverly Arts Center, a neighborhood centerpiece that also offers concerts, classes, and lectures.
The Houses
They range from $125,000 bungalows and brick Tudors to million-dollar mansions, many of which are located in the Ridge Historic District, so named for the glacially formed elevation on which some of its homes were built. Other styles include Victorian-era Italianate and Stick, as well as Prairie-style houses designed by Chicago's own Frank Lloyd Wright.
Why Buy Here?
Unlike most urban neighborhoods, Beverly boasts big yards, huge trees, and wide avenues. It recently received a new fire station and public library. Property values remain steady here, so it's a good bet to invest in this small village right inside the big city.
Among the best for: The Midwest, Family Friendly, Easy Commute, Walkability, Lots to Do, City Living, Cottages and Bungalows, Victorians
East Row Historic District, Newport, Kentucky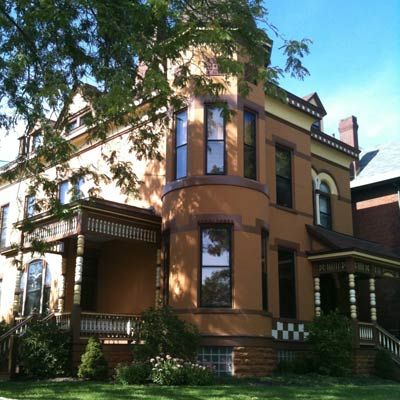 Across the Ohio River from downtown Cincinnati, the East Row Historic District was once home to late-19th-century riverboat captains and captains of industry, including brewers and bankers. When river-based industries declined, Newport took an alternative approach to diversifying its economy, as casinos, saloons, and houses of ill repute turned this into the Boardwalk Empire of the South. The 1980s saw an influx of architects, doctors, and young professionals restoring East Row residences that, despite being divided into apartments or boarding houses, retained many of their original details. These days, the neighborhood continues to draw Cincinnatians and fans throughout the region who appreciate its river-town beauty, entertainment district, and the beloved Newport Aquarium.
The Houses
Many of East Row's 1,100 houses were built by 19th- and early-20th-century German craftsmen who came to work in the breweries and trades of this region. Houses feature ornate metal cornices, stone windowsills, stained-glass windows, and the occasional turret. Since they were erected primarily in the Victorian era, Queen Anne, Second Empire, and Italianate styles predominate. While some homes are priced above the $300,000 mark, you can still get a more modest dwelling or fixer-upper for just over $100,000.
Why Buy Here?
Newport's entertainment district provides plenty of places to eat, hear music, or grab a drink. Cincinnati is easy to get to, thanks to a recently restored pedestrian bridge that allows you to walk or bike downtown for work, dining, or a Reds game.
Among the best for: The South, Bargains, Fixer-Uppers, Lots to Do, Easy Commute, Walkability, Waterfront, Victorians
St. Francisville, Louisiana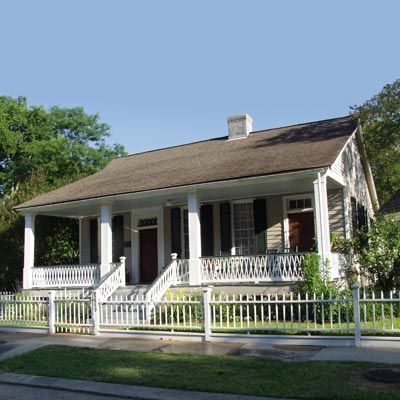 "This is sort of an unspoiled part of Louisiana," says Anne Butler, a seventh-generation St. Francisville resident who has written numerous books about the area. Claimed at various points in its history by the French, English, and Spanish, St. Francisville boasts not only ample amounts of history and culture but also a cherished landscape. In fact, naturalist John James Audubon spent several months here in 1821, painting more than 30 avian portraits for his book The Birds of America. Perched at the western edge of Louisiana hill country on a narrow ridge above the Mississippi River, St. Francisville was long known as the town that's "two miles long and two yards wide." Over the centuries this elevated position has saved it from the floodwaters that claimed the nearby town of Bayou Sara, a major port just down the river. St. Francisville residents take pride in caring for what has survived the trials of nature and man.
The Houses
St. Francisville has a mix of 19th-century Victorian-era cottages and townhouses, as well as plantation homes, which are located in the surrounding countryside. A number of them have come on the market recently and are being purchased by young families. "It's wonderful to see a new generation bringing with them a new vibrancy," says Butler. Older houses start out at about $175,000 and run into the millions for plantation houses.
Why Buy Here?
Only 30 minutes north of Baton Rouge, St. Francisville gives commuters and recent retirees alike a chance to enjoy daily life in a picturesque town while having access to everything a nearby big city offers. Excellent schools and a low crime rate don't hurt, either.
Among the best for: The South, Parks and Recreation, Family Friendly, Retirees, Cottages and Bungalows, Victorians, Easy Commute
Original Northwood, Baltimore, Maryland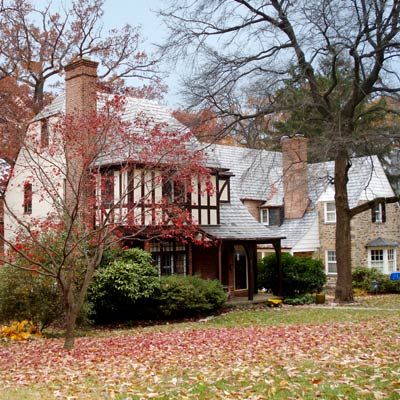 Once part of an 18th-century wooded estate, this North Baltimore neighborhood has never turned its back on nature. Developed in the 1930s as a planned community, its nearly 400 houses were built and sited to look as integral to this landscape as the centuries-old oak trees that surround them. Original Northwood (so named to distinguish it from newer developments in the nearby town of Northwood) was designed by the Roland Park Development Company, an affiliate of the Olmsted Brothers Landscape Architects, which came up with the plans for New York City's Central Park. The neighborhood adheres to the Olmstedian principles of following the contours of the land, retaining mature trees, and situating each house according to the characteristics of the lot. Because garages are detached and located in rear alleyways, there are no driveways, so front lawns run contiguously, broken only by walkways and the many ornamental specimen trees.
The Houses
The neighborhood is inspired by the English countryside, with most houses built in the English Colonial and English Tudor style. There are also duplexes and Tudor-style rowhouses. Most were erected between 1929 and 1937 and range in price from $175,000 to a high of $500,000. The neighborhood is listed on the National Register of Historic Places.
Why Buy Here?
Original Northwood is located 15 minutes from downtown Baltimore and about an hour from Washington, D.C., which is accessible by train. House prices here have dropped from their peak in 2007–2008, so now's the time to buy.
Among the best for: The Northeast, Easy Commute, City Living, Gardening, Walkability
Jamaica Plain, Boston, Massachusetts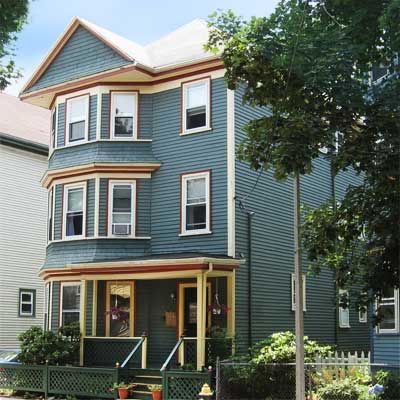 Sarah and William Curtis might hardly recognize the farmland they cleared along the Stony Brook River in 1639. Back then, the area now known as Jamaica Plain was located in the town of Roxbury and was largely a pastoral paradise dotted by family-owned farms. By the 1700s, new roads, including the Dedham Turnpike, led wealthy Bostonians, including Massachusetts governors John Hancock and Samuel Adams, to build estates here. By the time the railroad arrived, in 1834, Jamaica Plain was an affluent suburb. These days, the 4.4-square-mile area is known for its stellar housing, its thriving Latin Quarter, and its large population of artists, young professionals, and students from Northeastern University and other nearby colleges. It's also home to funky shops, amazing restaurants, and one of the oldest Irish pubs in all of Boston, Doyle's.
The Houses
Most date from 1840 to 1900, a time when railroads and streetcars first made it possible for commuters to live here. Styles include Greek Revival, Stick, Queen Anne, and Italianate. There's also an ample supply of Boston's legendary three-decker houses, which have been turned into condos, starting at around $199,000. Houses run from about $360,000 to the millions.
Why Buy Here?
Located 6 miles from downtown Boston, Jamaica Plain retains some of the bucolic atmosphere it enjoyed in Sarah and William Curtis's day. Bordered by the Arnold Arboretum, Jamaica Pond, and Franklin Park—all of which were designed in the late 1800s by Frederick Law Olmsted—it's known as the greenest neighborhood in Boston.
Among the best for: The Northeast, Lots to Do, Easy Commute, American Heritage, College Towns, Fixer-Uppers, City Living
Monroe, Michigan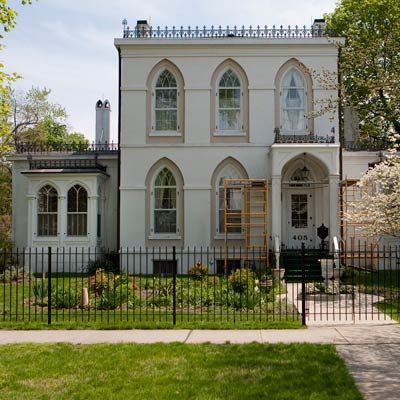 This city of about 20,000 residents on the banks of the Raisin River and Lake Erie has been a French settlement, a War of 1812 battlefield, and the adopted hometown of one George Armstrong Custer. Named for President Monroe, these days, it's largely known for its National Historic District downtown, which is packed with century-old Italianate buildings housing a variety of cafes, bookstores, bakeries, and apartments. The city is also on the music map, thanks to the annual jazz festival it hosts the second week of August, drawing upwards of 50,000 people. Dubbed the Floral City for its 19th-century nurseries, it continues to be heralded for its many gardens and shade trees.
The Houses
Monroe's oldest houses are found in the Old Village Plat, which is dominated by Victorian-era styles, including Queen Anne, Italianate, and the "Irish Gothic" house shown here. Later Revival-style houses from the early to mid 20th century can be found in the Hollywood Drive neighborhood. You can get a restored 19th-century Italianate in Monroe for $100,000 to around $170,000, and fixer-uppers sell for less than $80,000. Few homes cost more than $225,000.
Why Buy Here?
Monroe recently reclaimed a historic War of 1812 battlefield, which is now a full-fledged National Battlefield Park that's drawn thousands of tourists since its opening, in 2010. It also created a popular hiking and biking trail connecting the battlefield to both downtown Monroe and Sterling State Park, the largest state park in Michigan. Monroe is located about 40 miles from Detroit and Ann Arbor, so it's also an ideal spot for commuters.
Among the best for: The Midwest, American Heritage, Victorians, Parks and Recreation, Waterfront, Gardening, Easy Commute
Town Center Historic District, Yazoo City, Mississippi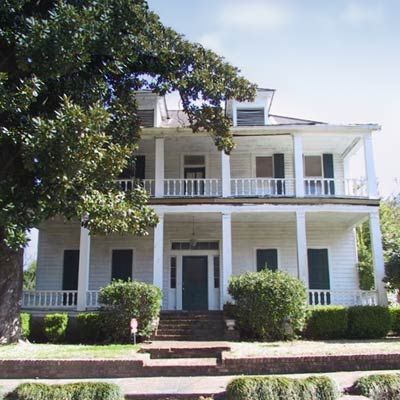 Named for the Native American tribe that lived near the mouth of the Yazoo River, Yazoo City knows a thing or two about survival. A yellow-fever epidemic decimated its population in 1853; the Union Army sacked it repeatedly during the Civil War; and a 1904 fire destroyed much of its downtown and over 100 residences on adjacent streets. Yazoo faced its most recent challenge in 2010, when two tornadoes ripped through the outskirts of town, destroying houses and damaging businesses. Through it all, this city of about 14,500 continues to move forward. Its downtown, rebuilt following the 1904 fire, is listed on the National Register of Historic Places. Known as the Town Center Historic District, its attractions include the new Downtown Marketplace, which boasts over 100 vendors, selling everything from artwork to casseroles, and Grace Hardware, a go-to spot for furniture custom-built by Mississippi craftsmen.
The Houses
Yazoo City has hundreds of 19th- and 20th-century examples of Queen Anne cottages, Greek Revivals, and Colonial Revivals, which range from $45,000 for a fixer-upper to around $250,000 for a restored Victorian-era house. A remodeled 4,818-square-foot center-hall Queen Anne was recently priced for $139,000.
Why Buy Here?
For anyone who's ever dreamed of living in (or retiring to) a small, convivial southern town, Yazoo City is a great option, says resident Dawn Rosenberg Davis. "Everyone still knows everyone here," she says. It's downright beautiful, too, whether looking toward the rolling hills to the east or the flat Mississippi Delta to the west. Yazoo City is also a 40-minute drive from Jackson, so it's also an easy commute.
Among the best for: The South, Victorians, Small Towns, Retirees, Fixer-Uppers, Cottages and Bungalows, Bargains, Easy Commute, American Heritage
Boulevards Historic District, Lincoln, Nebraska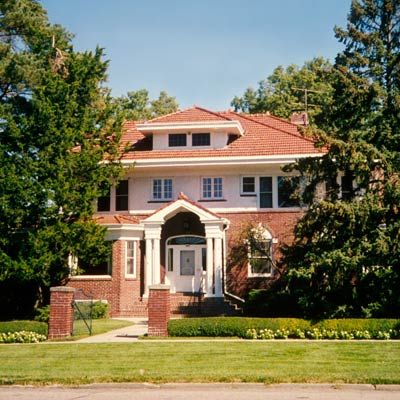 The Boulevards Historic District was the vision of brothers Frank, Mark, and George Woods, who developed 450 acres of land into a first-tier suburb in the early to mid 1900s. The brothers, who had made quite a bit of money in various endeavors, including selling tractors and starting a local phone company, constructed lavish, high-style houses of brick and stone along what is now Sheridan Boulevard for the town's most affluent residents. The Woods brothers also worked with various landscape architects to design meandering side streets lined with cottages and bungalows. Those streets eschewed the predictable grid system, hugging the natural landscapes into which they were set. The Boulevards encompasses about 1,250 houses and remains a much-sought-after location for today's upper- and middle-class families in this city of 250,000-plus residents.
The Houses
Those on Sheridan Boulevard, which remains the District's most prestigious address, are set far back from the street and include high-style examples of Tudor Revival, Greek Revival, and Colonial Revival houses. On the neighborhood's winding and woodsy outskirts you'll find more modest houses in the Craftsman, Cape Cod, and Mission Revival styles. Prices range from $160,000 for smaller houses to around $650,000.
Why Buy Here?
Unlike many first-tier suburbs, the Boulevards avoided periods of decline, with very few teardowns and mostly tasteful renovations. The neighborhood was recently placed on the National Register of Historic Places, giving residents an even greater sense of pride. Downtown Lincoln, home to the University of Nebraska, is just a few miles away.
Among the best for: The Midwest, Easy Commute, Family Friendly, Cottages and Bungalows, Walkability, College Towns, American Heritage, Lots to Do
Paradise Palms, Las Vegas, Nevada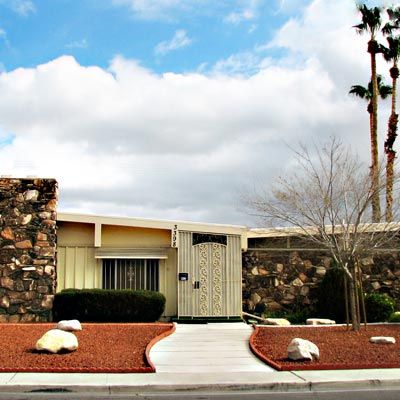 This subdivision of "futuristic" luxury housing, designed by the architectural firm of Palmer & Krisel, was the first planned residential community in Las Vegas. "They were 'Jetsons' houses," says Jack LeVine, a Realtor and mid-century-modern specialist. Today, entertainers, teachers, and professionals enjoy Paradise Palms' central location between Las Vegas's Boulevard indoor mall and National Golf Course, 2 1/2 miles from the Strip. "It was built starting in 1962. By Vegas standards, that's ancient," says Clay Heximer, a resident for two years.
The Houses
For $50,000, fans of the Desert Modern look can snag a 2,000-square-foot fixer-upper or, for $400,000, find a pristine vintage house on the golf course, though prices range between $80,000 and $150,000. "The most original are the most sought-after and retain their resale value the best," LeVine says. William Krisel, who, at 87, now consults on true restorations of his firm's houses, agrees: "People contact me to remove bad additions and reduce square footage, and it pays off." Some of the houses' single-level plans make them nice for retirees, too.
Why Buy Here?
Prices have hit bottom. The neighborhood fell to renters after 1985, when owners moved out for newer construction, and since 2008, Las Vegas has waged a citywide struggle to keep squatters and parts-strippers out of homes vacated due to foreclosures. Now the tide is turning back to owner-occupied properties. Neighbors organize monthly cocktail parties that segue into education sessions on mid-century modern. Plans are afoot to add a park. "We're taking care of graffiti and working hard to keep out crime," Heximer says. In Paradise Palms, it's a citizen-led response that signals a revitalized community.
Among the best for: The West, Bargains, Fixer-Uppers, City Living, Retirees, Lots to Do, First-Time Buyers, Easy Commute
Van Wyck Brooks Historic District, Plainfield, New Jersey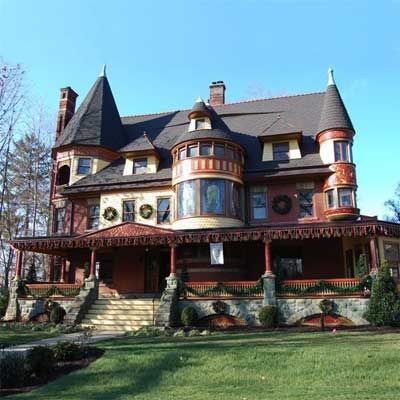 The residents of the Van Wyck Brooks neighborhood sure know how to entertain at home. From progressive dinners to black-tie parties to after-work cocktails, someone's always hosting something around here. But why wouldn't they want to show off their houses? Most were built by turn-of-the-century financiers and businessmen who migrated here following the establishment of railroad lines between Plainfield and New York City in the mid-1800s. They outfitted their suburban palaces with elaborate staircases, Citizen Kane–like oversize mantels, stained-glass windows, and millwork carved from exotic hardwoods. Named after Pulitzer Prize–winning writer Van Wyck Brooks, who grew up here, the entire neighborhood is listed on the National Register of Historic Places.
The Houses
The most exquisite are enormous Second Empire and Queen Anne homes with wraparound porches, turrets, and elegantly landscaped front yards. The neighborhood is also home to Shingle, American Foursquare, and Tudor Revival houses, among others. Prices for mansions can run into the millions, though smaller houses can be found for less than $200,000.
Why Buy Here?
Plainfield took a huge hit in the 1960s, when local social unrest led to the relocation of many residents and widespread disinvestment in the community. Today, the city is seeing an uptick of small, independently owned businesses as well as mainstream commercial development. An influx of young professionals making their homes in Van Wyck Brooks also signals a renaissance. Plainfield is about 30 miles from both Newark and New York City, and 74 miles from Philadelphia, so commuting is an option.
Among the best for: The Northeast, Fixer-Uppers, Gardening, First-Time Buyers, Easy Commute, Victorians, American Heritage
Ridgewood, Queens, New York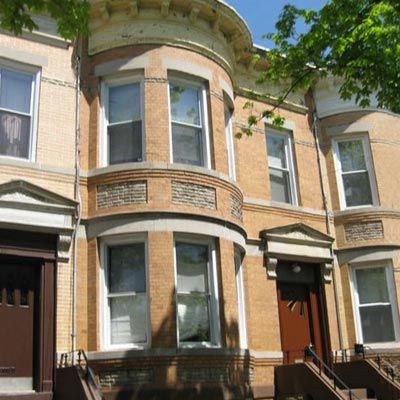 In high-priced cities like New York, savvy would-be buyers often seek out houses with a rental unit (or two) to help them foot the bill. These days, the savviest ones are turning their sights to Ridgewood, Queens, a 2-square-mile haven for two, three, and even four-family townhouses, located just east of the Brooklyn border. The traditionally working-class neighborhood was originally settled by the Dutch as a farming community, though most of its housing and commercial buildings were developed by early-20th-century German immigrants, who worked in the area's breweries and factories. Ridgewood is home to an enormous National Historic District encompassing some 2,980 houses and apartment buildings. Though the atmosphere is relaxed, it's not provincial. You can still get a perfect pirogie at a Polish deli, a top-notch chicken pad thai, or even an actual Manhattan at one of many restaurants, cafes, and bars here.
The Houses
The most prevalent housing style in the area is Romanesque Revival, seen in the bow-fronted, yellow-brick two- or three-family rowhouses built in the early 20th century by and for German immigrants employed at the city's breweries. A two-family house runs between $500,000 and $650,000, while a three-family will cost $550,000 to $750,000 and a four-family about $800,000.
Why Buy Here?
As prices soar in nearby Brooklyn neighborhoods, like Williamsburg and Greenpoint, houses in this safe, established neighborhood feel like a relative bargain. Ridgewood is served by two subway lines, which run to midtown Manhattan in 30 minutes or less.
Among the best for: The Northeast, City Living, Easy Commute, American Heritage, Walkability, Editors' Picks
Milton, North Carolina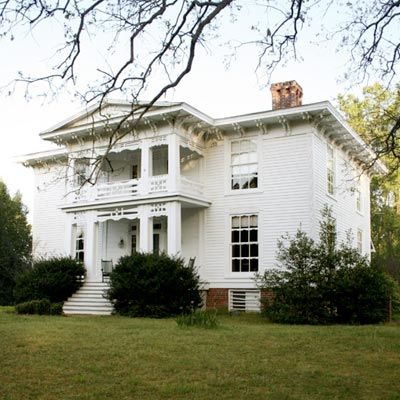 This quiet Piedmont-region village of around 130 people is near and dear to historic preservationists in the Tar Heel State. "I love Milton," says Cathleen Turner of Preservation North Carolina. "It's a great rural community that's filled with amazing architecture." Many houses have exquisite millwork provided by Thomas Day, a 19th-century African-American craftsman whose eye-catching work is found throughout the state. The town's buildings and houses are the result of the 19th-century prosperity fueled by the tobacco warehouses and factories stringing the nearby Dan River. Nowadays, descendents of families who have lived here more than a century coexist with newcomers, enjoying a bite together at Aunt Millie's Pizza & Suds or grabbing a cup of coffee at the Milton General Store.
The Houses
Greek Revival, Federal, and Victorian-era styles prevail. Recent listings include a circa 1859 Greek Revival that served as a bank during the Civil War (shown here). Listed at just $95,000, the house still retains its original bank offices, as well as its vault! Other houses range in price from $5,000 to $529,000 for the 1838 Woodside Richmond House, a 4,483-square-foot manor with five acres of land and an abundance of Thomas Day millwork.
Why Buy Here?
Milton is surrounded by Caswell County, a rolling landscape of working farms and dense forests. It's also just over an hour from North Carolina's Research Triangle, which makes commuting an option. If you choose to fix up an older house, part of your expenses may be covered by North Carolina's generous 30 percent historic-preservation tax credit.
Among the best for: The South, Fixer-Uppers, First-Time Buyers, Bargains, Easy Commute, Small Towns, Victorians, American Heritage
Peninsula, Ohio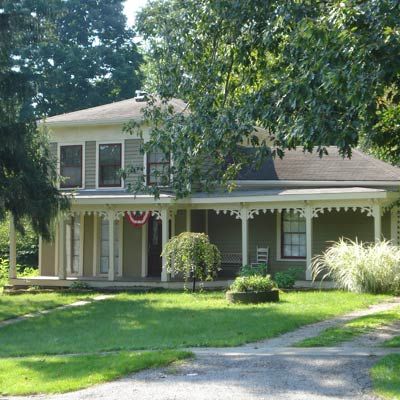 Jutting out into a sharp bend in the Cuyahoga River (hence its name), this spirited hamlet of just 600 people sits within the 30,000-acre Cuyahoga Valley National Park and offers enough shopping, dining, and recreational opportunities to keep locals, and the thousands of tourists who flock here each year, entertained. Founded as a settlement of the Connecticut Western Reserve in 1824, Peninsula became a vital port town with the completion of the Ohio and Erie Canal, in 1832, which opened the Buckeye State up to trade from the eastern U.S. While railroads rendered the canal superfluous by the early 1900s, Peninsula still thrives by celebrating its storied past, most notably its 19th-century Greek-Revival commercial buildings. Once home to saloons and hotels, they now house local businesses including a bike store, bookstore, and several antiques shops.
The Houses
The town boasts well-crafted Gothic Revivals, Queen Annes, and Italianate cottages dating from the mid-1800s to the early 1900s, as well as a few 1920s Sears Craftsman bungalows. Prices range from $85,000 for a small fixer-upper to $400,000 for a more exquisite historic house. Houses sell fast here, so if you're interested, it's wise to set up an email alert for available properties.
Why Buy Here?
Its close proximity to both Akron (just 10 minutes south) and Cleveland (30 minutes north) makes it a haven for commuters who are drawn to its outdoorsy amenities. Cuyahoga Valley National Park is home to hiking and biking trails and more than 100 ponds and lakes. Foodies will delight in the fact that the area is home to myriad farm stands and markets, and local parents rave about the area's excellent public schools.
Among the best for: Editors' Picks, The Midwest, Small Towns, Fixer-Uppers, Easy Commute, Family Friendly, Cottages and Bungalows, Parks and Recreation, Waterfront
West Chester, Pennsylvania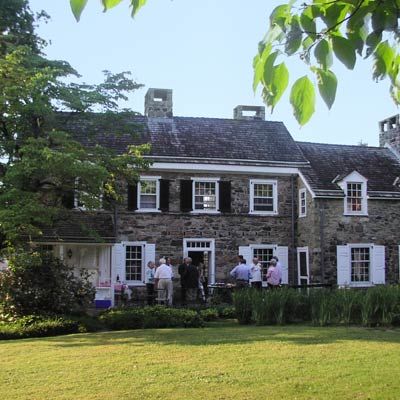 At just 1.8 square miles, West Chester hasn't grown an inch since Welsh Quakers established it, in 1799. Back then, the town was located at an intersection of roads leading to Philadelphia, Pottstown, Lancaster, and Wilmington, Delaware. This made it a popular resting spot for travelers, hence the many hotels, taverns, and shops here. In 1848, West Chester, by then the county seat of Chester County, saw the completion of a Greek Revival courthouse designed by Thomas U. Walter, who went on to design the dome and wings of the U.S. Capitol Building. Today, downtown is packed with 19th-century buildings housing clothing boutiques, art galleries, and restaurants, which serve this bustling community of 18,000.
The Houses
Both rowhouses and free-standing houses in the Queen Anne, Second Empire, and Italianate style predominate, though a few early colonials remain. Most are built of stone or brick during a turn-of-the-century building boom, the result of a railroad linking the town to Philadelphia and the emergence of several factories manufacturing farming equipment. Prices run from $70,000 into the millions. A three-bedroom, 1,200-square-foot townhouse circa 1900 was offered for around $219,000.
Why Buy Here?
West Chester has been ranked a "Distinctive Destination" by the National Trust for Historic Preservation, as well as a "walker's paradise" by WalkScore.com. The town serves as a bedroom community for commuters to Philadelphia, about 25 miles away, and, thanks to its proximity to Valley Forge and the Brandywine Battlefield Historic Site, it's also handy for heritage tourism.
Among the best for: The Northeast, Walkability, Easy Commute, American Heritage, Small Towns, Victorians
Park Circle, North Charleston, South Carolina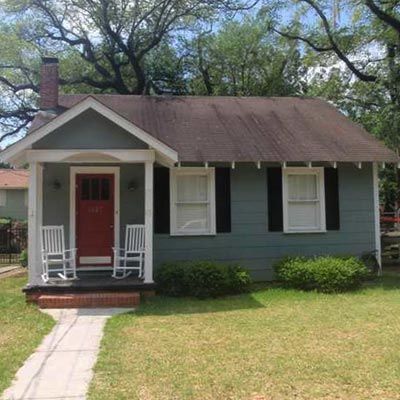 We all know about the historic and very pricey Greek Revivals and Italianates that line the avenues of downtown Charleston. But about 20 minutes north, in the Park Circle neighborhood of North Charleston, you'll find hundreds of lovingly crafted—albeit more modest and affordable—old houses surrounding a 30-plus-acre park filled with baseball fields, playgrounds, and a weekly farmer's market. The origins of Park Circle go back to 1912, when it was a working-class neighborhood for employees of North Charleston's many factories and a naval base. Closed in 1995, the base is now being transformed into breweries, waterfront parks, studio space, and offices.
The Houses
The houses were built mostly from the 1920s through the 1960s and include Craftsman bungalows, Colonial Revivals, and brick ranch-style houses. Fixer-uppers go for as little as $50,000; small bungalows for under $100,000. Larger, restored houses, like a 2,700-square-foot Dutch Colonial Revival, can command upwards of $300,000. Still, "one of the wonderful things about Park Circle is that, compared to downtown, it is still affordable—and there are plenty of houses left to restore," says Clem Arsenault, a real estate agent who moved here in 2005.
Why Buy Here?
With its affordable houses and plenty of restaurants and shops on Montague Avenue, its main commercial thoroughfare, Park Circle is popular among first-time homebuyers. A new elementary school and a performing arts school draw families with children. Since more of the former naval base's buildings are being converted to office space, this is a great place for anyone with a good business plan, too. "People here are all about supporting small, locally owned businesses," says resident Thea Anderson. "We have open arms—and open buildings."
Among the best for: The South, Waterfront, Lots to Do, Family Friendly, First-Time Buyers, Cottages and Bungalows, Easy Commute
Gonzales, Texas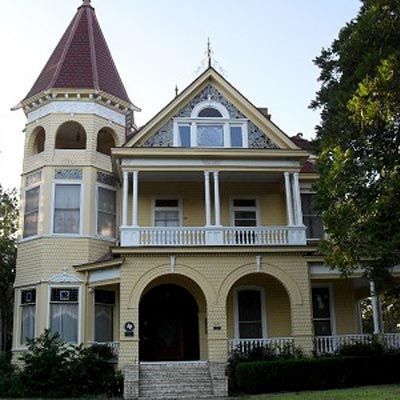 Local history buffs know Gonzales as "the Lexington of Texas," where the battle for the Lone Star State's independence got underway. It happened in 1835, when the settlement fought off a 100-man-strong Mexican army attempting to retrieve a cannon the Mexican government had given them to thwart Native American attacks. After a brief battle, the army left empty-handed—a failure that's re-enacted each October during the town's Come and Take It festival. But history isn't all that this town of 7,000 is concerned about. Gonzales's well-preserved downtown is popular for tourists, who love its bed-and-breakfasts, restaurants serving hearty local fare, and antiques shops. They also come to tour the Shiner Brewery, located in the nearby town of Shiner.
The Houses
Most were built near the turn of the century, when the city's cotton and cattle industries were booming thanks to the railroad, which allowed easier transport. They include elegant examples of Queen Anne, Tudor Revival, and Italianate houses and cottages, as well as Greek Revivals. Prices start at $60,000 for fixer-uppers and top out around $575,000.
Why Buy Here?
In the last 10 years, Gonzales has welcomed residents from larger cities who are looking to live in a small town within driving distance of jobs in Austin or San Antonio, an hour away. Michelle London and her husband, Mark, relocated from Chicago to manage two bed-and-breakfasts and have no regrets. "We're here less than a year, but we love it," says Michelle. Gonzales is close to state parks, lakes, and several golf courses, making it attractive to retirees as well.
Among the best for: The South, Small Towns, American Heritage, Walkability, Cottages and Bungalows, Fixer-Uppers, Easy Commute, Retirees, Bargains, Lots to Do, Parks and Recreation
Logan, Spokane, Washington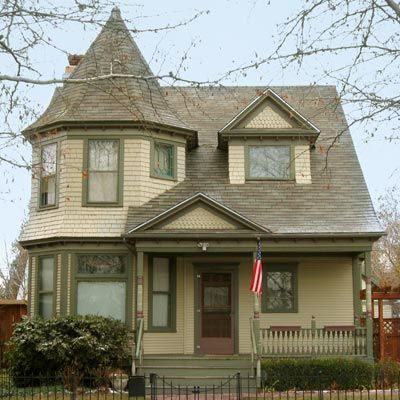 Historic preservation is serious business in Spokane, the largest city in eastern Washington, and even the experts are charmed by this neighborhood. "If I lived in Spokane, I'd have a house in Logan," says Kathryn Burk-Hise, who commutes to the city for her job as executive coordinator of Spokane Preservation Advocates. Flanked by Gonzaga University to the southwest and the Spokane River to the southeast, this little pocket first emerged in 1894 with 30 houses. It was imagined, then, to be the start of a Jesuit community. Today, it's not only a "Catholic hub" but also a community with nearby schools and hundreds of quaint single-family homes at affordable prices. "Streets are wide, tree canopies are big, and there are elementary schools," says Burk-Hise. "It's a great family neighborhood."
The Houses
Queen Annes, Tudor Revivals, and Craftsman bungalows built between 1900 and the 1930s pepper Logan's verdant streets. A well-kept 2,700-square-foot house near Mission Park recently sold for $189,900, though the average price in the area today is $87,000 for houses with original features, including leaded-glass windows and oak millwork. Dwellings that need some rehab go for as low as $50,000.
Why Buy Here?
Students and educators at the four colleges in the area have plenty of worthy distractions from academic pursuits. Locals can be found kayaking, fishing, and swimming in the summer, and it's hard not to be dazzled by the spectacular set of waterfalls that run right through town a few blocks from the southwest edge of Logan.
Among the best for: The West, Bargains, Fixer-Uppers, Cottages and Bungalows, Victorians, College Towns, Retirees, Family Friendly, First-Time Buyers, Easy Commute, Parks and Recreation, American Heritage
H Street NE, Washington, District of Columbia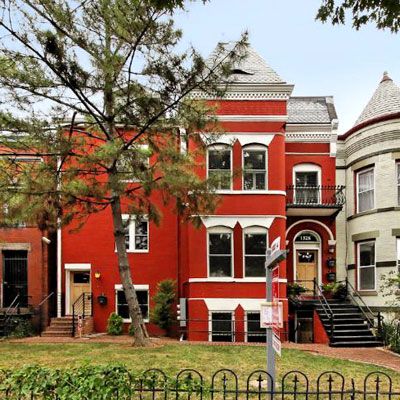 While it used to be one of D.C.'s most bustling commercial corridors, this historically African-American neighborhood, about a mile northeast of Union Station, was decimated during the 1968 riots following the assassination of Martin Luther King Jr. But after years of disinvestment, the renewed commitment to H Street is palpable as new business owners spruce up its formerly boarded-up storefronts, opening indie-music venues, bistros, and pubs serving boutique bourbons. Those trendy new businesses comingle with generations-old standbys, including Smokey's Barbershop & Oldies, one of just a few H Street businesses to survive the riots. Despite all the changes, the place remains vibrant and diverse, says Realtor Alix Myerson. "You see well-cared-for houses that have been in the same family for generations, as well as places that have recently been redone."
The Houses
The neighborhood is known for its two-story brick rowhouses in the Federal, Colonial Revival, and Queen Anne styles. Due to its growing popularity, home prices have nearly doubled in the past two years, now ranging from $300,000 to $800,000, depending on condition. That said, we recently found a 1905 Queen Anne rowhouse with original oak millwork for $299,000.
Why Buy Here?
H Street renewal is expected to continue, thanks to housing and commercial developments slated for the next few years. City leaders are optimistic that the completion of a new streetcar line, which will link H Street to downtown in 2013 will create even more interest. In 2006, a historic 1938 movie theater reopened as the Atlas Performing Arts Center, now a centerpiece of the neighborhood's arts district.
Among the best for: The Northeast, City Living, Lots to Do, Fixer-Uppers, Easy Commute, Walkability, American Heritage
Olde Walkerville, Windsor, Ontario, Canada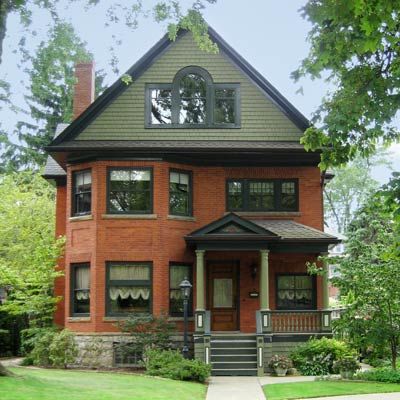 Olde Walkerville's spirited beginnings date to the 1850s, when Hiram Walker established the Canadian Club whisky distillery on several hundred acres of land on the Canadian side of the Detroit River. To house his workers, Walker surrounded his distillery with a company town inspired by the British garden-city movement—with wide streets, open spaces, and bountiful vegetation. The town was self-sustaining, with its own post office, schools, and a church. These days, Olde Walkerville remains a close-knit community, where it's not unusual to see neighbors helping one another with gardening projects. Walkerville's retail thoroughfare, Wyandotte Street, is planted with cafes, shops, and restaurants. And you can still smell the sweet scent of Mr. Walker's whisky in the air.
The Houses
Elegant houses of 3,500-plus square feet—built for company management—include Tudor Revivals, Edwardians, and Romanesque Revivals. More modest Arts and Crafts dwellings, constructed for Walker's laborers, are equally well preserved. Blocks of seemingly uniform rowhouses and semidetached houses are set off by decorative brickwork, varying parapets, and front or end gables. Prices range from $150,000 to as much as a million.
Why Buy Here?
A 15-acre park surrounding Willistead Manor and a small but thriving business area three blocks south make the 20-minute walk to Windsor's center almost unnecessary. And a revitalized commitment to self-sustainability and lots of green space assure that Olde Walkerville is a perfect place to enjoy nature's splendor, minus the suburban chore of driving everywhere. "The homes don't stay long on the market because there's not many gems like Walkerville anymore," says Chris Holt of the Walkerville Residents Association.
Among the best for: Canada, Family Friendly, Walkability, Gardening, Retirees, Lots to Do, Easy Commute
Wolseley, Winnipeg, Manitoba, Canada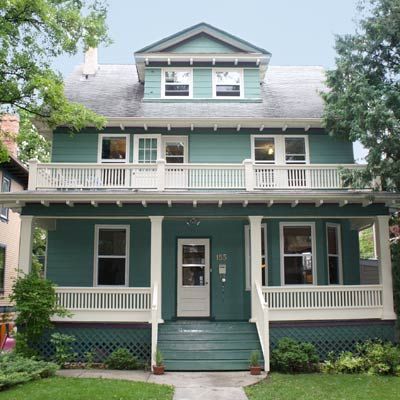 It's appropriate that part of current-day Wolseley was once a turn-of-the-century amusement park called Happyland. The suburban Winnipeg neighborhood that developed around and eventually devoured the financially strapped park seems to bring as much glee to today's residents as it did to yesterday's roller-coaster riders. Its quiet, verdant streets, lined with towering elm trees and well-lived-in houses, exude an air of tranquility. "It's hard not to love this place," says Todd Sykes, who grew up here and now owns a house just a few doors down from his parents'. He points out how everyday life here recalls a simpler time: During the long winters, shacks selling hot chocolate still pop up on the frozen Assiniboine River to serve ice skaters and hockey players, and local kids tear themselves away from their PlayStations to toboggan down the same hills he did when he was young.
The Houses
Most were built in the early 1900s and are largely Queen Annes and other Victorian-era styles. Prices range from about $150,000 to $700,000 (USD). Houses are interspersed with handsome pre–World War II apartment buildings, built for the city's teachers, nurses, and small-business owners—a combination that has always made this neighborhood economically diverse.
Why Buy Here?
Unlike other cities of similar size, Winnipeg has continued to experience strong economic growth thanks to a diversified economy, which includes manufacturing, agriculture, and the aerospace industry. While Wolseley is within walking distance of downtown Winnipeg and its many amenities, its own picturesque shopping district on Westminster Street is home to organic grocery shops, bookstores, and bakeries.
Among the best for: Canada, Victorians, Family Friendly, Parks and Recreation, Easy Commute, Editors' Picks
Strathcona, Vancouver, British Columbia, Canada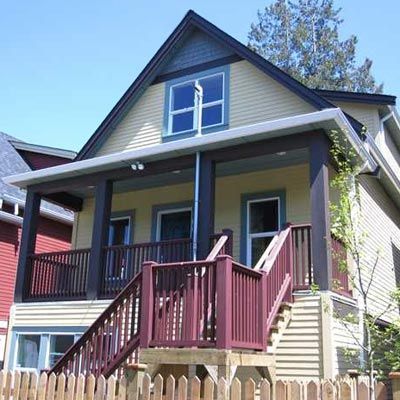 The oldest residential neighborhood in Vancouver, Strathcona developed in the late 19th and early 20th centuries just east of the city's original townsite, where an 1860s sawmill—then the city's main economic engine—was located on the Burrard Inlet and around which most of the city's first residents lived. Vancouver grew by leaps and bounds when the Canadian Pacific Railway made the city a terminus in 1887, turning it into a center of trade and industry. To meet rising demands for housing, the Vancouver Improvement Company developed the neighborhood of Strathcona, which soon became home to a diverse cross-section of residents, including Chinese, Italian, and African-Canadian families. These days, as many older residents relocate to smaller houses or assisted living, newcomers are buying, and beautifully restoring, its Victorian-era houses. "This is one of Vancouver's best neighborhoods," says local historian James Johnstone. "Its character and sense of identity set it apart from the rest of the city."
The Houses
Most are Queen Anne or Folk Victorians in either two-story or cottage styles. Many retain their wood clapboard exteriors. The neighborhood is relatively affordable for Vancouver, which has the highest housing costs in Canada. While restored Victorian cottages are now commanding up to $900,000 USD, and some houses are selling for more than a million, fixer-uppers can be had in the $720,000 range.
Why Buy Here?
The neighborhood is a few minutes from downtown Vancouver (pop. 600,000) and adjacent to Chinatown. Many houses have detached garages set along alleyways; thanks to new zoning laws, these can be converted into rental properties if desired.
Among the best for: Canada, Fixer-Uppers, City Living, Victorians, Cottages and Bungalows, Easy Commute, Waterfront
Summerside, Prince Edward Island, Canada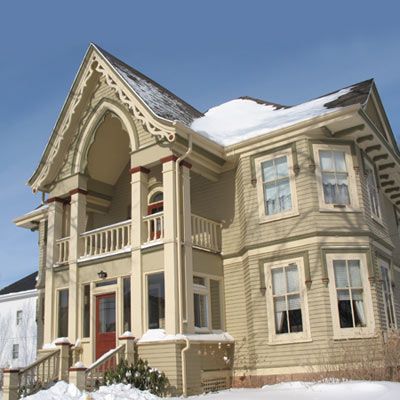 Situated on the Gulf of the St. Lawrence River, Summerside was an important seaport in the mid 19th century, following construction of a wharf and shipyard here. Once called Green Shores Bedeque, Summerside was renamed after an inn that was run by Joseph Green, youngest son of town settler Daniel Green. Today, abundant recreational facilities, including two arenas and community pools, welcome tourists and residents year-round. The Silver Fox Curling & Yacht Club and 15 green spaces exist harmoniously with sweeping waterfront views and more than 4 miles of boardwalk, along which residents can rent bicycles and kayaks. Spinnaker's Landing, an extension of the boardwalk, offers retail therapy, sailboat gazing, desserts at the Treat Shoppe, and a summer-long concert series called Harbourfest. The town's fishing and boating heritage are still preserved by yearly events, including its annual Lobster Carnival.
The Houses
While stately Queen Annes and Colonial Revivals are predominant in the residential northern end of Summerside, Gothic Revivals and Georgian Revivals can be found closer to the waterfront. The affordability of houses in Summerside contributes to high ownership rates. Smaller homes begin at just $130,000, while larger or more historic homes range from $200,000 to $400,000.
Why Buy Here?
Five minutes from downtown Summerside is an expanding aerospace and information-technology industrial park and a fully functional regional hospital, which are attracting more career-minded young people to this modest town of almost 15,000.
Among the best for: Canada, Waterfront, Bargains, First-Time Buyers, Parks and Recreation, Easy Commute, Retirees, Lots to Do