The Great White North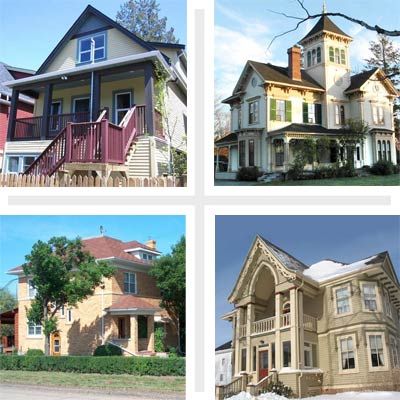 From the oldest residential neighborhood in British Columbia to a company town in Ontario developed for workers at the Canadian Club whisky distillery, our neighbor to the north has plenty in the way of character-filled places worth checking out. They're just a few of the 61 vibrant neighborhoods from coast to coast where you'll find one-of-a-kind period houses. Read on to see which ones provide the sort of lifestyle that will have you heading over the border, or see all the neighborhoods and categories.
Olde Walkerville, Windsor, Ontario, Canada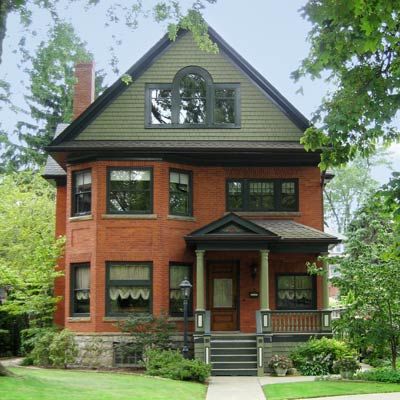 Olde Walkerville's spirited beginnings date to the 1850s, when Hiram Walker established the Canadian Club whisky distillery on several hundred acres of land on the Canadian side of the Detroit River. To house his workers, Walker surrounded his distillery with a company town inspired by the British garden-city movement—with wide streets, open spaces, and bountiful vegetation. The town was self-sustaining, with its own post office, schools, and a church. These days, Olde Walkerville remains a close-knit community, where it's not unusual to see neighbors helping one another with gardening projects. Walkerville's retail thoroughfare, Wyandotte Street, is planted with cafes, shops, and restaurants. And you can still smell the sweet scent of Mr. Walker's whisky in the air.
The Houses
Elegant houses of 3,500-plus square feet—built for company management—include Tudor Revivals, Edwardians, and Romanesque Revivals. More modest Arts and Crafts dwellings, constructed for Walker's laborers, are equally well preserved. Blocks of seemingly uniform rowhouses and semidetached houses are set off by decorative brickwork, varying parapets, and front or end gables. Prices range from $150,000 to as much as a million.
Why Buy Here?
A 15-acre park surrounding Willistead Manor and a small but thriving business area three blocks south make the 20-minute walk to Windsor's center almost unnecessary. And a revitalized commitment to self-sustainability and lots of green space assure that Olde Walkerville is a perfect place to enjoy nature's splendor, minus the suburban chore of driving everywhere. "The homes don't stay long on the market because there's not many gems like Walkerville anymore," says Chris Holt of the Walkerville Residents Association.
Among the best for: Canada, Family Friendly, Walkability, Gardening, Retirees, Lots to Do, Easy Commute
Stanstead, Quebec, Canada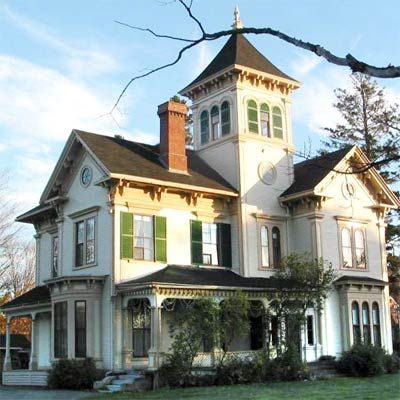 Once a backwater for smugglers and lawless New Englanders, this town on the Quebec-Vermont border bloomed in the 19th century as a business and transportation center due to large-scale quarrying of granite and its place as the last Canadian stop on the stagecoach that linked Quebec with Boston. In 1870, the stagecoach gave way to a railway, reinvented as a bicycle path today. Dufferin Street, which runs through Stanstead and into Derby Line, Vermont, is hailed by locals as an open-air museum that features three large churches and massive two- and three-story Victorian-era homes. "We have lots of examples that are half in Canada, half in the United States," says Troy Winter of ReMax Realty. Residents show their community spirit with an outdoor Christmas bazaar, holiday decorating contest, winter fun day in Beebe Memorial Park, and—new this year—a haunted hockey arena at Halloween. Each summer, the approximately 3,000 citizens (and their American neighbors) celebrate culture and history at Border Fest, enjoying a parade, music, foods of the region, and family-style "firemen" races.
The Houses
Queen Annes and foursquares predominate. Large Victorian-era homes run from $300,00 to $350,000, but come with a whopping 12 to 15 rooms, suitable for big families. Smaller but equally gracious foursquares go for $180,000 to $250,000.
Why Buy Here?
Its location at the U.S. border and proximity to Autoroute 55 make it easy to travel near and far. The Haskell Free Library and Opera House, constructed between 1901 and 1904 deliberately at the convergence of the two border towns, is still accessible from either side without passing through customs. Sports fans appreciate L'Arena Pat Burns, a state-of-the-art arena named for the legendary NHL coach.
Among the best for: Canada, Family Friendly, First-Time Buyers, Victorians, Cottages and Bungalows, Lots to Do, Small Towns, Parks and Recreation
Annapolis Royal, Nova Scotia, Canada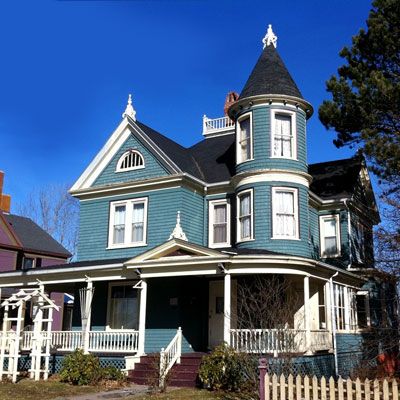 Located at the junction of the Annapolis and Allain Rivers, Annapolis Royal is a waterfront community of just under 500 residents, many of them artists, writers, or retirees. The town is proud to be one of North America's oldest continuous European settlements. It was founded as a French colony in 1605 and eventually served as the capital of Acadia (later Nova Scotia) until 1710, when it became the capitol of British Nova Scotia. Later, the town became home to merchants, commercial fisherman, and sea captains who built elegant houses along St. George Street. Today, the waterfront is populated with shops and art galleries, as well as the Historic Gardens, a 17-acre horticultural wonderland that tells the story of Nova Scotia through the gardens and crops planted here over the centuries.
The Houses
While a few examples of late-18th-century architecture survive, most houses and commercial buildings here were built by late-19th- and early-20th-century residents who made their fortunes in commercial fishing and other seafaring industries. Styles include Queen Anne, Second Empire, Folk Victorian, Gothic Revival, and Georgian Revival. Prices range from about $115,000 to $400,000 USD.
Why Buy Here?
Because of its fine 18th-, 19th- and early-20th-century architecture, most of Annapolis Royal is listed as a Canadian National Historic District. While fishing is still big, its scenic beauty and small-town atmosphere make Annapolis Royal a draw for those who work from home, as well as retirees, who love the fact that shops, groceries, a theater, and a hospital are all within walking distance on St. George Street.
Among the best for: Canada, Waterfront, Retirees, Victorians, Walkability, Lots to Do, Gardening, Family Friendly
St. Martins, New Brunswick, Canada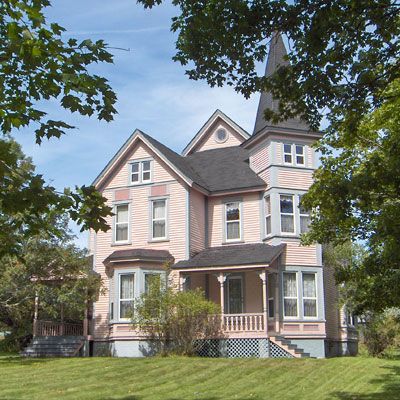 Summer vacationers flock to this tiny village for its rugged beauty, and some love it so much they stay. "It's a healthy place to be," says Jacqueline Bartlett, who retired to St. Martins from Toronto with her husband in 2005. Locals don't mind trading urban convenience for gorgeous views of the Bay of Fundy along the southern coast of the province, 110 miles from the Maine border. "We came for the good, fresh air and healthy water. I have my own chickens and food from the garden—and I'm a city person." The remote town comes alive as a tourist mecca during the summer, but only about 400 of New Brunswick's heartiest stick it out year-round. "Most go south for the winter," says local museum curator Barbara McIntyre, with a friendly chuckle.
The Houses
Prosperous sea captains built most of the homes in the area in the early 19th century. Inspired by architecture from as far away as France, Spain, Malaysia, and China, the houses weave elements of what locals saw abroad with Gothic Revival, Italianate, and Queen Anne styles. Expect a bay view, an acre or more of land, and a sturdy, storied structure to set you back about $110,000 to $250,000.
Why Buy Here?
All roads to the entrance of the famed Fundy Trail Parkway lead through St. Martins. This 10-mile multiuse coastal trail is undergoing its second phase of development. Once completed, it will connect to the trans-Canadian network, creating hundreds of new year-round jobs in the area and also giving the town an even bigger tourism boost.
Among the best for: Canada, Small Towns, Waterfront, Parks and Recreation, Cottages and Bungalows, Bargains, Walkability, Victorians
Wolseley, Winnipeg, Manitoba, Canada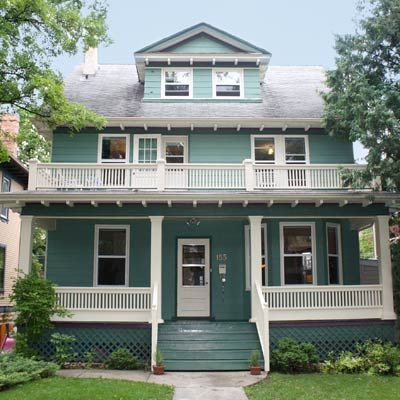 It's appropriate that part of current-day Wolseley was once a turn-of-the-century amusement park called Happyland. The suburban Winnipeg neighborhood that developed around and eventually devoured the financially strapped park seems to bring as much glee to today's residents as it did to yesterday's roller-coaster riders. Its quiet, verdant streets, lined with towering elm trees and well-lived-in houses, exude an air of tranquility. "It's hard not to love this place," says Todd Sykes, who grew up here and now owns a house just a few doors down from his parents'. He points out how everyday life here recalls a simpler time: During the long winters, shacks selling hot chocolate still pop up on the frozen Assiniboine River to serve ice skaters and hockey players, and local kids tear themselves away from their PlayStations to toboggan down the same hills he did when he was young.
The Houses
Most were built in the early 1900s and are largely Queen Annes and other Victorian-era styles. Prices range from about $150,000 to $700,000 (USD). Houses are interspersed with handsome pre–World War II apartment buildings, built for the city's teachers, nurses, and small-business owners—a combination that has always made this neighborhood economically diverse.
Why Buy Here?
Unlike other cities of similar size, Winnipeg has continued to experience strong economic growth thanks to a diversified economy, which includes manufacturing, agriculture, and the aerospace industry. While Wolseley is within walking distance of downtown Winnipeg and its many amenities, its own picturesque shopping district on Westminster Street is home to organic grocery shops, bookstores, and bakeries.
Among the best for: Canada, Victorians, Family Friendly, Parks and Recreation, Easy Commute, Editors' Picks
Strathcona, Vancouver, British Columbia, Canada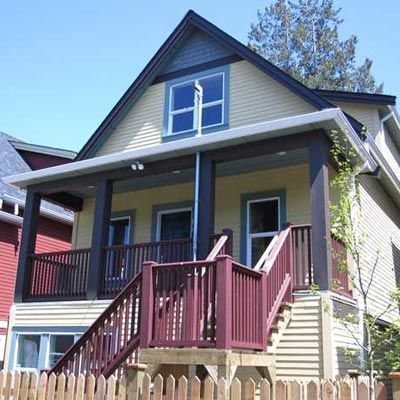 The oldest residential neighborhood in Vancouver, Strathcona developed in the late 19th and early 20th centuries just east of the city's original townsite, where an 1860s sawmill—then the city's main economic engine—was located on the Burrard Inlet and around which most of the city's first residents lived. Vancouver grew by leaps and bounds when the Canadian Pacific Railway made the city a terminus in 1887, turning it into a center of trade and industry. To meet rising demands for housing, the Vancouver Improvement Company developed the neighborhood of Strathcona, which soon became home to a diverse cross-section of residents, including Chinese, Italian, and African-Canadian families. These days, as many older residents relocate to smaller houses or assisted living, newcomers are buying, and beautifully restoring, its Victorian-era houses. "This is one of Vancouver's best neighborhoods," says local historian James Johnstone. "Its character and sense of identity set it apart from the rest of the city."
The Houses
Most are Queen Anne or Folk Victorians in either two-story or cottage styles. Many retain their wood clapboard exteriors. The neighborhood is relatively affordable for Vancouver, which has the highest housing costs in Canada. While restored Victorian cottages are now commanding up to $900,000 USD, and some houses are selling for more than a million, fixer-uppers can be had in the $720,000 range.
Why Buy Here?
The neighborhood is a few minutes from downtown Vancouver (pop. 600,000) and adjacent to Chinatown. Many houses have detached garages set along alleyways; thanks to new zoning laws, these can be converted into rental properties if desired.
Among the best for: Canada, Fixer-Uppers, City Living, Victorians, Cottages and Bungalows, Easy Commute, Waterfront
Summerside, Prince Edward Island, Canada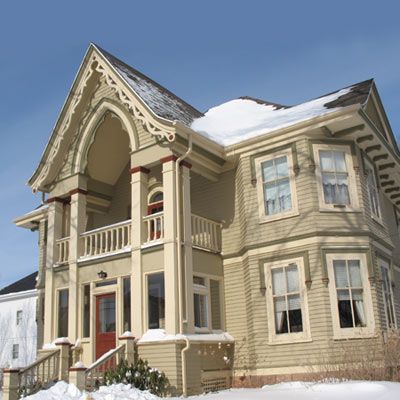 Situated on the Gulf of the St. Lawrence River, Summerside was an important seaport in the mid 19th century, following construction of a wharf and shipyard here. Once called Green Shores Bedeque, Summerside was renamed after an inn that was run by Joseph Green, youngest son of town settler Daniel Green. Today, abundant recreational facilities, including two arenas and community pools, welcome tourists and residents year-round. The Silver Fox Curling & Yacht Club and 15 green spaces exist harmoniously with sweeping waterfront views and more than 4 miles of boardwalk, along which residents can rent bicycles and kayaks. Spinnaker's Landing, an extension of the boardwalk, offers retail therapy, sailboat gazing, desserts at the Treat Shoppe, and a summer-long concert series called Harbourfest. The town's fishing and boating heritage are still preserved by yearly events, including its annual Lobster Carnival.
The Houses
While stately Queen Annes and Colonial Revivals are predominant in the residential northern end of Summerside, Gothic Revivals and Georgian Revivals can be found closer to the waterfront. The affordability of houses in Summerside contributes to high ownership rates. Smaller homes begin at just $130,000, while larger or more historic homes range from $200,000 to $400,000.
Why Buy Here?
Five minutes from downtown Summerside is an expanding aerospace and information-technology industrial park and a fully functional regional hospital, which are attracting more career-minded young people to this modest town of almost 15,000.
Among the best for: Canada, Waterfront, Bargains, First-Time Buyers, Parks and Recreation, Easy Commute, Retirees, Lots to Do
Gravelbourg, Saskatchewan, Canada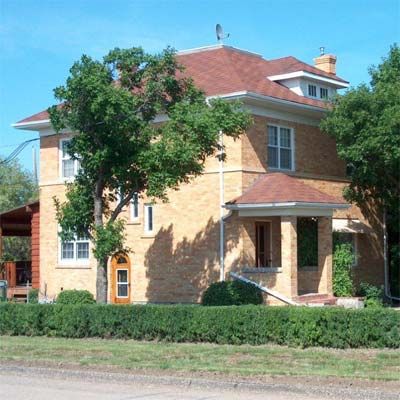 Celebrated for its preservation of Francophone traditions that stretch back to its 1906 founding by Roman Catholic priests, Gravelbourg is considered the "cultural gem of Saskatchewan." A religious complex—comprising a cathedral, a bishop's residence, and the Convent of Jesus and Mary—together with brick sidewalks and a growing business district on Main Street marry antiquity with modernity. Residents can grab lunch at contemporary bistro Cafe de Paris or dig around in Styles, a gardening and kitchen store. "You're enjoying a small town, but you still have urban amenities," said Carlene Wallington, the town's Economic Development Officer. French and English immersion programs are available at every stage of education. College Mathieu offers secondary French education supported by Centre Culturel Maillard, which devotes itself to the preservation of French language and culture. The Summer Solstice Festival celebrates music, literature, and the performing arts.
The Houses
Gravelbourg's early-20th-century homes are in the style of Early Classical Revival, Colonial Revival, and French Eclectic. The more modest heritage homes range from $80,000 to $100,000 USD, while Gravelbourg's original pioneer homes sell for $200,000 and up.
Why Buy Here?
If the cultural offerings, northern lights, and prairie sunsets aren't enough, the city of Moose Jaw, offering art galleries and the Temple Gardens Mineral Spa, and the U.S. border are an hour away. Nearby Thomson Lake Regional Park and Shamrock Park provide opportunities for camping, fishing, and golfing.
Among the best for: Canada, Bargains, Retirees, Walkability, Fixer-Uppers, Lots to Do, Parks and Recreation
The Highlands, Edmonton, Alberta, Canada
Named in a contest that awarded the winner $50 in gold, The Highlands was developed by the McGrath-Holgate Real Estate Company in 1910 as an "upper crust" community overlooking the North Saskatchewan River Valley on the northeast edge of Edmonton. The company's rapid construction of luxurious houses came to an unfortunate end in 1913, when an economic recession caused the real-estate market here to bottom out. In the next 30 years, the Highlands developed piecemeal, with flurries of smaller houses built following World War I and again in the 1940s, following the expansion of oil pipelines from here to the United States. These days, residents enjoy an abundance of activities offered by the Highlands Community League, including sports programs, as well as bridge, gardening, and craft clubs.
The Houses
Houses in Craftsman, foursquare, and various Arts and Crafts styles can be had for $275,000 to $350,000. Classical Revival houses (as well as larger Craftsmans and foursquares) are priced in the millions.
Why Buy Here?
The multiphase development of The Highlands means the streets here are lined with dwellings representing a wealth of 20th-century housing styles. Says Johanne Yakula, of From Times Past Antiques and Interiors, "These homes are real pieces of history, standing side by side." The upcoming conversion of writer and philosopher Marshall McLuhan's childhood home into a visiting academics and writers' center will add another landmark to what is already a culturally enriched community.
Among the best for: Canada, Cottages and Bungalows, Walkability, Gardening, Lots to Do
Rabbittown, St. John's, Newfoundland and Labrador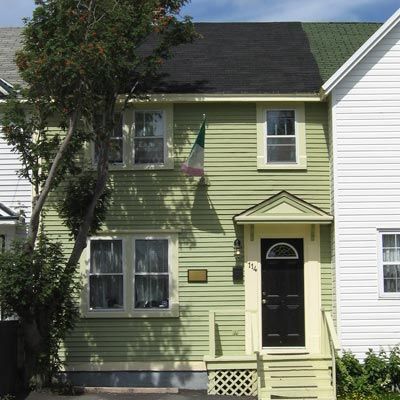 Named for the surplus of rabbits that were once hunted here, this formerly wooded landscape, located high on a hillside above downtown St. John's, was a working-class neighborhood. Here, fishermen and factory workers raised families in houses built during St. John's growth spurt following World War I—a result of a growing fishing industry and the establishment of several American military bases. Affordably priced today, Rabbittown's houses now attract young families, artists, and students attending the Memorial University of Newfoundland, a few blocks away. Two grocery stores and several mom-and-pop-style diners contribute to the convenience as well as the character of the place. "This is, by and large, a neighborhood in transition," says George Chalker, executive director of the Heritage Foundation of Newfoundland and Labrador. "Young professionals are moving here, removing the old vinyl siding from the houses, and replacing them with more traditional wooden clapboards."
The Houses
Most are small one- or two-story cottages, with the occasional rowhouse, built between 1920 and 1950. Over the years, insensitive renovations have left their legacy, but industrious residents are restoring newly acquired houses to their original condition. Prices start at around $180,000 USD.
Why Buy Here?
Memorial University provides locals with plenty of cultural and sporting events. The neighborhood is also home to the Rabbittown Theatre Company, a destination for modern and classical theatrical productions. The city's waterfront location provides plenty of opportunities for boating, and some whale watching, too.
Among the best for: Canada, College Towns, First-Time Buyers, City Living, Lots to Do, Fixer-Uppers, Waterfront