Making a Splash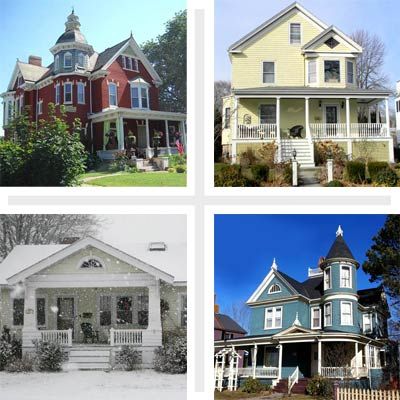 If proximity to water is a driving force in your home search, these are the towns for you. Inspiring views of sandy beaches, peaceful lakes, or meandering rivers are among the primary benefits of living in these picturesque places. They're just a few of the 61 vibrant neighborhoods from coast to coast where you'll find one-of-a-kind period houses. Read on to see which ones have the best access to beaches and boats, or see all the neighborhoods and categories.
Old Northeast, St. Petersburg, Florida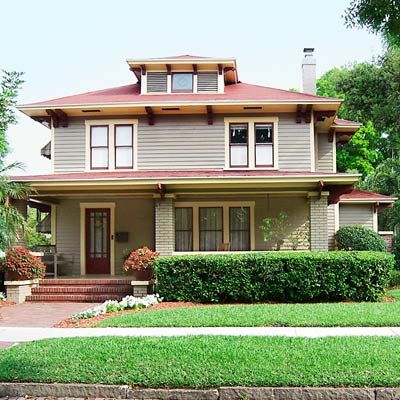 Boasting an eclectic mix of traditional house styles, Old Northeast is set amid the kind of lush, tropical landscape that put the Sunshine State on the map. Once farmland, the area was developed in 1911 as St. Petersburg's first neighborhood and is now listed on the National Register of Historic Places. Outdoorsy types love its waterfront parks and miles of hiking and biking trails along the Tampa Bay and the Coffeepot Bayou, while culture mavens take in concerts and art shows at the historic Palladium Theater, among other venues. There are plenty of shops and restaurants within walking distance, and events like an annual Easter-egg hunt, Independence Day parade, and street closings for Halloween trick-or-treating attract throngs of local families.
The Houses
Along the bay and the bayou are grand mansions built during Florida's land boom of the 1920s. More-modest houses, interspersed with apartment buildings, populate the tree-lined, red-brick streets. Styles include Craftsman, Mediterranean Revival, and Italian Renaissance, with prices ranging from $90,000 to $400,000.
Why Buy Here?
The 2011 opening of the new Salvador Dali Museum and the restoration of the landmark 1925 Vinoy Hotel, where locals often stop to enjoy an iced tea on the veranda, have brought cachet and tourist dollars to the area. Many think the exposure will drive up interest—and property values—in this charming neighborhood.
Among the best for: The South, Waterfront, Family Friendly, Gardening, Parks and Recreation, Lots to Do, American Heritage, Cottages and Bungalows, Editors' Picks
Sandpoint, Idaho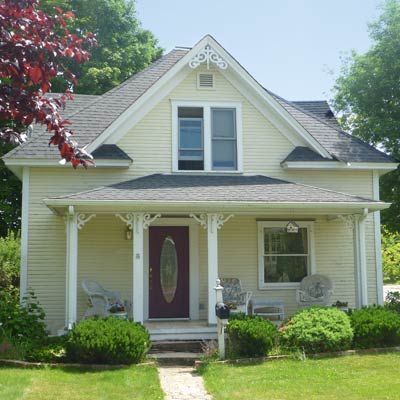 This little town of 8,500, nestled in the crook of Lake Pend Oreille, halfway between Coeur d'Alene and the Canadian border, gets more traffic than you'd think. "We're the hub of Bonner County, with two state highways," says Carrie Logan, who sits on the Sandpoint City Council. "And it's the only place in Idaho with passenger rail service." Good thing, since timbering gave way to tourism in the 1990s. The list of favorite activities among the town's locals and visitors alike is long: skiing, biking, hiking, sailing, volleyball, "and then there's 'Lost in the 50s,'" says Melissa Bethel, a planning assistant for the city. Picture 500 of the country's best-dressed 1950s-era street rods lined up, hoods popped, engines gleaming. The time warp, inaugurated in 1985, happens the third weekend in May every year.
The Houses
Queen Annes and Craftsman-style bungalows make up most of the homes built here in the early 20th century, when logging and mining were the main industries. Other styles include Dutch Colonial Revival and Tudor Revival. An 1,800-square-foot, three-bedroom abode goes for around $200,000, though some period houses can run up to $300,000.
Why Buy Here?
Clothing chain Coldwater Creek started here, as did Quest Aircraft. Perhaps it's the fresh air or the easy access to Schweitzer Mountain Resort, which had boasting rights to some of the most skiable conditions in the United States this winter, but entrepreneurs have found a happy home in Sandpoint. Retirees appreciate that major services—hospital, entertainment, shopping—are closely located; there's also a free bus system.
Among the best for: The West, Cottages and Bungalows, Victorians, Waterfront, Small Towns, Family Friendly, Easy Commute, Parks and Recreation, Retirees, Lots to Do
Lansing, Iowa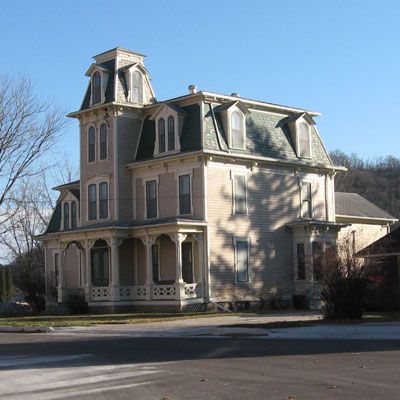 Settled in 1848 by Lansing, Michigan, native William Garrison, Lansing, Iowa, was once a prosperous town that flourished during the golden age of riverboat travel and was home to many a grain and lumber mill. Located on a series of bluffs on the Mississippi River, Lansing is now a popular stop-off point for recreational boaters, who hit the shore to enjoy the restaurants and bars on Main Street. Lansing also retains enough businesses to keep its thousand or so residents happy, including two hardware stores, a doctor's office, grocery store, and Horsfall's variety store, a ramshackle general-store throwback that stocks everything from undergarments to circa-1980s lunch boxes to, well, just about everything else.
The Houses
Older houses are located off Main Street and along the river on Front Street. Styles include Tudor Revival, Greek Revival, Mission, and Queen Anne. Prices range from below $200,000 to not much more than $400,000 for those with commanding views of the Mississippi River.
Why Buy Here?
Lansing is a popular destination for families, who appreciate its highly ranked public schools, and for second-home buyers and retirees, who like that everything they need is within walking distance. In addition to fishing and hunting, both wildly popular here, outdoor enthusiasts will love the surrounding parks' hiking and biking opportunities, as well as Mt. Hosmer, a 450-foot-high bluff that overlooks Lansing and distant views of Iowa, Minnesota, and Wisconsin.
Among the best for: The Midwest, Waterfront, Retirees, Family Friendly, Parks and Recreation, Small Towns, Victorians, Walkability, Lots to Do
Strawberry Hill, Kansas City, Kansas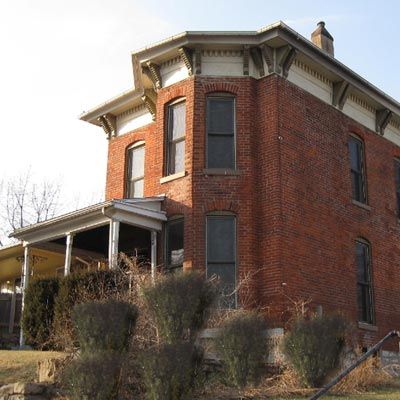 "I have wild strawberries all over my backyard—and, yes, it's kind of cool," says Carole Diehl of the aptly named Kansas City neighborhood she and her husband have called home for the past 21 years. During that time, Diehl, who serves as president of the neighborhood association, has seen a lot of changes in Strawberry Hill, which is situated on a bluff overlooking the confluence of the Kansas and Missouri rivers. The town's citizens—many of them descendants of 19th-century Eastern European immigrants who moved here to work in the city's meatpacking industry—today make room for young artists and young families drawn to the affordable houses and the restaurants, shops, and pubs opening up on Fifth Street, the neighborhood's main commercial drag.
The Houses
Strawberry Hill retains many of its original brick workers' cottages and wood bungalows. Most are located on 25-foot-wide lots, include two or three bedrooms, and average around 1,000 square feet. The neighborhood's larger two-story Victorian-era houses are much sought after by newcomers. A three-bedroom 1932 bungalow was recently on the market for just under $50,000, while a 1,554-square-foot Folk Victorian was going for around $80,000.
Why Buy Here?
Strawberry Hill remains an affordable (and increasingly hip) option for first-time homebuyers. Fifth Street recently underwent a thoughtful makeover, including old-fashioned streetlights and brick sidewalks, promising this reemerging commercial district will continue to bustle in the future.
Among the best for: The Midwest, Cottages and Bungalows, Victorians, Waterfront, City Living, First-Time Buyers
East Row Historic District, Newport, Kentucky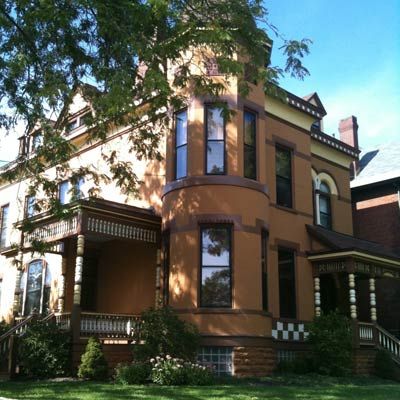 Across the Ohio River from downtown Cincinnati, the East Row Historic District was once home to late-19th-century riverboat captains and captains of industry, including brewers and bankers. When river-based industries declined, Newport took an alternative approach to diversifying its economy, as casinos, saloons, and houses of ill repute turned this into the Boardwalk Empire of the South. The 1980s saw an influx of architects, doctors, and young professionals restoring East Row residences that, despite being divided into apartments or boarding houses, retained many of their original details. These days, the neighborhood continues to draw Cincinnatians and fans throughout the region who appreciate its river-town beauty, entertainment district, and the beloved Newport Aquarium.
The Houses
Many of East Row's 1,100 houses were built by 19th- and early-20th-century German craftsmen who came to work in the breweries and trades of this region. Houses feature ornate metal cornices, stone windowsills, stained-glass windows, and the occasional turret. Since they were erected primarily in the Victorian era, Queen Anne, Second Empire, and Italianate styles predominate. While some homes are priced above the $300,000 mark, you can still get a more modest dwelling or fixer-upper for just over $100,000.
Why Buy Here?
Newport's entertainment district provides plenty of places to eat, hear music, or grab a drink. Cincinnati is easy to get to, thanks to a recently restored pedestrian bridge that allows you to walk or bike downtown for work, dining, or a Reds game.
Among the best for: The South, Bargains, Fixer-Uppers, Lots to Do, Easy Commute, Walkability, Waterfront, Victorians
Rockland, Maine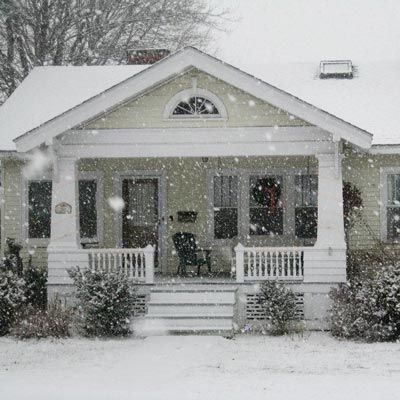 Though he hails from the United Kingdom, Dan Bookham feels right at home in the small coastal town of Rockland, Maine. "Around here, the motto is 'We don't care who your father was. Show us what your kids can do,'" says Bookham, who bought a house here three years ago with his wife, Jessie. Good public schools and safe streets make the town of about 7,300 an ideal place to raise their 4-year-old daughter, and great restaurants, seafood markets, and museums make it pretty great for the Bookhams themselves, too.
The Houses
Shipbuilding, and then mills and factories, in particular, lime production, supported the populace here for centuries, leaving a legacy of Victorian cottages as well as Craftsman bungalows and Folk Victorians that abound in the downtown area. On the town's south end, former workers' cottages, in the Cape Cod style, can be had for around $100,000, while larger houses on the north end, built by wealthy sea captains, command higher prices. Most houses have large backyards, which locals take advantage of by planting elaborate flower and vegetable gardens.
Why Buy Here?
In the past couple of decades, Rockland has shaken its image as an insular commercial fishing community by redefining itself as a popular tourist destination that's also attracting full-time residents. It's home to the North American Blues Festival in July and the Maine Lobster Festival each August. Rockland is the location of the Farnsworth Art Museum, which boasts more than 10,000 paintings by American masters, including Maine's own, the Wyeths: Andrew, N.C., and Jaimie. There are also plenty of sailing, hiking, and skiing opportunities.
Among the best for: The Northeast, Victorians, Waterfront, Parks and Recreation, Small Towns, First-Time Buyers, Gardening, Cottages and Bungalows
Monroe, Michigan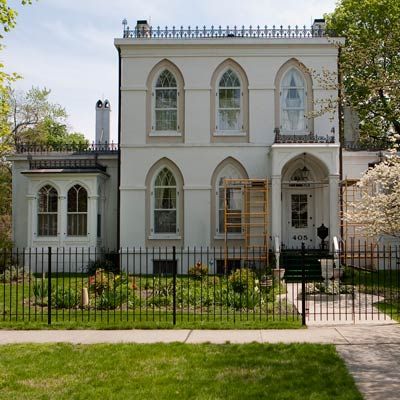 This city of about 20,000 residents on the banks of the Raisin River and Lake Erie has been a French settlement, a War of 1812 battlefield, and the adopted hometown of one George Armstrong Custer. Named for President Monroe, these days, it's largely known for its National Historic District downtown, which is packed with century-old Italianate buildings housing a variety of cafes, bookstores, bakeries, and apartments. The city is also on the music map, thanks to the annual jazz festival it hosts the second week of August, drawing upwards of 50,000 people. Dubbed the Floral City for its 19th-century nurseries, it continues to be heralded for its many gardens and shade trees.
The Houses
Monroe's oldest houses are found in the Old Village Plat, which is dominated by Victorian-era styles, including Queen Anne, Italianate, and the "Irish Gothic" house shown here. Later Revival-style houses from the early to mid 20th century can be found in the Hollywood Drive neighborhood. You can get a restored 19th-century Italianate in Monroe for $100,000 to around $170,000, and fixer-uppers sell for less than $80,000. Few homes cost more than $225,000.
Why Buy Here?
Monroe recently reclaimed a historic War of 1812 battlefield, which is now a full-fledged National Battlefield Park that's drawn thousands of tourists since its opening, in 2010. It also created a popular hiking and biking trail connecting the battlefield to both downtown Monroe and Sterling State Park, the largest state park in Michigan. Monroe is located about 40 miles from Detroit and Ann Arbor, so it's also an ideal spot for commuters.
Among the best for: The Midwest, American Heritage, Victorians, Parks and Recreation, Waterfront, Gardening, Easy Commute
Lexington, Missouri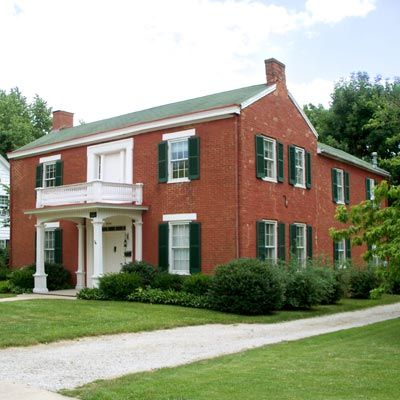 Like many cities with Civil War history, Lexington, Missouri, doesn't forget its past. It retains scores of its antebellum houses, and its 1847 courthouse still has a Union Army cannonball—fired during the 1861 Battle of Lexington—embedded in one of its columns. Situated on a bluff overlooking the Missouri River, its location has also made it a vital trading center. In the 19th century, the town was also known as the Athens of the West, thanks to its several women's colleges, seminaries, and the Wentworth Military Academy, which opened in 1880 and still draws students nationwide.
The Houses
Lexington's two residential historic districts contain hundreds of antebellum houses dating to the 1830s. In the 1850s, a local builder named John Ellison Cheatham constructed an outstanding collection of Italianate houses. While diamonds in the rough can be had for less than $50,000, there are plenty of up-to-date older house available for between $100,000 and $250,000.
Why Buy Here?
As people started shopping in the eastern suburbs of Kansas City (about a half hour away) in the 1980s, Lexington's Main Street suffered. That began to change 15 years ago when, spurred by tax incentives from a local nonprofit for facade improvements, owners were inspired to restore the buildings, filling them with new businesses. Today downtown is home to boutiques, antiques stores, and restaurants, frequented by tourists and locals alike. The Battle of Lexington State Historic Site is a draw for Civil War history buffs. The town is also a popular landing spot for energetic retirees, who come to restore a Neoclassical or an Italianate. "Most people come for the houses," says Michelle Neer, who came here with her husband for just that reason 20 years ago. "They're the big draw."
Among the best for: The Midwest, Waterfront, Bargains, Fixer-Uppers, American Heritage, Retirees, Lots to Do, College Towns
Livingston, Montana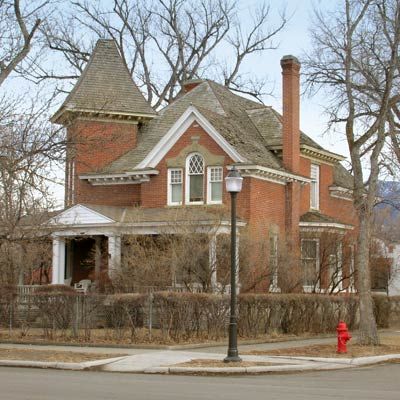 Located on the banks of the Yellowstone River and at the original entrance to Yellowstone National Park, Livingston, Montana, was a rough-and-tumble town founded in 1882, when the Northern Pacific Railroad came here and made it the site of a locomotive repair shop. Notable residents of this town of about 7,400 have included everyone from Calamity Jane to Jeff Bridges. But the real star is the town's historic commercial district. Comprising primarily brick Colonial Revival buildings, it has changed little since the late 1800s, when most of it was built. If Livingston looks familiar, it might be because its historic buildings and houses have played the backdrop for dozens of films, including 1992's A River Runs Through It.
The Houses
Expect to find brick foursquares and Queen Annes, as well as a few Prairie-style homes. Several houses here were built with hand-cut sandstone. A beautifully restored two-bedroom stone cottage, dating to 1900, was recently on the market for $143,000. A three-bedroom, 2,622-square-foot Craftsman built in 1920 was on the market for $199,000.
Why Buy Here?
These days, Livingston's is a popular spot for outdoorsy writers, artists, actors, and sportsmen. But there are still plenty of watering holes, including the original Bucket of Blood, which is now the Livingston Bar & Grill—a gentler name for gentler times. Yellowstone National Park, an hour's drive away, and the surrounding environs provide plenty of opportunities for hiking, camping, fishing, and any other outdoor pursuits you might have in mind.
Among the best for: The West, Parks and Recreation, American Heritage, Small Towns, Lots to Do, Bargains, Victorians, Waterfront
Peninsula, Ohio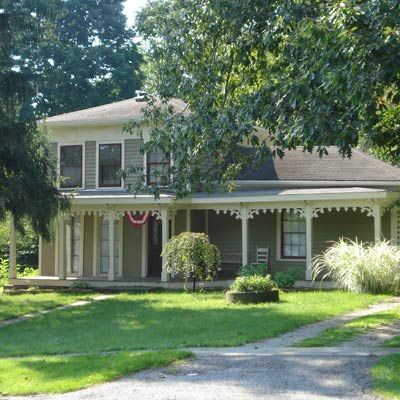 Jutting out into a sharp bend in the Cuyahoga River (hence its name), this spirited hamlet of just 600 people sits within the 30,000-acre Cuyahoga Valley National Park and offers enough shopping, dining, and recreational opportunities to keep locals, and the thousands of tourists who flock here each year, entertained. Founded as a settlement of the Connecticut Western Reserve in 1824, Peninsula became a vital port town with the completion of the Ohio and Erie Canal, in 1832, which opened the Buckeye State up to trade from the eastern U.S. While railroads rendered the canal superfluous by the early 1900s, Peninsula still thrives by celebrating its storied past, most notably its 19th-century Greek-Revival commercial buildings. Once home to saloons and hotels, they now house local businesses including a bike store, bookstore, and several antiques shops.
The Houses
The town boasts well-crafted Gothic Revivals, Queen Annes, and Italianate cottages dating from the mid-1800s to the early 1900s, as well as a few 1920s Sears Craftsman bungalows. Prices range from $85,000 for a small fixer-upper to $400,000 for a more exquisite historic house. Houses sell fast here, so if you're interested, it's wise to set up an email alert for available properties.
Why Buy Here?
Its close proximity to both Akron (just 10 minutes south) and Cleveland (30 minutes north) makes it a haven for commuters who are drawn to its outdoorsy amenities. Cuyahoga Valley National Park is home to hiking and biking trails and more than 100 ponds and lakes. Foodies will delight in the fact that the area is home to myriad farm stands and markets, and local parents rave about the area's excellent public schools.
Among the best for: Editors' Picks, The Midwest, Small Towns, Fixer-Uppers, Easy Commute, Family Friendly, Cottages and Bungalows, Parks and Recreation, Waterfront
The Fifth Ward, Newport, Rhode Island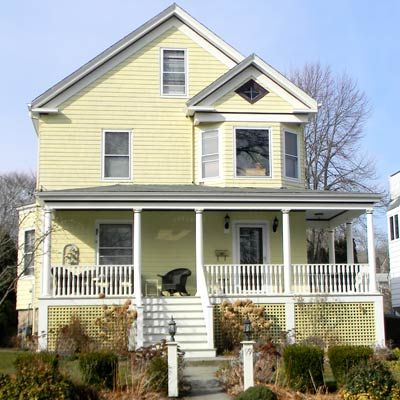 If you were Irish and landed in Newport in the 19th century, odds are you made your home in the Fifth Ward, on the city's south side. Perhaps you helped build the nearby 21-acre Fort Adams or found employment along the waterfront at the Newport Gas-Light Company or, when Kingscote, Chateau-sur-Mer, and The Breakers were built, someone like you had to take care of those massive "summer cottages." The tenacity with which the neighborhood has clung to its name over the years (it was absorbed by the Third Ward voting district in the 1950s) is indicative of the strong cultural spirit of the people who live here, and have for generations.
The Houses
"The Fifth Ward has examples of nearly everything Newport has to offer," says Pieter Roos, executive director of the Newport Restoration Foundation. "You can find gems all over." There are lots of simple one- and two-story frame houses with clapboard or shingle siding, some larger Second Empire multifamily houses, and a smattering of Queen Annes. Prices run between $250,000 and $550,000.
Why Buy Here?
There is a healthy supply of well-built houses in a family-oriented neighborhood close to the water and several parks. Downtown Newport, and all it has to offer, is within a 20-minute walk. Recently, a naval-base realignment brought new jobs to Newport and, with this, increased competition for these perfect starter homes, so don't delay. "We're still oversupplied," says real estate broker Arthur Chapman, whose great-grandfather, P.J. Fagan, built many of the houses on Carroll Avenue in the heart of the Fifth Ward, "but the rush is on."
Among the best for: The Northeast, Cottages and Bungalows, Family Friendly, Waterfront, First-Time Buyers, Parks and Recreation, Retirees, Walkability, Lots to Do, American Heritage
Park Circle, North Charleston, South Carolina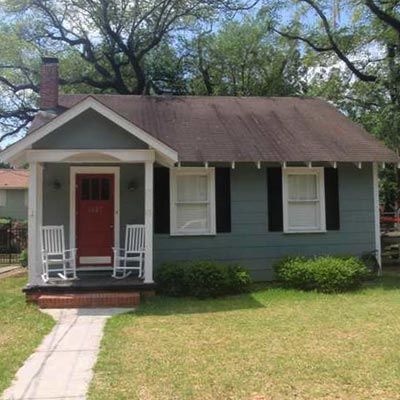 We all know about the historic and very pricey Greek Revivals and Italianates that line the avenues of downtown Charleston. But about 20 minutes north, in the Park Circle neighborhood of North Charleston, you'll find hundreds of lovingly crafted—albeit more modest and affordable—old houses surrounding a 30-plus-acre park filled with baseball fields, playgrounds, and a weekly farmer's market. The origins of Park Circle go back to 1912, when it was a working-class neighborhood for employees of North Charleston's many factories and a naval base. Closed in 1995, the base is now being transformed into breweries, waterfront parks, studio space, and offices.
The Houses
The houses were built mostly from the 1920s through the 1960s and include Craftsman bungalows, Colonial Revivals, and brick ranch-style houses. Fixer-uppers go for as little as $50,000; small bungalows for under $100,000. Larger, restored houses, like a 2,700-square-foot Dutch Colonial Revival, can command upwards of $300,000. Still, "one of the wonderful things about Park Circle is that, compared to downtown, it is still affordable—and there are plenty of houses left to restore," says Clem Arsenault, a real estate agent who moved here in 2005.
Why Buy Here?
With its affordable houses and plenty of restaurants and shops on Montague Avenue, its main commercial thoroughfare, Park Circle is popular among first-time homebuyers. A new elementary school and a performing arts school draw families with children. Since more of the former naval base's buildings are being converted to office space, this is a great place for anyone with a good business plan, too. "People here are all about supporting small, locally owned businesses," says resident Thea Anderson. "We have open arms—and open buildings."
Among the best for: The South, Waterfront, Lots to Do, Family Friendly, First-Time Buyers, Cottages and Bungalows, Easy Commute
Old Southwest, Roanoke, Virginia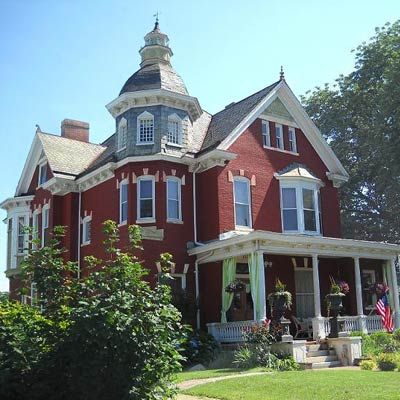 A 10-minute saunter from downtown Roanoke, Old Southwest was developed in the late 19th and early 20th centuries as a residential area for well-to-do merchants and those who profited from the many railroads that once intersected here. Until the end of World War II, it was considered one of the most fashionable neighborhoods in town, but after the war, many residents moved to embrace a new housing trend, the suburbs, leaving stately old houses to the mercy of developers, who chopped them into apartments or razed them. In recent years, as downtown Roanoke has been revitalized with facade improvements and new businesses so too has Old Southwest, which appeals to newcomers who appreciate well-crafted houses with expansive porches and classic columns.
The Houses
Most were constructed between the 1880s and the 1930s. Styles include fanciful Queen Annes, as well as Georgian Revivals, Gothic Revivals, and American Foursquares. Many retain their stained-glass windows and slate or metal roofs. Prices average $175,000, but expect to find some for as little as $10,000 or as much as $800,000, depending on size and condition. The neighborhood is listed on both the Virginia Landmarks Register and the National Register of Historic Places.
Why Buy Here?
The neighborhood was listed as a "Hot 'Hood" by USA Today in 2010, thanks to its proximity to the city's lively downtown. A neighborhood organization, Old Southwest Inc., hosts an annual Holiday Parlor Tour of Homes and other neighborhood events. Roanoke's location in the Blue Ridge Mountains makes it a destination for outdoor enthusiasts too, and 32-acre Highland Park offers sports facilities and a dog park.
Among the best for: The South, Bargains, Victorians, Fixer-Uppers, First-Time Buyers, Walkability, Lots to Do, Parks and Recreation, Waterfront
East Forest Avenue Historic District, Neenah, Wisconsin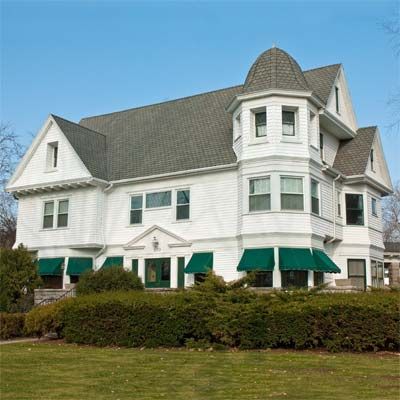 There once was a time when all a town needed to survive was a good river. That's what put Neenah, Wisconsin, on the map. The Fox River generated enough waterpower to allow the lumber- and flour-milling industries to flourish here in the late 19th century. Following the Civil War and the establishment of the railroad, the city drew wealth from its many paper factories. Many paper executives built handsome manses across the river on Doty Island, in what's now called the East Forest Avenue Historic District. These days, the neighborhood attracts those who like its safe, tree-shaded streets and its proximity to the shops, Roosevelt Elementary School, and a farmers market downtown, just a 10-minute walk away. "The people who move here come for the natural beauty, the history, and the uniqueness of the architecture," says Carol Kasmimor, an assistant planner with the City of Neenah. It's just a great neighborhood."
The Houses
Houses in the historic district include Queen Anne, Italianate, Colonial Revival, and Tudor Revival dwellings dating from 1880 to the early 1900s. Prices range from $200,000 to $500,000.
Why Buy Here?
East Forest Avenue Historic District is located on Doty Island, at the confluence of the Fox River and the shores of 137,700-acre Lake Winnebago. This waterfront community has plenty of recreational opportunities, including swimming and boating. The neighborhood is a state historic district and was designated a National Register Historic District in 2005.
Among the best for: The Midwest, Waterfront, Parks and Recreation, Family Friendly, Cottages and Bungalows, Bargains, First-Time Buyers, Lots to Do, American Heritage
Strathcona, Vancouver, British Columbia, Canada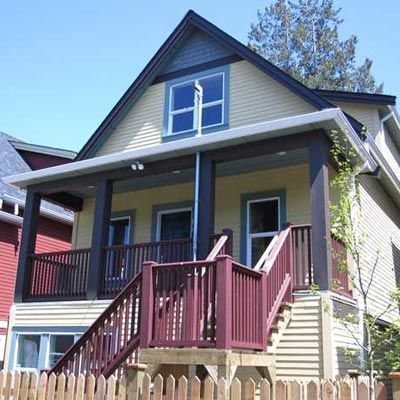 The oldest residential neighborhood in Vancouver, Strathcona developed in the late 19th and early 20th centuries just east of the city's original townsite, where an 1860s sawmill—then the city's main economic engine—was located on the Burrard Inlet and around which most of the city's first residents lived. Vancouver grew by leaps and bounds when the Canadian Pacific Railway made the city a terminus in 1887, turning it into a center of trade and industry. To meet rising demands for housing, the Vancouver Improvement Company developed the neighborhood of Strathcona, which soon became home to a diverse cross-section of residents, including Chinese, Italian, and African-Canadian families. These days, as many older residents relocate to smaller houses or assisted living, newcomers are buying, and beautifully restoring, its Victorian-era houses. "This is one of Vancouver's best neighborhoods," says local historian James Johnstone. "Its character and sense of identity set it apart from the rest of the city."
The Houses
Most are Queen Anne or Folk Victorians in either two-story or cottage styles. Many retain their wood clapboard exteriors. The neighborhood is relatively affordable for Vancouver, which has the highest housing costs in Canada. While restored Victorian cottages are now commanding up to $900,000 USD, and some houses are selling for more than a million, fixer-uppers can be had in the $720,000 range.
Why Buy Here?
The neighborhood is a few minutes from downtown Vancouver (pop. 600,000) and adjacent to Chinatown. Many houses have detached garages set along alleyways; thanks to new zoning laws, these can be converted into rental properties if desired.
Among the best for: Canada, Fixer-Uppers, City Living, Victorians, Cottages and Bungalows, Easy Commute, Waterfront
Annapolis Royal, Nova Scotia, Canada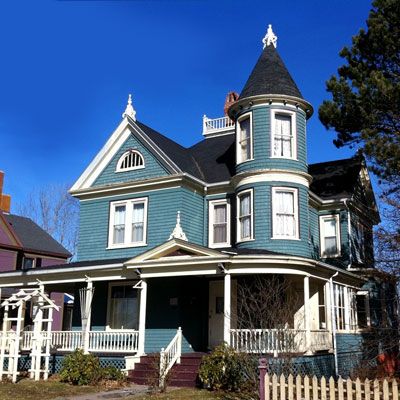 Located at the junction of the Annapolis and Allain Rivers, Annapolis Royal is a waterfront community of just under 500 residents, many of them artists, writers, or retirees. The town is proud to be one of North America's oldest continuous European settlements. It was founded as a French colony in 1605 and eventually served as the capital of Acadia (later Nova Scotia) until 1710, when it became the capitol of British Nova Scotia. Later, the town became home to merchants, commercial fisherman, and sea captains who built elegant houses along St. George Street. Today, the waterfront is populated with shops and art galleries, as well as the Historic Gardens, a 17-acre horticultural wonderland that tells the story of Nova Scotia through the gardens and crops planted here over the centuries.
The Houses
While a few examples of late-18th-century architecture survive, most houses and commercial buildings here were built by late-19th- and early-20th-century residents who made their fortunes in commercial fishing and other seafaring industries. Styles include Queen Anne, Second Empire, Folk Victorian, Gothic Revival, and Georgian Revival. Prices range from about $115,000 to $400,000 USD.
Why Buy Here?
Because of its fine 18th-, 19th- and early-20th-century architecture, most of Annapolis Royal is listed as a Canadian National Historic District. While fishing is still big, its scenic beauty and small-town atmosphere make Annapolis Royal a draw for those who work from home, as well as retirees, who love the fact that shops, groceries, a theater, and a hospital are all within walking distance on St. George Street.
Among the best for: Canada, Waterfront, Retirees, Victorians, Walkability, Lots to Do, Gardening, Family Friendly
St. Martins, New Brunswick, Canada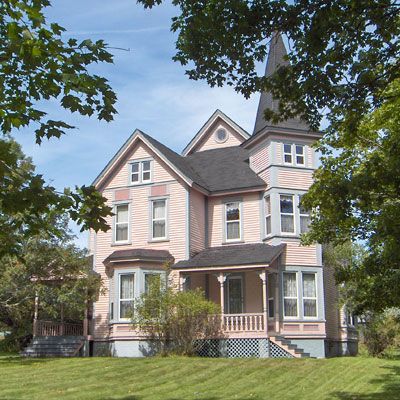 Summer vacationers flock to this tiny village for its rugged beauty, and some love it so much they stay. "It's a healthy place to be," says Jacqueline Bartlett, who retired to St. Martins from Toronto with her husband in 2005. Locals don't mind trading urban convenience for gorgeous views of the Bay of Fundy along the southern coast of the province, 110 miles from the Maine border. "We came for the good, fresh air and healthy water. I have my own chickens and food from the garden—and I'm a city person." The remote town comes alive as a tourist mecca during the summer, but only about 400 of New Brunswick's heartiest stick it out year-round. "Most go south for the winter," says local museum curator Barbara McIntyre, with a friendly chuckle.
The Houses
Prosperous sea captains built most of the homes in the area in the early 19th century. Inspired by architecture from as far away as France, Spain, Malaysia, and China, the houses weave elements of what locals saw abroad with Gothic Revival, Italianate, and Queen Anne styles. Expect a bay view, an acre or more of land, and a sturdy, storied structure to set you back about $110,000 to $250,000.
Why Buy Here?
All roads to the entrance of the famed Fundy Trail Parkway lead through St. Martins. This 10-mile multiuse coastal trail is undergoing its second phase of development. Once completed, it will connect to the trans-Canadian network, creating hundreds of new year-round jobs in the area and also giving the town an even bigger tourism boost.
Among the best for: Canada, Small Towns, Waterfront, Parks and Recreation, Cottages and Bungalows, Bargains, Walkability, Victorians
Rabbittown, St. John's, Newfoundland and Labrador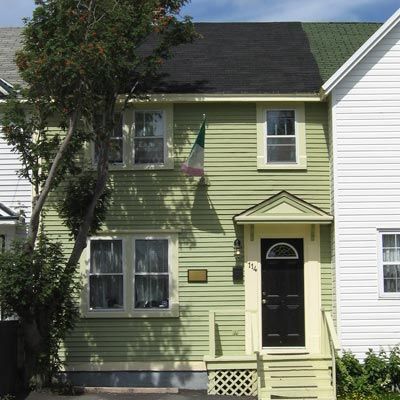 Named for the surplus of rabbits that were once hunted here, this formerly wooded landscape, located high on a hillside above downtown St. John's, was a working-class neighborhood. Here, fishermen and factory workers raised families in houses built during St. John's growth spurt following World War I—a result of a growing fishing industry and the establishment of several American military bases. Affordably priced today, Rabbittown's houses now attract young families, artists, and students attending the Memorial University of Newfoundland, a few blocks away. Two grocery stores and several mom-and-pop-style diners contribute to the convenience as well as the character of the place. "This is, by and large, a neighborhood in transition," says George Chalker, executive director of the Heritage Foundation of Newfoundland and Labrador. "Young professionals are moving here, removing the old vinyl siding from the houses, and replacing them with more traditional wooden clapboards."
The Houses
Most are small one- or two-story cottages, with the occasional rowhouse, built between 1920 and 1950. Over the years, insensitive renovations have left their legacy, but industrious residents are restoring newly acquired houses to their original condition. Prices start at around $180,000 USD.
Why Buy Here?
Memorial University provides locals with plenty of cultural and sporting events. The neighborhood is also home to the Rabbittown Theatre Company, a destination for modern and classical theatrical productions. The city's waterfront location provides plenty of opportunities for boating, and some whale watching, too.
Among the best for: Canada, College Towns, First-Time Buyers, City Living, Lots to Do, Fixer-Uppers, Waterfront