Flowery Paradises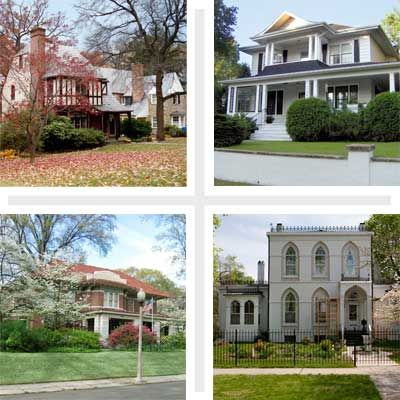 Green thumbs unite! These verdant old neighborhoods are perfect for those who eschew boring old backyards for lush, flower-filled gardens. And they're just a few of the 61 vibrant neighborhoods from coast to coast where you'll find one-of-a-kind period houses. Read on to see which ones are coming up roses, or see all the neighborhoods and categories.
Old Northeast, St. Petersburg, Florida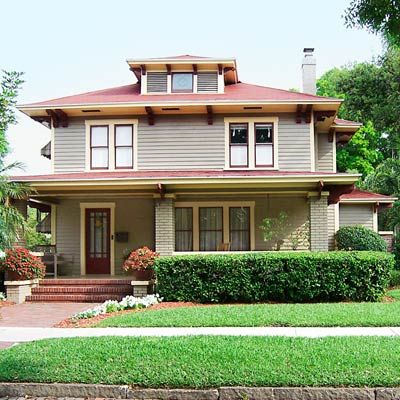 Boasting an eclectic mix of traditional house styles, Old Northeast is set amid the kind of lush, tropical landscape that put the Sunshine State on the map. Once farmland, the area was developed in 1911 as St. Petersburg's first neighborhood and is now listed on the National Register of Historic Places. Outdoorsy types love its waterfront parks and miles of hiking and biking trails along the Tampa Bay and the Coffeepot Bayou, while culture mavens take in concerts and art shows at the historic Palladium Theater, among other venues. There are plenty of shops and restaurants within walking distance, and events like an annual Easter-egg hunt, Independence Day parade, and street closings for Halloween trick-or-treating attract throngs of local families.
The Houses
Along the bay and the bayou are grand mansions built during Florida's land boom of the 1920s. More-modest houses, interspersed with apartment buildings, populate the tree-lined, red-brick streets. Styles include Craftsman, Mediterranean Revival, and Italian Renaissance, with prices ranging from $90,000 to $400,000.
Why Buy Here?
The 2011 opening of the new Salvador Dali Museum and the restoration of the landmark 1925 Vinoy Hotel, where locals often stop to enjoy an iced tea on the veranda, have brought cachet and tourist dollars to the area. Many think the exposure will drive up interest—and property values—in this charming neighborhood.
Among the best for: The South, Waterfront, Family Friendly, Gardening, Parks and Recreation, Lots to Do, American Heritage, Cottages and Bungalows, Editors' Picks
Rockland, Maine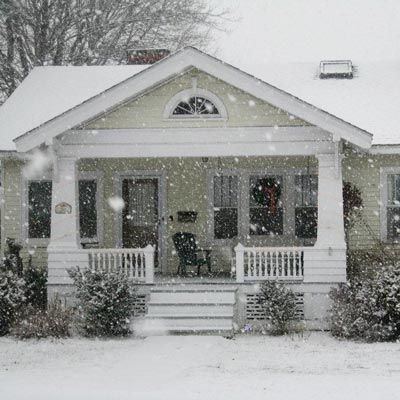 Though he hails from the United Kingdom, Dan Bookham feels right at home in the small coastal town of Rockland, Maine. "Around here, the motto is 'We don't care who your father was. Show us what your kids can do,'" says Bookham, who bought a house here three years ago with his wife, Jessie. Good public schools and safe streets make the town of about 7,300 an ideal place to raise their 4-year-old daughter, and great restaurants, seafood markets, and museums make it pretty great for the Bookhams themselves, too.
The Houses
Shipbuilding, and then mills and factories, in particular, lime production, supported the populace here for centuries, leaving a legacy of Victorian cottages as well as Craftsman bungalows and Folk Victorians that abound in the downtown area. On the town's south end, former workers' cottages, in the Cape Cod style, can be had for around $100,000, while larger houses on the north end, built by wealthy sea captains, command higher prices. Most houses have large backyards, which locals take advantage of by planting elaborate flower and vegetable gardens.
Why Buy Here?
In the past couple of decades, Rockland has shaken its image as an insular commercial fishing community by redefining itself as a popular tourist destination that's also attracting full-time residents. It's home to the North American Blues Festival in July and the Maine Lobster Festival each August. Rockland is the location of the Farnsworth Art Museum, which boasts more than 10,000 paintings by American masters, including Maine's own, the Wyeths: Andrew, N.C., and Jaimie. There are also plenty of sailing, hiking, and skiing opportunities.
Among the best for: The Northeast, Victorians, Waterfront, Parks and Recreation, Small Towns, First-Time Buyers, Gardening, Cottages and Bungalows
Original Northwood, Baltimore, Maryland
Once part of an 18th-century wooded estate, this North Baltimore neighborhood has never turned its back on nature. Developed in the 1930s as a planned community, its nearly 400 houses were built and sited to look as integral to this landscape as the centuries-old oak trees that surround them. Original Northwood (so named to distinguish it from newer developments in the nearby town of Northwood) was designed by the Roland Park Development Company, an affiliate of the Olmsted Brothers Landscape Architects, which came up with the plans for New York City's Central Park. The neighborhood adheres to the Olmstedian principles of following the contours of the land, retaining mature trees, and situating each house according to the characteristics of the lot. Because garages are detached and located in rear alleyways, there are no driveways, so front lawns run contiguously, broken only by walkways and the many ornamental specimen trees.
The Houses
The neighborhood is inspired by the English countryside, with most houses built in the English Colonial and English Tudor style. There are also duplexes and Tudor-style rowhouses. Most were erected between 1929 and 1937 and range in price from $175,000 to a high of $500,000. The neighborhood is listed on the National Register of Historic Places.
Why Buy Here?
Original Northwood is located 15 minutes from downtown Baltimore and about an hour from Washington, D.C., which is accessible by train. House prices here have dropped from their peak in 2007–2008, so now's the time to buy.
Among the best for: The Northeast, Easy Commute, City Living, Gardening, Walkability
Monroe, Michigan
This city of about 20,000 residents on the banks of the Raisin River and Lake Erie has been a French settlement, a War of 1812 battlefield, and the adopted hometown of one George Armstrong Custer. Named for President Monroe, these days, it's largely known for its National Historic District downtown, which is packed with century-old Italianate buildings housing a variety of cafes, bookstores, bakeries, and apartments. The city is also on the music map, thanks to the annual jazz festival it hosts the second week of August, drawing upwards of 50,000 people. Dubbed the Floral City for its 19th-century nurseries, it continues to be heralded for its many gardens and shade trees.
The Houses
Monroe's oldest houses are found in the Old Village Plat, which is dominated by Victorian-era styles, including Queen Anne, Italianate, and the "Irish Gothic" house shown here. Later Revival-style houses from the early to mid 20th century can be found in the Hollywood Drive neighborhood. You can get a restored 19th-century Italianate in Monroe for $100,000 to around $170,000, and fixer-uppers sell for less than $80,000. Few homes cost more than $225,000.
Why Buy Here?
Monroe recently reclaimed a historic War of 1812 battlefield, which is now a full-fledged National Battlefield Park that's drawn thousands of tourists since its opening, in 2010. It also created a popular hiking and biking trail connecting the battlefield to both downtown Monroe and Sterling State Park, the largest state park in Michigan. Monroe is located about 40 miles from Detroit and Ann Arbor, so it's also an ideal spot for commuters.
Among the best for: The Midwest, American Heritage, Victorians, Parks and Recreation, Waterfront, Gardening, Easy Commute
Van Wyck Brooks Historic District, Plainfield, New Jersey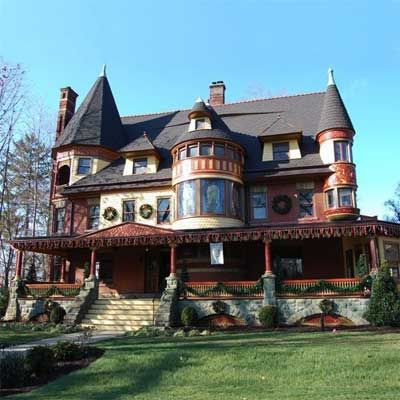 The residents of the Van Wyck Brooks neighborhood sure know how to entertain at home. From progressive dinners to black-tie parties to after-work cocktails, someone's always hosting something around here. But why wouldn't they want to show off their houses? Most were built by turn-of-the-century financiers and businessmen who migrated here following the establishment of railroad lines between Plainfield and New York City in the mid-1800s. They outfitted their suburban palaces with elaborate staircases, Citizen Kane–like oversize mantels, stained-glass windows, and millwork carved from exotic hardwoods. Named after Pulitzer Prize–winning writer Van Wyck Brooks, who grew up here, the entire neighborhood is listed on the National Register of Historic Places.
The Houses
The most exquisite are enormous Second Empire and Queen Anne homes with wraparound porches, turrets, and elegantly landscaped front yards. The neighborhood is also home to Shingle, American Foursquare, and Tudor Revival houses, among others. Prices for mansions can run into the millions, though smaller houses can be found for less than $200,000.
Why Buy Here?
Plainfield took a huge hit in the 1960s, when local social unrest led to the relocation of many residents and widespread disinvestment in the community. Today, the city is seeing an uptick of small, independently owned businesses as well as mainstream commercial development. An influx of young professionals making their homes in Van Wyck Brooks also signals a renaissance. Plainfield is about 30 miles from both Newark and New York City, and 74 miles from Philadelphia, so commuting is an option.
Among the best for: The Northeast, Fixer-Uppers, Gardening, First-Time Buyers, Easy Commute, Victorians, American Heritage
Central Gardens Memphis, Tennessee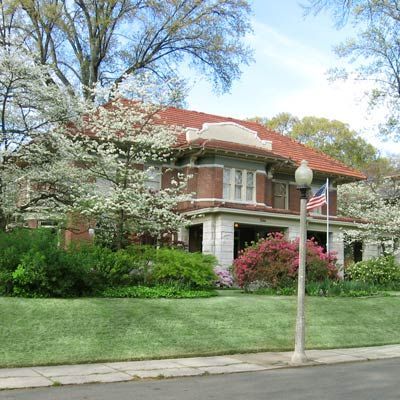 Once favored by wealthy turn-of-the-century Memphis residents who made their fortunes during the city's cotton boom, this 83-block first-tier suburb is known for beautifully maintained houses distinguished by handsome millwork and wide front porches. And talk about tree-lined streets! With more than 90 different species of trees, most of which are more than a century old, the entire neighborhood was designated a Level 3 Arboretum through the Tennessee Arboretum Certification Program in 2008. Located just two miles from downtown Memphis, the backbone of Central Gardens is the Central Gardens Association, which has overseen the restoration and maintenance of the area since 1967.
The Houses
Central Gardens' most lavish homes are former country estates built in the Tudor Revival, Neoclassical, and Mediterranean Revival styles. While these houses, often beautifully landscaped, command anywhere from $300,000 to more than $1 million, there are plenty of affordable American Foursquare and Craftsman homes (starting at around $150,000) to choose from. The entire neighborhood is on the National Register of Historic Places.
Why Buy Here?
Those who live here get to enjoy the ease of suburban living with the added benefit of being able to walk to dining and shopping. Central Gardens is a block or two from Overton Square, with its Italian restaurants and pizza parlors, as well as the Cooper-Young area, offering delis, more restaurants, and pubs.
Among the best for: The South, Family Friendly, Walkability, Cottages and Bungalows, City Living, Gardening, American Heritage
Five Sisters Neighborhood, Burlington, Vermont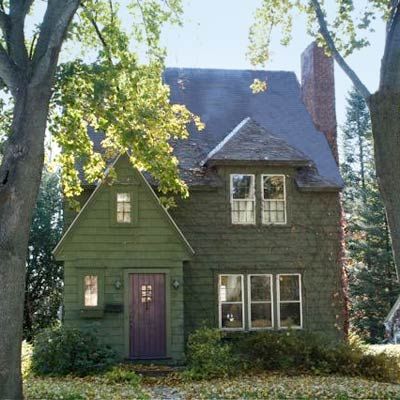 The Five Sisters neighborhood is in the south end of Burlington near the shores of Lake Champlain. Its five primary streets bear the names of Caroline, Charlotte, Katherine, Margaret, and Marian, hence the moniker. Here you'll find around 300 houses and cottages developed from 1900 through the 1950s for working-class families employed by the nearby Queen City Cotton Mill and the American Woolen Company, among others. These days, it's attracting young families, who often take turns walking kids to school, a practice known as the "walking school bus."
The Houses
Expect a nice mix of Craftsman bungalows, Cape Cods, foursquares, and Colonial Revivals, and a few Sears kit houses to boot. Houses are set along narrow streets with plenty of attractive landscaping and mature trees. Most have front porches and large back yards, many with vegetable gardens. Houses sell for $200,000 to $400,000.
Why Buy Here?
"The neighborhood has seen a dramatic revival over the past decade," says Burlington resident Devin Colman. "Older residents are selling to young families, who are restoring and renovating the houses." Five Sisters is a pleasant, mile-long walk to bustling downtown Burlington (pop. 42,000) with its wealth of attractions, including shops, yoga studios, gourmet markets, and of course places to drink and dine, as well as three colleges, including the University of Vermont. There's also plenty of sailing and kayaking on Lake Champlain.
Among the best for: The Northeast, College Towns, Family Friendly, Lots to Do, Parks and Recreation, Gardening, First-Time Buyers, Cottages and Bungalows
Olde Walkerville, Windsor, Ontario, Canada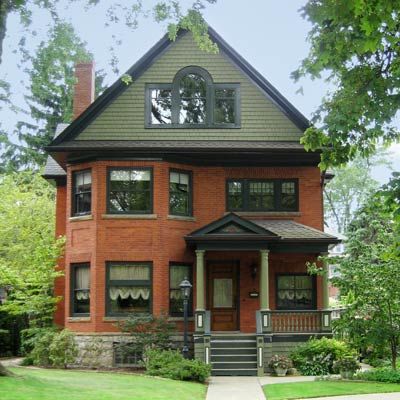 Olde Walkerville's spirited beginnings date to the 1850s, when Hiram Walker established the Canadian Club whisky distillery on several hundred acres of land on the Canadian side of the Detroit River. To house his workers, Walker surrounded his distillery with a company town inspired by the British garden-city movement—with wide streets, open spaces, and bountiful vegetation. The town was self-sustaining, with its own post office, schools, and a church. These days, Olde Walkerville remains a close-knit community, where it's not unusual to see neighbors helping one another with gardening projects. Walkerville's retail thoroughfare, Wyandotte Street, is planted with cafes, shops, and restaurants. And you can still smell the sweet scent of Mr. Walker's whisky in the air.
The Houses
Elegant houses of 3,500-plus square feet—built for company management—include Tudor Revivals, Edwardians, and Romanesque Revivals. More modest Arts and Crafts dwellings, constructed for Walker's laborers, are equally well preserved. Blocks of seemingly uniform rowhouses and semidetached houses are set off by decorative brickwork, varying parapets, and front or end gables. Prices range from $150,000 to as much as a million.
Why Buy Here?
A 15-acre park surrounding Willistead Manor and a small but thriving business area three blocks south make the 20-minute walk to Windsor's center almost unnecessary. And a revitalized commitment to self-sustainability and lots of green space assure that Olde Walkerville is a perfect place to enjoy nature's splendor, minus the suburban chore of driving everywhere. "The homes don't stay long on the market because there's not many gems like Walkerville anymore," says Chris Holt of the Walkerville Residents Association.
Among the best for: Canada, Family Friendly, Walkability, Gardening, Retirees, Lots to Do, Easy Commute
Annapolis Royal, Nova Scotia, Canada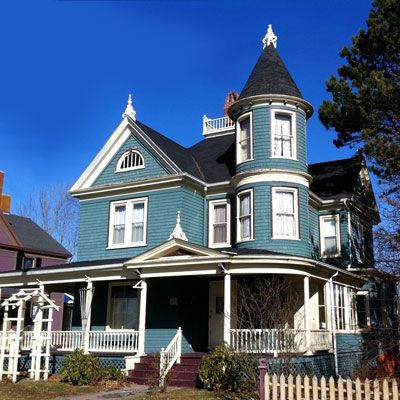 Located at the junction of the Annapolis and Allain Rivers, Annapolis Royal is a waterfront community of just under 500 residents, many of them artists, writers, or retirees. The town is proud to be one of North America's oldest continuous European settlements. It was founded as a French colony in 1605 and eventually served as the capital of Acadia (later Nova Scotia) until 1710, when it became the capitol of British Nova Scotia. Later, the town became home to merchants, commercial fisherman, and sea captains who built elegant houses along St. George Street. Today, the waterfront is populated with shops and art galleries, as well as the Historic Gardens, a 17-acre horticultural wonderland that tells the story of Nova Scotia through the gardens and crops planted here over the centuries.
The Houses
While a few examples of late-18th-century architecture survive, most houses and commercial buildings here were built by late-19th- and early-20th-century residents who made their fortunes in commercial fishing and other seafaring industries. Styles include Queen Anne, Second Empire, Folk Victorian, Gothic Revival, and Georgian Revival. Prices range from about $115,000 to $400,000 USD.
Why Buy Here?
Because of its fine 18th-, 19th- and early-20th-century architecture, most of Annapolis Royal is listed as a Canadian National Historic District. While fishing is still big, its scenic beauty and small-town atmosphere make Annapolis Royal a draw for those who work from home, as well as retirees, who love the fact that shops, groceries, a theater, and a hospital are all within walking distance on St. George Street.
Among the best for: Canada, Waterfront, Retirees, Victorians, Walkability, Lots to Do, Gardening, Family Friendly
The Highlands, Edmonton, Alberta, Canada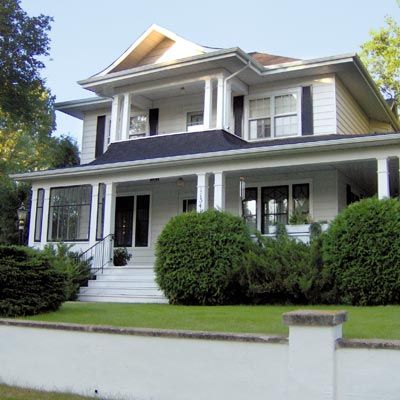 Named in a contest that awarded the winner $50 in gold, The Highlands was developed by the McGrath-Holgate Real Estate Company in 1910 as an "upper crust" community overlooking the North Saskatchewan River Valley on the northeast edge of Edmonton. The company's rapid construction of luxurious houses came to an unfortunate end in 1913, when an economic recession caused the real-estate market here to bottom out. In the next 30 years, the Highlands developed piecemeal, with flurries of smaller houses built following World War I and again in the 1940s, following the expansion of oil pipelines from here to the United States. These days, residents enjoy an abundance of activities offered by the Highlands Community League, including sports programs, as well as bridge, gardening, and craft clubs.
The Houses
Houses in Craftsman, foursquare, and various Arts and Crafts styles can be had for $275,000 to $350,000. Classical Revival houses (as well as larger Craftsmans and foursquares) are priced in the millions.
Why Buy Here?
The multiphase development of The Highlands means the streets here are lined with dwellings representing a wealth of 20th-century housing styles. Says Johanne Yakula, of From Times Past Antiques and Interiors, "These homes are real pieces of history, standing side by side." The upcoming conversion of writer and philosopher Marshall McLuhan's childhood home into a visiting academics and writers' center will add another landmark to what is already a culturally enriched community.
Among the best for: Canada, Cottages and Bungalows, Walkability, Gardening, Lots to Do