Stately and Ornate
Are you a big fan of elegant Queen Annes, Italianates, or Shingle-style houses? If so, these Victorian-era enclaves are perfect for you. And they're just a few of the 61 vibrant neighborhoods from coast to coast where you'll find one-of-a-kind period houses. Read on to see which ones are chock full of 19th-century architectural gems, or see all the neighborhoods and categories.
Canterbury, Connecticut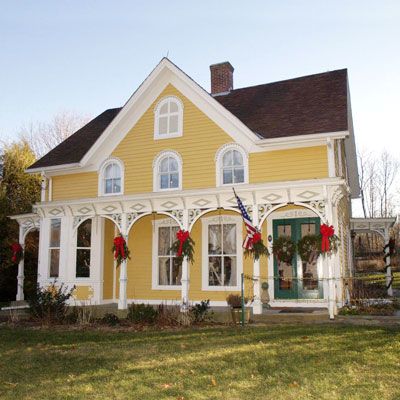 Incorporated in 1703, this 40-square-mile town is sustained by a largely agrarian economy. But it's also been home to some craft trades, including oxbows and wooden mast hoops, as well as small textile mills and sawmills. Beginning in the late 1920s, Canterbury became a popular spot for Finnish immigrants, who relocated here from New York City during the Great Depression and set up farms and food cooperatives. History buffs might be interested to know that Canterbury was once home to Moses Cleaveland, founder of Cleveland, Ohio, and Prudence Crandall, who, in the 1830s, established the first African-American school for girls in New England. That school is now a museum and has period rooms, changing exhibits, and a research library.
The Houses
The earliest surviving houses are 18th-century center-chimney houses in the Cape Cod or Salt Box style. The town is also home to more elegant Federal and Greek Revival houses and a small selection of Victorian-era houses. Prices are extremely affordable, starting out at just around $15,000 for a serious fixer-upper (quite rare). The average sale price is about $240,000. Zoning requires all houses to have at least 2 acres of property, though some comprise several hundred acres.
Why Buy Here?
While Canterbury is rural, it doesn't take long to get to other destinations for work or pleasure. The town is less than an hour's drive to Providence, Rhode Island, or Worcester, Massachusetts, and about an hour and a half away from Boston. The area also offers plenty of opportunities for outdoor adventures, including hunting, as well as fishing and kayaking on the Quinebaug River, which runs through town.
Among the best for: The Northeast, Victorians, Parks and Recreation, Family Friendly, Small Towns, American Heritage
Sandpoint, Idaho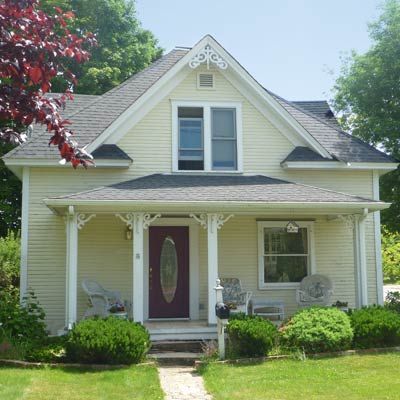 This little town of 8,500, nestled in the crook of Lake Pend Oreille, halfway between Coeur d'Alene and the Canadian border, gets more traffic than you'd think. "We're the hub of Bonner County, with two state highways," says Carrie Logan, who sits on the Sandpoint City Council. "And it's the only place in Idaho with passenger rail service." Good thing, since timbering gave way to tourism in the 1990s. The list of favorite activities among the town's locals and visitors alike is long: skiing, biking, hiking, sailing, volleyball, "and then there's 'Lost in the 50s,'" says Melissa Bethel, a planning assistant for the city. Picture 500 of the country's best-dressed 1950s-era street rods lined up, hoods popped, engines gleaming. The time warp, inaugurated in 1985, happens the third weekend in May every year.
The Houses
Queen Annes and Craftsman-style bungalows make up most of the homes built here in the early 20th century, when logging and mining were the main industries. Other styles include Dutch Colonial Revival and Tudor Revival. An 1,800-square-foot, three-bedroom abode goes for around $200,000, though some period houses can run up to $300,000.
Why Buy Here?
Clothing chain Coldwater Creek started here, as did Quest Aircraft. Perhaps it's the fresh air or the easy access to Schweitzer Mountain Resort, which had boasting rights to some of the most skiable conditions in the United States this winter, but entrepreneurs have found a happy home in Sandpoint. Retirees appreciate that major services—hospital, entertainment, shopping—are closely located; there's also a free bus system.
Among the best for: The West, Cottages and Bungalows, Victorians, Waterfront, Small Towns, Family Friendly, Easy Commute, Parks and Recreation, Retirees, Lots to Do
Beverly, Chicago, Illinois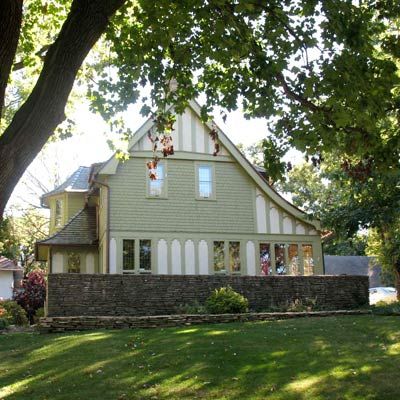 Not long ago, the Chicago Sun-Times called this hilly South Side Chicago neighborhood "Boomerang Beverly," referencing the number of kids who move away, try another place on for size, then move back to raise their own kids. It's easy to understand why. A neighborhood with safe streets, terrific schools, and seven Metra stations that'll transport you downtown in 30 minutes is nothing to sneeze at. "This is definitely the kind of place where people come to settle down and start a family," says Grace Kuikman, who's lived in a Chicago Bungalow here since 1979. Beverly is also a diverse community, though it leans strongly Irish-American, with its many Guinness-pouring pubs, a replica of an Irish castle, and an Irish film festival that runs each year at the Beverly Arts Center, a neighborhood centerpiece that also offers concerts, classes, and lectures.
The Houses
They range from $125,000 bungalows and brick Tudors to million-dollar mansions, many of which are located in the Ridge Historic District, so named for the glacially formed elevation on which some of its homes were built. Other styles include Victorian-era Italianate and Stick, as well as Prairie-style houses designed by Chicago's own Frank Lloyd Wright.
Why Buy Here?
Unlike most urban neighborhoods, Beverly boasts big yards, huge trees, and wide avenues. It recently received a new fire station and public library. Property values remain steady here, so it's a good bet to invest in this small village right inside the big city.
Among the best for: The Midwest, Family Friendly, Easy Commute, Walkability, Lots to Do, City Living, Cottages and Bungalows, Victorians
Lansing, Iowa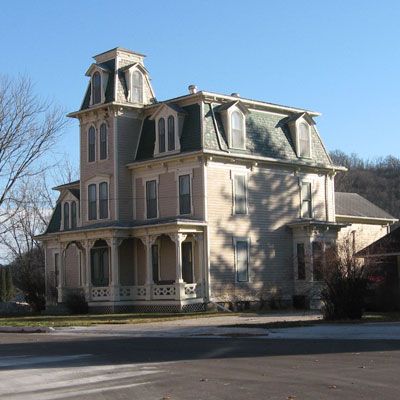 Settled in 1848 by Lansing, Michigan, native William Garrison, Lansing, Iowa, was once a prosperous town that flourished during the golden age of riverboat travel and was home to many a grain and lumber mill. Located on a series of bluffs on the Mississippi River, Lansing is now a popular stop-off point for recreational boaters, who hit the shore to enjoy the restaurants and bars on Main Street. Lansing also retains enough businesses to keep its thousand or so residents happy, including two hardware stores, a doctor's office, grocery store, and Horsfall's variety store, a ramshackle general-store throwback that stocks everything from undergarments to circa-1980s lunch boxes to, well, just about everything else.
The Houses
Older houses are located off Main Street and along the river on Front Street. Styles include Tudor Revival, Greek Revival, Mission, and Queen Anne. Prices range from below $200,000 to not much more than $400,000 for those with commanding views of the Mississippi River.
Why Buy Here?
Lansing is a popular destination for families, who appreciate its highly ranked public schools, and for second-home buyers and retirees, who like that everything they need is within walking distance. In addition to fishing and hunting, both wildly popular here, outdoor enthusiasts will love the surrounding parks' hiking and biking opportunities, as well as Mt. Hosmer, a 450-foot-high bluff that overlooks Lansing and distant views of Iowa, Minnesota, and Wisconsin.
Among the best for: The Midwest, Waterfront, Retirees, Family Friendly, Parks and Recreation, Small Towns, Victorians, Walkability, Lots to Do
Strawberry Hill, Kansas City, Kansas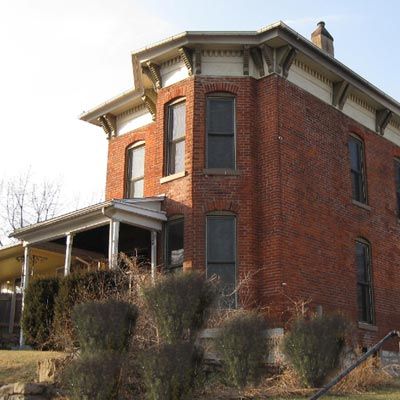 "I have wild strawberries all over my backyard—and, yes, it's kind of cool," says Carole Diehl of the aptly named Kansas City neighborhood she and her husband have called home for the past 21 years. During that time, Diehl, who serves as president of the neighborhood association, has seen a lot of changes in Strawberry Hill, which is situated on a bluff overlooking the confluence of the Kansas and Missouri rivers. The town's citizens—many of them descendants of 19th-century Eastern European immigrants who moved here to work in the city's meatpacking industry—today make room for young artists and young families drawn to the affordable houses and the restaurants, shops, and pubs opening up on Fifth Street, the neighborhood's main commercial drag.
The Houses
Strawberry Hill retains many of its original brick workers' cottages and wood bungalows. Most are located on 25-foot-wide lots, include two or three bedrooms, and average around 1,000 square feet. The neighborhood's larger two-story Victorian-era houses are much sought after by newcomers. A three-bedroom 1932 bungalow was recently on the market for just under $50,000, while a 1,554-square-foot Folk Victorian was going for around $80,000.
Why Buy Here?
Strawberry Hill remains an affordable (and increasingly hip) option for first-time homebuyers. Fifth Street recently underwent a thoughtful makeover, including old-fashioned streetlights and brick sidewalks, promising this reemerging commercial district will continue to bustle in the future.
Among the best for: The Midwest, Cottages and Bungalows, Victorians, Waterfront, City Living, First-Time Buyers
East Row Historic District, Newport, Kentucky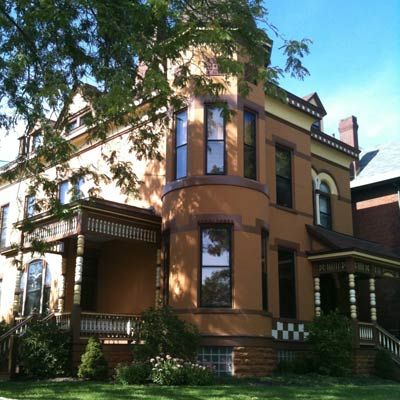 Across the Ohio River from downtown Cincinnati, the East Row Historic District was once home to late-19th-century riverboat captains and captains of industry, including brewers and bankers. When river-based industries declined, Newport took an alternative approach to diversifying its economy, as casinos, saloons, and houses of ill repute turned this into the Boardwalk Empire of the South. The 1980s saw an influx of architects, doctors, and young professionals restoring East Row residences that, despite being divided into apartments or boarding houses, retained many of their original details. These days, the neighborhood continues to draw Cincinnatians and fans throughout the region who appreciate its river-town beauty, entertainment district, and the beloved Newport Aquarium.
The Houses
Many of East Row's 1,100 houses were built by 19th- and early-20th-century German craftsmen who came to work in the breweries and trades of this region. Houses feature ornate metal cornices, stone windowsills, stained-glass windows, and the occasional turret. Since they were erected primarily in the Victorian era, Queen Anne, Second Empire, and Italianate styles predominate. While some homes are priced above the $300,000 mark, you can still get a more modest dwelling or fixer-upper for just over $100,000.
Why Buy Here?
Newport's entertainment district provides plenty of places to eat, hear music, or grab a drink. Cincinnati is easy to get to, thanks to a recently restored pedestrian bridge that allows you to walk or bike downtown for work, dining, or a Reds game.
Among the best for: The South, Bargains, Fixer-Uppers, Lots to Do, Easy Commute, Walkability, Waterfront, Victorians
St. Francisville, Louisiana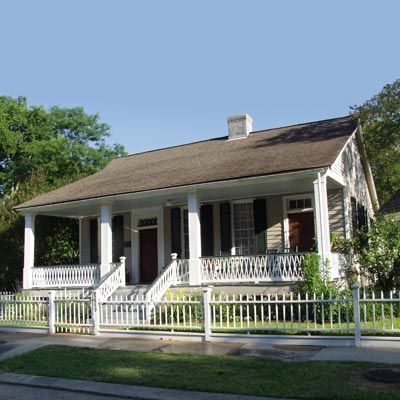 "This is sort of an unspoiled part of Louisiana," says Anne Butler, a seventh-generation St. Francisville resident who has written numerous books about the area. Claimed at various points in its history by the French, English, and Spanish, St. Francisville boasts not only ample amounts of history and culture but also a cherished landscape. In fact, naturalist John James Audubon spent several months here in 1821, painting more than 30 avian portraits for his book The Birds of America. Perched at the western edge of Louisiana hill country on a narrow ridge above the Mississippi River, St. Francisville was long known as the town that's "two miles long and two yards wide." Over the centuries this elevated position has saved it from the floodwaters that claimed the nearby town of Bayou Sara, a major port just down the river. St. Francisville residents take pride in caring for what has survived the trials of nature and man.
The Houses
St. Francisville has a mix of 19th-century Victorian-era cottages and townhouses, as well as plantation homes, which are located in the surrounding countryside. A number of them have come on the market recently and are being purchased by young families. "It's wonderful to see a new generation bringing with them a new vibrancy," says Butler. Older houses start out at about $175,000 and run into the millions for plantation houses.
Why Buy Here?
Only 30 minutes north of Baton Rouge, St. Francisville gives commuters and recent retirees alike a chance to enjoy daily life in a picturesque town while having access to everything a nearby big city offers. Excellent schools and a low crime rate don't hurt, either.
Among the best for: The South, Parks and Recreation, Family Friendly, Retirees, Cottages and Bungalows, Victorians, Easy Commute
Monroe, Michigan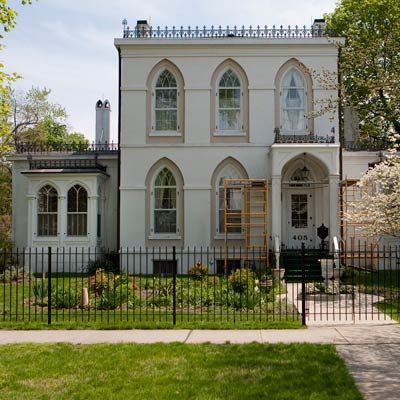 This city of about 20,000 residents on the banks of the Raisin River and Lake Erie has been a French settlement, a War of 1812 battlefield, and the adopted hometown of one George Armstrong Custer. Named for President Monroe, these days, it's largely known for its National Historic District downtown, which is packed with century-old Italianate buildings housing a variety of cafes, bookstores, bakeries, and apartments. The city is also on the music map, thanks to the annual jazz festival it hosts the second week of August, drawing upwards of 50,000 people. Dubbed the Floral City for its 19th-century nurseries, it continues to be heralded for its many gardens and shade trees.
The Houses
Monroe's oldest houses are found in the Old Village Plat, which is dominated by Victorian-era styles, including Queen Anne, Italianate, and the "Irish Gothic" house shown here. Later Revival-style houses from the early to mid 20th century can be found in the Hollywood Drive neighborhood. You can get a restored 19th-century Italianate in Monroe for $100,000 to around $170,000, and fixer-uppers sell for less than $80,000. Few homes cost more than $225,000.
Why Buy Here?
Monroe recently reclaimed a historic War of 1812 battlefield, which is now a full-fledged National Battlefield Park that's drawn thousands of tourists since its opening, in 2010. It also created a popular hiking and biking trail connecting the battlefield to both downtown Monroe and Sterling State Park, the largest state park in Michigan. Monroe is located about 40 miles from Detroit and Ann Arbor, so it's also an ideal spot for commuters.
Among the best for: The Midwest, American Heritage, Victorians, Parks and Recreation, Waterfront, Gardening, Easy Commute
Old Highland, Minneapolis, Minnesota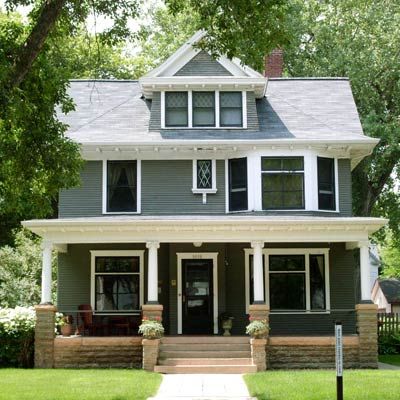 Encompassing 30 blocks of hardscrabble North Minneapolis, this Victorian-era enclave is the kind of place where people fall in love first with a house, then with the neighborhood. "This area has always been stigmatized as a rough part of town, so it wasn't on my radar," says resident Amy Narum, who moved into her partner Mary's 1904 duplex a few years ago. "But I quickly realized that people here are really friendly and really close." The area, named for its location high above the city's Bassett Creek and Oak Lake, was largely developed during the 1880s, when architects designed residences for well-to-do merchants operating businesses along its main thoroughfares of Washington, Plymouth, and West Broadway. Middle-class migration to newer suburbs, combined with absentee landlords, put the neighborhood on the decline by the 1970s. But residents fought back, forming a neighborhood association that's the basis of the tight-knit community.
The Houses
Most are 2,500- to 3,000-square-foot Queen Annes, Prairie-styles, and Craftsmans constructed from the late 1800s to early 1900s. While prices for restored houses were reaching the $300,000 range during the housing boom, you can now get one for as little as $150,000, while fixer-uppers can be had for as little as $40,000.
Why Buy Here?
Absentee landlords who'd scooped up properties in Old Highland during the real-estate boom are largely out of the picture, resulting in housing stock that's well-priced, lived in by locals, and much better maintained than it was before. Because of the low prices, many homeowners here are purchasing properties on their own blocks and restoring them for use as rentals.
Among the best for: Victorians, Editors' Picks, The Midwest, Fixer-Uppers, First-Time Buyers, City Living
Town Center Historic District, Yazoo City, Mississippi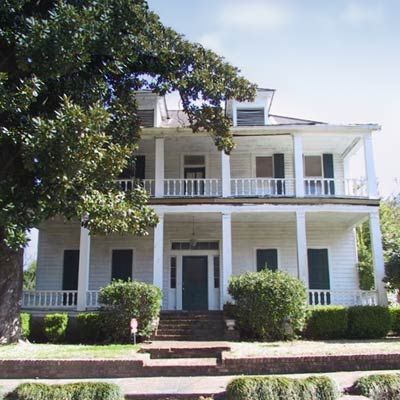 Named for the Native American tribe that lived near the mouth of the Yazoo River, Yazoo City knows a thing or two about survival. A yellow-fever epidemic decimated its population in 1853; the Union Army sacked it repeatedly during the Civil War; and a 1904 fire destroyed much of its downtown and over 100 residences on adjacent streets. Yazoo faced its most recent challenge in 2010, when two tornadoes ripped through the outskirts of town, destroying houses and damaging businesses. Through it all, this city of about 14,500 continues to move forward. Its downtown, rebuilt following the 1904 fire, is listed on the National Register of Historic Places. Known as the Town Center Historic District, its attractions include the new Downtown Marketplace, which boasts over 100 vendors, selling everything from artwork to casseroles, and Grace Hardware, a go-to spot for furniture custom-built by Mississippi craftsmen.
The Houses
Yazoo City has hundreds of 19th- and 20th-century examples of Queen Anne cottages, Greek Revivals, and Colonial Revivals, which range from $45,000 for a fixer-upper to around $250,000 for a restored Victorian-era house. A remodeled 4,818-square-foot center-hall Queen Anne was recently priced for $139,000.
Why Buy Here?
For anyone who's ever dreamed of living in (or retiring to) a small, convivial southern town, Yazoo City is a great option, says resident Dawn Rosenberg Davis. "Everyone still knows everyone here," she says. It's downright beautiful, too, whether looking toward the rolling hills to the east or the flat Mississippi Delta to the west. Yazoo City is also a 40-minute drive from Jackson, so it's also an easy commute.
Among the best for: The South, Victorians, Small Towns, Retirees, Fixer-Uppers, Cottages and Bungalows, Bargains, Easy Commute, American Heritage
Livingston, Montana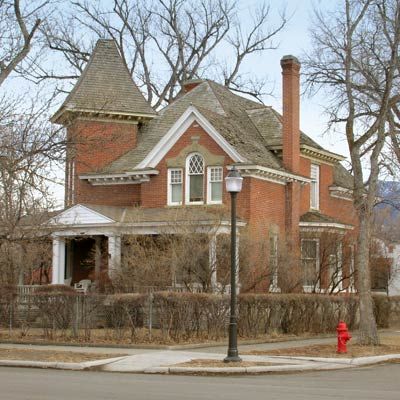 Located on the banks of the Yellowstone River and at the original entrance to Yellowstone National Park, Livingston, Montana, was a rough-and-tumble town founded in 1882, when the Northern Pacific Railroad came here and made it the site of a locomotive repair shop. Notable residents of this town of about 7,400 have included everyone from Calamity Jane to Jeff Bridges. But the real star is the town's historic commercial district. Comprising primarily brick Colonial Revival buildings, it has changed little since the late 1800s, when most of it was built. If Livingston looks familiar, it might be because its historic buildings and houses have played the backdrop for dozens of films, including 1992's A River Runs Through It.
The Houses
Expect to find brick foursquares and Queen Annes, as well as a few Prairie-style homes. Several houses here were built with hand-cut sandstone. A beautifully restored two-bedroom stone cottage, dating to 1900, was recently on the market for $143,000. A three-bedroom, 2,622-square-foot Craftsman built in 1920 was on the market for $199,000.
Why Buy Here?
These days, Livingston's is a popular spot for outdoorsy writers, artists, actors, and sportsmen. But there are still plenty of watering holes, including the original Bucket of Blood, which is now the Livingston Bar & Grill—a gentler name for gentler times. Yellowstone National Park, an hour's drive away, and the surrounding environs provide plenty of opportunities for hiking, camping, fishing, and any other outdoor pursuits you might have in mind.
Among the best for: The West, Parks and Recreation, American Heritage, Small Towns, Lots to Do, Bargains, Victorians, Waterfront
Keene, New Hampshire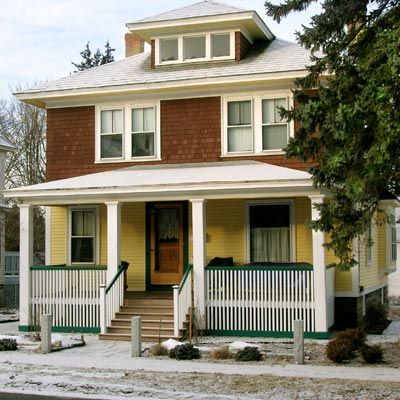 If you ask a local of Keene if she's lived there all her life, the response is likely to be, "Not yet." A dry sense of humor is typical of this part of southern New Hampshire, as is the knowledge that residents have found a good place to be. "It's a 10-minute walk to Main Street, the movie theater, a huge park—everything you need," says Sandy Hamm, who moved into her 1875 home on the east side of town eight years ago. The business center of Cheshire County, Keene's population of around 22,000 swells to more than twice that size during the day. Students attending Keene State College and Antioch University New England also add several thousand to the local population during the school year, keeping things lively.
The Houses
In the late 19th and early 20th century, the town, with its woodenware mills and ample nearby forests, was a manufacturing center for items such as chairs, shutters, doors, carriages, and sleighs. Classic New England farmhouses, brick Cape Cods, and Victorian-era mansions with carriage houses, the latter survivors of Keene's rich milltown days, are all found here. A 3,100-square-foot Italianate house with original moldings and built-ins (and requiring some major TLC) was recently listed at $145,000, while an 1850s farmhouse with hardwood floors and a tin ceiling was selling for around $75,000.
Why Buy Here?
Great schools, plentiful nearby nature (3,165-foot-high Mt. Monadock is 20 minutes away), and a close-knit community spiced with the energy of a college town means that for those looking for a lively pace, Keene has everything you need.
Among the best for: The Northeast, Family Friendly, College Towns, Walkability, Victorians, Fixer-Uppers, Parks and Recreation, Lots to Do
Van Wyck Brooks Historic District, Plainfield, New Jersey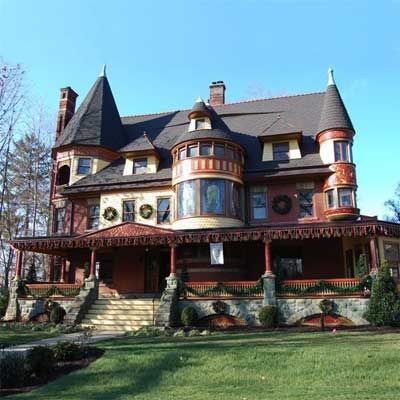 The residents of the Van Wyck Brooks neighborhood sure know how to entertain at home. From progressive dinners to black-tie parties to after-work cocktails, someone's always hosting something around here. But why wouldn't they want to show off their houses? Most were built by turn-of-the-century financiers and businessmen who migrated here following the establishment of railroad lines between Plainfield and New York City in the mid-1800s. They outfitted their suburban palaces with elaborate staircases, Citizen Kane–like oversize mantels, stained-glass windows, and millwork carved from exotic hardwoods. Named after Pulitzer Prize–winning writer Van Wyck Brooks, who grew up here, the entire neighborhood is listed on the National Register of Historic Places.
The Houses
The most exquisite are enormous Second Empire and Queen Anne homes with wraparound porches, turrets, and elegantly landscaped front yards. The neighborhood is also home to Shingle, American Foursquare, and Tudor Revival houses, among others. Prices for mansions can run into the millions, though smaller houses can be found for less than $200,000.
Why Buy Here?
Plainfield took a huge hit in the 1960s, when local social unrest led to the relocation of many residents and widespread disinvestment in the community. Today, the city is seeing an uptick of small, independently owned businesses as well as mainstream commercial development. An influx of young professionals making their homes in Van Wyck Brooks also signals a renaissance. Plainfield is about 30 miles from both Newark and New York City, and 74 miles from Philadelphia, so commuting is an option.
Among the best for: The Northeast, Fixer-Uppers, Gardening, First-Time Buyers, Easy Commute, Victorians, American Heritage
Milton, North Carolina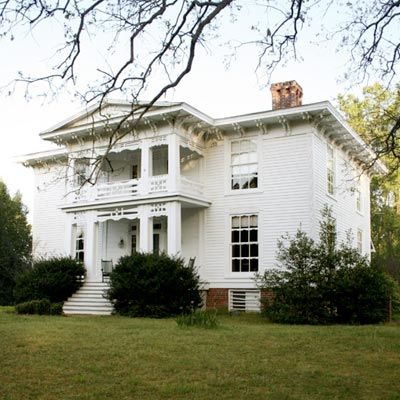 This quiet Piedmont-region village of around 130 people is near and dear to historic preservationists in the Tar Heel State. "I love Milton," says Cathleen Turner of Preservation North Carolina. "It's a great rural community that's filled with amazing architecture." Many houses have exquisite millwork provided by Thomas Day, a 19th-century African-American craftsman whose eye-catching work is found throughout the state. The town's buildings and houses are the result of the 19th-century prosperity fueled by the tobacco warehouses and factories stringing the nearby Dan River. Nowadays, descendents of families who have lived here more than a century coexist with newcomers, enjoying a bite together at Aunt Millie's Pizza & Suds or grabbing a cup of coffee at the Milton General Store.
The Houses
Greek Revival, Federal, and Victorian-era styles prevail. Recent listings include a circa 1859 Greek Revival that served as a bank during the Civil War (shown here). Listed at just $95,000, the house still retains its original bank offices, as well as its vault! Other houses range in price from $5,000 to $529,000 for the 1838 Woodside Richmond House, a 4,483-square-foot manor with five acres of land and an abundance of Thomas Day millwork.
Why Buy Here?
Milton is surrounded by Caswell County, a rolling landscape of working farms and dense forests. It's also just over an hour from North Carolina's Research Triangle, which makes commuting an option. If you choose to fix up an older house, part of your expenses may be covered by North Carolina's generous 30 percent historic-preservation tax credit.
Among the best for: The South, Fixer-Uppers, First-Time Buyers, Bargains, Easy Commute, Small Towns, Victorians, American Heritage
Baker City, Oregon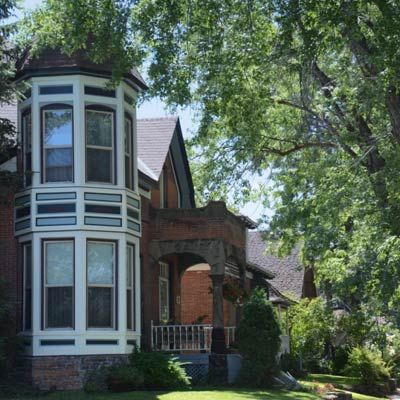 After gold was discovered here in the 1860s, this town nestled between the Wallowa and Blue mountains quickly grew into a cultural oasis with hotels, opera houses, and saloons. By the turn of the century, Baker City was known as the "Queen City of the Inland Empire," its population of 6,700 rivaling that of Spokane and Boise. After the closing of a local sawmill led to an economic downturn in the 1980s, it managed to lure a new generation of artists and lone wolves with its surplus of affordable houses and large commercial spaces. Today, the town of 10,000 has a downtown that's home to more than 140 independently owned businesses, including art galleries, a food co-op, and restaurants.
The Houses
Most were built between the 1890s and 1920s by miners and business owners who made their fortunes here during the gold rush. These are well-crafted houses, with plank wall construction and, in many cases, tuff stone cladding and foundations. Styles include vernacular cottages, Queen Annes, Italianates, American Foursquares, and Gothic Revivals. Modest houses can be had for less than $100,000, with a median price under $200,000.
Why Buy Here?
With its gorgeous surroundings and growing artistic community, locals believe Baker City is poised to become the Santa Fe of the northwest. Surrounded by mountain ranges, parks, and hiking trails, it also appeals to skiers and snowshoers. Anyone who's dreamed of opening a business can nab a two-story commercial building downtown for around $200,000. But at the rate things are going, those bargains won't last long.
Among the best for: The West, Parks and Recreation, Walkability, Lots to Do, Bargains, Fixer-Uppers, Victorians, Cottages and Bungalows
West Chester, Pennsylvania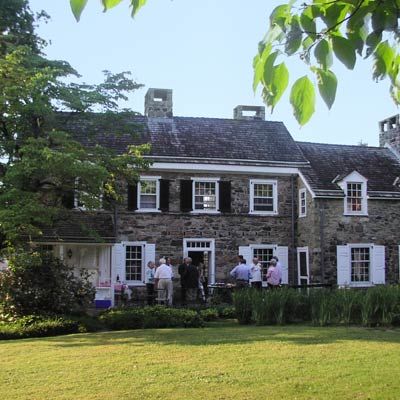 At just 1.8 square miles, West Chester hasn't grown an inch since Welsh Quakers established it, in 1799. Back then, the town was located at an intersection of roads leading to Philadelphia, Pottstown, Lancaster, and Wilmington, Delaware. This made it a popular resting spot for travelers, hence the many hotels, taverns, and shops here. In 1848, West Chester, by then the county seat of Chester County, saw the completion of a Greek Revival courthouse designed by Thomas U. Walter, who went on to design the dome and wings of the U.S. Capitol Building. Today, downtown is packed with 19th-century buildings housing clothing boutiques, art galleries, and restaurants, which serve this bustling community of 18,000.
The Houses
Both rowhouses and free-standing houses in the Queen Anne, Second Empire, and Italianate style predominate, though a few early colonials remain. Most are built of stone or brick during a turn-of-the-century building boom, the result of a railroad linking the town to Philadelphia and the emergence of several factories manufacturing farming equipment. Prices run from $70,000 into the millions. A three-bedroom, 1,200-square-foot townhouse circa 1900 was offered for around $219,000.
Why Buy Here?
West Chester has been ranked a "Distinctive Destination" by the National Trust for Historic Preservation, as well as a "walker's paradise" by WalkScore.com. The town serves as a bedroom community for commuters to Philadelphia, about 25 miles away, and, thanks to its proximity to Valley Forge and the Brandywine Battlefield Historic Site, it's also handy for heritage tourism.
Among the best for: The Northeast, Walkability, Easy Commute, American Heritage, Small Towns, Victorians
Lead, South Dakota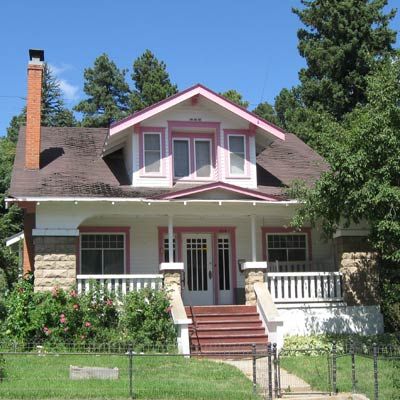 "I moved to Lead from the East Coast 28 years ago and haven't looked back," says Realtor Bill Laskowski of his adopted hometown. It's easy to see where all the love comes from. This western South Dakota town, founded in 1876 and home to just over 3,000 residents, is engulfed by the Black Hills National Forest, so to say it's picturesque is an understatement. It also offers plenty of opportunities for outdoor enthusiasts (hiking, skiing, or snowmobiling, anyone?). Until recently, the city's raison d'etre was the Homestake gold mine, once the biggest, deepest mine in the western hemisphere until it shut down, in 2002.
The Houses
Most were built for mine workers and operators between the late 1800s and the 1940s, and range in style from Queen Anne to Tudor Revival. Many have been restored or are undergoing restoration. A large Stick-style home on Main Street was recently listed for $136,000, but a fixer-upper Queen Anne cottage can be found for as low as $14,000.
Why Buy Here?
While Lead was devastated after the closing of its gold mine, which destroyed both jobs and community spirit, things are looking up due to the Sanford Underground Laboratory, a massive science lab under construction in the old Homestead Mine that's expected to produce jobs and a new sense of purpose. Downtown, meanwhile, is being refurbished into a regional center for arts and entertainment, the centerpiece of which is the restoration of the 1914 opera house.
Among the best for: The West, Bargains, Fixer-Uppers, Parks and Recreation, Cottages and Bungalows, Victorians
Center Street Historic District, Logan, Utah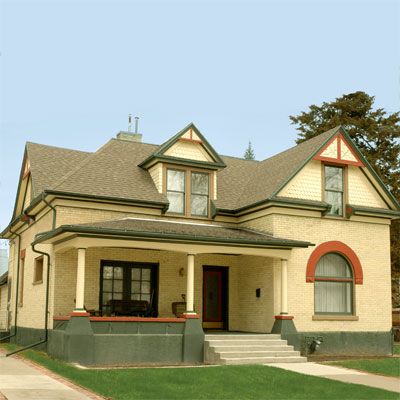 Surrounded by the cascading Bear River and the Wasatch mountains, the Center Street Historic District is a locally prized collection of houses dating back to the 1860s. It's situated in the heart of Logan, Utah, a picturesque town near the Utah-Idaho border that was founded by Mormon settlers and is now home to Utah State University. The neighborhood is close to restaurants, shops, entertainment, and a farmer's market, all within walking distance. Residents keep busy biking or hiking the local trails, swimming at the Aquatic Center, or hitting the links at the Logan River Golf Course, with its recently completed clubhouse.
The Houses
The majority of the houses were constructed in the late 1800s, when craftsmen who worked on the town's tabernacle (begun in 1865) started building large brick and stone dwellings in the Queen Anne and Tudor Revival style for the city's wealthy merchants. Later Arts and Crafts-influenced houses are also available. Prices range from $75,000 for a small fixer-upper to about $350,000 for a spacious, fully restored home.
Why Buy Here?
In addition to easy access to an active, healthy lifestyle, the Utah State Historic Preservation Office offers a 20 percent tax credit for rehabilitation of all properties listed on the National Register of Historic Places (including every structure in the Center Street District), an added incentive to fix up a house here. The city is also trying to expand the boundaries of the district so that more houses qualify for the credit.
Among the best for: The West, Bargains, Family Friendly, Walkability, Lots to Do, Parks and Recreation, American Heritage, Fixer-Uppers, College Towns, Victorians
Old Southwest, Roanoke, Virginia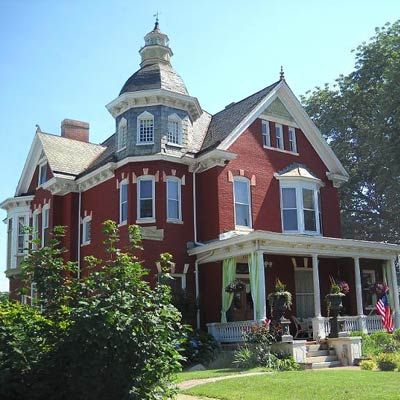 A 10-minute saunter from downtown Roanoke, Old Southwest was developed in the late 19th and early 20th centuries as a residential area for well-to-do merchants and those who profited from the many railroads that once intersected here. Until the end of World War II, it was considered one of the most fashionable neighborhoods in town, but after the war, many residents moved to embrace a new housing trend, the suburbs, leaving stately old houses to the mercy of developers, who chopped them into apartments or razed them. In recent years, as downtown Roanoke has been revitalized with facade improvements and new businesses so too has Old Southwest, which appeals to newcomers who appreciate well-crafted houses with expansive porches and classic columns.
The Houses
Most were constructed between the 1880s and the 1930s. Styles include fanciful Queen Annes, as well as Georgian Revivals, Gothic Revivals, and American Foursquares. Many retain their stained-glass windows and slate or metal roofs. Prices average $175,000, but expect to find some for as little as $10,000 or as much as $800,000, depending on size and condition. The neighborhood is listed on both the Virginia Landmarks Register and the National Register of Historic Places.
Why Buy Here?
The neighborhood was listed as a "Hot 'Hood" by USA Today in 2010, thanks to its proximity to the city's lively downtown. A neighborhood organization, Old Southwest Inc., hosts an annual Holiday Parlor Tour of Homes and other neighborhood events. Roanoke's location in the Blue Ridge Mountains makes it a destination for outdoor enthusiasts too, and 32-acre Highland Park offers sports facilities and a dog park.
Among the best for: The South, Bargains, Victorians, Fixer-Uppers, First-Time Buyers, Walkability, Lots to Do, Parks and Recreation, Waterfront
Logan, Spokane, Washington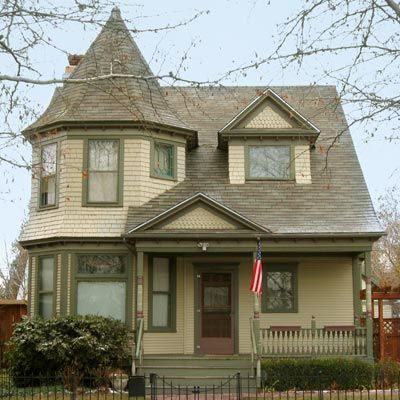 Historic preservation is serious business in Spokane, the largest city in eastern Washington, and even the experts are charmed by this neighborhood. "If I lived in Spokane, I'd have a house in Logan," says Kathryn Burk-Hise, who commutes to the city for her job as executive coordinator of Spokane Preservation Advocates. Flanked by Gonzaga University to the southwest and the Spokane River to the southeast, this little pocket first emerged in 1894 with 30 houses. It was imagined, then, to be the start of a Jesuit community. Today, it's not only a "Catholic hub" but also a community with nearby schools and hundreds of quaint single-family homes at affordable prices. "Streets are wide, tree canopies are big, and there are elementary schools," says Burk-Hise. "It's a great family neighborhood."
The Houses
Queen Annes, Tudor Revivals, and Craftsman bungalows built between 1900 and the 1930s pepper Logan's verdant streets. A well-kept 2,700-square-foot house near Mission Park recently sold for $189,900, though the average price in the area today is $87,000 for houses with original features, including leaded-glass windows and oak millwork. Dwellings that need some rehab go for as low as $50,000.
Why Buy Here?
Students and educators at the four colleges in the area have plenty of worthy distractions from academic pursuits. Locals can be found kayaking, fishing, and swimming in the summer, and it's hard not to be dazzled by the spectacular set of waterfalls that run right through town a few blocks from the southwest edge of Logan.
Among the best for: The West, Bargains, Fixer-Uppers, Cottages and Bungalows, Victorians, College Towns, Retirees, Family Friendly, First-Time Buyers, Easy Commute, Parks and Recreation, American Heritage
East End, Charleston, West Virginia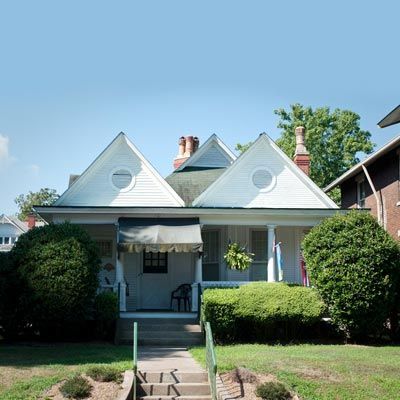 Straddling the confluence of the Kanawha and Elk Rivers, Charleston is the capital and center of commerce for West Virginia, but with just over 52,000 residents, it's possible to find some small-town attributes. When history professor Billy Joe Peyton and his wife looked for a house in Charleston, it wasn't hard to settle on the East End. "You can walk to nearly everything, and it's an interesting place to live," he says of the neighborhood that is home to a minor-league baseball stadium, the Clay Center for the Arts and Sciences, and the Capitol Market, a farmer's market located inside a restored train depot.
The Houses
The official National Register Historic District, on the south side of Washington Street East, which runs through the middle of the East End, affords a mix of Queen Annes, foursquares, and Neoclassical Revivals, many with porticos and enormous stucco columns. Recently, a 1920 foursquare with original hardwood floors and a block from the river was for sale at $239,000. To the north, there are smaller brick and wood-frame houses that are deals, like a 1,700-square-foot 1910 Craftsman for just $38,000.
Why Buy Here?
After suffering from urban blight during the latter half of the 20th century, the neighborhood is experiencing a wave of revitalization and preservation. Thanks in part to the efforts of the East End Main Street program, many buildings have been refurbished, new street lamps installed, and colorful murals painted by local artists. What's more, around 30 new businesses have opened since 2002. Even outside Charleston, people are taking notice: The neighborhood is a semifinalist for the 2012 Great American Main Street Award.
Among the best for: The South, Victorians, Walkability, First-Time Buyers, Fixer-Uppers, Lots to Do, Bargains, Cottages and Bungalows, City Living
Stanstead, Quebec, Canada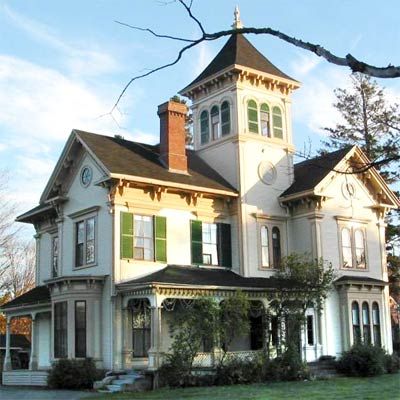 Once a backwater for smugglers and lawless New Englanders, this town on the Quebec-Vermont border bloomed in the 19th century as a business and transportation center due to large-scale quarrying of granite and its place as the last Canadian stop on the stagecoach that linked Quebec with Boston. In 1870, the stagecoach gave way to a railway, reinvented as a bicycle path today. Dufferin Street, which runs through Stanstead and into Derby Line, Vermont, is hailed by locals as an open-air museum that features three large churches and massive two- and three-story Victorian-era homes. "We have lots of examples that are half in Canada, half in the United States," says Troy Winter of ReMax Realty. Residents show their community spirit with an outdoor Christmas bazaar, holiday decorating contest, winter fun day in Beebe Memorial Park, and—new this year—a haunted hockey arena at Halloween. Each summer, the approximately 3,000 citizens (and their American neighbors) celebrate culture and history at Border Fest, enjoying a parade, music, foods of the region, and family-style "firemen" races.
The Houses
Queen Annes and foursquares predominate. Large Victorian-era homes run from $300,00 to $350,000, but come with a whopping 12 to 15 rooms, suitable for big families. Smaller but equally gracious foursquares go for $180,000 to $250,000.
Why Buy Here?
Its location at the U.S. border and proximity to Autoroute 55 make it easy to travel near and far. The Haskell Free Library and Opera House, constructed between 1901 and 1904 deliberately at the convergence of the two border towns, is still accessible from either side without passing through customs. Sports fans appreciate L'Arena Pat Burns, a state-of-the-art arena named for the legendary NHL coach.
Among the best for: Canada, Family Friendly, First-Time Buyers, Victorians, Cottages and Bungalows, Lots to Do, Small Towns, Parks and Recreation
Annapolis Royal, Nova Scotia, Canada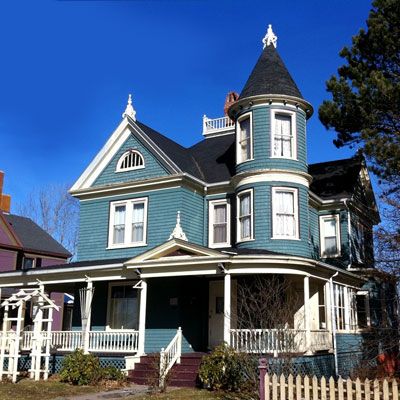 Located at the junction of the Annapolis and Allain Rivers, Annapolis Royal is a waterfront community of just under 500 residents, many of them artists, writers, or retirees. The town is proud to be one of North America's oldest continuous European settlements. It was founded as a French colony in 1605 and eventually served as the capital of Acadia (later Nova Scotia) until 1710, when it became the capitol of British Nova Scotia. Later, the town became home to merchants, commercial fisherman, and sea captains who built elegant houses along St. George Street. Today, the waterfront is populated with shops and art galleries, as well as the Historic Gardens, a 17-acre horticultural wonderland that tells the story of Nova Scotia through the gardens and crops planted here over the centuries.
The Houses
While a few examples of late-18th-century architecture survive, most houses and commercial buildings here were built by late-19th- and early-20th-century residents who made their fortunes in commercial fishing and other seafaring industries. Styles include Queen Anne, Second Empire, Folk Victorian, Gothic Revival, and Georgian Revival. Prices range from about $115,000 to $400,000 USD.
Why Buy Here?
Because of its fine 18th-, 19th- and early-20th-century architecture, most of Annapolis Royal is listed as a Canadian National Historic District. While fishing is still big, its scenic beauty and small-town atmosphere make Annapolis Royal a draw for those who work from home, as well as retirees, who love the fact that shops, groceries, a theater, and a hospital are all within walking distance on St. George Street.
Among the best for: Canada, Waterfront, Retirees, Victorians, Walkability, Lots to Do, Gardening, Family Friendly
St. Martins, New Brunswick, Canada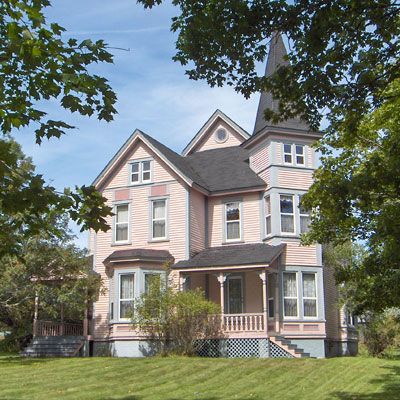 Summer vacationers flock to this tiny village for its rugged beauty, and some love it so much they stay. "It's a healthy place to be," says Jacqueline Bartlett, who retired to St. Martins from Toronto with her husband in 2005. Locals don't mind trading urban convenience for gorgeous views of the Bay of Fundy along the southern coast of the province, 110 miles from the Maine border. "We came for the good, fresh air and healthy water. I have my own chickens and food from the garden—and I'm a city person." The remote town comes alive as a tourist mecca during the summer, but only about 400 of New Brunswick's heartiest stick it out year-round. "Most go south for the winter," says local museum curator Barbara McIntyre, with a friendly chuckle.
The Houses
Prosperous sea captains built most of the homes in the area in the early 19th century. Inspired by architecture from as far away as France, Spain, Malaysia, and China, the houses weave elements of what locals saw abroad with Gothic Revival, Italianate, and Queen Anne styles. Expect a bay view, an acre or more of land, and a sturdy, storied structure to set you back about $110,000 to $250,000.
Why Buy Here?
All roads to the entrance of the famed Fundy Trail Parkway lead through St. Martins. This 10-mile multiuse coastal trail is undergoing its second phase of development. Once completed, it will connect to the trans-Canadian network, creating hundreds of new year-round jobs in the area and also giving the town an even bigger tourism boost.
Among the best for: Canada, Small Towns, Waterfront, Parks and Recreation, Cottages and Bungalows, Bargains, Walkability, Victorians
Wolseley, Winnipeg, Manitoba, Canada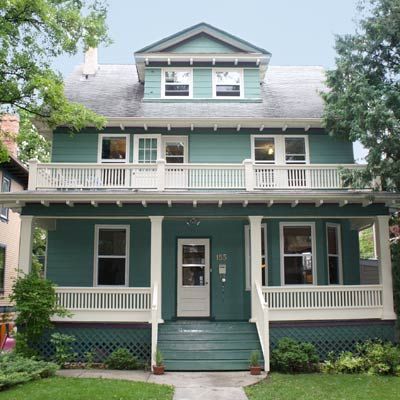 It's appropriate that part of current-day Wolseley was once a turn-of-the-century amusement park called Happyland. The suburban Winnipeg neighborhood that developed around and eventually devoured the financially strapped park seems to bring as much glee to today's residents as it did to yesterday's roller-coaster riders. Its quiet, verdant streets, lined with towering elm trees and well-lived-in houses, exude an air of tranquility. "It's hard not to love this place," says Todd Sykes, who grew up here and now owns a house just a few doors down from his parents'. He points out how everyday life here recalls a simpler time: During the long winters, shacks selling hot chocolate still pop up on the frozen Assiniboine River to serve ice skaters and hockey players, and local kids tear themselves away from their PlayStations to toboggan down the same hills he did when he was young.
The Houses
Most were built in the early 1900s and are largely Queen Annes and other Victorian-era styles. Prices range from about $150,000 to $700,000 (USD). Houses are interspersed with handsome pre–World War II apartment buildings, built for the city's teachers, nurses, and small-business owners—a combination that has always made this neighborhood economically diverse.
Why Buy Here?
Unlike other cities of similar size, Winnipeg has continued to experience strong economic growth thanks to a diversified economy, which includes manufacturing, agriculture, and the aerospace industry. While Wolseley is within walking distance of downtown Winnipeg and its many amenities, its own picturesque shopping district on Westminster Street is home to organic grocery shops, bookstores, and bakeries.
Among the best for: Canada, Victorians, Family Friendly, Parks and Recreation, Easy Commute, Editors' Picks
Strathcona, Vancouver, British Columbia, Canada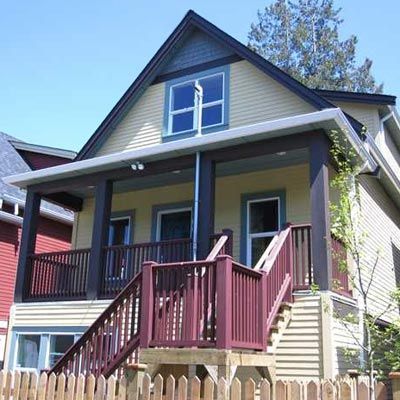 The oldest residential neighborhood in Vancouver, Strathcona developed in the late 19th and early 20th centuries just east of the city's original townsite, where an 1860s sawmill—then the city's main economic engine—was located on the Burrard Inlet and around which most of the city's first residents lived. Vancouver grew by leaps and bounds when the Canadian Pacific Railway made the city a terminus in 1887, turning it into a center of trade and industry. To meet rising demands for housing, the Vancouver Improvement Company developed the neighborhood of Strathcona, which soon became home to a diverse cross-section of residents, including Chinese, Italian, and African-Canadian families. These days, as many older residents relocate to smaller houses or assisted living, newcomers are buying, and beautifully restoring, its Victorian-era houses. "This is one of Vancouver's best neighborhoods," says local historian James Johnstone. "Its character and sense of identity set it apart from the rest of the city."
The Houses
Most are Queen Anne or Folk Victorians in either two-story or cottage styles. Many retain their wood clapboard exteriors. The neighborhood is relatively affordable for Vancouver, which has the highest housing costs in Canada. While restored Victorian cottages are now commanding up to $900,000 USD, and some houses are selling for more than a million, fixer-uppers can be had in the $720,000 range.
Why Buy Here?
The neighborhood is a few minutes from downtown Vancouver (pop. 600,000) and adjacent to Chinatown. Many houses have detached garages set along alleyways; thanks to new zoning laws, these can be converted into rental properties if desired.
Among the best for: Canada, Fixer-Uppers, City Living, Victorians, Cottages and Bungalows, Easy Commute, Waterfront