The Price Is Right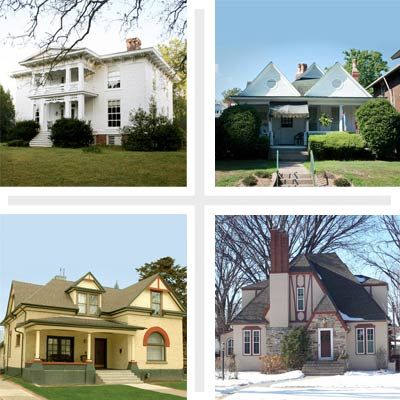 Want a lot of house for as little money as possible? Then check out these affordable neighborhoods. Some are a bit off the beaten track or require a tad of TLC, but the price tag and quality of living add up to terrific value. They're just a few of the 61 vibrant neighborhoods from coast to coast where you'll find one-of-a-kind period houses. Read on to see which ones have the most to offer a budget-minded buyer, or see all the neighborhoods and categories.
Merrimack Mill Village, Huntsville, Alabama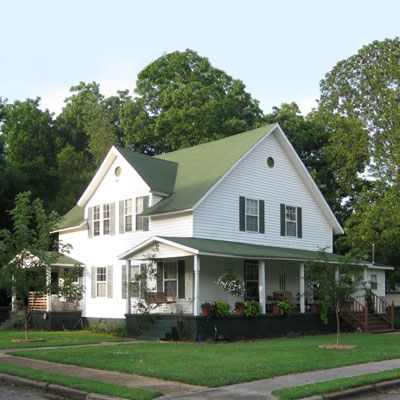 Jim Marek says the quiet streets and friendly vibe of Merrimack Mill Village remind him of the working-class neighborhood where he grew up, in Chicago. That's why he jumped at the chance to buy a well-built fixer-upper here, at a pretty great price. "If you're willing to invest the sweat equity, you can have a nice home," he says. As the center for propulsion research for NASA and the U.S. Army, Huntsville is nicknamed The Rocket City, but for much of the last century, cotton manufacturing was the focus of the local economy. At its peak production, in the mid-1950s, the Merrimack Mill employed about 1,500 people, out of a population of just 25,000. "It's remarkable how many lives this neighborhood touched over the years," Marek says.
The Houses
Merrimack Mill Village, with nearly 300 structures built for the mill's workers in the first half of the 20th century, was added to the National Register of Historic Places in 2010. Most of the houses are simple wood-frame cottages or side-by-side duplexes that can be converted into single-family homes. A one-story, 1,200-square-foot fixer-upper cottage starts at around $40,000. A 2,200-square-foot duplex costs around $80,000.
Why Buy Here?
Merrimack Mill Village is about a 10-minute drive from both downtown Huntsville and the Cummings Research Park, so commuting's a breeze. Aside from rockets, the medical and life-sciences industries are booming here, and new jobs are pouring into town. In 2009, Huntsville was named America's best city to live in by Kiplinger's magazine. It seems like rockets aren't the only thing taking off in Huntsville.
Among the best for: The South, Fixer-Uppers, Bargains, Easy Commute, American Heritage
Pine Crest Historic District, Prescott, Arizona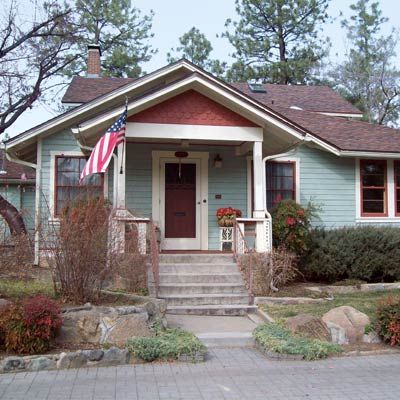 Thanks to its warm climate, clean air, and abundant sunshine, the former frontier town of Prescott, Arizona, became a popular destination for those suffering with tuberculosis and other maladies in the late 19th and early 20th century. Seeing this trend as a boon to the local economy, the Chamber of Commerce developed the west Prescott neighborhood of Pine Crest in 1911 to cater to these long-term temporary residents. The neighborhood was plotted to complement the area's lush, hilly terrain, resulting in a natural setting for its dwellings.
The Houses
Craftsman-style bungalows, built between 1911 and 1935, abound on narrow, shady streets. Many houses retain their original shingled exteriors. A noteworthy feature of homes here is their stone retaining walls. Constructed of native rock, they blend beautifully with Pine Crest's natural surroundings. House prices run between $90,000 and $200,000.
Why Buy Here?
In addition to a healthful environment, Prescott, which is about two hours from Phoenix and Flagstaff, today has a bustling downtown plaza that welcomes strolling among its art museums, boutiques, and galleries. Just outside of town is a sportsman's paradise, with golfing, hiking, and biking in the Bradshaw Mountains and Prescott National Forest, and plenty of fishing, swimming, and kayaking in lakes surrounded by Arizona's dramatic, bouldery terrain. While the year-round climate is mild, the town still gets crisp autumns and winter snow.
Among the best for: The West, Bargains, Walkability, Cottages and Bungalows, Parks and Recreation, Lots to Do, Retirees
West Washington, South Bend, Indiana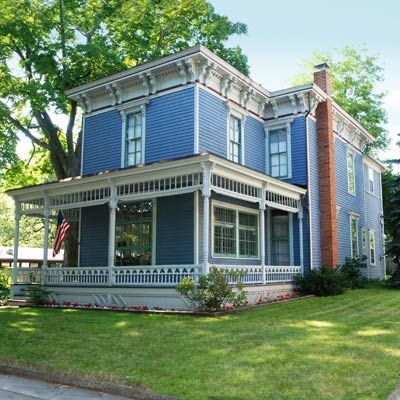 Some of our favorite old-house neighborhoods are found in the Hoosier State. And the West Washington neighborhood of South Bend is no exception. Here you'll find solid, beautifully crafted homes set along tranquil sidewalks that'll get you to downtown South Bend's restaurants, museums, and shops in no time flat. West Washington was once the city's most affluent neighborhood, a place where the founders of companies such as Studebaker and Oliver Chilled Plow built lavish mansions. Those mansions still stand, but these days, the neighborhood is affordable to Midwesterners of more modest means and is home to professors from the nearby University of Notre Dame, as well as doctors and young professionals.
The Houses
West Washington has been on the National Register of Historic Places since 1975. Local and nationally recognized architects, including John Mills Van Osdel and, in one case, Frank Lloyd Wright, designed the buildings and houses here. Styles include Federal, Queen Anne, Greek Revival, and Richardsonian Romanesque. Fixer-uppers can be found for as low as $70,000, but a restored 6,460-square-foot, 7-bedroom Queen Anne mansion was recently on the market for $595,000. The average price for a home runs around $250,000.
Why Buy Here?
While the 1970s ushered in a period of decline, for many years, the neighborhood's close proximity to downtown and Notre Dame has led many old-house lovers to restore its decadent dwellings, turning houses formerly carved into apartments back into single-family homes.
Among the best for: The Midwest, Family Friendly, Walkability, Bargains, Fixer-Uppers, College Towns
East Row Historic District, Newport, Kentucky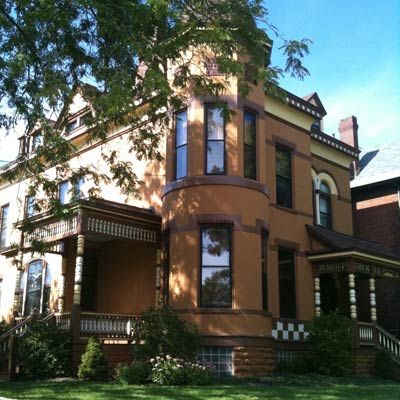 Across the Ohio River from downtown Cincinnati, the East Row Historic District was once home to late-19th-century riverboat captains and captains of industry, including brewers and bankers. When river-based industries declined, Newport took an alternative approach to diversifying its economy, as casinos, saloons, and houses of ill repute turned this into the Boardwalk Empire of the South. The 1980s saw an influx of architects, doctors, and young professionals restoring East Row residences that, despite being divided into apartments or boarding houses, retained many of their original details. These days, the neighborhood continues to draw Cincinnatians and fans throughout the region who appreciate its river-town beauty, entertainment district, and the beloved Newport Aquarium.
The Houses
Many of East Row's 1,100 houses were built by 19th- and early-20th-century German craftsmen who came to work in the breweries and trades of this region. Houses feature ornate metal cornices, stone windowsills, stained-glass windows, and the occasional turret. Since they were erected primarily in the Victorian era, Queen Anne, Second Empire, and Italianate styles predominate. While some homes are priced above the $300,000 mark, you can still get a more modest dwelling or fixer-upper for just over $100,000.
Why Buy Here?
Newport's entertainment district provides plenty of places to eat, hear music, or grab a drink. Cincinnati is easy to get to, thanks to a recently restored pedestrian bridge that allows you to walk or bike downtown for work, dining, or a Reds game.
Among the best for: The South, Bargains, Fixer-Uppers, Lots to Do, Easy Commute, Walkability, Waterfront, Victorians
Town Center Historic District, Yazoo City, Mississippi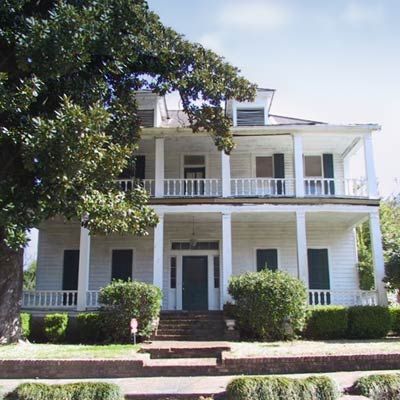 Named for the Native American tribe that lived near the mouth of the Yazoo River, Yazoo City knows a thing or two about survival. A yellow-fever epidemic decimated its population in 1853; the Union Army sacked it repeatedly during the Civil War; and a 1904 fire destroyed much of its downtown and over 100 residences on adjacent streets. Yazoo faced its most recent challenge in 2010, when two tornadoes ripped through the outskirts of town, destroying houses and damaging businesses. Through it all, this city of about 14,500 continues to move forward. Its downtown, rebuilt following the 1904 fire, is listed on the National Register of Historic Places. Known as the Town Center Historic District, its attractions include the new Downtown Marketplace, which boasts over 100 vendors, selling everything from artwork to casseroles, and Grace Hardware, a go-to spot for furniture custom-built by Mississippi craftsmen.
The Houses
Yazoo City has hundreds of 19th- and 20th-century examples of Queen Anne cottages, Greek Revivals, and Colonial Revivals, which range from $45,000 for a fixer-upper to around $250,000 for a restored Victorian-era house. A remodeled 4,818-square-foot center-hall Queen Anne was recently priced for $139,000.
Why Buy Here?
For anyone who's ever dreamed of living in (or retiring to) a small, convivial southern town, Yazoo City is a great option, says resident Dawn Rosenberg Davis. "Everyone still knows everyone here," she says. It's downright beautiful, too, whether looking toward the rolling hills to the east or the flat Mississippi Delta to the west. Yazoo City is also a 40-minute drive from Jackson, so it's also an easy commute.
Among the best for: The South, Victorians, Small Towns, Retirees, Fixer-Uppers, Cottages and Bungalows, Bargains, Easy Commute, American Heritage
Lexington, Missouri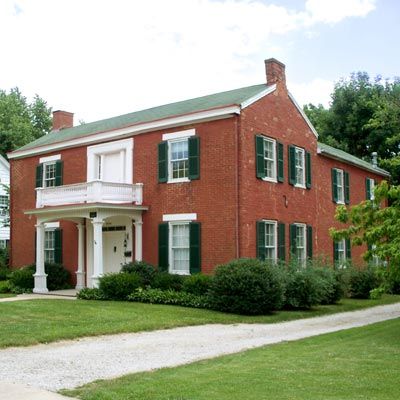 Like many cities with Civil War history, Lexington, Missouri, doesn't forget its past. It retains scores of its antebellum houses, and its 1847 courthouse still has a Union Army cannonball—fired during the 1861 Battle of Lexington—embedded in one of its columns. Situated on a bluff overlooking the Missouri River, its location has also made it a vital trading center. In the 19th century, the town was also known as the Athens of the West, thanks to its several women's colleges, seminaries, and the Wentworth Military Academy, which opened in 1880 and still draws students nationwide.
The Houses
Lexington's two residential historic districts contain hundreds of antebellum houses dating to the 1830s. In the 1850s, a local builder named John Ellison Cheatham constructed an outstanding collection of Italianate houses. While diamonds in the rough can be had for less than $50,000, there are plenty of up-to-date older house available for between $100,000 and $250,000.
Why Buy Here?
As people started shopping in the eastern suburbs of Kansas City (about a half hour away) in the 1980s, Lexington's Main Street suffered. That began to change 15 years ago when, spurred by tax incentives from a local nonprofit for facade improvements, owners were inspired to restore the buildings, filling them with new businesses. Today downtown is home to boutiques, antiques stores, and restaurants, frequented by tourists and locals alike. The Battle of Lexington State Historic Site is a draw for Civil War history buffs. The town is also a popular landing spot for energetic retirees, who come to restore a Neoclassical or an Italianate. "Most people come for the houses," says Michelle Neer, who came here with her husband for just that reason 20 years ago. "They're the big draw."
Among the best for: The Midwest, Waterfront, Bargains, Fixer-Uppers, American Heritage, Retirees, Lots to Do, College Towns
Livingston, Montana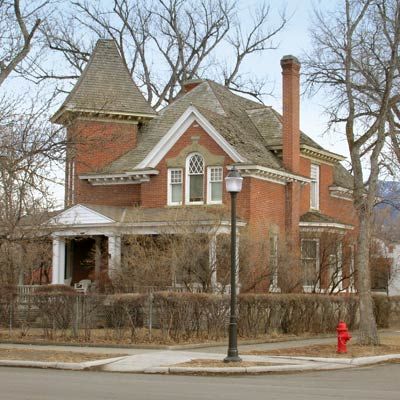 Located on the banks of the Yellowstone River and at the original entrance to Yellowstone National Park, Livingston, Montana, was a rough-and-tumble town founded in 1882, when the Northern Pacific Railroad came here and made it the site of a locomotive repair shop. Notable residents of this town of about 7,400 have included everyone from Calamity Jane to Jeff Bridges. But the real star is the town's historic commercial district. Comprising primarily brick Colonial Revival buildings, it has changed little since the late 1800s, when most of it was built. If Livingston looks familiar, it might be because its historic buildings and houses have played the backdrop for dozens of films, including 1992's A River Runs Through It.
The Houses
Expect to find brick foursquares and Queen Annes, as well as a few Prairie-style homes. Several houses here were built with hand-cut sandstone. A beautifully restored two-bedroom stone cottage, dating to 1900, was recently on the market for $143,000. A three-bedroom, 2,622-square-foot Craftsman built in 1920 was on the market for $199,000.
Why Buy Here?
These days, Livingston's is a popular spot for outdoorsy writers, artists, actors, and sportsmen. But there are still plenty of watering holes, including the original Bucket of Blood, which is now the Livingston Bar & Grill—a gentler name for gentler times. Yellowstone National Park, an hour's drive away, and the surrounding environs provide plenty of opportunities for hiking, camping, fishing, and any other outdoor pursuits you might have in mind.
Among the best for: The West, Parks and Recreation, American Heritage, Small Towns, Lots to Do, Bargains, Victorians, Waterfront
Paradise Palms, Las Vegas, Nevada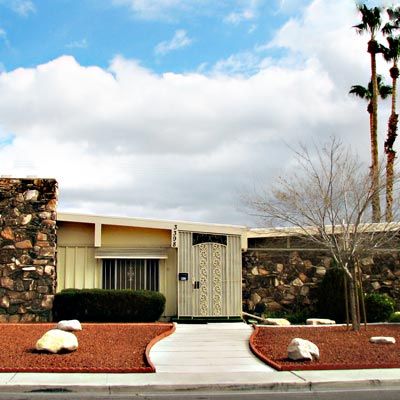 This subdivision of "futuristic" luxury housing, designed by the architectural firm of Palmer & Krisel, was the first planned residential community in Las Vegas. "They were 'Jetsons' houses," says Jack LeVine, a Realtor and mid-century-modern specialist. Today, entertainers, teachers, and professionals enjoy Paradise Palms' central location between Las Vegas's Boulevard indoor mall and National Golf Course, 2 1/2 miles from the Strip. "It was built starting in 1962. By Vegas standards, that's ancient," says Clay Heximer, a resident for two years.
The Houses
For $50,000, fans of the Desert Modern look can snag a 2,000-square-foot fixer-upper or, for $400,000, find a pristine vintage house on the golf course, though prices range between $80,000 and $150,000. "The most original are the most sought-after and retain their resale value the best," LeVine says. William Krisel, who, at 87, now consults on true restorations of his firm's houses, agrees: "People contact me to remove bad additions and reduce square footage, and it pays off." Some of the houses' single-level plans make them nice for retirees, too.
Why Buy Here?
Prices have hit bottom. The neighborhood fell to renters after 1985, when owners moved out for newer construction, and since 2008, Las Vegas has waged a citywide struggle to keep squatters and parts-strippers out of homes vacated due to foreclosures. Now the tide is turning back to owner-occupied properties. Neighbors organize monthly cocktail parties that segue into education sessions on mid-century modern. Plans are afoot to add a park. "We're taking care of graffiti and working hard to keep out crime," Heximer says. In Paradise Palms, it's a citizen-led response that signals a revitalized community.
Among the best for: The West, Bargains, Fixer-Uppers, City Living, Retirees, Lots to Do, First-Time Buyers, Easy Commute
Milton, North Carolina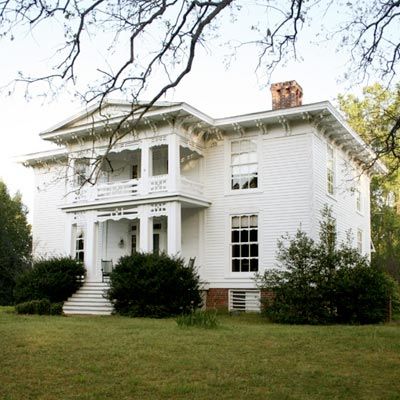 This quiet Piedmont-region village of around 130 people is near and dear to historic preservationists in the Tar Heel State. "I love Milton," says Cathleen Turner of Preservation North Carolina. "It's a great rural community that's filled with amazing architecture." Many houses have exquisite millwork provided by Thomas Day, a 19th-century African-American craftsman whose eye-catching work is found throughout the state. The town's buildings and houses are the result of the 19th-century prosperity fueled by the tobacco warehouses and factories stringing the nearby Dan River. Nowadays, descendents of families who have lived here more than a century coexist with newcomers, enjoying a bite together at Aunt Millie's Pizza & Suds or grabbing a cup of coffee at the Milton General Store.
The Houses
Greek Revival, Federal, and Victorian-era styles prevail. Recent listings include a circa 1859 Greek Revival that served as a bank during the Civil War (shown here). Listed at just $95,000, the house still retains its original bank offices, as well as its vault! Other houses range in price from $5,000 to $529,000 for the 1838 Woodside Richmond House, a 4,483-square-foot manor with five acres of land and an abundance of Thomas Day millwork.
Why Buy Here?
Milton is surrounded by Caswell County, a rolling landscape of working farms and dense forests. It's also just over an hour from North Carolina's Research Triangle, which makes commuting an option. If you choose to fix up an older house, part of your expenses may be covered by North Carolina's generous 30 percent historic-preservation tax credit.
Among the best for: The South, Fixer-Uppers, First-Time Buyers, Bargains, Easy Commute, Small Towns, Victorians, American Heritage
The North Side Builder's Residential District, Fargo, North Dakota
This neighborhood, just eight blocks north of downtown Fargo, is far more beautiful than its technical-sounding moniker would suggest. The North Side Builder's Residential District—so named because all of its houses' plans come from popular 20th-century builder's pattern books—is known for its predominance of Tudor-style dwellings. Constructed during the late 1920 and 1930s for the city's middle- to upper-middle-class residents, including salesmen, lawyers, and small-business owners, it's still a popular choice for those who enjoy its easy-on-the-eyes architecture. "And since it's a few blocks from the University of North Dakota campus, it's also popular with professors and other university employees," says Dawn Mayo, of Fargo's planning and preservation office.
The Houses
While most are early-20th-century Tudor Revival, with steeply pitched gables and half timbers set in plaster, there are numerous Colonial Revivals and American Foursquares. Prices are affordable, often running between $100,000 and $200,000.
Why Buy Here?
State Farm Insurance named Fargo the third-safest city in the country last year. That, coupled with its well-regarded public school system, makes it great for raising a family. Residents of the NSBRD are a quick walk from downtown Fargo, which, thanks to tax incentives for building renovations and matching grants for building facade improvements, has undergone a renaissance in the past decade. North Dakota State's relocation of its architecture and business schools downtown a few years ago has also given those businesses a boost. Fargo has a low unemployment rate—3.1 percent—and offers job opportunities in many different sectors, including software technology, manufacturing, health care, and higher education.
Among the best for: The Midwest, Bargains, College Towns, City Living, Lots to Do, Retirees, First-Time Buyers, Family Friendly, Walkability
Original Townsite, Muskogee, Oklahoma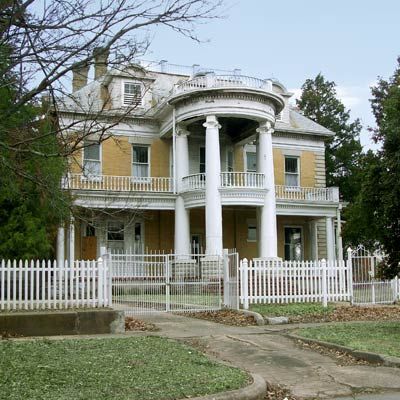 The city of Muskogee was born in 1872, when the Missouri-Kansas & Texas Railroad became the first rail line to cross what was then called Indian Territory (Oklahoma wouldn't become a state for another 35 years). The town rapidly grew into the Territory's most important city. It was here that the federal government set up an agency, the Dawes Commission, to allot land to the Cherokee, Chickasaw, Choctaw, Creek, and Seminole Indians after they arrived in the area following the forced migration, or "Trail of Tears."
The Houses
The Original Townsite encompasses four historic neighborhoods, including Founders Place and Kendall Place, where turn-of-the-century lawyers, many of whom worked with the Dawes Commission, built stately Neoclassical houses with full-height entry porches. More-modest Craftsman and Queen Anne cottages can be found in the city's Capitol Place and Eastside neighborhoods. Wherever you live, houses are affordable, ranging from $80,000 to 200,000. The city is less than an hour's drive from Tulsa.
Why Buy Here?
These days, Muskogee is home to a diverse community of Native American, African-American, and European-American cultures. It also boasts four institutions of higher learning. The historic downtown is host to The Five Civilized Tribes Museum and the National Soul Food Cook-off, which draws thousands. Thanks to a Main Street improvement program, new restaurants and shops are also being established. In 2011 the city was named by the National Trust for Historic Places as one of its Dozen Distinctive Destinations.
Among the best for: The South, American Heritage, Fixer-Uppers, Bargains, First-Time Buyers, College Towns, Cottages and Bungalows
Baker City, Oregon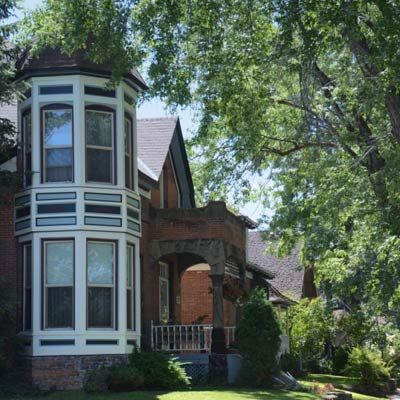 After gold was discovered here in the 1860s, this town nestled between the Wallowa and Blue mountains quickly grew into a cultural oasis with hotels, opera houses, and saloons. By the turn of the century, Baker City was known as the "Queen City of the Inland Empire," its population of 6,700 rivaling that of Spokane and Boise. After the closing of a local sawmill led to an economic downturn in the 1980s, it managed to lure a new generation of artists and lone wolves with its surplus of affordable houses and large commercial spaces. Today, the town of 10,000 has a downtown that's home to more than 140 independently owned businesses, including art galleries, a food co-op, and restaurants.
The Houses
Most were built between the 1890s and 1920s by miners and business owners who made their fortunes here during the gold rush. These are well-crafted houses, with plank wall construction and, in many cases, tuff stone cladding and foundations. Styles include vernacular cottages, Queen Annes, Italianates, American Foursquares, and Gothic Revivals. Modest houses can be had for less than $100,000, with a median price under $200,000.
Why Buy Here?
With its gorgeous surroundings and growing artistic community, locals believe Baker City is poised to become the Santa Fe of the northwest. Surrounded by mountain ranges, parks, and hiking trails, it also appeals to skiers and snowshoers. Anyone who's dreamed of opening a business can nab a two-story commercial building downtown for around $200,000. But at the rate things are going, those bargains won't last long.
Among the best for: The West, Parks and Recreation, Walkability, Lots to Do, Bargains, Fixer-Uppers, Victorians, Cottages and Bungalows
Lead, South Dakota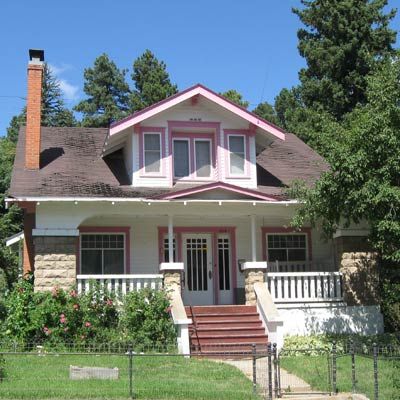 "I moved to Lead from the East Coast 28 years ago and haven't looked back," says Realtor Bill Laskowski of his adopted hometown. It's easy to see where all the love comes from. This western South Dakota town, founded in 1876 and home to just over 3,000 residents, is engulfed by the Black Hills National Forest, so to say it's picturesque is an understatement. It also offers plenty of opportunities for outdoor enthusiasts (hiking, skiing, or snowmobiling, anyone?). Until recently, the city's raison d'etre was the Homestake gold mine, once the biggest, deepest mine in the western hemisphere until it shut down, in 2002.
The Houses
Most were built for mine workers and operators between the late 1800s and the 1940s, and range in style from Queen Anne to Tudor Revival. Many have been restored or are undergoing restoration. A large Stick-style home on Main Street was recently listed for $136,000, but a fixer-upper Queen Anne cottage can be found for as low as $14,000.
Why Buy Here?
While Lead was devastated after the closing of its gold mine, which destroyed both jobs and community spirit, things are looking up due to the Sanford Underground Laboratory, a massive science lab under construction in the old Homestead Mine that's expected to produce jobs and a new sense of purpose. Downtown, meanwhile, is being refurbished into a regional center for arts and entertainment, the centerpiece of which is the restoration of the 1914 opera house.
Among the best for: The West, Bargains, Fixer-Uppers, Parks and Recreation, Cottages and Bungalows, Victorians
Gonzales, Texas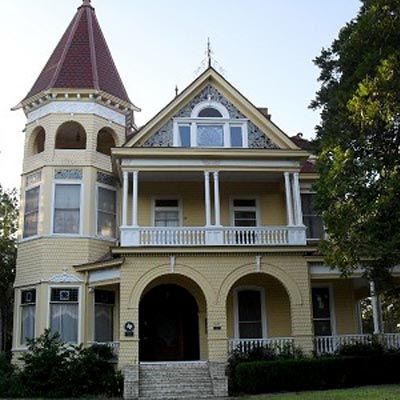 Local history buffs know Gonzales as "the Lexington of Texas," where the battle for the Lone Star State's independence got underway. It happened in 1835, when the settlement fought off a 100-man-strong Mexican army attempting to retrieve a cannon the Mexican government had given them to thwart Native American attacks. After a brief battle, the army left empty-handed—a failure that's re-enacted each October during the town's Come and Take It festival. But history isn't all that this town of 7,000 is concerned about. Gonzales's well-preserved downtown is popular for tourists, who love its bed-and-breakfasts, restaurants serving hearty local fare, and antiques shops. They also come to tour the Shiner Brewery, located in the nearby town of Shiner.
The Houses
Most were built near the turn of the century, when the city's cotton and cattle industries were booming thanks to the railroad, which allowed easier transport. They include elegant examples of Queen Anne, Tudor Revival, and Italianate houses and cottages, as well as Greek Revivals. Prices start at $60,000 for fixer-uppers and top out around $575,000.
Why Buy Here?
In the last 10 years, Gonzales has welcomed residents from larger cities who are looking to live in a small town within driving distance of jobs in Austin or San Antonio, an hour away. Michelle London and her husband, Mark, relocated from Chicago to manage two bed-and-breakfasts and have no regrets. "We're here less than a year, but we love it," says Michelle. Gonzales is close to state parks, lakes, and several golf courses, making it attractive to retirees as well.
Among the best for: The South, Small Towns, American Heritage, Walkability, Cottages and Bungalows, Fixer-Uppers, Easy Commute, Retirees, Bargains, Lots to Do, Parks and Recreation
Center Street Historic District, Logan, Utah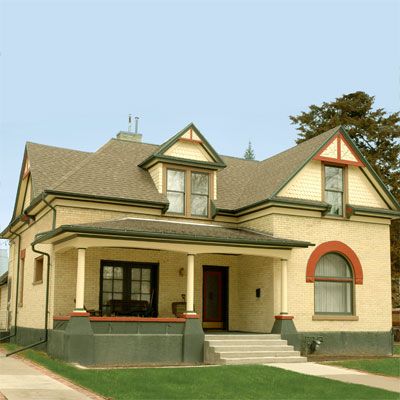 Surrounded by the cascading Bear River and the Wasatch mountains, the Center Street Historic District is a locally prized collection of houses dating back to the 1860s. It's situated in the heart of Logan, Utah, a picturesque town near the Utah-Idaho border that was founded by Mormon settlers and is now home to Utah State University. The neighborhood is close to restaurants, shops, entertainment, and a farmer's market, all within walking distance. Residents keep busy biking or hiking the local trails, swimming at the Aquatic Center, or hitting the links at the Logan River Golf Course, with its recently completed clubhouse.
The Houses
The majority of the houses were constructed in the late 1800s, when craftsmen who worked on the town's tabernacle (begun in 1865) started building large brick and stone dwellings in the Queen Anne and Tudor Revival style for the city's wealthy merchants. Later Arts and Crafts-influenced houses are also available. Prices range from $75,000 for a small fixer-upper to about $350,000 for a spacious, fully restored home.
Why Buy Here?
In addition to easy access to an active, healthy lifestyle, the Utah State Historic Preservation Office offers a 20 percent tax credit for rehabilitation of all properties listed on the National Register of Historic Places (including every structure in the Center Street District), an added incentive to fix up a house here. The city is also trying to expand the boundaries of the district so that more houses qualify for the credit.
Among the best for: The West, Bargains, Family Friendly, Walkability, Lots to Do, Parks and Recreation, American Heritage, Fixer-Uppers, College Towns, Victorians
Old Southwest, Roanoke, Virginia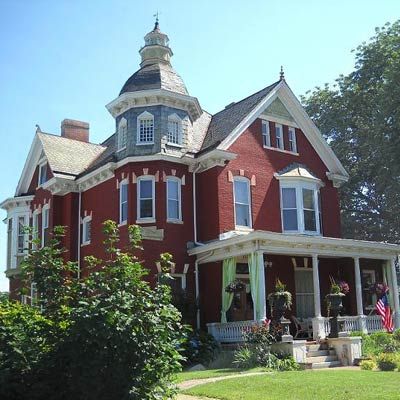 A 10-minute saunter from downtown Roanoke, Old Southwest was developed in the late 19th and early 20th centuries as a residential area for well-to-do merchants and those who profited from the many railroads that once intersected here. Until the end of World War II, it was considered one of the most fashionable neighborhoods in town, but after the war, many residents moved to embrace a new housing trend, the suburbs, leaving stately old houses to the mercy of developers, who chopped them into apartments or razed them. In recent years, as downtown Roanoke has been revitalized with facade improvements and new businesses so too has Old Southwest, which appeals to newcomers who appreciate well-crafted houses with expansive porches and classic columns.
The Houses
Most were constructed between the 1880s and the 1930s. Styles include fanciful Queen Annes, as well as Georgian Revivals, Gothic Revivals, and American Foursquares. Many retain their stained-glass windows and slate or metal roofs. Prices average $175,000, but expect to find some for as little as $10,000 or as much as $800,000, depending on size and condition. The neighborhood is listed on both the Virginia Landmarks Register and the National Register of Historic Places.
Why Buy Here?
The neighborhood was listed as a "Hot 'Hood" by USA Today in 2010, thanks to its proximity to the city's lively downtown. A neighborhood organization, Old Southwest Inc., hosts an annual Holiday Parlor Tour of Homes and other neighborhood events. Roanoke's location in the Blue Ridge Mountains makes it a destination for outdoor enthusiasts too, and 32-acre Highland Park offers sports facilities and a dog park.
Among the best for: The South, Bargains, Victorians, Fixer-Uppers, First-Time Buyers, Walkability, Lots to Do, Parks and Recreation, Waterfront
Logan, Spokane, Washington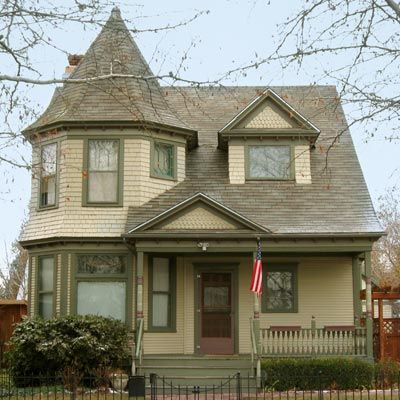 Historic preservation is serious business in Spokane, the largest city in eastern Washington, and even the experts are charmed by this neighborhood. "If I lived in Spokane, I'd have a house in Logan," says Kathryn Burk-Hise, who commutes to the city for her job as executive coordinator of Spokane Preservation Advocates. Flanked by Gonzaga University to the southwest and the Spokane River to the southeast, this little pocket first emerged in 1894 with 30 houses. It was imagined, then, to be the start of a Jesuit community. Today, it's not only a "Catholic hub" but also a community with nearby schools and hundreds of quaint single-family homes at affordable prices. "Streets are wide, tree canopies are big, and there are elementary schools," says Burk-Hise. "It's a great family neighborhood."
The Houses
Queen Annes, Tudor Revivals, and Craftsman bungalows built between 1900 and the 1930s pepper Logan's verdant streets. A well-kept 2,700-square-foot house near Mission Park recently sold for $189,900, though the average price in the area today is $87,000 for houses with original features, including leaded-glass windows and oak millwork. Dwellings that need some rehab go for as low as $50,000.
Why Buy Here?
Students and educators at the four colleges in the area have plenty of worthy distractions from academic pursuits. Locals can be found kayaking, fishing, and swimming in the summer, and it's hard not to be dazzled by the spectacular set of waterfalls that run right through town a few blocks from the southwest edge of Logan.
Among the best for: The West, Bargains, Fixer-Uppers, Cottages and Bungalows, Victorians, College Towns, Retirees, Family Friendly, First-Time Buyers, Easy Commute, Parks and Recreation, American Heritage
East End, Charleston, West Virginia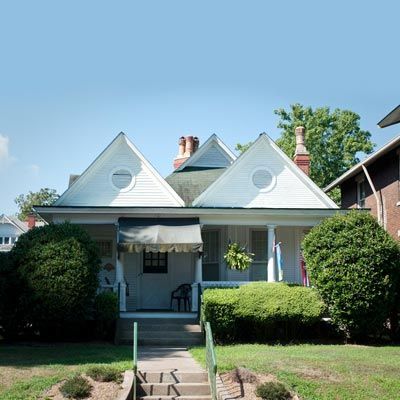 Straddling the confluence of the Kanawha and Elk Rivers, Charleston is the capital and center of commerce for West Virginia, but with just over 52,000 residents, it's possible to find some small-town attributes. When history professor Billy Joe Peyton and his wife looked for a house in Charleston, it wasn't hard to settle on the East End. "You can walk to nearly everything, and it's an interesting place to live," he says of the neighborhood that is home to a minor-league baseball stadium, the Clay Center for the Arts and Sciences, and the Capitol Market, a farmer's market located inside a restored train depot.
The Houses
The official National Register Historic District, on the south side of Washington Street East, which runs through the middle of the East End, affords a mix of Queen Annes, foursquares, and Neoclassical Revivals, many with porticos and enormous stucco columns. Recently, a 1920 foursquare with original hardwood floors and a block from the river was for sale at $239,000. To the north, there are smaller brick and wood-frame houses that are deals, like a 1,700-square-foot 1910 Craftsman for just $38,000.
Why Buy Here?
After suffering from urban blight during the latter half of the 20th century, the neighborhood is experiencing a wave of revitalization and preservation. Thanks in part to the efforts of the East End Main Street program, many buildings have been refurbished, new street lamps installed, and colorful murals painted by local artists. What's more, around 30 new businesses have opened since 2002. Even outside Charleston, people are taking notice: The neighborhood is a semifinalist for the 2012 Great American Main Street Award.
Among the best for: The South, Victorians, Walkability, First-Time Buyers, Fixer-Uppers, Lots to Do, Bargains, Cottages and Bungalows, City Living
East Forest Avenue Historic District, Neenah, Wisconsin
There once was a time when all a town needed to survive was a good river. That's what put Neenah, Wisconsin, on the map. The Fox River generated enough waterpower to allow the lumber- and flour-milling industries to flourish here in the late 19th century. Following the Civil War and the establishment of the railroad, the city drew wealth from its many paper factories. Many paper executives built handsome manses across the river on Doty Island, in what's now called the East Forest Avenue Historic District. These days, the neighborhood attracts those who like its safe, tree-shaded streets and its proximity to the shops, Roosevelt Elementary School, and a farmers market downtown, just a 10-minute walk away. "The people who move here come for the natural beauty, the history, and the uniqueness of the architecture," says Carol Kasmimor, an assistant planner with the City of Neenah. It's just a great neighborhood."
The Houses
Houses in the historic district include Queen Anne, Italianate, Colonial Revival, and Tudor Revival dwellings dating from 1880 to the early 1900s. Prices range from $200,000 to $500,000.
Why Buy Here?
East Forest Avenue Historic District is located on Doty Island, at the confluence of the Fox River and the shores of 137,700-acre Lake Winnebago. This waterfront community has plenty of recreational opportunities, including swimming and boating. The neighborhood is a state historic district and was designated a National Register Historic District in 2005.
Among the best for: The Midwest, Waterfront, Parks and Recreation, Family Friendly, Cottages and Bungalows, Bargains, First-Time Buyers, Lots to Do, American Heritage
St. Martins, New Brunswick, Canada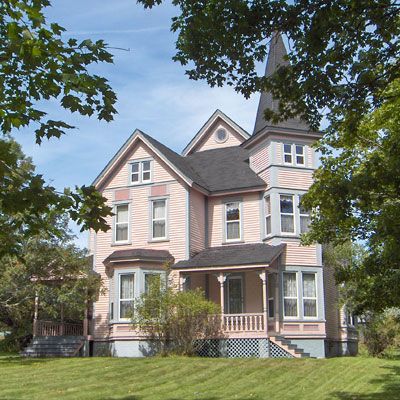 Summer vacationers flock to this tiny village for its rugged beauty, and some love it so much they stay. "It's a healthy place to be," says Jacqueline Bartlett, who retired to St. Martins from Toronto with her husband in 2005. Locals don't mind trading urban convenience for gorgeous views of the Bay of Fundy along the southern coast of the province, 110 miles from the Maine border. "We came for the good, fresh air and healthy water. I have my own chickens and food from the garden—and I'm a city person." The remote town comes alive as a tourist mecca during the summer, but only about 400 of New Brunswick's heartiest stick it out year-round. "Most go south for the winter," says local museum curator Barbara McIntyre, with a friendly chuckle.
The Houses
Prosperous sea captains built most of the homes in the area in the early 19th century. Inspired by architecture from as far away as France, Spain, Malaysia, and China, the houses weave elements of what locals saw abroad with Gothic Revival, Italianate, and Queen Anne styles. Expect a bay view, an acre or more of land, and a sturdy, storied structure to set you back about $110,000 to $250,000.
Why Buy Here?
All roads to the entrance of the famed Fundy Trail Parkway lead through St. Martins. This 10-mile multiuse coastal trail is undergoing its second phase of development. Once completed, it will connect to the trans-Canadian network, creating hundreds of new year-round jobs in the area and also giving the town an even bigger tourism boost.
Among the best for: Canada, Small Towns, Waterfront, Parks and Recreation, Cottages and Bungalows, Bargains, Walkability, Victorians
Summerside, Prince Edward Island, Canada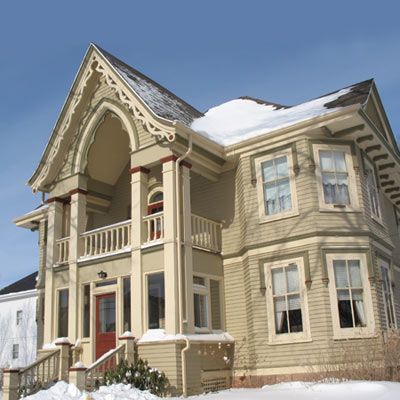 Situated on the Gulf of the St. Lawrence River, Summerside was an important seaport in the mid 19th century, following construction of a wharf and shipyard here. Once called Green Shores Bedeque, Summerside was renamed after an inn that was run by Joseph Green, youngest son of town settler Daniel Green. Today, abundant recreational facilities, including two arenas and community pools, welcome tourists and residents year-round. The Silver Fox Curling & Yacht Club and 15 green spaces exist harmoniously with sweeping waterfront views and more than 4 miles of boardwalk, along which residents can rent bicycles and kayaks. Spinnaker's Landing, an extension of the boardwalk, offers retail therapy, sailboat gazing, desserts at the Treat Shoppe, and a summer-long concert series called Harbourfest. The town's fishing and boating heritage are still preserved by yearly events, including its annual Lobster Carnival.
The Houses
While stately Queen Annes and Colonial Revivals are predominant in the residential northern end of Summerside, Gothic Revivals and Georgian Revivals can be found closer to the waterfront. The affordability of houses in Summerside contributes to high ownership rates. Smaller homes begin at just $130,000, while larger or more historic homes range from $200,000 to $400,000.
Why Buy Here?
Five minutes from downtown Summerside is an expanding aerospace and information-technology industrial park and a fully functional regional hospital, which are attracting more career-minded young people to this modest town of almost 15,000.
Among the best for: Canada, Waterfront, Bargains, First-Time Buyers, Parks and Recreation, Easy Commute, Retirees, Lots to Do
Gravelbourg, Saskatchewan, Canada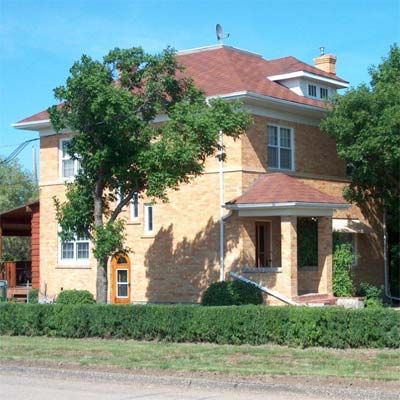 Celebrated for its preservation of Francophone traditions that stretch back to its 1906 founding by Roman Catholic priests, Gravelbourg is considered the "cultural gem of Saskatchewan." A religious complex—comprising a cathedral, a bishop's residence, and the Convent of Jesus and Mary—together with brick sidewalks and a growing business district on Main Street marry antiquity with modernity. Residents can grab lunch at contemporary bistro Cafe de Paris or dig around in Styles, a gardening and kitchen store. "You're enjoying a small town, but you still have urban amenities," said Carlene Wallington, the town's Economic Development Officer. French and English immersion programs are available at every stage of education. College Mathieu offers secondary French education supported by Centre Culturel Maillard, which devotes itself to the preservation of French language and culture. The Summer Solstice Festival celebrates music, literature, and the performing arts.
The Houses
Gravelbourg's early-20th-century homes are in the style of Early Classical Revival, Colonial Revival, and French Eclectic. The more modest heritage homes range from $80,000 to $100,000 USD, while Gravelbourg's original pioneer homes sell for $200,000 and up.
Why Buy Here?
If the cultural offerings, northern lights, and prairie sunsets aren't enough, the city of Moose Jaw, offering art galleries and the Temple Gardens Mineral Spa, and the U.S. border are an hour away. Nearby Thomson Lake Regional Park and Shamrock Park provide opportunities for camping, fishing, and golfing.
Among the best for: Canada, Bargains, Retirees, Walkability, Fixer-Uppers, Lots to Do, Parks and Recreation