An Educational Experience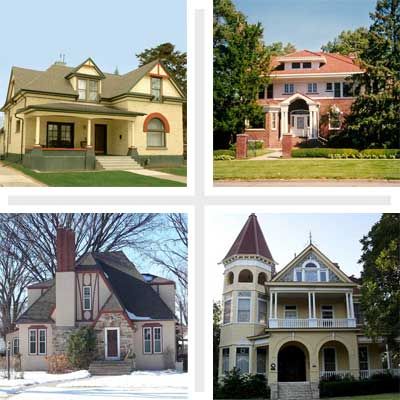 If you get something from the activity and youthfulness of university life, then we've got some neighborhoods for you. With their endless opportunities for lectures, sporting events, and continuing education, these towns and areas located near colleges and universities offer old houses in some pretty enlightened communities— just a few of the 61 vibrant neighborhoods from coast to coast where you'll find one-of-a-kind period houses. Read on to see which ones are surrounded by institutions of higher learning, or see all the neighborhoods and categories.
Cowls Street, Fairbanks, Alaska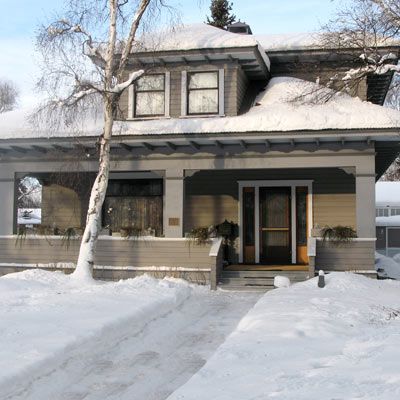 Set deep in the Alaskan wilderness (Anchorage is more than a 6-hour drive away), Fairbanks is an urban oasis offering such metropolitan diversions as art museums, opera houses, heck, even Thai food. But don't be fooled. This is still Alaska. Winters last from late September through late April, and the city is surrounded by snow-capped mountains, raging rivers, and acres of caribou-filled forest. "This is wilderness beyond your comprehension," says Deb Hickok, president and CEO of Fairbanks Convention and Visitors Bureau. While the greater Fairbanks area is home to almost 100,000 people, only about 35,000 live within the city limits (others dwell in surrounding areas). Many of those in town reside in the Cowls Street Neighborhood, which is filled with modest, well-crafted houses, some recently restored, others comfortably lived in.
The Houses
Most were built in the early 1900s, when Fairbanks went from a trading post for gold miners to an actual city, thanks to the railroad and, later, the oil and gas industries. The houses are a mix of Craftsman bungalows, foursquares, ranch-styles, and a few log cabins. Many are situated on small lots, but that doesn't stop residents from cultivating vegetable gardens during the brief growing season. Prices hover around the $100,000 to $200,000 mark.
Why Buy Here?
Residents enjoy the same pleasures as the thousands of tourists who flock here each summer for hiking, hunting, fly-fishing, whitewater rafting, dog mushing, and a great view of the northern lights. For those seeking indoor alternatives, the University of Alaska Fairbanks provides lectures, classes, and sporting events.
Among the best for: The West, Cottages and Bungalows, Parks and Recreation, City Living, Walkability, College Towns, Lots to Do
West Washington, South Bend, Indiana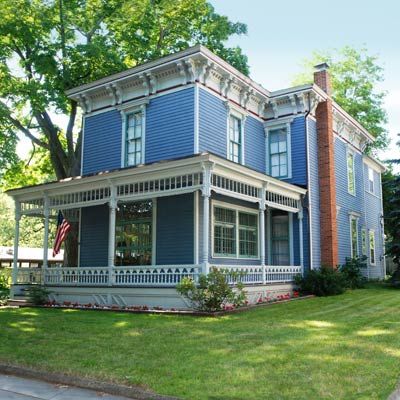 Some of our favorite old-house neighborhoods are found in the Hoosier State. And the West Washington neighborhood of South Bend is no exception. Here you'll find solid, beautifully crafted homes set along tranquil sidewalks that'll get you to downtown South Bend's restaurants, museums, and shops in no time flat. West Washington was once the city's most affluent neighborhood, a place where the founders of companies such as Studebaker and Oliver Chilled Plow built lavish mansions. Those mansions still stand, but these days, the neighborhood is affordable to Midwesterners of more modest means and is home to professors from the nearby University of Notre Dame, as well as doctors and young professionals.
The Houses
West Washington has been on the National Register of Historic Places since 1975. Local and nationally recognized architects, including John Mills Van Osdel and, in one case, Frank Lloyd Wright, designed the buildings and houses here. Styles include Federal, Queen Anne, Greek Revival, and Richardsonian Romanesque. Fixer-uppers can be found for as low as $70,000, but a restored 6,460-square-foot, 7-bedroom Queen Anne mansion was recently on the market for $595,000. The average price for a home runs around $250,000.
Why Buy Here?
While the 1970s ushered in a period of decline, for many years, the neighborhood's close proximity to downtown and Notre Dame has led many old-house lovers to restore its decadent dwellings, turning houses formerly carved into apartments back into single-family homes.
Among the best for: The Midwest, Family Friendly, Walkability, Bargains, Fixer-Uppers, College Towns
Jamaica Plain, Boston, Massachusetts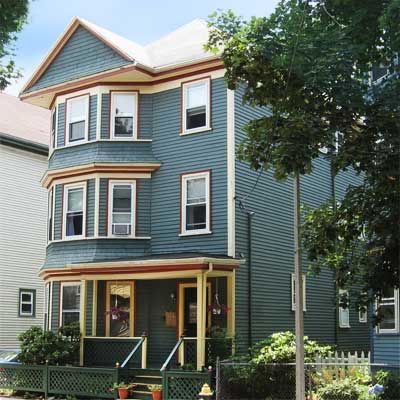 Sarah and William Curtis might hardly recognize the farmland they cleared along the Stony Brook River in 1639. Back then, the area now known as Jamaica Plain was located in the town of Roxbury and was largely a pastoral paradise dotted by family-owned farms. By the 1700s, new roads, including the Dedham Turnpike, led wealthy Bostonians, including Massachusetts governors John Hancock and Samuel Adams, to build estates here. By the time the railroad arrived, in 1834, Jamaica Plain was an affluent suburb. These days, the 4.4-square-mile area is known for its stellar housing, its thriving Latin Quarter, and its large population of artists, young professionals, and students from Northeastern University and other nearby colleges. It's also home to funky shops, amazing restaurants, and one of the oldest Irish pubs in all of Boston, Doyle's.
The Houses
Most date from 1840 to 1900, a time when railroads and streetcars first made it possible for commuters to live here. Styles include Greek Revival, Stick, Queen Anne, and Italianate. There's also an ample supply of Boston's legendary three-decker houses, which have been turned into condos, starting at around $199,000. Houses run from about $360,000 to the millions.
Why Buy Here?
Located 6 miles from downtown Boston, Jamaica Plain retains some of the bucolic atmosphere it enjoyed in Sarah and William Curtis's day. Bordered by the Arnold Arboretum, Jamaica Pond, and Franklin Park—all of which were designed in the late 1800s by Frederick Law Olmsted—it's known as the greenest neighborhood in Boston.
Among the best for: The Northeast, Lots to Do, Easy Commute, American Heritage, College Towns, Fixer-Uppers, City Living
Lexington, Missouri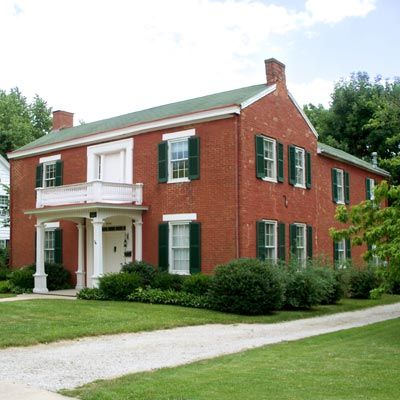 Like many cities with Civil War history, Lexington, Missouri, doesn't forget its past. It retains scores of its antebellum houses, and its 1847 courthouse still has a Union Army cannonball—fired during the 1861 Battle of Lexington—embedded in one of its columns. Situated on a bluff overlooking the Missouri River, its location has also made it a vital trading center. In the 19th century, the town was also known as the Athens of the West, thanks to its several women's colleges, seminaries, and the Wentworth Military Academy, which opened in 1880 and still draws students nationwide.
The Houses
Lexington's two residential historic districts contain hundreds of antebellum houses dating to the 1830s. In the 1850s, a local builder named John Ellison Cheatham constructed an outstanding collection of Italianate houses. While diamonds in the rough can be had for less than $50,000, there are plenty of up-to-date older house available for between $100,000 and $250,000.
Why Buy Here?
As people started shopping in the eastern suburbs of Kansas City (about a half hour away) in the 1980s, Lexington's Main Street suffered. That began to change 15 years ago when, spurred by tax incentives from a local nonprofit for facade improvements, owners were inspired to restore the buildings, filling them with new businesses. Today downtown is home to boutiques, antiques stores, and restaurants, frequented by tourists and locals alike. The Battle of Lexington State Historic Site is a draw for Civil War history buffs. The town is also a popular landing spot for energetic retirees, who come to restore a Neoclassical or an Italianate. "Most people come for the houses," says Michelle Neer, who came here with her husband for just that reason 20 years ago. "They're the big draw."
Among the best for: The Midwest, Waterfront, Bargains, Fixer-Uppers, American Heritage, Retirees, Lots to Do, College Towns
Boulevards Historic District, Lincoln, Nebraska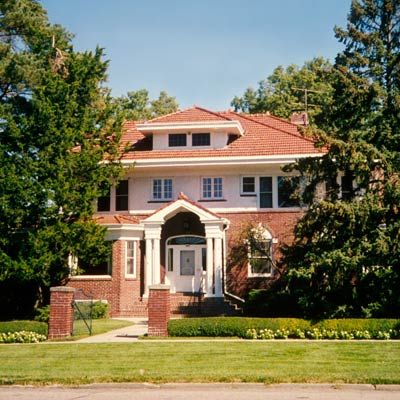 The Boulevards Historic District was the vision of brothers Frank, Mark, and George Woods, who developed 450 acres of land into a first-tier suburb in the early to mid 1900s. The brothers, who had made quite a bit of money in various endeavors, including selling tractors and starting a local phone company, constructed lavish, high-style houses of brick and stone along what is now Sheridan Boulevard for the town's most affluent residents. The Woods brothers also worked with various landscape architects to design meandering side streets lined with cottages and bungalows. Those streets eschewed the predictable grid system, hugging the natural landscapes into which they were set. The Boulevards encompasses about 1,250 houses and remains a much-sought-after location for today's upper- and middle-class families in this city of 250,000-plus residents.
The Houses
Those on Sheridan Boulevard, which remains the District's most prestigious address, are set far back from the street and include high-style examples of Tudor Revival, Greek Revival, and Colonial Revival houses. On the neighborhood's winding and woodsy outskirts you'll find more modest houses in the Craftsman, Cape Cod, and Mission Revival styles. Prices range from $160,000 for smaller houses to around $650,000.
Why Buy Here?
Unlike many first-tier suburbs, the Boulevards avoided periods of decline, with very few teardowns and mostly tasteful renovations. The neighborhood was recently placed on the National Register of Historic Places, giving residents an even greater sense of pride. Downtown Lincoln, home to the University of Nebraska, is just a few miles away.
Among the best for: The Midwest, Easy Commute, Family Friendly, Cottages and Bungalows, Walkability, College Towns, American Heritage, Lots to Do
Keene, New Hampshire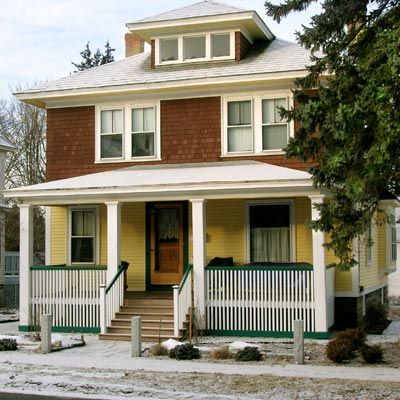 If you ask a local of Keene if she's lived there all her life, the response is likely to be, "Not yet." A dry sense of humor is typical of this part of southern New Hampshire, as is the knowledge that residents have found a good place to be. "It's a 10-minute walk to Main Street, the movie theater, a huge park—everything you need," says Sandy Hamm, who moved into her 1875 home on the east side of town eight years ago. The business center of Cheshire County, Keene's population of around 22,000 swells to more than twice that size during the day. Students attending Keene State College and Antioch University New England also add several thousand to the local population during the school year, keeping things lively.
The Houses
In the late 19th and early 20th century, the town, with its woodenware mills and ample nearby forests, was a manufacturing center for items such as chairs, shutters, doors, carriages, and sleighs. Classic New England farmhouses, brick Cape Cods, and Victorian-era mansions with carriage houses, the latter survivors of Keene's rich milltown days, are all found here. A 3,100-square-foot Italianate house with original moldings and built-ins (and requiring some major TLC) was recently listed at $145,000, while an 1850s farmhouse with hardwood floors and a tin ceiling was selling for around $75,000.
Why Buy Here?
Great schools, plentiful nearby nature (3,165-foot-high Mt. Monadock is 20 minutes away), and a close-knit community spiced with the energy of a college town means that for those looking for a lively pace, Keene has everything you need.
Among the best for: The Northeast, Family Friendly, College Towns, Walkability, Victorians, Fixer-Uppers, Parks and Recreation, Lots to Do
The North Side Builder's Residential District, Fargo, North Dakota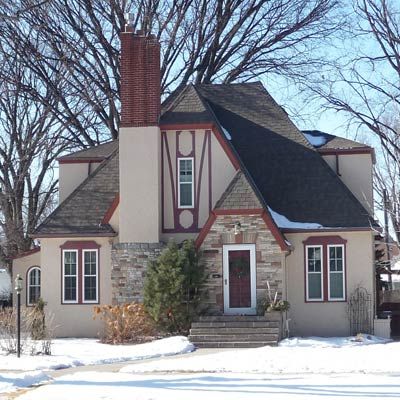 This neighborhood, just eight blocks north of downtown Fargo, is far more beautiful than its technical-sounding moniker would suggest. The North Side Builder's Residential District—so named because all of its houses' plans come from popular 20th-century builder's pattern books—is known for its predominance of Tudor-style dwellings. Constructed during the late 1920 and 1930s for the city's middle- to upper-middle-class residents, including salesmen, lawyers, and small-business owners, it's still a popular choice for those who enjoy its easy-on-the-eyes architecture. "And since it's a few blocks from the University of North Dakota campus, it's also popular with professors and other university employees," says Dawn Mayo, of Fargo's planning and preservation office.
The Houses
While most are early-20th-century Tudor Revival, with steeply pitched gables and half timbers set in plaster, there are numerous Colonial Revivals and American Foursquares. Prices are affordable, often running between $100,000 and $200,000.
Why Buy Here?
State Farm Insurance named Fargo the third-safest city in the country last year. That, coupled with its well-regarded public school system, makes it great for raising a family. Residents of the NSBRD are a quick walk from downtown Fargo, which, thanks to tax incentives for building renovations and matching grants for building facade improvements, has undergone a renaissance in the past decade. North Dakota State's relocation of its architecture and business schools downtown a few years ago has also given those businesses a boost. Fargo has a low unemployment rate—3.1 percent—and offers job opportunities in many different sectors, including software technology, manufacturing, health care, and higher education.
Among the best for: The Midwest, Bargains, College Towns, City Living, Lots to Do, Retirees, First-Time Buyers, Family Friendly, Walkability
Original Townsite, Muskogee, Oklahoma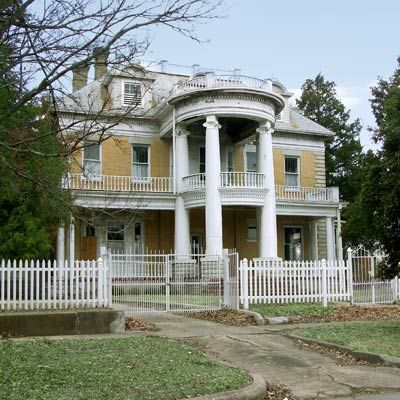 The city of Muskogee was born in 1872, when the Missouri-Kansas & Texas Railroad became the first rail line to cross what was then called Indian Territory (Oklahoma wouldn't become a state for another 35 years). The town rapidly grew into the Territory's most important city. It was here that the federal government set up an agency, the Dawes Commission, to allot land to the Cherokee, Chickasaw, Choctaw, Creek, and Seminole Indians after they arrived in the area following the forced migration, or "Trail of Tears."
The Houses
The Original Townsite encompasses four historic neighborhoods, including Founders Place and Kendall Place, where turn-of-the-century lawyers, many of whom worked with the Dawes Commission, built stately Neoclassical houses with full-height entry porches. More-modest Craftsman and Queen Anne cottages can be found in the city's Capitol Place and Eastside neighborhoods. Wherever you live, houses are affordable, ranging from $80,000 to 200,000. The city is less than an hour's drive from Tulsa.
Why Buy Here?
These days, Muskogee is home to a diverse community of Native American, African-American, and European-American cultures. It also boasts four institutions of higher learning. The historic downtown is host to The Five Civilized Tribes Museum and the National Soul Food Cook-off, which draws thousands. Thanks to a Main Street improvement program, new restaurants and shops are also being established. In 2011 the city was named by the National Trust for Historic Places as one of its Dozen Distinctive Destinations.
Among the best for: The South, American Heritage, Fixer-Uppers, Bargains, First-Time Buyers, College Towns, Cottages and Bungalows
Center Street Historic District, Logan, Utah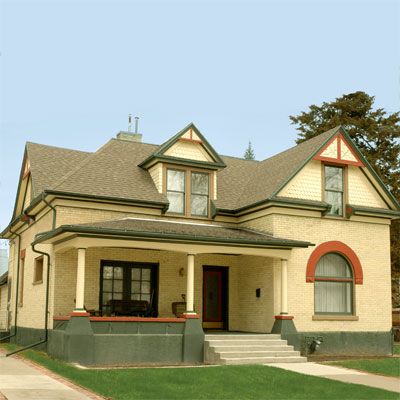 Surrounded by the cascading Bear River and the Wasatch mountains, the Center Street Historic District is a locally prized collection of houses dating back to the 1860s. It's situated in the heart of Logan, Utah, a picturesque town near the Utah-Idaho border that was founded by Mormon settlers and is now home to Utah State University. The neighborhood is close to restaurants, shops, entertainment, and a farmer's market, all within walking distance. Residents keep busy biking or hiking the local trails, swimming at the Aquatic Center, or hitting the links at the Logan River Golf Course, with its recently completed clubhouse.
The Houses
The majority of the houses were constructed in the late 1800s, when craftsmen who worked on the town's tabernacle (begun in 1865) started building large brick and stone dwellings in the Queen Anne and Tudor Revival style for the city's wealthy merchants. Later Arts and Crafts-influenced houses are also available. Prices range from $75,000 for a small fixer-upper to about $350,000 for a spacious, fully restored home.
Why Buy Here?
In addition to easy access to an active, healthy lifestyle, the Utah State Historic Preservation Office offers a 20 percent tax credit for rehabilitation of all properties listed on the National Register of Historic Places (including every structure in the Center Street District), an added incentive to fix up a house here. The city is also trying to expand the boundaries of the district so that more houses qualify for the credit.
Among the best for: The West, Bargains, Family Friendly, Walkability, Lots to Do, Parks and Recreation, American Heritage, Fixer-Uppers, College Towns, Victorians
Five Sisters Neighborhood, Burlington, Vermont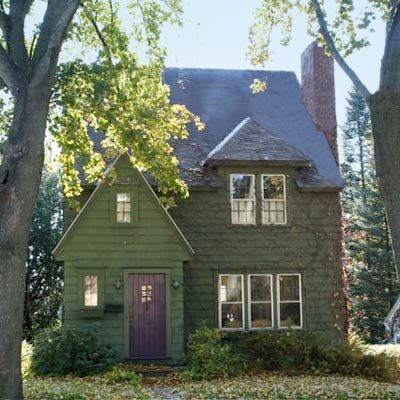 The Five Sisters neighborhood is in the south end of Burlington near the shores of Lake Champlain. Its five primary streets bear the names of Caroline, Charlotte, Katherine, Margaret, and Marian, hence the moniker. Here you'll find around 300 houses and cottages developed from 1900 through the 1950s for working-class families employed by the nearby Queen City Cotton Mill and the American Woolen Company, among others. These days, it's attracting young families, who often take turns walking kids to school, a practice known as the "walking school bus."
The Houses
Expect a nice mix of Craftsman bungalows, Cape Cods, foursquares, and Colonial Revivals, and a few Sears kit houses to boot. Houses are set along narrow streets with plenty of attractive landscaping and mature trees. Most have front porches and large back yards, many with vegetable gardens. Houses sell for $200,000 to $400,000.
Why Buy Here?
"The neighborhood has seen a dramatic revival over the past decade," says Burlington resident Devin Colman. "Older residents are selling to young families, who are restoring and renovating the houses." Five Sisters is a pleasant, mile-long walk to bustling downtown Burlington (pop. 42,000) with its wealth of attractions, including shops, yoga studios, gourmet markets, and of course places to drink and dine, as well as three colleges, including the University of Vermont. There's also plenty of sailing and kayaking on Lake Champlain.
Among the best for: The Northeast, College Towns, Family Friendly, Lots to Do, Parks and Recreation, Gardening, First-Time Buyers, Cottages and Bungalows
Logan, Spokane, Washington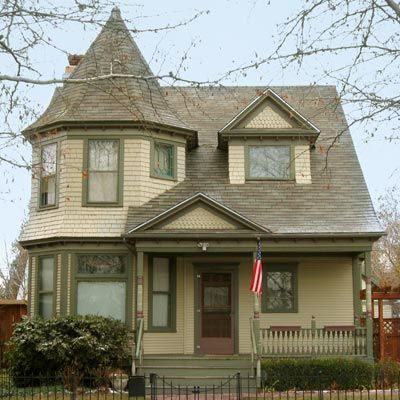 Historic preservation is serious business in Spokane, the largest city in eastern Washington, and even the experts are charmed by this neighborhood. "If I lived in Spokane, I'd have a house in Logan," says Kathryn Burk-Hise, who commutes to the city for her job as executive coordinator of Spokane Preservation Advocates. Flanked by Gonzaga University to the southwest and the Spokane River to the southeast, this little pocket first emerged in 1894 with 30 houses. It was imagined, then, to be the start of a Jesuit community. Today, it's not only a "Catholic hub" but also a community with nearby schools and hundreds of quaint single-family homes at affordable prices. "Streets are wide, tree canopies are big, and there are elementary schools," says Burk-Hise. "It's a great family neighborhood."
The Houses
Queen Annes, Tudor Revivals, and Craftsman bungalows built between 1900 and the 1930s pepper Logan's verdant streets. A well-kept 2,700-square-foot house near Mission Park recently sold for $189,900, though the average price in the area today is $87,000 for houses with original features, including leaded-glass windows and oak millwork. Dwellings that need some rehab go for as low as $50,000.
Why Buy Here?
Students and educators at the four colleges in the area have plenty of worthy distractions from academic pursuits. Locals can be found kayaking, fishing, and swimming in the summer, and it's hard not to be dazzled by the spectacular set of waterfalls that run right through town a few blocks from the southwest edge of Logan.
Among the best for: The West, Bargains, Fixer-Uppers, Cottages and Bungalows, Victorians, College Towns, Retirees, Family Friendly, First-Time Buyers, Easy Commute, Parks and Recreation, American Heritage
Rabbittown, St. John's, Newfoundland and Labrador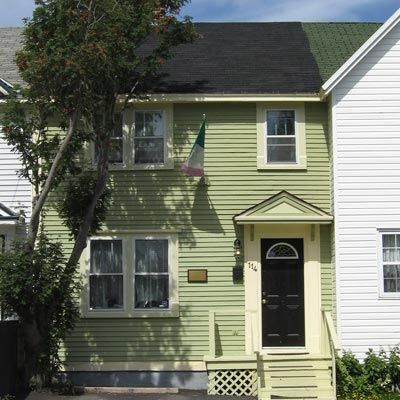 Named for the surplus of rabbits that were once hunted here, this formerly wooded landscape, located high on a hillside above downtown St. John's, was a working-class neighborhood. Here, fishermen and factory workers raised families in houses built during St. John's growth spurt following World War I—a result of a growing fishing industry and the establishment of several American military bases. Affordably priced today, Rabbittown's houses now attract young families, artists, and students attending the Memorial University of Newfoundland, a few blocks away. Two grocery stores and several mom-and-pop-style diners contribute to the convenience as well as the character of the place. "This is, by and large, a neighborhood in transition," says George Chalker, executive director of the Heritage Foundation of Newfoundland and Labrador. "Young professionals are moving here, removing the old vinyl siding from the houses, and replacing them with more traditional wooden clapboards."
The Houses
Most are small one- or two-story cottages, with the occasional rowhouse, built between 1920 and 1950. Over the years, insensitive renovations have left their legacy, but industrious residents are restoring newly acquired houses to their original condition. Prices start at around $180,000 USD.
Why Buy Here?
Memorial University provides locals with plenty of cultural and sporting events. The neighborhood is also home to the Rabbittown Theatre Company, a destination for modern and classical theatrical productions. The city's waterfront location provides plenty of opportunities for boating, and some whale watching, too.
Among the best for: Canada, College Towns, First-Time Buyers, City Living, Lots to Do, Fixer-Uppers, Waterfront