Northern Lights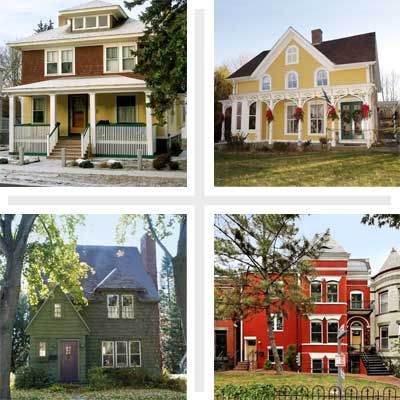 If you love the tight-knit old-world feel of the greater New England area, you'll love these locales. From a diverse tree-canopied community in Boston to a lobster-lover's paradise in Maine, these places offer East Coast living at its finest. And they're just a few of the 61 vibrant neighborhoods from coast to coast where you'll find one-of-a-kind period houses. Read on to see which ones are located in the Northeast, or see all the neighborhoods and categories.
Canterbury, Connecticut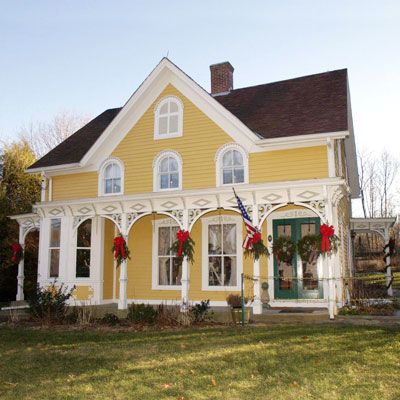 Incorporated in 1703, this 40-square-mile town is sustained by a largely agrarian economy. But it's also been home to some craft trades, including oxbows and wooden mast hoops, as well as small textile mills and sawmills. Beginning in the late 1920s, Canterbury became a popular spot for Finnish immigrants, who relocated here from New York City during the Great Depression and set up farms and food cooperatives. History buffs might be interested to know that Canterbury was once home to Moses Cleaveland, founder of Cleveland, Ohio, and Prudence Crandall, who, in the 1830s, established the first African-American school for girls in New England. That school is now a museum and has period rooms, changing exhibits, and a research library.
The Houses
The earliest surviving houses are 18th-century center-chimney houses in the Cape Cod or Salt Box style. The town is also home to more elegant Federal and Greek Revival houses and a small selection of Victorian-era houses. Prices are extremely affordable, starting out at just around $15,000 for a serious fixer-upper (quite rare). The average sale price is about $240,000. Zoning requires all houses to have at least 2 acres of property, though some comprise several hundred acres.
Why Buy Here?
While Canterbury is rural, it doesn't take long to get to other destinations for work or pleasure. The town is less than an hour's drive to Providence, Rhode Island, or Worcester, Massachusetts, and about an hour and a half away from Boston. The area also offers plenty of opportunities for outdoor adventures, including hunting, as well as fishing and kayaking on the Quinebaug River, which runs through town.
Among the best for: The Northeast, Victorians, Parks and Recreation, Family Friendly, Small Towns, American Heritage
The Triangle, Wilmington, Delaware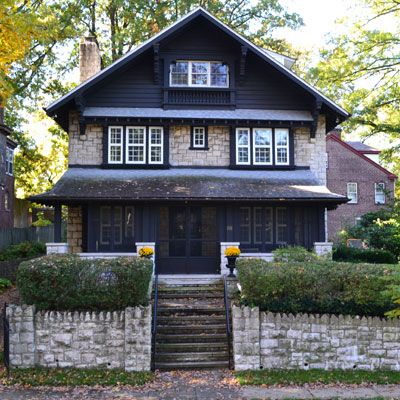 Sure, it's located in the biggest city in Delaware. But what makes the Triangle neighborhood, named for its triangulated borders, so appealing is its tranquil suburban feel. "The residents sit on front porches, walk dogs, throw block parties, and look out for each other," says local Realtor Judith Kolodgie. Neighbors also appreciate the Triangle's proximity to bordering Brandywine Park, hiking and biking trails, and a stadium that hosts high-school football games. A nice walk down Baynard Boulevard will get you to downtown Wilmington's shops, restaurants, and the recently refurbished Queen Theatre, a stunning 1915 movie house that now offers live performances.
The Houses
Formed in the early 1900s as a streetcar suburb, the neighborhood includes beefy freestanding houses, many with enormous front porches, as well as semi-detached houses. Styles include Queen Anne, Shingle, Dutch Colonial, and Colonial Revival. Both single and two-family houses are available from $200,000 to $450,000.
Why Buy Here?
There is a strong community feeling among the residents, who together arrange events such as an annual yard sale and a Halloween parade. The Triangle has long been known as "the Sallies neighborhood," because it's home to the Salesianum School, a large Catholic boys' school educating students since 1903. "The Triangle is quiet and friendly and has been a good place to raise kids," says Judith Kolodgie, a homeowner here for 28 years. Need we say more?
Among the best for: The Northeast, Family Friendly, Cottages and Bungalows, City Living, Lots to Do, Parks and Recreation, Walkability
Rockland, Maine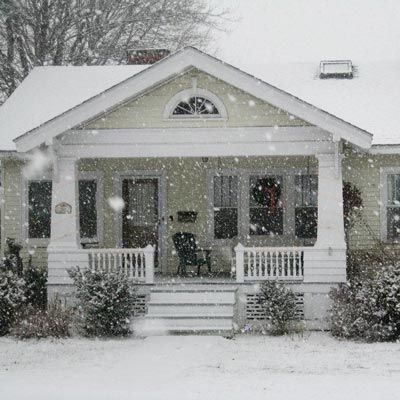 Though he hails from the United Kingdom, Dan Bookham feels right at home in the small coastal town of Rockland, Maine. "Around here, the motto is 'We don't care who your father was. Show us what your kids can do,'" says Bookham, who bought a house here three years ago with his wife, Jessie. Good public schools and safe streets make the town of about 7,300 an ideal place to raise their 4-year-old daughter, and great restaurants, seafood markets, and museums make it pretty great for the Bookhams themselves, too.
The Houses
Shipbuilding, and then mills and factories, in particular, lime production, supported the populace here for centuries, leaving a legacy of Victorian cottages as well as Craftsman bungalows and Folk Victorians that abound in the downtown area. On the town's south end, former workers' cottages, in the Cape Cod style, can be had for around $100,000, while larger houses on the north end, built by wealthy sea captains, command higher prices. Most houses have large backyards, which locals take advantage of by planting elaborate flower and vegetable gardens.
Why Buy Here?
In the past couple of decades, Rockland has shaken its image as an insular commercial fishing community by redefining itself as a popular tourist destination that's also attracting full-time residents. It's home to the North American Blues Festival in July and the Maine Lobster Festival each August. Rockland is the location of the Farnsworth Art Museum, which boasts more than 10,000 paintings by American masters, including Maine's own, the Wyeths: Andrew, N.C., and Jaimie. There are also plenty of sailing, hiking, and skiing opportunities.
Among the best for: The Northeast, Victorians, Waterfront, Parks and Recreation, Small Towns, First-Time Buyers, Gardening, Cottages and Bungalows
Original Northwood, Baltimore, Maryland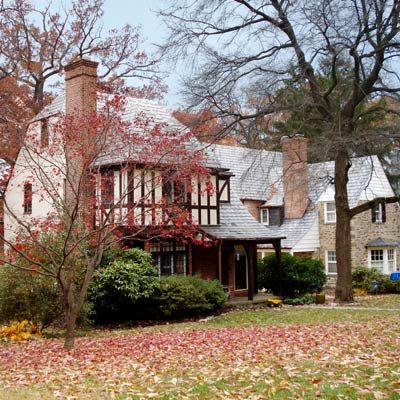 Once part of an 18th-century wooded estate, this North Baltimore neighborhood has never turned its back on nature. Developed in the 1930s as a planned community, its nearly 400 houses were built and sited to look as integral to this landscape as the centuries-old oak trees that surround them. Original Northwood (so named to distinguish it from newer developments in the nearby town of Northwood) was designed by the Roland Park Development Company, an affiliate of the Olmsted Brothers Landscape Architects, which came up with the plans for New York City's Central Park. The neighborhood adheres to the Olmstedian principles of following the contours of the land, retaining mature trees, and situating each house according to the characteristics of the lot. Because garages are detached and located in rear alleyways, there are no driveways, so front lawns run contiguously, broken only by walkways and the many ornamental specimen trees.
The Houses
The neighborhood is inspired by the English countryside, with most houses built in the English Colonial and English Tudor style. There are also duplexes and Tudor-style rowhouses. Most were erected between 1929 and 1937 and range in price from $175,000 to a high of $500,000. The neighborhood is listed on the National Register of Historic Places.
Why Buy Here?
Original Northwood is located 15 minutes from downtown Baltimore and about an hour from Washington, D.C., which is accessible by train. House prices here have dropped from their peak in 2007–2008, so now's the time to buy.
Among the best for: The Northeast, Easy Commute, City Living, Gardening, Walkability
Jamaica Plain, Boston, Massachusetts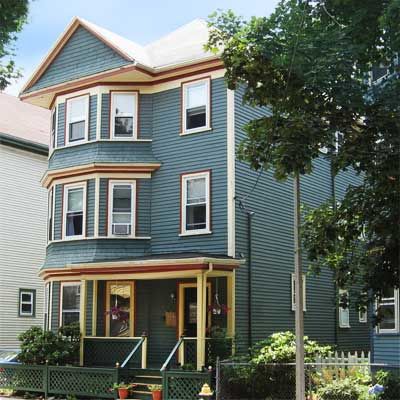 Sarah and William Curtis might hardly recognize the farmland they cleared along the Stony Brook River in 1639. Back then, the area now known as Jamaica Plain was located in the town of Roxbury and was largely a pastoral paradise dotted by family-owned farms. By the 1700s, new roads, including the Dedham Turnpike, led wealthy Bostonians, including Massachusetts governors John Hancock and Samuel Adams, to build estates here. By the time the railroad arrived, in 1834, Jamaica Plain was an affluent suburb. These days, the 4.4-square-mile area is known for its stellar housing, its thriving Latin Quarter, and its large population of artists, young professionals, and students from Northeastern University and other nearby colleges. It's also home to funky shops, amazing restaurants, and one of the oldest Irish pubs in all of Boston, Doyle's.
The Houses
Most date from 1840 to 1900, a time when railroads and streetcars first made it possible for commuters to live here. Styles include Greek Revival, Stick, Queen Anne, and Italianate. There's also an ample supply of Boston's legendary three-decker houses, which have been turned into condos, starting at around $199,000. Houses run from about $360,000 to the millions.
Why Buy Here?
Located 6 miles from downtown Boston, Jamaica Plain retains some of the bucolic atmosphere it enjoyed in Sarah and William Curtis's day. Bordered by the Arnold Arboretum, Jamaica Pond, and Franklin Park—all of which were designed in the late 1800s by Frederick Law Olmsted—it's known as the greenest neighborhood in Boston.
Among the best for: The Northeast, Lots to Do, Easy Commute, American Heritage, College Towns, Fixer-Uppers, City Living
Keene, New Hampshire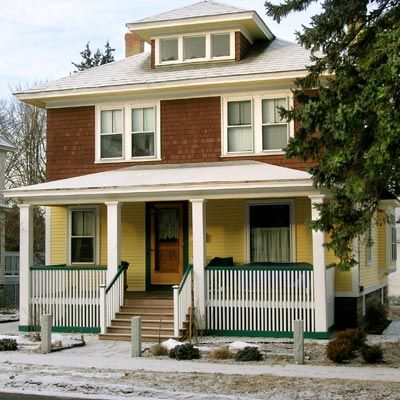 If you ask a local of Keene if she's lived there all her life, the response is likely to be, "Not yet." A dry sense of humor is typical of this part of southern New Hampshire, as is the knowledge that residents have found a good place to be. "It's a 10-minute walk to Main Street, the movie theater, a huge park—everything you need," says Sandy Hamm, who moved into her 1875 home on the east side of town eight years ago. The business center of Cheshire County, Keene's population of around 22,000 swells to more than twice that size during the day. Students attending Keene State College and Antioch University New England also add several thousand to the local population during the school year, keeping things lively.
The Houses
In the late 19th and early 20th century, the town, with its woodenware mills and ample nearby forests, was a manufacturing center for items such as chairs, shutters, doors, carriages, and sleighs. Classic New England farmhouses, brick Cape Cods, and Victorian-era mansions with carriage houses, the latter survivors of Keene's rich milltown days, are all found here. A 3,100-square-foot Italianate house with original moldings and built-ins (and requiring some major TLC) was recently listed at $145,000, while an 1850s farmhouse with hardwood floors and a tin ceiling was selling for around $75,000.
Why Buy Here?
Great schools, plentiful nearby nature (3,165-foot-high Mt. Monadock is 20 minutes away), and a close-knit community spiced with the energy of a college town means that for those looking for a lively pace, Keene has everything you need.
Among the best for: The Northeast, Family Friendly, College Towns, Walkability, Victorians, Fixer-Uppers, Parks and Recreation, Lots to Do
Van Wyck Brooks Historic District, Plainfield, New Jersey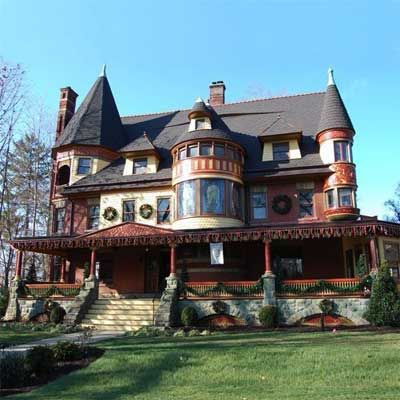 The residents of the Van Wyck Brooks neighborhood sure know how to entertain at home. From progressive dinners to black-tie parties to after-work cocktails, someone's always hosting something around here. But why wouldn't they want to show off their houses? Most were built by turn-of-the-century financiers and businessmen who migrated here following the establishment of railroad lines between Plainfield and New York City in the mid-1800s. They outfitted their suburban palaces with elaborate staircases, Citizen Kane–like oversize mantels, stained-glass windows, and millwork carved from exotic hardwoods. Named after Pulitzer Prize–winning writer Van Wyck Brooks, who grew up here, the entire neighborhood is listed on the National Register of Historic Places.
The Houses
The most exquisite are enormous Second Empire and Queen Anne homes with wraparound porches, turrets, and elegantly landscaped front yards. The neighborhood is also home to Shingle, American Foursquare, and Tudor Revival houses, among others. Prices for mansions can run into the millions, though smaller houses can be found for less than $200,000.
Why Buy Here?
Plainfield took a huge hit in the 1960s, when local social unrest led to the relocation of many residents and widespread disinvestment in the community. Today, the city is seeing an uptick of small, independently owned businesses as well as mainstream commercial development. An influx of young professionals making their homes in Van Wyck Brooks also signals a renaissance. Plainfield is about 30 miles from both Newark and New York City, and 74 miles from Philadelphia, so commuting is an option.
Among the best for: The Northeast, Fixer-Uppers, Gardening, First-Time Buyers, Easy Commute, Victorians, American Heritage
Ridgewood, Queens, New York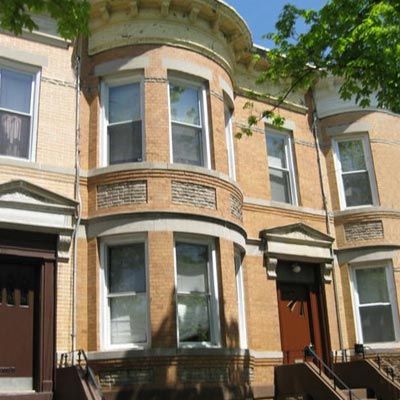 In high-priced cities like New York, savvy would-be buyers often seek out houses with a rental unit (or two) to help them foot the bill. These days, the savviest ones are turning their sights to Ridgewood, Queens, a 2-square-mile haven for two, three, and even four-family townhouses, located just east of the Brooklyn border. The traditionally working-class neighborhood was originally settled by the Dutch as a farming community, though most of its housing and commercial buildings were developed by early-20th-century German immigrants, who worked in the area's breweries and factories. Ridgewood is home to an enormous National Historic District encompassing some 2,980 houses and apartment buildings. Though the atmosphere is relaxed, it's not provincial. You can still get a perfect pirogie at a Polish deli, a top-notch chicken pad thai, or even an actual Manhattan at one of many restaurants, cafes, and bars here.
The Houses
The most prevalent housing style in the area is Romanesque Revival, seen in the bow-fronted, yellow-brick two- or three-family rowhouses built in the early 20th century by and for German immigrants employed at the city's breweries. A two-family house runs between $500,000 and $650,000, while a three-family will cost $550,000 to $750,000 and a four-family about $800,000.
Why Buy Here?
As prices soar in nearby Brooklyn neighborhoods, like Williamsburg and Greenpoint, houses in this safe, established neighborhood feel like a relative bargain. Ridgewood is served by two subway lines, which run to midtown Manhattan in 30 minutes or less.
Among the best for: The Northeast, City Living, Easy Commute, American Heritage, Walkability, Editors' Picks
West Chester, Pennsylvania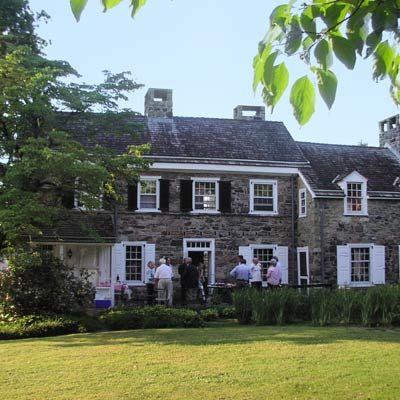 At just 1.8 square miles, West Chester hasn't grown an inch since Welsh Quakers established it, in 1799. Back then, the town was located at an intersection of roads leading to Philadelphia, Pottstown, Lancaster, and Wilmington, Delaware. This made it a popular resting spot for travelers, hence the many hotels, taverns, and shops here. In 1848, West Chester, by then the county seat of Chester County, saw the completion of a Greek Revival courthouse designed by Thomas U. Walter, who went on to design the dome and wings of the U.S. Capitol Building. Today, downtown is packed with 19th-century buildings housing clothing boutiques, art galleries, and restaurants, which serve this bustling community of 18,000.
The Houses
Both rowhouses and free-standing houses in the Queen Anne, Second Empire, and Italianate style predominate, though a few early colonials remain. Most are built of stone or brick during a turn-of-the-century building boom, the result of a railroad linking the town to Philadelphia and the emergence of several factories manufacturing farming equipment. Prices run from $70,000 into the millions. A three-bedroom, 1,200-square-foot townhouse circa 1900 was offered for around $219,000.
Why Buy Here?
West Chester has been ranked a "Distinctive Destination" by the National Trust for Historic Preservation, as well as a "walker's paradise" by WalkScore.com. The town serves as a bedroom community for commuters to Philadelphia, about 25 miles away, and, thanks to its proximity to Valley Forge and the Brandywine Battlefield Historic Site, it's also handy for heritage tourism.
Among the best for: The Northeast, Walkability, Easy Commute, American Heritage, Small Towns, Victorians
The Fifth Ward, Newport, Rhode Island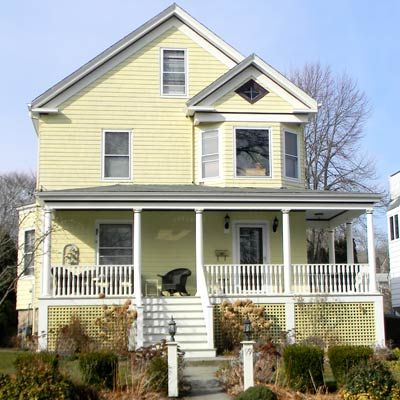 If you were Irish and landed in Newport in the 19th century, odds are you made your home in the Fifth Ward, on the city's south side. Perhaps you helped build the nearby 21-acre Fort Adams or found employment along the waterfront at the Newport Gas-Light Company or, when Kingscote, Chateau-sur-Mer, and The Breakers were built, someone like you had to take care of those massive "summer cottages." The tenacity with which the neighborhood has clung to its name over the years (it was absorbed by the Third Ward voting district in the 1950s) is indicative of the strong cultural spirit of the people who live here, and have for generations.
The Houses
"The Fifth Ward has examples of nearly everything Newport has to offer," says Pieter Roos, executive director of the Newport Restoration Foundation. "You can find gems all over." There are lots of simple one- and two-story frame houses with clapboard or shingle siding, some larger Second Empire multifamily houses, and a smattering of Queen Annes. Prices run between $250,000 and $550,000.
Why Buy Here?
There is a healthy supply of well-built houses in a family-oriented neighborhood close to the water and several parks. Downtown Newport, and all it has to offer, is within a 20-minute walk. Recently, a naval-base realignment brought new jobs to Newport and, with this, increased competition for these perfect starter homes, so don't delay. "We're still oversupplied," says real estate broker Arthur Chapman, whose great-grandfather, P.J. Fagan, built many of the houses on Carroll Avenue in the heart of the Fifth Ward, "but the rush is on."
Among the best for: The Northeast, Cottages and Bungalows, Family Friendly, Waterfront, First-Time Buyers, Parks and Recreation, Retirees, Walkability, Lots to Do, American Heritage
Five Sisters Neighborhood, Burlington, Vermont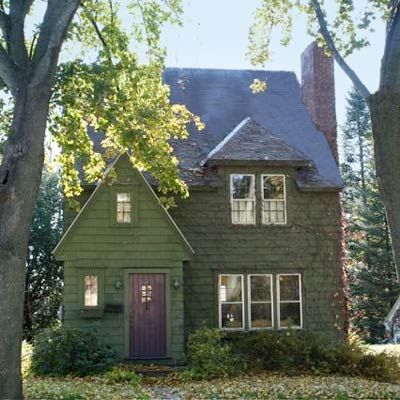 The Five Sisters neighborhood is in the south end of Burlington near the shores of Lake Champlain. Its five primary streets bear the names of Caroline, Charlotte, Katherine, Margaret, and Marian, hence the moniker. Here you'll find around 300 houses and cottages developed from 1900 through the 1950s for working-class families employed by the nearby Queen City Cotton Mill and the American Woolen Company, among others. These days, it's attracting young families, who often take turns walking kids to school, a practice known as the "walking school bus."
The Houses
Expect a nice mix of Craftsman bungalows, Cape Cods, foursquares, and Colonial Revivals, and a few Sears kit houses to boot. Houses are set along narrow streets with plenty of attractive landscaping and mature trees. Most have front porches and large back yards, many with vegetable gardens. Houses sell for $200,000 to $400,000.
Why Buy Here?
"The neighborhood has seen a dramatic revival over the past decade," says Burlington resident Devin Colman. "Older residents are selling to young families, who are restoring and renovating the houses." Five Sisters is a pleasant, mile-long walk to bustling downtown Burlington (pop. 42,000) with its wealth of attractions, including shops, yoga studios, gourmet markets, and of course places to drink and dine, as well as three colleges, including the University of Vermont. There's also plenty of sailing and kayaking on Lake Champlain.
Among the best for: The Northeast, College Towns, Family Friendly, Lots to Do, Parks and Recreation, Gardening, First-Time Buyers, Cottages and Bungalows
H Street NE, Washington, District of Columbia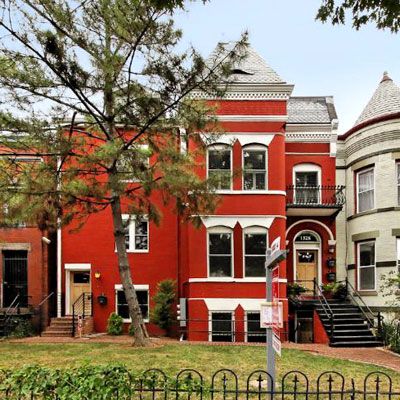 While it used to be one of D.C.'s most bustling commercial corridors, this historically African-American neighborhood, about a mile northeast of Union Station, was decimated during the 1968 riots following the assassination of Martin Luther King Jr. But after years of disinvestment, the renewed commitment to H Street is palpable as new business owners spruce up its formerly boarded-up storefronts, opening indie-music venues, bistros, and pubs serving boutique bourbons. Those trendy new businesses comingle with generations-old standbys, including Smokey's Barbershop & Oldies, one of just a few H Street businesses to survive the riots. Despite all the changes, the place remains vibrant and diverse, says Realtor Alix Myerson. "You see well-cared-for houses that have been in the same family for generations, as well as places that have recently been redone."
The Houses
The neighborhood is known for its two-story brick rowhouses in the Federal, Colonial Revival, and Queen Anne styles. Due to its growing popularity, home prices have nearly doubled in the past two years, now ranging from $300,000 to $800,000, depending on condition. That said, we recently found a 1905 Queen Anne rowhouse with original oak millwork for $299,000.
Why Buy Here?
H Street renewal is expected to continue, thanks to housing and commercial developments slated for the next few years. City leaders are optimistic that the completion of a new streetcar line, which will link H Street to downtown in 2013 will create even more interest. In 2006, a historic 1938 movie theater reopened as the Atlas Performing Arts Center, now a centerpiece of the neighborhood's arts district.
Among the best for: The Northeast, City Living, Lots to Do, Fixer-Uppers, Easy Commute, Walkability, American Heritage