Best Old House Neighborhoods 2009: Bargains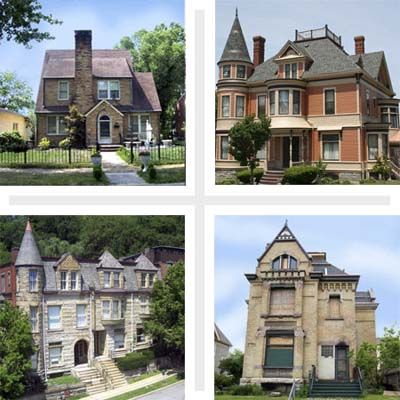 Unique, tight-knit neighborhoods are precisely what we looked for in selecting the winners of our second annual Best Old House Neighborhoods contest—places that might not be on your radar but deserve to be. Like last year, we relied on our good friends at PreservationDirectory.com to help us contact thousands of neighborhood groups, real estate agents, and preservation societies to get their takes on the best places to track down, fix up, and fall head of heels for older homes.
For the best prices in the best places to buy an old house, check out these 16 communities for bargains galore.
Elgin, Illinois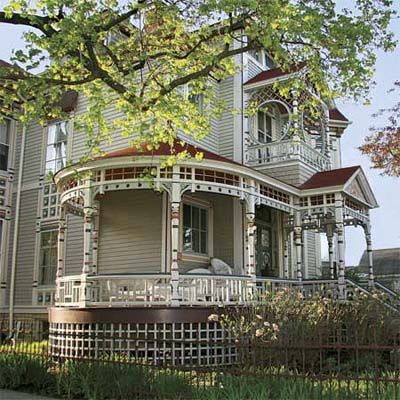 Not for one second did Brenda Hennessey imagine herself living in Elgin, Illinois. Growing up in nearby Schaumburg in the 1980s, she'd heard the city had a reputation for being grungy, rundown—even a bit dangerous. A few years ago she made a pit stop here while riding the Fox River Bike Trail, which runs 33 miles through the Chicago suburbs. It was then she realized that either Elgin's nefarious image was greatly exaggerated or things here had changed dramatically for the better. In the market for a house, Brenda did some research and discovered she could get more bang for her buck in Elgin than in other Chicago-area towns. She soon snatched up a late-19th-century brownstone in the Gifford Park neighborhood for $198,000. "Elgin is beautiful," she says. "It's walkable and safe, with plenty of bike paths." Brenda, now pregnant, and her husband, Evan, are looking for a larger house, hopefully one of the city's cherished Queen Annes, which start at $100,000. That's the great thing about Elgin, says Brenda. You can buy a starter home, upgrade to a virtual mansion to raise your kids, then empty-nest it down to a bungalow when you retire.
The Houses
Some of the city's most handsome Queen Anne, Tudor, and Gothic Revival homes are found in the Northeast neighborhood, which borders downtown and contains two historic districts, most notably Elgin's oldest neighborhood, Spring-Douglas, a National Historic District. Here, a 2,000-square-foot Queen Anne can be had for $150,000 to $500,000, depending on its condition.
Why Buy Now?
The best reason is summed up by Elgin resident Fran Cella: "No one really knows about us yet." Property values in the historic districts remain steady, thanks in part to the city's proximity to Chicago. The city is offering grants to help buyers restore single family homes that were broken up into multifamily units.
Among the best for: Fixer-Uppers, Families, Bargain, First-Time Buyers, Bedroom Communities, Healthy Living, Walking, Urban Suburbanites, The Midwest, Dog Lovers, Financial Help for Homeowners, Editors' Picks
North Side Neighborhood, Pueblo, Colorado
Pueblo was once the Pittsburgh of the West—an industrial hotbed where many an entrepreneur came to seek his fortune in the bustling city's steel mills. Once those fortunes had been made, a lot of the newly monied settled in Pueblo's North Side neighborhood, building stately (some might say quirky) homes on streets wide enough to turn a stagecoach around on. These days, North Side is a bit more middle class; you don't have to be a millionaire to buy a truly remarkable home of your own.
The Houses
North Side offers a few popular styles of architecture from between 1870 and 1950, including Italianates and Spanish Revivals. Homes start about $125,000 and go up to $300,000.
Why Buy Now?
If you want a textbook Colorado lifestyle, Pueblo offers it in spades, and more affordably than Denver or Boulder. Looking for work? The Danish company Vestas is building what the company is billing as the world's largest wind-turbine factory here, so in the next few years the city stands to gain about 500 jobs and perhaps a new signature industry.
Among the best places for: Fixer-Uppers, Healthy Living, Walking, First-Time Buyers, Bargains, The West, Retirees
The Vine neighborhood, Kalamazoo, Michigan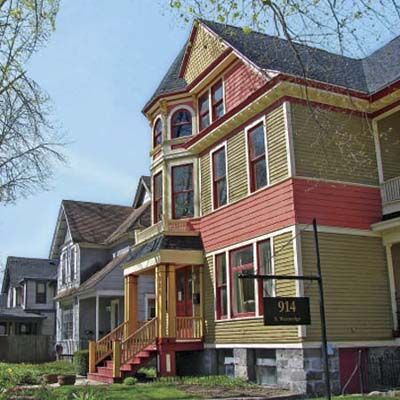 After a rough patch in the 1980s, this leafy Victorian-era neighborhood is experiencing quite a comeback as people move here because it's close to downtown, stellar schools, parks, hiking trails, and playgrounds. Sure, it's a great place for families, but since it borders Western Michigan University, "The Vine" also maintains a youthful feel, with lots of trendy restaurants, bars, and shops.
The Houses:
Most are Foursquares or Queen Annes, which retain their details, including wraparound porches, double-hung windows, and Victorian-era millwork. Ready-to-move-in homes go for $100,000 and up. Fixer-uppers start at $60,000.
Why Buy Now?
A new Spanish-language immersion school and a top-notch math and science high school in The Vine are luring families. Thanks to "The Kalamazoo Promise," students who attend Kalamazoo schools from grades K through 12 receive full tuition to any of Michigan's public colleges or universities. But even students who attend grades nine through 12 here get 65 percent off. The Vine's status as a local historic district allows buyers to take advantage of incentives that save thousands on property taxes.
Among the best places for: Families, Fixer-Uppers, Bargains, First-Time Buyers, Porch Sitters, Victorians, College Towns, The Midwest, Financial Help for Homeowners, Editors' Picks
Capitol Heights, Montgomery, Alabama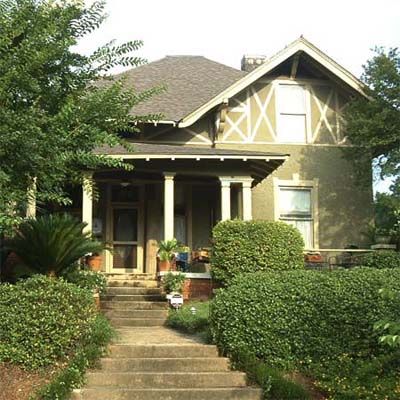 In 1916 the Montgomery Advertiser called this new neighborhood, built on an old cotton plantation, "an ideal residential suburban section." And Capitol Heights has retained pretty much the same feel since. East of downtown Montgomery, it's a beautiful old streetcar suburb that's gaining favor among lawyers, teachers, architects, and maintenance workers who like the diverse, tight-knit community—and that it's five blocks from their jobs in downtown Montgomery.
The Houses:
The houses are extraordinary Deep South versions of the California-style Craftsman, with long, low-pitched eaves and roomy front porches. Some have upstairs sleeping porches that capture the cool night breezes. Many were built in the early to mid-1900s using concrete blocks made on-site. Home values range from $75,000 to $200,000.
Why Buy Now?
Capitol Heights was recently designated a historic district. Many residents believe the designation will help protect the neighborhood's architectural integrity and boost property values. A neighborhood group is drawing potential buyers by sponsoring yearly home tours, during which the work of local artists is displayed and for sale.
Among the best places for: Bargains, Families, Dog Lovers, Porch Sitters, Cottages and Bungalows, The South, Arts and Antiques Lovers
Guttenberg, Iowa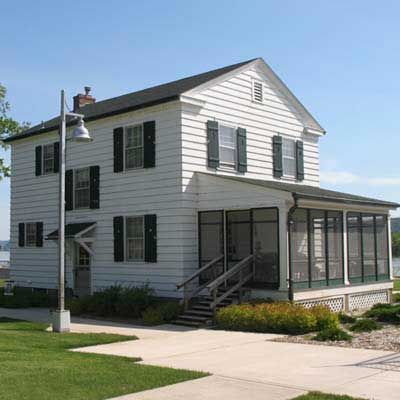 Sure, the houses are great, but the crown jewel of Guttenberg is the Mississippi River. Some just like gazing down on it from their front porches, though most tend to get a little more involved. "Almost everyone here has a boat," says Lee Johnston, who moved to Guttenberg over a year ago, snatching up a beautiful 160-year-old house—with river views!—for a song. The town was once home to thousands of German immigrants, who followed the rivers here from bigger Midwestern cities like Cincinnati. Their legacy is maintained through local surnames and street names, including Goethe, Weiland, and Schiller. Aside from a lone Subway restaurant, the town is refreshingly devoid of chain stores, strip malls, and big-box stores. Most people just drive the 45 minutes it takes to get to Dubuque, Iowa, to take care of their shopping needs.
The Houses
So-called German Vernacular cottages, built with local limestone by German immigrants in the mid-1800s, are the norm, though there are Victorian-era homes and bungalows. Surrounded by bluffs, the historic homes are protected from the Mississippi by a flood wall. Houses sell for $80,000 to $350,000.
Why Buy Now?
The town hasn't been bought up yet by city slickers from Milwaukee, Dubuque, Iowa, or even Chicago (4 hours away) looking for peaceful vacation homes. With its beautiful river views, outdoor recreation, and historic homes, it's just a matter of time before Guttenberg becomes as popular, and as pricey, as other Midwestern destinations, such as Lake Geneva, Wisconsin, or Galena, Illinois. So buy at a bargain while you can.
Among the best places for: Waterfront, Retirees, Sportsmen, Porch Sitters, Bargains, The Midwest
Woodruff Place, Indianapolis, Indiana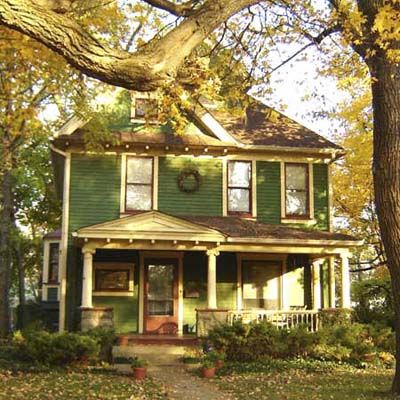 Founded in 1872 by New Yorker James O. Woodruff, this old suburb, about a mile east of downtown Indianapolis, was a self-governing town for more than 80 years. Traces of this autonomy are still evident in the tight-knit community, for Woodruffians are active in hosting social gatherings and bimonthly neighborhood meetings. Take a walk around town and you'll see broad boulevards, decorative fountains and urns, and statues surrounded by magnolia and oak trees. The inspiration for Booth Tarkington's The Magnificent Ambersons, Woodruff Place is a quintessential Midwestern town and was added to the National Register of Historic Places in 1972.
The Homes
The oldest houses are Eastlakes, Stick Victorians, and Queen Annes, though Woodruff Place is also home to many Georgian Revivals, English Tudors, Bungalows, American Foursquares, and Colonial Revivals. Fixer-uppers can be purchased for less than $100,000.
Why Buy Now?
The stately homes in Woodruff Place were built for the elite but are now available at moderate prices. Many large Victorian-era homes that were divided into apartments in the 1960s and '70s can be returned to single-family houses.
Among the best places for: Families, Bargains, The Midwest, First-Time Buyers, Victorian-era Homes, Urban Suburbanites
Smyrna, Delaware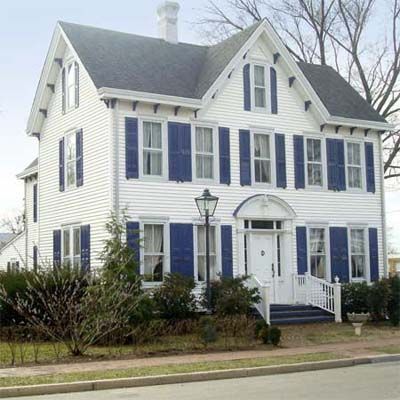 Driving by on Route 1 on their way to the Delaware beaches, many travelers think Smyrna is just a pit stop with a few fast-food joints and fueling stations. But venture further into Smyrna, and you'll discover a hidden small-town gem, with a newly revitalized Main Street surrounded by hundreds of old houses heavy on the square footage. Smryna's the kind of place where the whole town comes out to watch a Pop Warner football game and attendance at the local high school's homecoming parade is practically mandatory. Residents include young families who love the schools and the safety, young professionals who commute to nearby Dover or Wilmington, and retirees who move here for the laughably low taxes. To relax, locals head to Lake Como to sit by the water or hop aboard their boats. Smyrna is also surrounded by pristine farmland and several national parks, so hikers, bikers, and kayakers have plenty of options.
The Houses
Many of the homes were built between the mid-19th and early-20th centuries, when merchants, businessmen, and tradesmen moved here to take advantage of this agricultural community's rail, road, and water access to larger markets. The homes exhibit both vernacular and high-style interpretations of popular architectural trends of the era, including Federal, Greek Revival, Italianate, Queen Anne, and Second Empire. Since this is a largely overlooked area, prices are relatively low. An 1858 Greek Revival in Smyrna was recently listed for $207,000.
Why Buy Now?
Folks are flocking here to take advantage of Smyrna's low property and income taxes. (Bonus: There's no sales tax, either.) The town is a great option for families with commuting breadwinners, since it's close to Dover and Wilmington.
Among the best places for: Families, Bargains, Sportsmen, Country Living, Fixer-Uppers, Northeast
Morgan Park, Duluth, Minnesota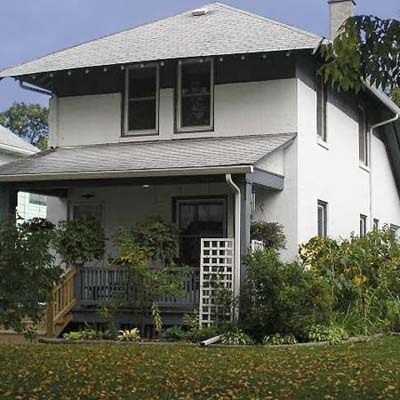 Perched on the St. Louis River in Duluth, Minnesota, Morgan Park might be the most interesting neighborhood to make our list. J.P. Morgan's U.S. Steel Corporation established Morgan Park in the early 1900s to house workers and executives from its Duluth-based steel and cement plants. Originally called Model City, Morgan Park was a self-contained community with its own company-run schools, hospitals, and fire and police departments. While the plant closed down in the early 1980s, Morgan Park is now a thriving neighborhood inhabited by postindustrial residents who are proud of the history—and the resilience—of their community.
The Houses
Most of the homes are Prairie style, with low-pitched roofs and wide overhanging eaves. The sturdy houses are built mostly of Minnesota-made portland cement from the site's own U.S. Steel plant. A 1,400-square-foot home here starts about $100,000.
Why Buy Now?
The neighborhood hit a rough patch when thousands of steel jobs were lost in the 1970s and '80s, but it's experiencing a renewed sense of pride as beautification efforts have begun turning Morgan Park back into the solid middle-class neighborhood it once was. The town's water sewer lines were recently replaced, and a hard-core area garden club is creating some amazing landscaping and community gardens. Though the Superfund program, the federal government has committed to a massive cleanup of pollution left over from the area's steel manufacturing days. Currently, the 600 acres of land (outside of residential areas) in Morgan Park that were affected have been rehabilitated well enough to support future industrial uses, while the river still needs work but is constantly monitored.
Among the best places for: Families, Fixer-Uppers, First-Time Buyers, Retirees, Bargains, The Midwest, Green Thumbs
East Durham, North Carolina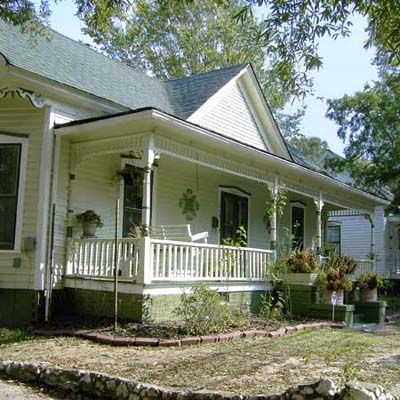 At the turn of the 20th century, East Durham was a bustling blue-collar neighborhood, where thousands of textile workers made a good living under the employ of the Durham Cotton Manufacturing Company. When that shut down during the Great Depression, laid-off workers quickly found new jobs with the neighborhood's prospering tobacco companies. They built or bought sturdy bungalows, Folk Victorians, and foursquares, many with full-length front porches. Following World War II, East Durham underwent a long period of decline that reached its apex in the 1980s and '90s, when the town was overrun by drugs and crime. But things are changing, and structures are being turned into safe and secure single-family homes in a neighborhood that might soon be one of Durham's most sought after.
The Houses
You can get a 1,600-square-foot bungalow in fair condition for just $28,500. Or splurge a little and get a two-story 1915 Victorian for $60,000. Houses here sit on peaceful wooded lots.
Why Buy Now
Thanks to its coordinates on the famed Research Triangle, a locus for universities and high-tech companies, Durham has seen home prices increase in the past few years. And those looking to live in the city are seeing East Durham with fresh eyes. Houses are a steal, and the neighborhood is an ideal place for professionals commuting to Research Triangle jobs. Any rehab work you do will be eligible for North Carolina's historic preservation tax incentive, which provides a 30 percent credit for the rehabilitation of non-income-producing properties.
Among the best places for: Fixer-Uppers, Bargains, First-Time Buyers, Porch Sitters, Financial Help for Homeowners, The South
Fayetteville Historic District, Fayetteville, Tennessee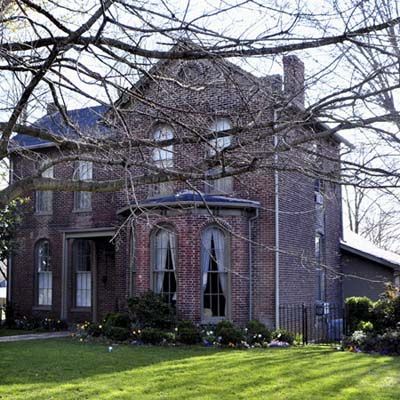 During the Civil War, many homes in the Fayetteville National Historic District were occupied by Union troops, and it's no wonder. This southeastern Tennessee town is rich with majestic Southern manses, built by those who prospered in the city's cotton, corn, and dairy industries in the early 1800s. Today, those houses are occupied by families who make their living working in the city's several factories—including Frito-Lay's and Goodman's—or other jobs in nearby Huntsville, Alabama (30 miles away). The neighborhood is just a short stretch from Fayetteville's beautiful downtown, which features a classic courthouse square surrounded by a historic movie theater, antique shops, and an old jail that's been converted into a restaurant (yes, you can eat in the cells). The most beloved restaurant is Honey's, which serves a curious Fayetteville mainstay known as the Slaw Burger.
The Houses
Homes date to the early 1800s, though the newest were built in the 1950s. Styles include Stick Victorian, Greek Revival, Steamboat Gothic, and bungalows. Many feature stunning wraparound, double-tiered porches outfitted with gingerbread. Prices generally range from $100,000 to $600,000. Most are extremely well maintained and have much of their original detail.
Why Buy Now?
Good schools and great quality of life are sweetened more by an extremely affordable cost of living. Property taxes are low, and Tennesseans pay no personal income tax.
Among best places for: Bargains, Bedroom Communities, Country Living, Families, Food Lovers, Retirees, The South
Brewer's Hill, Milwaukee, Wisconsin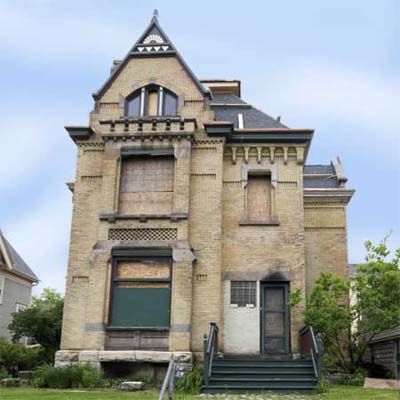 Named for the German beer barons and their employees who lived here and worked in the nearby Schlitz and Blatz breweries, Brewer's Hill is a distinctly Victorian-era neighborhood that's found new life in recent years as rehabbers buy up its blighted old mansions and restore them into beautiful urban homes. The neighborhood, set on a hill above the Milwaukee River, is about a mile from downtown Milwaukee—definitely one of those "cooler than you think" cities, with its top-notch restaurants, bars, and, of course, brewpubs.
The Houses
Stick Victorians, Queen Annes, and Greek Revival homes are the most common. As the breweries left the area, many of the neighborhood's mansions were converted into rooming houses, but they're now being restored to their original floor plans. You can buy a 3,000-square-foot single-family fixer-upper for as little as $150,000. Completely restored homes run from $250,000 to $300,000. A luxury two-bedroom condo inside a converted brewery costs between $250,000 and $350,000.
Why Buy Now?
Brewer's Hill is attracting an increasing number people looking to buy and restore its enormous houses at prices that are hard to find outside of the neighborhood. All the rehabilitation bodes well for both property values and the neighborhood's future.
Among best places for: Bargains, Fixer-Uppers, The Midwest
Church Hill, Richmond, Virginia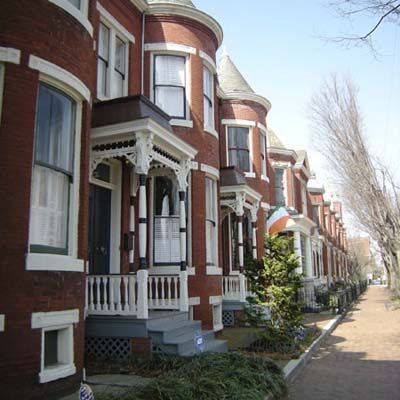 Nestled in downtown Richmond, Virginia, the brick sidewalks of Church Hill are lined with gas street lamps and rows of late-19th-century Italianates and Queen Anne Victorians with wrought-iron porches. This place is truly alive with history, and you can't walk two blocks without running into a Civil War monument. The area is also known as St. John's Church Historic District after the Episcopalian church where Patrick Henry gave his "Give me liberty or give me death" speech in 1775. But the past isn't all there is to Church Hill, which was seeing a redevelopment boom right before the recession hit. Walk south toward Libby Hill Park—and the James River that it overlooks—and you'll find the entertainment and cafe hotspots of Shockoe Bottom and Shockoe Slip.
The Houses
While most of the homes date to the wave of post–Civil War revitalization between the 1880s and 1920s, a few Federal-style antebellum houses can be found. Homes on the outskirts of the neighborhood start about $210,000, and prices go up to $400,000 as you move into the prime areas.
Why Buy Now?
Prices in Church Hill have gone down a bit with the rest of the economy but not so much that it makes the area an investment gamble. Locals expect the rehabilitation boom to return as soon as the recession eases.
Among the best places for: Fixer-Uppers, Bargains, Walking, The South, Single Women Buyers, College Towns
Beaver, Pennsylvania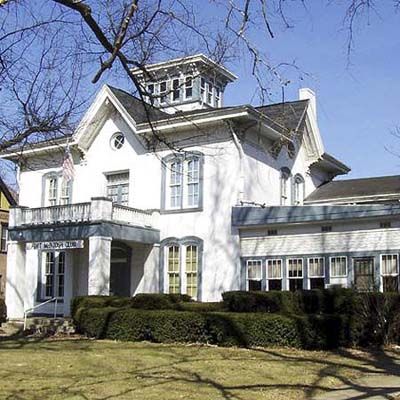 About 30 miles northwest of Pittsburgh, Beaver, Pennsylvania, was once home to the affluent managers of nearby steel plants. Today this Ohio River town is reinventing itself as a haven for small-town-America lovers, though it's still a popular bedroom community for those commuting to Pittsburgh. Beaver seems like the kind of town where New Urbanists are trying to create their own version of Celebration, Florida, with plenty of parks and Main Street–type businesses along Third Street. Everything is in walking distance; the entire neighborhood is roughly four square miles.
The Houses
Tudor Revivals and brick Queen Annes are dominant, but a massive 1860 Italian-villa-style house, formerly home to the president of Beaver College (which has relocated), was recently on the market for just $100,000. At press time, an 1890s three-story turreted Queen Anne was listed at $200,000.
Why Buy Now?
Property values have stayed above average here compared with the rest of the state, and the public schools are ranked among Pennsylvania's best. Despite the economic downturn, Pittsburgh's economy has remained relatively steady thanks to its health care and education industries.
Among the best places for: Families, Bedroom Communities, Waterfront, Victorians, Walking, Bargains, First-Time Buyers, Northeast
The Highlands, Fall River, Massachusetts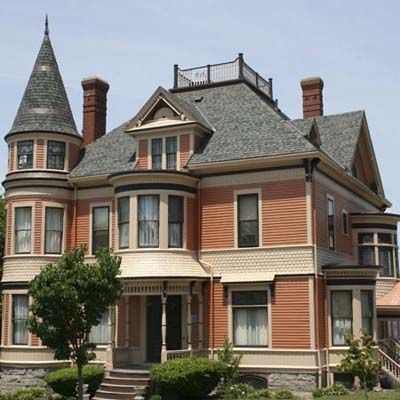 After a fire decimated downtown Fall River in 1843, the city's wealthy mill owners built opulent mansions—castles even—overlooking the Taunton River and Mount Hope Bay in what's now known as the Highlands neighborhood. The Highlands is still known as Fall River's finest neighborhood, home to both the affluent and the middle class.
The Houses
Massive Italianates, Greek Revivals, Queen Annes, Second Empires, Colonial Revivals, and Shingle-style houses and mansions are available for between $200,000 and $800,000.
Why Buy Now?
Fall River's motto is "We'll Try." And as this former textile town tries to rebound from a high unemployment rate and city budget cuts—results of the current recession—we're hoping you'll take a chance and restore one of its beautiful homes, many of which have original woodwork intact. Less than 50 miles from Boston and about 20 minutes from Providence, Rhode Island, Fall River is a great place for commuters.
Among the best places for: Fixer-Uppers, Bedroom Communities, Waterfront, Bargains, Northeast
Wheeling, West Virginia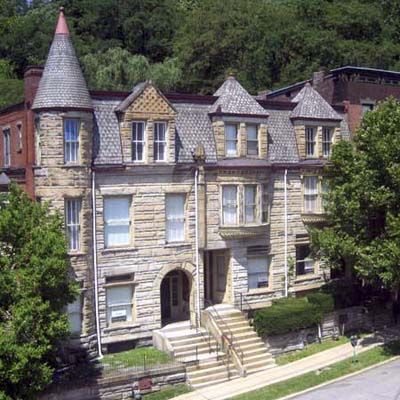 Wheeling is one of those places that's hard to drive through without stopping. If you're just cruising through you might find yourself rubbernecking to get one last look at its spectacular collection of 19th- and early-20th-century buildings and homes, tucked away in heavily wooded hills and valleys along the Ohio River. And stop you should, for this charming river city is packed with historic architecture—including its historic downtown, which is undergoing a reinvention known as "Wheeling 2020," and its stately neighborhoods that might make you want to stay forever. It's also home to 13 miles of trails for walking and biking and, for the kids, a massive skate park.
The Houses
Wheeling is home to 11 National Register Historic Districts, which boast a variety of older homes in every price range. A pristine brick Victorian-era mansion on a quiet wooded lot costs $695,000, while an Italianate rowhouse can be had for $70,000.
Why Buy Now?
Wheeling is a great place to buy a remarkable older home in a picturesque city that's more like a small town. It offers a 20 percent tax credit for anyone who purchases a home in one of the city's historic districts, as well as incentives for small-business launches.
Among the best places for: Country Living, Financial Help for Homeowners , Families, Retirees, Fixer-Uppers, Bargains, Healthy Living, The South
Quality Hill, Pawtucket, Rhode Island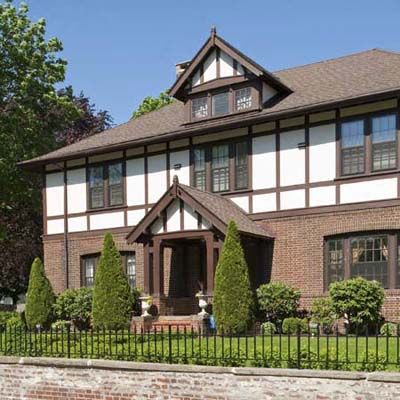 Once the province of the city's wealthy 19th-century factory and mill owners, Quality Hill continues to live up to its moniker with highbrow homes that remain among the city's finest. One of the great pleasures of living in this National Historic District is walking along its gas-lighted, brick-trimmed sidewalks to admire the neighborhood's fine homes and listening to the cheers from nearby McCoy Stadium, home of the Pawtucket Red Socks. Many residents work in town; others make the 15-minute commute to Providence or the 45-minute commute to Boston.
The Houses
Quality Hill is known for its large houses, Colonial Revivals, and Victorian-era homes built by mill owners in the city's heyday. Most sell from $200,000 to $350,000.
Why Buy Now?
Owners who choose to include their property in the city's local historic overlay district qualify for a $700 annual property tax credit. BusinessWeek just named Pawtucket to its list of Best Places to Raise Your Kids (2009).
Among the best places for: Families, Arts and Antique Lovers, Fixer-Uppers, Bargains, Financial Help, Victorian, The Northeast, Single Women Buyers