Best Old House Neighborhoods 2009: Porch Sitters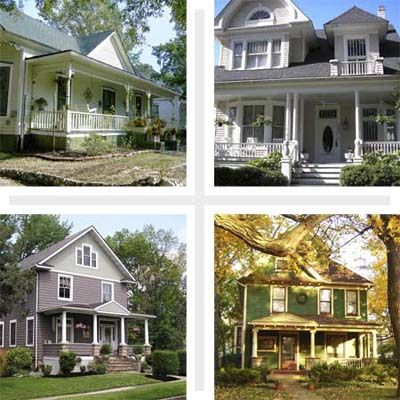 Unique, tight-knit neighborhoods are precisely what we looked for in selecting the winners of our second annual Best Old House Neighborhoods contest—places that might not be on your radar but deserve to be. Like last year, we relied on our good friends at PreservationDirectory.com to help us contact thousands of neighborhood groups, real estate agents, and preservation societies to get their takes on the best places to track down, fix up, and fall head of heels for older homes.
In places like Seminole Heights, Florida, neighbors are so close that impromptu porch parties are par for the course. Here are nine perfect places for porch sitters.
Seminole Heights, Tampa, Florida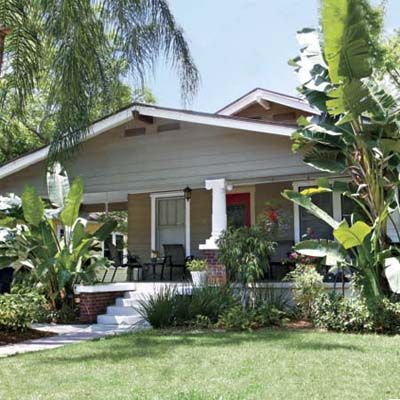 In a state known for blinding sunlight and shoddy high-rise condo construction, Seminole Heights offers shady streets, with solid homes fronted by gardens both wild and manicured. The neighborhood's many parks offer ample opportunity to commune with nature, and families looking for strong public schools will be thrilled by Hillsborough High, recently named one of the best schools in the country by Newsweek magazine. One thing's for sure: The community fabric here is strong. "We're all about porch parties and potlucks," says resident Suzanne Prieur. "We want to make sure our old-fashioned way of life here is preserved."
The Houses:
This is Florida, so you'll find plenty of Spanish Mission and Art Moderne–style homes here. But Seminole Heights is best known for its single-story Craftsman-style bungalows, built in the 1920s to accommodate the thousands of families who relocated to Tampa after railroad lines were established. These houses feature full-length porches with stone or brick supports, and plenty of built-ins. Most homes sell for between $150,000 and $300,000.
Why Buy Now?
Florida home prices have plummeted in recent months, and Seminole Heights is no exception. Several neighborhood associations do an amazing job of protecting the area from the overdevelopment of condos and out-of-scale commercial buildings.
Among the best for: Families, Green Thumbs, Cottages and Bungalows, Single Women Homebuyers, Porch Sitters, Walkers, The South, Editors' Picks
The Vine neighborhood, Kalamazoo, Michigan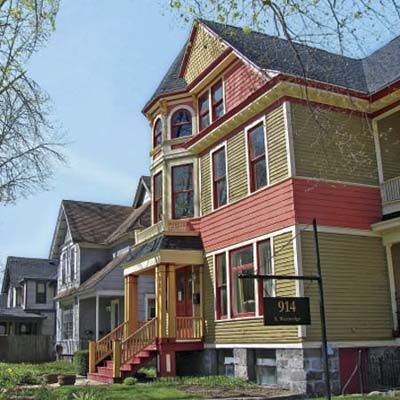 After a rough patch in the 1980s, this leafy Victorian-era neighborhood is experiencing quite a comeback as people move here because it's close to downtown, stellar schools, parks, hiking trails, and playgrounds. Sure, it's a great place for families, but since it borders Western Michigan University, "The Vine" also maintains a youthful feel, with lots of trendy restaurants, bars, and shops.
The Houses:
Most are Foursquares or Queen Annes, which retain their details, including wraparound porches, double-hung windows, and Victorian-era millwork. Ready-to-move-in homes go for $100,000 and up. Fixer-uppers start at $60,000.
Why Buy Now?
A new Spanish-language immersion school and a top-notch math and science high school in The Vine are luring families. Thanks to "The Kalamazoo Promise," students who attend Kalamazoo schools from grades K through 12 receive full tuition to any of Michigan's public colleges or universities. But even students who attend grades nine through 12 here get 65 percent off. The Vine's status as a local historic district allows buyers to take advantage of incentives that save thousands on property taxes.
Among the best places for: Families, Fixer-Uppers, Bargains, First-Time Buyers, Porch Sitters, Victorians, College Towns, The Midwest, Financial Help for Homeowners, Editors' Picks
Yakima, Washington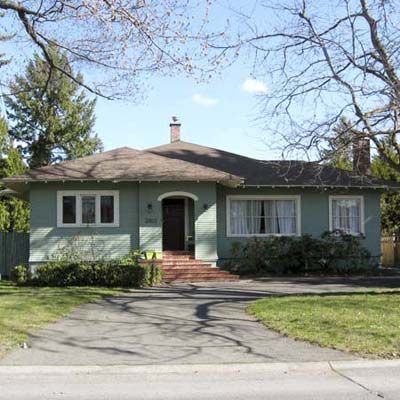 Yakima boasts many of the same qualities that have made some other Pacific Northwest cities—namely Portland and Seattle—so popular in the past 20 years: nearby mountains and water, top-notch cultural institutions, and a wealth of fine microbreweries and brewpubs. (Aside from its celebrated apple orchards, the Yakima Valley produces 75 percent of the hops grown in the U.S.). The thing that sets Yakima apart is the affordability of its homes. Some of the city's finest are found in the historic Barge-Chestnut neighborhood, an old streetcar suburb known for its bargain Craftsman-style bungalows, and neighbors who often become second families to those who live here.
The Houses:
While Barge-Chestnut has its fair share of Colonials and Victorian-era homes, it is best known for its exceptional collection of Craftsman-style bungalows, which, with their beautiful built-ins and welcoming front porches, are sought after among old-house lovers looking for places brimming with character. Homes here remain reasonable, ranging in price from $100,000 for a fixer-upper, to $300,000 for a pristine 2,000-square-foot home. The neighborhood recently became a local historic district, and residents are trying to get it on the National Register of Historic Places as well.
Why Buy Now?
Cheaper than Seattle and Portland, Yakima can be a great value for those looking for a true Pacific Northwest lifestyle on a budget. Yakima boasts a recently revived downtown, just minutes from the Barge-Chestnut neighborhood, with restaurants, galleries, and brewpubs. The area is also attracting wine enthusiasts to its dozens of award-winning vineyards.
Among the best places for: Food Lovers, Editors' Picks, Cottages and Bungalows, Single Women Buyers, The West, Victorians, Porch Sitters
Capitol Heights, Montgomery, Alabama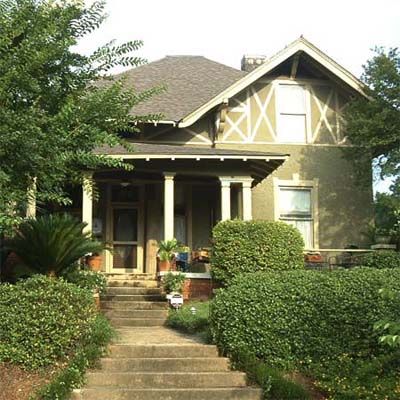 In 1916 the Montgomery Advertiser called this new neighborhood, built on an old cotton plantation, "an ideal residential suburban section." And Capitol Heights has retained pretty much the same feel since. East of downtown Montgomery, it's a beautiful old streetcar suburb that's gaining favor among lawyers, teachers, architects, and maintenance workers who like the diverse, tight-knit community—and that it's five blocks from their jobs in downtown Montgomery.
The Houses:
The houses are extraordinary Deep South versions of the California-style Craftsman, with long, low-pitched eaves and roomy front porches. Some have upstairs sleeping porches that capture the cool night breezes. Many were built in the early to mid-1900s using concrete blocks made on-site. Home values range from $75,000 to $200,000.
Why Buy Now?
Capitol Heights was recently designated a historic district. Many residents believe the designation will help protect the neighborhood's architectural integrity and boost property values. A neighborhood group is drawing potential buyers by sponsoring yearly home tours, during which the work of local artists is displayed and for sale.
Among the best places for: Bargains, Families, Dog Lovers, Porch Sitters, Cottages and Bungalows, The South, Arts and Antiques Lovers
Weiser, Idaho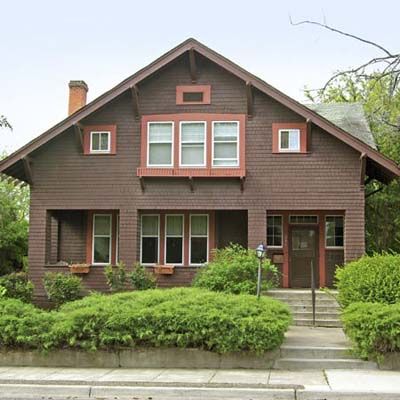 Weiser (pronounced "Weezer" by locals) was founded by Peter Weiser, a member of the Corps of Discovery on the Lewis and Clark Expedition, but its main claim to fame is that it's home to the annual National Oldtime Fiddlers' Contest. This small town is also a great place for anyone looking for a relaxed, comfortable lifestyle and an affordable old home. Besides fiddling, this farming community is known for its Spanish onions and outdoor offerings, such as the Weiser River Trail, an 84-mile-long bike trail that starts in Weiser and ends near New Meadows, Idaho. Today, Weiser is popular with retirees, musicians, and other folks looking for a laid-back lifestyle.
The Houses
Weiser has a mix of older homes from the late-19th and early-20th centuries, including Queen Annes, Colonial Revivals, and bungalows. These houses are priced pretty reasonably, too. A 1910 Queen Anne cottage with over 2,000 square feet was recently on the market for just $199,900.
Why Buy Now?
Real estate prices jumped during the boom years, but now they're coming back down to more reasonable levels. Weiser is becoming a hot spot for retirees (especially retirees who play the fiddle), so you might want to snatch up one of the town's older homes while you can.
Among the best places for: Porch Sitters, Retirees, Healthy Living, Country Living, The West
Guttenberg, Iowa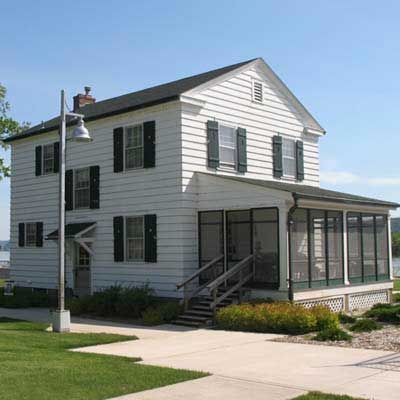 Sure, the houses are great, but the crown jewel of Guttenberg is the Mississippi River. Some just like gazing down on it from their front porches, though most tend to get a little more involved. "Almost everyone here has a boat," says Lee Johnston, who moved to Guttenberg over a year ago, snatching up a beautiful 160-year-old house—with river views!—for a song. The town was once home to thousands of German immigrants, who followed the rivers here from bigger Midwestern cities like Cincinnati. Their legacy is maintained through local surnames and street names, including Goethe, Weiland, and Schiller. Aside from a lone Subway restaurant, the town is refreshingly devoid of chain stores, strip malls, and big-box stores. Most people just drive the 45 minutes it takes to get to Dubuque, Iowa, to take care of their shopping needs.
The Houses
So-called German Vernacular cottages, built with local limestone by German immigrants in the mid-1800s, are the norm, though there are Victorian-era homes and bungalows. Surrounded by bluffs, the historic homes are protected from the Mississippi by a flood wall. Houses sell for $80,000 to $350,000.
Why Buy Now?
The town hasn't been bought up yet by city slickers from Milwaukee, Dubuque, Iowa, or even Chicago (4 hours away) looking for peaceful vacation homes. With its beautiful river views, outdoor recreation, and historic homes, it's just a matter of time before Guttenberg becomes as popular, and as pricey, as other Midwestern destinations, such as Lake Geneva, Wisconsin, or Galena, Illinois. So buy at a bargain while you can.
Among the best places for: Waterfront, Retirees, Sportsmen, Porch Sitters, Bargains, The Midwest
Lauraville, Baltimore, Maryland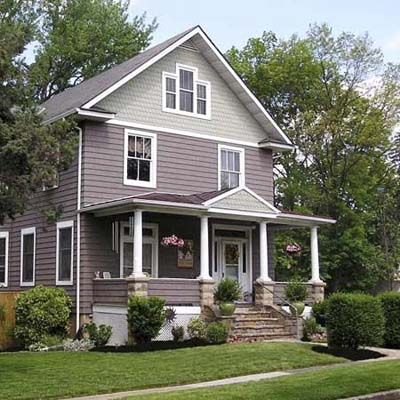 Whether it's Fells Point or Federal Hill, Baltimore has long been known for its great historic neighborhoods. One of the most popular is Lauraville, a hilly, early-20th-century streetcar suburb that was recently added to the National Register of Historic Places. A short drive from downtown, Lauraville is a leafy paradise studded with hefty framed and shingled homes with full-length front porches and large front lots. While downtown is not far, many take care of their shopping needs by walking up to Harford Road, which has enough groceries, restaurants, and coffee shops to make getting in the car unnecessary.
The Houses
Lauraville has a combination of Colonial Revivals, Foursquares, bungalows, and Victorian-era homes, many of which have their original millwork inside and their shingle siding outside. Some single-family homes that were carved up into multifamily units are being returned to their original floor plans. Prices run between $175,000 and $250,000.
Why Buy Now?
Buyers looking to restore homes in Lauraville can take advantage of various tax breaks as well as loan programs provided by Baltimore's Healthy Neighborhoods, Inc. Combined, these incentives can save you thousands on your work. Those looking to restore older buildings in the area to use as small businesses might also qualify for tax breaks.
Best Place For: Fixer-Uppers, Small Business Owners, Porch Sitters, Families, First-Time Buyers, The South, Bedroom Communities, Single Women Buyers, Green Thumbs
Poplar Springs, Meridian, Mississippi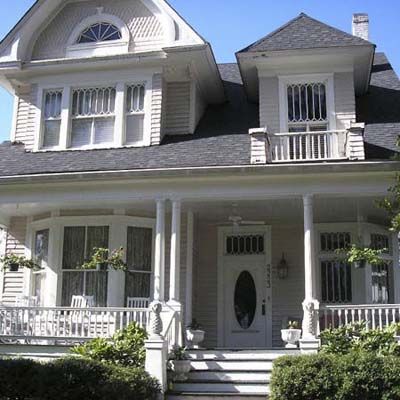 "Meridian no longer exists," General Sherman told Ulysses S. Grant after all but destroying the city in 1864. But try telling that to the people who live here today, especially those who continue to breathe new life into the outstanding old homes in the city's Poplar Springs neighborhood. This leafy, distinctly Southern streetcar suburb is known for its elaborate Victorian-era houses with wide, wraparound porches, built on large lots encompassing mature trees and gardens. Poplar Springs has a diverse community of young couples looking for a small, family-friendly town, in addition to retirees.
The Houses
Homes include shingled Queen Annes with original doors and beveled-glass windows, Arts and Crafts–style bungalows, and Mission-style homes. You can get a beautiful old house for between $110,000 and $225,000.
Why Buy Now?
Meridian is reinventing itself as a "destination city," says Realtor James Harwell. Recent examples of this include the multimillion-dollar restoration of the city's former opera house and the conversion of a neighboring department store into a performing arts center.
Among the best places for: Families, Porch Sitting, Retirees, The South
East Durham, North Carolina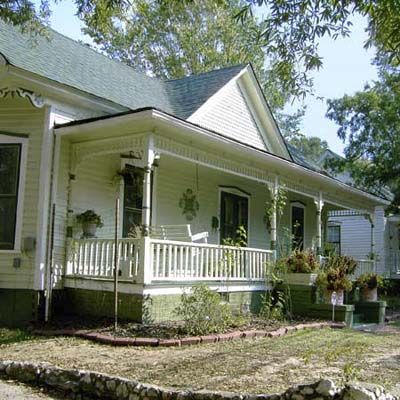 At the turn of the 20th century, East Durham was a bustling blue-collar neighborhood, where thousands of textile workers made a good living under the employ of the Durham Cotton Manufacturing Company. When that shut down during the Great Depression, laid-off workers quickly found new jobs with the neighborhood's prospering tobacco companies. They built or bought sturdy bungalows, Folk Victorians, and foursquares, many with full-length front porches. Following World War II, East Durham underwent a long period of decline that reached its apex in the 1980s and '90s, when the town was overrun by drugs and crime. But things are changing, and structures are being turned into safe and secure single-family homes in a neighborhood that might soon be one of Durham's most sought after.
The Houses
You can get a 1,600-square-foot bungalow in fair condition for just $28,500. Or splurge a little and get a two-story 1915 Victorian for $60,000. Houses here sit on peaceful wooded lots.
Why Buy Now
Thanks to its coordinates on the famed Research Triangle, a locus for universities and high-tech companies, Durham has seen home prices increase in the past few years. And those looking to live in the city are seeing East Durham with fresh eyes. Houses are a steal, and the neighborhood is an ideal place for professionals commuting to Research Triangle jobs. Any rehab work you do will be eligible for North Carolina's historic preservation tax incentive, which provides a 30 percent credit for the rehabilitation of non-income-producing properties.
Among the best places for: Fixer-Uppers, Bargains, First-Time Buyers, Porch Sitters, Financial Help for Homeowners, The South