Best Places to Buy an Old House 2009: College Towns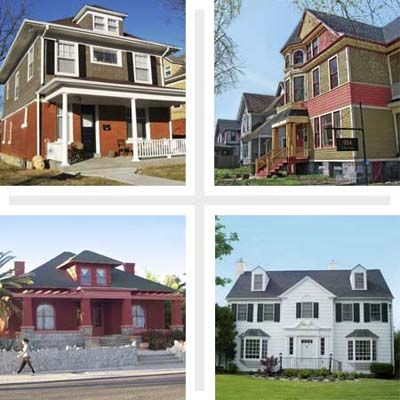 Unique, tight-knit neighborhoods are precisely what we looked for in selecting the winners of our second annual Best Old House Neighborhoods contest—places that might not be on your radar but deserve to be. Like last year, we relied on our good friends at PreservationDirectory.com to help us contact thousands of neighborhood groups, real estate agents, and preservation societies to get their takes on the best places to track down, fix up, and fall head of heels for older homes.
This year, among the winners, we discovered eight places that offer the intellectual and cultural stimulation that comes from close proximity to a college or university.
The West University Neighborhood, Tucson, Arizona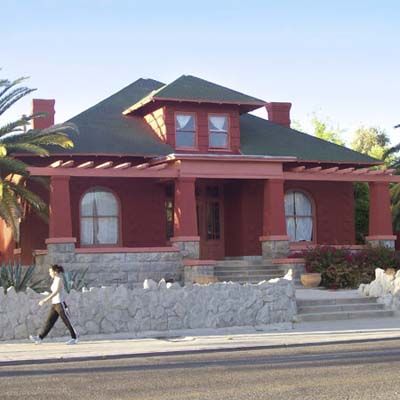 Bordering the University of Arizona, the West University neighborhood feeds off the culture and quirks of college life but maintains itself as a separate, decidedly mellow community for those who live here. The West University Neighborhood Association makes sure it stays that way by organizing neighborhood fund-raisers, cleanup days, summer potlucks, and softball games. This is a great area for young people and families, since it's close to the arts, sports, and cultural events at the U of A. It also has great bars, restaurants, and clubs.
The Houses
You'll find mostly Spanish Revival, Craftsman Bungalow, and Prairie-style homes here. Many of the brick bungalows are covered with stucco, though there are several wood-frame and stone homes too. Some houses have already been restored, but quite a few fixer-uppers are still available. Houses are available for between $175,000 and $400,000.
Why Buy Now?
An electric streetcar line linking the neighborhood to downtown Tucson is set to open in 2011 and could increase property values along the line. Buy a home in the West University National Historic District and you may qualify for significant property tax breaks.
Among the best places for: Financial Help for Homeowners, Families, Healthy Living, College Towns, Cottages and Bungalows, The West, Fixer-Uppers, Dog Lovers
Douglas Park, Brunswick, Maine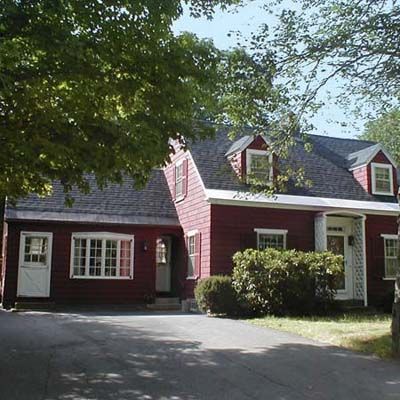 The campus of Bowdoin College is as idyllic as they come, with its brick and stone buildings and wide-open greens. Just across the street is Douglas Park, an equally enchanting little neighborhood lined with modest Cape Cods on quiet shady streets. The area is home to many Bowdoin professors as well as doctors and lawyers who either work in town or commute to nearby Portland, Lewiston, or Augusta. On weekends, many residents ride their bikes along the Androscoggin River or hop in their cars for a short drive to a nearby beach. Others stick around town, walking up Brunswick's historic Maine Street to shop or dine, or they attend lectures and concerts on the Bowdoin campus.
The Houses
Douglas Park is known primarily for its early-1900s wood-sided Cape Cods, most with double dormers and big bay windows. Houses here cost between $200,000 and $350,000.
Why Buy Now?
The housing market in Brunswick has remained relatively steady through the economic downturn. Many families and first-time home buyers are moving here to take advantage of Brunswick's excellent public schools. The Brunswick Naval Air Station, a major local employer, is closing in 2011, but authorities in both the town and surrounding region have long planned ways to offset the loss. Redevelopment projects abound for the soon-to-be-closed 3,300-acre space, which has the largest airfield in the state and the second-largest hotel, which will be turned into a conference center. The University of Maine and the Southern Maine Community College are teaming up to create an engineering program with classrooms and dormitories on the former base. Other projects include space for recreation (the land abuts Harpswell Sound), new civilian residential developments, and a corporate and professional office park.
Among the best places for: Families, First-Time Buyers, Retirees, College Towns, Walking, Small Business Owners, Northeast
The Central Residential Historic District, Brookings, South Dakota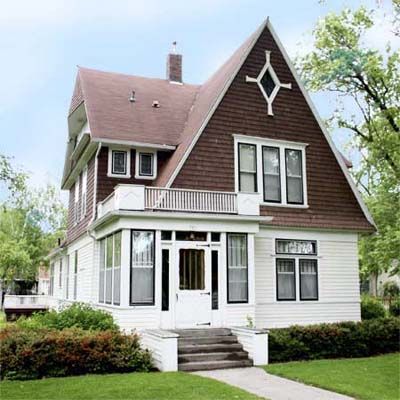 Located near the Big Sioux River, and home to South Dakota State University, Brookings offers culture, intellectual stimulation, and small-town beauty Great Plains-style. The city's Central Residential Historic District, a lush and leafy suburb listed on the National Register of Historic Places, is one of its most cherished thanks to its proximity to parks and good schools, while downtown restaurants, book stores, and antiques shops are just a five-minute walk away. This is a serene and safe place to raise kids, especially since an old elementary school in the neighborhood is being converted into a children's' museum, complete with a surrounding park that will house playgrounds and athletic fields.
The Houses
Homes here look like fairy-tale versions of classic American architectural styles. The Craftsmans have exaggerated overhanging eaves and extra chunky millwork, while the Queen Annes are elaborately wrapped in gingerbread and include dramatic features such as turrets and sprawling wrap-around porches. Homes start out at around $150,000 and run up to $350,000.
Why Buy Now?
The conversion of the neighborhood's Central Elementary School into a children's museum and park will undoubtedly draw more families here. (Next year, younger children now attending Central will go to two elementary schools a few minutes away and those in fourth and fifth grade will go to the brand-new Camelot Intermediate School). Real estate values in this part of the country have suffered little during the current economic downturn. Since families tend to stay here for good, most of the houses are extremely well-maintained. Seeing as the neighborhood is on the National Register, unattractive updates and alterations of its housing stock are unlikely.
Among the best places for: College Towns, Country Living, Families, Single Women Buyers, Small Business Owners, The Midwest
The Hill Section, Burlington, Vermont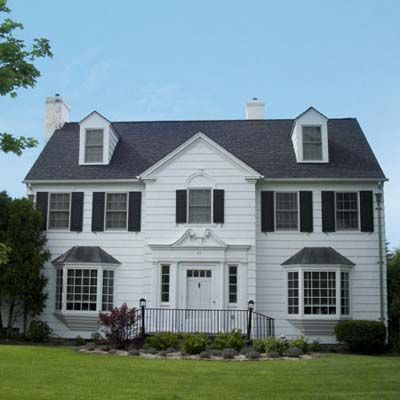 Houses in the Hill Section promise spectacular lake views, an energetic community, and a good, long life. In fact, last year Burlington was ranked the country's healthiest city by the Centers for Disease Control and Prevention. Nestled between the Adirondack and Green mountains, the picturesque college town has a population of 40,000 that skews toward the young and active, so finding a partner to go hiking or skiing with should never be a problem. And it's not just the people who are in good shape. The historic Hill Section is in the center of the city, and you'll find that much of its mid-19th-century housing stock has kept its architectural character and charm. The Hill is walking distance from beautiful Lake Champlain (where you can spend a Saturday afternoon paddling a kayak or fly-fishing for trout, bass, or salmon) and the open-air Church Street marketplace (where you can find plenty of boutiques and restaurants).
The Houses
While the town hosts an eclectic hodgepodge of architecture built between
the 1850s and 1920s, some of the more popular styles include Colonial Revivals, Tudors, and Italianates. Remember to look up because some of the houses, which range in price from $300,000 to $1,500,000, feature widow's walks, where ship captains' wives would stand to watch for their hubbies in the nearby Burlington Harbor of Lake Champlain.
Why Buy Now?
The economic downturn has eased the fierce competition in this real estate hot spot. Still, homes often sell in less than a month, so you have to be ready to move quickly.
Among the best places for: Walking, Healthy Living, Sportsmen, College Towns, Single Women Buyers, Food Lovers, The Northeast
The Vine neighborhood, Kalamazoo, Michigan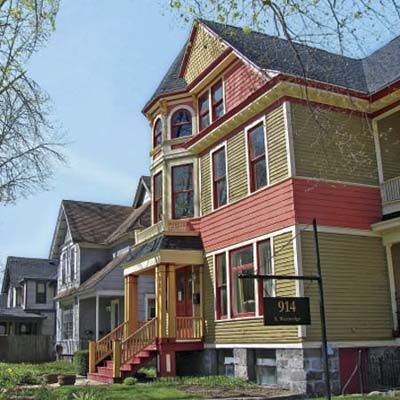 After a rough patch in the 1980s, this leafy Victorian-era neighborhood is experiencing quite a comeback as people move here because it's close to downtown, stellar schools, parks, hiking trails, and playgrounds. Sure, it's a great place for families, but since it borders Western Michigan University, "The Vine" also maintains a youthful feel, with lots of trendy restaurants, bars, and shops.
The Houses:
Most are Foursquares or Queen Annes, which retain their details, including wraparound porches, double-hung windows, and Victorian-era millwork. Ready-to-move-in homes go for $100,000 and up. Fixer-uppers start at $60,000.
Why Buy Now?
A new Spanish-language immersion school and a top-notch math and science high school in The Vine are luring families. Thanks to "The Kalamazoo Promise," students who attend Kalamazoo schools from grades K through 12 receive full tuition to any of Michigan's public colleges or universities. But even students who attend grades nine through 12 here get 65 percent off. The Vine's status as a local historic district allows buyers to take advantage of incentives that save thousands on property taxes.
Among the best places for: Families, Fixer-Uppers, Bargains, First-Time Buyers, Porch Sitters, Victorians, College Towns, The Midwest, Financial Help for Homeowners, Editors' Picks
The Southmoreland Neighborhood, Kansas City, Missouri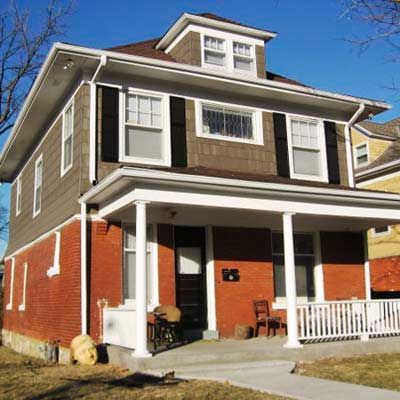 Located four miles south of downtown Kansas City, the vibe in Southmoreland ranges from family friendly to funky, depending on whom you ask. After all, this neighborhood is known for its eclectic nature, both in its architecture and its residents. Here, well-to-do families live in imposing Colonial Revival mansions side by side with young singles and couples, who flock here to spruce up the sturdy Arts & Crafts cottages. Southmoreland is also home to hundreds of students from the Kansas City Art Institute, who reside in beautiful post-war brick apartment buildings, thoughtfully appointed with multi-tiered porticos supported by classical columns. Established in the late 1800s by well-to-do businessmen looking to escape a chaotic downtown, the neighborhood soon attracted working-class families, who moved here after a streetcar line was established between Southmoreland and downtown. The neighborhood remained vital until World War II, when its larger homes were converted into apartments. These days, Southmoreland is seen as a diamond-in-the-rough opportunity for young professionals looking for a walkable neighborhood offering easy access to stores, schools, and museums.
The Houses
Grand Colonial-Revival mansions and Arts & Crafts cottages, built between the late 1800s and the early 1930s. The former can be had for around $350,000, while the latter start at a mere $120,000. Many homes have already been restored, but hundreds more are in dire need of TLC. All are just a short walk from Southmoreland Park, which features tennis courts, gardens, and an annual Shakespeare festival.
Why Buy Now?
A movement to restore Southmoreland's historic homes is underway thanks to the neighborhood's walkability, close proximity to downtown, and cultural institutions including the Nelson Atkins Museum of Art and the Kemper Museum of Contemporary Art. Prices remain reasonable, especially when you consider the quality. Rates of home foreclosures and unemployment in Kansas City belie national trends.
Among the best places for: Arts and Antique Lovers, College Towns, The Midwest, First-Time Buyers, Families, Good for Walking, Editors' Picks
Southside Historic District, Fargo, North Dakota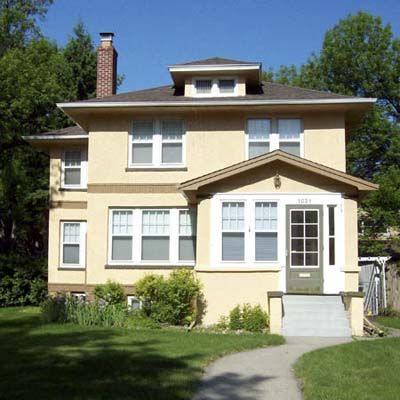 If you like lush, green lawns and tree-lined streets, the Fargo's Southside District is where you want to be. Cutting through the center of the neighborhood is Eighth Street, known for its gaslight-replica streetlamps and historic homes. It's the kind of neighborhood people have a hard time leaving behind, according to resident Linda Jalbert. "A lot of people who grew up here move back to raise their families," she says. It's easy to see why. Not only is Fargo one of America's safer cities, but it's also home to North Dakota State University, which keeps residents entertained with its many lectures and concerts.
The Houses
There is a mix of architectural styles here, including foursquare, Prairie style, Tudor, and Queen Anne. A restored 2,031-square-foot 1933 Tudor in pristine condition was recently on the market for $174,900.
Why Buy Now?
If you're looking for a stable community and a stable real estate market, Fargo is the way to go. North Dakota has one of the nation's lowest unemployment rates, and there are several large companies here, including Bobcat, Microsoft, and Marvin Windows and Doors. A recent study by MainStreet.com found there are more job opportunities per capita in North Dakota than in any other state in the country.
Among the best places for: College Towns, Country Living, Families, Single Women Buyers, Small Business Owners, The Midwest
Among the best places for: Families, Walking, College Towns, Single Women Buyers, Retirees, The Midwest, Green Thumbs, Small Business Owners
Church Hill, Richmond, Virginia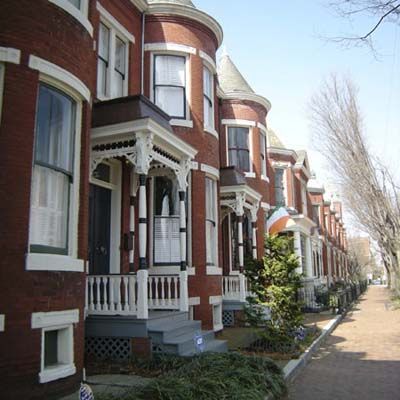 Nestled in downtown Richmond, Virginia, the brick sidewalks of Church Hill are lined with gas street lamps and rows of late-19th-century Italianates and Queen Anne Victorians with wrought-iron porches. This place is truly alive with history, and you can't walk two blocks without running into a Civil War monument. The area is also known as St. John's Church Historic District after the Episcopalian church where Patrick Henry gave his "Give me liberty or give me death" speech in 1775. But the past isn't all there is to Church Hill, which was seeing a redevelopment boom right before the recession hit. Walk south toward Libby Hill Park—and the James River that it overlooks—and you'll find the entertainment and cafe hotspots of Shockoe Bottom and Shockoe Slip.
The Houses
While most of the homes date to the wave of post–Civil War revitalization between the 1880s and 1920s, a few Federal-style antebellum houses can be found. Homes on the outskirts of the neighborhood start about $210,000, and prices go up to $400,000 as you move into the prime areas.
Why Buy Now?
Prices in Church Hill have gone down a bit with the rest of the economy but not so much that it makes the area an investment gamble. Locals expect the rehabilitation boom to return as soon as the recession eases.
Among the best places for: Fixer-Uppers, Bargains, Walking, The South, Single Women Buyers, College Towns