Best Old House Neighborhoods 2009: Sportsmen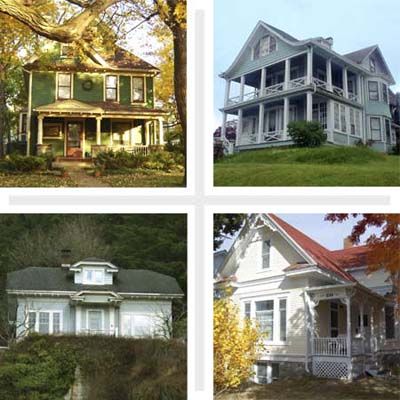 Unique, tight-knit neighborhoods are precisely what we looked for in selecting the winners of our second annual Best Old House Neighborhoods contest—places that might not be on your radar but deserve to be. Like last year, we relied on our good friends at PreservationDirectory.com to help us contact thousands of neighborhood groups, real estate agents, and preservation societies to get their takes on the best places to track down, fix up, and fall head of heels for older homes.
This year, among the winners, we discovered eight places that keep homeowners in touch with the outdoors. Whether it's fishing, hunting, or sailing, these are places where men and women can practice the sporting life.
Ketchikan, Alaska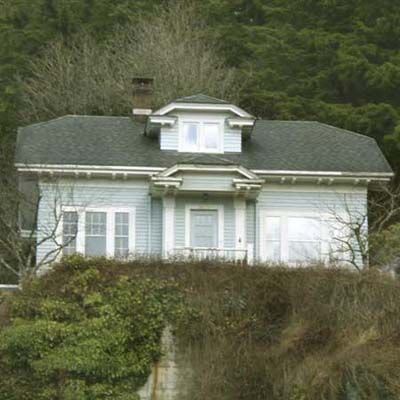 The Neighborhood:
Located in Southeast Alaska, Ketchikan is more than just a town that was supposed to be the starting point of the "Bridge to Nowhere," the now defunct project meant to link this island fishing village to an airport on the next island over. In fact, Ketchikan is turning into one of the country's most popular tourist destinations and the first stop for many Alaska-bound cruise ships. Ketchikan (pop. 7,400) has many sturdy homes built by men who prospered in the area's fishing, canning, and logging industries. Once teeming with bordellos and saloons, Ketchikan's historic downtown isn't as rough and tumble as it used to be, with restaurants, boutiques, and galleries catering to visitors and locals alike. Many residents work for the U.S. Coast Guard, which has a base here, or local shipyards.
The Houses:
The best homes are either on Water Street or in Nob Hill, a historic neighborhood perched on a hillside above downtown. Some old mountain and hillside houses—accessible via elaborate multitiered staircases—offer views of the Pacific Ocean. Craftsman and Queen Anne styles prevail. A fixer-upper Craftsman with ocean views recently sold for just $150,000, but some of the town's larger homes sell for $500,000 or more.
Why Buy Now?
If you're an outdoorsy person looking for a place to escape or retire, Ketchikan could be exactly what you're looking for. It's a safe bet that a few of the 900,000 tourists who visited last summer were so smitten that they moved here, so get in while you can.
Best Place for Waterfront, Sportsmen, Cottages and Bungalows, Retirees
Guttenberg, Iowa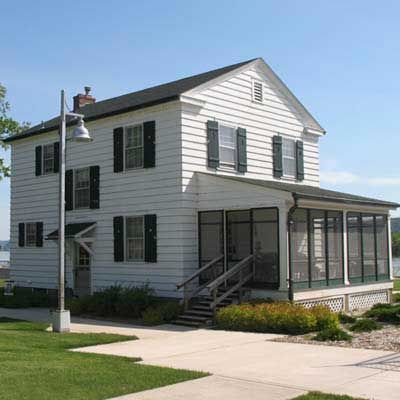 Sure, the houses are great, but the crown jewel of Guttenberg is the Mississippi River. Some just like gazing down on it from their front porches, though most tend to get a little more involved. "Almost everyone here has a boat," says Lee Johnston, who moved to Guttenberg over a year ago, snatching up a beautiful 160-year-old house—with river views!—for a song. The town was once home to thousands of German immigrants, who followed the rivers here from bigger Midwestern cities like Cincinnati. Their legacy is maintained through local surnames and street names, including Goethe, Weiland, and Schiller. Aside from a lone Subway restaurant, the town is refreshingly devoid of chain stores, strip malls, and big-box stores. Most people just drive the 45 minutes it takes to get to Dubuque, Iowa, to take care of their shopping needs.
The Houses
So-called German Vernacular cottages, built with local limestone by German immigrants in the mid-1800s, are the norm, though there are Victorian-era homes and bungalows. Surrounded by bluffs, the historic homes are protected from the Mississippi by a flood wall. Houses sell for $80,000 to $350,000.
Why Buy Now?
The town hasn't been bought up yet by city slickers from Milwaukee, Dubuque, Iowa, or even Chicago (4 hours away) looking for peaceful vacation homes. With its beautiful river views, outdoor recreation, and historic homes, it's just a matter of time before Guttenberg becomes as popular, and as pricey, as other Midwestern destinations, such as Lake Geneva, Wisconsin, or Galena, Illinois. So buy at a bargain while you can.
Among the best places for: Waterfront, Retirees, Sportsmen, Porch Sitters, Bargains, The Midwest
Smyrna, Delaware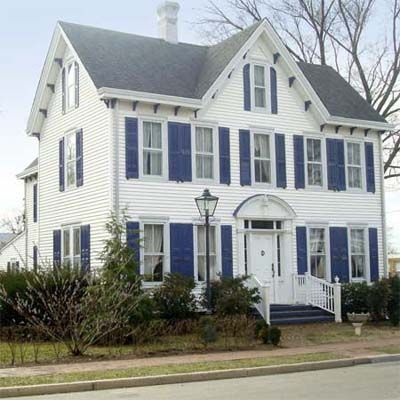 Driving by on Route 1 on their way to the Delaware beaches, many travelers think Smyrna is just a pit stop with a few fast-food joints and fueling stations. But venture further into Smyrna, and you'll discover a hidden small-town gem, with a newly revitalized Main Street surrounded by hundreds of old houses heavy on the square footage. Smryna's the kind of place where the whole town comes out to watch a Pop Warner football game and attendance at the local high school's homecoming parade is practically mandatory. Residents include young families who love the schools and the safety, young professionals who commute to nearby Dover or Wilmington, and retirees who move here for the laughably low taxes. To relax, locals head to Lake Como to sit by the water or hop aboard their boats. Smyrna is also surrounded by pristine farmland and several national parks, so hikers, bikers, and kayakers have plenty of options.
The Houses
Many of the homes were built between the mid-19th and early-20th centuries, when merchants, businessmen, and tradesmen moved here to take advantage of this agricultural community's rail, road, and water access to larger markets. The homes exhibit both vernacular and high-style interpretations of popular architectural trends of the era, including Federal, Greek Revival, Italianate, Queen Anne, and Second Empire. Since this is a largely overlooked area, prices are relatively low. An 1858 Greek Revival in Smyrna was recently listed for $207,000.
Why Buy Now?
Folks are flocking here to take advantage of Smyrna's low property and income taxes. (Bonus: There's no sales tax, either.) The town is a great option for families with commuting breadwinners, since it's close to Dover and Wilmington.
Among the best places for: Families, Bargains, Sportsmen, Country Living, Fixer-Uppers, Northeast
The South Wolcott Historic District, Casper, Wyoming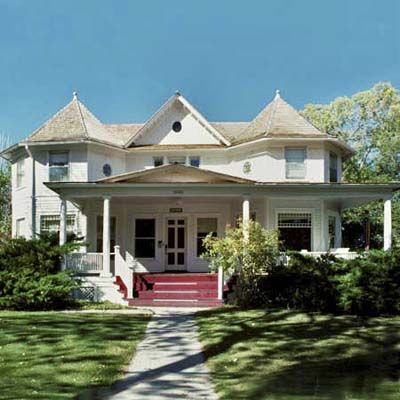 If you're looking to live in a rugged Western town near mountains and rivers, you might find your own personal Shangri-La within the 22 square blocks that comprise Casper's South Wolcott National Historic District. Its solid, stately homes, located on a bluff on the south side of town, were built in the early 1900s for Wyoming's oil workers, who had factory-made architectural pieces for their new homes—moldings, mantels, chandeliers—shipped in on the railroad. With a population of around 50,000, Casper remains a small city in a big and beautiful state. The neighborhood is strongly upper middle class, with many here still working for the oil industry, as well as in banking, finance, and education.
The Houses
The earliest homes, built around the turn of the 20th century, are brick Colonial Revivals, though there are also some nice Mission-style bungalows, as well as Queen Annes. A Mission-style bungalow was recently on the market for $219,500.
Why Buy Now?
While some homes here are passed down from generation to generation, several have been coming onto the market. There are still some of oil industry jobs in Casper, as well as new medical facilities creating jobs and several new schools lowering teacher-to-student ratios. With many fishing, skiing, and hiking options, Casper is also a great spot for active retirees.
Among the best places for: Sportsmen, Families, Retirees, Healthy Living, Country Living, The West
Atlantic Highlands, New Jersey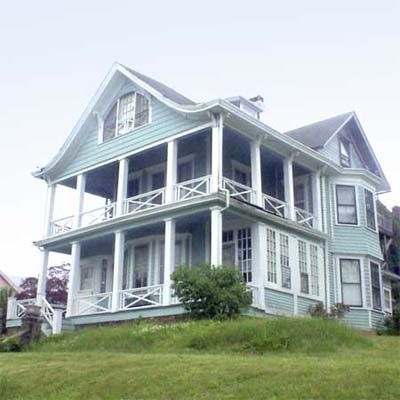 While dramatic views of the Manhattan skyline are a selling point in Atlantic Highlands, and many compare its hilly terrain to that of Northern California, this Victorian village on the Jersey shore has a character all its own. Many Atlantic Highlanders have been here for generations, while others are recent transplants from New York who come here for the laid-back lifestyle and the convenient ferry or train access to Lower Manhattan. Atlantic Highlands is home a marina, as well as great restaurants, shops, parks, and theaters.
The Houses
The town is known for its well-maintained or restored early-20th-century Victorians and smaller bungalows, originally used by vacationers from New York City. At press time, a 1,888-square-foot Queen Anne with a double-tiered porch was available for $220,000. A 4,500-square-foot Victorian—this one with a widow's peak—was going for $600,000.
Why Buy Now?
Seeing as Atlantic Highlands is just a 60-minute ferry ride from Manhattan, and about an hour away by train, that you can buy a freestanding house here for under $300,000—in a thriving seaside community—is reason enough to give this Jersey shore village a look.
Among the best places for: Waterfront, Sportsmen, Bedroom Communities, Cottages and Bungalows, Families, Retirees, The Northeast
The Hill Section, Burlington, Vermont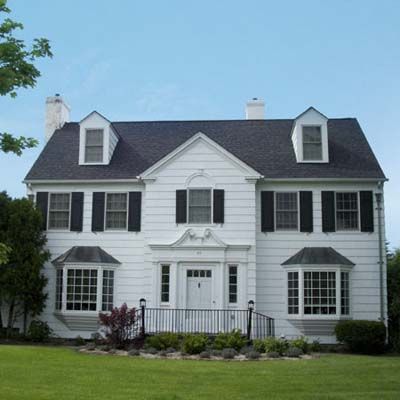 Houses in the Hill Section promise spectacular lake views, an energetic community, and a good, long life. In fact, last year Burlington was ranked the country's healthiest city by the Centers for Disease Control and Prevention. Nestled between the Adirondack and Green mountains, the picturesque college town has a population of 40,000 that skews toward the young and active, so finding a partner to go hiking or skiing with should never be a problem. And it's not just the people who are in good shape. The historic Hill Section is in the center of the city, and you'll find that much of its mid-19th-century housing stock has kept its architectural character and charm. The Hill is walking distance from beautiful Lake Champlain (where you can spend a Saturday afternoon paddling a kayak or fly-fishing for trout, bass, or salmon) and the open-air Church Street marketplace (where you can find plenty of boutiques and restaurants).
The Houses
While the town hosts an eclectic hodgepodge of architecture built between
the 1850s and 1920s, some of the more popular styles include Colonial Revivals, Tudors, and Italianates. Remember to look up because some of the houses, which range in price from $300,000 to $1,500,000, feature widow's walks, where ship captains' wives would stand to watch for their hubbies in the nearby Burlington Harbor of Lake Champlain.
Why Buy Now?
The economic downturn has eased the fierce competition in this real estate hot spot. Still, homes often sell in less than a month, so you have to be ready to move quickly.
Among the best places for: Walking, Healthy Living, Sportsmen, College Towns, Single Women Buyers, Food Lovers, The Northeast
Georgetown Historic District, Georgetown, South Carolina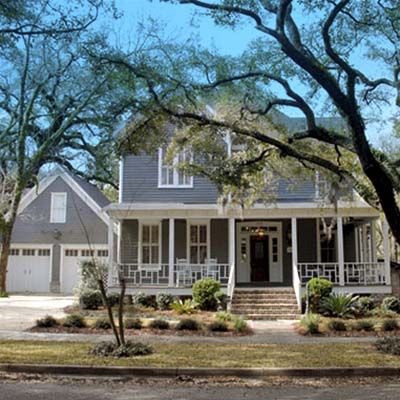 For those who want to live a more leisurely lifestyle, Georgetown offers just that. Perched on the shrimp-boat-strewn Winyah Bay, this idyllic coastal community is one of the South's gems. The Georgetown Historic District is packed with stately homes built by those who made their fortunes in the city's rice market. Located between Myrtle Beach and Charleston, Georgetown is home to dozens of antiques shops, museums, restaurants, and pubs that serve Southern fare like shrimp and grits and fried green tomatoes.
The Houses
You can find a pristine Queen Anne with a full-length front porch and heart-pine floors for about $299,000, though several homes here are priced in the millions.
Why Buy Now?
Retirees love this place, and as they continue to flock here, housing prices are going up. While there are still quite a few homes available for under $500,000 in the historic district, prices are almost certain to keep rising.
Among the best places for: Food Lovers, Waterfront, Retirees, Sportsmen, Arts and Antique Lovers, The South
The Hi Bug District, Red Lodge, Montana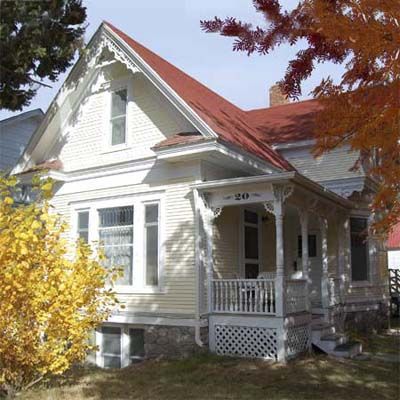 When a slew of railroad and coal-mining jobs came to Red Lodge in the late 1800s, so did thousands of families from Italy, Poland, Germany, Switzerland, and Scotland. Located in the foothills of the Beartooth Mountains, Red Lodge simultaneously grew into a family town and a party town, with enough churches to keep the growing population humbled and enough saloons to draw the likes of Ms. Calamity Jane herself. As residents increased their fortunes, they started building mansions and well-appointed cottages just outside town in what's known as the Hi Bug District, much of which is now a National Historic District. The origin of its name remains a mystery, but oral histories demonstrate it was a term school children used to describe the highfalutin neighborhood as long ago as 1900. These days, Hi Bug is a haven for full-time residents in this popular tourist town.
The Houses
Mansions and Victorian cottages still dominate Hi Bug, the latter being the most abundant. The mansions are Queen Anne– or Colonial Revival–style homes with wrap-around porches, turrets, verandas, and other nifty details, while the Victorian cottages feature stately columned front porches. An 1,800-square-foot cottage on 3.9 acres, with a private, spring-fed pond, was recently on the market for $265,000.
Why Buy Now?
Because of its outdoor activities, including kayaking, skiing, white-water rafting, hiking, and fly-fishing, and its proximity to Yellowstone National Park (about 60 miles away), Red Lodge is becoming popular among second-home buyers, who often turn into full-timers. Prices are still affordable, but you might want to act quickly before this place becomes the next Park City, Utah.
Among the best places for: Retirees, Sportsmen, Country Living, The West