Best Old House Neighborhoods 2009: Victorian-era Homes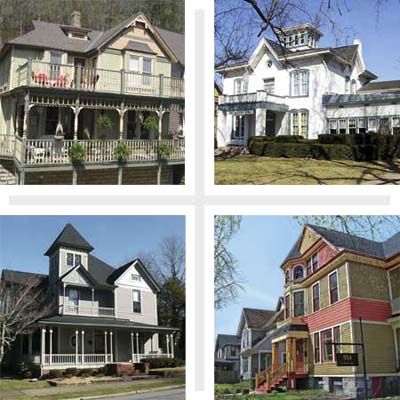 Unique, tight-knit neighborhoods are precisely what we looked for in selecting the winners of our second annual Best Old House Neighborhoods contest—places that might not be on your radar but deserve to be. Like last year, we relied on our good friends at PreservationDirectory.com to help us contact thousands of neighborhood groups, real estate agents, and preservation societies to get their takes on the best places to track down, fix up, and fall head of heels for older homes.
These nine places boast plenty of fantastic Queen Annes, Italianates, and other Victorian-era homes ready to be snatched up at good prices.
The Vine neighborhood, Kalamazoo, Michigan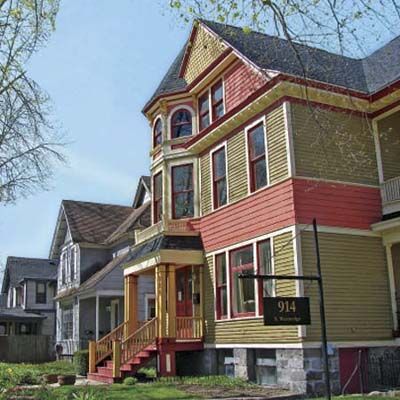 After a rough patch in the 1980s, this leafy Victorian-era neighborhood is experiencing quite a comeback as people move here because it's close to downtown, stellar schools, parks, hiking trails, and playgrounds. Sure, it's a great place for families, but since it borders Western Michigan University, "The Vine" also maintains a youthful feel, with lots of trendy restaurants, bars, and shops.
The Houses:
Most are Foursquares or Queen Annes, which retain their details, including wraparound porches, double-hung windows, and Victorian-era millwork. Ready-to-move-in homes go for $100,000 and up. Fixer-uppers start at $60,000.
Why Buy Now?
A new Spanish-language immersion school and a top-notch math and science high school in The Vine are luring families. Thanks to "The Kalamazoo Promise," students who attend Kalamazoo schools from grades K through 12 receive full tuition to any of Michigan's public colleges or universities. But even students who attend grades nine through 12 here get 65 percent off. The Vine's status as a local historic district allows buyers to take advantage of incentives that save thousands on property taxes.
Among the best places for: Families, Fixer-Uppers, Bargains, First-Time Buyers, Porch Sitters, Victorians, College Towns, The Midwest, Financial Help for Homeowners, Editors' Picks
Richmond Hill, Queens, New York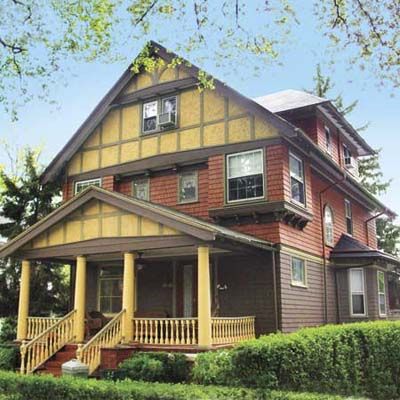 Richmond Hill is as peaceful and laid back as Manhattan is chaotic and fast paced. That's why it's hard to imagine these two places are less than a 45-minute subway ride from each other. Established in the mid-1800s as one of New York City's first planned communities, Richmond Hill was once home to thousands of Italian, Irish, and German immigrants looking to escape the crowded living conditions of the city. That escape was made all the more pleasant thanks to Forest Park—a 600-acre Frederick Law Olmsted urban retreat with horse trails, golf courses, and gardens—which borders the neighborhood.
The Houses:
The largest, most detailed homes are in North Richmond Hill, bordering the park, where many homes designed by famed New York City architect Henry Haugaard are located. His Queen Annes and Classical Revivals are known for their unique built-ins, enormous front porches, inlaid floors, and multicolored shingles. More modest Craftsmans and Victorians in the southern part of Richmond Hill start at about $250,000.
Why Buy Now?
New York real estate is as affordable as it's likely to get, especially in the outer boroughs. The Richmond Hill Historical Society is drawing more attention to the neighborhood by sponsoring regular house tours and educating New Yorkers on the area's unique history and architecture.
Among the best places for: Urban Suburbanites, Victorians, Walking, Food Lovers, The Northeast, Editors' Picks
Woodruff Place, Indianapolis, Indiana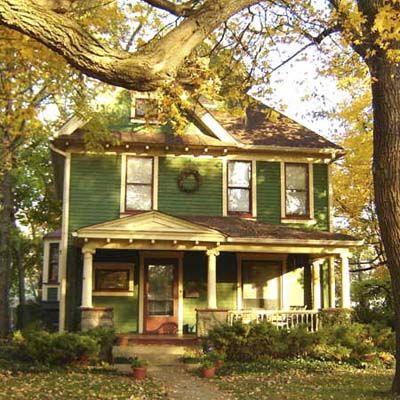 Founded in 1872 by New Yorker James O. Woodruff, this old suburb, about a mile east of downtown Indianapolis, was a self-governing town for more than 80 years. Traces of this autonomy are still evident in the tight-knit community, for Woodruffians are active in hosting social gatherings and bimonthly neighborhood meetings. Take a walk around town and you'll see broad boulevards, decorative fountains and urns, and statues surrounded by magnolia and oak trees. The inspiration for Booth Tarkington's The Magnificent Ambersons, Woodruff Place is a quintessential Midwestern town and was added to the National Register of Historic Places in 1972.
The Homes
The oldest houses are Eastlakes, Stick Victorians, and Queen Annes, though Woodruff Place is also home to many Georgian Revivals, English Tudors, Bungalows, American Foursquares, and Colonial Revivals. Fixer-uppers can be purchased for less than $100,000.
Why Buy Now?
The stately homes in Woodruff Place were built for the elite but are now available at moderate prices. Many large Victorian-era homes that were divided into apartments in the 1960s and '70s can be returned to single-family houses.
Among the best places for: Families, Bargains, The Midwest, First-Time Buyers, Victorian-era Homes, Urban Suburbanites
Guthrie, Oklahoma
The population of Guthrie, Oklahoma, grew from zero to 15,000 in six hours on April 22, 1889. That's the day the federal government opened the Oklahoma Territory to anyone willing to stake a claim in what had been restricted land. A rabble-rousing gun-toting herd of speculators was quick to take Uncle Sam up on the offer. Belgian-born architect Joseph Foucart arrived a few weeks later and set about transforming the makeshift tent city into something more refined. Using the area's native sandstone and red clay, he designed houses and commercial buildings that mixed Gothic, Queen Anne, and Romanesque styles, adding exaggerated features like enormous keyhole windows and fat turrets that give his buildings the look of sand castles. Today, Guthrie is a popular tourist destination and home to over 10,000 people who love living life the cowboy way.
The Houses
Guthrie has lots of solid brick homes from the late 19th and early 20th centuries. A 2,366-square-foot Colonial Revival built in 1907 with deep eaves and a full-length porch was recently on the market for $269,000.
Why Buy Now?
Long a sleepy Western town, Guthrie is turning into a bedroom community for Oklahoma City, just 25 miles away. Guthrie is home to the largest restored commercial district on the National Historic Register. For fun you can go to the Saturday night rodeo, see a movie at the Beacon Drive-In, or enjoy a drink at the Blue Bell Saloon.
Among best places for: Bedroom Communities, Country Living, Retirees, Victorians, Walking, The West
Beaver, Pennsylvania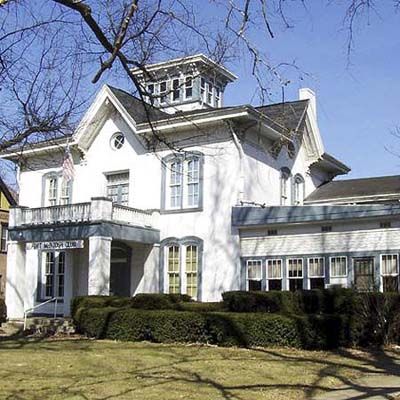 About 30 miles northwest of Pittsburgh, Beaver, Pennsylvania, was once home to the affluent managers of nearby steel plants. Today this Ohio River town is reinventing itself as a haven for small-town-America lovers, though it's still a popular bedroom community for those commuting to Pittsburgh. Beaver seems like the kind of town where New Urbanists are trying to create their own version of Celebration, Florida, with plenty of parks and Main Street–type businesses along Third Street. Everything is in walking distance; the entire neighborhood is roughly four square miles.
The Houses
Tudor Revivals and brick Queen Annes are dominant, but a massive 1860 Italian-villa-style house, formerly home to the president of Beaver College (which has relocated), was recently on the market for just $100,000. At press time, an 1890s three-story turreted Queen Anne was listed at $200,000.
Why Buy Now?
Property values have stayed above average here compared with the rest of the state, and the public schools are ranked among Pennsylvania's best. Despite the economic downturn, Pittsburgh's economy has remained relatively steady thanks to its health care and education industries.
Among the best places for: Families, Bedroom Communities, Waterfront, Victorians, Walking, Bargains, First-Time Buyers, Northeast
Huning Highlands, Albuquerque, New Mexico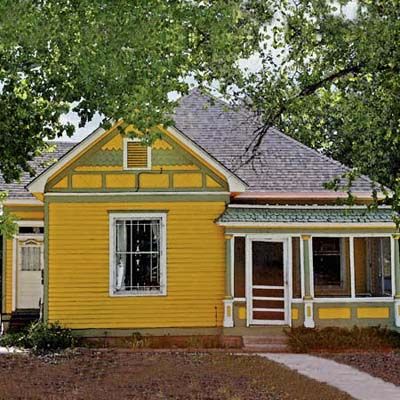 Huning Highlands looks decidedly out of place among the stucco and adobe homes that are ubiquitous in Albuquerque. "It's definitely got more of a Victorian feel," says resident Karen Doty, whose father moved here in the late 1920s, hoping New Mexico's clean air and wide-open spaces would help cure his tuberculosis. "He lived well into his 70s," Doty says. "So I guess it worked." The neighborhood was built to accommodate Albuquerque's growing population brought in by a new railroad, which arrived in 1880. Many who moved here had distinctly Northern tastes, preferring the Victorian style of architecture to the more popular Southwestern styles. After hitting a rough patch in the 1960s and 1970s, Huning Highlands, now a National Historic District, is once again popular for its out-of-place architecture, generous front porches, and the fact that it's within walking distance to downtown.
The Houses
There are a few adobe-style homes here, but most are either wood-framed or brick Queen Annes with fish-scale-shingled gables and wide front porches. Restored homes sell for between $300,000 and $400,000, though there are still fixer-uppers available for a lot less.
Why Buy Now?
Because Huning Highlands is part of a historic district, you can benefit from New Mexico's 50 percent income-tax credit for qualified rehabilitation work. The credit applies to half of the eligible costs of qualified work, with a maximum credit of $25,000.
Among the best places for: Healthy Living, Victorian, Financial Help for Homeowners, Fixer-Uppers, Families, Retirees, The West, Dog Lovers
Quality Hill, Pawtucket, Rhode Island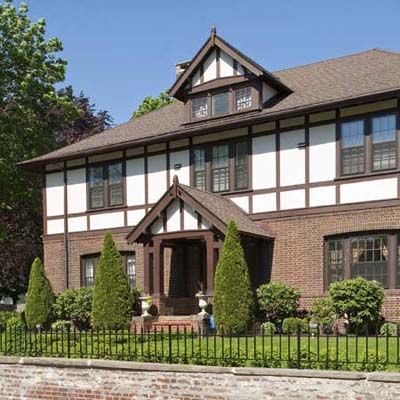 Once the province of the city's wealthy 19th-century factory and mill owners, Quality Hill continues to live up to its moniker with highbrow homes that remain among the city's finest. One of the great pleasures of living in this National Historic District is walking along its gas-lighted, brick-trimmed sidewalks to admire the neighborhood's fine homes and listening to the cheers from nearby McCoy Stadium, home of the Pawtucket Red Socks. Many residents work in town; others make the 15-minute commute to Providence or the 45-minute commute to Boston.
The Houses
Quality Hill is known for its large houses, Colonial Revivals, and Victorian-era homes built by mill owners in the city's heyday. Most sell from $200,000 to $350,000.
Why Buy Now?
Owners who choose to include their property in the city's local historic overlay district qualify for a $700 annual property tax credit. BusinessWeek just named Pawtucket to its list of Best Places to Raise Your Kids (2009).
Among the best places for: Families, Arts and Antique Lovers, Fixer-Uppers, Bargains, Financial Help, Victorian, The Northeast, Single Women Buyers
Yakima, Washington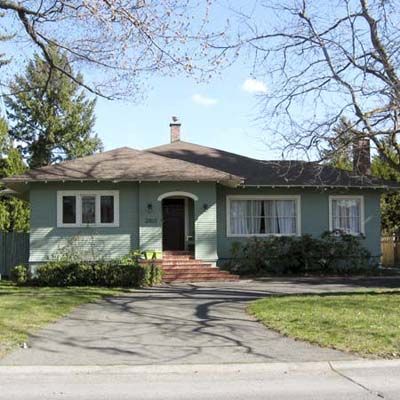 Yakima boasts many of the same qualities that have made some other Pacific Northwest cities—namely Portland and Seattle—so popular in the past 20 years: nearby mountains and water, top-notch cultural institutions, and a wealth of fine microbreweries and brewpubs. (Aside from its celebrated apple orchards, the Yakima Valley produces 75 percent of the hops grown in the U.S.). The thing that sets Yakima apart is the affordability of its homes. Some of the city's finest are found in the historic Barge-Chestnut neighborhood, an old streetcar suburb known for its bargain Craftsman-style bungalows, and neighbors who often become second families to those who live here.
The Houses:
While Barge-Chestnut has its fair share of Colonials and Victorian-era homes, it is best known for its exceptional collection of Craftsman-style bungalows, which, with their beautiful built-ins and welcoming front porches, are sought after among old-house lovers looking for places brimming with character. Homes here remain reasonable, ranging in price from $100,000 for a fixer-upper, to $300,000 for a pristine 2,000-square-foot home. The neighborhood recently became a local historic district, and residents are trying to get it on the National Register of Historic Places as well.
Why Buy Now?
Cheaper than Seattle and Portland, Yakima can be a great value for those looking for a true Pacific Northwest lifestyle on a budget. Yakima boasts a recently revived downtown, just minutes from the Barge-Chestnut neighborhood, with restaurants, galleries, and brewpubs. The area is also attracting wine enthusiasts to its dozens of award-winning vineyards.
Among the best places for: Food Lovers, Editors' Picks, Cottages and Bungalows, Single Women Buyers, The West, Victorians, Porch Sitters
Houston Heights, Houston, Texas
Love living in small-town suburbia but occasionally long for the hustle and bustle of the city? Houston Heights might be the neighborhood you're looking for. Just a couple of miles from downtown Houston, this serene enclave features massively turreted Queen Annes along stately boulevards and comfy bungalows tucked away on quiet streets lined with expansive live oaks. Houston Heights was developed in 1886 as a "utopian" community by self-made millionaire Oscar Martin Carter and his Omaha and South Texas Land Company. The Houston Heights Association, a nonprofit devoted to preserving the nabe, is trying to hold on to Carter's vision by protecting against overdevelopment and bringing the community together with holiday home tours, craft markets, and fun runs.
The Houses
The large sampling of architectural styles is what makes Houston Heights unique. Heights Boulevard is lined with Queen Anne and Colonial Revival mansions, and streets to the east and west feature a number of Craftsman bungalows and Tudor Revival cottages. At press time, there were more than 60 properties available, ranging from $200,000 to $700,000.
Why Buy Now?
Most of the older homes have already been restored, so maintaining their historic integrity is the only work required. Property-tax exemptions are available for restoration work on homes in the neighborhood's city-designated historic districts.
Among the best places for: Urban Suburbanites, Cottages and Bungalows, Families, Single Women Buyers, The South, Victorian-era Homes