Best Old House Neighborhoods 2009: The Midwest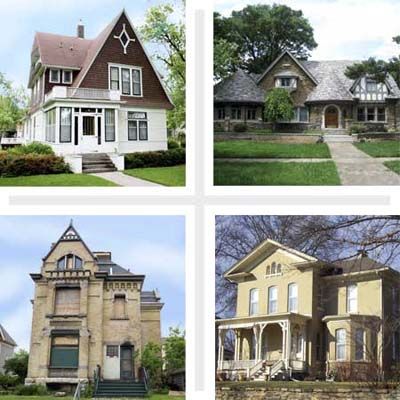 Unique, tight-knit neighborhoods are precisely what we looked for in selecting the winners of our second annual Best Old House Neighborhoods contest—places that might not be on your radar but deserve to be. Like last year, we relied on our good friends at PreservationDirectory.com to help us contact thousands of neighborhood groups, real estate agents, and preservation societies to get their takes on the best places to track down, fix up, and fall head of heels for older homes.
Here are the 12 greatest places to buy an old house in the Midwest, from Indiana to Minnesota.
Woodruff Place, Indianapolis, Indiana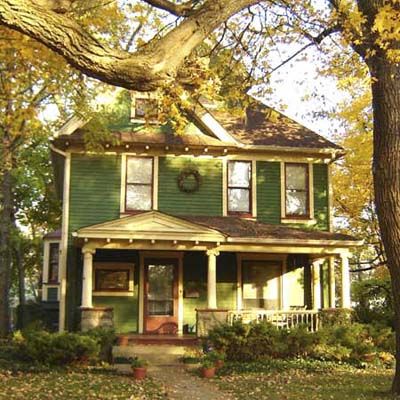 Founded in 1872 by New Yorker James O. Woodruff, this old suburb, about a mile east of downtown Indianapolis, was a self-governing town for more than 80 years. Traces of this autonomy are still evident in the tight-knit community, for Woodruffians are active in hosting social gatherings and bimonthly neighborhood meetings. Take a walk around town and you'll see broad boulevards, decorative fountains and urns, and statues surrounded by magnolia and oak trees. The inspiration for Booth Tarkington's The Magnificent Ambersons, Woodruff Place is a quintessential Midwestern town and was added to the National Register of Historic Places in 1972.
The Homes
The oldest houses are Eastlakes, Stick Victorians, and Queen Annes, though Woodruff Place is also home to many Georgian Revivals, English Tudors, Bungalows, American Foursquares, and Colonial Revivals. Fixer-uppers can be purchased for less than $100,000.
Why Buy Now?
The stately homes in Woodruff Place were built for the elite but are now available at moderate prices. Many large Victorian-era homes that were divided into apartments in the 1960s and '70s can be returned to single-family houses.
Among the best places for: Families, Bargains, The Midwest, First-Time Buyers, Victorian-era Homes, Urban Suburbanites
Guttenberg, Iowa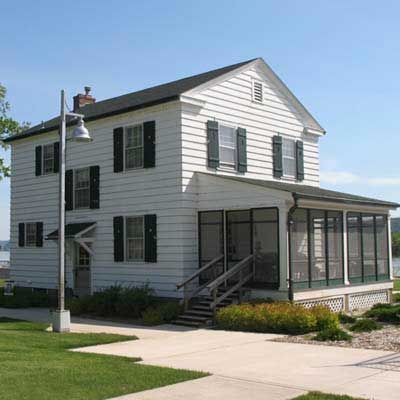 Sure, the houses are great, but the crown jewel of Guttenberg is the Mississippi River. Some just like gazing down on it from their front porches, though most tend to get a little more involved. "Almost everyone here has a boat," says Lee Johnston, who moved to Guttenberg over a year ago, snatching up a beautiful 160-year-old house—with river views!—for a song. The town was once home to thousands of German immigrants, who followed the rivers here from bigger Midwestern cities like Cincinnati. Their legacy is maintained through local surnames and street names, including Goethe, Weiland, and Schiller. Aside from a lone Subway restaurant, the town is refreshingly devoid of chain stores, strip malls, and big-box stores. Most people just drive the 45 minutes it takes to get to Dubuque, Iowa, to take care of their shopping needs.
The Houses
So-called German Vernacular cottages, built with local limestone by German immigrants in the mid-1800s, are the norm, though there are Victorian-era homes and bungalows. Surrounded by bluffs, the historic homes are protected from the Mississippi by a flood wall. Houses sell for $80,000 to $350,000.
Why Buy Now?
The town hasn't been bought up yet by city slickers from Milwaukee, Dubuque, Iowa, or even Chicago (4 hours away) looking for peaceful vacation homes. With its beautiful river views, outdoor recreation, and historic homes, it's just a matter of time before Guttenberg becomes as popular, and as pricey, as other Midwestern destinations, such as Lake Geneva, Wisconsin, or Galena, Illinois. So buy at a bargain while you can.
Among the best places for: Waterfront, Retirees, Sportsmen, Porch Sitters, Bargains, The Midwest
Leavenworth, Kansas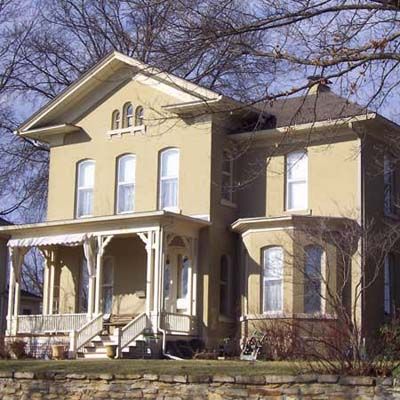 Think of Leavenworth as small-town America with an edge. Home to heroes (from Fort Leavenworth, the oldest U.S. Army facility west of the Mississippi) and villains (from the well-known federal prison), this sleepy Missouri River city of 35,000 has six residential areas recognized as National Historic Districts. Each has big, beautiful houses on tree-lined streets that belie the city's institutional reputation. In fact, locals describe Leavenworth as a warm, family-oriented community, with top-notch schools and safe, walkable streets. Many residents are young professionals who commute to nearby Kansas City, Missouri (40 minutes away), or retired Army officers drawn to Leavenworth's relaxing pace after years of service.
The Houses
The oldest homes are generally brick Greek Revivals dating to the 1850s. Later styles include Italianate, Gothic Revival, Queen Anne, and bungalow. Prices for fixer-upper bungalows average $40,000. The city's largest Queen Anne recently sold for $400,000.
Why Buy Now?
The Kansas Income Tax Credit gives homeowners a 25 percent reimbursement credit for restoration or maintenance work on homes in the National Historic Districts. A biking and walking path is under construction and will run through the center of town, and a new pavilion for the city's farmer's market is set to open this month.
Among the best places for: Retirees, Families, Financial Help for Homeowners, The West
Morgan Park, Duluth, Minnesota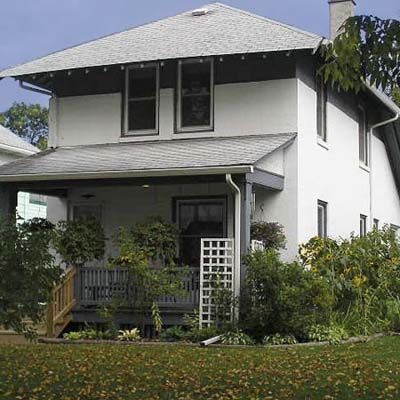 Perched on the St. Louis River in Duluth, Minnesota, Morgan Park might be the most interesting neighborhood to make our list. J.P. Morgan's U.S. Steel Corporation established Morgan Park in the early 1900s to house workers and executives from its Duluth-based steel and cement plants. Originally called Model City, Morgan Park was a self-contained community with its own company-run schools, hospitals, and fire and police departments. While the plant closed down in the early 1980s, Morgan Park is now a thriving neighborhood inhabited by postindustrial residents who are proud of the history—and the resilience—of their community.
The Houses
Most of the homes are Prairie style, with low-pitched roofs and wide overhanging eaves. The sturdy houses are built mostly of Minnesota-made portland cement from the site's own U.S. Steel plant. A 1,400-square-foot home here starts about $100,000.
Why Buy Now?
The neighborhood hit a rough patch when thousands of steel jobs were lost in the 1970s and '80s, but it's experiencing a renewed sense of pride as beautification efforts have begun turning Morgan Park back into the solid middle-class neighborhood it once was. The town's water sewer lines were recently replaced, and a hard-core area garden club is creating some amazing landscaping and community gardens. Though the Superfund program, the federal government has committed to a massive cleanup of pollution left over from the area's steel manufacturing days. Currently, the 600 acres of land (outside of residential areas) in Morgan Park that were affected have been rehabilitated well enough to support future industrial uses, while the river still needs work but is constantly monitored.
Among the best places for: Families, Fixer-Uppers, First-Time Buyers, Retirees, Bargains, The Midwest, Green Thumbs
The Southmoreland Neighborhood, Kansas City, Missouri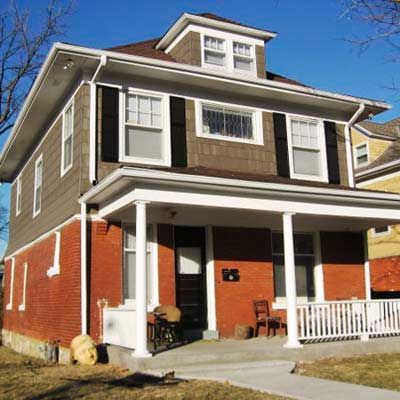 Located four miles south of downtown Kansas City, the vibe in Southmoreland ranges from family friendly to funky, depending on whom you ask. After all, this neighborhood is known for its eclectic nature, both in its architecture and its residents. Here, well-to-do families live in imposing Colonial Revival mansions side by side with young singles and couples, who flock here to spruce up the sturdy Arts & Crafts cottages. Southmoreland is also home to hundreds of students from the Kansas City Art Institute, who reside in beautiful post-war brick apartment buildings, thoughtfully appointed with multi-tiered porticos supported by classical columns. Established in the late 1800s by well-to-do businessmen looking to escape a chaotic downtown, the neighborhood soon attracted working-class families, who moved here after a streetcar line was established between Southmoreland and downtown. The neighborhood remained vital until World War II, when its larger homes were converted into apartments. These days, Southmoreland is seen as a diamond-in-the-rough opportunity for young professionals looking for a walkable neighborhood offering easy access to stores, schools, and museums.
The Houses
Grand Colonial-Revival mansions and Arts & Crafts cottages, built between the late 1800s and the early 1930s. The former can be had for around $350,000, while the latter start at a mere $120,000. Many homes have already been restored, but hundreds more are in dire need of TLC. All are just a short walk from Southmoreland Park, which features tennis courts, gardens, and an annual Shakespeare festival.
Why Buy Now?
A movement to restore Southmoreland's historic homes is underway thanks to the neighborhood's walkability, close proximity to downtown, and cultural institutions including the Nelson Atkins Museum of Art and the Kemper Museum of Contemporary Art. Prices remain reasonable, especially when you consider the quality. Rates of home foreclosures and unemployment in Kansas City belie national trends.
Among the best places for: Arts and Antique Lovers, College Towns, The Midwest, First-Time Buyers, Families, Good for Walking, Editors' Picks
The Dundee Neighborhood, Omaha, Nebraska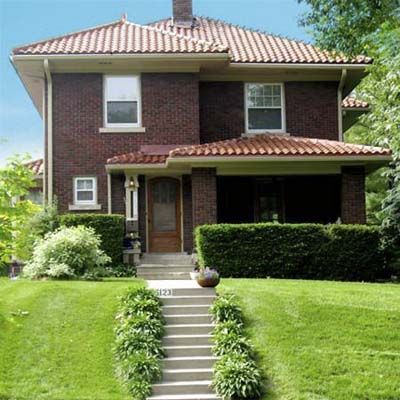 Don't let the fact that one of the richest men in the world, Warren Buffett, lives here scare you off. He bought his house years ago for about $31,000. Now, there are historical properties that pass the million-dollar mark, but there are also plenty of more affordable houses. Established as an independent village just west of downtown in the late 1800s, Dundee had houses that were required to be at least 25 feet from the street and were priced high. By the time the village was annexed by Omaha in 1915, the place was filled with handsome Craftsmans and foursquares; Dundee South, established later, is known mostly for its Tudors, Colonial Revivals, and Prairie-style homes. The neighborhood is within walking distance to trendy restaurants, music venues, and taverns. Dundee is also bordered by two of the city's largest parks. Nearby Fortune-500 companies, such as Union Pacific, and the University of Nebraska Medical Center are draws for business and medical professionals.
The Houses
Housing prices start at $150,000. At press time, a 1,400-square-foot Arts and Crafts home was on the market for $154,900. A 2,500-square-foot Tudor with natural oak trim and built-ins and a large sleeping porch was on the market for $195,000.
Why Buy Now?
Omaha has recently become known as a hip, indie-spirited place, primarily around the city's Old Market area, near Dundee, which is packed with studios, museums, music venues, pubs, and clubs. Heck, even people from big cities are moving here to take advantage of cheaper art and music-studio space.
Among the best places for: Families, Arts and Antique Lovers, Urban Suburbanites, The Midwest
College Hill, Cincinnati, Ohio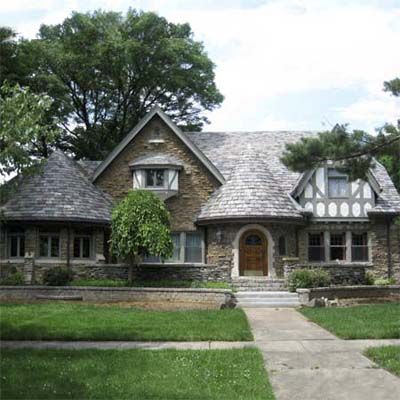 Like Chicago or Brooklyn, Cincinnati is known for its distinct old neighborhoods and the fiercely loyal residents who call them home. Settled in 1813, the northern neighborhood of College Hill—named after now-defunct Farmer's College and Ohio Female College—has kept much of its leafy college campus character. Those who live here see the area as the most tight-knit and diverse (forward-thinking college professors and other abolitionists who were among the neighborhood's earliest residents helped ensure it was racially integrated even before the Civil War). Like most Cincinnati 'hoods, College Hill has dozens of locally owned businesses, including LaRosa's pizzeria, a Cincinnati favorite. More entertainment can be found just minutes away in downtown Cincinnati.
The Houses
There are many Craftsman-style bungalows, but the neighborhood is primarily known for its Tudor Revivals with stucco, brick, and stone exteriors, as well as front and screened-in side porches. A 1,400-square-foot Craftsman with a fireplace made by Rookwood Pottery was recently on the market for $116,000, while a 1,900-square-foot Tudor Revival was selling for $135,000.
Why Buy Now?
If you're one of those people who value craftsmanship over size, College Hill has plenty of old houses that are deserving of a long-term commitment. Here you'll get all the tranquility of tree-lined streets, with access to museums, theaters, and major-league sports in downtown Cincinnati. In addition, the neighborhood continues to tackle quality-of-life issues. It recently took part in the Neighborhood Enhancement Program, a 90-day blitz of initiatives launched by the city that address crime, blight, and building-code violations. (Officials follow up with businesses, volunteers, and others involved for the next nine months to ensure all changes are permanent.) The city is also building a fire station at the southern entrance of College Hill.
Among the best places for: Families, First-Time Buyers, The Midwest
Elgin, Illinois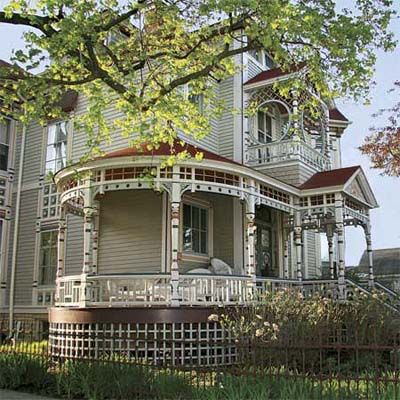 Not for one second did Brenda Hennessey imagine herself living in Elgin, Illinois. Growing up in nearby Schaumburg in the 1980s, she'd heard the city had a reputation for being grungy, rundown—even a bit dangerous. A few years ago she made a pit stop here while riding the Fox River Bike Trail, which runs 33 miles through the Chicago suburbs. It was then she realized that either Elgin's nefarious image was greatly exaggerated or things here had changed dramatically for the better. In the market for a house, Brenda did some research and discovered she could get more bang for her buck in Elgin than in other Chicago-area towns. She soon snatched up a late-19th-century brownstone in the Gifford Park neighborhood for $198,000. "Elgin is beautiful," she says. "It's walkable and safe, with plenty of bike paths." Brenda, now pregnant, and her husband, Evan, are looking for a larger house, hopefully one of the city's cherished Queen Annes, which start at $100,000. That's the great thing about Elgin, says Brenda. You can buy a starter home, upgrade to a virtual mansion to raise your kids, then empty-nest it down to a bungalow when you retire.
The Houses
Some of the city's most handsome Queen Anne, Tudor, and Gothic Revival homes are found in the Northeast neighborhood, which borders downtown and contains two historic districts, most notably Elgin's oldest neighborhood, Spring-Douglas, a National Historic District. Here, a 2,000-square-foot Queen Anne can be had for $150,000 to $500,000, depending on its condition.
Why Buy Now?
The best reason is summed up by Elgin resident Fran Cella: "No one really knows about us yet." Property values in the historic districts remain steady, thanks in part to the city's proximity to Chicago. The city is offering grants to help buyers restore single family homes that were broken up into multifamily units.
Among the best for: Fixer-Uppers, Families, Bargain, First-Time Buyers, Bedroom Communities, Healthy Living, Walking, Urban Suburbanites, The Midwest, Dog Lovers, Financial Help for Homeowners, Editors' Picks
Brewer's Hill, Milwaukee, Wisconsin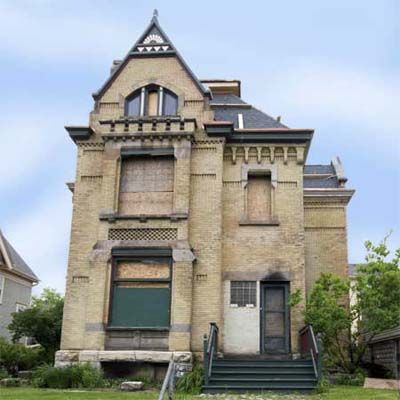 Named for the German beer barons and their employees who lived here and worked in the nearby Schlitz and Blatz breweries, Brewer's Hill is a distinctly Victorian-era neighborhood that's found new life in recent years as rehabbers buy up its blighted old mansions and restore them into beautiful urban homes. The neighborhood, set on a hill above the Milwaukee River, is about a mile from downtown Milwaukee—definitely one of those "cooler than you think" cities, with its top-notch restaurants, bars, and, of course, brewpubs.
The Houses
Stick Victorians, Queen Annes, and Greek Revival homes are the most common. As the breweries left the area, many of the neighborhood's mansions were converted into rooming houses, but they're now being restored to their original floor plans. You can buy a 3,000-square-foot single-family fixer-upper for as little as $150,000. Completely restored homes run from $250,000 to $300,000. A luxury two-bedroom condo inside a converted brewery costs between $250,000 and $350,000.
Why Buy Now?
Brewer's Hill is attracting an increasing number people looking to buy and restore its enormous houses at prices that are hard to find outside of the neighborhood. All the rehabilitation bodes well for both property values and the neighborhood's future.
Among best places for: Bargains, Fixer-Uppers, The Midwest
The Vine neighborhood, Kalamazoo, Michigan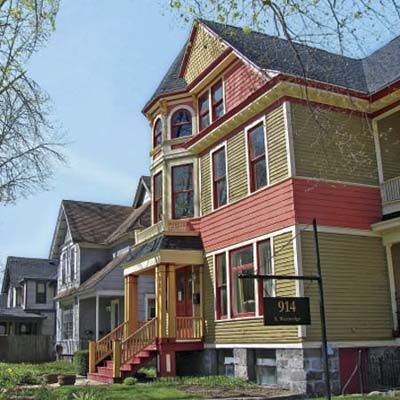 After a rough patch in the 1980s, this leafy Victorian-era neighborhood is experiencing quite a comeback as people move here because it's close to downtown, stellar schools, parks, hiking trails, and playgrounds. Sure, it's a great place for families, but since it borders Western Michigan University, "The Vine" also maintains a youthful feel, with lots of trendy restaurants, bars, and shops.
The Houses:
Most are Foursquares or Queen Annes, which retain their details, including wraparound porches, double-hung windows, and Victorian-era millwork. Ready-to-move-in homes go for $100,000 and up. Fixer-uppers start at $60,000.
Why Buy Now?
A new Spanish-language immersion school and a top-notch math and science high school in The Vine are luring families. Thanks to "The Kalamazoo Promise," students who attend Kalamazoo schools from grades K through 12 receive full tuition to any of Michigan's public colleges or universities. But even students who attend grades nine through 12 here get 65 percent off. The Vine's status as a local historic district allows buyers to take advantage of incentives that save thousands on property taxes.
Among the best places for: Families, Fixer-Uppers, Bargains, First-Time Buyers, Porch Sitters, Victorians, College Towns, The Midwest, Financial Help for Homeowners, Editors' Picks
The Central Residential Historic District, Brookings, South Dakota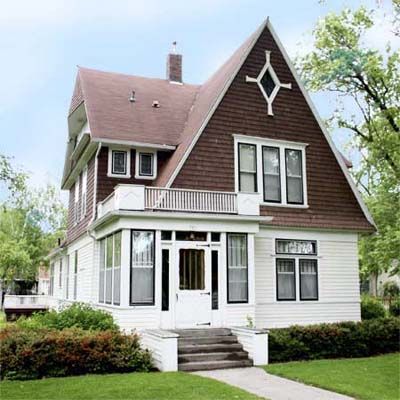 Located near the Big Sioux River, and home to South Dakota State University, Brookings offers culture, intellectual stimulation, and small-town beauty Great Plains-style. The city's Central Residential Historic District, a lush and leafy suburb listed on the National Register of Historic Places, is one of its most cherished thanks to its proximity to parks and good schools, while downtown restaurants, book stores, and antiques shops are just a five-minute walk away. This is a serene and safe place to raise kids, especially since an old elementary school in the neighborhood is being converted into a children's' museum, complete with a surrounding park that will house playgrounds and athletic fields.
The Houses
Homes here look like fairy-tale versions of classic American architectural styles. The Craftsmans have exaggerated overhanging eaves and extra chunky millwork, while the Queen Annes are elaborately wrapped in gingerbread and include dramatic features such as turrets and sprawling wrap-around porches. Homes start out at around $150,000 and run up to $350,000.
Why Buy Now?
The conversion of the neighborhood's Central Elementary School into a children's museum and park will undoubtedly draw more families here. (Next year, younger children now attending Central will go to two elementary schools a few minutes away and those in fourth and fifth grade will go to the brand-new Camelot Intermediate School). Real estate values in this part of the country have suffered little during the current economic downturn. Since families tend to stay here for good, most of the houses are extremely well-maintained. Seeing as the neighborhood is on the National Register, unattractive updates and alterations of its housing stock are unlikely.
Among the best places for: College Towns, Country Living, Families, Single Women Buyers, Small Business Owners, The Midwest
Southside Historic District, Fargo, North Dakota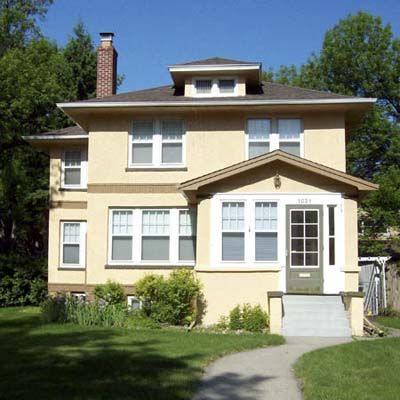 If you like lush, green lawns and tree-lined streets, the Fargo's Southside District is where you want to be. Cutting through the center of the neighborhood is Eighth Street, known for its gaslight-replica streetlamps and historic homes. It's the kind of neighborhood people have a hard time leaving behind, according to resident Linda Jalbert. "A lot of people who grew up here move back to raise their families," she says. It's easy to see why. Not only is Fargo one of America's safer cities, but it's also home to North Dakota State University, which keeps residents entertained with its many lectures and concerts.
The Houses
There is a mix of architectural styles here, including foursquare, Prairie style, Tudor, and Queen Anne. A restored 2,031-square-foot 1933 Tudor in pristine condition was recently on the market for $174,900.
Why Buy Now?
If you're looking for a stable community and a stable real estate market, Fargo is the way to go. North Dakota has one of the nation's lowest unemployment rates, and there are several large companies here, including Bobcat, Microsoft, and Marvin Windows and Doors. A recent study by MainStreet.com found there are more job opportunities per capita in North Dakota than in any other state in the country.
Among the best places for: College Towns, Country Living, Families, Single Women Buyers, Small Business Owners, The Midwest
Among the best places for: Families, Walking, College Towns, Single Women Buyers, Retirees, The Midwest, Green Thumbs, Small Business Owners