Best Old House Neighborhoods 2009: Editors' Picks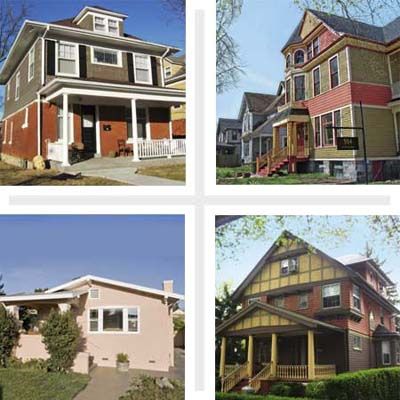 Unique, tight-knit neighborhoods are precisely what we looked for in selecting the winners of our second annual Best Old House Neighborhoods contest—places that might not be on your radar but deserve to be. Like last year, we relied on our good friends at PreservationDirectory.com to help us contact thousands of neighborhood groups, real estate agents, and preservation societies to get their takes on the best places to track down, fix up, and fall head of heels for older homes.
These eight communities are the ones we consider the cream of the crop, the best of the best places to buy an old house.
Temescal Neighborhood, Oakland, California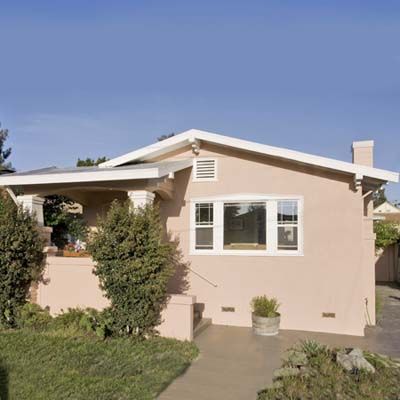 Located in North Oakland, just a few miles from Berkeley, the Temescal neighborhood, named for the creek that runs through it, was once a thriving Italian-American village and the terminus of Oakland's streetcar line. In the past few years this long-overlooked nabe has been attracting buyers from pricier NoCal neighborhoods to its colorful, stucco-covered bungalows, many of which have small but sought-after backyards. Some people first discover Temescal while visiting its popular Sunday farmer's market or the growing number of restaurants, delis, and bakeries that are opening here, including the famed Bakesale Betty, which purportedly sells the best fried chicken sandwich on the planet. "It seems a lot of people are starting to look for places in Temescal now," says Deidre Joyner, a Realtor with Red Oak Realty. "That's probably because the two- and three-bedroom houses here are perfect starter homes." Temescal is also close to bus lines and freeways. And you can be in downtown San Francisco in less than 20 minutes, barring heavy traffic.
The Houses:
Many single-family homes here are 1920s bungalows that, while modest from the outside, are packed inside with architectural details, such as built-ins, moldings, wainscoting, and window seats. These houses start between $500,000 and $600,000. Pricey, yes, but that's a heck of a lot cheaper than a house, especially one with a yard, will run you in San Francisco or other nearby Oakland neighborhoods, such as Rockridge.
Why Buy Now?
If you found yourself priced out of the Bay Area during the housing boom, now's the time to give it another shot. Temescal borders pricier areas and is experiencing a domino effect as people scramble for more-affordable real estate. And did we mention that chicken sandwich?
Among the best places for: Urban Suburbanites, Food Lovers, Cottages and Bungalows, The West, Green Thumbs, Dog Lovers, Editors' Picks
Seminole Heights, Tampa, Florida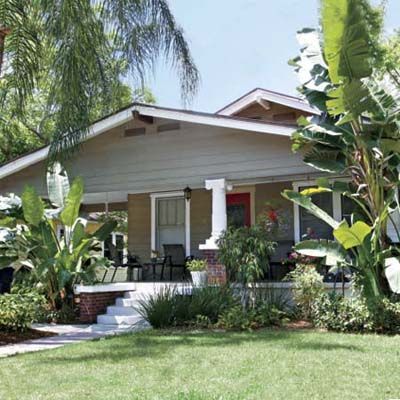 In a state known for blinding sunlight and shoddy high-rise condo construction, Seminole Heights offers shady streets, with solid homes fronted by gardens both wild and manicured. The neighborhood's many parks offer ample opportunity to commune with nature, and families looking for strong public schools will be thrilled by Hillsborough High, recently named one of the best schools in the country by Newsweek magazine. One thing's for sure: The community fabric here is strong. "We're all about porch parties and potlucks," says resident Suzanne Prieur. "We want to make sure our old-fashioned way of life here is preserved."
The Houses:
This is Florida, so you'll find plenty of Spanish Mission and Art Moderne–style homes here. But Seminole Heights is best known for its single-story Craftsman-style bungalows, built in the 1920s to accommodate the thousands of families who relocated to Tampa after railroad lines were established. These houses feature full-length porches with stone or brick supports, and plenty of built-ins. Most homes sell for between $150,000 and $300,000.
Why Buy Now?
Florida home prices have plummeted in recent months, and Seminole Heights is no exception. Several neighborhood associations do an amazing job of protecting the area from the overdevelopment of condos and out-of-scale commercial buildings.
Among the best for: Families, Green Thumbs, Cottages and Bungalows, Single Women Homebuyers, Porch Sitters, Walkers, The South, Editors' Picks
Elgin, Illinois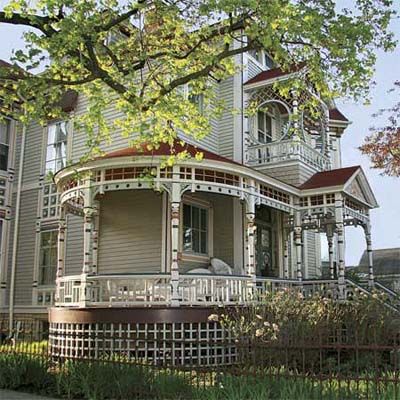 Not for one second did Brenda Hennessey imagine herself living in Elgin, Illinois. Growing up in nearby Schaumburg in the 1980s, she'd heard the city had a reputation for being grungy, rundown—even a bit dangerous. A few years ago she made a pit stop here while riding the Fox River Bike Trail, which runs 33 miles through the Chicago suburbs. It was then she realized that either Elgin's nefarious image was greatly exaggerated or things here had changed dramatically for the better. In the market for a house, Brenda did some research and discovered she could get more bang for her buck in Elgin than in other Chicago-area towns. She soon snatched up a late-19th-century brownstone in the Gifford Park neighborhood for $198,000. "Elgin is beautiful," she says. "It's walkable and safe, with plenty of bike paths." Brenda, now pregnant, and her husband, Evan, are looking for a larger house, hopefully one of the city's cherished Queen Annes, which start at $100,000. That's the great thing about Elgin, says Brenda. You can buy a starter home, upgrade to a virtual mansion to raise your kids, then empty-nest it down to a bungalow when you retire.
The Houses
Some of the city's most handsome Queen Anne, Tudor, and Gothic Revival homes are found in the Northeast neighborhood, which borders downtown and contains two historic districts, most notably Elgin's oldest neighborhood, Spring-Douglas, a National Historic District. Here, a 2,000-square-foot Queen Anne can be had for $150,000 to $500,000, depending on its condition.
Why Buy Now?
The best reason is summed up by Elgin resident Fran Cella: "No one really knows about us yet." Property values in the historic districts remain steady, thanks in part to the city's proximity to Chicago. The city is offering grants to help buyers restore single family homes that were broken up into multifamily units.
Among the best for: Fixer-Uppers, Families, Bargain, First-Time Buyers, Bedroom Communities, Healthy Living, Walking, Urban Suburbanites, The Midwest, Dog Lovers, Financial Help for Homeowners, Editors' Picks
Yakima, Washington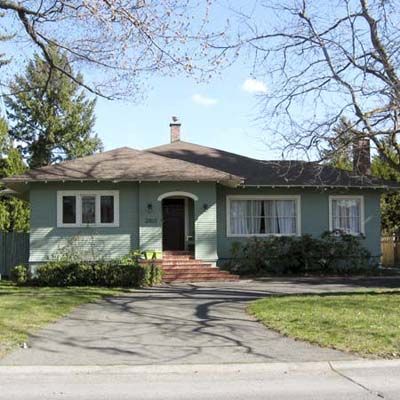 Yakima boasts many of the same qualities that have made some other Pacific Northwest cities—namely Portland and Seattle—so popular in the past 20 years: nearby mountains and water, top-notch cultural institutions, and a wealth of fine microbreweries and brewpubs. (Aside from its celebrated apple orchards, the Yakima Valley produces 75 percent of the hops grown in the U.S.). The thing that sets Yakima apart is the affordability of its homes. Some of the city's finest are found in the historic Barge-Chestnut neighborhood, an old streetcar suburb known for its bargain Craftsman-style bungalows, and neighbors who often become second families to those who live here.
The Houses:
While Barge-Chestnut has its fair share of Colonials and Victorian-era homes, it is best known for its exceptional collection of Craftsman-style bungalows, which, with their beautiful built-ins and welcoming front porches, are sought after among old-house lovers looking for places brimming with character. Homes here remain reasonable, ranging in price from $100,000 for a fixer-upper, to $300,000 for a pristine 2,000-square-foot home. The neighborhood recently became a local historic district, and residents are trying to get it on the National Register of Historic Places as well.
Why Buy Now?
Cheaper than Seattle and Portland, Yakima can be a great value for those looking for a true Pacific Northwest lifestyle on a budget. Yakima boasts a recently revived downtown, just minutes from the Barge-Chestnut neighborhood, with restaurants, galleries, and brewpubs. The area is also attracting wine enthusiasts to its dozens of award-winning vineyards.
Among the best places for: Food Lovers, Editors' Picks, Cottages and Bungalows, Single Women Buyers, The West, Victorians, Porch Sitters
The Vine neighborhood, Kalamazoo, Michigan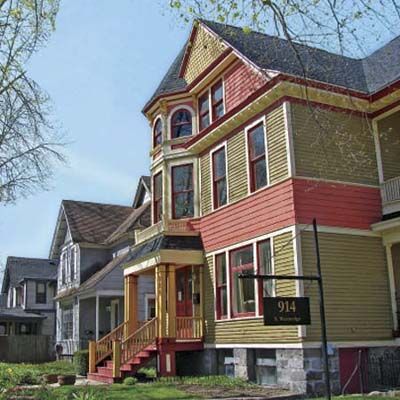 After a rough patch in the 1980s, this leafy Victorian-era neighborhood is experiencing quite a comeback as people move here because it's close to downtown, stellar schools, parks, hiking trails, and playgrounds. Sure, it's a great place for families, but since it borders Western Michigan University, "The Vine" also maintains a youthful feel, with lots of trendy restaurants, bars, and shops.
The Houses:
Most are Foursquares or Queen Annes, which retain their details, including wraparound porches, double-hung windows, and Victorian-era millwork. Ready-to-move-in homes go for $100,000 and up. Fixer-uppers start at $60,000.
Why Buy Now?
A new Spanish-language immersion school and a top-notch math and science high school in The Vine are luring families. Thanks to "The Kalamazoo Promise," students who attend Kalamazoo schools from grades K through 12 receive full tuition to any of Michigan's public colleges or universities. But even students who attend grades nine through 12 here get 65 percent off. The Vine's status as a local historic district allows buyers to take advantage of incentives that save thousands on property taxes.
Among the best places for: Families, Fixer-Uppers, Bargains, First-Time Buyers, Porch Sitters, Victorians, College Towns, The Midwest, Financial Help for Homeowners, Editors' Picks
Richmond Hill, Queens, New York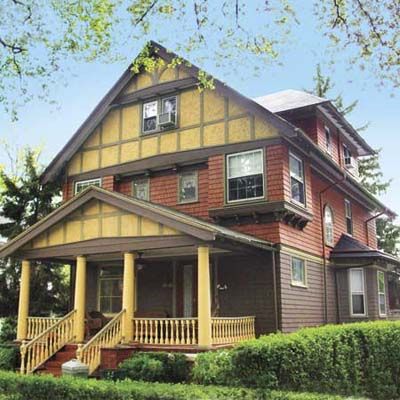 Richmond Hill is as peaceful and laid back as Manhattan is chaotic and fast paced. That's why it's hard to imagine these two places are less than a 45-minute subway ride from each other. Established in the mid-1800s as one of New York City's first planned communities, Richmond Hill was once home to thousands of Italian, Irish, and German immigrants looking to escape the crowded living conditions of the city. That escape was made all the more pleasant thanks to Forest Park—a 600-acre Frederick Law Olmsted urban retreat with horse trails, golf courses, and gardens—which borders the neighborhood.
The Houses:
The largest, most detailed homes are in North Richmond Hill, bordering the park, where many homes designed by famed New York City architect Henry Haugaard are located. His Queen Annes and Classical Revivals are known for their unique built-ins, enormous front porches, inlaid floors, and multicolored shingles. More modest Craftsmans and Victorians in the southern part of Richmond Hill start at about $250,000.
Why Buy Now?
New York real estate is as affordable as it's likely to get, especially in the outer boroughs. The Richmond Hill Historical Society is drawing more attention to the neighborhood by sponsoring regular house tours and educating New Yorkers on the area's unique history and architecture.
Among the best places for: Urban Suburbanites, Victorians, Walking, Food Lovers, The Northeast, Editors' Picks
St. Patrick's Ward, Guelph, Ontario, Canada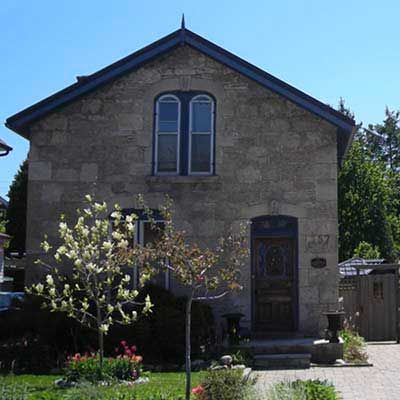 In the early 1900s, entrepreneur J.W. Lyon started giving away land to factories and selling small residential lots in St. Patrick's Ward, just outside downtown Guelph. Soon, thousands of European immigrants, mostly Italian, started coming here to work in those factories and live in the small stone and brick workers' cottages, often adding their own vegetable gardens. Nowadays some of those factories are being turned into condos. And this quiet urban neighborhood is drawing new residents, who fall hard for its stark, industrial beauty, stone churches, and even some remaining vegetable gardens. Most of the Italian families have moved on, but "The Ward," as it's called, remains a land of opportunity for those looking for a friendly, old-fashioned neighborhood to call home.
The Houses:
Foursquares and Victorians built between 1900 and 1920 are common, though the most notable homes here are stone or brick Italianate cottages and "Ontario cottages"; the latter are one-and-a-half-story stone and brick Gothic Revivals with a hipped roof and single spired gable above the door. Houses start at around $136,000 (U.S.).
Why Buy Now?
Buyers are rediscovering the charms of this walkable community just minutes from downtown Guelph and are moving here to renovate houses. There are plenty of jobs, but Guelph, which has a population of about 115,000, is just 60 miles from Toronto, so it's also an ideal place for commuters looking for lower housing prices and a slower pace.
Among the best places for: Walkers, Green Thumbs, Fixer-Uppers, First-Time Buyers, Bedroom Communities, Cottages and Bungalows, Editors' Picks
The Southmoreland Neighborhood, Kansas City, Missouri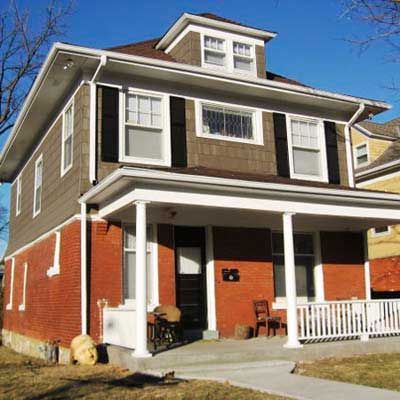 Located four miles south of downtown Kansas City, the vibe in Southmoreland ranges from family friendly to funky, depending on whom you ask. After all, this neighborhood is known for its eclectic nature, both in its architecture and its residents. Here, well-to-do families live in imposing Colonial Revival mansions side by side with young singles and couples, who flock here to spruce up the sturdy Arts & Crafts cottages. Southmoreland is also home to hundreds of students from the Kansas City Art Institute, who reside in beautiful post-war brick apartment buildings, thoughtfully appointed with multi-tiered porticos supported by classical columns. Established in the late 1800s by well-to-do businessmen looking to escape a chaotic downtown, the neighborhood soon attracted working-class families, who moved here after a streetcar line was established between Southmoreland and downtown. The neighborhood remained vital until World War II, when its larger homes were converted into apartments. These days, Southmoreland is seen as a diamond-in-the-rough opportunity for young professionals looking for a walkable neighborhood offering easy access to stores, schools, and museums.
The Houses
Grand Colonial-Revival mansions and Arts & Crafts cottages, built between the late 1800s and the early 1930s. The former can be had for around $350,000, while the latter start at a mere $120,000. Many homes have already been restored, but hundreds more are in dire need of TLC. All are just a short walk from Southmoreland Park, which features tennis courts, gardens, and an annual Shakespeare festival.
Why Buy Now?
A movement to restore Southmoreland's historic homes is underway thanks to the neighborhood's walkability, close proximity to downtown, and cultural institutions including the Nelson Atkins Museum of Art and the Kemper Museum of Contemporary Art. Prices remain reasonable, especially when you consider the quality. Rates of home foreclosures and unemployment in Kansas City belie national trends.
Among the best places for: Arts and Antique Lovers, College Towns, The Midwest, First-Time Buyers, Families, Good for Walking, Editors' Picks