Best Old House Neighborhoods 2011: Walkability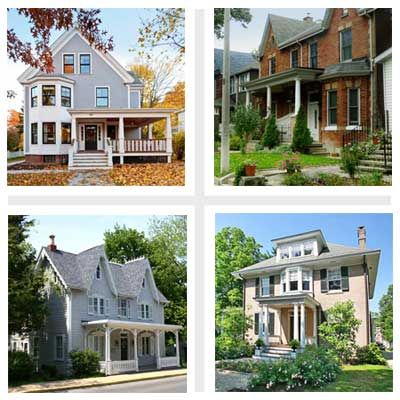 For the fourth year in a row, we've tracked down North America's most timeless neighborhoods—places where lovingly crafted old houses have extraordinary pasts and unarguably promising futures. With help from our friends at Portland, Oregon-based PreservationDirectory.com—who distributed our nomination forms to more than 14,000 historical societies, neighborhood groups, and preservation nonprofits—we've assembled our biggest-ever list of off-the-beaten-path places that are worth eyeing for a great old home.
Like to get around the old-fashioned way? Here are over thirty charming neighborhoods where sidewalks and foot-friendly accessibility have never gone out of style.
Historic Garden District, Montgomery, Alabama
Twelve short blocks from downtown Montgomery, the Garden District is home to 2,500 residents as diverse as its architecture. Young singles and 30-something professionals are drawn to a community that is ethnically varied, socially diverse, and still every bit as genteel as any small town in the old South. Described as a neighborhood "where civility never went away," by local Sandra Nickel, a resident since 1980, the Historic Garden District's sidewalked streets are lined with the charming domiciles of neighbors who greet each other on weekday mornings and head home from work to eat lunch. On weekends, gardening has long remained a passion among local homeowners, and brightly colored vegetables and flora are the pride of the area's oversized lots.
The Houses
Once home to many of Montgomery's early business leaders, the Garden District is a trove of Greek Revivals, Colonial Revivals, and Craftsman-style bungalows in every imaginable condition. At the neighborhood's humble north end, near two interstates and a commercial area, a cottage or bungalow in the full-on fixer-upper category (requiring a roof replacement and gut renovation) might go for as little as $25,000, while a fully restored small home is likely to be priced in the $125,000 to $175,000 range. Houses get larger and pricier—and have generally benefited more from Montgomery's renewal—toward the district's mansion-lined south end, where grand residences sell for upwards of $300,000, depending on size and location.
Why Buy Here?
Montgomery has for the most part escaped the country's employment woes, thanks in part to a Hyundai manufacturing plant that opened here in 2005 and employs 2,700 people. The company's success brought several car-parts suppliers to the region, and thousands more jobs. With all those happily working people, it's no wonder the Garden District is experiencing a revival.
Among the best for: The South, Bargains, Fixer-Uppers, Cottages & Bungalows, Singles, First-Time Buyers, Gardening, Walkability
Park Hill, North Little Rock, Arkansas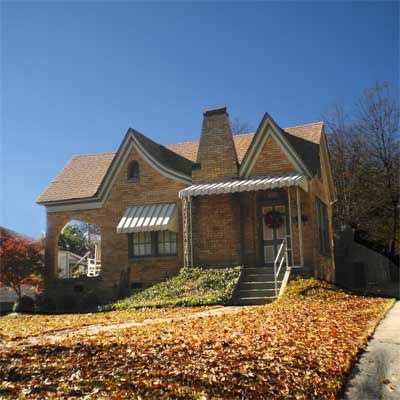 Small-town values get big-city perspective in North Little Rock's historic Park Hill neighborhood. Located just across the Arkansas River from the state capital, this cozy bedroom community is characterized by shady, sidewalk-lined streets that allow pet lovers, exercise enthusiasts, and pedestrians to enjoy getting around the old-fashioned way. The community of about 2,000 people attracts many young families who are looking for a close-knit neighborhood just a short car or bus ride from the bustle of Little Rock. Sandra Taylor Smith, who grew up in Park Hill, says "It's still one of my favorite neighborhoods in Arkansas. It's convenient, serene, and picturesque." It's also a stone's throw from the Old Mill, the picturesque structure from Gone With the Wind's opening scene. Small town charm, a touch of Hollywood, and a 7-minute commute? We'll take it.
The Houses
Park Hill gets its architectural flair from two distinct periods: The 1920s yielded an array of Revival styles and Craftsman bungalows, while the post-WWII era brought simpler construction, in the form of Minimal Traditional houses. Nestled in with trees at least a half-century old, the neighborhood's typical one-story homes often go for $100,000 to $200,000, fully renovated. Larger houses, up to 3,000 square feet, top the market at around $350,000.
Why Buy Here?
It's affordable. Park Hill's current market boasts several charming houses comfortably priced right around the hundred-grand mark, unheard of in most towns that are commutable to significant cities. Many of them are well-maintained, character-rich abodes. "You get what you pay for—and more," says Cary Tyson, director of Main Street Arkansas, a program of the Arkansas Historic Preservation Program. How's that for a breath of fresh Arkansas air?
Among the best for: The South, Family Friendly, Cottages & Bungalows, City Living, First-Time Buyers, Gardening, Outdoor Activities
The West End, Alameda, California
Just off Oakland's shores, Alameda is a 23-square-mile island in San Francisco Bay. Long heralded for the stunning Queen Annes and California bungalows on its eastern edge, the area's West End is now getting the attention. The former home of a massive Naval Air Station, the west side's fortunes changed in 1997, when the U.S. Navy packed its bags, leaving behind enormous hangers. Before long, a new generation of enterprising Californians started to arrive, converting the cavernous spaces into film studios, fitness centers, wineries—even an absinthe distillery. Over the past decade, as retired military families have gradually sold their Arts and Crafts bungalows and Victorian-era cottages, the West End has adopted a new identity. "It's funky, it's edgy, and it's family friendly," says Kathy Ledner Moehring, a transplanted New Yorker who bought a 1912 Craftsman bungalow here eight years ago. Kathy, executive director of the West Alameda Business Association, notes that good schools and a low crime rate, plus dozens of restaurants and businesses, new and old, make Alameda a perfect family place.
The Houses
Modest Arts and Crafts bungalows and Victorian cottages generally needing some work are coming on the market at reasonable prices. A 1,377-square-foot bungalow built in 1915 was recently listed at $299,000.
Why Buy Here?
Housing values are expected to rise as redevelopment continues in the area surrounding the former base. An underwater tunnel gets you to Oakland in two minutes, and it's a 20-minute ferry ride to San Francisco.
Among the best for: The West & Northwest, Family Friendly, Cottages & Bungalows, Small Towns, Easy Commute, Walkability
Milton, Delaware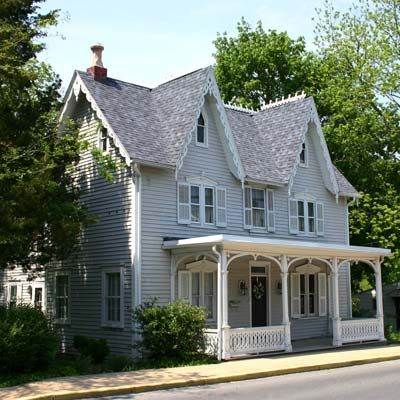 "We still have work to do," says Melinda Huff, executive director of the Milton Historical Society about getting her little river town the recognition it deserves. Still, Milton has accomplished quite a bit already. Settled in the early 1680s, the town's Historic District was listed National Register of Historic Places in 1982. Now Milton is in the process of nominating 240 more historic homes on the Register as well. Located near the state's eastern shore at the Broadkill River's head, Milton was, at various times, a 19th-century schooner-building center, the "Holly Capital of the World," and a hotbed for buttonmaking. Nowadays it's just a friendly small town, with nearly 2,000 parents, kids, grandparents, and young professionals who love Milton for summer's sweet corn, cones from King's Ice Cream, and other favorite summer pastimes, like fishing, canoeing, and gardening.
The Houses
About 40 percent of Milton's homes have been restored, but there are still plenty of deals to be had. The Milton National Historic District includes 198 National Register—listed structures—among them Colonial, Federal, Greek Revival, Gothic Revival, Italianate, Second Empire, Queen Anne, and Colonial Revival homes—plus bungalows and vernacular styles. Some contain wide-plank floorboards taken from sailing vessels, stained-glass windows, hand carvings, and newel posts made of walnut or oak. Currently, an 1830s vernacular home with Federal characteristics is on the market for $200,000, though it needs a fair amount of restoration work.
Why Buy Here?
Anyone who enjoys boating, fishing, or maritime history—which is well documented at the Milton Historic Society's museum—would feel pretty comfy here. Milton is also home to the famed Dogfishhead brewery, so you won't ever have a hard time tracking down some fresh 90-Minute IPA or Chicory Stout.
Among the best for: The Northeast, Waterfront, Family Friendly, First-Time Buyers, Small Towns, Gardening, Walkability
Normal Hill, Lewiston, Idaho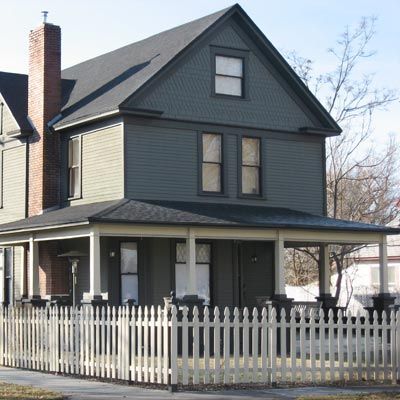 From the front porches of noble Victorian-era houses in Lewiston's Normal Hill neighborhood, one can see cargo ships resting at the confluence of the Snake and Clearwater rivers, packed with Idaho wheat and ready to embark on export journeys to the Pacific Rim. Located in the Lewis Clark Valley, this city of about 33,000 has the distinction of being the West's most inland seaport, some 465 miles from the coast. One of its most established—and beloved—old neighborhoods is Normal Hill, which got its name from Lewiston State Normal School, a 19th-century teacher's college, and is now home to Lewis-Clark State College. LCSC offers the families and students who live here entertainment options from theatrical performances to basketball games. Locals can also easily walk down Fifth Avenue to the many bars, restaurants, and bakeries in downtown Lewiston.
The Houses
Homes here range from late-19th-century Queen Annes with river views to smaller Craftsman-style bungalows and Tudor Revival cottages, many of which have ample yards for gardening. We found a stunning 1,614-square-foot 1928 Craftsman with all its original built-in cabinetry—and a cool 1940s retro kitchen—for $120,000. Prices for river-view houses range from $130,000 up to $300,000, depending on size.
Why Buy Here?
Lewiston is part of the nation's "banana belt," meaning it has mild winters and hot summers. While we think it's one of the best places in the country to find an old house, Outdoor Life magazine recently named it the Number 1 town in America for sportsmen, due to the amazing fishing and hunting opportunities offered by nearby Hells Canyon.
Among the best for: The West & Northwest, Bargains, Fixer-Uppers, Waterfront, Cottages & Bungalows, Singles, First-Time Buyers, Victorians, Gardening, Walkability
Augusta, Kentucky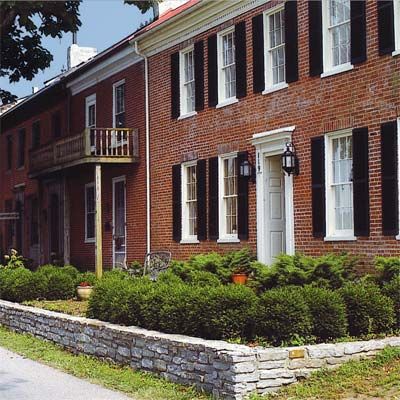 While Augusta has its share of antique shops and pubs, as well as top-notch restaurants that draw gourmands from all over the Bluegrass State, the most pleasurable thing to do may be to sit on a Riverside Drive bench and watch the Jenny Ann ferry glide back and forth across the Ohio River, as it has since 1798. Aside from pretty vistas, this city of 1,300 is known as the former home of "Mambo Italiano" singer Rosemary Clooney—whose house has been converted into a museum—and her dashing nephew, George, who attended Augusta Independent High School. "George's parents still live here," says Doug Padgett, Augusta's director of tourism, "but when he comes back into town, he's pretty discreet about it."
The Houses
Riverside Drive is lined with stately 19th-century brick rowhouses built for the old town's river merchants, who transported tobacco, livestock, and wine. Today, several small wineries call this part of Kentucky home. Both townhouses and detached houses here run from $250,000 to $400,000—the view makes them worth every penny—but more affordable houses can be found along Second and Fourth streets, where we spotted a completely renovated four-bedroom Queen Anne for $185,000.
Why Buy Here?
"This town hasn't changed for a long time," says Padgett. "You can still see the remnants of the good old days—the small mom-and-pop stores and the quiet streets lined with shade trees." In recent years, Padgett has seen both commuters and retirees from Cincinnati, about 42 miles away, move here for the peace and quiet, and for the opportunity to virtually time travel to a simpler way of life.
Among the best for: The South, Waterfront, Retirees, Family Friendly, Victorians, Rowhouses, Walkability
Deering Center, Portland, Maine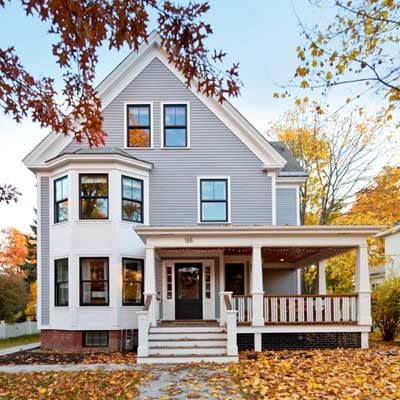 Deering Center's claim to fame: It's said to be the one place in the U.S. where a child can go to kindergarten on up through college all on the same street. Along with Longfellow Elementary School and Deering High School, the neighborhood's Stevens Avenue is also home to the University of New England. An early trolley-car suburb, Deering Center was annexed by Portland in 1899. It was ideal for child-rearing, with set-back houses, sidewalks, and an enormous wooded park with hiking trails as a haven from the city. For some years, residents have been fixing up homes by famed Portland architect John Calvin Stevens and peeling mid-century siding from the facades of their historic houses. "We have it all," says Naomi Mermin, president of the Deering Center Neighborhood Association, citing a diverse population of several thousand, an old-fashioned butcher, and cross-country ski trails at the park as proof.
The Houses
The streets here display a "higglety-pigglety mix" of home styles, according to Merman, including Italianates, Queen Annes, Colonial Revivals, Foursquares, Craftsman bungalows, Sears kit houses, and a farmhouse-influenced style that locals refer to as the "New Englander," the majority built in the 20th century's first half. Prices start in the mid-$200,000s and top out at $500,000.
Why Buy Here?
Want a nearly turnkey nest, rather than a roll-up-your-sleeves project? "This is not a neighborhood where you'll find houses in bad shape," Merman says. "Houses in fairly original condition, needing updates but otherwise in good shape, are easy to find." And many older homes here are multifamily dwellings including rental units; these large houses not only offer income potential, but prove remarkably energy-efficient during Maine's long, cold winters.
Among the best for: The Northeast, Family Friendly, Cottages & Bungalows, City Living, First-Time Buyers, Easy Commute, Walkability
Easton, Maryland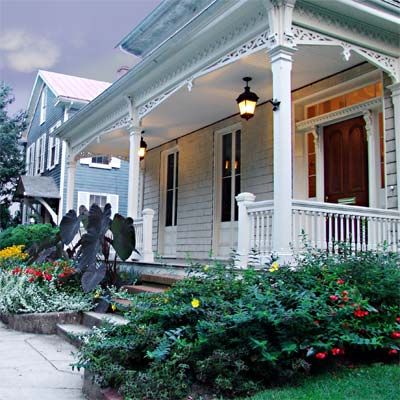 "I'm going to see Randy Newman at the Avalon downtown this month—and I'm walking to the theater," says Beth Hansen, boasting about the walkability of her adopted hometown of Easton. Hansen, who moved here from Oakland, California, six years ago, also loves the town's active arts community and gourmand-caliber restaurants, not to mention its indy coffee shops, clothing boutiques, and wine bars. Easton, which is home to about 14,000 people, has long been a hot spot for Washingtonians looking for second homes or retirement sweet spot. That makes sense: Downtown offers all of the cultural amenities big-city Beltway types demand, while Easton's outlying areas on Chesapeake Bay provide boating, duck hunting, fishing, and some pretty inspiring natural scenery to boot.
The Houses
Like Hansen, many residents here choose to live in the downtown area's historic Victorian-era houses, including Folk, Second Empire, and Queen Anne homes. We found a 3,480-square-foot Folk Victorian within walking distance of downtown for $129,000; a 4,175-square-foot, five-bedroom Second Empire farmhouse, located minutes from downtown on 2.69 acres of land, was selling for $346,000. Those who covet coastal views will find waterfront houses on Chesapeake Bay, about 15 minutes outside of town (expect to pay $700,000 and up for those properties).
Why Buy Here?
Prices were skyrocketing in Easton before the real estate bust, but now you can pick up a solid old house in town for less than $200,000. Easton is located 72 miles east of Washington, D.C., so it remains an excellent choice for second-home buyers. With its good schools and safe streets, it's also ideal for families with children.
Among the best for: The Northeast, Waterfront, Family Friendly, Victorians, Small Towns, Walkability
Ipswich, Massachusetts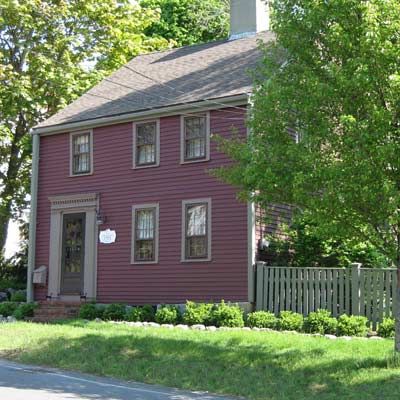 Some 30 miles northeast of Boston is the beachfront town of Ipswich, known to have inspired Theodore Wendel and other American Impressionist painters with its rolling hills, salt marshes, open farmlands, and classic maritime scenery. Ipswich is now home to almost 14,000 residents, including retirees, families, and everyone from working-class fishermen to well-known writers and artists. Environmentally focused preservation societies take great care to protect the town's natural resources, while locals and visitors enjoy horseback riding on country trails, canoeing and kayaking on the Ipswich River, cavorting on Crane Beach's white sands, and, of course, feasting on the famous Ipswich clams. Jean Moss, who conducts historic-home tours here, says, "I've never lived in a place where people loved their town so much."
The Houses
Of the 180 historic houses here, 58 were built before 1725, making Ipswich the home of more First Period houses than any other U.S. community. Typically family owned and rarely found on the market, these early structures are mainly Postmedieval English timberframe dwellings featuring saltbox rearward extensions. Queen Anne and Italianate homes built around the turn of the 19th century are also here, and tend to go for around $600,000. On the lower end, a 3-bedroom 1928 Colonial Revival in need of gut renovation—and a hike from the town center—is listed for $169,900.
Why Buy Here?
You can live near the beach as a one-car family! Ipswich is one of only a few Boston-area seaside towns with its own train station, walkable from the town center.
Among the best for: The Northeast, Waterfront, Retirees, Family Friendly, Small Towns, Outdoor Activities, History Happened Here, Easy Commute, Walkability
Heritage Hill, Grand Rapids, Michigan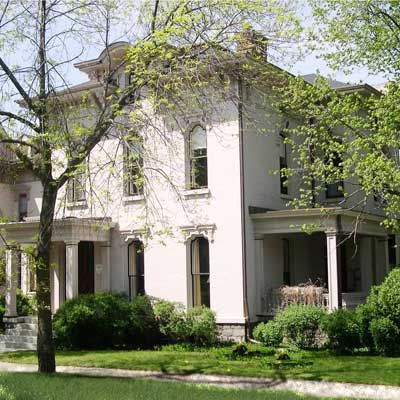 This neighborhood is a mecca for people who love historic American architecture. Not only are the homes storied, the fact that they stand is significant to preservation societies across the U.S. Urban-renewal plans for Grand Rapids during the 1960s had doomed this treasure trove of old houses, but the community fought to protect them. In winning the landmark case, members of the Heritage Hill Association set a precedent: Federal planning agencies are now required to consider their projects' effects on historic properties.
Surrounded by five urban colleges (including Grand Valley State and Kendall College of Art and Design), Heritage Hill is a cultural center, flourishing with artists, philanthropists, and restaurants. Manicured gardens are celebrated here, especially in May, when a public tour offers owners a chance to show off their homes and horticultural skills. Heritage Hill is diverse, with college students, singles, couples, and families from all backgrounds.
The Houses
The 1,300 homes here include some dating back to as early as 1844, and a remarkable array of styles is represented. You'll see everything from Italianate and Chateauesque houses to later Tudor Revivals; there's also a wealth of Greek and Colonial Revivals, Queen Annes, and even a Frank Lloyd Wright Prairie-style home. TLC-craving mansions may sell for around $200,000, but if you seek something more turnkey, you could find a loved three-bedroom 1886 Folk Victorian with Eastlake details for around $170,000.
Why Buy Here?
Though short sales and foreclosures haven't hit Grand Rapids (long the center of the office-furniture industry) as they have Detroit and other automotive cities, the down market hasn't overlooked Heritage Hill. Today, you can grab the former castle of a lumber baron or wealthy judge—and walk from home to work in the city's center—for what amounts to pocket change in other places.
Among the best for: The Midwest, Bargains, Fixer-Uppers, College Towns, Retirees, Singles, City Living, Victorians, Gardening, Easy Commute, Walkability
Compton Heights, St. Louis, Missouri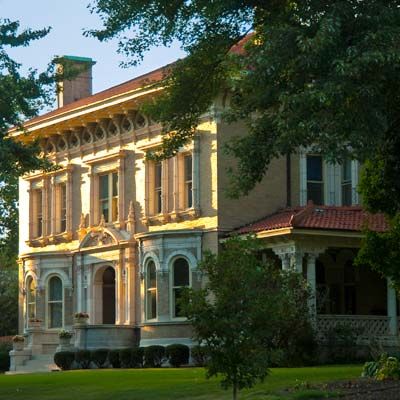 In this storied southside St. Louis neighborhood, children cavort on shady lawns bordering massive brick and stone houses, any of which could legitimately be referred to as "our manse." The streets are named after men of letters, such as Hawthorne and Longfellow. The literary theme makes sense. Compton Heights was developed in the 1880s, and to this day feels torn from the pages of a Victorian novel. The neighborhood has other charms, too. "The homes here are unbelievable!" says Gregory Zavaglia, who with his wife, Cayce, scored a 5,800-square-foot 1911 Beaux Arts house several years ago. The home features stained-glass windows, hand-painted murals, vaulted ceilings, and a red mahogany staircase. A nearby fixer-upper version of the Zavaglias' house recently sold for less than $200,000.
The Houses
They were built by the city's most affluent beer barons and businessmen, who sought out the finest architects and took opulent styles—such as Beaux Arts and Richardsonian Romanesque—to more flamboyant heights. Prices start at around $190,000 for a large house in need of a gut renovation. While many single-family homes have been restored, others, owned by longtime residents, hit the market as excellent shining-up opportunities.
Why Buy Here?
Unlike many urban neighborhoods, Compton Heights has never experienced a period of significant decline. The entire section is listed as a local historic district. A 60-year-old homeowners association keeps things tightly knit, and the nabe is a block from Reservoir Park, a 36-acre green space.
Among the best for: Midwest, Bargains, Fixer-Uppers, City Living, Family Friendly, Easy Commute, Walkability
Bozeman, Montana
Set in the Gallatin Valley north of Yellowstone National Park, Bozeman is a little city with a lot of space—and four seasons to celebrate it. Summer brings produce, dairy, and meat to every foodie's must-stop, the Bogert Farmers' Market. Main Street art walks spotlighting local galleries stretch into autumn. And residents hardly hibernate when temperatures drop: Peet's Hill offers sledding daredevils a slope in downtown Bozeman. "You can not drive your car for a week, and not realize it," says Anne Sherwood, a photographer who moved here 15 years ago after the wide-open-land bug bit. Spring fever, of course, prompts Montana State University and its 11,000 students to awaken from long months of study. "The school brings refreshing diversity," Sherwood says. "A guy from Congo is on the soccer team, and a woman runs track in Muslim headdress."
The Houses
From Spanish Colonial Revival and Tudor styles to vernacular farmhouses, Queen Annes, and Craftsman bungalows, a range of homes resides in Bozeman's historic overlay. South Willson Avenue boasts mansions dating to the 1880s, when the Northern Pacific Railroad was laid and cattle barons, doctors, lawyers, and other wealthy locals put down foundations; more modest streets such as Lindley Place offer lower-priced dwellings. We found several bungalows packed with potential and built before 1930 for $200,000 or less.
Why Buy Here?
Bozeman is one of Montana's most expensive markets, but there are deals. "We had a bust like most of the country," Sherwood says. The city's five-year tax abatement program encouraging respectful restorations on historic properties can score you long-run savings.
Among the best for: The Midwest, College Towns, Cottages & Bungalows, Singles, Victorians, Walkability, Outdoor Activities
Field Club Historic District, Omaha, Nebraska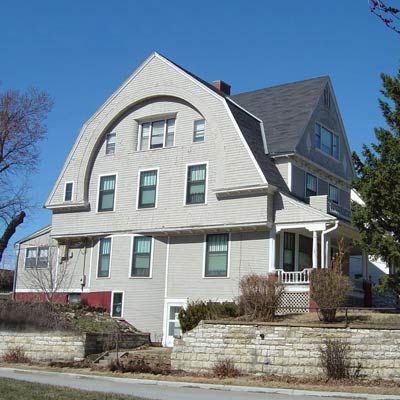 This old neighborhood southwest of downtown got its name from the Field Club of Omaha, a smashing-good-time country club that opened here in 1898. Many residents of this shade-tree-studded area are longtime members, and walk over to swim laps or hit some golf balls. Those who forego the annual dues find plenty of free recreational opportunities at nearby Hanscom Park, Omaha's oldest green space. Joiners or independents, Field Club hangs on to people. "It's the kind of neighborhood where several generations of the same family might live," says Jill Nienaber, president of the Field Club Homeowners League, a feisty group that's protected these green streets and the homes on them from deterioration and—through the many parades and festivals it sponsors—the residents from boredom since 1947.
The Houses
The oldest properties are ornate and cavernous Queen Annes built in the late 19th century for the city's wealthiest residents, and overlooking Hanscom Park. Most construction, however, took place between 1900 and 1920, and architect-designed homes from that period are of the Foursquare, Colonial Revival, Mission, and Tudor styles, among others. Prices start at around $125,000 for older homes in need of repair, with the average price about $200,000.
Why Buy Here?
Thanks to the recent completion of a mixed-use development a few blocks north of the neighborhood, a slew of new restaurants, shops, and pubs, as well as a grocery store and movie theater, have opened within walking distance of Field Club. A well-traveled area bike trail lets you pedal your way there in less than 10 minutes.
Among the best for: The Midwest, Retirees, Family Friendly, Singles, First-Time Buyers, Victorians, Easy Commute, Walkability, Outdoor Activities
Powning's Addition, Reno, Nevada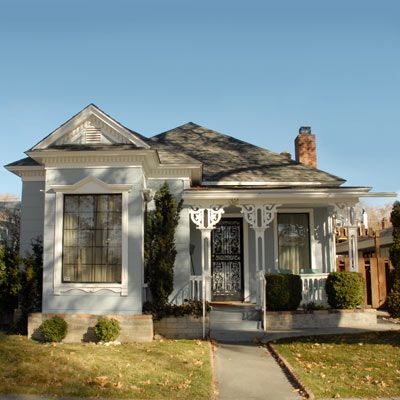 "It's cuter than hell," Jack Hursh says of the early-20th-century bungalow he owns here in Powning's Addition. In fact, there are lots of cute houses to go around in this historic neighborhood just west of downtown Reno. Founded in 1888 by C.C. Powning, a transplant from Wisconsin, the area was once popular among turn of-the-century Italian-American immigrants, who took full advantage of the spacious lots the houses offered, planting them with vegetable gardens and the occasional small vineyard. After a rough patch in the 1970s and '80s, young professionals and retirees starting moving here, and they worked together to fix up its long-neglected properties. "It's pretty quaint now," says Jack. "And there's something to living in a smaller house—and not having a long commute to Reno."
The Houses
Most were built between the late 1880s and 1920. Queen Annes and brick Craftsman bungalows dominate the mix. Jack bought his bungalow—with its original mahogany woodwork—for just $77,000, and all he really had to do was update the house's only bathroom.
Why Buy Here?
Hundred-year-old homes for less than $100,000 bucks? That's good enough for us.
Among the best for: West and Northwest, Cottages and Bungalows, Victorians, Waterfront, College Towns, Singles, Retirees, Easy Commute, Walkability, Outdoor Activities, Gardeners
Lambertville, New Jersey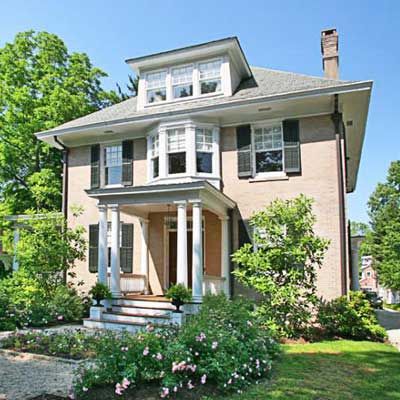 Everything from hairpins to toilets was once manufactured in tiny Lambertville. But the former industrial center has changed: This Delaware River enclave is now home to nearly 5,000 artists, writers, retirees, shop owners, and big-city professionals (who brave 45- or 90-minute commutes to Philadelphia or Manhattan, respectively). What Lambertville lacks in population it makes up for in house-reviving spirit. It's a hotbed for carpenters, masons, architects, antiques dealers, and other home-restoration pros, and a destination for those embarking on the endearingly prickly journey of rehabbing an old home. Mornings, you can stroll the Union Street antiques shops or the nearby renowned Golden Nugget Antique Market.
The Houses
A history dating back to 1705 means Lambertville has accumulated a wide range of architectural styles. "Every house is unique," says Holly Havens, a real estate agent who settled in Lambertville in 1995. The town center offers early-19th-century Federal to Greek Revival and later Italian Villa, Gothic Revival, English Cottage, French Second Empire, and Queen Anne homes, as well as 1850s rowhouses built for Irish canal workers. Craftsman bungalows and vernacular cottages dot outlying hills. Those game for heavy lifting can grab a storied house with good bones for a song. We found a two-bedroom Colonial rowhouse dating to the 1700s for $168,000 (yep, it needs work).
Why Buy Here?
If you're looking for a small—but growing—artisan-friendly town, or a commutable rural pocket, Lambertville is your place. "It's Oz," says Havens. "We're so tucked away." And did we mention the deals?
Among the best for: The Northeast, Bargains, Waterfront, Retirees, Singles, First-Time Buyers, Small Towns, Outdoor Activities, Walkability
Bay Ridge, Brooklyn, New York
Once home to thousands of Norwegian shipbuilders as well as Italian and Irish immigrants, this old-school Brooklyn neighborhood on New York Harbor's shores is a down-home kind of place. Families walk together after church on Sundays or gather at the locally owned restaurants and bakeries that line Third Avenue. This is a serenely diverse neighborhood, where you can hit a Norwegian pastry shop, an Italian butcher, and a Middle Eastern grocery all on one block; and it offers great views of the Verrazano-Narrows Bridge. "We like things subdued here," says Victoria Hofmo, who grew up in the community of 70,000. "We also like all the green space, the waterfront access, and the village atmosphere. We've got it all."
The Houses
Two- and three-story single- and multi-family brick and brownstone rowhouses are common, as are wood-and-stucco Tudor-style and limestone-front Renaissance Revival rowhouses. This is New York City, of course, where "affordable" means anything under seven figures. A two-story brick rowhouse with original millwork and pocket doors might go for $500,000. A restored 1930s Tudor rowhouse recently listed at $558,000. Renaissance Revivals start at $700,000.
Why Buy Here?
It's just over an hour by subway to midtown Manhattan. Young families and professionals are coming for what is now unattainable in most New York City nabes: a single-family house.
Among the best for: The Northeast, Waterfront, City Living, Family Friendly, Walkability, Rowhouses
Bartlesville, Oklahoma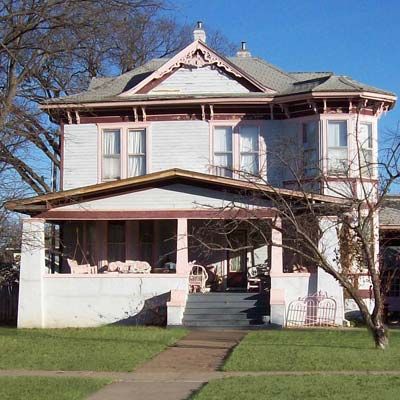 Oil does funny things to a place. Its discovery in 1897 in the Indian Territory near what would become Bartlesville brought oil men from Pennsylvania who got rich, built elaborate homes to compete with one another, and established a town with an ingrained appreciation for arts and architecture that persists today. The barons clustered along South Cherokee Avenue and the streets parallel to either side; their grand houses stand well maintained, just south of the restaurants and shops of downtown. County assessor Todd Mathes and his wife bought a two-and-a-half-story Foursquare here nearly six years ago. "We had four children and then adopted four girls, so our family doubled overnight," Mathes says. From the family home, it's a three-block walk to the cultural center that hosts the town's homegrown symphony and ballet; a block farther sits Price Tower, a 19-story mixed-use building and one of only two skyscrapers Frank Lloyd Wright ever built.
The Houses
Starting at about $100,000, you can find Queen Annes, Tudor Revivals, Craftsman-style and a plethora of other bungalows, many of which trade on elements from an eclectic mix of styles.
Why Buy Here?
To sweeten the deal, Oklahoma boasts one of the lowest property-tax rates in the country, and in Bartlesville that means you pay about $1,400 annually on a $100,000 house. "People don't hate me," says tax man Mathes. "And they realize the value of good schools and roads."
Among the best for: The Southwest, Bargains, Retirees, Family Friendly, Cottages & Bungalows, First-Time Buyers, Victorians, Small Towns, Easy Commute, Walkability
Historic Bethlehem, Bethlehem, Pennsylvania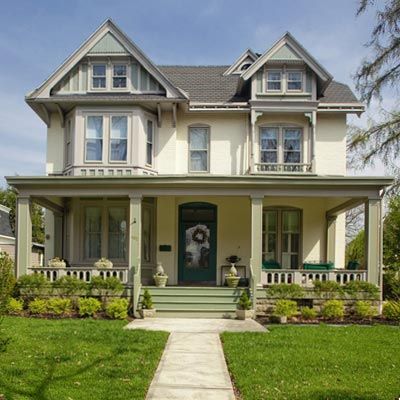 Home to America's second-largest steel producer until Bethlehem Steel closed, in 2003, this city of 72,000 is about 70 miles north of Philadelphia and 81 miles west of New York City. Many retired millworkers still live here, these days next door to 30- and 40-something professionals who've chosen Bethlehem for its almost-sane metropolis commute. Lehigh University and Moravian College are both here, contributing to a thriving historic-district arts scene that includes free concerts, house and garden tours, and monthly art shows inside the glass walls of the town hall rotunda. On Main Street, the Moravian Bookshop, the country's oldest continuously operating tome seller, stands among well-traveled restaurants and coffeehouses. Historic Bethlehem has a community feel: Neighbors attend town meetings, walk to the single-screen Boyd Theatre for a flick, and catch their dinner at Monocacy Creek, a trout stream off the Lehigh River.
The Houses
The neighborhood is stocked with two-and-a-half- and three-story Italianates, Queen Annes, Second Empires, and Gothic Revivals built near the turn of the 20th century. Got elbow grease? One of these ornate Victorians can be had starting at —300,000. A fully restored one is more likely to ring up for —600,000 or more. Historic Bethlehem also has rowhouses in the —175,000 range, and wherever you stroll, history abounds. As local Realtor Barbara Fraust says, "You can traverse centuries in eight blocks."
Why Buy Here?
The Keystone State is known for its affordable living, for families and empty nesters alike. Retiree alert: You won't pay state tax on pension income in good old Pennsylvania.
Among the best for: The Northeast, Waterfront, College Towns, Retirees, Family Friendly, Victorians, Walkability
Melrose Heights Historic District, Columbia, South Carolina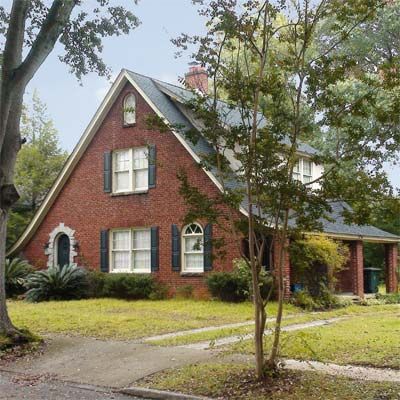 The words "unsung gem" came to mind when we discovered Columbia's Melrose Heights. Though it's less than 2 miles from both the state capital building and the University of South Carolina, it manages a low profile. But with family amenities including affordable homes, some of Columbia's best public schools, and a five-minute commute to downtown, it's a neighborhood to know. On any given Saturday, joggers and bicyclists share the shady streets, and dads play fetch with dogs—or kids—on the grassy lawns. "We didn't have to build playground equipment," says John Sherrer, an eight-year resident and father of two grade-schoolers. "It was there in Melrose Park." In 2003, the community voted in favor of the neighborhood, founded in 1900, being designated an architectural conservation district. The result: All residents take pride in their kept gardens and eclectic homes, creating block upon block of curb appeal.
The Houses
Tudor Revival, Craftsman, Colonial Revival, and Prairie styles abound on these orderly streets, with vernacular homes, '40s brick cottages, and kit houses, like those from Sears and Aladdin, making a good showing. We found a renovated four-bedroom 1936 Tudor Revival in the neighborhood's heart for $355,000; smaller or less turnkey options can be snagged for under $150,000.
Why Buy Here?
Melrose Heights has reaped benefits from its historic preservation efforts without losing accessibility. "It is not an 'Old South' Greek Revival neighborhood with enormous, unattainable houses," says city planner Jerre Threatt. "It is an intact early-1900s suburban neighborhood with a diverse offering of architectural styles at affordable prices."
Among the best for: The South, Bargains, College Towns, Family Friendly, Cottages & Bungalows, City Living, First-Time Buyers, Gardening, Easy Commute, Walkability
University District, Salt Lake City, Utah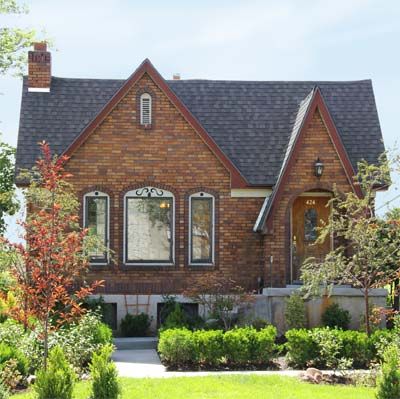 Young families live alongside professors and college students in this Salt Lake City neighborhood between downtown and the University of Utah campus. Think of the University District as a perfect college town, where residential streets divided by grassy medians are within walking distance of locally owned pizza parlors and coffee shops; and where a sea of residents, donning their finest red and white, migrate to nearby Rice-Eccles stadium on autumnal Saturdays to watch their beloved Utes play football. "People love this neighborhood," says Realtor Celeste Council, whose clients are drawn to its progressive vibe and the close-set houses, which she says adds to the University District's sense of community. The neighborhood had a scare in the 1970s when developers started knocking down historic houses to make way for apartments and commercial buildings. But residents fought back, secured new zoning laws, and got a large chunk of the neighborhood listed on the National Register of Historic Places.
The Houses
Most are brick or clapboard Folk Victorians built for University of Utah professors and employees between 1900 and 1920. Other styles include Gothic Revival, Queen Anne, Tudor, and Craftsman. You can get a modest two-bedroom Folk Victorian for less than $200,000, though larger homes are priced $500,000 and up.
Why Buy Here?
Preservation-minded buyers are purchasing and renovating an increasing number of the old houses here, ensuring that this historic neighborhood retains its classic architecture and character. Many smaller, low-carbon-footprint houses are also bringing eco-savvy buyers, who install solar panels, swap thirsty lawns for xeriscaping, and use rain barrels to collect water for gardens. University District residents are also eschewing cars, relying on bicycles and Salt Lake City's light-rail system to get to and from downtown.
Among the best for: The West & Northwest, Fixer-Uppers, College Towns, Family Friendly, Cottages & Bungalows, City Living, Singles, Gardening, Easy Commute, Walkability
Wallingford, Seattle, Washington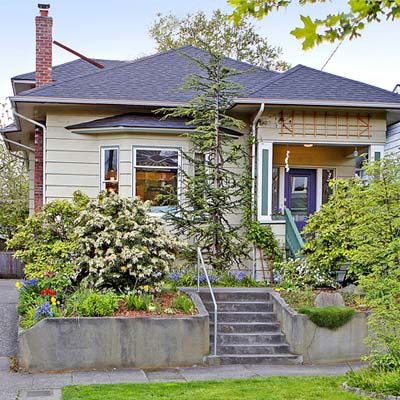 Colorful kites flying and kids rolling down grassy hills are common sights in south Wallingford's Gas Works Park, a 19-acre green space populated by early-20th-century coal gasification structures—decommissioned, rust-colored symbols of Seattle's industrial revolution. Wallingford is a walkable neighborhood with access to Seattle's Burke-Gilman Trail, a 14-mile path for cyclists, joggers, and skaters. A farmers' market, an independent movie theater, bars, restaurants, and attitude-rocking coffee shops line North 45th Street, the main drag, and with the University of Washington nearby there is a definite college-town feel. "I raised my kids here," says Kris Murphy, a Realtor who's lived here for 20 years. "Now they're teenagers, and they love it."
The Houses
Wallingford is known for its Craftsman bungalows, built between 1906 and the mid-1920s, framed with Douglas fir from local mills; most have front porches and lush backyards. Wallingford is built on a gentle hill rising from Lake Union, making for some spectacular Space Needle views. Expect to pay upwards of $600,000 for a 2,000-square-foot home in good condition, or hold out for one needing upgrades in the mid-$400,000s.
Why Buy Here?
Families, artists, old-time Seattle hippies, and new money give Wallingford a creative, entrepreneurial spirit. Easy access to I-5 and SR-99 makes for a quick trip downtown for shopping, culture, and fresh seafood from Pike Place Market.
Among the best for: The West & Northwest, College Towns, Family Friendly, Cottages & Bungalows, Singles, City Living, Easy Commute, Walkability, Outdoor Activities, Gardening
The Washburn-Lawrence Neighborhood, Sturgeon Bay, Wisconsin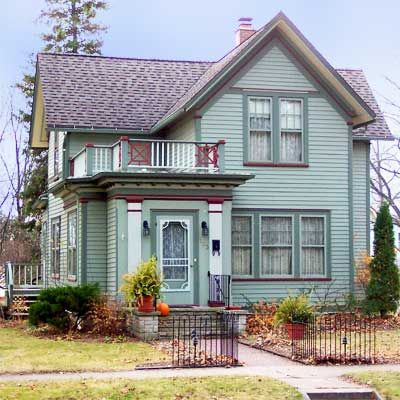 The historic Washburn-Lawrence neighborhood is in the middle of Wisconsin's picturesque Door Peninsula, between Lake Michigan and Green Bay. It's home to about 420 of Sturgeon Bay's 9,700 residents. Whether they're gardeners, boaters, or cross-country skiers, retired-age folks and family types of all ages are attracted to the area's temperate climate; the lake and bay keep summers breezy and winters mild. Canopies of mature maples and preserved sidewalks grace the neighborhood's residential streets, which are home only to domiciles, bed-and-breakfasts, and churches. Homey cafés, art galleries, and the old-time Third Avenue Playhouse sit just two blocks away in Sturgeon Bay's walkable downtown area.
The Houses
Seventy-one of the neighborhood's 180 dwellings are historic Italianates, Queen Annes, Classical Revivals, or Craftsmans, most built between 1881 and 1931. Bargain hunters with a yen for reno can find restoration-worthy options—usually in need of roof replacement and foundation work—starting around $100,000.
Why Buy Here?
A tourism hotspot, the peninsula hosts 2.2 million vacationers every year. They join locals in the orchards for apple and cherry picking, and attend tastings at local wineries. If you've always wanted to open a specialty shop in a quaint town or turn a historic Queen Anne into a bustling bed-and-breakfast, this may be the place for you.
Among the best for: The Midwest, Waterfront, Retirees, Family Friendly, City Living, Victorians, Gardening, Outdoor Activities, Easy Commute, Walkability
Old San Juan, Puerto Rico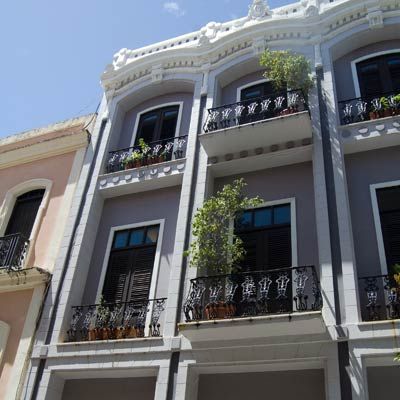 It's said that you need to be either a poet or loco to live in Old San Juan, where Old World charm meets decidedly New World eclecticism. Packed into the winding streets of this fortified Caribbean peninsula are artists, students from three universities, shop owners, café culture knockabouts, lawyers, musicians, millionaires, government employees, and the gobierno himself, who lives in La Fortaleza; built in 1540, it's the longest-occupied governor's mansion in the Western Hemisphere. Neighbors chat over café con leche at places like La Bombonera every morning, and a walk on the blue-gray cobblestones, called adoquines, leads past impeccable, colorful Spanish Colonial rowhouses on par with those of Madrid.
The Houses
Restoring a Spanish Colonial, with its 2-foot-thick walls, brick-lined cisterns, and lead-pipe plumbing, is a long, involved process that is strictly overseen by the Instituto de Cultura Puertoriqueña. "They have a say inside and out, down to the hinges," says Realtor Margarita Gandía, whose mother was one of San Juan's first Realtors in the 1950s. A shell might go for $300,000. Homes requiring less than a gut-renovation can command $600,000. Finished, properties are worth $1 million or more.
Why Buy Here?
The upside to following strict preservation guidelines is that if the result passes inspection, you'll pay nothing in property taxes. That status has to be renewed every 10 years, under inspection, which keeps the neighborhood in top form.
Among the best for: The South, Fixer-Uppers, College Towns, Waterfront, Retirees, City Living, Rowhouses, History Happened Here, Easy Commute, Walkability
Eckington, District of Columbia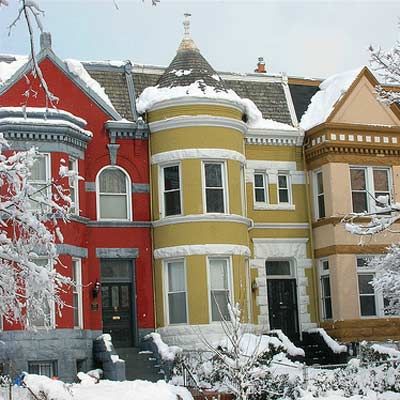 Forget Bethesda and Arlington. When technology director Steve Rynecki moved from San Diego, California, to Washington, D.C., in 2002, he wanted to live inside the city limits. He also wanted an older place with period details—a Federal rowhouse on Capitol Hill or a red-brick Queen Anne in Columbia Heights. Unfortunately, digs in those neighborhoods were priced over the half-million-dollar mark. So Steve looked to the district's northeast section and found what he was looking for: an 1893 rowhouse for around $250,000. "The price was right, the architecture was amazing, and the metro a 10-minute walk," he says. Originally the province of powerful Victorian-era politicians and business owners, Eckington later became a stronghold of D.C.'s African-American middle class. These days, it's a magnet for anyone looking to eschew the Beltway 'burbs and find fixer-uppers and freshly renovated homes in a cool, urban spot just a 10-minute drive from Capitol Hill.
The Houses
Most are brick Federal, Queen Anne, or Colonial Revival rowhouses. We found a renovated six-bedroom 1913 Colonial Revival rowhouse for $249,000. Of the renovations-needed ilk: a four-bedroom brick Victorian-era rowhouse, with a turret, for $345,000.
Why Buy Here?
Government offices have opened around the five-year-old Florida Ave/New York Ave metro stop that's just a stone's throw from Eckington. Newly opened restaurants and clubs near the revitalized Atlas District give residents plenty of entertainment options, too. "It's being discovered as an affordable place to buy a house in D.C.," adds local Realtor Michelle Buckman, "and there's a lot of renovating going on."
Among the best for: The Northeast, City Living, First-Time Buyers, Victorians, Rowhouses, Easy Commute, Walkability
St. John's, Newfoundland and Labrador, Canada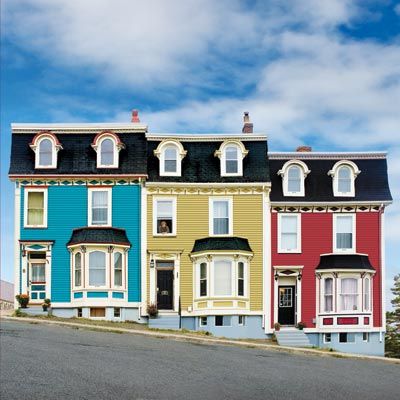 Newfoundland stands apart from Canada, an island with its own time zone, dictionary of idiomatic English, and buoyant cultural pride. The downtown district of capitol city St. John's, built in a geographical bowl on a protected harbor, is a knot of steep streets where a local politician might live next door to a scruffy musician gigging at the Duke of Duckworth pub. Civic-minded residents boast that downtown St. John's postal code comprises more artists per capita than any other in Canada, and the Newfoundland narrative looms large in the form of a massive gallery, archive, and cultural center called The Rooms that overlooks the area.
The Houses
"We love our 'jelly bean' houses," says Dale Jarvis of the Heritage Foundation of Newfoundland and Labrador, referring to rows of three-story Second Empire rowhouses downtown. These structures hew to a remarkably consistent style, all built in the wake of an 1892 fire that burned St. John's to a nub. Uphill, a smattering of Queen Annes and bungalows reside, perched there by merchants hoping to avoid future blazes. Thanks to offshore oil drilling in the last decade, St. John's dodged the housing bust, but rowhouses with room for improvement can still be had for $250,000; freestanding homes list in the $500,000 range.
Why Buy Here?
You haven't had this much fun with color since Crayola came into your life. Local company Templeton Paints has introduced a line of historic Newfoundland hues; the jelly-bean colors, embraced by owners of the downtown rowhouses, are eye candy—and instant motivation to put your paintin' clothes on.
Among the best for: Canada, Fixer-Uppers, Waterfront, Retirees, Family Friendly, Singles, City Living, Victorians, Rowhouses, Easy Commute, Walkability
The London Road Neighborhood, Lethbridge, Alberta, Canada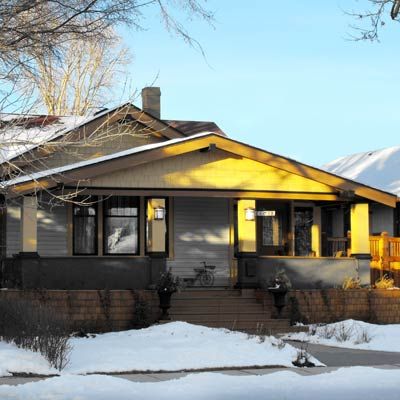 Back in the 1980s, Shell Oil announced plans to demolish a century-old Edwardian-era house in the London Road neighborhood and build a gas station in its place. In response, the London Road Neighbourhood Association immediately circulated a petition, quickly acquiring enough signatures to thwart Shell's plan. Preservation: 1, Big Oil: 0. Now that the battle's been won, residents of this 45-square-block neighborhood, rife with old houses and beautiful gardens, can relax in its three parks, which include playgrounds, tennis courts, and horseshoe pits. London Road is just minutes south of downtown, so theatrical performances at the Yates Memorial Centre or local hockey games at Enmax Centre are just steps away.
The Houses
The neighborhood has some of the city's oldest Queen Anne, Georgian, and Craftsman houses. Starting around $215,000 (USD), you can get a 1,400-square-foot, 1½-story, 1908 bungalow with room for improvement.
Why Buy Here?
With the help of a powerful neighborhood association, residents continue to support the preservation of London Road's historic homes. Real-estate agents note a steady increase in the value of restored homes here, so sinking cash into a fixer-upper can pay handsomely when the renovation is complete.
Among the best for: Canada, Bargains, Fixer-Uppers, Victorians, Family Friendly, Gardening, Walkability
The Crescents, Regina, Saskatchewan, Canada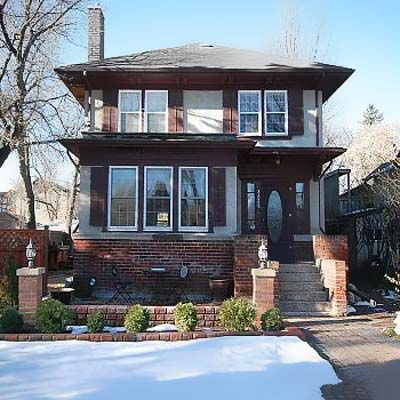 The Crescents was home to Regina's upper-crust residents during the early 20th century. While the affluent still reside here, the neighborhood is also a haven for academics and city types looking for a perfect neighborhood for raising kids. Residents can walk downtown to eat dinner at Regina's gourmand-pleasing restaurants or hike to Mosaic Stadium to watch the Canadian Football League's Saskatchewan Roughriders take on the Montreal Alouettes or the Calgary Stampeders.
The Houses
Most were built in the early 1900s and are fronted by mature trees and lush landscaping. Houses include Craftsmans, Queen Annes, and Tudors. Prices are from $250,000 to $1,000,000.
Why Buy Here?
The Crescents is a 15-minute walk from downtown Regina, a city of 190,000. But its real selling point is access to Wascana Centre, a 2,300-acre park that's home to the Royal Saskatchewan Museum, the Saskatchewan Legislative Assembly building, the Regina Conservatory of Music, and an enormous man-made lake. Thanks to this region's ample natural oil, gas, and potash reserves, the local economy thrives relative to the rest of Canada and the United States.
Among the best for: Canada, College Towns, Family Friendly, City Living, Outdoor Activities, Gardening, Easy Commute, Walkability
The West Broadway Neighborhood, Winnipeg, Manitoba, Canada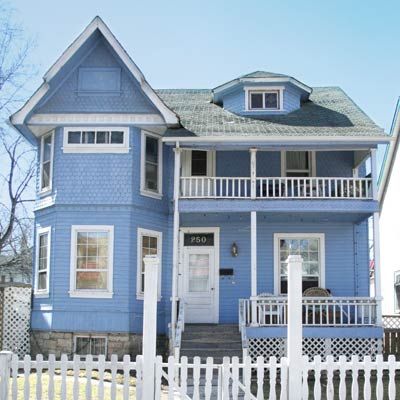 Aside from born-and-bred Winnipeggers, the residents of West Broadway include folks of West African, Middle Eastern, and Eastern European descent. The neighborhood is also popular among artists and art students, many of whom volunteer or take classes at Art City, a nonprofit that offers photography, sculpture, and other classes to West Broadway residents throughout the year. This is a friendly, eco-minded neighborhood, where public gardens and composting drop-offs are par for the course. A popular meet-up spot is Stella's Café & Bakery, a beloved local chain that opened here two years ago. "When Stella's moved in, it kind of legitimized this area," says Drew Perry, an instructor at local Yoga North. "It's definitely turned the corner."
The Houses
This densely packed neighborhood—5,200 residents in less than a square mile—dates to the late 1800s. In the years around the turn of the century, merchants and transportation magnates built fabulous homes along Balmoral and Spence streets. Much of the area's character stems from 208 two-and-a-half-story Queen Annes, stucco Foursquares, and Tudors, which list from $180,000. With luck, you may find 12-foot ceilings, maple and oak floors and moldings, and massive double-pocket doors with etched glass panels inside.
Why Buy Here?
"It's going to be the trendy new neighborhood," says Brian Grant of the West Broadway Development Corporation. This organization puts its money where its mouth is, having helped the area score some $16.5 million in government aid for both public and private projects in the past 10 years. Now's a good time to get in and claim your share of the pie.
Among the best for: Canada, Bargains, Fixer-Uppers, College Towns, Family Friendly, Singles, City Living, Victorians, First-Time Buyers, Gardening, Easy Commute, Walkability
Central Halifax, Halifax, Nova Scotia, Canada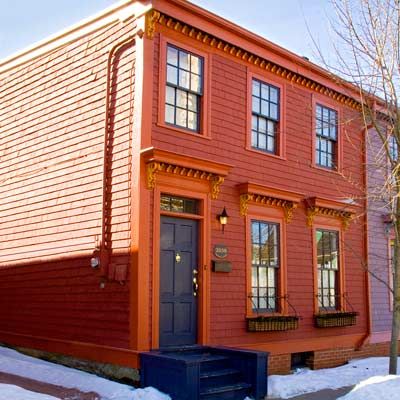 "You have to be a certain kind of person to live in Halifax," says real-estate agent Pam Cherington. "The kind who's concerned about quality of life." A love of the water doesn't hurt, either, since this so-called sleepy city of nearly 400,000 is surrounded by the stuff. Some of the most enviable old homes belong to residents of the Central Halifax neighborhood on the Halifax Peninsula, with its brightly painted townhouses and a five-minute walk to downtown and its restaurants, cafes, and brew pubs—all part of the appeal for the young professionals and growing families who move here. Halifax has a number of universities, too, so there's a steady influx of young people, some of whom never leave.
The Houses
The draw here is the late-19th-century cedar-shingled townhouses, with high ceilings, original pine or Douglas fir millwork, and thick crown moldings. Some are two stories with flat roofs; others are two-and-a-half stories with pitched roofs and dormers. The houses, built by Nova Scotia's sea captains, merchants, and businessmen, can be found in conditions from rundown to impeccably renovated, for prices from just north of $200,000 (USD) on up.
Why Buy Here?
The area declined during the 1980s and '90s, but has spent the last decade as a destination for house flippers, who updated many a kitchen or bathroom. Those obsessed with attractive resale values, however, have mostly moved on, and those coming in are more likely looking to build a community and stay for the long haul.
Among the best for: Canada, Bargains, Fixer-Uppers, College Towns, Waterfront, Family Friendly, Singles, City Living, Easy Commute, Walkability, Rowhouses
Saint Andrews, New Brunswick, Canada
Hailed as the "Jewel in the Crown of New Brunswick," this coastal village in the Bay of Fundy was one of Canada's first pre-fab communities: British loyalists escaping persecution in the American colonies settled here in 1783, some transporting their dismantled homes for rebuilding. Late-1800s Canadian and American urbanites turned Saint Andrews into a summer playground, and the majestic Tudor-style Algonquin Hotel, built in 1889, stands today. Current residents find Saint Andrews a social place despite a high-season population of just 4,000: Locals tee off seaside, watch whales on the bay, and stroll the town's three-mile walking loop. One thing you won't spy here: big-box or chain stores. Local bylaws prohibit them, so Water Street's shops are the 1880s originals.
The Houses
You'll find Cape Cod–style cottages and other early homes put up by Saint Andrews' first-wave settlers, and center-hall Georgians built in the 1830s. A meticulously restored 1770 Cape will set you back about $360,000; one needing TLC might list at $120,000. Big spenders: Note the $699,000 listing of New Brunswick's most photographed home, a 1912 French Eclectic farmhouse with a harbor view and thatched-style roof and turret said to emulate explorer Jacques Cartier's house in Brittany.
Why Buy Here?
Saint Andrews offers more house for your money compared with similar locales farther down the coast, says area real-estate agent Mark Gauley. That may be why it attracts American ex-pats and retirees looking to try out small-town living. It's a 5-hour car ride to Boston—8 to Montreal—should you need a break from the daily waxing and waning of the 28-foot tides. We expect you won't.
Among the best for: Canada, Bargains, Fixer-Uppers, Waterfront, Retirees, Small Towns, Outdoor Activities, Walkability
Leslieville, Toronto, Ontario, Canada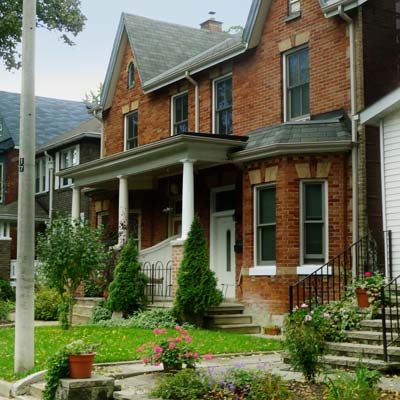 Once gritty and industrial, the east-end Toronto neighborhood of Leslieville (population: 27,000) has gained traction as families, artists, and business owners arrive in droves, lured by the fashionable scene, safe and walkable streets, proximity to local beaches, and—at least by pricey Toronto standards—affordable housing offered here. "Leslieville has completely changed in the past three years," says Jasmin George, who works at the children's boutique Baby on the Hip. Hers is one of many new businesses that have opened in Leslieville in recent years, including pubs, restaurants, markets, bakeries, and a cheese shop.
The Houses
"There's definitely something enchanting about this place," says David Dunkelman, a Realtor who runs TorontoNeighbourhoodGuide.com. Three-story Victorian-era rowhouses with steeply pitched gables line narrow, tree-bordered streets. Prices for two-story rowhouses and vernacular-style cottages start at $300,000 (USD).
Why Buy Here?
It's one of a few desirable nabes near Toronto's center where a reasonably priced home can be scored. Downtown is a swift 15 minutes by car or trolley, and the nearby Lake Ontario beaches can be reached via foot or bike.
Among the best for: , Victorians, Waterfront, City Living, Family Friendly, Singles, First-Time Buyers, Easy Commute, Walkability, Bargains, Fixer-Uppers, Rowhouses