Best Old House Neighborhoods 2011: The Midwest
For the fourth year in a row, we've tracked down North America's most timeless neighborhoods—places where lovingly crafted old houses have extraordinary pasts and unarguably promising futures. With help from our friends at Portland, Oregon-based PreservationDirectory.com—who distributed our nomination forms to more than 14,000 historical societies, neighborhood groups, and preservation nonprofits—we've assembled our biggest-ever list of off-the-beaten-path places that are worth eyeing for a great old home.
From the painted ladies of Ohio to the Second Empires of South Dakota, here are our picks for houses in the Heartland.
Berwyn, Illinois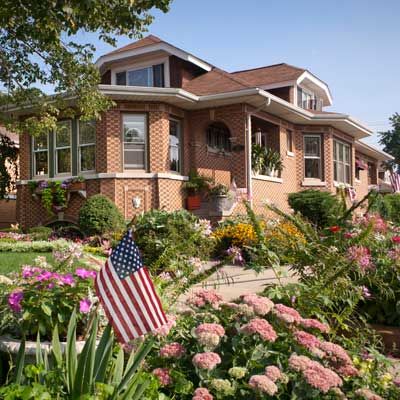 "People used to snicker whenever you mentioned Berwyn," says photographer Matt Schademann, who purchased a brick bungalow here three years ago. Indeed, many Chicagoland residents only knew of the area because of a sci-fi-movie TV showcase on which the host relentlessly chastised working-class Berwyn. But this city of 53,000, just seven miles west of Chicago proper, is shaking its butt-of-joke status thanks to affordable housing stock, a slew of recently opened restaurants, shops, and watering holes, and an enviable proximity to the Loop. The Chicago Tribune even called Berwyn "the center of the middle-income buyer's market." Long ago a stronghold for Czech and Italian transplants, Berwyn is now a choice for families and young suits, as well as artists and writers, looking for a laid-back, livable, more economical alternative to the big city on the lake.
The Houses
Brick bungalows and English Tudors along with wood-sided Queen Annes are the primary home styles here. Thanks to a long history of single-family ownership, most houses retain their original layouts, many with oak millwork, subway-tiled kitchens, and stained-glass windows. The average bungalow price is around
$225,000.
Why Buy Here?
The Berwyn-to-downtown commute is 15 minutes by car, though Chicago's closest elevated-train stop is a bus ride away. The tony Oak Park suburb, made famous as the base of Frank Lloyd Wright's Prairie School of Architecture, is nearby, helping to keep housing values stable.
Among the best for: Among the best for: The Midwest, Cottages & Bungalows, Singles, Easy Commute, Victorians
Greencastle, Indiana
In summer months, when trees are in bloom and DePauw University is on a more relaxed schedule, a walk along Greencastle's streets will evoke a time when homeowners cut their grass with push mowers and television had yet to supplant front-porch views. Sure, the city of 10,000 gleans plenty of 21st-century energy from the annual invasion of students, as well as the young families who choose it for its quick commute to downtown Indianapolis, just 45 miles away. But Greencastle offers old-fashioned advantages: a historically designated town center, an industrious American work ethic (a handful of plants here support the auto industry), a focus on community, and three soon-to-be National Register historic districts, collectively comprising hundreds of affordable homes.
The Houses
The Historic Old Greencastle District, the city's original residential settlement, is the most modest, with a prevalence of Stick-style and Craftsman bungalow homes. The Eastern Enlargement District, largely developed by railroad and industry tycoons at the turn of the 20th century, offers more upscale finds: Italianates, Queen Annes, Tudor Gothic Revivals, and slightly smaller homes with Eastlake details. The later Northwood District has a cache of early-to-mid-1900s homes, mostly Colonial Revivals, Tudors, and bungalows, with a sprinkling of mid-20th-century Minimal Traditional and Ranch. The average price among the homes sold in 2010 was a smidgen under $100,000.
Why Buy Here?
A period home for less than a hundred thousand greenbacks with an easy commute to the 14th-largest city in the nation. 'Nuff said.
Among the best for: The Midwest, Bargains, College Towns, Family Friendly, Cottages & Bungalows, First-Time Buyers, Victorians, Easy Commute
Elkader, Iowa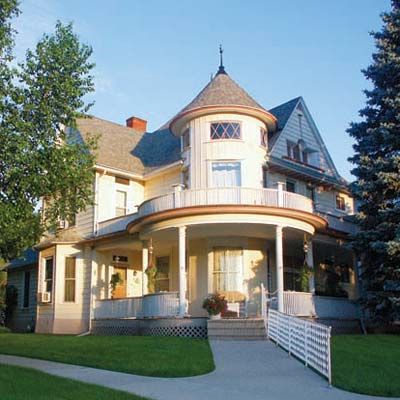 "We are the only town in America named after a Muslim revolutionary," says Mary Harstad. Founded in 1846, the place is indeed named for Abd al-Qadir, the so-called Father of Algeria, who fought the French occupation, beginning in the 1830s. His bravery so inspired the founders of the town that they named it after him—with an Americanized spelling. Mary and her husband, Donald Harstad, a successful crime novelist, left their hometown for Los Angeles for several years but realized their mistake and moved back. She walks to work at the Chamber of Commerce, located in the basement of a still-operating 1903 opera house. Elkader's revitalized downtown also features a first-run movie theater and Schera's, a popular Algerian-American restaurant.
The Houses
Many were based on pattern book design by turn-of-the-century architect George Franklin Barber, who helped make the Queen Anne style ubiquitous nationwide in the late 1800s. The houses feature elaborate wraparound porches, second-story balconies, flamboyant spindle-work, and, in many cases, front-yard gardens. You'll find brick Greek Revivals, smaller Folk Victorians, and bungalows, too. Prices range from $60,000 for a handyman's special to $300,000 for a restored Painted Lady.
Why Buy Here?
Elkader, a settlement of just under 1,500, seemingly has no cons: The streets are safe for kids to walk or to ride their bikes, and adults blow off steam fishing or kayaking on the Turkey River. Cedar Rapids, an hour away, can help fill in what is often a small-town blank: gainful employment.
Among the best for: The Midwest, Bargains, Fixer-Uppers, Family Friendly, Singles, First-Time Buyers, Victorians, Small Towns, Gardening, Outdoor Activities, History Happened Here
Atchison, Kansas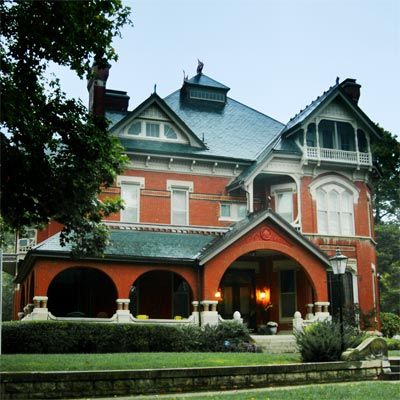 This northeast Kansas city (population 11,000) on scenic, rolling hilltops along the Missouri River retains its longtime downtown businesses, including prosperous locally owned hardware stores, bakeries, and mom-and-pop drug stores. The reason behind this refreshing scenario? Jobs—yes, real middle-class jobs! The area's largest employers include a textile manufacturer, a hardware distributor, and Benedictine College, a Catholic liberal arts university of about 1,600 students that helps keep the city young and bustling. Tourism is a minor industry. There's a haunted-house-tour trade based on a community of charismatic ghosts said to live in town. And Atchison is the birthplace of Amelia Earhart. The aviatrix's family home houses a museum named for her, and a well-attended July festival celebrates her life and sky-pioneering accomplishments.
The Houses
Victorian-era houses, such as Queen Annes and Italianates, are par for the course, as are Colonial Revivals and bungalows. Many are situated along or near the Missouri River, and a handful are listed on the National Register of Historic Places. But it's the property prices that will really lure old-house enthusiasts. A completely restored five-bedroom, 1900 Colonial Revival recently came on the market for $185,000. The house, located on a brick street, retains all its original—and, yes, exquisite—oak millwork.
Why Buy Here?
Got the restoration bug and a good eye? "We have an unusual market in Atchison," says Realtor Scott Noyes. "You'll often find a run-down $20,000 Victorian fixer-upper right down the street from a restored one that costs $200,000." The city also has great public schools and safe streets, and is a 45-minute drive to Kansas City and Topeka.
Among the best for: The Midwest, Bargains, Fixer-Uppers, Waterfront, College Towns, Victorians, History Happened Here
Heritage Hill, Grand Rapids, Michigan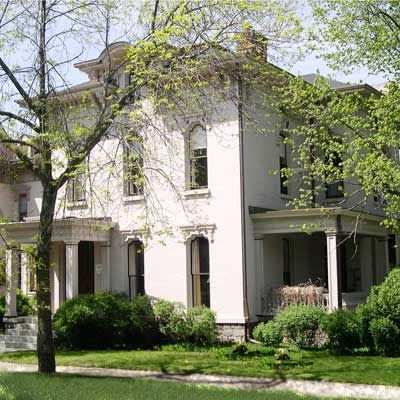 This neighborhood is a mecca for people who love historic American architecture. Not only are the homes storied, the fact that they stand is significant to preservation societies across the U.S. Urban-renewal plans for Grand Rapids during the 1960s had doomed this treasure trove of old houses, but the community fought to protect them. In winning the landmark case, members of the Heritage Hill Association set a precedent: Federal planning agencies are now required to consider their projects' effects on historic properties.
Surrounded by five urban colleges (including Grand Valley State and Kendall College of Art and Design), Heritage Hill is a cultural center, flourishing with artists, philanthropists, and restaurants. Manicured gardens are celebrated here, especially in May, when a public tour offers owners a chance to show off their homes and horticultural skills. Heritage Hill is diverse, with college students, singles, couples, and families from all backgrounds.
The Houses
The 1,300 homes here include some dating back to as early as 1844, and a remarkable array of styles is represented. You'll see everything from Italianate and Chateauesque houses to later Tudor Revivals; there's also a wealth of Greek and Colonial Revivals, Queen Annes, and even a Frank Lloyd Wright Prairie-style home. TLC-craving mansions may sell for around $200,000, but if you seek something more turnkey, you could find a loved three-bedroom 1886 Folk Victorian with Eastlake details for around $170,000.
Why Buy Here?
Though short sales and foreclosures haven't hit Grand Rapids (long the center of the office-furniture industry) as they have Detroit and other automotive cities, the down market hasn't overlooked Heritage Hill. Today, you can grab the former castle of a lumber baron or wealthy judge—and walk from home to work in the city's center—for what amounts to pocket change in other places.
Among the best for: The Midwest, Bargains, Fixer-Uppers, College Towns, Retirees, Singles, City Living, Victorians, Gardening, Easy Commute, Walkability
Prospect Park, Minneapolis, Minnesota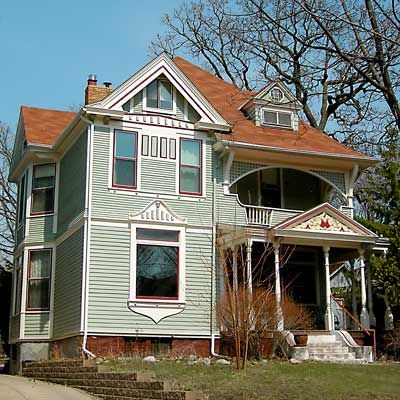 House hunters and residents alike delight in Prospect Park's mazelike streets, which are lined with trees planted nearly a century ago and homeowners' pristine gardens. "In Minnesota, we're serious about our gardens, and in Prospect Park you can ratchet that up quite a bit," says Joe Ring, longtime resident and historic preservation committee chair for the Prospect Park East River Road Improvement Association. Sandwiched between the University of Minnesota campus and the border of twin (and rival) city St. Paul, this neighborhood has loads of character—and characters. "People here have an exceedingly unique mentality," Ring says of a community that celebrates its political and economic diversity. "If you want a debate," he adds, "come here."
The Houses
Of the nearly 800 dwellings, 92 percent are considered contributors to Prospect Park's historic integrity. Nineteenth-century Stick Victorians sit next to mid-20th-century bungalows, and most feature original architectural elements. "Residents here have been good stewards," Ring says. It's common to find a fully restored 2,000-square-foot home built around the turn of the 20th century for less than $400,000. Bargain hunters may find deals as low as $150,000 for a 1,200- to 1,500-square-foot house in need of updates.
Why Buy Here?
Bargain homes come on the market regularly in Prospect Park, as the neighborhood's generations cycle, but you'll rarely find one in disrepair. Loads of century-old neighborhood pride mean you can buy a house that's been maintained since the day it was built.
Among the best for: The Midwest, College Towns, Retirees, Victorians, Gardening, Easy Commute
Compton Heights, St. Louis, Missouri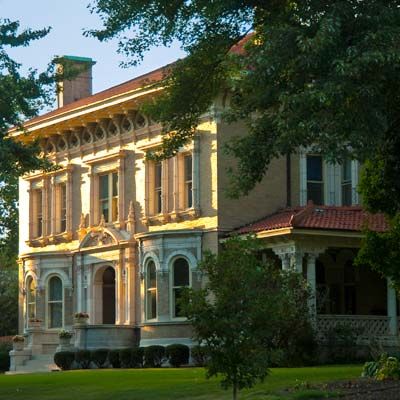 In this storied southside St. Louis neighborhood, children cavort on shady lawns bordering massive brick and stone houses, any of which could legitimately be referred to as "our manse." The streets are named after men of letters, such as Hawthorne and Longfellow. The literary theme makes sense. Compton Heights was developed in the 1880s, and to this day feels torn from the pages of a Victorian novel. The neighborhood has other charms, too. "The homes here are unbelievable!" says Gregory Zavaglia, who with his wife, Cayce, scored a 5,800-square-foot 1911 Beaux Arts house several years ago. The home features stained-glass windows, hand-painted murals, vaulted ceilings, and a red mahogany staircase. A nearby fixer-upper version of the Zavaglias' house recently sold for less than $200,000.
The Houses
They were built by the city's most affluent beer barons and businessmen, who sought out the finest architects and took opulent styles—such as Beaux Arts and Richardsonian Romanesque—to more flamboyant heights. Prices start at around $190,000 for a large house in need of a gut renovation. While many single-family homes have been restored, others, owned by longtime residents, hit the market as excellent shining-up opportunities.
Why Buy Here?
Unlike many urban neighborhoods, Compton Heights has never experienced a period of significant decline. The entire section is listed as a local historic district. A 60-year-old homeowners association keeps things tightly knit, and the nabe is a block from Reservoir Park, a 36-acre green space.
Among the best for: Midwest, Bargains, Fixer-Uppers, City Living, Family Friendly, Easy Commute, Walkability
Bozeman, Montana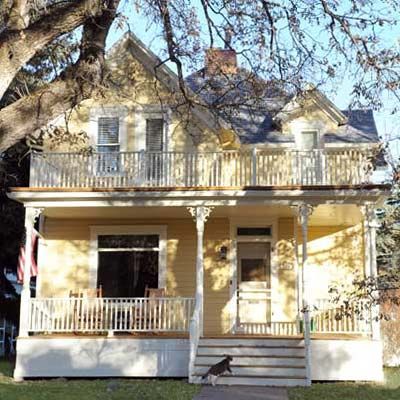 Set in the Gallatin Valley north of Yellowstone National Park, Bozeman is a little city with a lot of space—and four seasons to celebrate it. Summer brings produce, dairy, and meat to every foodie's must-stop, the Bogert Farmers' Market. Main Street art walks spotlighting local galleries stretch into autumn. And residents hardly hibernate when temperatures drop: Peet's Hill offers sledding daredevils a slope in downtown Bozeman. "You can not drive your car for a week, and not realize it," says Anne Sherwood, a photographer who moved here 15 years ago after the wide-open-land bug bit. Spring fever, of course, prompts Montana State University and its 11,000 students to awaken from long months of study. "The school brings refreshing diversity," Sherwood says. "A guy from Congo is on the soccer team, and a woman runs track in Muslim headdress."
The Houses
From Spanish Colonial Revival and Tudor styles to vernacular farmhouses, Queen Annes, and Craftsman bungalows, a range of homes resides in Bozeman's historic overlay. South Willson Avenue boasts mansions dating to the 1880s, when the Northern Pacific Railroad was laid and cattle barons, doctors, lawyers, and other wealthy locals put down foundations; more modest streets such as Lindley Place offer lower-priced dwellings. We found several bungalows packed with potential and built before 1930 for $200,000 or less.
Why Buy Here?
Bozeman is one of Montana's most expensive markets, but there are deals. "We had a bust like most of the country," Sherwood says. The city's five-year tax abatement program encouraging respectful restorations on historic properties can score you long-run savings.
Among the best for: The Midwest, College Towns, Cottages & Bungalows, Singles, Victorians, Walkability, Outdoor Activities
Field Club Historic District, Omaha, Nebraska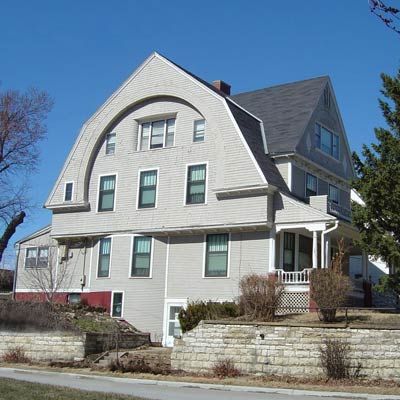 This old neighborhood southwest of downtown got its name from the Field Club of Omaha, a smashing-good-time country club that opened here in 1898. Many residents of this shade-tree-studded area are longtime members, and walk over to swim laps or hit some golf balls. Those who forego the annual dues find plenty of free recreational opportunities at nearby Hanscom Park, Omaha's oldest green space. Joiners or independents, Field Club hangs on to people. "It's the kind of neighborhood where several generations of the same family might live," says Jill Nienaber, president of the Field Club Homeowners League, a feisty group that's protected these green streets and the homes on them from deterioration and—through the many parades and festivals it sponsors—the residents from boredom since 1947.
The Houses
The oldest properties are ornate and cavernous Queen Annes built in the late 19th century for the city's wealthiest residents, and overlooking Hanscom Park. Most construction, however, took place between 1900 and 1920, and architect-designed homes from that period are of the Foursquare, Colonial Revival, Mission, and Tudor styles, among others. Prices start at around $125,000 for older homes in need of repair, with the average price about $200,000.
Why Buy Here?
Thanks to the recent completion of a mixed-use development a few blocks north of the neighborhood, a slew of new restaurants, shops, and pubs, as well as a grocery store and movie theater, have opened within walking distance of Field Club. A well-traveled area bike trail lets you pedal your way there in less than 10 minutes.
Among the best for: The Midwest, Retirees, Family Friendly, Singles, First-Time Buyers, Victorians, Easy Commute, Walkability, Outdoor Activities
Eastwood Park, Minot, North Dakota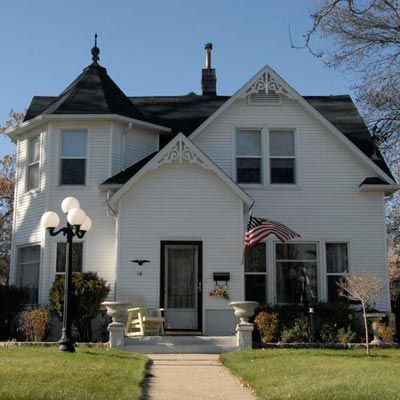 They call Minot the "Magic City." That's because this settlement an hour south of the Canadian border sprang up—"like magic," locals say—from nowhere in 1886, when construction of the Great Northern Railway stopped for the winter. Within months, the population swelled to almost 5,000 people, including merchants, railroad workers, and saloon owners. Some established Minot residents built modest Queen Anne, Foursquare, and Tudor homes in a 12-block area across the Mouse River from downtown. Known as Eastwood Park, it is populated these days by families who host an annual arts festival, hold food drives, and try like heck to outdo each other with their Christmas light displays. The schools are good, the streets are safe, and the neighborhood is across a pedestrian bridge from Minot's center.
The Houses
Most early-20th-century styles are represented here, including Queen Anne, Tudor, Dutch Colonial Revival, Greek Revival, and Colonial Revival, along with many Sears kit houses. Most are on small lots with detached garages and alleyway access out back. Prices range from $100,000 to the occasional $300,000.
Why Buy Here?
What recession? Minot is a boom town, thanks to a massive oil field discovered outside town a few years back. "Houses here stay on the market for about two hours before someone buys them," says Minot city planner Donna Bye. The latest census figures haven't been released, but Bye estimates the former population of 36,567 has increased by at least 4,000 in the last decade. Minot is also home to a U.S. Air Force base and Minot State University.
Among the best for: The Midwest, Bargains, College Towns, Family Friendly, Easy Commute
South Fountain Historic District, Springfield, Ohio
"So, what's keeping us from coming home?" Stephen Chirico asked his wife, Anne, as they drove the backroads of Springfield, Ohio, about five years ago. After living in suburban Atlanta for 17 years, their visit to this charm-filled city of around 63,000 for Stephen's high-school reunion reminded them of all the things they loved about it: the college-town vibe provided by Wittenberg University, the strong sense of community its front-porch-lined neighborhoods provided, the better-than-you'd-think art museum, and the ubiquitous Victorian-era houses. Not long after, the Chiricos purchased an enormous 1925 Prairie Box home in the South Fountain neighborhood, a National Historic District adjacent to the revitalized downtown, where tons of Queen Annes, Italianates, Stick and Shingle Style, and Second Empire homes were built long ago for Springfield's wealthy industrialists and higher-income families. While their new place needed a gut renovation, the Chiricos were won over by its original hardwood floors, oak millwork, and French doors. The fact that the place cost only $40,000—did we mention this place is great for bargains?—sealed the deal.
The Houses
Most were built by wealthy industrialists or their more modest-incomed employees, who either ran or worked at the farm equipment and automotive companies that once thrived here. Victorian-era homes are the mainstay, though there are also a few later Prairie-style houses. Every home in the district has a front porch, a feature that's celebrated the first Saturday of each October during South Fountain's Front Porch Festival. Prices range from $15,000 for a fixer-upper Folk Victorian, to $80,000 for a restored Queen Anne.
Why Buy Here?
Houses, once carved up into apartments, are being bought up for peanuts and restored by young professionals, many of them engineers or academics who work at either Wittenberg or nearby Wright State University. Some commute to Dayton, which is about 25 miles away, or make the longer drive to Columbus, about an hour's drive from here. Once industrial, Springfield is now a thriving college town and an affordable place to raise kids in an idyllic, village-style environment.
Among the best for: The Midwest, Fixer-Uppers, College Towns, Family Friendly, Victorians
Yankton, South Dakota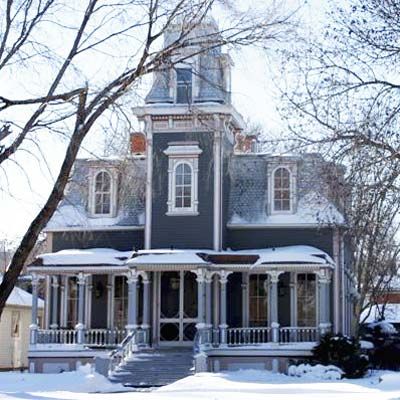 Quiet streets, fine schools, super-low crime, and the 90,000-acre Lewis & Clark Lake make this former capitol of the Dakota Territory a popular homestead for young families, retirees, and anyone else seeking old-fashioned small-town charm and inspiring natural landscapes. While the Missouri River town (population 14,000) on the Nebraska border seems sleepy, you'll find lots of life among the pint crowd at Ben's Brewing Company on Saturday nights and the jet-skiing constituency on the lake, which also offers swimming, camping, and hiking, and has a marina. Unlike many smaller towns, this one has jobs; about 3,000 Yanktonians work for the many hospitals and medical facilities serving the region, while others find employment in manufacturing, agriculture, or tourism.
The Houses
About 30 percent of Yankton's houses were built from the late 1800s to about 1925. Queen Annes and Italianates are plentiful, as are Craftsman-style bungalows. We found a sturdy—and completely updated—three-bedroom Folk Victorian here for $84,900, and a beautifully conceived 1,500-square-foot brick Craftsman, packed with oak built-ins, for $89,900.
Why Buy Here?
"Well, the hunting and fishing is good, the crime rate is nonexistent, and there's no personal income tax in South Dakota," says former Yankton mayor Dan Specht. Obviously, we're even more enticed by the fact that you can get a pristine old home, in a great neighborhood, for less than a hundred-thousand bucks.
Among the best for: The Midwest, Bargains, Waterfront, Retirees, Family Friendly, Cottages & Bungalows, Victorians, Outdoor Activities
The Washburn-Lawrence Neighborhood, Sturgeon Bay, Wisconsin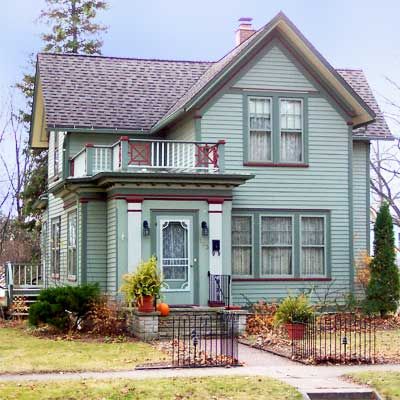 The historic Washburn-Lawrence neighborhood is in the middle of Wisconsin's picturesque Door Peninsula, between Lake Michigan and Green Bay. It's home to about 420 of Sturgeon Bay's 9,700 residents. Whether they're gardeners, boaters, or cross-country skiers, retired-age folks and family types of all ages are attracted to the area's temperate climate; the lake and bay keep summers breezy and winters mild. Canopies of mature maples and preserved sidewalks grace the neighborhood's residential streets, which are home only to domiciles, bed-and-breakfasts, and churches. Homey cafés, art galleries, and the old-time Third Avenue Playhouse sit just two blocks away in Sturgeon Bay's walkable downtown area.
The Houses
Seventy-one of the neighborhood's 180 dwellings are historic Italianates, Queen Annes, Classical Revivals, or Craftsmans, most built between 1881 and 1931. Bargain hunters with a yen for reno can find restoration-worthy options—usually in need of roof replacement and foundation work—starting around $100,000.
Why Buy Here?
A tourism hotspot, the peninsula hosts 2.2 million vacationers every year. They join locals in the orchards for apple and cherry picking, and attend tastings at local wineries. If you've always wanted to open a specialty shop in a quaint town or turn a historic Queen Anne into a bustling bed-and-breakfast, this may be the place for you.
Among the best for: The Midwest, Waterfront, Retirees, Family Friendly, City Living, Victorians, Gardening, Outdoor Activities, Easy Commute, Walkability