Best Old House Neighborhoods 2011: History Happened Here
For the fourth year in a row, we've tracked down North America's most timeless neighborhoods—places where lovingly crafted old houses have extraordinary pasts and unarguably promising futures. With help from our friends at Portland, Oregon-based PreservationDirectory.com—who distributed our nomination forms to more than 14,000 historical societies, neighborhood groups, and preservation nonprofits—we've assembled our biggest-ever list of off-the-beaten-path places that are worth eyeing for a great old home.
Here are twelve neighborhoods that are just as interesting for their past as they are for their present. From the Civil War to the Gold Rush, these historic settings have some serious roots.
Sitka, Alaska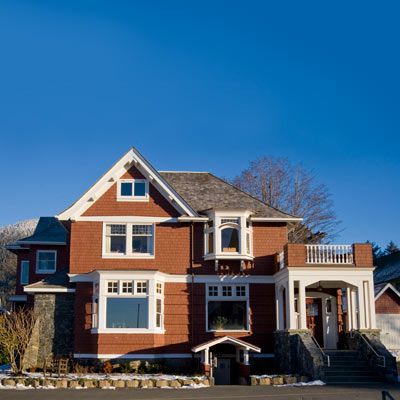 The capital of Russian America, Sitka was the site of the handoff to the United States after the 1867 Alaska Purchase; it remained the region's capital until 1906. Patinated copper spires atop the St. Michael's Orthodox Cathedral overlook this community in the state's southeastern region, which has an old-world feel rare for a West Coast town. Home to some 8,000 people, Sitka is located on Baranof Island, reachable only by boat or plane. But life here hardly feels like exile. The city's satellite campus of the Juneau-based University of Alaska Southeast and renowned Sitka Fine Arts Camp (which recently took over the campus of the historic Shelton Jackson College) draw students and families from all over. With hiking trails dating to the 1930s and close proximity to Sitka National Historical Park, this place is also a playground for outdoors people young and old.
The Houses
A wet climate, foundation-compromising soil called muskeg, and relaxed building regulations prior to the 1950s pose challenges to aging homes in Alaska. Still, downtown is peppered with well-kept Queen Annes dating to the 1890s, originally inhabited by merchants and navy families, and Craftsman bungalows dating from 1910. Vernacular fisherman's cottages are also common. The average price for a three- or four-bedroom house in good condition is around $400,000.
Why Buy Here?
Sitka is a great place to raise a family. "It's a small community, but there's a lot available to residents," says Jay Kinsman, chair of the Sitka Historic Preservation Commission. Besides, Sitka is beating skyrocketing oil prices with the lowest electric rates in the state, powered by two hydroelectric power plants.
Among the best for: The West & Northwest, Waterfront, Family Friendly, Victorians, Small Towns, Outdoor Activities, History Happened Here
Downtown Mesa, Mesa, Arizona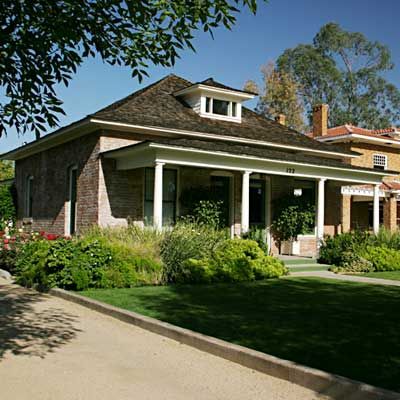 Located just east of Phoenix and neighboring Tempe, downtown Mesa (sometimes called Town Center) is home to about 3,000 residents. The area attracts young professionals, empty-nesters, and families with its easy access to the city. They also cherish the neighborhood's historic architecture—which contrasts with the miles of cookie-cutter subdivisions, many stricken by the foreclosure epidemic, in the overbuilt metropolitan area. Original details like built-in ironing boards and telephone nooks, long-time local Vic Linoff says, give the neighborhood's homes "something warm and comfortable that can't be replicated in new construction." All that character, and a climate to die for, too. Thanks to the Roosevelt Dam and a year-round reliable water supply, gardens here flourish, as do the cottonwood trees. Walkers, runners, and cyclists enliven the sidewalkscapes when much of the country is bundled up and snowed in.
The Houses
Craftsman bungalows, which comprise the most prominent architectural style, provide cool sanctuary during Mesa's hot, arid months with wide porches and flowing air circulation. Downtown is also home to Spanish Eclectic, Tudor, and vernacular adobe houses. Starting at about $150,000, you can find a 1,000-square-foot bungalow needing little to no work. A midsize Spanish Eclectic or Tudor will certainly cost a bit more.
Why Buy Here?
Phoenix and its neighboring communities have long been public transportation-challenged, but by 2016, a light-rail extension will run through Main Street in Mesa and into downtown Phoenix, providing jobs, raising property values, and taking vehicles off the city's congested highways. Hello, heavenly new commute.
Among the best for: The Southwest, Family Friendly, Victorians, Small Towns, Outdoor Activities, History Happened Here
Elkader, Iowa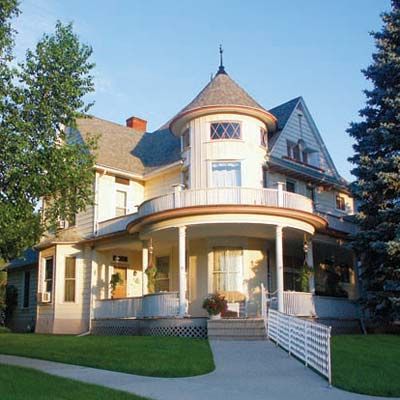 "We are the only town in America named after a Muslim revolutionary," says Mary Harstad. Founded in 1846, the place is indeed named for Abd al-Qadir, the so-called Father of Algeria, who fought the French occupation, beginning in the 1830s. His bravery so inspired the founders of the town that they named it after him—with an Americanized spelling. Mary and her husband, Donald Harstad, a successful crime novelist, left their hometown for Los Angeles for several years but realized their mistake and moved back. She walks to work at the Chamber of Commerce, located in the basement of a still-operating 1903 opera house. Elkader's revitalized downtown also features a first-run movie theater and Schera's, a popular Algerian-American restaurant.
The Houses
Many were based on pattern book design by turn-of-the-century architect George Franklin Barber, who helped make the Queen Anne style ubiquitous nationwide in the late 1800s. The houses feature elaborate wraparound porches, second-story balconies, flamboyant spindle-work, and, in many cases, front-yard gardens. You'll find brick Greek Revivals, smaller Folk Victorians, and bungalows, too. Prices range from $60,000 for a handyman's special to $300,000 for a restored Painted Lady.
Why Buy Here?
Elkader, a settlement of just under 1,500, seemingly has no cons: The streets are safe for kids to walk or to ride their bikes, and adults blow off steam fishing or kayaking on the Turkey River. Cedar Rapids, an hour away, can help fill in what is often a small-town blank: gainful employment.
Among the best for: The Midwest, Bargains, Fixer-Uppers, Family Friendly, Singles, First-Time Buyers, Victorians, Small Towns, Gardening, Outdoor Activities, History Happened Here
Atchison, Kansas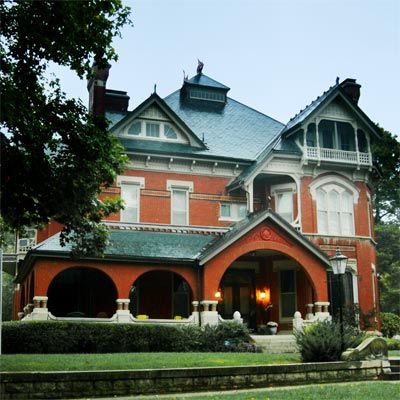 This northeast Kansas city (population 11,000) on scenic, rolling hilltops along the Missouri River retains its longtime downtown businesses, including prosperous locally owned hardware stores, bakeries, and mom-and-pop drug stores. The reason behind this refreshing scenario? Jobs—yes, real middle-class jobs! The area's largest employers include a textile manufacturer, a hardware distributor, and Benedictine College, a Catholic liberal arts university of about 1,600 students that helps keep the city young and bustling. Tourism is a minor industry. There's a haunted-house-tour trade based on a community of charismatic ghosts said to live in town. And Atchison is the birthplace of Amelia Earhart. The aviatrix's family home houses a museum named for her, and a well-attended July festival celebrates her life and sky-pioneering accomplishments.
The Houses
Victorian-era houses, such as Queen Annes and Italianates, are par for the course, as are Colonial Revivals and bungalows. Many are situated along or near the Missouri River, and a handful are listed on the National Register of Historic Places. But it's the property prices that will really lure old-house enthusiasts. A completely restored five-bedroom, 1900 Colonial Revival recently came on the market for $185,000. The house, located on a brick street, retains all its original—and, yes, exquisite—oak millwork.
Why Buy Here?
Got the restoration bug and a good eye? "We have an unusual market in Atchison," says Realtor Scott Noyes. "You'll often find a run-down $20,000 Victorian fixer-upper right down the street from a restored one that costs $200,000." The city also has great public schools and safe streets, and is a 45-minute drive to Kansas City and Topeka.
Among the best for: The Midwest, Bargains, Fixer-Uppers, Waterfront, College Towns, Victorians, History Happened Here
Ipswich, Massachusetts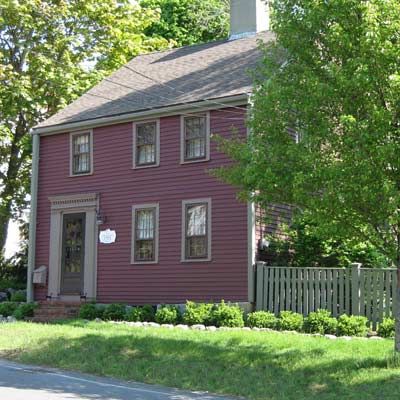 Some 30 miles northeast of Boston is the beachfront town of Ipswich, known to have inspired Theodore Wendel and other American Impressionist painters with its rolling hills, salt marshes, open farmlands, and classic maritime scenery. Ipswich is now home to almost 14,000 residents, including retirees, families, and everyone from working-class fishermen to well-known writers and artists. Environmentally focused preservation societies take great care to protect the town's natural resources, while locals and visitors enjoy horseback riding on country trails, canoeing and kayaking on the Ipswich River, cavorting on Crane Beach's white sands, and, of course, feasting on the famous Ipswich clams. Jean Moss, who conducts historic-home tours here, says, "I've never lived in a place where people loved their town so much."
The Houses
Of the 180 historic houses here, 58 were built before 1725, making Ipswich the home of more First Period houses than any other U.S. community. Typically family owned and rarely found on the market, these early structures are mainly Postmedieval English timberframe dwellings featuring saltbox rearward extensions. Queen Anne and Italianate homes built around the turn of the 19th century are also here, and tend to go for around $600,000. On the lower end, a 3-bedroom 1928 Colonial Revival in need of gut renovation—and a hike from the town center—is listed for $169,900.
Why Buy Here?
You can live near the beach as a one-car family! Ipswich is one of only a few Boston-area seaside towns with its own train station, walkable from the town center.
Among the best for: The Northeast, Waterfront, Retirees, Family Friendly, Small Towns, Outdoor Activities, History Happened Here, Easy Commute, Walkability
Vicksburg, Mississippi
Vicksburg does indeed hold a place in Civil War history. You may recall from high-school history class that bloody 47-day siege, led by Ulysses S. Grant, who took control of the Mississippi River, splitting the Confederacy in two. This now-tranquil river city of 26,000, set on a bluff overlooking the Mississippi and Yazoo rivers, attracts almost a million battlefield visitors annually. It is also luring retirees and second-home buyers from as far away as Colorado and California. "People are figuring out that they can buy a plantation house with river views for about the same price as a regular old house elsewhere," says Realtor Pam Powers. Besides the architectural offerings, they're won over by Vicksburg's riverfront casinos and southern-style restaurants, as well as the scenic beauty and spirit. "New Orleans is The Big Easy," Powers says. "I think of Vicksburg as The Little Easy—with many shared influences."
The Houses
While columned antebellum homes, such as Greek Revival, are the most cherished houses here, you'll also find Federal-style, Italianate, Queen Anne, Foursquare, and Craftsman houses. Most were constructed between 1830 and 1920 and surround the downtown area. We found a seven-bedroom 1841 Greek Revival plantation house on the Yazoo River listed for $365,000, and a restored 1870s Queen Anne—with an awesome double-gallery porch on the back—for $149,000. Many residents here are fiercely proud of their backyard and sideyard gardens, which range from wild and rambling to more formal English gardens.
Why Buy Here?
Vicksburg's affordable manses and stunning views of the Mississippi are reason enough to give it a look. With so many visitors coming to experience Vicksburg's Civil War history each year, this is the perfect place to live out your bed-and-breakfast dream.
Among the best for: The South, Bargains, Waterfront, Retirees, Family Friendly, Victorians, Gardening, History Happened Here
Montford Historic District, Asheville, North Carolina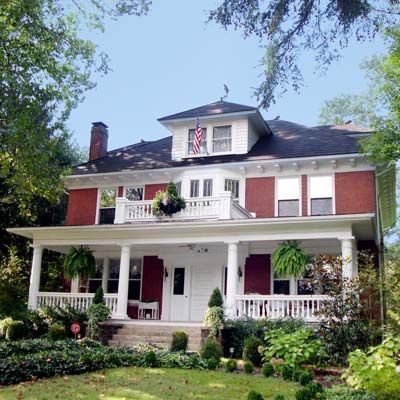 Founded in 1893, Asheville's Montford neighborhood has since provided generously to 20th-century American literary lore. Thomas Wolfe was laid to rest here in Riverside Cemetery, but not before compiling his experiences in a 1929 autobiographical novel, Look Homeward, Angel. William Sydney Porter, better known as O. Henry, is also buried here. And, in 1948, Zelda Fitzgerald met her end in a tragic fire at an area mental hospital. Montford, still an arts-focused community, is home today to writers, artists, and musicians (along with students, professionals, and retirees). Residents showcase their talents at May's annual music and arts festival, and celebrate summer among fireflies at Shakespeare productions staged at a local amphitheater. Heavily wooded, this western North Carolina neighborhood also has a mountain-town feel and access to Class II–V rapids, and the sports that go with them, on a number of nearby rivers, all within an hour's drive.
The Houses
Most houses in the Montford Historic District date between 1890 and 1925, and styles are eclectic. You'll find Queen Anne, Colonial Revival, Georgian Revival, Neoclassical, Shingle, and vernacular houses in a wide price range. You can find a modest bungalow needing work for around $100,000, or a grand old mansion fit for a family—or a bed-and-breakfast—for upwards of $1 million.
Why Buy Here?
With an impressive range of home prices, sizes, and styles, this neighborhood has something for everyone. And there's plenty on the market now, including a three-bedroom 1910 Shingle Style house with original architectural features offered for less than $300,000. All it needs is a little love.
Among the best for: The South, Bargains, College Towns, Retirees, Family Friendly, Outdoor Activities, History Happened Here
Astoria, Oregon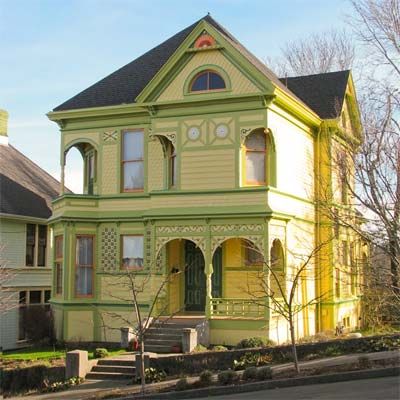 If Astoria's old-house-lined streets look familiar, do not adjust your screen. This town of 10,000, situated at the mouth of the Columbia River, has provided a backdrop for Hollywood flicks, most notably '80s cult classic The Goonies. Long before that, Lewis and Clark spent the winter here during their legendary expedition—and by 1811, Astoria was an established fur-trading post, then a fishing, canning, and logging center. Today's economy has shifted toward tourism, drawn by a 1920s-era downtown and nearby sand and surf. For many locals, boating and salmon fishing are both business and pleasure. "In the summer there are days when it looks like you could hop from boat to boat," says Regina Willkie, resident and Chamber of Commerce employee.
The Houses
With nearly 70 percent of the town's housing stock eligible for Historic Landmark status, Colonial Revival and kit-built Craftsman homes tend to be better bargains, selling move-in ready for less than $200,000. Harder to come by are hilltop Queen Annes and Italianate "painted ladies," such as one 5,000-plus-square-foot gal that carries a $549,000 price tag but boasts a Columbia River panorama stretching from Tongue Point to the Astoria Bridge.
Why Buy Here?
This is Astoria's bicentennial year, making it an ideal time to check out the place. Property values have remained strong with the recent influx of retirees, and architectural preservation is a priority here. In fact, the local community college offers an associate's degree in historic preservation. Yep, you can fix up an old home and improve your resume at the same time.
Among the best for: The West & Northwest, Waterfront, Retirees, Family Friendly, Cottages & Bungalows, Victorians, Outdoor Activities, History Happened Here
Sheridan, Wyoming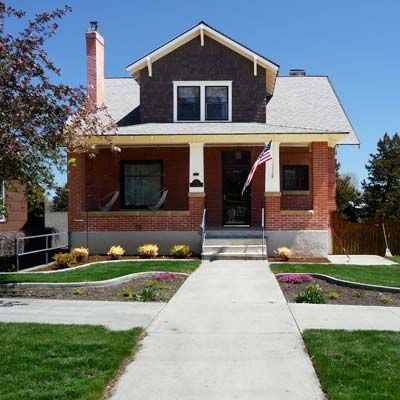 The preserved western storefronts of turn-of-the-century downtown Sheridan (population 17,461) are not for show. While it's true that Buffalo Bill Cody auditioned acts for his Wild West Show on the landmark Sheridan Inn's steps, today's residents, from cowboys to doctors at the Veterans Administration hospital, buy socks at the old J.C. Penney, nails at Sheridan Commercial Company, and reins from King's Saddlery. The family-owned tack shop, founded in 1961 and famous for its ropes and hand-tooled leather saddles, ships worldwide. "Sheridan is rural Americana at its finest," says Andy Ayres, co-owner of Lulu's Cafe, which offers meat and potatoes and tapas. But don't confuse rural with hick: There are two polo clubs here that draw players from as far away as South America.
The Houses
Most historic homes are in Residence Hill, along South Main, which runs the town's length, and blocks west. The predominant style is Craftsman, like the 1914 two-story that Rod Fordahl has been fixing up "forever." When he bought the place 20 years ago, it contained the original claw-foot tub and panel doors. You'll find the odd Tudor, Queen Anne, or Dutch Colonial; expect to pay from $275,000 for a 3,000-square-foot historic home. "Places have been preserved pretty well," says Fordahl, whose company, Fry Construction, does remodeling jobs. Once he's done with a place, and the coal-fired furnace has been replaced, the price might climb to $400,000.
Why Buy Here?
There are no incentives, per se, to fix up an old house in Sheridan, but property taxes are extremely low. You might pay $1,500 a year for a 3,000-square-foot house.
Among the best for: The West & Northwest, Fixer-Uppers, Retirees, Cottages & Bungalows, Small Towns, History Happened Here
Old San Juan, Puerto Rico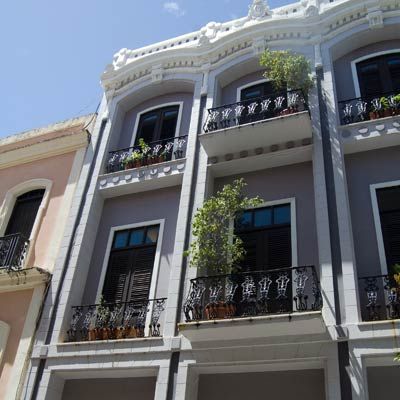 It's said that you need to be either a poet or loco to live in Old San Juan, where Old World charm meets decidedly New World eclecticism. Packed into the winding streets of this fortified Caribbean peninsula are artists, students from three universities, shop owners, café culture knockabouts, lawyers, musicians, millionaires, government employees, and the gobierno himself, who lives in La Fortaleza; built in 1540, it's the longest-occupied governor's mansion in the Western Hemisphere. Neighbors chat over café con leche at places like La Bombonera every morning, and a walk on the blue-gray cobblestones, called adoquines, leads past impeccable, colorful Spanish Colonial rowhouses on par with those of Madrid.
The Houses
Restoring a Spanish Colonial, with its 2-foot-thick walls, brick-lined cisterns, and lead-pipe plumbing, is a long, involved process that is strictly overseen by the Instituto de Cultura Puertoriqueña. "They have a say inside and out, down to the hinges," says Realtor Margarita Gandía, whose mother was one of San Juan's first Realtors in the 1950s. A shell might go for $300,000. Homes requiring less than a gut-renovation can command $600,000. Finished, properties are worth $1 million or more.
Why Buy Here?
The upside to following strict preservation guidelines is that if the result passes inspection, you'll pay nothing in property taxes. That status has to be renewed every 10 years, under inspection, which keeps the neighborhood in top form.
Among the best for: The South, Fixer-Uppers, College Towns, Waterfront, Retirees, City Living, Rowhouses, History Happened Here, Easy Commute, Walkability
Dawson City, Yukon Territory, Canada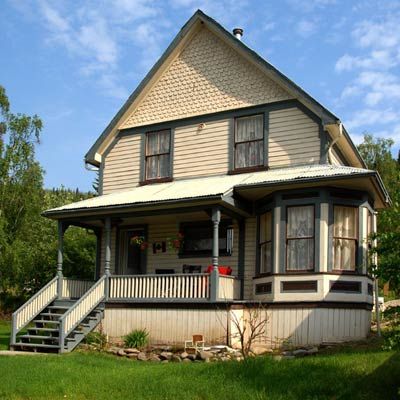 "If you're looking for a town with historic buildings, you came to the right place," says Bill Holmes, casino manager at Diamond Tooth Gerties Gambling Hall. Indeed, the town boasts more than 100 houses from the gold rush days along Front Street and the picket-fence-lined back lanes. Founded in 1896 at the confluence of the Yukon and Klondike rivers, the Klondike Gold Rush's former epicenter is experiencing another boom, thanks to a recent discovery of gold south of town. The other treasure comes from the pockets of 60,000 annual tourists, who gawk at the aurora borealis, attend Dawson City's art, music, and film festivals, tour writer Jack London's cabin, and peruse the work of local artists. The hubbub recedes during the frigid winters, when the permanent population of about 1,800 takes to hosting cozy dinner parties. Moosso buco, anyone?
The Houses
The city's housing heritage includes frontier vernacular-style homes gussied up with Edwardian and Victorian architectural frills such as patterned shingles and columned porches, and often girded with corrugated-metal roofs. Many of the cheery colored homes stand on wood cribbing that allows for re-leveling when the permafrost heaves, and cost from $175,000 to $300,000.
Why Buy Here?
Aside from the chance to strike it rich, owners of historic properties can apply for a matching grant from Yukon Territory: up to $10,000 a year for exterior preservation or $20,000 for an officially designated historic property.
Among the best for: Canada, Waterfront, Victorians, Small Towns, Outdoor Activities, History Happened Here
Charlottetown, Prince Edward Island, Canada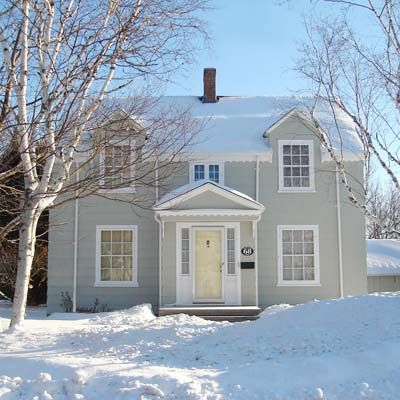 In the middle of crescent-shaped Prince Edward Island sits Charlottetown, the province's oldest, largest city. Believe it or not, the country was born here, after an 1864 statesmen's meeting in the city's neoclassical Province House. Charlottetown, established as the colonial capital in 1765, contained 500 lots: five large sections carved into 100 properties each. What went up on those plots is a who's who of domestic architecture spanning 200 years. Most structures are of the early-19th-century wood-sheathed sort, though some brick buildings recall a fire that ripped through in 1866. The city's 33,000 residents are of all ages, here for the universities, incredible views, active lifestyle, and tourism opportunities, as well as the historical architecture.
The Houses
"Charlottetown has examples of the Georgian, Queen Anne, and Arts and Crafts styles you'd find in Britain, as well as the versions that became popular in the U.S.," says James W. Macnutt, author of Heritage Houses of Prince Edward Island. The 500 Lots, as locals call it, is also home to Gothic Revival, Second Empire, Italianate, and a notable stock of Colonial Revivals. Diamonds in the rough may go for $120,000 (USD), but prices over a half-million aren't rare.
Why Buy Here?
The city is experiencing growth, thanks to employers like Invesco, Ceridian, and several biotechnology companies, plus a steady stream of travelers who come for the annual SummerFest, a weeklong waterfront party for families, and the Jack Frost Festival, a winter wonderland for kids created from 2,000 tons of compacted snow.
Among the best for: Canada, Bargains, Waterfront, College Towns, Family Friendly, City Living, Victorians, History Happened Here