Best Old House Neighborhoods 2011: The Northeast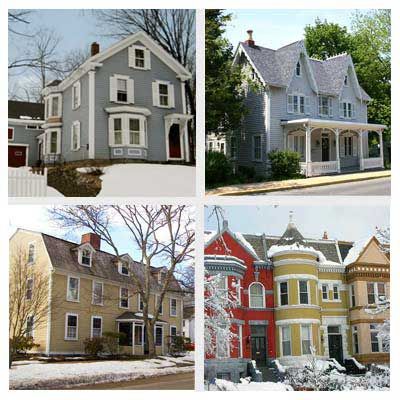 For the fourth year in a row, we've tracked down North America's most timeless neighborhoods—places where lovingly crafted old houses have extraordinary pasts and unarguably promising futures. With help from our friends at Portland, Oregon-based PreservationDirectory.com—who distributed our nomination forms to more than 14,000 historical societies, neighborhood groups, and preservation nonprofits—we've assembled our biggest-ever list of off-the-beaten-path places that are worth eyeing for a great old home.
From quaint New England villages to bustling urban enclaves, here are a dozen places where you can find a perfect old house of your own along the northern Atlantic coast.
Historic Bethlehem, Bethlehem, Pennsylvania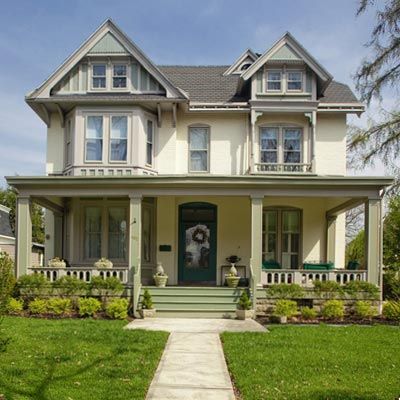 Home to America's second-largest steel producer until Bethlehem Steel closed, in 2003, this city of 72,000 is about 70 miles north of Philadelphia and 81 miles west of New York City. Many retired millworkers still live here, these days next door to 30- and 40-something professionals who've chosen Bethlehem for its almost-sane metropolis commute. Lehigh University and Moravian College are both here, contributing to a thriving historic-district arts scene that includes free concerts, house and garden tours, and monthly art shows inside the glass walls of the town hall rotunda. On Main Street, the Moravian Bookshop, the country's oldest continuously operating tome seller, stands among well-traveled restaurants and coffeehouses. Historic Bethlehem has a community feel: Neighbors attend town meetings, walk to the single-screen Boyd Theatre for a flick, and catch their dinner at Monocacy Creek, a trout stream off the Lehigh River.
The Houses
The neighborhood is stocked with two-and-a-half- and three-story Italianates, Queen Annes, Second Empires, and Gothic Revivals built near the turn of the 20th century. Got elbow grease? One of these ornate Victorians can be had starting at —300,000. A fully restored one is more likely to ring up for —600,000 or more. Historic Bethlehem also has rowhouses in the —175,000 range, and wherever you stroll, history abounds. As local Realtor Barbara Fraust says, "You can traverse centuries in eight blocks."
Why Buy Here?
The Keystone State is known for its affordable living, for families and empty nesters alike. Retiree alert: You won't pay state tax on pension income in good old Pennsylvania.
Among the best for: The Northeast, Waterfront, College Towns, Retirees, Family Friendly, Victorians, Walkability
Tariffville Village, Simsbury, Connecticut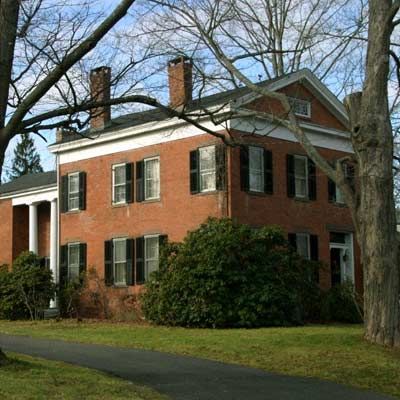 In Tariffville, locals are known to hold old-fashioned community cookouts or head to the Farmington River for tubing, kayaking, or rafting. But despite its many pleasures, few people outside Connecticut have ever heard of it. "This place has sort of been forgotten over the years," says Chet Matczak, president of the Tariffville Village Association. "That's one of the things that make it such a nice place to live." The neighborhood of just 320 families is a pocket of Simsbury, about 11 miles northwest of Hartford. Thanks to its small-town New England charms, top-notch schools, and die-hard dedication to historic preservation. Simbsury was included on the National Trust for Historic Preservation's exclusive "Dozen Distinctive Destinations" list in 2010. And Money magazine recently named it one of the Best Places to Live in America. We thought we'd add to the list by naming Tariffville one of the best neighborhoods to buy an old house, too.
The Houses
Greek Revivals and Gothic Revivals in Tariffville date back to the 19th century, while the late 1800s and early 1900s produced a whimsical array of Folk Victorians. Prices range from $180,000 for four-bedroom homes in disrepair (but with plenty of motivating character) to about $400,000 for large houses in beautiful condition.
Why Buy Here?
Tariffville is one of the few places where you can find a five-bedroom home for under $200,000. It's an affordable hamlet for old-home lovers who want bang for their buck and for families buying for the first time and looking for access to quality education.
Among the best for: The Northeast, Bargains, Fixer-Uppers, Waterfront, Family Friendly, First-Time Buyers, Victorians, Small Towns, Outdoor Activities, Easy Commute
Milton, Delaware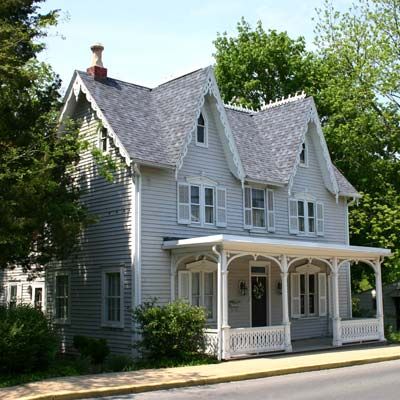 "We still have work to do," says Melinda Huff, executive director of the Milton Historical Society about getting her little river town the recognition it deserves. Still, Milton has accomplished quite a bit already. Settled in the early 1680s, the town's Historic District was listed National Register of Historic Places in 1982. Now Milton is in the process of nominating 240 more historic homes on the Register as well. Located near the state's eastern shore at the Broadkill River's head, Milton was, at various times, a 19th-century schooner-building center, the "Holly Capital of the World," and a hotbed for buttonmaking. Nowadays it's just a friendly small town, with nearly 2,000 parents, kids, grandparents, and young professionals who love Milton for summer's sweet corn, cones from King's Ice Cream, and other favorite summer pastimes, like fishing, canoeing, and gardening.
The Houses
About 40 percent of Milton's homes have been restored, but there are still plenty of deals to be had. The Milton National Historic District includes 198 National Register—listed structures—among them Colonial, Federal, Greek Revival, Gothic Revival, Italianate, Second Empire, Queen Anne, and Colonial Revival homes—plus bungalows and vernacular styles. Some contain wide-plank floorboards taken from sailing vessels, stained-glass windows, hand carvings, and newel posts made of walnut or oak. Currently, an 1830s vernacular home with Federal characteristics is on the market for $200,000, though it needs a fair amount of restoration work.
Why Buy Here?
Anyone who enjoys boating, fishing, or maritime history—which is well documented at the Milton Historic Society's museum—would feel pretty comfy here. Milton is also home to the famed Dogfishhead brewery, so you won't ever have a hard time tracking down some fresh 90-Minute IPA or Chicory Stout.
Among the best for: The Northeast, Waterfront, Family Friendly, First-Time Buyers, Small Towns, Gardening, Walkability
Deering Center, Portland, Maine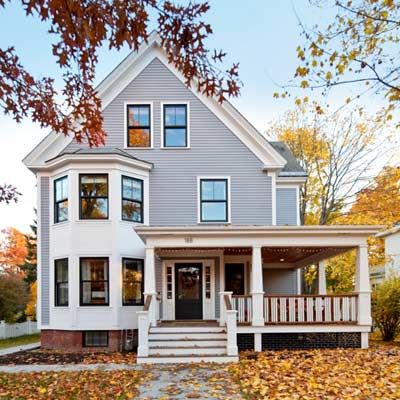 Deering Center's claim to fame: It's said to be the one place in the U.S. where a child can go to kindergarten on up through college all on the same street. Along with Longfellow Elementary School and Deering High School, the neighborhood's Stevens Avenue is also home to the University of New England. An early trolley-car suburb, Deering Center was annexed by Portland in 1899. It was ideal for child-rearing, with set-back houses, sidewalks, and an enormous wooded park with hiking trails as a haven from the city. For some years, residents have been fixing up homes by famed Portland architect John Calvin Stevens and peeling mid-century siding from the facades of their historic houses. "We have it all," says Naomi Mermin, president of the Deering Center Neighborhood Association, citing a diverse population of several thousand, an old-fashioned butcher, and cross-country ski trails at the park as proof.
The Houses
The streets here display a "higglety-pigglety mix" of home styles, according to Merman, including Italianates, Queen Annes, Colonial Revivals, Foursquares, Craftsman bungalows, Sears kit houses, and a farmhouse-influenced style that locals refer to as the "New Englander," the majority built in the 20th century's first half. Prices start in the mid-$200,000s and top out at $500,000.
Why Buy Here?
Want a nearly turnkey nest, rather than a roll-up-your-sleeves project? "This is not a neighborhood where you'll find houses in bad shape," Merman says. "Houses in fairly original condition, needing updates but otherwise in good shape, are easy to find." And many older homes here are multifamily dwellings including rental units; these large houses not only offer income potential, but prove remarkably energy-efficient during Maine's long, cold winters.
Among the best for: The Northeast, Family Friendly, Cottages & Bungalows, City Living, First-Time Buyers, Easy Commute, Walkability
Easton, Maryland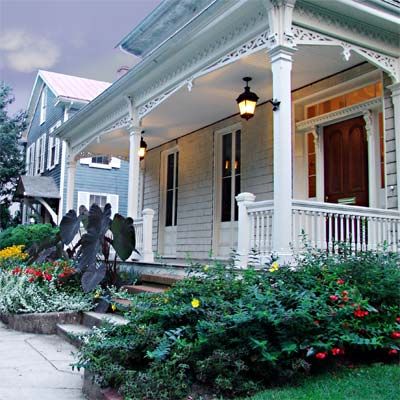 "I'm going to see Randy Newman at the Avalon downtown this month—and I'm walking to the theater," says Beth Hansen, boasting about the walkability of her adopted hometown of Easton. Hansen, who moved here from Oakland, California, six years ago, also loves the town's active arts community and gourmand-caliber restaurants, not to mention its indy coffee shops, clothing boutiques, and wine bars. Easton, which is home to about 14,000 people, has long been a hot spot for Washingtonians looking for second homes or retirement sweet spot. That makes sense: Downtown offers all of the cultural amenities big-city Beltway types demand, while Easton's outlying areas on Chesapeake Bay provide boating, duck hunting, fishing, and some pretty inspiring natural scenery to boot.
The Houses
Like Hansen, many residents here choose to live in the downtown area's historic Victorian-era houses, including Folk, Second Empire, and Queen Anne homes. We found a 3,480-square-foot Folk Victorian within walking distance of downtown for $129,000; a 4,175-square-foot, five-bedroom Second Empire farmhouse, located minutes from downtown on 2.69 acres of land, was selling for $346,000. Those who covet coastal views will find waterfront houses on Chesapeake Bay, about 15 minutes outside of town (expect to pay $700,000 and up for those properties).
Why Buy Here?
Prices were skyrocketing in Easton before the real estate bust, but now you can pick up a solid old house in town for less than $200,000. Easton is located 72 miles east of Washington, D.C., so it remains an excellent choice for second-home buyers. With its good schools and safe streets, it's also ideal for families with children.
Among the best for: The Northeast, Waterfront, Family Friendly, Victorians, Small Towns, Walkability
Ipswich, Massachusetts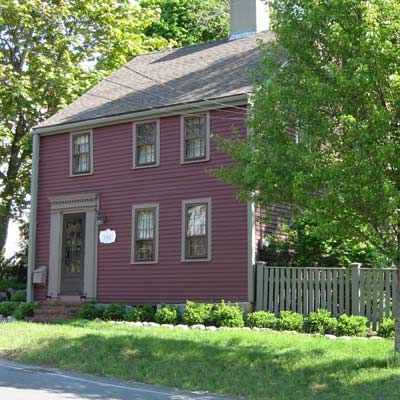 Some 30 miles northeast of Boston is the beachfront town of Ipswich, known to have inspired Theodore Wendel and other American Impressionist painters with its rolling hills, salt marshes, open farmlands, and classic maritime scenery. Ipswich is now home to almost 14,000 residents, including retirees, families, and everyone from working-class fishermen to well-known writers and artists. Environmentally focused preservation societies take great care to protect the town's natural resources, while locals and visitors enjoy horseback riding on country trails, canoeing and kayaking on the Ipswich River, cavorting on Crane Beach's white sands, and, of course, feasting on the famous Ipswich clams. Jean Moss, who conducts historic-home tours here, says, "I've never lived in a place where people loved their town so much."
The Houses
Of the 180 historic houses here, 58 were built before 1725, making Ipswich the home of more First Period houses than any other U.S. community. Typically family owned and rarely found on the market, these early structures are mainly Postmedieval English timberframe dwellings featuring saltbox rearward extensions. Queen Anne and Italianate homes built around the turn of the 19th century are also here, and tend to go for around $600,000. On the lower end, a 3-bedroom 1928 Colonial Revival in need of gut renovation—and a hike from the town center—is listed for $169,900.
Why Buy Here?
You can live near the beach as a one-car family! Ipswich is one of only a few Boston-area seaside towns with its own train station, walkable from the town center.
Among the best for: The Northeast, Waterfront, Retirees, Family Friendly, Small Towns, Outdoor Activities, History Happened Here, Easy Commute, Walkability
Francestown, New Hampshire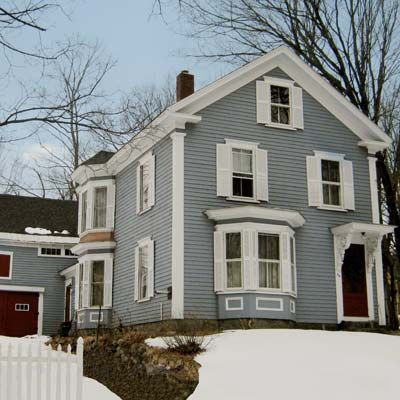 "We've been open for—hmm—about 197 years now," says Jason Martel, owner of the Francestown Village Store. Indeed, for two centuries, residents of this southern New Hampshire town have been coming here for their groceries, hardware, and just about everything else. "These days, we also carry 450 types of beer and roasted seaweed for sushi," Martel adds. The store is the glue that holds the town of about 1,500 together (and yes, it sells glue, too). Almost all of the buildings and houses here were built between the late 1700s and the late 1800s, when Francestown was bypassed by the railroad. Hindsight says that was a fortuitous turn: Had things transpired differently, the town wouldn't be the charmer of a bedroom community—many residents commute to Boston or Manchester—that it is today.
The Houses
Popular styles include Cape Cod and Federal, many with beautiful English-style gardens. Recently for sale was one of Francestown's few Victorian-era houses, a 2,287-square-foot Queen Anne on a quarter acre, on the market for $225,000. Also available: a 3,056-square-foot 1826 Federal, with an attached barn, for $295,000.
Why Buy Here?
Anyone looking for a quiet, rural community in which to settle down will find a fine option here. But be warned: There is no nightlife here to speak of. "Once I close my doors, the town's done for the day," Martel says. Action awaits about 20 miles away in Manchester, or in Boston, a 90-minute drive. It's a great place for skiers, though, being the home of the Crotched Mountain ski area.
Among the best for: First-Time Buyers, Gardening, Northeast, Small Towns, Outdoor Activities
Lambertville, New Jersey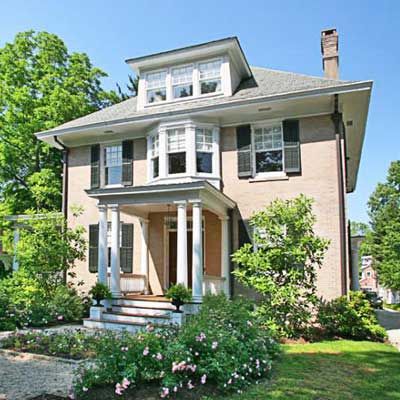 Everything from hairpins to toilets was once manufactured in tiny Lambertville. But the former industrial center has changed: This Delaware River enclave is now home to nearly 5,000 artists, writers, retirees, shop owners, and big-city professionals (who brave 45- or 90-minute commutes to Philadelphia or Manhattan, respectively). What Lambertville lacks in population it makes up for in house-reviving spirit. It's a hotbed for carpenters, masons, architects, antiques dealers, and other home-restoration pros, and a destination for those embarking on the endearingly prickly journey of rehabbing an old home. Mornings, you can stroll the Union Street antiques shops or the nearby renowned Golden Nugget Antique Market.
The Houses
A history dating back to 1705 means Lambertville has accumulated a wide range of architectural styles. "Every house is unique," says Holly Havens, a real estate agent who settled in Lambertville in 1995. The town center offers early-19th-century Federal to Greek Revival and later Italian Villa, Gothic Revival, English Cottage, French Second Empire, and Queen Anne homes, as well as 1850s rowhouses built for Irish canal workers. Craftsman bungalows and vernacular cottages dot outlying hills. Those game for heavy lifting can grab a storied house with good bones for a song. We found a two-bedroom Colonial rowhouse dating to the 1700s for $168,000 (yep, it needs work).
Why Buy Here?
If you're looking for a small—but growing—artisan-friendly town, or a commutable rural pocket, Lambertville is your place. "It's Oz," says Havens. "We're so tucked away." And did we mention the deals?
Among the best for: The Northeast, Bargains, Waterfront, Retirees, Singles, First-Time Buyers, Small Towns, Outdoor Activities, Walkability
Bay Ridge, Brooklyn, New York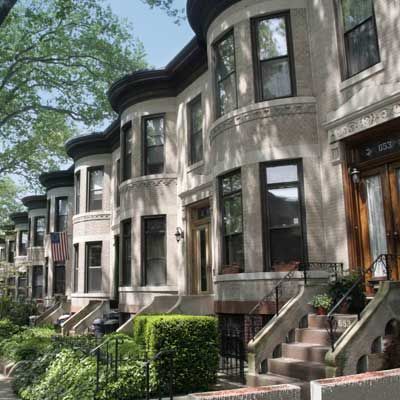 Once home to thousands of Norwegian shipbuilders as well as Italian and Irish immigrants, this old-school Brooklyn neighborhood on New York Harbor's shores is a down-home kind of place. Families walk together after church on Sundays or gather at the locally owned restaurants and bakeries that line Third Avenue. This is a serenely diverse neighborhood, where you can hit a Norwegian pastry shop, an Italian butcher, and a Middle Eastern grocery all on one block; and it offers great views of the Verrazano-Narrows Bridge. "We like things subdued here," says Victoria Hofmo, who grew up in the community of 70,000. "We also like all the green space, the waterfront access, and the village atmosphere. We've got it all."
The Houses
Two- and three-story single- and multi-family brick and brownstone rowhouses are common, as are wood-and-stucco Tudor-style and limestone-front Renaissance Revival rowhouses. This is New York City, of course, where "affordable" means anything under seven figures. A two-story brick rowhouse with original millwork and pocket doors might go for $500,000. A restored 1930s Tudor rowhouse recently listed at $558,000. Renaissance Revivals start at $700,000.
Why Buy Here?
It's just over an hour by subway to midtown Manhattan. Young families and professionals are coming for what is now unattainable in most New York City nabes: a single-family house.
Among the best for: The Northeast, Waterfront, City Living, Family Friendly, Walkability, Rowhouses
South Kingstown, Rhode Island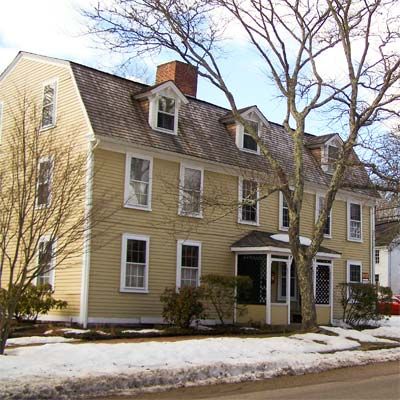 South Kingstown is a big town in a tiny state: The 57-square-mile community, just north of Atlantic inlet Point Judith Pond, comprises 14 villages, several with historical designation for exemplary architecture. South Kingstown's jewel, the Kingston Village Historic District, founded in the 1700s as Little Rest, earned National Register standing in 1974. The neighborhood is adjacent to the 14,000-student University of Rhode Island, giving its stately blocks a vibrant energy. A bike trail follows a defunct rail line from West Kingston beachward, passing former mill sites in the villages of Peace Dale and Wakefield, where artists and academics have been colonizing old millworkers' cottages and factory buildings. Add in good schools and shopping, and Newport or Providence within a 30-minute commute, and you've got a draw for all ages and professions.
The Houses
Kingston Village Historic District is home to South Kingstown's oldest houses, ranging from Federal and other early-American styles up through the Victorian era's Queen Annes. Peace Dale's vernacular millworkers' cottages charm with their picket fences and cozy front porches, and retail-heavy Wakefield hides a pocket of late-19th-century styles, including Queen Annes, Capes, Colonial Revivals and vernaculars. Recently for sale was an 1891 three-bedroom Colonial Revival in Peace Dale for $185,000.
Why Buy Here?
"It's a lovely, preserved old town," says Catherine Gagnon, who recently purchased a home in Kingston with business partner Ann Danis for $300,000. The two musicians plan to open Lily's at Little Rest, a three-guest-room bed-and-breakfast. They chose South Kingstown for its possibilities, with an affordable market and supportive preservation community, as well as proximity to the beach and plenty of historic sites. "We're excited," Gagnon says.
Among the best for: The Northeast, College Towns, Waterfront, Family Friendly, Cottages & Bungalows, Singles, First-Time Buyers, Outdoor Activities
Hardwick, Vermont
Don't expect to find a food court or Filet-O-Fish in Hardwick anytime soon. "There's no mall and no McDonald's," Andrew Meyer says of his hometown. A 19th-century granite-mining boomtown that went bust, then slogged through the 20th century, Hardwick is back because of food of the not-so-fast sort. Meyer, co-owner of Vermont Soy, grew up on a farm in this town of 3,000 in the state's northern third. After a stint in Washington as an agricultural aide, he came home, planted beans, and helped turn the town into a cocoon of what foodies call "locavorism." He founded the Center for an Agricultural Economy, which works with farmers, communities, and agribusiness to develop healthy food. The cooperative kitchens of the Hardwick-based Vermont Food Venture Center assist fledgling food-processing companies, and Claire's restaurant serves eats from nearby fields. This community of young entrepreneurs, farming families, and supportive elders proves it: Small business can produce significant economic growth.
The Houses
Many were built at the turn of the 20th century, between the granite industry's acceleration and crash. Folk Victorians built by mining bosses sport Italianate, Queen Anne, and Second Empire features, and tend to sell in the $125,000 to $200,000 range, according to Realtor Ron Sanville. Classic Capes and Colonial Revivals are common, too, and can often be snagged for less than $125,000.
Why Buy Here?
Hardwick's Main Street was home to a slew of watering holes in the depressed days. Today, its diverse array of businesses includes a clothing boutique, a bakery, a jewelry shop, a bookstore, and a co-op of micro-businesses, from acupuncturists to accountants. With agricultural jobs growing fast in Hardwick, if you've ever considered running off to rural America, this seems one prosperous place to park your tractor.
Among the best for: The Northeast, Retirees, Family Friendly, Singles, First-Time Buyers, Small Towns, Gardening, Easy Commute
Eckington, District of Columbia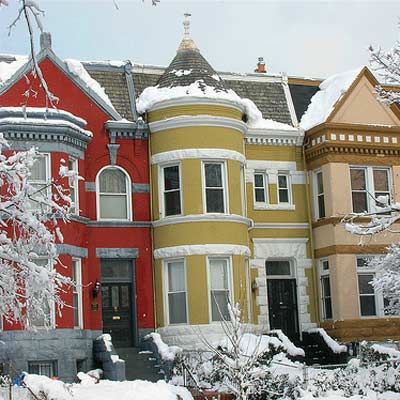 Forget Bethesda and Arlington. When technology director Steve Rynecki moved from San Diego, California, to Washington, D.C., in 2002, he wanted to live inside the city limits. He also wanted an older place with period details—a Federal rowhouse on Capitol Hill or a red-brick Queen Anne in Columbia Heights. Unfortunately, digs in those neighborhoods were priced over the half-million-dollar mark. So Steve looked to the district's northeast section and found what he was looking for: an 1893 rowhouse for around $250,000. "The price was right, the architecture was amazing, and the metro a 10-minute walk," he says. Originally the province of powerful Victorian-era politicians and business owners, Eckington later became a stronghold of D.C.'s African-American middle class. These days, it's a magnet for anyone looking to eschew the Beltway 'burbs and find fixer-uppers and freshly renovated homes in a cool, urban spot just a 10-minute drive from Capitol Hill.
The Houses
Most are brick Federal, Queen Anne, or Colonial Revival rowhouses. We found a renovated six-bedroom 1913 Colonial Revival rowhouse for $249,000. Of the renovations-needed ilk: a four-bedroom brick Victorian-era rowhouse, with a turret, for $345,000.
Why Buy Here?
Government offices have opened around the five-year-old Florida Ave/New York Ave metro stop that's just a stone's throw from Eckington. Newly opened restaurants and clubs near the revitalized Atlas District give residents plenty of entertainment options, too. "It's being discovered as an affordable place to buy a house in D.C.," adds local Realtor Michelle Buckman, "and there's a lot of renovating going on."
Among the best for: The Northeast, City Living, First-Time Buyers, Victorians, Rowhouses, Easy Commute, Walkability