Best Old House Neighborhoods 2001: Small Towns
For the fourth year in a row, we've tracked down North America's most timeless neighborhoods—places where lovingly crafted old houses have extraordinary pasts and unarguably promising futures. With help from our friends at Portland, Oregon-based PreservationDirectory.com—who distributed our nomination forms to more than 14,000 historical societies, neighborhood groups, and preservation nonprofits—we've assembled our biggest-ever list of off-the-beaten-path places that are worth eyeing for a great old home.
Here are our picks for the little hamlets where the homes are sweet and the neighbors even sweeter
Hardwick, Vermont
Don't expect to find a food court or Filet-O-Fish in Hardwick anytime soon. "There's no mall and no McDonald's," Andrew Meyer says of his hometown. A 19th-century granite-mining boomtown that went bust, then slogged through the 20th century, Hardwick is back because of food of the not-so-fast sort. Meyer, co-owner of Vermont Soy, grew up on a farm in this town of 3,000 in the state's northern third. After a stint in Washington as an agricultural aide, he came home, planted beans, and helped turn the town into a cocoon of what foodies call "locavorism." He founded the Center for an Agricultural Economy, which works with farmers, communities, and agribusiness to develop healthy food. The cooperative kitchens of the Hardwick-based Vermont Food Venture Center assist fledgling food-processing companies, and Claire's restaurant serves eats from nearby fields. This community of young entrepreneurs, farming families, and supportive elders proves it: Small business can produce significant economic growth.
The Houses
Many were built at the turn of the 20th century, between the granite industry's acceleration and crash. Folk Victorians built by mining bosses sport Italianate, Queen Anne, and Second Empire features, and tend to sell in the $125,000 to $200,000 range, according to Realtor Ron Sanville. Classic Capes and Colonial Revivals are common, too, and can often be snagged for less than $125,000.
Why Buy Here?
Hardwick's Main Street was home to a slew of watering holes in the depressed days. Today, its diverse array of businesses includes a clothing boutique, a bakery, a jewelry shop, a bookstore, and a co-op of micro-businesses, from acupuncturists to accountants. With agricultural jobs growing fast in Hardwick, if you've ever considered running off to rural America, this seems one prosperous place to park your tractor.
Among the best for: The Northeast, Retirees, Family Friendly, Singles, First-Time Buyers, Small Towns, Gardening, Easy Commute
Bartlesville, Oklahoma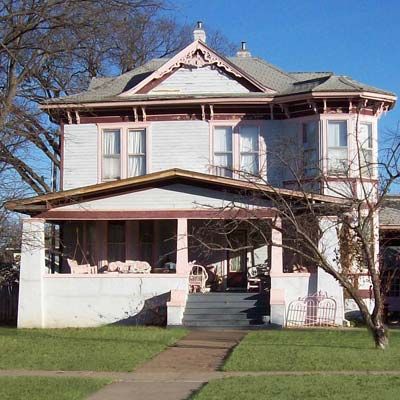 Oil does funny things to a place. Its discovery in 1897 in the Indian Territory near what would become Bartlesville brought oil men from Pennsylvania who got rich, built elaborate homes to compete with one another, and established a town with an ingrained appreciation for arts and architecture that persists today. The barons clustered along South Cherokee Avenue and the streets parallel to either side; their grand houses stand well maintained, just south of the restaurants and shops of downtown. County assessor Todd Mathes and his wife bought a two-and-a-half-story Foursquare here nearly six years ago. "We had four children and then adopted four girls, so our family doubled overnight," Mathes says. From the family home, it's a three-block walk to the cultural center that hosts the town's homegrown symphony and ballet; a block farther sits Price Tower, a 19-story mixed-use building and one of only two skyscrapers Frank Lloyd Wright ever built.
The Houses
Starting at about $100,000, you can find Queen Annes, Tudor Revivals, Craftsman-style and a plethora of other bungalows, many of which trade on elements from an eclectic mix of styles.
Why Buy Here?
To sweeten the deal, Oklahoma boasts one of the lowest property-tax rates in the country, and in Bartlesville that means you pay about $1,400 annually on a $100,000 house. "People don't hate me," says tax man Mathes. "And they realize the value of good schools and roads."
Among the best for: The Southwest, Bargains, Retirees, Family Friendly, Cottages & Bungalows, First-Time Buyers, Victorians, Small Towns, Easy Commute, Walkability
Lambertville, New Jersey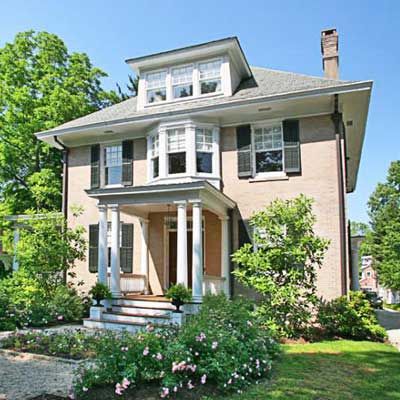 Everything from hairpins to toilets was once manufactured in tiny Lambertville. But the former industrial center has changed: This Delaware River enclave is now home to nearly 5,000 artists, writers, retirees, shop owners, and big-city professionals (who brave 45- or 90-minute commutes to Philadelphia or Manhattan, respectively). What Lambertville lacks in population it makes up for in house-reviving spirit. It's a hotbed for carpenters, masons, architects, antiques dealers, and other home-restoration pros, and a destination for those embarking on the endearingly prickly journey of rehabbing an old home. Mornings, you can stroll the Union Street antiques shops or the nearby renowned Golden Nugget Antique Market.
The Houses
A history dating back to 1705 means Lambertville has accumulated a wide range of architectural styles. "Every house is unique," says Holly Havens, a real estate agent who settled in Lambertville in 1995. The town center offers early-19th-century Federal to Greek Revival and later Italian Villa, Gothic Revival, English Cottage, French Second Empire, and Queen Anne homes, as well as 1850s rowhouses built for Irish canal workers. Craftsman bungalows and vernacular cottages dot outlying hills. Those game for heavy lifting can grab a storied house with good bones for a song. We found a two-bedroom Colonial rowhouse dating to the 1700s for $168,000 (yep, it needs work).
Why Buy Here?
If you're looking for a small—but growing—artisan-friendly town, or a commutable rural pocket, Lambertville is your place. "It's Oz," says Havens. "We're so tucked away." And did we mention the deals?
Among the best for: The Northeast, Bargains, Waterfront, Retirees, Singles, First-Time Buyers, Small Towns, Outdoor Activities, Walkability
Saint Andrews, New Brunswick, Canada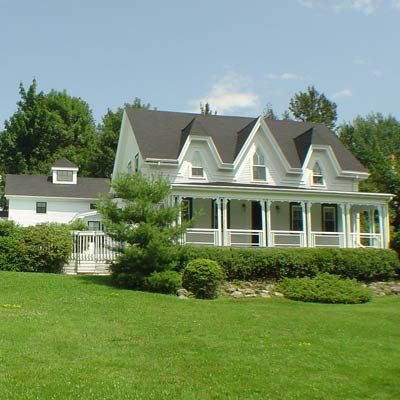 Hailed as the "Jewel in the Crown of New Brunswick," this coastal village in the Bay of Fundy was one of Canada's first pre-fab communities: British loyalists escaping persecution in the American colonies settled here in 1783, some transporting their dismantled homes for rebuilding. Late-1800s Canadian and American urbanites turned Saint Andrews into a summer playground, and the majestic Tudor-style Algonquin Hotel, built in 1889, stands today. Current residents find Saint Andrews a social place despite a high-season population of just 4,000: Locals tee off seaside, watch whales on the bay, and stroll the town's three-mile walking loop. One thing you won't spy here: big-box or chain stores. Local bylaws prohibit them, so Water Street's shops are the 1880s originals.
The Houses
You'll find Cape Cod–style cottages and other early homes put up by Saint Andrews' first-wave settlers, and center-hall Georgians built in the 1830s. A meticulously restored 1770 Cape will set you back about $360,000; one needing TLC might list at $120,000. Big spenders: Note the $699,000 listing of New Brunswick's most photographed home, a 1912 French Eclectic farmhouse with a harbor view and thatched-style roof and turret said to emulate explorer Jacques Cartier's house in Brittany.
Why Buy Here?
Saint Andrews offers more house for your money compared with similar locales farther down the coast, says area real-estate agent Mark Gauley. That may be why it attracts American ex-pats and retirees looking to try out small-town living. It's a 5-hour car ride to Boston—8 to Montreal—should you need a break from the daily waxing and waning of the 28-foot tides. We expect you won't.
Among the best for: Canada, Bargains, Fixer-Uppers, Waterfront, Retirees, Small Towns, Outdoor Activities, Walkability
Sitka, Alaska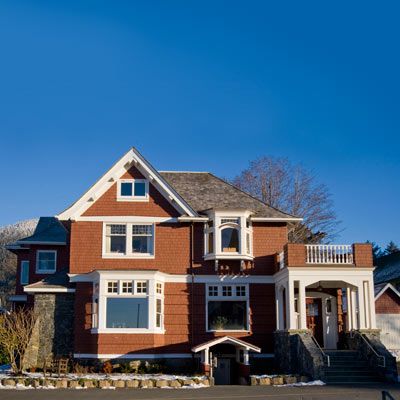 The capital of Russian America, Sitka was the site of the handoff to the United States after the 1867 Alaska Purchase; it remained the region's capital until 1906. Patinated copper spires atop the St. Michael's Orthodox Cathedral overlook this community in the state's southeastern region, which has an old-world feel rare for a West Coast town. Home to some 8,000 people, Sitka is located on Baranof Island, reachable only by boat or plane. But life here hardly feels like exile. The city's satellite campus of the Juneau-based University of Alaska Southeast and renowned Sitka Fine Arts Camp (which recently took over the campus of the historic Shelton Jackson College) draw students and families from all over. With hiking trails dating to the 1930s and close proximity to Sitka National Historical Park, this place is also a playground for outdoors people young and old.
The Houses
A wet climate, foundation-compromising soil called muskeg, and relaxed building regulations prior to the 1950s pose challenges to aging homes in Alaska. Still, downtown is peppered with well-kept Queen Annes dating to the 1890s, originally inhabited by merchants and navy families, and Craftsman bungalows dating from 1910. Vernacular fisherman's cottages are also common. The average price for a three- or four-bedroom house in good condition is around $400,000.
Why Buy Here?
Sitka is a great place to raise a family. "It's a small community, but there's a lot available to residents," says Jay Kinsman, chair of the Sitka Historic Preservation Commission. Besides, Sitka is beating skyrocketing oil prices with the lowest electric rates in the state, powered by two hydroelectric power plants.
Among the best for: The West & Northwest, Waterfront, Family Friendly, Victorians, Small Towns, Outdoor Activities, History Happened Here
Downtown Mesa, Mesa, Arizona
Located just east of Phoenix and neighboring Tempe, downtown Mesa (sometimes called Town Center) is home to about 3,000 residents. The area attracts young professionals, empty-nesters, and families with its easy access to the city. They also cherish the neighborhood's historic architecture—which contrasts with the miles of cookie-cutter subdivisions, many stricken by the foreclosure epidemic, in the overbuilt metropolitan area. Original details like built-in ironing boards and telephone nooks, long-time local Vic Linoff says, give the neighborhood's homes "something warm and comfortable that can't be replicated in new construction." All that character, and a climate to die for, too. Thanks to the Roosevelt Dam and a year-round reliable water supply, gardens here flourish, as do the cottonwood trees. Walkers, runners, and cyclists enliven the sidewalkscapes when much of the country is bundled up and snowed in.
The Houses
Craftsman bungalows, which comprise the most prominent architectural style, provide cool sanctuary during Mesa's hot, arid months with wide porches and flowing air circulation. Downtown is also home to Spanish Eclectic, Tudor, and vernacular adobe houses. Starting at about $150,000, you can find a 1,000-square-foot bungalow needing little to no work. A midsize Spanish Eclectic or Tudor will certainly cost a bit more.
Why Buy Here?
Phoenix and its neighboring communities have long been public transportation-challenged, but by 2016, a light-rail extension will run through Main Street in Mesa and into downtown Phoenix, providing jobs, raising property values, and taking vehicles off the city's congested highways. Hello, heavenly new commute.
Among the best for: The Southwest, Family Friendly, Victorians, Small Towns, Outdoor Activities, History Happened Here
The West End, Alameda, California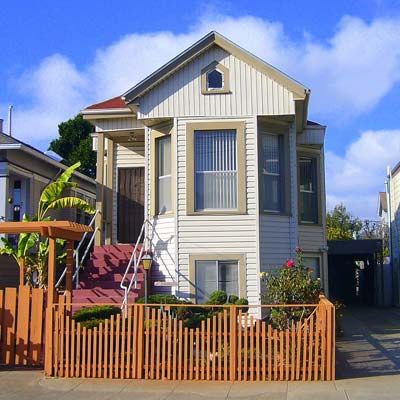 Just off Oakland's shores, Alameda is a 23-square-mile island in San Francisco Bay. Long heralded for the stunning Queen Annes and California bungalows on its eastern edge, the area's West End is now getting the attention. The former home of a massive Naval Air Station, the west side's fortunes changed in 1997, when the U.S. Navy packed its bags, leaving behind enormous hangers. Before long, a new generation of enterprising Californians started to arrive, converting the cavernous spaces into film studios, fitness centers, wineries—even an absinthe distillery. Over the past decade, as retired military families have gradually sold their Arts and Crafts bungalows and Victorian-era cottages, the West End has adopted a new identity. "It's funky, it's edgy, and it's family friendly," says Kathy Ledner Moehring, a transplanted New Yorker who bought a 1912 Craftsman bungalow here eight years ago. Kathy, executive director of the West Alameda Business Association, notes that good schools and a low crime rate, plus dozens of restaurants and businesses, new and old, make Alameda a perfect family place.
The Houses
Modest Arts and Crafts bungalows and Victorian cottages generally needing some work are coming on the market at reasonable prices. A 1,377-square-foot bungalow built in 1915 was recently listed at $299,000.
Why Buy Here?
Housing values are expected to rise as redevelopment continues in the area surrounding the former base. An underwater tunnel gets you to Oakland in two minutes, and it's a 20-minute ferry ride to San Francisco.
Among the best for: The West & Northwest, Family Friendly, Cottages & Bungalows, Small Towns, Easy Commute, Walkability
Tariffville Village, Simsbury, Connecticut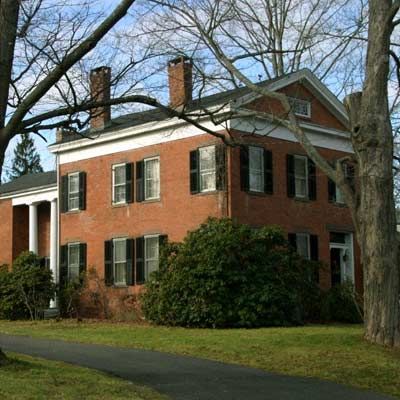 In Tariffville, locals are known to hold old-fashioned community cookouts or head to the Farmington River for tubing, kayaking, or rafting. But despite its many pleasures, few people outside Connecticut have ever heard of it. "This place has sort of been forgotten over the years," says Chet Matczak, president of the Tariffville Village Association. "That's one of the things that make it such a nice place to live." The neighborhood of just 320 families is a pocket of Simsbury, about 11 miles northwest of Hartford. Thanks to its small-town New England charms, top-notch schools, and die-hard dedication to historic preservation. Simbsury was included on the National Trust for Historic Preservation's exclusive "Dozen Distinctive Destinations" list in 2010. And Money magazine recently named it one of the Best Places to Live in America. We thought we'd add to the list by naming Tariffville one of the best neighborhoods to buy an old house, too.
The Houses
Greek Revivals and Gothic Revivals in Tariffville date back to the 19th century, while the late 1800s and early 1900s produced a whimsical array of Folk Victorians. Prices range from $180,000 for four-bedroom homes in disrepair (but with plenty of motivating character) to about $400,000 for large houses in beautiful condition.
Why Buy Here?
Tariffville is one of the few places where you can find a five-bedroom home for under $200,000. It's an affordable hamlet for old-home lovers who want bang for their buck and for families buying for the first time and looking for access to quality education.
Among the best for: The Northeast, Bargains, Fixer-Uppers, Waterfront, Family Friendly, First-Time Buyers, Victorians, Small Towns, Outdoor Activities, Easy Commute
Milton, Delaware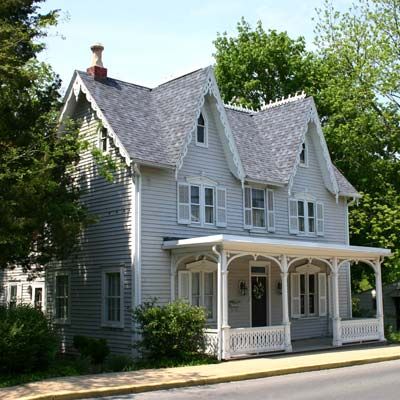 "We still have work to do," says Melinda Huff, executive director of the Milton Historical Society about getting her little river town the recognition it deserves. Still, Milton has accomplished quite a bit already. Settled in the early 1680s, the town's Historic District was listed National Register of Historic Places in 1982. Now Milton is in the process of nominating 240 more historic homes on the Register as well. Located near the state's eastern shore at the Broadkill River's head, Milton was, at various times, a 19th-century schooner-building center, the "Holly Capital of the World," and a hotbed for buttonmaking. Nowadays it's just a friendly small town, with nearly 2,000 parents, kids, grandparents, and young professionals who love Milton for summer's sweet corn, cones from King's Ice Cream, and other favorite summer pastimes, like fishing, canoeing, and gardening.
The Houses
About 40 percent of Milton's homes have been restored, but there are still plenty of deals to be had. The Milton National Historic District includes 198 National Register—listed structures—among them Colonial, Federal, Greek Revival, Gothic Revival, Italianate, Second Empire, Queen Anne, and Colonial Revival homes—plus bungalows and vernacular styles. Some contain wide-plank floorboards taken from sailing vessels, stained-glass windows, hand carvings, and newel posts made of walnut or oak. Currently, an 1830s vernacular home with Federal characteristics is on the market for $200,000, though it needs a fair amount of restoration work.
Why Buy Here?
Anyone who enjoys boating, fishing, or maritime history—which is well documented at the Milton Historic Society's museum—would feel pretty comfy here. Milton is also home to the famed Dogfishhead brewery, so you won't ever have a hard time tracking down some fresh 90-Minute IPA or Chicory Stout.
Among the best for: The Northeast, Waterfront, Family Friendly, First-Time Buyers, Small Towns, Gardening, Walkability
Elkader, Iowa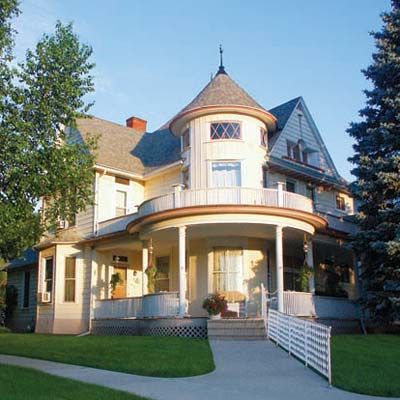 "We are the only town in America named after a Muslim revolutionary," says Mary Harstad. Founded in 1846, the place is indeed named for Abd al-Qadir, the so-called Father of Algeria, who fought the French occupation, beginning in the 1830s. His bravery so inspired the founders of the town that they named it after him—with an Americanized spelling. Mary and her husband, Donald Harstad, a successful crime novelist, left their hometown for Los Angeles for several years but realized their mistake and moved back. She walks to work at the Chamber of Commerce, located in the basement of a still-operating 1903 opera house. Elkader's revitalized downtown also features a first-run movie theater and Schera's, a popular Algerian-American restaurant.
The Houses
Many were based on pattern book design by turn-of-the-century architect George Franklin Barber, who helped make the Queen Anne style ubiquitous nationwide in the late 1800s. The houses feature elaborate wraparound porches, second-story balconies, flamboyant spindle-work, and, in many cases, front-yard gardens. You'll find brick Greek Revivals, smaller Folk Victorians, and bungalows, too. Prices range from $60,000 for a handyman's special to $300,000 for a restored Painted Lady.
Why Buy Here?
Elkader, a settlement of just under 1,500, seemingly has no cons: The streets are safe for kids to walk or to ride their bikes, and adults blow off steam fishing or kayaking on the Turkey River. Cedar Rapids, an hour away, can help fill in what is often a small-town blank: gainful employment.
Among the best for: The Midwest, Bargains, Fixer-Uppers, Family Friendly, Singles, First-Time Buyers, Victorians, Small Towns, Gardening, Outdoor Activities, History Happened Here
Easton, Maryland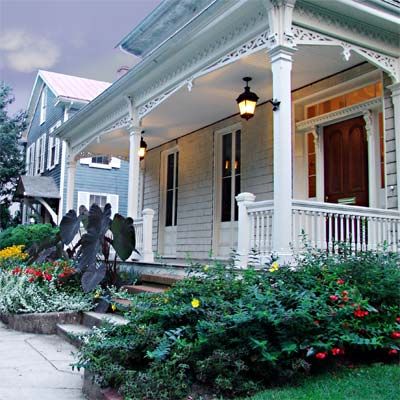 "I'm going to see Randy Newman at the Avalon downtown this month—and I'm walking to the theater," says Beth Hansen, boasting about the walkability of her adopted hometown of Easton. Hansen, who moved here from Oakland, California, six years ago, also loves the town's active arts community and gourmand-caliber restaurants, not to mention its indy coffee shops, clothing boutiques, and wine bars. Easton, which is home to about 14,000 people, has long been a hot spot for Washingtonians looking for second homes or retirement sweet spot. That makes sense: Downtown offers all of the cultural amenities big-city Beltway types demand, while Easton's outlying areas on Chesapeake Bay provide boating, duck hunting, fishing, and some pretty inspiring natural scenery to boot.
The Houses
Like Hansen, many residents here choose to live in the downtown area's historic Victorian-era houses, including Folk, Second Empire, and Queen Anne homes. We found a 3,480-square-foot Folk Victorian within walking distance of downtown for $129,000; a 4,175-square-foot, five-bedroom Second Empire farmhouse, located minutes from downtown on 2.69 acres of land, was selling for $346,000. Those who covet coastal views will find waterfront houses on Chesapeake Bay, about 15 minutes outside of town (expect to pay $700,000 and up for those properties).
Why Buy Here?
Prices were skyrocketing in Easton before the real estate bust, but now you can pick up a solid old house in town for less than $200,000. Easton is located 72 miles east of Washington, D.C., so it remains an excellent choice for second-home buyers. With its good schools and safe streets, it's also ideal for families with children.
Among the best for: The Northeast, Waterfront, Family Friendly, Victorians, Small Towns, Walkability
Martinsburg, West Virginia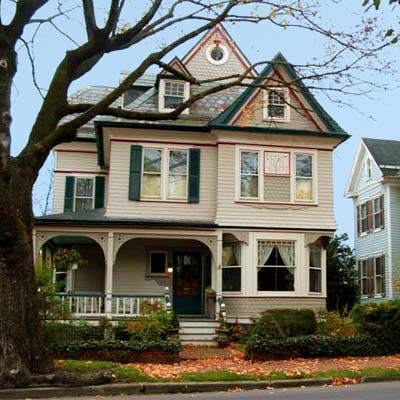 "You gave me one quarter too many," Ed Trout beckons to a customer who's hightailing it out of his King Street Coffee & Tobacco Emporium after buying a cup of joe. It's a shining example of how people seem to look out for one another in Martinsburg, a city of 17,000 with decidedly small-town tendencies. Trout was born and raised in Martinsburg, where he spent his childhood hooking catfish and walleye on the nearby Potomac River. He went away for college, but came back in the early 1990s to open his store in one of Martinsburg's historic downtown commercial buildings. Those storefronts also house Italian restaurants, mom-and-pop drug stores, and a full-fledged chocolate factory. Trout says his coffee-and-cigar shop is emblematic of Martinsburg's convivial atmosphere. "It goes back to the old general store days," he says, "where you'd show up each day, say hi to your friends—and just tell your stories."
The Houses
Martinsburg is home to ten National Register Historic Districts, with every American house style imaginable—from Federal to Foursquare. More opulent houses are on King and Queen streets, where 19th-century industrialists who made their fortunes in the textiles mills built large Queen Anne, Georgian Revival, and Colonial Revival mansions. Prices for starter homes begin at less than $100K, but a restored four-bedroom Queen Anne with a huge yard for gardening can be had for $250,000.
Why Buy Here?
This self-proclaimed "Gateway to the Shenandoah Valley" has grown in popularity over the years, as commuters from Washington, D.C., and Baltimore move here for a relaxing change of pace (despite the two-hour journey). A new Macy's distribution center, now under construction, will offer more than a thousand jobs.
Among the best for: The South, Bargains, Fixer-Uppers, Retirees, Singles, First-Time Buyers, Victorians, Small Towns, Gardening
Sheridan, Wyoming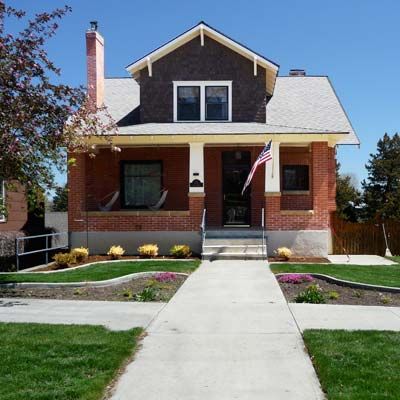 The preserved western storefronts of turn-of-the-century downtown Sheridan (population 17,461) are not for show. While it's true that Buffalo Bill Cody auditioned acts for his Wild West Show on the landmark Sheridan Inn's steps, today's residents, from cowboys to doctors at the Veterans Administration hospital, buy socks at the old J.C. Penney, nails at Sheridan Commercial Company, and reins from King's Saddlery. The family-owned tack shop, founded in 1961 and famous for its ropes and hand-tooled leather saddles, ships worldwide. "Sheridan is rural Americana at its finest," says Andy Ayres, co-owner of Lulu's Cafe, which offers meat and potatoes and tapas. But don't confuse rural with hick: There are two polo clubs here that draw players from as far away as South America.
The Houses
Most historic homes are in Residence Hill, along South Main, which runs the town's length, and blocks west. The predominant style is Craftsman, like the 1914 two-story that Rod Fordahl has been fixing up "forever." When he bought the place 20 years ago, it contained the original claw-foot tub and panel doors. You'll find the odd Tudor, Queen Anne, or Dutch Colonial; expect to pay from $275,000 for a 3,000-square-foot historic home. "Places have been preserved pretty well," says Fordahl, whose company, Fry Construction, does remodeling jobs. Once he's done with a place, and the coal-fired furnace has been replaced, the price might climb to $400,000.
Why Buy Here?
There are no incentives, per se, to fix up an old house in Sheridan, but property taxes are extremely low. You might pay $1,500 a year for a 3,000-square-foot house.
Among the best for: The West & Northwest, Fixer-Uppers, Retirees, Cottages & Bungalows, Small Towns, History Happened Here
Cranbrook, British Columbia, Canada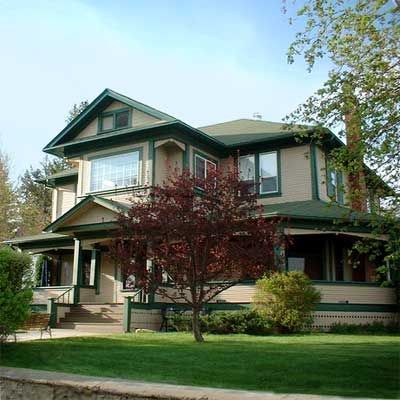 Trains put Cranbrook on the map—literally. There was hardly a town to speak of until 1898, when the Canadian Pacific Railway established a station here. Nestled in the Columbia Valley at the foot of the Rockies, Cranbrook became a vital hub for moving coal, ore, lumber, and people through the region. While the railroad—along with the energy sector—remains an important component of the city's economy today, the trains themselves are the draw for visitors to the city's Canadian Museum of Rail Travel, chockablock with restored classic railcars and locomotives. Others, including outdoorsy retirees looking for a slow, picturesque pace, come for the snow-capped mountains and parks; this outdoor enthusiast's dream locale draws many a hiker, biker, climber, and snowshoer. When the city's 20,000 residents aren't skating on the city's ice rinks or fishing in the trout-stocked Idlewild Park lake, they might be at a game supporting the local junior hockey team, the Kootenay Ice.
The Houses
Cranbrook's period homes are concentrated in the historic Baker Hill neighborhood, which is home to the 1888 Queen Anne–style house built for city founder Colonel James Baker. Also within the neighborhood's four-block radius are Craftsman bungalows and vernacular-style cottages built for railway and lumber-industry workers; these smaller homes start at $200,000 (USD).
Why Buy Here?
A center for regional industry situated within 60 minutes of four ski areas, Cranbrook offers the advantages of the area's largest economic engine with the feeling of a small town.
Among the best for: Canada, Retirees, Family Friendly, Cottages & Bungalows, Victorians, Small Towns, Outdoor Activities
Dawson City, Yukon Territory, Canada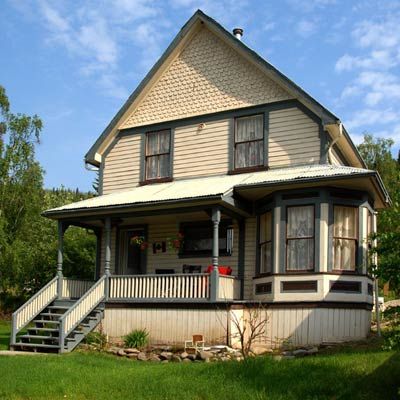 "If you're looking for a town with historic buildings, you came to the right place," says Bill Holmes, casino manager at Diamond Tooth Gerties Gambling Hall. Indeed, the town boasts more than 100 houses from the gold rush days along Front Street and the picket-fence-lined back lanes. Founded in 1896 at the confluence of the Yukon and Klondike rivers, the Klondike Gold Rush's former epicenter is experiencing another boom, thanks to a recent discovery of gold south of town. The other treasure comes from the pockets of 60,000 annual tourists, who gawk at the aurora borealis, attend Dawson City's art, music, and film festivals, tour writer Jack London's cabin, and peruse the work of local artists. The hubbub recedes during the frigid winters, when the permanent population of about 1,800 takes to hosting cozy dinner parties. Moosso buco, anyone?
The Houses
The city's housing heritage includes frontier vernacular-style homes gussied up with Edwardian and Victorian architectural frills such as patterned shingles and columned porches, and often girded with corrugated-metal roofs. Many of the cheery colored homes stand on wood cribbing that allows for re-leveling when the permafrost heaves, and cost from $175,000 to $300,000.
Why Buy Here?
Aside from the chance to strike it rich, owners of historic properties can apply for a matching grant from Yukon Territory: up to $10,000 a year for exterior preservation or $20,000 for an officially designated historic property.
Among the best for: Canada, Waterfront, Victorians, Small Towns, Outdoor Activities, History Happened Here
Ipswich, Massachusetts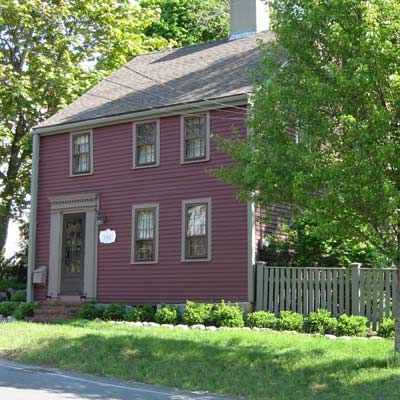 Some 30 miles northeast of Boston is the beachfront town of Ipswich, known to have inspired Theodore Wendel and other American Impressionist painters with its rolling hills, salt marshes, open farmlands, and classic maritime scenery. Ipswich is now home to almost 14,000 residents, including retirees, families, and everyone from working-class fishermen to well-known writers and artists. Environmentally focused preservation societies take great care to protect the town's natural resources, while locals and visitors enjoy horseback riding on country trails, canoeing and kayaking on the Ipswich River, cavorting on Crane Beach's white sands, and, of course, feasting on the famous Ipswich clams. Jean Moss, who conducts historic-home tours here, says, "I've never lived in a place where people loved their town so much."
The Houses
Of the 180 historic houses here, 58 were built before 1725, making Ipswich the home of more First Period houses than any other U.S. community. Typically family owned and rarely found on the market, these early structures are mainly Postmedieval English timberframe dwellings featuring saltbox rearward extensions. Queen Anne and Italianate homes built around the turn of the 19th century are also here, and tend to go for around $600,000. On the lower end, a 3-bedroom 1928 Colonial Revival in need of gut renovation—and a hike from the town center—is listed for $169,900.
Why Buy Here?
You can live near the beach as a one-car family! Ipswich is one of only a few Boston-area seaside towns with its own train station, walkable from the town center.
Among the best for: The Northeast, Waterfront, Retirees, Family Friendly, Small Towns, Outdoor Activities, History Happened Here, Easy Commute, Walkability
Francestown, New Hampshire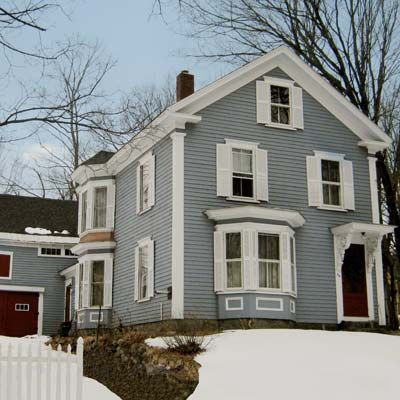 "We've been open for—hmm—about 197 years now," says Jason Martel, owner of the Francestown Village Store. Indeed, for two centuries, residents of this southern New Hampshire town have been coming here for their groceries, hardware, and just about everything else. "These days, we also carry 450 types of beer and roasted seaweed for sushi," Martel adds. The store is the glue that holds the town of about 1,500 together (and yes, it sells glue, too). Almost all of the buildings and houses here were built between the late 1700s and the late 1800s, when Francestown was bypassed by the railroad. Hindsight says that was a fortuitous turn: Had things transpired differently, the town wouldn't be the charmer of a bedroom community—many residents commute to Boston or Manchester—that it is today.
The Houses
Popular styles include Cape Cod and Federal, many with beautiful English-style gardens. Recently for sale was one of Francestown's few Victorian-era houses, a 2,287-square-foot Queen Anne on a quarter acre, on the market for $225,000. Also available: a 3,056-square-foot 1826 Federal, with an attached barn, for $295,000.
Why Buy Here?
Anyone looking for a quiet, rural community in which to settle down will find a fine option here. But be warned: There is no nightlife here to speak of. "Once I close my doors, the town's done for the day," Martel says. Action awaits about 20 miles away in Manchester, or in Boston, a 90-minute drive. It's a great place for skiers, though, being the home of the Crotched Mountain ski area.
Among the best for: First-Time Buyers, Gardening, Northeast, Small Towns, Outdoor Activities