Affiliate Disclosure:This Old House's Reviews Team is committed to delivering honest, objective, and independent reviews on home products and services. To support this business model, This Old House may be compensated if you purchase through links on our website.
Each product we feature has been independently selected and reviewed by our editorial team. If you make a purchase using the links included, we may earn a commission.
The 8 Best RV Mattresses
RV travel has seen a surge in popularity, and the trend is all gas no brakes, insiders say–meaning there are no signs of the migratory movement stopping anytime soon. If you've recently taken up a lifestyle that has you living in small but mighty quarters on the road, creating a comfortable sleep space is a crucial piece of enjoying the journey.
After all, while your house on wheels is recharging, you'll also need some restorative shut-eye on a comfortable mattress. We rounded up the eight best RV mattresses on the market with the help of Mattress Advisor and their sleep experts. Because regardless of how handy you are (heck, maybe you built an Amazon-bought mobile unit in a weekend or restored an Airstream yourself), navigating the mattress world alone can be a bumpy ride. You'll have a much more pleasant journey ahead if you're able to get a good night's sleep.
But before you dive into deciding what you want based on your sleep position preferences, keep in mind that some of the most important RV mattress considerations are size and materials: To ensure the mattress fits in its specified space, you'll need your vehicle's measurements. We also considered Mattress Advisor's assessment of other crucial mattress qualities, such as firmness and use of organic materials. So, for sleep in a bed that delivers the comforts of home while on the road, these are the seven expert-vetted camper mattresses we most recommend:
Best RV Mattress – Our Top Picks
Editor's Pick – Brooklyn Bedding Wanderlust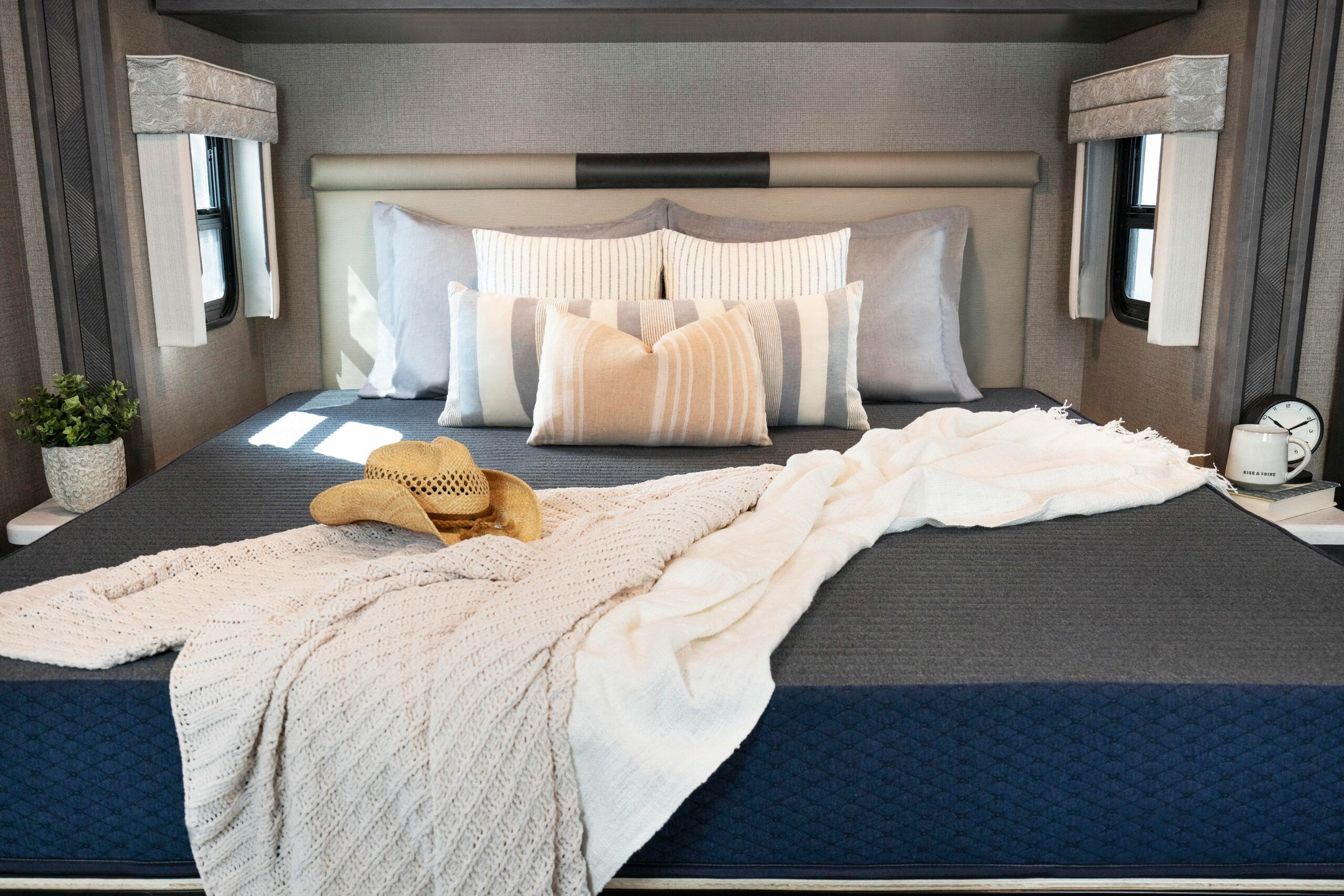 It's all in the name with Brooklyn Bedding's Wanderlust, a memory foam mattress that's built for the modern nomad. Multiple layers of foam provide comfort, support, and pressure point relief. In particular, a high-density base foam holds you, while a gel foam comfort layer draws away body heat to promote a cool night's sleep. We also love this mattress for its great value, coming in at less than $600 for the softest 14″ thick queen. Or, if you need to sacrifice some comfort for square footage, you can pay less than $400 for a slimmer 6″ queen-size that will sleep like a more firm mattress, but leave more organizing space to keep your mobile operation stocked and organized. Plus, you can always pair your new mattress with a plush topper to mimic that luxe pillow top feel.
Material: Memory foam
Firmness: 6″ (firm) to 14″ (soft-medium)
Customer Rating: 4.7/5
Delivery: Delivered in 3-5 business days
Warranty: 10 years
Pros and Cons of the Brooklyn Bedding Wanderlust mattress
| Pros | Cons |
| --- | --- |
| Great for hot sleepers | Not recommended for shoppers who prefer the feel of innerspring mattresses |
| Recommended for those who love the plush feel of memory foam | Firmness level may be too much for some sleepers |
| Comfort foam provides relief for joint pain | Even with gel foam addition, could still feel too warm for some |
| Pros | Cons |
Best RV Mattress for Back Pain – Bear Trek Mattress
If you're a rugged person who's had it with camping in the yard and is ready to take to the road, Bear created its RV mattress with active sleepers in mind. Likewise, that design makes the Bear Trek a great fit for RV adventurers with back pain who seek restorative sleep after a day spent hiking, biking, splitting wood, or other kinds of strenuous activity. The mattress supports and sleeps cool by using a high-density support foam layer to keep the spine aligned, and a gel memory foam layer to soothe aches and dissipate body heat. The bed's breathable cover also promotes airflow.
Material: Memory foam
Firmness: Medium-firm
Customer Rating: 4.8/5
Delivery: Delivered in 2-7 business days
Lifetime Warranty
Pros and Cons of the Bear Trek mattress
| Pros | Cons |
| --- | --- |
| Well-suited for those who live an active lifestyle | Won't work anywhere except in an RV or bunk beds |
| Comes in special RV mattress sizes | Slight off-gassing can happen when you unbox this bed |
| Works well for hot sleepers | Can't be customized if you need a certain size for your RV |
| Pros | Cons |
Best Value RV Mattress – Nectar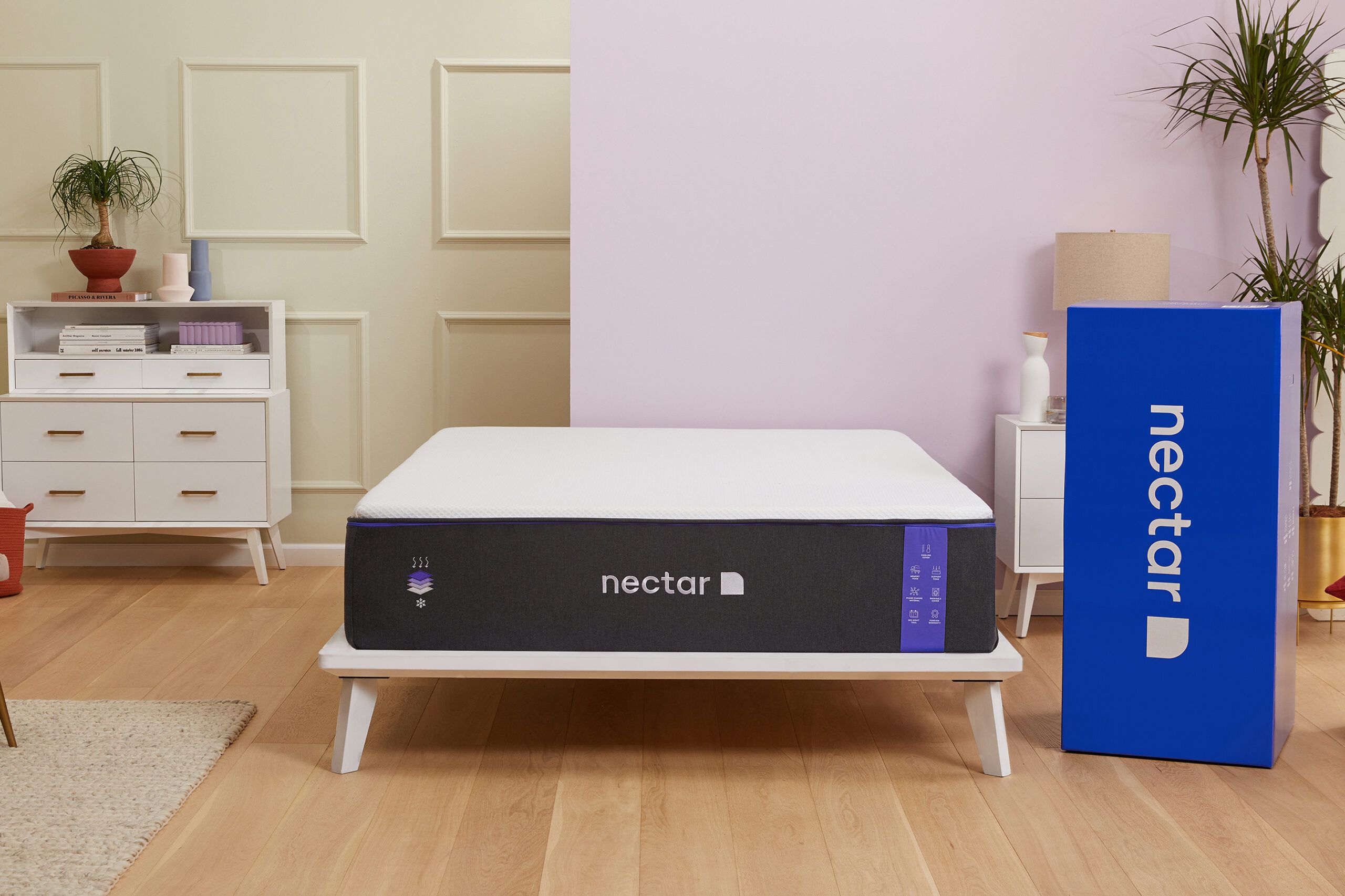 The Nectar offers the best value when it comes to getting the most return on your mattress investment. It works well for any sleep position, and it just so happens that it works well for RVs. The cushioning, pressure-relieving foam will keep you well rested for all your adventures. The Nectar offers a low price point, lifetime warranty, and year-long sleep trial period, making it an exemplary value.
Material: Memory foam
Firmness: Medium-firm
Customer Rating: 4.8/5
Delivery: Delivered in 2-5 business days
Lifetime Warranty
Pros and Cons of the Nectar mattress
| Pros | Cons |
| --- | --- |
| Good fit for memory foam lovers | Memory foam isn't the best mattress type for hot sleepers |
| Works well for back, side, and stomach sleepers | Not supportive of sleepers with heavier body weights |
| Ideal for budget shoppers | Not a top pick for sleepers who need a firmer mattress |
| Pros | Cons |
Best Customizable RV Mattress – Tochta Utopia
We all know how much custom details can boost a home. And sometimes, a custom mattress, like those furnished by Tochta, are a necessity when it comes to the unique limitations of your home on the road. If, for space reasons, you need to cut corners on your mattress—literally—but don't want to cut corners on quality, you can order a custom Tochta Utopia mattress with its corners cut notched, angled, or rounded.
Size customization also extends to mattress thickness, so comfort seekers can snooze like a baby on a plush, thick 10″ mattress, while the more rugged can opt for a thinner build that allows more overhead space for cabinets or bunk beds in the camper. Either way, Tochta will give you a great night's sleep in your RV bed, while maximizing every inch.
Material: Memory foam and latex
Firmness: 4″ (firm) to 10″ (medium)
Customer Rating: Coming soon!
Delivery: Customization may take up to 3-4 weeks
Warranty: 10 years
Pros and Cons of the Tochta mattress
| Pros | Cons |
| --- | --- |
| Suitable for most bed frames, and customizable size for unique fits in RVs | Might be too soft for stomach sleepers |
| High-density foam layer is great for cradling side sleepers | |
| Pros | Cons |
Best Memory Foam RV Mattress – PlushBeds MobilePlush Deluxe RV Mattress
When you're in your RV, the last thing you want to think about is smelling something coming from your mattress in a small space. PlushBeds memory foam RV mattress incorporates its signature, dense memory foam to keep you cool, supported, and relieve pressure while eliminating any harmful chemicals. The memory foam in this mattress is all made in the United States and is both GreenGuard Gold and CertiPUR-US Certified-meaning that these organizations give this bed their stamp of approval for not emitting any toxins into the air you breathe or having contact with your skin.
Material: Memory foam
Firmness: Medium-firm
Customer Rating: 4.9/5
Delivery: Delivered in 7-9 business days
Warranty: 20 years
Pros and Cons of the PlushBeds MobilePlush Deluxe RV Mattress
| Pros | Cons |
| --- | --- |
| Bamboo cover helps with cooling | Not recommended for innerspring mattress fans |
| Porous memory foam helps with cooling and pressure relief | Even with cooling materials, memory foam can sleep warm |
| Memory foam is made in the USA | If you need to return your mattress, you will have to pay for return shipping |
| Pros | Cons |
Best Luxury RV Mattress – Brooklyn Bedding Aurora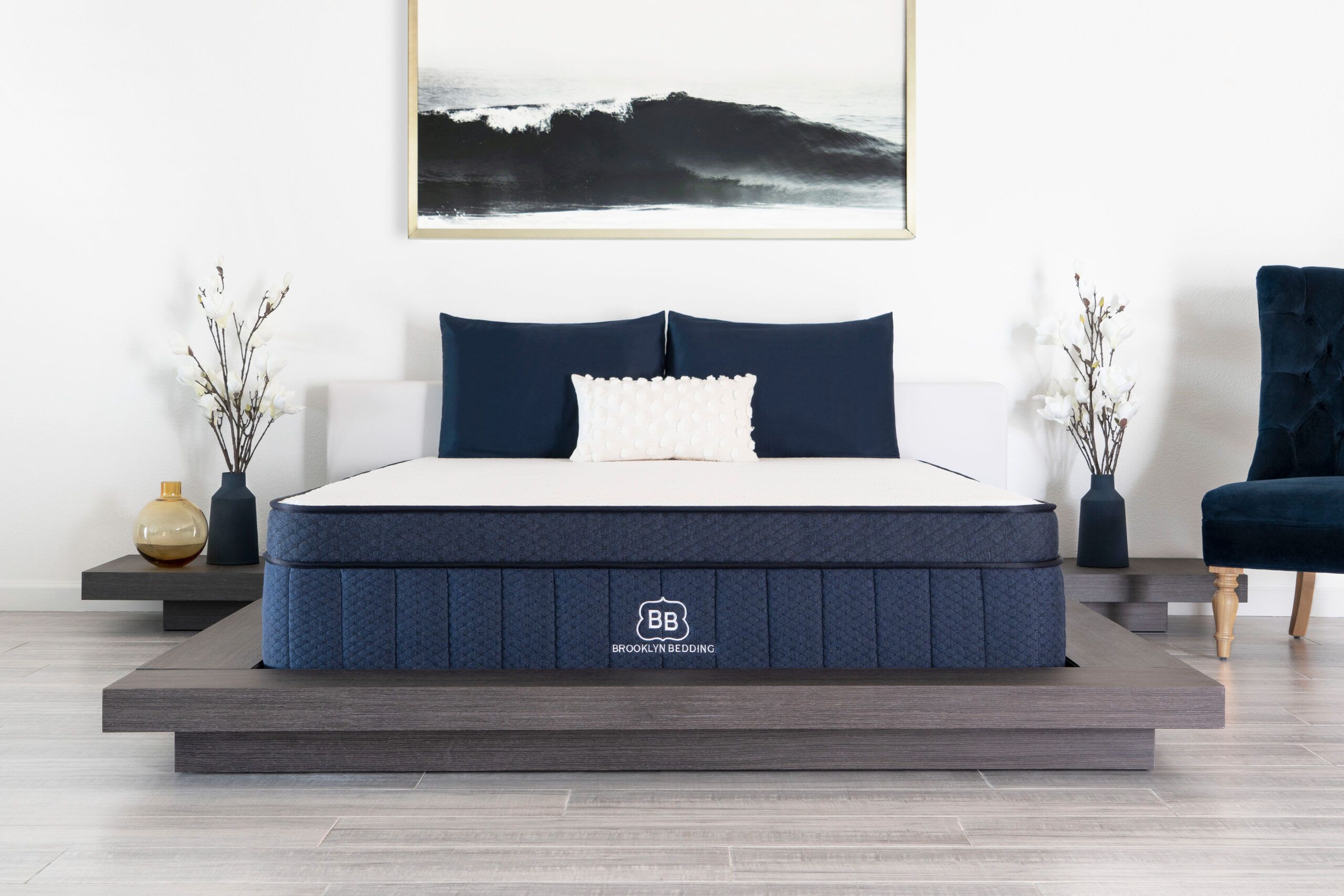 Turn your RV or your travel trailer into a luxury hotel on wheels. The Brooklyn Aurora is made with five-star comfort in mind, something it achieves through its thoughtful luxury design. This mattress unites cool gel memory foam with supple, supportive innerspring coils. Another advantage is that it comes in three firmness levels, letting you choose your ideal setting for a comfortable mattress. The Brooklyn Aurora scores exceedingly well when tested in responsiveness, cooling, spine alignment, and motion transfer.
Material: Hybrid
Firmness: Soft, medium, & firm
Customer Rating: 4.7/5
Delivery: Delivered in 3-4 business days
Warranty: 10 years
Pros and Cons of the Brooklyn Bedding Aurora mattress
| Pros | Cons |
| --- | --- |
| Recommended for hot sleepers | Not the most budget-friendly option |
| Motion isolation helpful for couples | Might be an odor when you remove it from the box |
| Works well for combination sleepers | Not the plushest feeling mattress |
| Pros | Cons |
Best Organic RV Mattress – Nolah Natural
There are savvy ways eco-conscious van life devotees mitigate their environmental impact, like installing solar panels on their RV. Fortunately, that conscientiousness can extend to your mattress with Nolah Natural. By using organic cotton, wool, latex, and recycled steel coils, you can enjoy a completely all-natural sleep experience. Side note: it's also in the self-enlightened interest of allergy sufferers to sleep on an organic mattress like Nolah Natural, which are naturally hypoallergenic. Beyond its green credentials, Nolah boasted excellent testing scores in the sleep lab as well. Testers gave the bed superb grades in pressure relief, cooling, and responsiveness.
Material: Hybrid
Firmness: Medium-firm
Customer Rating: 4.9/5
Delivery: Free shipping within 5-7 business days
Lifetime Warranty
Pros and Cons of the Nolah Natural mattress
| Pros | Cons |
| --- | --- |
| Top scores in pressure relief and cooling | Not a great fit couples who need motion isolation |
| Responds to movement, perfect for combination sleepers | Less edge support than other mattresses recommended |
| Latex is known for its dust mite and antimicrobial properties | |
| Pros | Cons |
Best RV Mattress for Couples – DreamCloud Original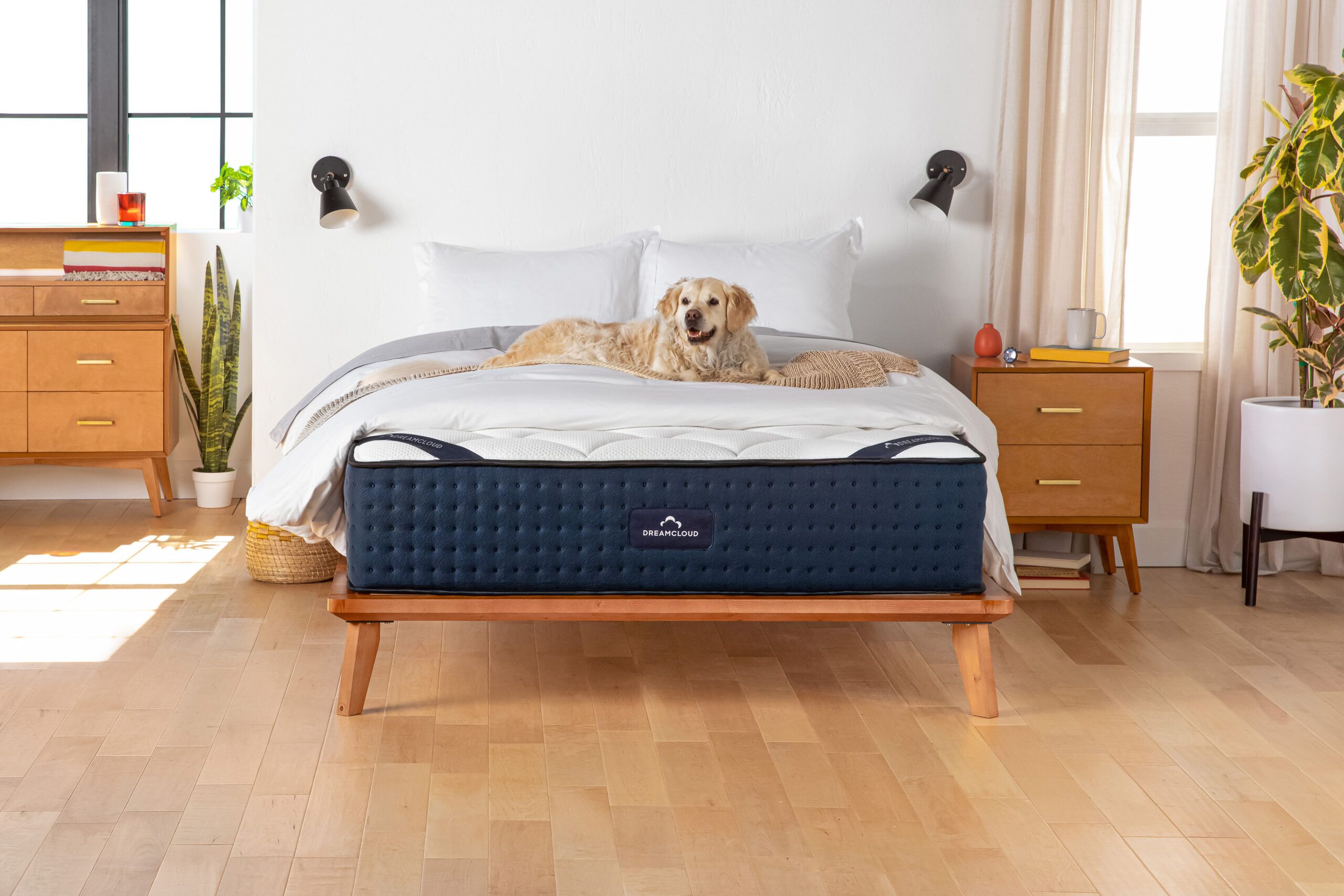 If you'll be sharing sleeping quarters with a fellow RV road warrior, you'll need to agree on a mattress. Our Reviews Team's consensus? The DreamCloud Original is the best RV mattress for couples. One of the key factors to consider when selecting an RV bed for two is firmness level. DreamCloud is a medium-firm that appeals to all sizes and types of sleepers. DreamCloud's firm, supportive feel makes the bed excellent for stomach sleepers and back sleepers, but with enough cushioning pressure relief for side sleepers. Additional advantages include a lower price point, near-perfect edge support, and exemplary spine alignment.
Material: Hybrid
Firmness: Medium-firm
Customer Rating: 4.8/5
Delivery: Delivered in 14 business days
Lifetime Warranty
Pros and Cons of the DreamCloud Original mattress
| Pros | Cons |
| --- | --- |
| Works well for couples, thanks to excellent motion isolation | Not the best option for plus-sized or heavyweight sleepers |
| A good pick for shoppers on a budget | |
| Pros | Cons |
RV Mattress Shopping Factors
When you and your loved ones are on the go in your RV, you want it to be a peaceful, pleasant, and enjoyable time. That's tough when nobody's getting a good night's rest. That's what makes it so important to go a step beyond basic air mattresses or cheaply-made camper mattresses. Instead, there are mattresses in a box made to be cool, comfortable, and supportive.
The most obvious distinction with RV mattresses is size. Because they need to fit into a confined space, they may need to be up to six inches shorter than standard mattress sizes. Some motorhomes have bunk beds, which typically call for a Twin or Twin XL. In other situations, you may be able to use a queen size, king size, or even Cal King, but be sure to take some measurements to confirm you're picking the correct size mattress.
Type of RV
Take a look at what type of RV you have. Depending on its size, the amount of space within can determine mattress size, or how many mattresses you can put in for accompanying friends and family.
Class A: These RVs can be 50 feet long, and are the most spacious and accommodating for multiple sleepers.
Class B: Falling between 30 and 40 feet long, this type of RV has smaller sleeping quarters. Bunk beds are more prevalent in this type of RV.
Class C: This is the most compact RV class, ranging from 20 to 30 feet long. Most often, sofa beds, cots, and mattress toppers are used to maximize space.
RV Mattress Sizes
RV Twin: 28″ x 75″
RV Bunk Bed: 42″ x 80″
RV Full: 55″ x 75″
Three-Quarter Queen: 48″ x 75″
Short Queen: 60″ x 75″
Olympic Queen: 66″ x 80″
RV Queen: 60″ x 80″
RV King: 72″ x 80″
Eastern King: 76″ x 80″
RV California King: 72″ x 84″
Type of Mattress
In addition to picking the right size bed, it's important to consider the available different mattress types.
Memory foam: RV memory foam mattresses are ideal for sleepers who love to feel cushioned and cradled, and they often get high marks in pressure relief and motion transfer. They sometimes fall short in their cooling potential, as the average memory foam layer or memory foam topper tends to retain a lot of body heat. So if you're traveling with your partner or are a side sleeper, an RV memory foam mattress is a great choice.
Innerspring: Innerspring coils are supportive, breathable, and responsive. It's essential to seek quality coils; otherwise, you could wind up with a mattress that's a bit noisy. If you need to sleep cool in your RV, innerspring mattresses can help.
Latex: If you want to stay allergy-free while resting, an RV latex mattress is the best bet. It inhibits dust and other allergies from settling inside your bed. Latex foam can be an eco-friendly and hypoallergenic option. Not only that, but latex is one of the best materials for promoting air circulation and keeping you cool throughout the night.
Hybrid: A hybrid mattress combines other materials, seeking a perfect balance of comfort, breathability, and support. RV hybrid mattresses are a top choice for couples, heavier sleepers, and side sleepers, because of their supportive yet cushioning materials.
Performance Factors
Durability: Just like your mattress at home, it's vital to make sure your RV mattress will hold up over time, trip after trip, without sagging. Quality foam, coils, and other materials will ensure a long lifespan, especially when exposed to open air and different climates as you travel.
Set-up: It's crucial to research the standard size that's right for your RV, based on the size of your RV. These mattresses-in-a-box are made for convenience. They are shipped directly to you and are inflated once they've been removed from their box and packaging.
Pressure relief: Top layers of support foam should help cushion sensitive joints, including the back, shoulders, and hips. An RV mattress topper can augment your existing bed to provide additional pressure relief.
Temperature regulation: The best way to prevent night sweats if it feels warm inside your RV is to get a mattress that promotes airflow or draws body heat away from you. A latex mattress, innerspring mattress, or even a gel memory foam mattress may do the trick.
Mattress cover: We all know how things smell when we've unpacked our belongings from camping. If you want to keep musty smells off your mattress, be sure that your mattress comes with a removable, machine-washable cover.
Price
The cost of an RV mattress is not too different from that of a regular mattress; in other words, it will vary depending on the type of mattress, quality materials, and overall size. Most RV mattresses need to be smaller to maximize limited space, which can help keep the price point down. The mattresses in this buying guide range from around $500 to close to $2,000, just depending on the brand.
Shipping and Delivery
As you read RV mattress reviews, pay attention to shipping and delivery policies. Most of today's online mattress companies should ship their products for free and deliver within a few days. Verify this to ensure you're ready in time for your next motorized adventure.
Summary of The Best RV Mattresses