Each product we feature has been independently selected and reviewed by our editorial team. If you make a purchase using the links included, we may earn a commission.
There comes a time when your mattress no longer provides the cushion or support that you need. When you start to experience new body pains or simply feel uncomfortable on your bed, it's time to make a change–and that's where the best mattress toppers come in. Rather than buy a new bed, you might choose to utilize a mattress topper to add a few years to your mattress's lifespan. The right topper can fix common problems like a mattress feeling too soft or firm, aches and pains caused by your bed, or sleeping hot.
The team at Mattress Advisor lent their testing expertise to This Old House, in order to weed out the best mattress toppers for every kind of sleeper. Keep reading to see who made the cut.
Affiliate Disclosure:This Old House's Reviews Team is committed to delivering honest, objective, and independent reviews on home products and services. To support this business model, This Old House may be compensated if you purchase through links on our website.
Best Mattress Toppers – Our Top Picks
Saatva Latex Topper – Best Mattress Topper for Back Pain
The Saatva Latex Topper is both pressure-relieving and supportive. It's made from 100% Talalay latex, a material that contours to the body's curves without sagging. This latex provides lower back support for back and stomach sleepers. Talalay latex is naturally cool and resistant to allergens like mold and dust mites. High-quality latex toppers like the Saatva Latex Topper come at a higher price tag, but are sturdy and resilient enough to add structure to the sleep surface of older mattresses.
Supports healthy spinal alignment
Naturally cool latex keeps hot sleepers from overheating
Topper comes with a 180-night sleep trial
Alexander Nest Topper – Best Cooling Mattress Topper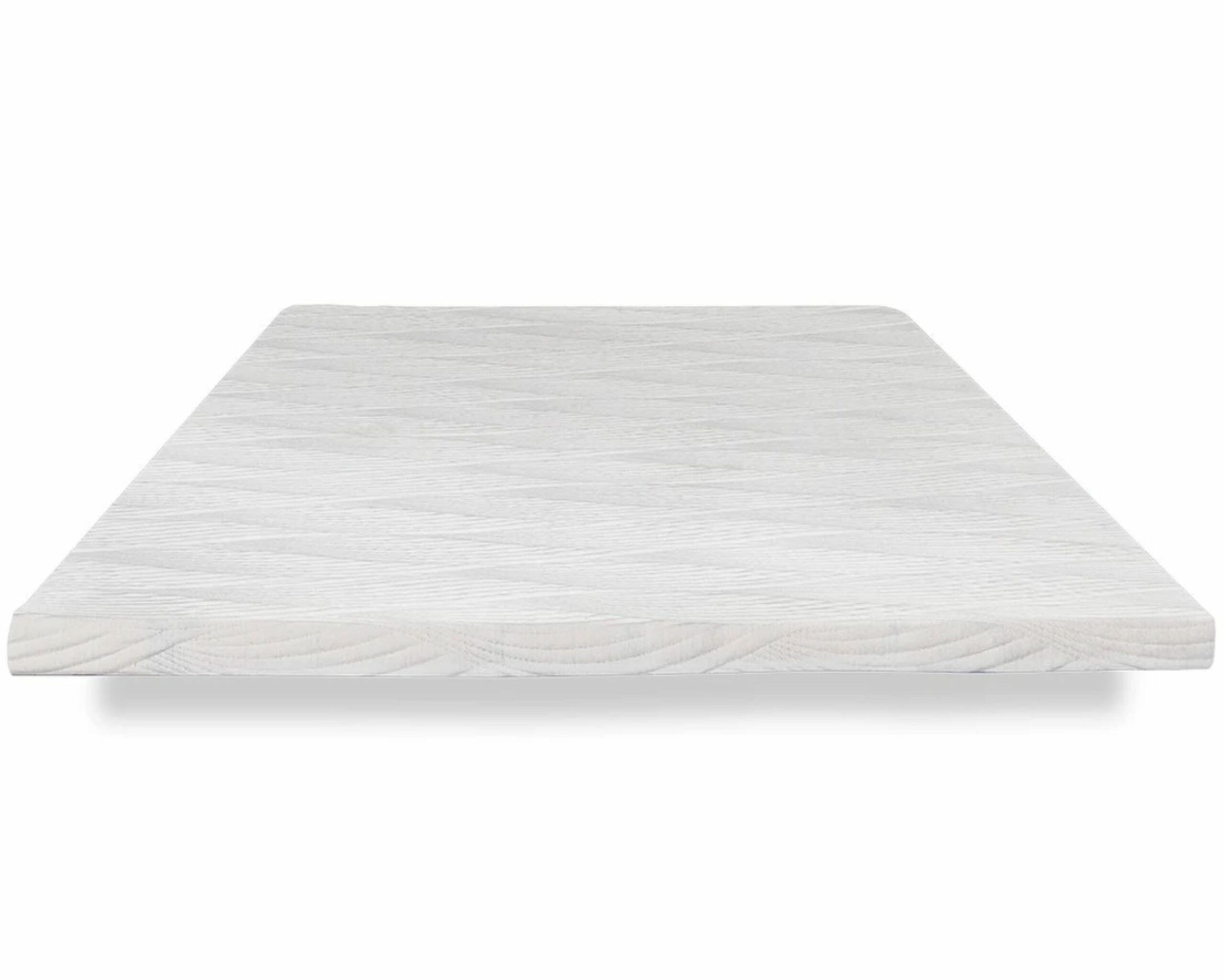 Nest Bedding designed its mattress topper for the hot sleeper. The 2″ topper is completely made of cooling materials. The cover promotes optimal temperature regulation with phase change materials created to maintain a cool, comfortable body temperature. Inside, cooling foam absorbs any extra heat passing through the topper. The Nest Cooling Topper has a plush feel that we recommend for side sleepers. Its soft feel is best for adding a bit more cushioning, but may not be suitable for filling in body impressions on an old mattress.
The inner foam and outer cover boast cutting-edge cooling technology
Soft foam cushions side sleepers' pressure points
The straps on the corner keep the topper adhered to the mattress
Tuft & Needle Foam Topper – Best Plush Mattress Topper
Need to make your mattress softer? The Tuft & Needle Mattress Topper was made to stay cool while providing plush pressure relief for sensitive areas of the body. This 2″ topper consists of polyfoam, a material that is cooler and more responsive than memory foam. This means you can have a softer mattress feel without excess heat retention or difficulty moving around.
Uses non-skid bottom to keep the topper from moving around
Does not have to be paired with a Tuft & Needle mattress
Includes a 100-night trial and free returns
Layla – Best Memory Foam Mattress Topper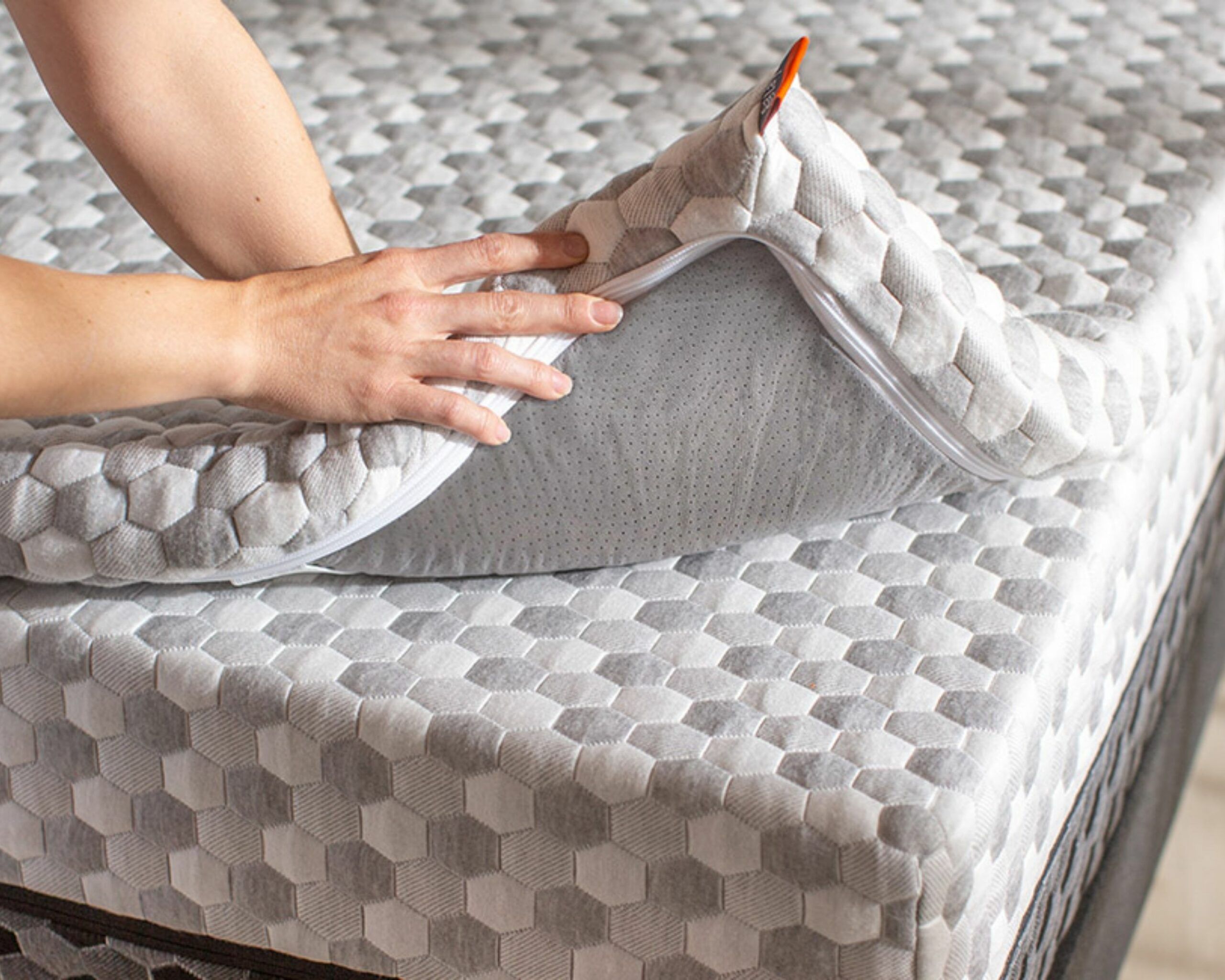 This isn't your average memory foam mattress topper. Layla's 2″ memory foam mattress topper contains copper to cool you off. Since memory foam is a pressure-relieving, responsive material, this topper can prove to be helpful in softly cushioning your hips, shoulders, and anywhere causing aches and pains. However, since it runs on the softer side it may not be supportive enough for stomach sleepers needing extra lumbar support.
Cooling copper gel beads keep the mattress surface cool
Memory foam minimizes motion transfer so couples can sleep more soundly
Supportive contouring works for side, combination, and back sleepers
Avocado Latex Topper – Best Firm Mattress Topper
Not everyone looking to change up their mattresses feel wants a soft topper. The Avocado Latex Topper comes in plush or firm. Use the firm topper on a softer mattress to add a bit more bounce and support, or a firm mattress to cut out any "sink" and make it extra firm. For back and stomach sleepers in particular, a firm mattress topper assists with keeping the lower back supported and avoiding needless back pain. What also sets the Avocado topper apart is its 100% natural build. The core of the topper is GOLS organic latex topped with a layer of moisture-wicking wool, all enveloped in organic cotton. All-natural latex, wool, and cotton are breathable materials that minimize heat retention for a cool and comfortable night's sleep.
100% natural and organic materials are eco-friendly and non-toxic
One of the firmest toppers available
Responsive latex makes it easier to move around so you won't feel stuck
Tempur-Pedic Tempur Supreme – Best Mattress Topper for Side Sleepers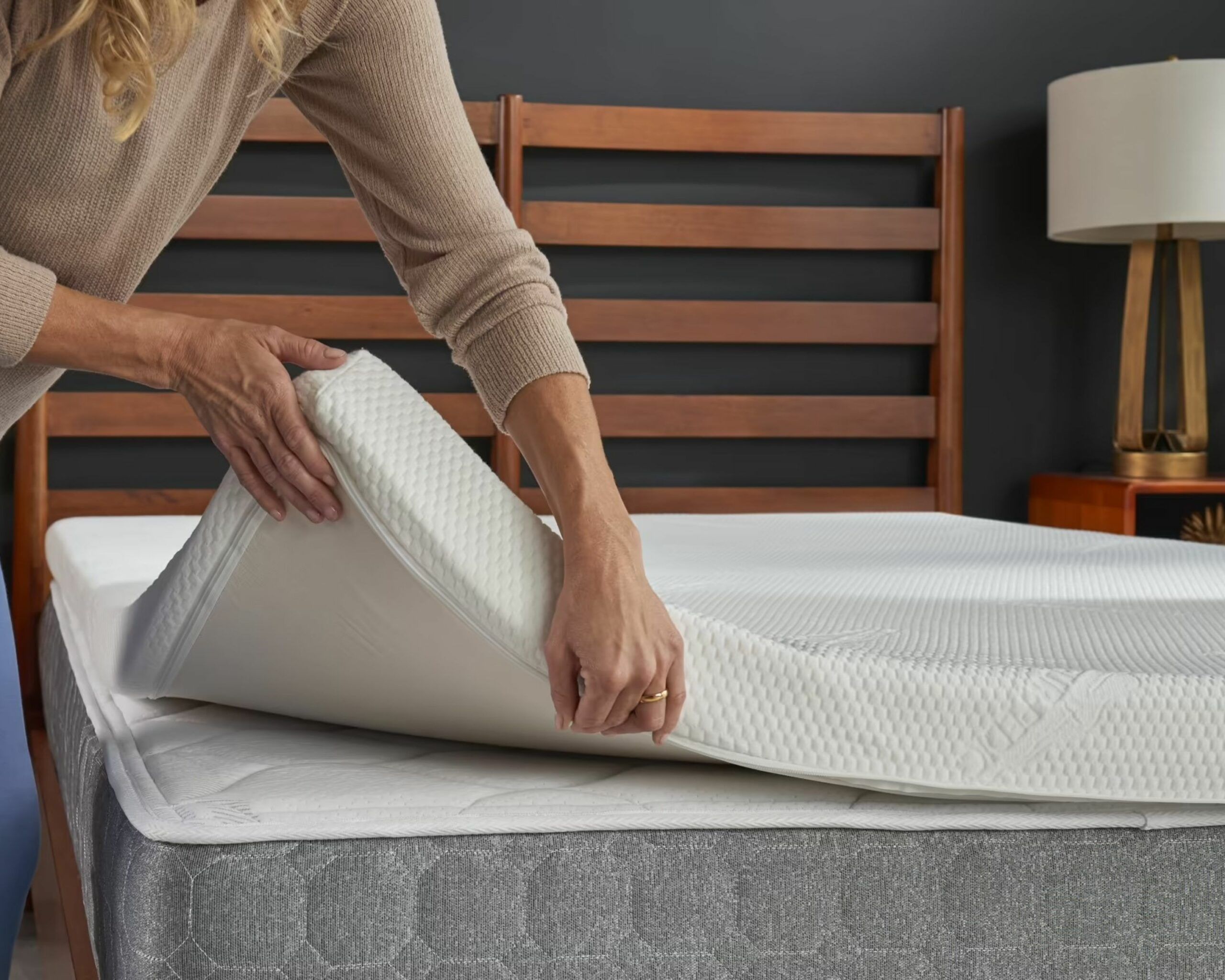 Tempur-Pedic's memory foams have the cradling, slow-response feel that memory foam mattress lovers crave. The material is known for evenly distributing weight and cushioning sensitive areas, a balance that supports the needs of side sleepers. Tempur-Pedic mattresses come at a higher price, but buying the TEMPUR-Topper Supreme allows you to enjoy the comfort of Tempur-Pedic memory foam without the high cost. For side sleepers, this topper is helpful for supporting pressure points that are carrying most of your body weight in this position. Plus, it keeps the spine from sinking too deep and causing back pain.
Tempur-Pedic's proprietary foam hugs curves for pressure relief
Removable and machine washable cover makes care easy
Comes with a 10-year warranty
Birch Living – Best Pillow Top Mattress Topper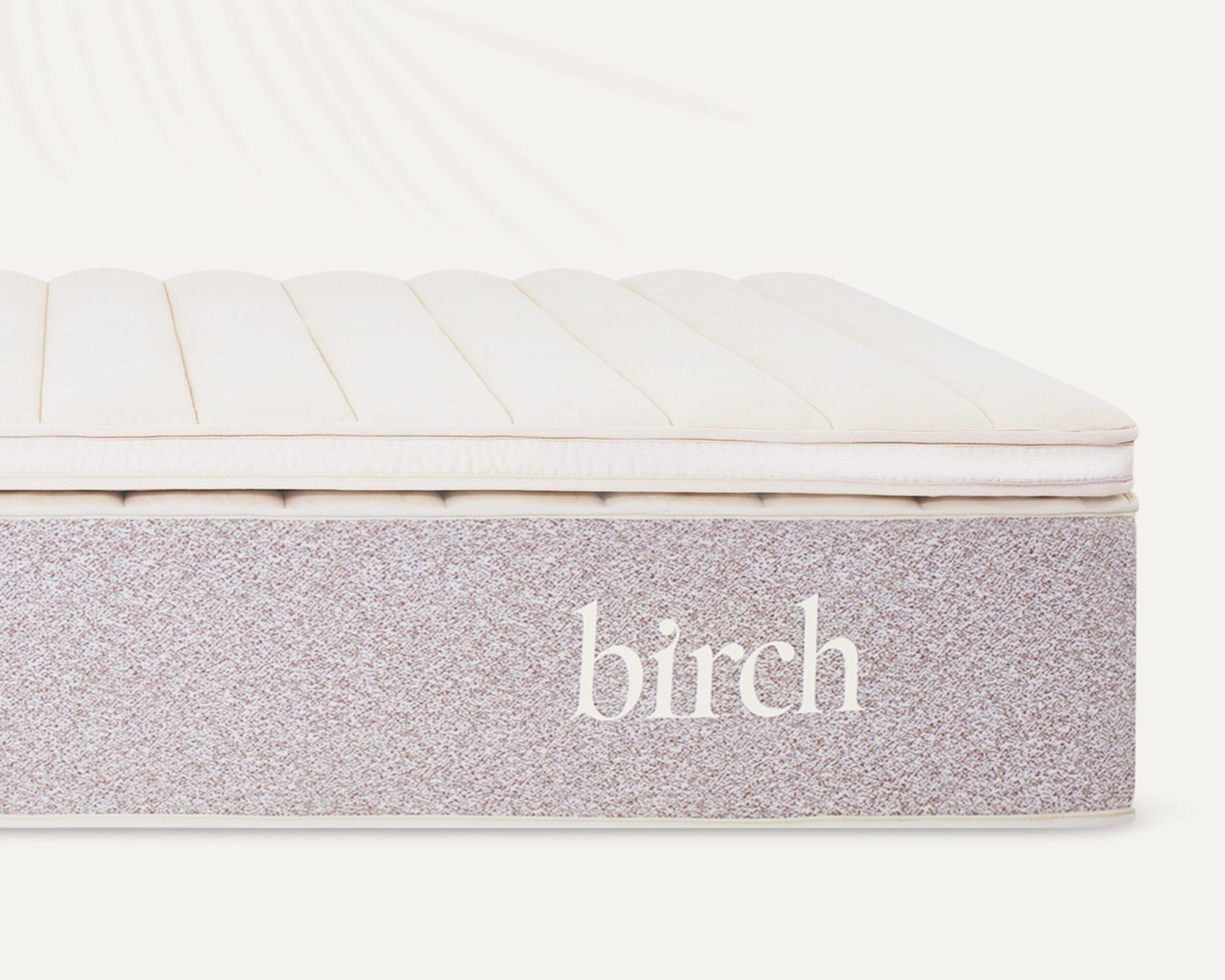 Birch by Helix blends all-natural wool, cotton, and latex into a luxuriously soft and non-toxic mattress topper. Replicating a pillow top, this topper is a good match for anyone seeking a softer, hypoallergenic sleep surface. Wool mattress toppers are known for their ability to regulate temperature, keeping sleepers warm in winter and cool in summer. When added to a new mattress, the Birch Plush Organic Mattress Topper provides the feel of a high-end pillow top mattress. While wool toppers are a more hypoallergenic option, anything that incorporates organic materials will have a higher price.
All-natural construction is good for the environment and health
Adds a plush pillow top feel to existing mattresses
The wool promotes temperature regulation for comfortable sleep
Mattress Toppers: What You Need to Know
A mattress topper typically runs between 2″ to 3″ thick. Toppers are placed directly on top of a mattress to change its feel. When you buy a topper, it's important to identify why you want the product and find one that fits your needs. The right topper can increase cushion, firm up a soft bed, bring more bounce, or make the surface cooler. A topper can also increase your mattress's lifespan, both by resisting body impressions in a new bed or enhancing the comfort of an old one.
Mattress pads and mattress protectors are not the same as mattress toppers. Mattress pads are thinner and add a touch of softness to a bed. Most pads contain materials like down feathers, cotton, or foam. Because they aren't thick, they aren't going to make as big of an impact on comfort or longevity as a topper. A mattress protector is similar to a fitted sheet with little-to-no padding and protects a bed from damage like spills and stains.
Common Mattress Topper Materials
Memory foam: Memory foam responds to body heat, conforming to the body's curves for a pressure-relieving and supportive feel. Some memory foams trap heat, so you should look for cooling gel or other construction features if you sleep hot. Most memory foam toppers make a mattress softer, although a high-density memory foam topper can add a small amount of firmness.
Polyfoam: Polyfoam is typically cooler and a bit easier to move around on than memory foam. Polyfoam toppers are also made for pressure relief and cushioning, and come in at a lower price point.
Latex: Latex toppers are the best option for sleepers who want a cooler mattress or one that's easier to move around on. Latex foam is durable, cheaper, and is usually firmer than polyfoam or memory foam toppers. If you want a topper that will firm up your bed's feel or even out an old mattress's surface, we recommend latex. All-natural organic latex is also the most eco-friendly mattress topper material.
Mattress Topper Features to Consider
Thickness: The thickness of your mattress topper has a direct correlation on how soft your mattress will feel. If you want a significant change, a 3″ topper is the best bet. Additional thickness also affects the amount of pressure relief or contouring a topper will give. A thicker mattress topper is also helpful if you have an old bed and want to add a few years to its life. Thinner toppers of 1″ to 2″ work well when your mattress is close to what you want, but you need a very slight change in firmness.
Temperature regulation: A mattress topper can make your bed warmer or cooler. Memory foam toppers are usually the warmest, although gel infusion and a cooling cover support a comfortable temperature. Polyfoam tends to be a bit cooler, but latex is the best material if you want a cooling topper. If you have an all-foam bed or one with thick foam layers, a latex topper can even make your existing mattress sleep less warm.
Pressure Relief: Most toppers are designed for pressure relief, with 2″ to 3″ of gently contouring foam that cradles the lower back, shoulders, and hips. If you don't want a softer feel, buy a topper advertised as firm, such as a firm latex topper.
Motion Isolation: Toppers are an excellent solution for excess motion transfer. Memory foams absorb motion rather than letting it travel across the bed. Latex foam has a more bouncy feel that isn't as good of an option for couples who want something to dampen one another's movements.
Sleep Position: Your sleeping position influences the right mattress firmness. Most stomach sleepers need something firm to keep the hips aligned with the spine and should consider a firm latex or memory foam topper. Side sleepers require added cushion at pressure points and tend to like plush toppers. Back sleepers are best supported by a balanced feel from either a soft or firm topper, depending on how they want to change the feel of their mattress.
Upkeep: Most toppers have either no cover or a non-removable cover and are spot-clean only. There are some toppers with a removable and washable cover, which is good for upkeep and cleanliness. No matter what topper you're leaning towards, consider one that's also waterproof. These protectors safeguard both your mattress and the topper from spills and stains.
Price: Toppers can range from around $50-$500. Consider why you want a topper and how long you plan to use it to help you decide what price point makes sense. More expensive toppers are typically best if you're going to use them long-term. If you want to extend your mattress's lifespan, a lower price topper can still be of good quality and help with durability.