Anyone with an old (or new) house knows the importance of a good foundation. Within the bedroom, your mattress's foundation also serves a decisive role toward improving (or hindering) your quality of life. And the tricky thing about shopping for a bed frame is how difficult it can be to find everything you want in one piece of furniture. That's especially true if your bed frame must wear many hats, like a storage closet, design feature, and of course, a snooze pad.
Short of hiring a master carpenter to build a custom bed frame (a job that typically costs upwards of $5,000), you're left with the best fit you can find in-store or online. Our This Old House Review Team has searched the web to find the best bed frames out there. These eight bed frames have a range of functionalities and materials, so keep your top priorities in mind when parsing these sleeping platforms. We'll also go over at the end of the roundup how materials affect their price and durability.
By clicking on the product links in this article, Mattress Advisor may receive a commission fee at no cost to you, the reader.
The Best Bed Frames – Our Top Picks
Best Overall – Thuma The Bed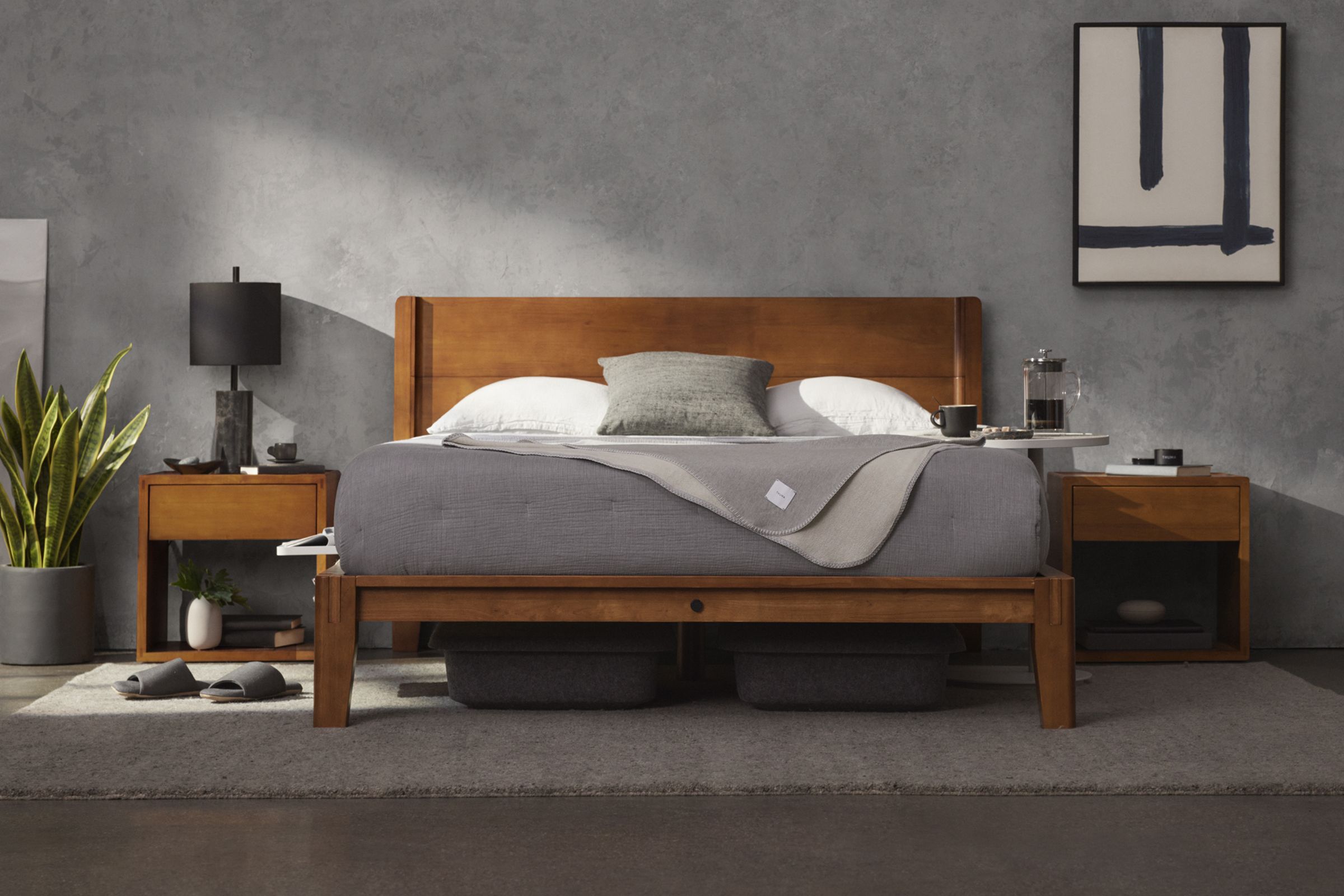 Pros and Cons of the Thuma The Bed
| Pros | Cons |
| --- | --- |
| Tool-free assembly | One of the pricier options, and imitators have emerged that are more affordable |
| Durable, solid wood construction | Pillowboard may require bolsters if your mattress is extra-thick |
| Universal style to match most décors | |
| Doesn't require box spring | |
| Upholstered or wood headboard option available | |
| Pros | Cons |
Frame Type: Solid wood
Customer Rating: 4.8/5
Trial: 180 nights
Warranty: 15-year limited
You'll often see the descriptor "perfect" thrown around loosely when in reality, no product is perfect. But Thuma The Bed does teeter to as close to perfection as a piece of furniture can get. That's because of the sleek Japanese joinery, which fits together like a 3D jigsaw puzzle and does not require tools. And even if you're too impatient to read the manual, one instruction-challenged reviewer on our team had this to say: "I attempted to put the Thuma together in every wrong way conceivably possible, and it still only took about 20 minutes to assemble."
If imitation is the sincerest form of flattery though, then the Thuma bed has many admirers. Seeing the fervor the toolless assembly required, there's been a slew of knockoffs to hit the market and for a less steep investment. Our favorite among them is the Helix Natural Wood Frame. The frame's other striking similarity to Thuma is the frame's sturdy, solid wood construction. The biggest differences and drawbacks are Helix's lack of deeper color choices, with a natural Birch or painted white being the options, and lack of a headboard. And we do love Thuma's no-frills headboard, which simply rests between the wall and the edge of the frame. That sounds treacherous in practice, but in reality, the upholstered pad feels snug and secure. If you sleep on a lofty, luxury mattress, the headboard may sit too low however. Thuma sells bolsters to remedy the problem, but here's our pro tip: Yoga blocks, a home gym essential item, also work fine to hoist up the headboard.
Best Value Bed Frame – Zinus Alexis Deluxe Wood Platform Bed
Pros and Cons of the Zinus Alexis Deluxe Platform Bed
| Pros | Cons |
| --- | --- |
| One of the most affordable bed frames on the market | No headboard included |
| No box spring needed | Tools required for assembly |
| Array of natural color options | Some reviewers balked at Zinus' customer service |
| Pros | Cons |
Frame Type: Wood
Customer Rating: 4.7/5
Trial: Eligible for return via Amazon within 30 days
Warranty: 5-year limited
If you like the rustic look of wood but are often scared off by the price, the Zinus Alexis is an affordable option on Amazon. The solid wood frame is a simple, sturdy, budget-friendly frame. You order the frame in four finishes: a light natural, light mahogany (rustic pine), darker natural (antique espresso), or deep mahogany (cherry). And like rebar in concrete, the bed also uses steel to reinforce the wood for extra structural integrity. The inclusion of plywood slats eliminates the need for a box spring, although a headboard is not part of the package. You will need tools to assemble the frame, which are included in the shipment. We'd suggest grabbing power tools to speed assembly along.
Best Upholstered Bed Frame – Saatva Sydney Frame
Pros and Cons of the Saatva Sydney Bed Frame
| Pros | Cons |
| --- | --- |
| Contemporary design | The frame's lower profile (8.5 inches) may hinder underbed storage |
| Queen, king, and California king sizes are available | A luxury bed frame with a higher price tag to match |
| Solid hardwood frame | |
| White glove delivery included with purchase | |
| Includes headboard, with various upholstery finishes to choose from | |
| Pros | Cons |
Frame Type: Hardwood; velvet or linen upholstery
Customer Rating: 4.8/5
Trial: 180 nights
Warranty: Lifetime
A bed frame doesn't have to be merely study and practical. Some bed frames have a lavish wow factor. One such bed frame: The Saatva Sydney, from the luxury bedmaker's jet-setting line of bed frames named after international destinations. The uber-stylish, low-profile bed frame evokes the Sydney Opera House. Why? Because like a prima ballerina en pointe, the frame's recessed legs lend the appearance of floating on air. Best of all, the whole frame is tufted top to bottom, so your accident-prone shins never have to worry about getting dinged during a midnight snack run.
Complementing the bold design of the frame is the natural color scheme of the upholstery fabric options. You can opt for a light, natural linen, graphite, or taupe velvet. The core of the frame itself is high-quality hardwood that is kiln-dried to prevent warping curvatures of the wood. Complimentary assembly, a Saatva trademark for all its furnishings, amps up the value of the Sydney.
Best Metal Bed Frame – Novogratz Bushwick Metal Bed with Headboard and Footboard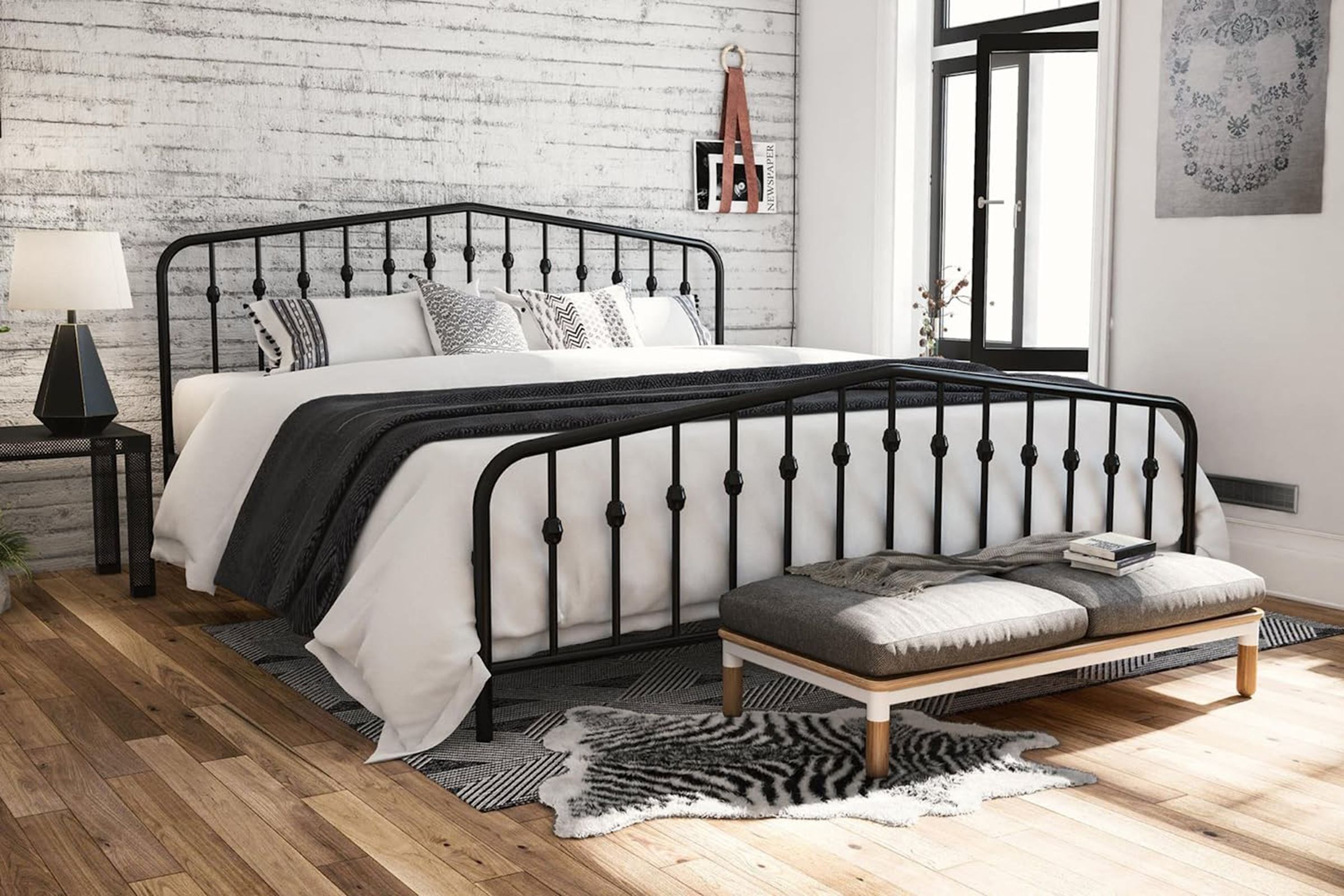 Pros and Cons of the Novogratz Bushwick Metal Bed
| Pros | Cons |
| --- | --- |
| Simple design with multiple color options | May lack durability for multiple moves/reassembling |
| A budget-friendly option with easy assembly | Some reviewers said frame was squeaky |
| Choose between 6″ or 11″ legs for custom under bed clearance height | |
| Pros | Cons |
Frame Type: Metal
Customer Rating: 4.3/5
Trial: Eligible for refund within 30 days
Warranty: 1-year limited
A simple, metal platform bed frame doesn't have to be less flashy than its upholstered or wooden bed counterparts. In fact, metal bases like the Novogratz Bushwick bed frame offer design interest (furnished in hues that include white, gold, blue, and gray) and solid value. The bed's list price of $249 is reasonable enough; however, vigilant shoppers can often find the frame on sale—per our peek at publication time the bed was $110 (56% off). Adding to the frame's value, you won't need slats or a boxspring in addition to the frame (budget options sometimes require extra support).
Best Platform Bed Frame – Floyd The Bed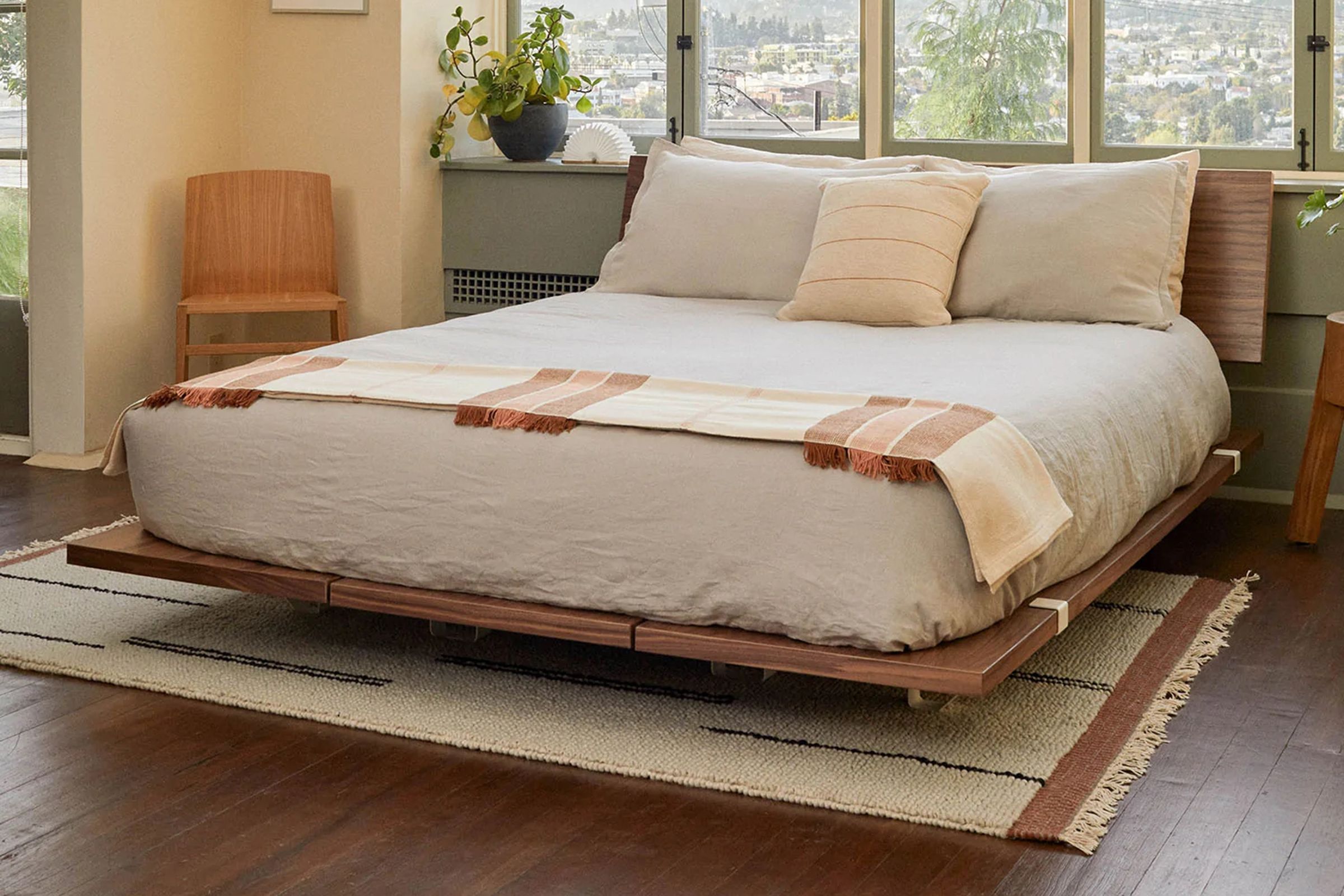 Pros and Cons of the Floyd The Bed Frame
| Pros | Cons |
| --- | --- |
| Sleek, modular look | Platform has a lower profile, hindering storage of lofty items under the bed |
| Multiple customization options for finish and style | One of the pricier options |
| Can be bought with or without a headboard | Short warranty |
| Pros | Cons |
Frame Type: Steel and wood veneer
Customer Rating: 4.9/5
Trial: 30 nights
Warranty: 1 year
The Floyd is another flashy bed frame coveted within interior design circles. The main appeal is the low-profile platform bed's customizability. At checkout, you select your preferred frame type (size and whether to include a headboard), wood finish (birch, oak, or walnut), and hardware finish (black or white). But the tailoring doesn't stop there. If your bed frame includes a headboard, you can also elect to add upholstery, which comes in a range of natural and vibrant colors. Other add-ons include an under-bed sliding storage drawer and floating nightstands. Of course, it'll cost you. A queen-size Floyd has a price point starting at $1,075 and quickly surpasses $2,000 once all those bells and whistles are included.
Best Adjustable Bed Frame – Puffy Adjustable Base
Pros and Cons of the Puffy Adjustable Base Bed Frame
| Pros | Cons |
| --- | --- |
| Legs are height adjustable, for easier access or added under bed storage space | No headboard included |
| Minimal assembly needed | No color options for upholstery available |
| Includes universal headboard mount | |
| Couples can buy a split king, where each side adjusts independently | |
| Pros | Cons |
Frame Type: Upholstered steel frame
Customer Rating: 4.9/5
Trial: 101 nights
Warranty: Lifetime
Style-wise, you may feel like you have to adjust your expectations with an adjustable bed frame. After all, the first thing an adjustable bed typically evokes is a hospital room. Fortunately, modern, upholstered adjustable bed frames, like the frame from the Puffy brand, are a far cry from the medical ward. The Puffy is adjustable down to its loft height, which includes customizable legs that allow for a lower profile for better accessibility or higher clearance for extra under-bed storage.
In terms of the frame's angular adjustability, the bed's head has a 10-degree range, and the foot has a 30-degree range. A "zero-gravity" position comes pre-set. The elevated head and foot positions are meant to evoke a weightless feeling, alleviating pressure. The Puffy also smartly takes advantage of the fact that it's already hard-wired with additional powdered features, like USB ports, under-bed lighting, and a three-speed massager. Just make sure your mattress is compatible with an adjustable bed frame like Puffy's for maximum comfort.
Best Wood Bed Frame – Birch Wood Frame
Pros and Cons of the Birch Wood Bed Frame
| Pros | Cons |
| --- | --- |
| No tools or hardware required to assemble | No headboard included |
| Eco-friendly materials and sustainably sourced | No darker option for frame available |
| Pros | Cons |
Frame Type: Hardwood, pine slats, maple legs
Customer Rating: 4.8/5
Trial: 180 nights
Warranty: 15-year limited
Birch is the eco-conscious brainchild of the Helix brand. Like the aforementioned Thuma and Helix Natural Wood Frame, the use of Japanese joinery eliminates the need for tools when assembling the bed frame. Instead, the pieces seamlessly interlock together. It's a beautiful thing to never have to worry about shredding a screw when the assembly is hardwareless and toolless. The frame itself is a mix of woods that are sustainably sourced in the U.S. The slats are a simple pine, and the legs and frame are sturdy hardwoods. If you want a less natural, rustic style, you can opt to order a white-painted version of the frame. Birch reassures that whatever the look, the water-based finish will be free of harmless chemicals like formaldehyde.
Best Canopy Bed Frame – Pottery Barn Atwell Canopy Bed
Pros and Cons of the Pottery Barn Atwell Canopy Bed Frame
| Pros | Cons |
| --- | --- |
| White-glove delivery included | Only fits king and queen mattresses |
| Durable materials | Box spring is required |
| | One of the less budget-friendly options |
| Pros | Cons |
Frame Type: Wood, metal, and upholstery
Customer Rating: 4.8/5
Trial: 180 nights
Warranty: 15-year limited
Canopy bed frames make a dramatic statement that can add architectural elegance to any space. With the Atwell Canopy Bed, there's a merging of cozy and industrial elegance: The frame has a modern, sleek metal build combined with an upholstered headboard for a welcoming touch. The powder-coated metal also makes for a nice contrast to your dark finish wood pieces. The bed boasts a range of neutrals for the upholstery, so you shouldn't have to overhaul your existing bedding to match the frame—unless you simply want an excuse to buy a fabulous new set of cozy, cooling sheets.
MA Score: The Mattress Advisor Score is a weighted score that takes into account 14 different factors related to the mattress' performance, function, convenience, and the brand's social responsibility.
What Makes a Good Bed Frame?
Finding the ideal bed frame is a deceptively simple task on the surface. After all, it's a practical piece of furniture to keep your mattress off the ground. How hard can it be? But you can quickly end up spiraling as the best bed frame search presents compromise after compromise. That's why first and foremost, you must establish your bed frame deal breakers.
If you're accident-prone, maybe upholstery around the entire perimeter is a must. But if you adore the shabby chic look of a dust ruffle, then upholstery is probably a no-go. On the other hand, you may disdain the look of platform beds, but if square footage is a premium, then perhaps you should go for a platform with attachable end tables like the Floyd.
Our point is this: Picky buyers may find it hard to get everything on their checklist in lieu of a custom frame job. But that doesn't mean it's all gloom and doom. The bed frame market is more robust than ever, and innovative builds that use hardwoods and Japanese joinery allow bed frames to be disassembled and reassembled multiple times. That's a far cry from the shredding particle board pieces that can often only be assembled once, and are then kicked to the curb upon moving. Keep reading if you want to learn more about what kind of durability you can expect from which materials and other factors to consider when bed frame buying.
Type of Bed Frame
Wood: A solid wood bed frame is one of the most durable types you can own. Retailers like West Elm and Pottery Barn will often sell beds made from hardwoods, while more budget retailers, like IKEA and Wayfair, may be more partial to particleboard. Materials with the acronym MDF also refer to "medium-density particleboard," for example. Having said that, some components with a mostly hardwood frame may include wooden platform slats that are more cheaply manufactured, using engineered wood or plywood. This generally shouldn't be a concern, since the slats aren't seen, and you can always check the frame's stated weight limit if you're concerned about the construction of the slats.
Metal: Metal is another highly durable bed frame material, and only poorly made metal frames will suffer the oft-cited biggest drawback—being more prone to squeaking. Metal bed frames are also easily customizable. How so? Because, unlike the arduous task of sanding, priming, and painting a wood bed frame, you can easily disassemble and spray paint a metal frame any fun color your heart desires.
Storage: Under the bed is prime real estate if your home or apartment is tight on storage space. Some of the most commonly stored under-bed items, like suitcases, may require more clearance than offered by a low-profile platform bed. Be sure to check all the measurements before picking a bed frame if you want to continue to store heftier items below the deck.
Platform: A platform is simply a bed frame that does not require a box spring or any other foundational support. You can contrast a platform with frames that do require a box spring, or wooden slats, to properly support the mattress. Most modern mattress brands make beds—notably memory foam mattresses—that perform best on a platform bed, although some are better suited for a foundation and box spring.
Style
From Scandinavian mid-century to Japanese minimalist, bed frames run the gamut of the international style ringer. That makes sense, considering the bed is the unavoidable sight point of the bedroom. Naturally then, many folks want a bed frame that speaks to their personality and sense of style. Customizable bed frames are an excellent option for those who can't be hamstrung by a brand's bland, solo-style offering. A canopy bed frame is another great option, as they allow you to express yourself via lush-feeling drapery. Some frames include footboards, which hug the mattress at the end of the frame, but they're not a necessary component and are more of a personal style judgment call.
Style concerns aside, you may also want a bed frame that pulls double-duty as a conversation piece by day and a place for visitors to snooze at night. In that case, sleeper sofas, trundles, and Murphy beds are an excellent way to merge style and function in a guest bed option.
Price
The most popular new bed frames have a slightly broader range of prices compared to modern mattresses, with $150 being the typical starting point on the low end, up to $3,000 on the high end. A custom-made bed frame can easily soar above $5,000. If you're on a budget, consider how size can quickly escalate the price. A full-size bed frame and full-size mattress will each cost less than a queen-size bed and queen-size mattress, for instance. Consider the mattress sizes you already have on hand, as well. If you have two twin xl size mattresses, for example, you don't have to throw them out in favor of a queen in order to upgrade. It might be more economical to keep those mattresses and combine them on a king-size bed frame.
Shipping and Delivery
Most bed frames ship within 3-5 business days. However, made-to-order bed frames may take 1-2 weeks, so make sure you're willing to rough it on the floor or an old bed frame for several more days if you're eyeing a frame with a longer wait. The good news is that more expensive frames often include white glove delivery and assembly. Expert assembly can also be added to most purchases at checkout, for a price. If you can't afford such luxuries, be sure you have the expertise, patience, or help to assemble your bed frame.
FAQ About the Best Bed Frames
1. What is the most popular bed style?
Platform bed frames skyrocketed into popularity, leaving box springs of yore in the dust. The classic box spring hasn't disappeared completely, but with mattress styles negating the need for them completely, most bed frames have followed suit.
2. Does bed frame affect sleep quality?
Absolutely. A squeaky frame can easily unsettle light sleepers. Worse yet, an unsupportive or sagging frame can cause and exacerbate back pain. Opting not to sleep on a bed frame entirely is probably actually safer for your back. However, it's not so great for your mattress, and can even void the warranty.
3. How do I choose a solid bed frame?
Like a well-made wool rug that's super durable but will shed for several months, there's often give and take even when buying on the higher end. However, you won't find many drawbacks if you buy a pricier bed frame made from solid wood. They look and feel spectacular, and if a headboard isn't included, it's an opportunity to add personality to what you may feel to be a bland build.
Summary of Our Top Picks for the Best Bed Frames