Affiliate Disclosure:This Old House's Reviews Team is committed to delivering honest, objective, and independent reviews on home products and services. To support this business model, This Old House may be compensated if you purchase through links on our website.
Each product we feature has been independently selected and reviewed by our editorial team. If you make a purchase using the links included, we may earn a commission.
Looking for the best mattress for side sleepers? Side sleeping is considered one of the healthiest sleep positions for your back and spine, but the wrong mattress can leave you waking up with aches and pains. Because the hips and shoulders press deeply into the mattress, hip and shoulder pain can arise on the wrong bed. The best way to avoid this is by choosing a mattress that excels in spine alignment and pressure relief so that your back is supported while the hips and shoulders are softly uplifted.
But where should you begin on finding the perfect mattress for you? This guide compiles the best of the best from top online brands, so you can find exactly what you need to start (side) sleeping even better.
9 Best Mattresses for Side Sleepers in 2023
Best Overall – Saatva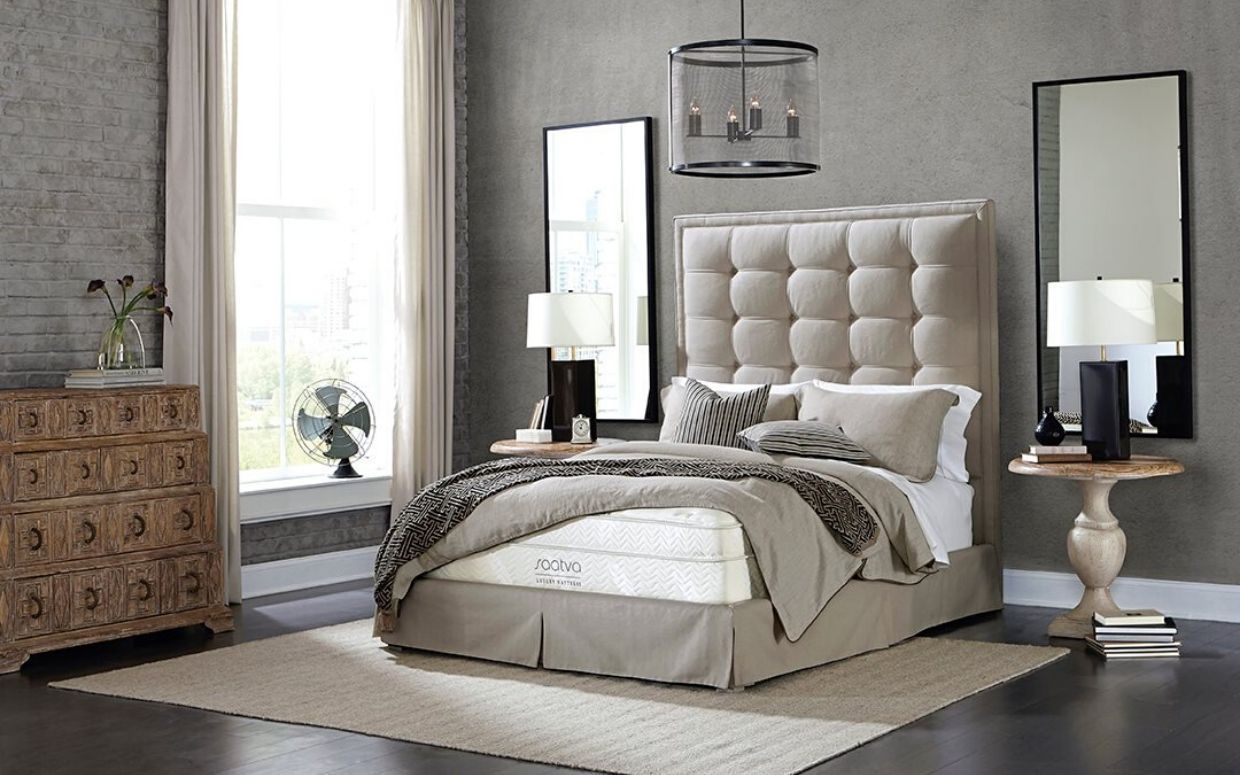 Saatva manufactures affordable luxury beds that come with an abundance of mattress features. Our expert reviewers found that this hybrid mattress has excellent lumbar support for spinal alignment. The Saatva's combined coil and foam layer construction makes it a great choice for those who prefer the feel of a traditional innerspring mattress but want the pressure-relieving benefits of memory foam. We also love the strong edge support of this bed, which allows side sleepers to feel supported on the entire surface of the mattress.
Other luxurious perks that make Saatva the top choice include a plush Euro pillow top provides an extra comfort layer to pressure points and free white glove delivery service. A Saatva representative will remove your old bed and set up your new Saatva mattress in your house for no extra charge.
Material: Hybrid
Firmness: Plush (3/10), Luxury-firm (6/10), Firm (8/10)
Customer Rating: 4.8/5
Delivery: Delivered in 15 business days
Warranty: Lifetime
Pros and Cons of the Saatva
| Pros | Cons |
| --- | --- |
| Near perfect score in spinal alignment | Not ideal for side sleepers who change positions throughout the night |
| Provides excellent lumbar and edge support | More expensive |
| Free white glove delivery and set-up | |
| Pros | Cons |
Best Luxury Mattress – DreamCloud Premier
The DreamCloud Premier is an excellent hybrid mattress for side sleepers, and at a desirable price point considering the premiere luxury this mattress packs. DreamCloud Premier's hybrid nature means the mattress has the responsiveness of innerspring coils. The cradling comfort of memory foam is perfect for side sleepers who need pressure alleviation on the shoulders. An ultra-soft cashmere blend tops the cooling gel memory foam and individually wrapped coils for six layers of superb comfort, pressure relief, and breathability. All in all, DreamCloud Premier is a luxury mattress for side sleepers with a highly agreeable price tag.
Material: Hybrid
Firmness: Medium-firm (6.5/10)
Customer Rating: 4.6/5
Delivery: Delivered in 5-7 business days
Lifetime warranty
Pros and Cons of the DreamCloud Premier
| Pros | Cons |
| --- | --- |
| Luxury foam and coil hybrid that is cooling, durable, and pressure relieving | Does not completely use memory foam |
| Amazing pressure relief for side sleepers | Does not supply as much give as other soft mattresses |
| Highly responsive mattress | |
| Pros | Cons |
Best Hybrid Mattress – Helix Midnight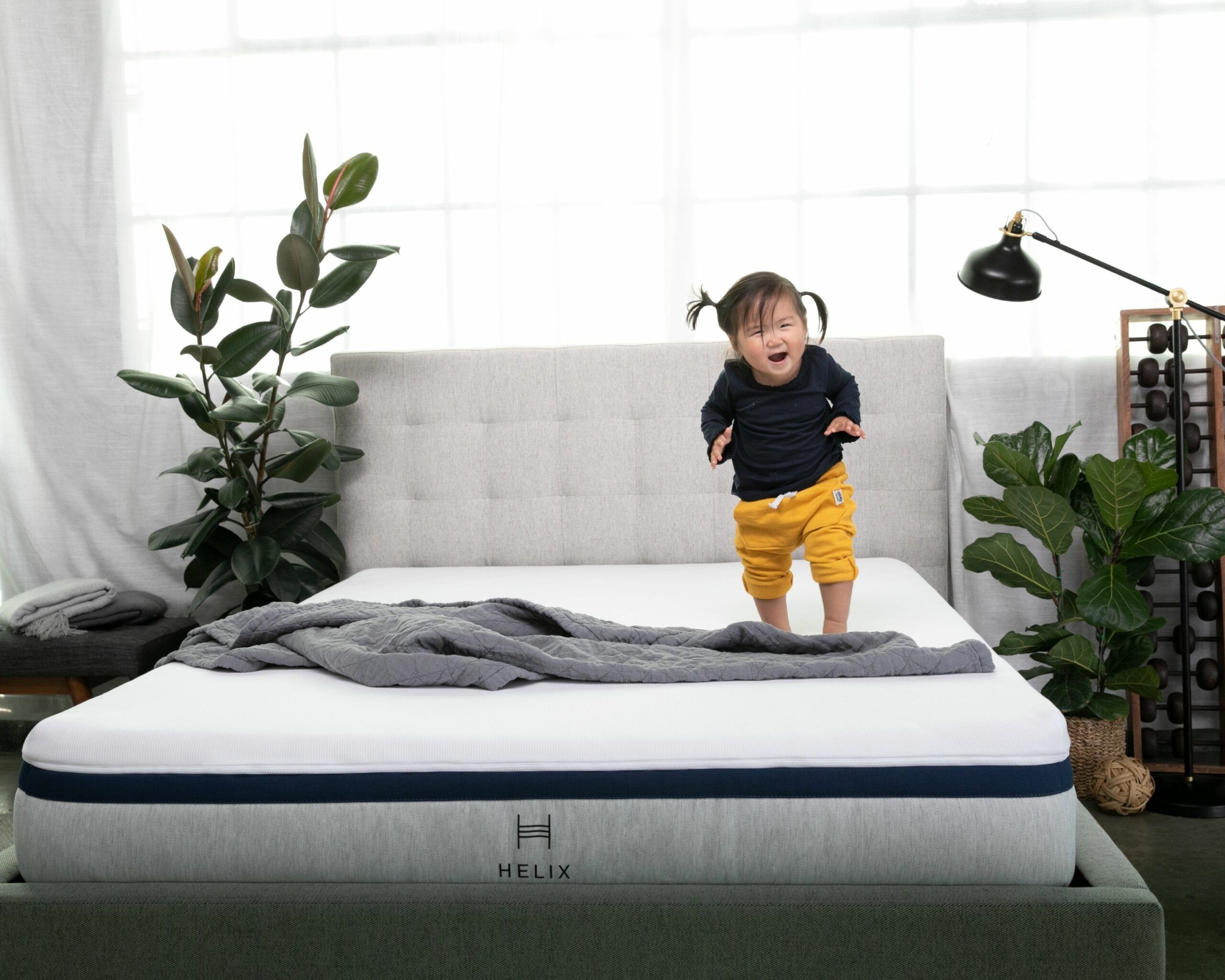 The Helix Midnight is one of the best hybrid mattresses for side sleepers, keeping side sleepers both comfortable and cool all night long. Side sleepers who suffer from back or hip pain will benefit from the consistency of individually pocketed coils, which provide added stability, cushioning to areas of the body that need it most, and edge support. This hybrid mattress cradles the upper body with a contouring foam to prevent shoulder pain, while the lower body is supported more firmly to prevent back pain by keeping the hips and lower back in a healthy alignment all night. Most important for hot sleepers, this pocket coil support system is complemented by a cooling cover to keep night sweats at bay.
Material: Hybrid
Firmness: Medium (6/10)
Customer Rating: 4.5/5
Delivery: Delivered in 6-10 business days
Warranty: 15-year limited
Pros and Cons of the Helix Midnight
| Pros | Cons |
| --- | --- |
| This hybrid build is highly supportive but breathable for hot sleepers | Not as cool as its upgraded counterpart, the Helix Midnight Luxe |
| Excellent lumbar support prevents and eases lower back pain | |
| Perfect Mattress Advisor score for edge support (10/10) | |
| Pros | Cons |
Best Mattress for Back Pain – WinkBeds Luxury-Firm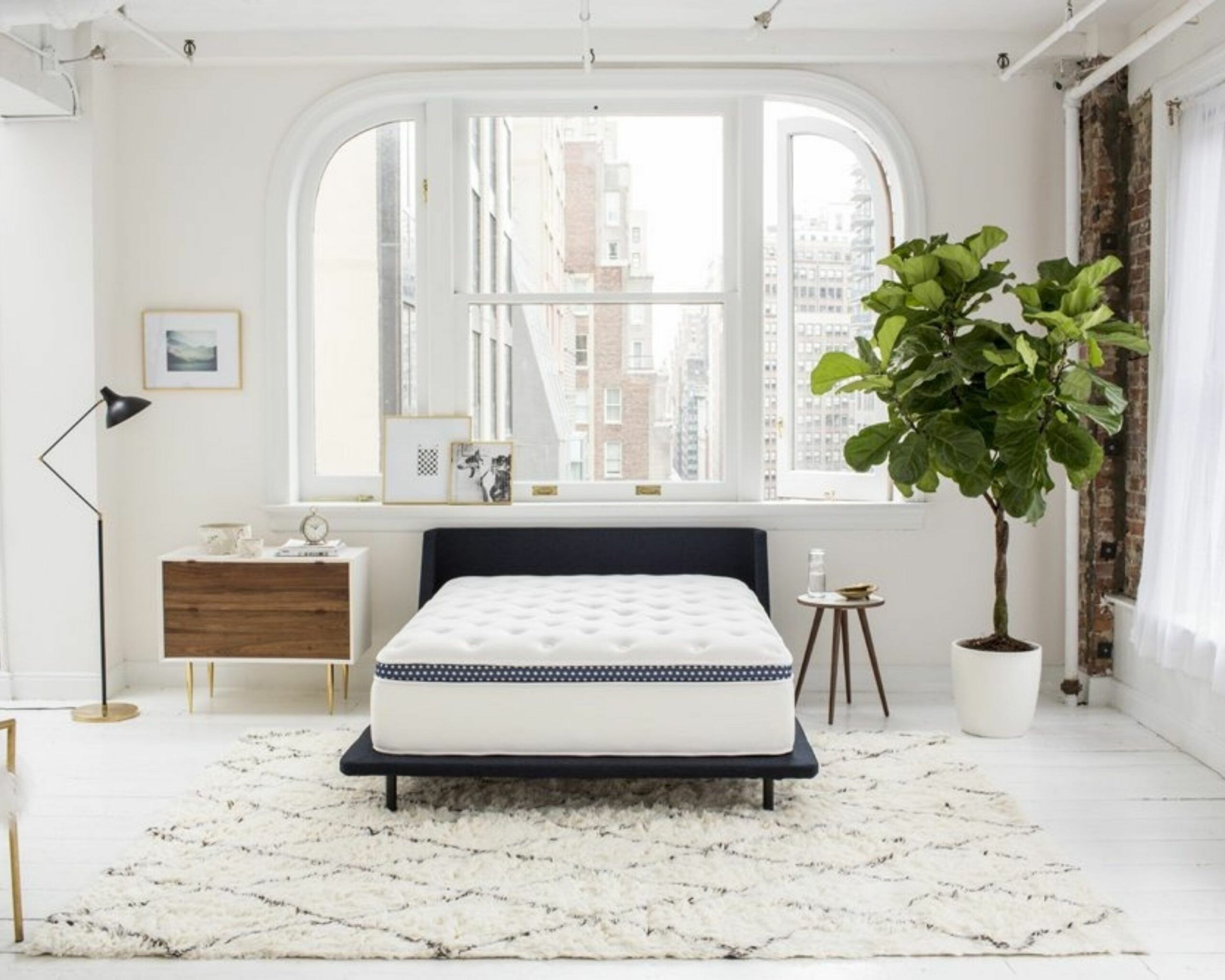 Back pain, begone: You'll get a luxurious night of sleep thanks to the lumbar support properties in the WinkBeds Luxury-Firm hybrid. With a lumbar support cushion and two types of coils, this hybrid hones in on keeping the spine supported. A Euro pillow top and foam layer assist with pressure point relief to prevent joint pain. Side sleepers will especially love the range of firmness options afforded by the WinkBeds original mattress. If you like to feel hugged when side sleeping, go for the WinkBeds medium-soft firmness mattress, while side sleepers with back pain can opt for the ultra-firm version—testers gave it an 8/10 on firmness.
We do love the give-and-take responsiveness of a hybrid innerspring mattress, however, couples might want to peek at our all-foam selections, which have higher motion isolation.
Material: Hybrid
Firmness: Medium-soft (4.5/10), luxury-firm (6.5/10), firm (7.5/10), plus (8/10)
Customer Rating: 4.8/5
Delivery: Delivered in 7-10 business days
Lifetime warranty
Pros and Cons of The WinkBed
| Pros | Cons |
| --- | --- |
| Choose from medium-soft, up to extra-firm. | More expensive |
| The firm option provides excellent support to maintain the natural "S" curvature of the spine. | Inferior motion isolation compared to the WinkBeds GravityLux mattress. |
| Excelling cooling tech for hot sleepers | |
| Pros | Cons |
Best Value Mattress- Nectar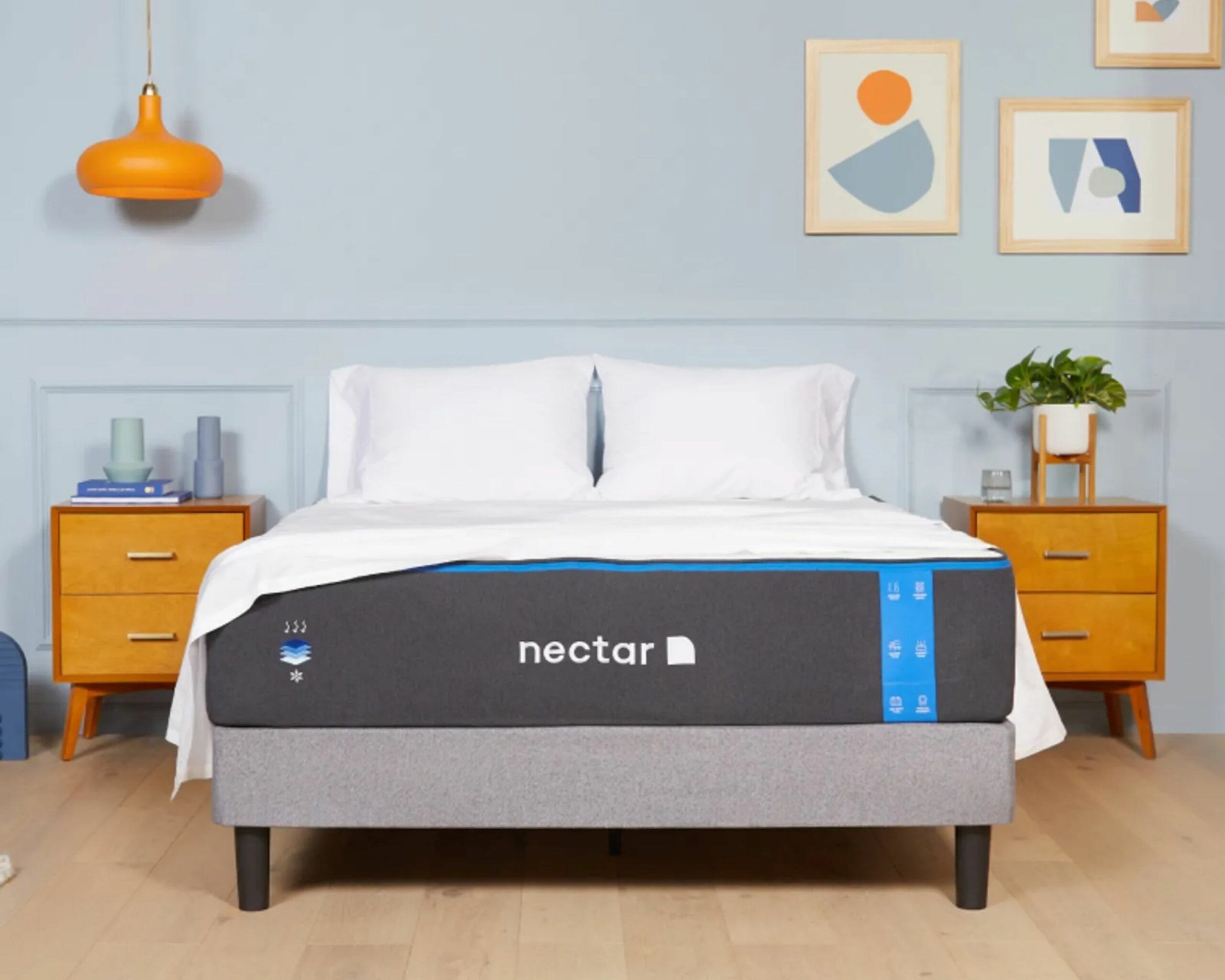 The Nectar is our top pick for side sleepers on a budget looking for a classic memory foam bed that doesn't compromise quality for cost. Featuring a soft quilted cover and gel memory foam layers built for comfort, the Nectar boasts high-pressure relief and motion isolation—all for under $1,000. The Nectar's memory foam construction allows it to be very responsive, bouncing back with support as you move around.
The Nectar mattress has a 365 sleep trial period that allows you to test out this bed in the comfort of your own home for an entire year before you commit to your purchase. To add to its value, the Nectar mattress comes with a "forever" limited-lifetime warranty that guarantees that you'll be getting your money's worth for your purchase with many years of great sleep.
Material: Gel memory foam
Firmness: Medium-firm (6/10)
Customer Rating: 4.8/5
Delivery: Delivered in 2-5 business days
Lifetime warranty
Pros and Cons of the Nectar
| Pros | Cons |
| --- | --- |
| Superior pressure relief | Not great for hot sleepers |
| Works for all sleep positions | Not the best pick for heavier sleepers |
| 365-day sleep trial period | |
| Pros | Cons |
Best Mattress for Pressure Relief – Puffy Lux
More so than other sleep positions, side sleepers need pressure relief to keep the hips and shoulders from painfully digging into their mattress. The Puffy Lux was put to the test, and scored high marks in nearly every category, particularly pressure relief. Testers found it did an outstanding job of cushioning under pressure points, keeping them uplifted and comfy. With its responsive foam and supportive coils, this hybrid is also is a standout option for back and stomach sleepers as well, providing excellent spine alignment and responsiveness.
Material: Hybrid
Firmness: Medium-firm (6/10)
Customer Rating: 4.5/5
Delivery: Delivered in 2-5 business days
Lifetime warranty
Pros and Cons of the Puffy Lux
| Pros | Cons |
| --- | --- |
| Offers great pressure relief for side sleepers | Won't sleep as cool as hybrid or innerspring mattresses |
| Keeps the spine in natural alignment | May not feel supportive enough for plus-size sleepers |
| High motion isolation score makes it a great fit for couples | |
| Pros | Cons |
Best Mattress for Overweight Sleepers – Brooklyn Titan Luxe
With the capacity to support up to 1,000 pounds with ease, the Brooklyn Titan Luxe was built especially for heavyweight sleepers. Mattresses that aren't equipped to support extra weight are prone to sink and sag faster, which can quickly lead to a restless night's sleep. The Titan Luxe uses highly durable foam that cushions around the shoulders and hips, while over 1,000 coils keep the body boosted up. Side sleepers do need a little bit of sink to keep pressure points comfortable, and the responsive foams in this mattress do a great job of comfortably cushioning the body.
Material: Hybrid
Firmness: Medium-firm
Customer Rating: 4.7/5
Delivery: Delivered in 3-5 business days
Warranty: 10-year
Pros and Cons of the Brooklyn Titan Luxe
| Pros | Cons |
| --- | --- |
| Great pressure relief for side sleepers | May feel too firm for lightweight sleepers |
| Extra-sturdy materials support heavyweight sleepers comfortably | Less contouring than all-foam mattresses |
| Pros | Cons |
Best Memory Foam – Casper Original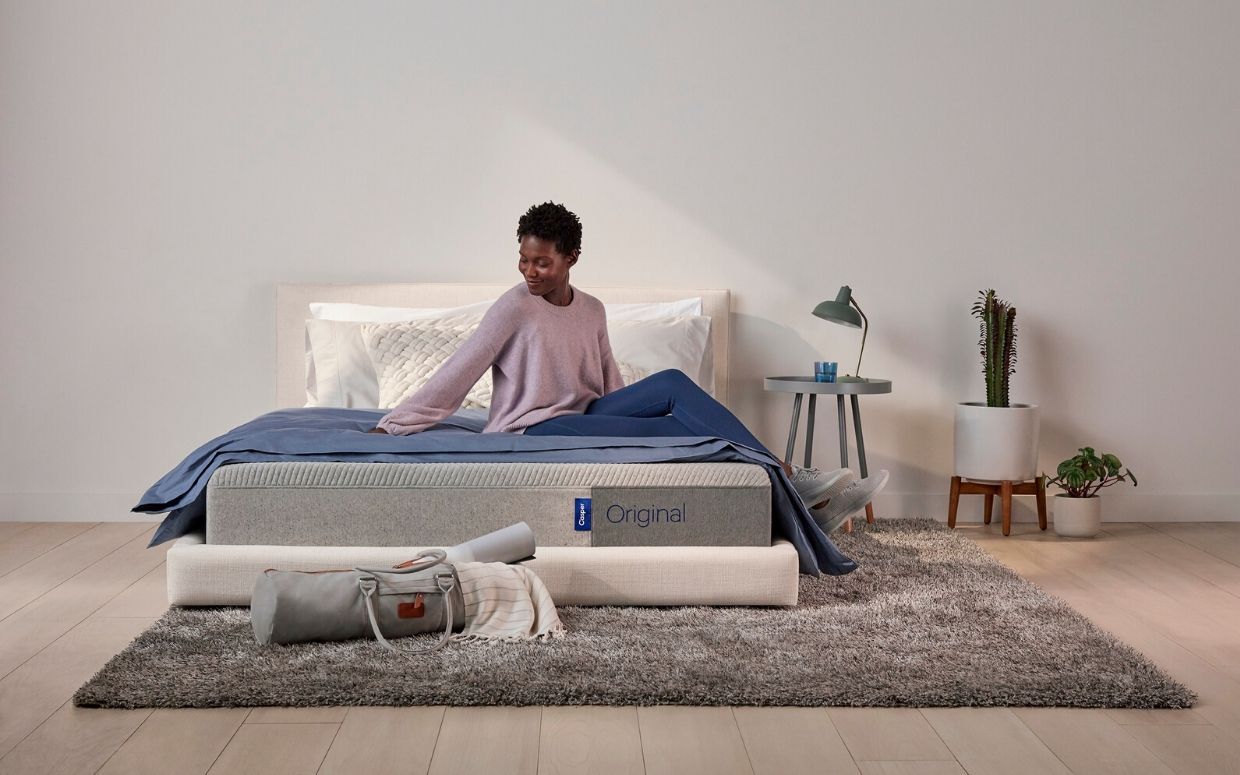 The highly responsive, comfortable support of the Casper Original mattress makes it a great pick for side sleepers, those with back pain, and couples. One of the best memory foam mattresses you can find in the online space, its medium-firm foam layers have all the features that a side sleeper needs to rest comfortably, such as a special top layer made especially to keep the spine aligned and pressure points elevated.
The Casper mattress's middle-of-the-road firmness and overall high scores in testing also make it a great pick for back or stomach sleepers. The Casper earned a perfect score in our responsiveness test, which means it will keep you supported as you shift positions throughout the night.
Material: Memory foam
Firmness: Medium-firm (6/10)
Customer Rating: 4.5/5
Delivery: Delivered in 2-7 business days
Warranty: 10-year limited
Pros and Cons of the Casper Original
| Pros | Cons |
| --- | --- |
| Near perfect responsiveness score | Not a good pick for larger sleepers |
| Good motion isolation properties | Middle-of-the-road firmness might not be a suitable option for sleepers with back pain or who enjoy a firmer sleep experience |
| Sleeps cool | |
| Pros | Cons |
Best Flippable Mattress – Layla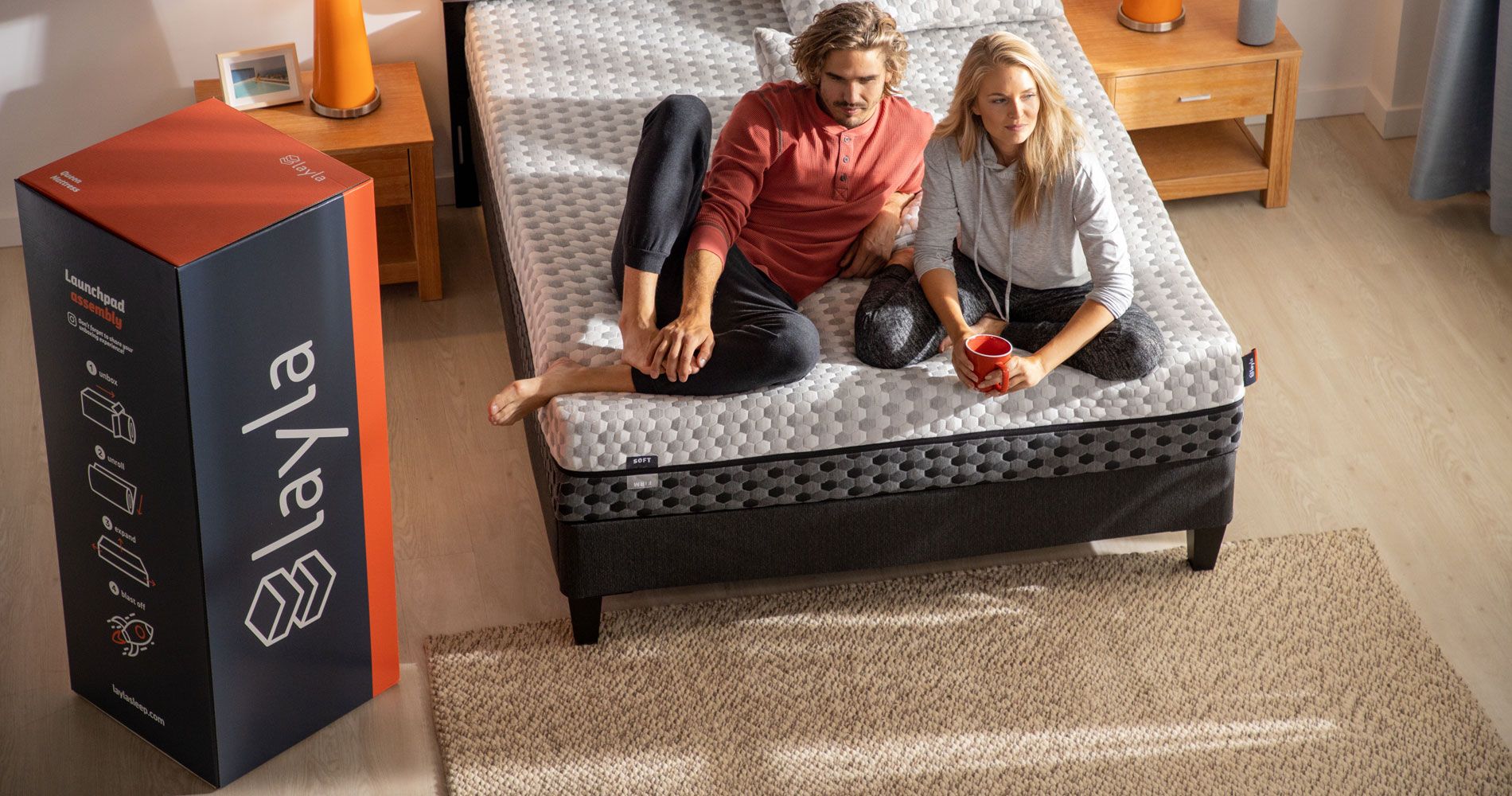 When it comes to choosing the right mattress firmness for you, Layla offers a two-in-one deal that is hard to refuse. It is dual-sided with a soft and firm side that you can flip between. The Layla mattress is also infused with copper, which is a naturally antimicrobial element.
Layla's foam layers offer outstanding pressure relief, alleviating any demand put on hips and shoulders. It's also very responsive, keeping up consistent support and cushioning as you move.
Material: Copper-infused memory foam
Firmness: Medium-soft (4/10); and Medium-firm (7/10)
Customer Rating: 4.5/5
Delivery: Delivered in 3-7 business days
Lifetime warranty
Pros and Cons of the Layla
| Pros | Cons |
| --- | --- |
| Dual-sided, allowing you to customize preferred firmness level | Heavier sleepers may want to look for more supportive mattresses |
| Great pressure relief | Off-gassing can occur during setup |
| Very responsive | |
| Pros | Cons |
MA Score: The Mattress Advisor Score is a weighted score that takes into account 14 different factors related to the mattress' performance, function, convenience and the brand's social responsibility.
How to Find the Best Mattress for Side Sleeping?
If you're a side sleeper, you need a mattress that provides both plush comfort and firm support to different areas of the body. The side sleeping position can put the majority of your body weight on pressure points such as the shoulders, hips, and knees. The best mattress for side sleeping will be plush enough to contour around these areas and relieve pressure by allowing them to sink gently into the mattress. You should choose a mattress that has enough pushback to keep your spine in alignment throughout the night. If your mattress is too soft or sagging, your back can twist or sink into uncomfortable positions that can leave you waking up with a sore neck or lower back.
Choosing a bed that is a medium firmness level on the firmness scale is a good way to find the balance of comfort and support that you need. This firmness level is soft enough to prevent tension from building in your joints, but also firm enough to keep the back and spine in a good sleeping posture throughout the night.
What to Consider When Choosing a Mattress for Side Sleepers?
Spine alignment: A mattress should support the natural curve of your spine so you can sleep with good posture throughout the night. To have proper spine alignment, the mattress will push back to support the weight of your body to prevent the spine from sinking into the mattress, while also having enough give to cradle the natural shape of your back.
Durability: A sagging mattress can cause discomfort and pain. Choosing a high-quality, durable mattress that will last you for several years is an investment in both your finances and your health.
Motion transfer: Motion transfer is an important factor for those who sleep with a partner or pet. A mattress with a high motion transfer score will prevent movements from your sleep partner from making their way to your side of the bed and disturbing your rest.
Temperature regulation: No one wants to wake up sweaty in the middle of the night. A mattress made of breathable materials such as coils and latex, or foam that is formulated with temperature regulation features will help keep the surface of the bed cool throughout the night.
Responsiveness: A responsive mattress will adapt to your body's shape on the mattress as you change sleeping positions during the night. Choosing a responsive mattress will keep you from feeling "stuck" in the mattress if you tend to move around, and will also keep your body supported as you switch positions.
Edge support: Edge support measures how durable and firm the edges of the bed are compared to the center. A bed with strong edge support will allow you to use the whole surface of the bed without sinking into or rolling off the sides of your mattress.
What Are the Different Types of Mattresses Available for Side Sleepers?
Today's top mattresses are made from a variety of materials, including memory foam, innerspring, latex, or even a combination of all three. Side sleepers can benefit in different ways from these mattress materials, so it's important to understand their unique features and benefits.
Memory Foam: Memory foam has pressure relieving properties that make it one of the best softer mattress materials for side sleepers. Memory foam cradles your natural curves and helps distribute your body weight along the length of your body to reduce stress on pressure points.
Although memory foam generally tends to retain body heat, some layers can be infused with gel beads or designed to allow airflow through the mattress to keep you sleeping cooler.
Innerspring: You probably know innerspring as the most common material found in traditional mattresses. Made with a core layer of pocketed steel coils, innerspring mattresses provide ample support and pushback to keep the spine in alignment.
Innerspring mattresses are good options for people who prefer to feel as if they are floating on top of their mattress rather than hugged into the surface of the bed. The typical innerspring mattress does not provide adequate pressure relief for side sleepers, but topping an innerspring mattress with a contouring memory foam mattress topper can offer a balance of cushion and support.
Latex: Latex mattresses are made of layers of latex foam. Latex can be naturally sourced or synthetic. Latex is also very responsive which is helpful if you tend to change sleep positions throughout the night. Latex mattresses can be expensive, so consider a synthetic latex or hybrid bed if you are on a budget.
Hybrid: Hybrid mattresses are made from a combination of coils, foam, and latex. Hybrid mattresses are ideal for those who want the springy feel of a traditional innerspring mattress while also benefiting from the pressure-relieving qualities of memory foam, latex, or both.
Hybrid mattresses can also work well for those who want the hugging feel of a foam mattress without sleeping hot since the addition of coil or gel-infused foam can regulate temperature and balance out the warmer nature of foam.
How Much Do the Best Mattresses for Side Sleepers Cost?
There are great mattresses for side sleepers available to meet every budget. You can get a top-reviewed mattress for side sleepers like the Nectar and Casper, for under $1,000. Luxury options, such as the Saatva mattress, are great choices for those with extra cash on hand and want frills and extra features. Buying a mattress online will cut out middleman markups for extra savings. Payment plan options are also available for many online mattresses, so you can purchase your dream bed without blowing your budget by making a small low-or no-interest payment each month.
What Do I Need to Know About Mattress Shipping and Delivery?
Online mattresses usually are delivered within 2-10 business days, and many brands offer free shipping. A "bed-in-a-box" mattress will arrive compact in a box to make it easier for you to move it into your house. A bed-in-a-box delivery is a great feature for those that live in homes with smaller entryways or who have to climb up flights of stairs. If you don't want to deal with setup, consider splurging on white glove delivery. With white glove delivery, representatives from your mattress company will remove your old bed and set up your new mattress in your bedroom. You just have to let them in your door, and the delivery staff takes care of the rest.
Frequently Asked Questions
What firmness level is best for side sleepers?
Side sleepers will benefit from a medium-firm mattress that has a little more cushion to it. If a mattress is too firm, your hips, shoulders, and thighs will have a lot of pressure put on them. It's important to look for a mattress that also isn't too soft because the spine can easily sink out of alignment.
Why is pressure relief important for side sleepers?
Because of the nature of side sleeping, the majority of your body weight is put on the hips and shoulders. If you're sleeping on too firm of a bed or just the wrong mattress type for you, extra strain is put on your joints.
Which kind of mattress type is best for a side sleeper?
Each type of mattress brings different features to the table that can all appeal to a side sleeper. Usually, memory foam is recommended because of its softer feel and pressure-relieving qualities. This mattress type may not be the best fit for all side sleepers, so it comes down to your personal preferences, firmness level, and cooling to decide between foam, coils, latex, and hybrid mattresses.
Summary of the 10 Best Mattresses for Side Sleepers