Each product we feature has been independently selected and reviewed by our editorial team. If you make a purchase using the links included, we may earn a commission.Each product we feature has been independently selected and reviewed by our editorial team. If you make a purchase using the links included, we may earn a commission.
Affiliate Disclosure:This Old House's Reviews Team is committed to delivering honest, objective, and independent reviews on home products and services. To support this business model, This Old House may be compensated if you purchase through links on our website.
Experts in sleep science somewhat frown upon stomach sleeping, citing the stress the position puts on necks and backs. However, that doesn't mean sleepers who lie on their stomachs prone are doomed to a life of aches and pains. Experts also note that with the right bed beneath them, stomach sleepers can rest soundly in their comfort zone. The key? Catch z's atop one of the best mattresses for stomach sleepers.
A bedroom renovation is an excellent opportunity to choose a mattress that matches your sleep position, and the conventional wisdom for best practices when stomach sleeping is to sleep on a firm mattress (a medium-firm, at minimum), ensuring the hips won't slump out of alignment with the chest. So, our Reviews Team dove belly-first into finding mattresses that stomach sleepers can fall in love with. We also employed the essential help of Mattress Advisor, a team of sleep experts who have tested countless mattress models through the years. We've rounded up nine mattresses that sleep geeks assert are terrific for stomach sleepers. Read on to learn more about each mattress pick, and the stomach sleeper subtypes we've put forth for each bed:
By clicking on the product links in this article, Mattress Advisor may receive a commission fee at no cost to you, the reader.
Best Mattress for Stomach Sleepers – Our Top Picks
Best Overall Mattress for Stomach Sleepers – DreamCloud Premier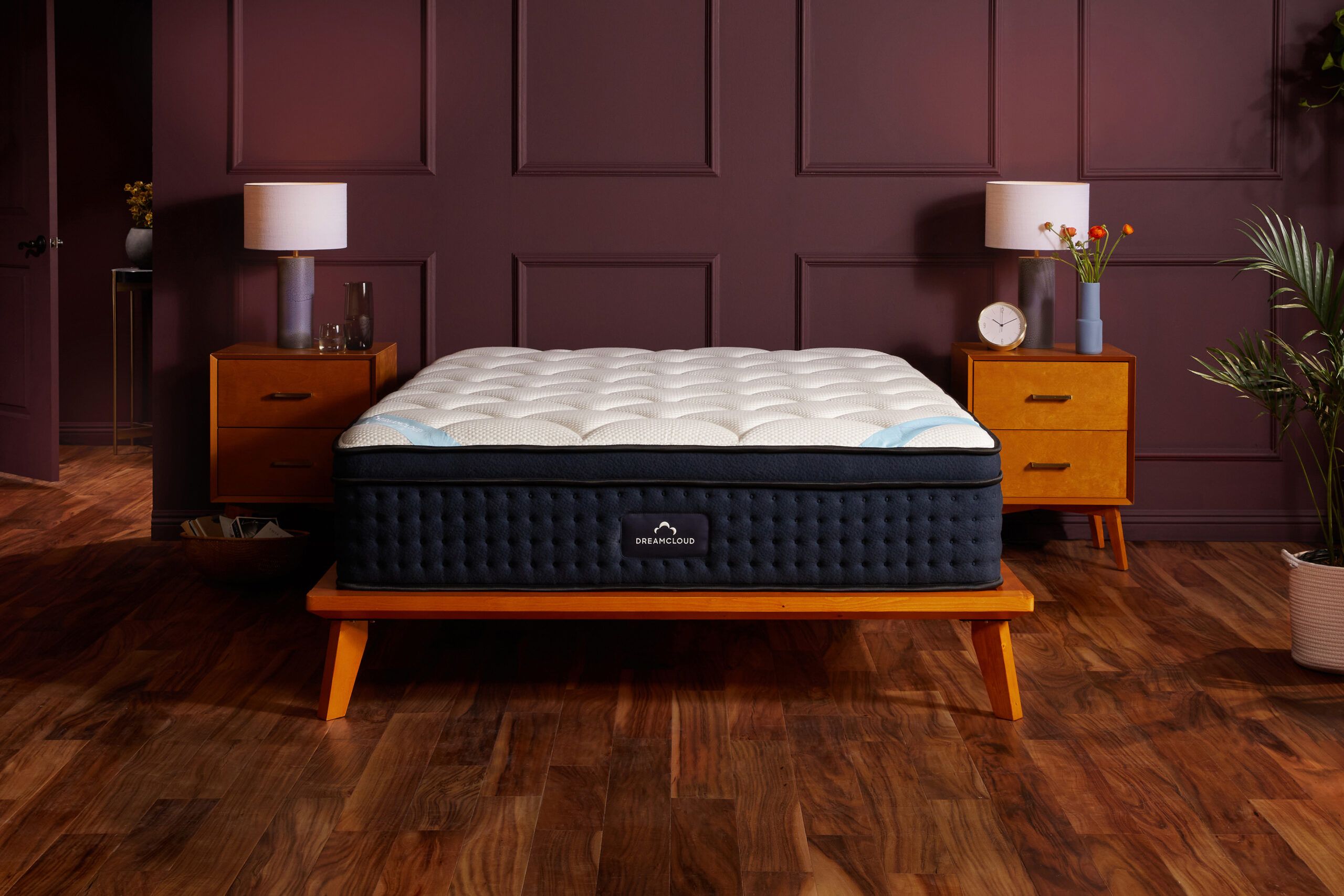 Pros and Cons of the DreamCloud Premier
| Pros | Cons |
| --- | --- |
| Excellent for stomach sleepers, and all sleep positions | Premier is a luxury mattress with a luxury price tag. Some buyers may prefer the more affordable DreamCloud Original |
| Cashmere pillow top gives an ultra-luxe feel | |
| Lifetime warranty and year long sleep trial | |
| Pros | Cons |
Material: Hybrid (foam and coils)
Firmness: Medium-firm (6.5/10)
Customer Rating: 4.8/5
Delivery: Within 18-21 business days
Trial: 365 nights
Warranty: Lifetime
Design details like lavish crown molding can make your bedroom feel dreamier. But you need an amazing bed to tie it all together. The DreamCloud Premier's build can ensure you'll wake up feeling refreshed after visits from the Sandman. Mattress Advisor designated DreamCloud Premier as their testers' main choice for three key reasons: An innerspring and foam construction is a strong base for all sleep positions, including stomach sleepers in particular; Couples can contently co-sleep in peace; and the bed supports all bodies, including heavier body types. The sleep lab numbers reflect the mattress review tester's notes — the bed soared in edge support (8.5/10), motion transfer (9/10), and pressure relief (9/10).
The brand provides robust coverage if you're nervous about what is protected in your purchase: The bed's lifetime warranty and year-long sleep trial is a far better deal than you'll often see for commodities in the same price range. DreamCloud recently slashed $400 off the Premier's sticker price and threw in $599 in bedding accessories, including memory foam pillows, sheets, and a mattress protector.
Best Mattress for Back and Stomach Sleepers – Helix Dawn
Pros and Cons of the Helix Dawn
| Pros | Cons |
| --- | --- |
| Excellent support for all body types and types of sleepers | Soft mattress lovers may prefer the Helix Dawn Luxe |
| Plenty of edge support | |
| Hybrid build makes for one of the best cooling mattresses for hot sleepers | |
| Pros | Cons |
Material: Hybrid (foam and coils)
Firmness: Firm (8.5/10)
Customer Rating: 4.5/5
Delivery: Within 5-15 business days
Trial: 100 nights
Warranty: 10 years
Just because you're a stomach sleeper right now doesn't mean it'll stay your permanent preference. For example, if you're expecting, you're probably not doing a lot of baby cobras or sleeping on your belly. Fortunately, Helix makes a medley of beds designed to really sing for certain sleep positions, and Helix Dawn is orchestrated for both back and stomach sleepers. Helix Dawn is one of the standard, non-Luxe (i.e., no pillow top) Helix models, measuring 12 inches tall. The base of nearly 1,000 wrapped coils in a queen helps keep the spine aligned (rated 9 out of 10 by testers), while the foam top layer keeps pressure off the joints (8.5/10). Although in contrast to the Helix Midnight, which was furnished for side sleepers, the Dawn's top layer foam is a more bouncy, latex-like material, ensuring hips won't plunge into a poor position for stomach sleeper's necks and backs.
Best Innerspring Mattress for Stomach Sleepers – WinkBeds Original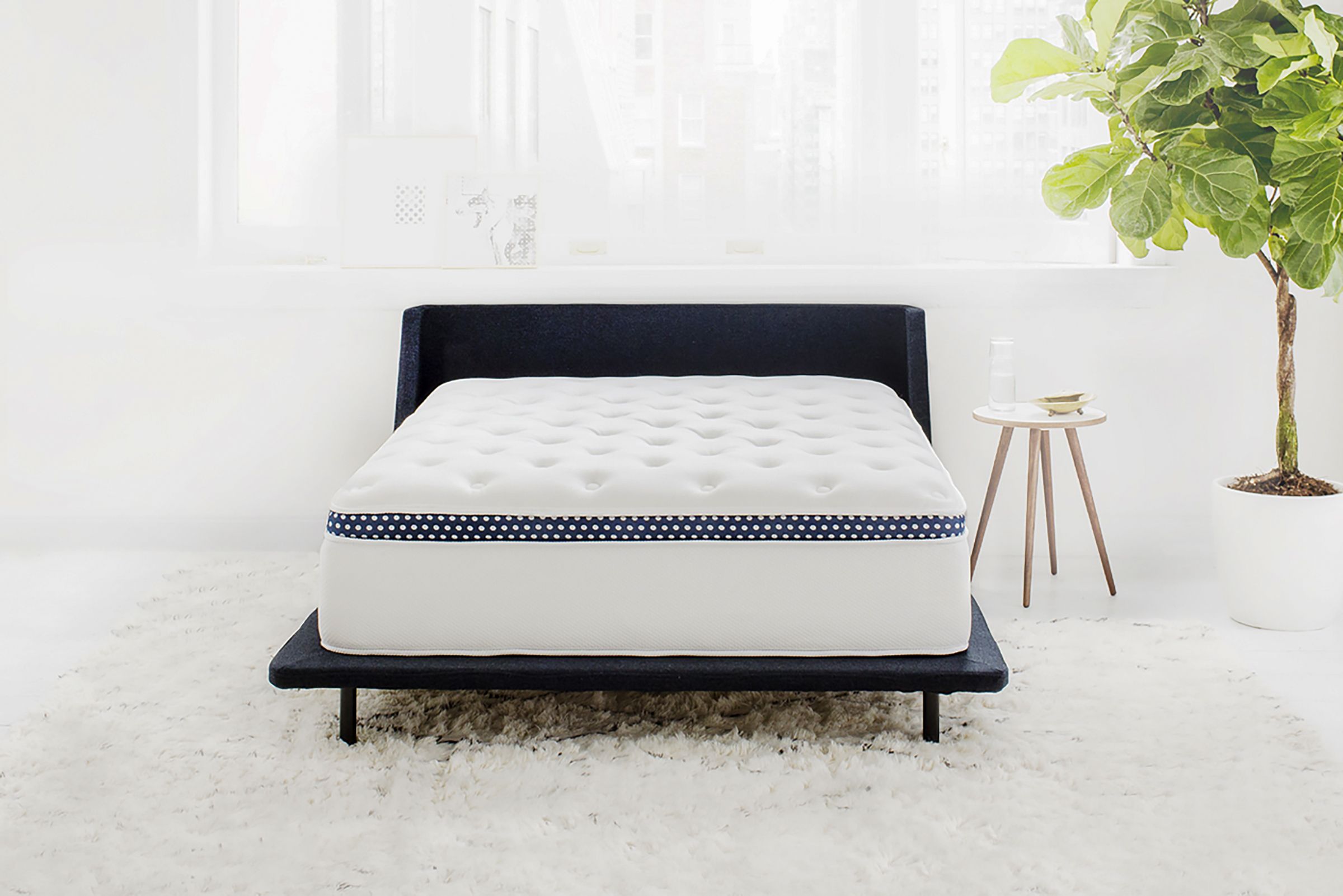 Pros and Cons of The WinkBed
| Pros | Cons |
| --- | --- |
| Quilted pillow top adds luxury to the durable coil layer | Not a good match for memory foam lovers |
| Excellent cooling build for hot sleepers | Couples may need a build that better absorbs motion |
| Lifetime warranty and multiple firmness options available | |
| Pros | Cons |
Material: Hybrid
Firmness: Soft (4.5/10), luxury-firm (6.5/10), firm (7.5/10), plus (8/10)
Customer Rating: 4.5/5
Delivery: Within 7-14 business days
Trial: 120 nights
Warranty: Lifetime
You may notice a common thread among the mattress materials within this list: Pocketed coils. Beds like The WinkBed and others use elegantly crafted coils, where each spring in the support layer is encased in a fabric pocket. The use of individually wrapped coils helps to create an adaptive sleep surface with lots of bounce, which helped the bed earn 9 out of 10 in the responsiveness testing category.
The WinkBed also has a micro coil layer, adding robust edge support (9.75/10) and durability (10/10). And because the steels vary in springiness, or "gauge," the build adds targeted support to the lower back, helping mitigate any alignment issues caused by stomach sleeping. When adding the bed to your cart, you'll select among multiple firmnesses of The WinkBed, and experts assert the "luxury-firm" firmness option is best for stomach sleepers. If you have fealty for a different firmness, you can go with soft, firm, or plus (designed for heavier body types).
Best Mattress for Stomach Sleepers with Back Pain – Saatva Classic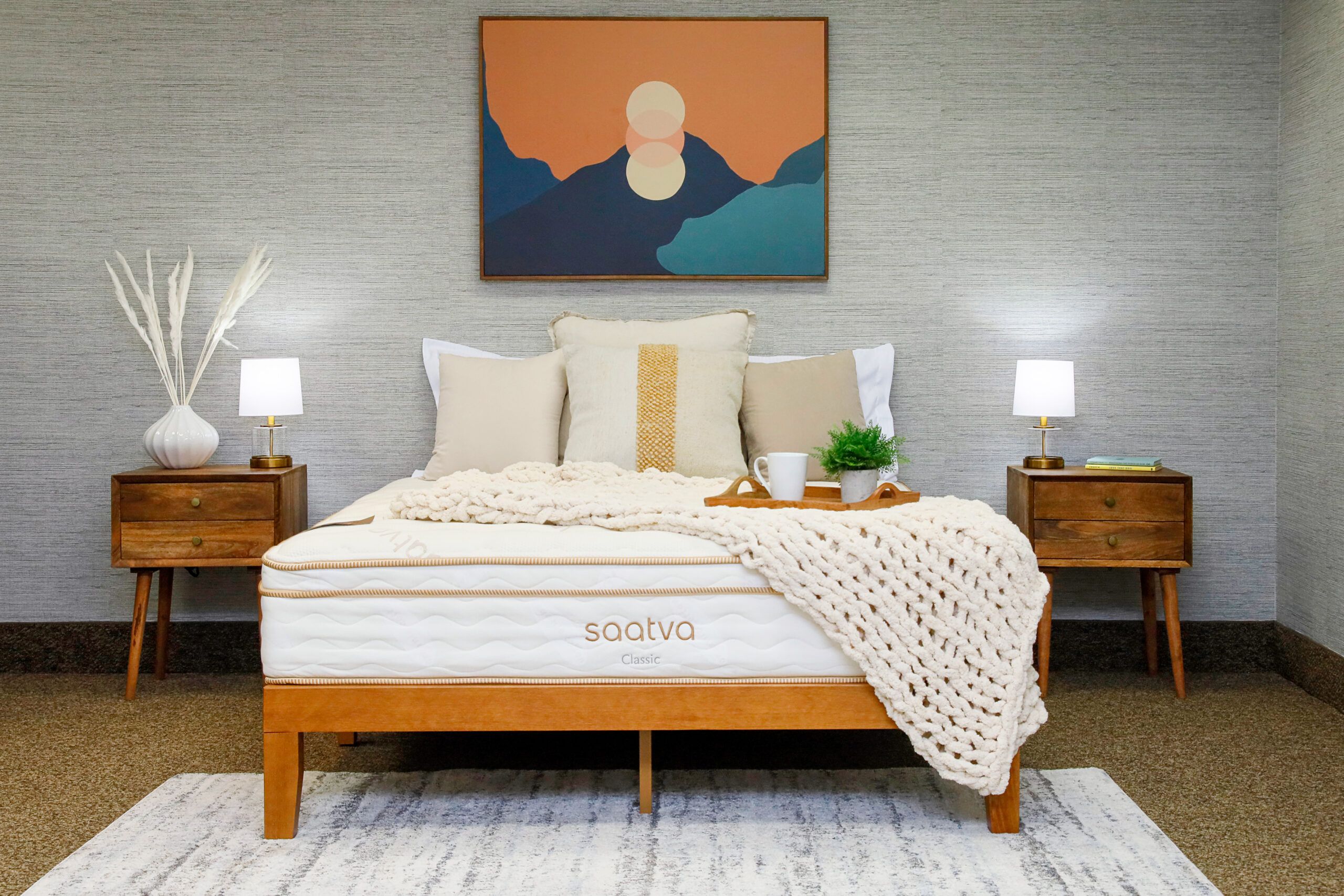 Pros and Cons of the Saatva Classic
| Pros | Cons |
| --- | --- |
| One of the best performing beds in the Mattress Advisor sleep lab | Beds are made-to-order, so take longer to deliver |
| Excellent build for cooling hot sleepers | May be beyond budget for some buyers |
| Shoppers can custom order to their preferred firm support | |
| Lifetime warranty, year long sleep trial, and white glove delivery are included | |
| Pros | Cons |
Material: Hybrid (foam and coils)
Firmness: Soft (3/10), luxury-firm (6/10) and firm (8/10)
Customer Rating: 4.9/5
Delivery: 9-21 days, free white glove delivery
Trial Period: 365 nights
Warranty: Lifetime
The Saatva Classic reinforces its robust build with two layers of innerspring coils – a micro-coil layer and pocketed coil layer. The result is a bed exceptionally fit to soothe bothersome lower back pain. Saatva Classic even notched a possible but rarely seen perfect score in the sleep lab's spine alignment assessment (10/10). The combination of foam comfort layers and a 3-inch Euro pillow top atop the coils give the pressure relief (9/10) you'll need on your stomach and side.
Saatva also saves your sore back via its delivery policy: Each bed is made-to-order, and then brought to your door by Saatva representatives, who will remove your old bed and assemble the new mattress. Finally, Saatva is one of the most eco-friendly builds out there, using an organic cotton cover, recycled carbon steel coils, and renewably-sourced memory foams.
Best Value Mattress for Stomach Sleepers – Nectar Original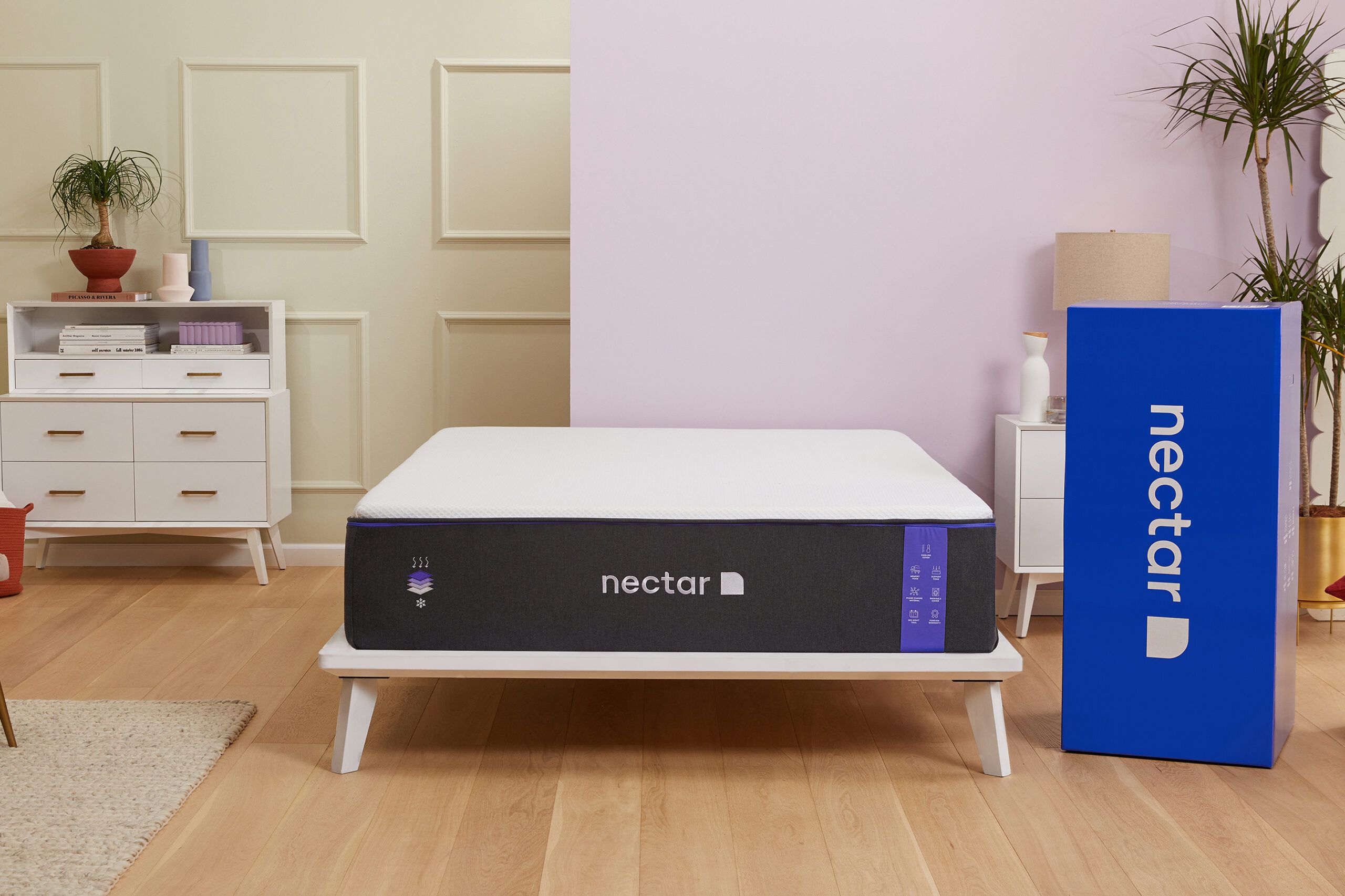 Pros and Cons of the Nectar Original
| Pros | Cons |
| --- | --- |
| Excellent value and plenty of time to decide if bed is a fit with year long sleep trial | People who sleep on the warmer side may need more relief |
| Good fit for back, stomach, and side sleepers | Not ideal for sleepers who prefer the bounce and give-and-take feeling from coils |
| Excellent for those who like the hugging sensation of memory foam | |
| Pros | Cons |
Material: Gel-infused memory foam
Firmness: Medium-firm (6/10)
Customer Rating: 4.8/5
Delivery: 2-5 business days
Trial Period: 365 nights
Warranty: Lifetime
Although Mattress Advisor testers love the structural integrity offered by mattresses with a supportive coil layer, testers recommend plenty of beds that exclusively use high-quality foams. And a big benefit of memory foam beds like the Nectar Original mattress is that they tend to be more affordable than their hybrid counterparts. But Nectar doesn't sacrifice quality for affordability. The mettle of its materials was tested in the sleep lab, scoring well in motion transfer (8.5/10), edge support (9/10), pressure relief (8.5/10), and responsiveness (8.5/10).
The Nectar does somewhat retain heat (testers gave 7.5 out of 10 for cooling), but that's nothing a crisp pair of cooling sheets can't solve. One drawback for consumers who prefer to buy close-to-home is that Nectar isn't made in the U.S., unlike most of its competitors. However, the mattress ships quickly and has confidence in its durability for the long haul, offering a year-long sleep trial and lifetime warranty.
Best Hybrid Mattress for Stomach Sleepers – Brooklyn Bedding Signature Hybrid
Pros and Cons of the Brooklyn Bedding Signature Hybrid
| Pros | Cons |
| --- | --- |
| Excellent pressure relief | Not ideal if you prefer the slow-moving feel of memory foam |
| Fits any sleep position | Less robust warranty than other comparable beds |
| Hot sleepers get needed relief | |
| Pros | Cons |
Material: Hybrid
Firmness: Medium-soft (4/10), medium-firm (6/10), firm (8/10)
Customer Rating: 4.7/5
Delivery: Free shipping within 3 weeks
Trial Period: 120 nights
Warranty: 10-year limited
The Brooklyn Bedding Signature Hybrid comes highly recommended for stomach sleepers with a soft spot for a smushier mattress. Because of the versatility of hybrids though, you won't feel left out if you're partial to other positions: The side and stomach sleepers cite its pressure-relieving surface, which testers scored 9 out of 10, and top-tier spine alignment, rated a perfect 10 out of 10. And although the Signature Hybrid's soft model is softer than most (4 out of 10 on the firmness scale), the coil layer ensures your body is propped up on a responsive surface that won't let your spine slump: Testers rated the bed 9 out of 10 for its responsiveness and durability.
Best Extra-Firm Mattress for Stomach Sleepers – Brooklyn Bedding Plank Firm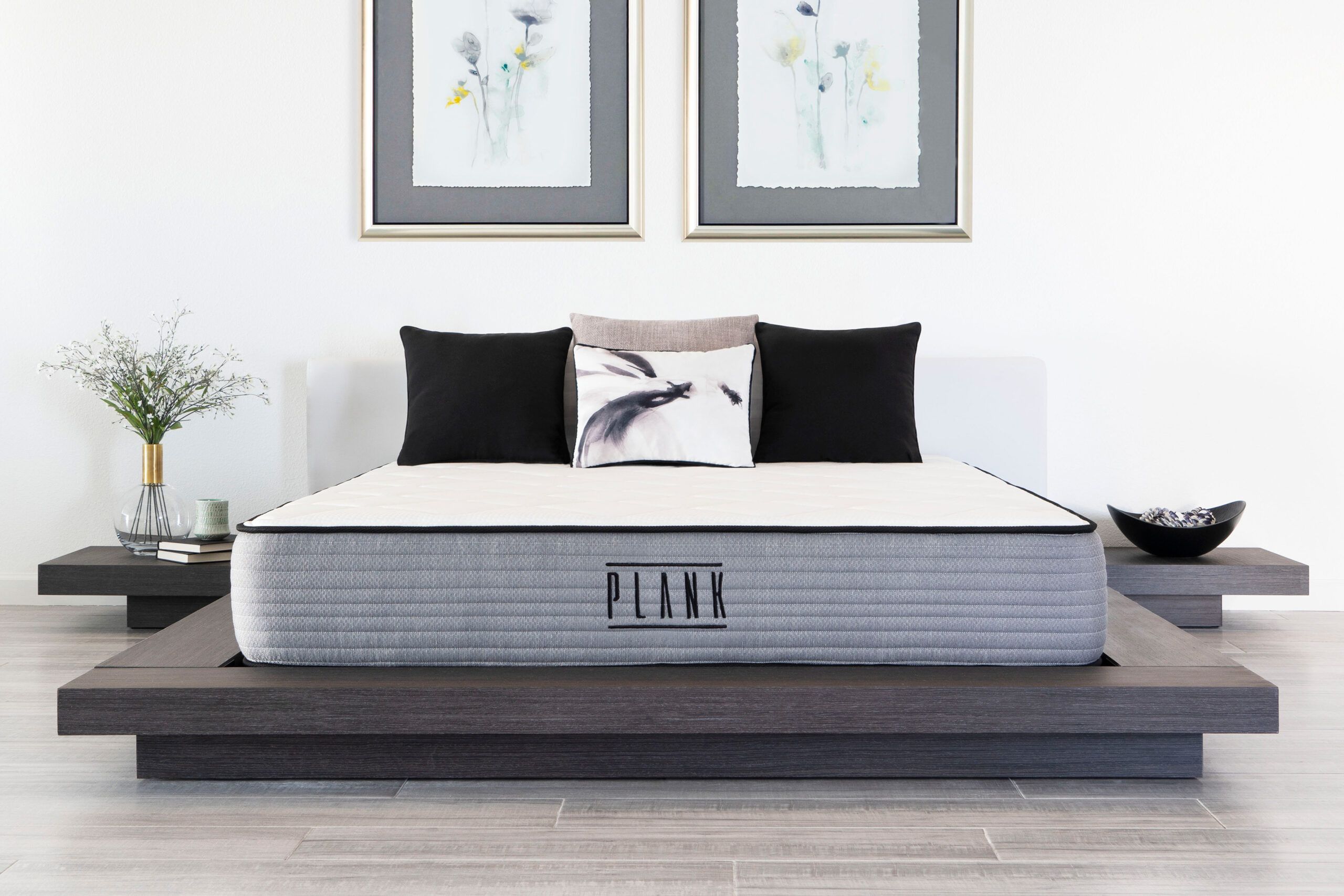 Pros and Cons of the Brooklyn Bedding Plank Firm
| Pros | Cons |
| --- | --- |
| For a fee, hot sleepers can add a cooling panel to each side of their bed | Less robust warranty coverage |
| Flippable for customizable firmness on the fly | Even the Plank's softer side may be too firm for many |
| Pros | Cons |
Material: Polyfoam
Firmness: Firm (7/10) and extra-firm (9/10)
Customer Rating: 4.8/5
Delivery: 3-4 business days
Trial: 120 nights
Warranty: 10-year
Sleep experts favor firm builds for stomach sleepers, and beds don't get much firmer than the Brooklyn Bedding Plank Firm. Like a plywood plank, the Plank Firm mattress is strong yet inexpensive ($1,332 for a queen). But unlike plywood, the Plank sleep experience feels firm but not overly rigid. You can choose your own adventure when it comes to just how firm you want the Plank to feel: The flippable bed has a firm side and an ultra-firm underside. Regardless, each side has a quilted surface to help you get cozy on the firmest of surfaces. And if you're a stomach sleeper, your back will thank you, since you get proper alignment (8.75/10), and excellent pressure relief (9/10). If you're a firm mattress lover, you may also feel partial to Brooklyn Bedding's medium-firm memory foam pillow, which our team clocked as a pillow worthy of a luxury getaway.
Best for Pressure Relief – Nolah Signature 12″
Pros and Cons of the Nolah Signature 12″
| Pros | Cons |
| --- | --- |
| Excellent for stomach, combination and back sleepers | AirFoam means you don't sink in as much as some memory foam mattress lovers may prefer |
| AirFoam is more breathable than traditional memory foam | Doesn't offer as solid edge support as beds with coils |
| Limited lifetime warranty to back durability | |
| Pros | Cons |
Material: Memory foam
Firmness: Medium-firm (6/10)
Customer Rating: 4.5/5
Delivery: Within 2-7 business days
Trial: 100 nights
Warranty: Limited lifetime
Pressure can be a good thing if it helps you meet a tight deadline or powerwash a fence. However, you don't want physical pressure to be continually exerted on your body while you sleep. Beds evaluated by Mattress Advisor, like the Nolah Signature, are pressure-tested — literally — so you know how much (or how little) pressure you'll be confronted with on your new sleep surface. The Nolah Signature received an excellent 9.25 out of 10 pressure relief score because of its ability to keep pressure off the head, shoulders, back, and hips of testers. The all-foam bed uses a unique, proprietary "AirFoam" to give the bed pressure relief, but with plenty of bounce (testers gave the bed 9.5 out of 10 for responsiveness).
Best Mattress for Active Stomach Sleepers – Bear Original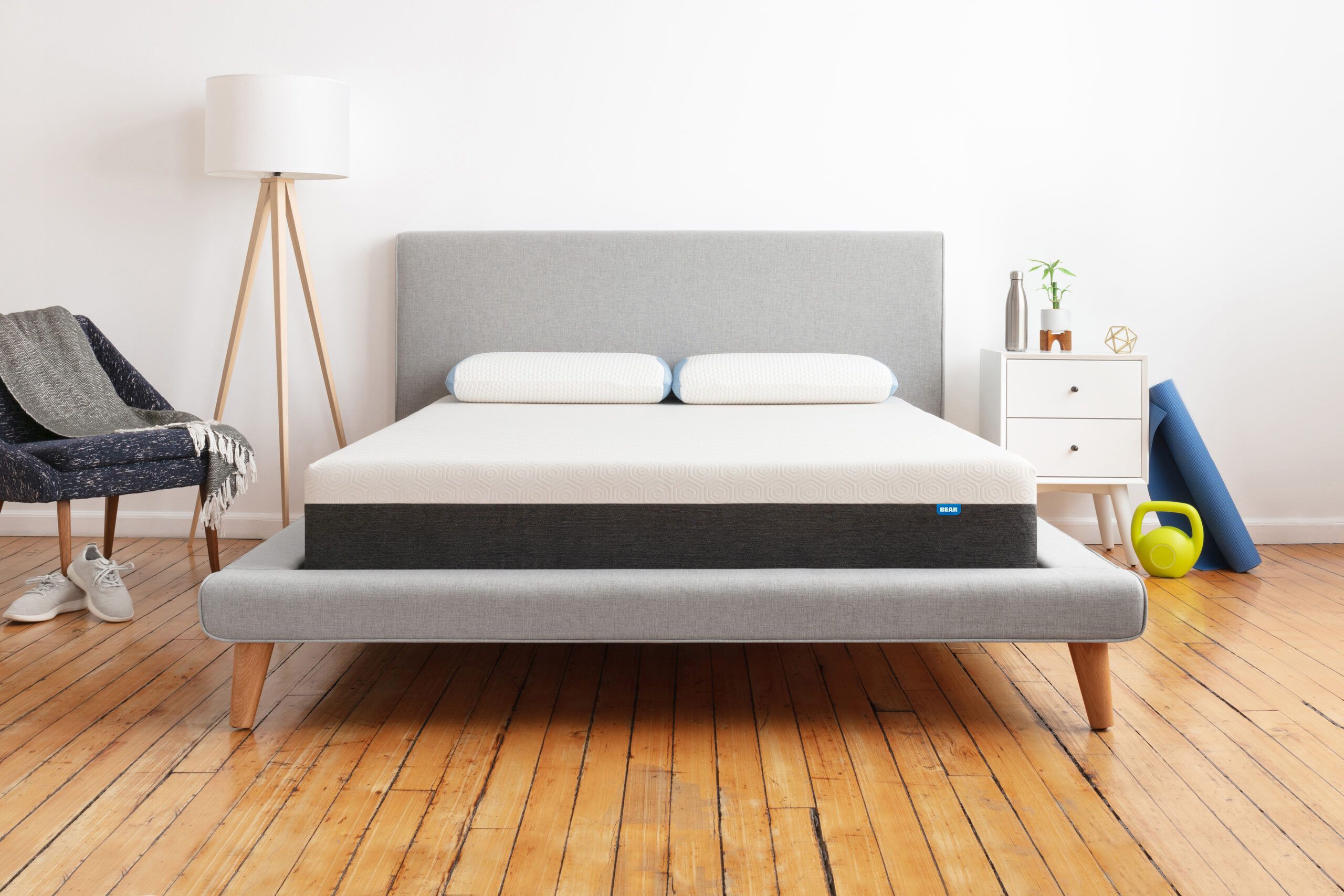 Pros and Cons of the Bear Original
| Pros | Cons |
| --- | --- |
| Excellent value | Middling motion transfer score may mean interrupted sleep for couples |
| Great cooling mattress for hot sleepers | |
| Lifetime warranty | |
| Pros | Cons |
Material: Memory foam
Firmness: Medium-firm (6.5/10)
Customer Rating: 4.7/5
Delivery: Ships free within 7-10 business days
Trial: 120 nights
Warranty: Lifetime
Buying a mattress in-store may be an errand that interferes with your busy athletic training regime. If that's the case, you may want to consider the Bear Original. Bear asserts that its proprietary materials are a boon to the body's recovery process as you sleep. While Mattress Advisor lacks the technology to verify those claims, their testers do say that the Bear Original could be the right mattress for an active stomach sleeper.
The bed feels cool to the touch, testers said, which Bear attributes to its breathable cover and copper-infused foam top layer. In fact, testers' score of 9 out of 10 for cooling is one of the highest ever given to a bed composed entirely of memory foam layers, a build which tends to trap heat and sleep a bit stuffier. Active sleepers also get adequate spinal alignment (8.5/10) so that they wake up pain-free and ready to tackle another day of sweaty sports or DIY. And perhaps best of all, the bed has one of the most attractive price points — $699 for a queen, at the time of publication.
What Makes a Mattress Good for Stomach Sleepers?
Being a stomach sleeper doesn't mean your physician will throw the book at you. And it's not all bad news — stomach sleeping can keep the airways more open, easing sleep apnea. Still, your bed should address the fact that you're spending a third of your life in a less-than-ideal position for the neck and spine. Experts say the key for stomach sleepers is extra support in the midsection to prevent the hips from slumping out of alignment with the back. Our suggestion: Pay attention to how your body type may influence a bed's ability to keep you aligned.
Type of Mattresses
Memory foam: The contouring property of memory foam makes it an excellent material to alleviate excess pressure on a stomach sleeper's hips. If you're a combination sleeper, you'll want to be sure an all-foam mattress is cushioning but responsive. Foams that quickly reform ensure you won't feel stuck when you try to execute your nocturnal sleep position switches. Bigger stomach sleepers — especially those with lower back pain — should note that memory foam may experience sinkage sooner under heavier weight. One way to mitigate this is to periodically rotate (not flip) the mattress to evenly distribute the load.
Innerspring: If you've ever slept in a budget, roadside hotel, you're probably familiar with old-school, innerspring mattresses. Modern innersprings, however, use rows upon rows of springs to form the support core, creating a durable base. Plus, the spring layer is often only one layer with a hybrid cake that includes fluffy foam. Coils are a great addition though, as they also allow plenty of airflow for hot sleepers, and lend themselves to bounce. And because the typical modern innerspring uses pocketed coils — rather than one continuous coil woven throughout the bed — motion tends to be well-isolated, so movement in one part won't send waves across the bed's entirety.
Latex: Considered one of the most durable materials, latex mattresses are excellent if you want to keep your bed away from a landfill and beneath you for the long haul. Latex is a broad term though, and can refer to many types and manufacturing processes. For starters, mattresses can be made with synthetic or natural latex foams. Natural foams are often more breathable and sustainably sourced, tapped from rubber trees, but also more expensive. However the foams are sourced, in post-processing, they can be manufactured to feel more breathable and aerated, or more firm and bouncy. Some beds go all in and use a 100 percent latex build, while others incorporate latex foam into one or more layers among several.
Hybrid: A hybrid merges an innerspring coil layer with cushy, top-comfort foams. A typical hybrid, like an innerspring, boasts a base layer of rows of 6- to 8-inch height coils, wrapped in fabric pockets. The fabric encasement helps the coils spring independent of each other under the body's weight. Some hybrids are ultra-plush and feature high-loft pillow tops for the comfort layer. Hybrids are often rated to be some of the most comfortable and durable beds, and consequently, also tend to be the priciest. Despite their high loft (which can make them tricky for Murphy beds, and the under-bed mattress in a trundle frame, for example) and the robust nature of the hybrid bed, most arrive tightly compressed in a box, to unfurl over time. There are exceptions among brands, like Saatva, which includes white glove delivery of their beds on a truck with purchase.
Performance Factors Tested
Firmness
Mattress Advisor uses a straightforward 1 to 10 firmness scale, with 10 being the most firm. Beds are evaluated by multiple sleepers with broadly different body weights, however, you should still keep in mind that heavier sleepers may experience firmness differently than lighter sleepers. Stomach sleepers are typically advised to sleep on at minimum a medium to medium-firm mattress.
Pressure relief
A bed that effectively relieves pressure can be clearly reflected on a pressure map test. And like the firmness measure, the pressure map test is applied to multiple sleepers of varying body types. If you often suffer soreness on sensitive parts of the body, like hip pain, look for solid pressure relief.
Spine alignment
A spine that rests in the natural S-shaped curvature is essential if you're a stomach sleeper who struggles with back pain. A bed can also start out with proper spinal alignment, but as it nears its retirement, may start to allow your spine to slump. Beds with "zoned support," meaning they are more reinforced toward the center, tend to excel at spinal alignment.
Durability
Hybrid beds with innerspring coil layers tend to have the most longevity, but may also be more difficult to take with you if moving to another house or city may be imminent. All-foam mattresses can boast ample durability as well, often using a mix of high-density layers of foam to add to their structural integrity.
Motion transfer
Motion transfer, or motion isolation, is a key consideration if you co-sleep with a partner or pets, especially if you tend to be easily jostled awake. Motion transfer is one of the most easily seen or experienced mattress traits, which testers often measure by observing liquids atop the sleep surface as a tester moves, i.e. the classic "wine test."
Temperature regulation
Sleeping too hot is one of the most common nighttime complaints, and modern mattresses are pulling out all the stops to try to regulate temperature. An above-average Mattress Advisor score (8 out of 10, at least) is what a naturally hot sleeper should seek when looking at beds.
Responsiveness
Jumping up and down on the bed is frowned upon behavior, and will surely be more difficult on a mattress with limited responsiveness. "Adaptive" might also be a good word for a mattress that's responsive since it will quickly react and adapt to how you're sleeping. That's why combination sleepers in particular should seek a bed with highly-rated responsiveness, ensuring seamless position switches at night, rather than a stuck-in-quicksand feeling.
Edge support
Folks with a king or California king have lots of square footage for sleeping, and thus may be less concerned whether their bed has robust edge support. However, for couples who share a full or queen-size bed, you'll definitely want edges that you feel held on. Fortunately, most beds for stomach sleepers tend to have at minimum a solid 8.5 out 10 edge support score.
Tips for Healthy Stomach Sleeping
Use the right pillow: The principal gripe from the chiropractic crowd re: stomach sleeping is the necessary twist of the neck (unless you sleep on a massage table) when you lie down. The main way to mitigate the negative effects of that type of torque — beyond investing in a supportive mattress — is a low-loft pillow. The closer the head is to the bed, the better, essentially. Many of the best pillows are adjustable, fortunately. Even memory foam pillows often use shredded foams, clumps of which can be removed from the pillow's inner case to lower its height.
Put a pillow under your hips: If, however, you find it impossible to sacrifice sleeping with a big fluffy pillow, the added height can cause your hips to fall further out of alignment with the lumbar, straining the back. Placing a pillow under the hips can help reduce the strain.
Stretch when you wake up: "Stretching" covers a broad swath of moves, some vastly more difficult than others. Fortunately, the stretch experts recommend for stomach sleepers with back pain upon waking is the gentle "child's pose." If you're unfamiliar with the yoga pose, it's a simple stretch akin to a bow performed on your knees, with your hands outstretched in front of you.
Choose a proper mattress: Researchers admit there's room for more thorough studies, however, the data available does show that stomach sleepers tend to experience the most back discomfort. And the culprit is most often cited as being the unnatural bending at the neck and back. For that reason, a supportive mattress that counters rather than exacerbates bad posture is vital. You essentially want a mattress that "tricks" the body into thinking it's in the more proper straight, supine position. Fortunately, high-quality mattresses can be found at an affordable price, thanks to the advent of direct-to-consumer online retail.
FAQ About the Best Mattresses for Stomach Sleepers
What type of mattress is best for stomach sleepers?
Testers showed equal deference to all-foam and hybrid mattresses in picking the top mattresses for stomach sleepers. The traits they tended to share was firmness of at least 6 out of 10, and higher spinal alignment scores. Beds with sturdier surfaces sometimes came at the expense of a higher pressure relief score, which testers are more likely to seek out for side sleepers.
What type of firmness is best for stomach sleepers?
Firmness is a highly personal choice (just ask Goldilocks). But if you want to be on the spine-safe side, a higher firmness level is recommended for stomach sleepers. Mattress Advisor testers tend to recommend beds that rate at least 6 out of 10 on the firmness scale. Where exceptions exist, the beds recommended tend to be hybrid models with an innerspring coil layer.
What type of bed should I look for if I have back or neck pain?
A firmer mattress that can still gently conform to pressure points and areas of pain is a good start. Because hybrid mattresses always have pressure-relieving comfort layers on top, that leaves the door open for a memory foam or hybrid build. The main thing to be wary of is a softer mattress that has excellent pressure relief, but lower spine alignment. A bed for stomach sleepers with sore spots should ideally have both. You can also pair a mattress for stomach sleepers with an adjustable base, for added ability to mitigate pain based on positioning.
Is it OK to sleep on my stomach without a pillow?
Yes. In fact, not only is it OK to sleep on your stomach without a pillow, physicians actually recommend that stomach sleepers forgo using a pillow, or opt to use a thin pillow if any.
Summary of Our Top Picks for the Best Mattress for Stomach Sleepers