Each product we feature has been independently selected and reviewed by our editorial team. If you make a purchase using the links included, we may earn a commission.
The best mattress in a box can be your saving grace if you're turning extra space into a guest room. While this requires a bit of interior design ingenuity, it can be achieved on a budget. Heading to a mattress store isn't always the most pleasant experience, but staying at home and shopping for a mattress online is easier than ever. No more air mattresses and cots, so your guests will surely thank you.
From top picks for couples to the best mattresses under $1,000, there's a multitude of options for guests to rest comfortably on a supportive bed. And by shopping online, you're getting your mattress straight from the manufacturer at a great price, shipped in just a few business days. By working with the pros at Mattress Advisor, here's a roundup of the most popular bed-in-a-box picks for you to choose from.
Affiliate Disclosure:This Old House's Reviews Team is committed to delivering honest, objective, and independent reviews on home products and services. To support this business model, This Old House may be compensated if you purchase through links on our website.
Best Mattress in a Box – Our Top Picks
Saatva Classic – Best Luxury Mattress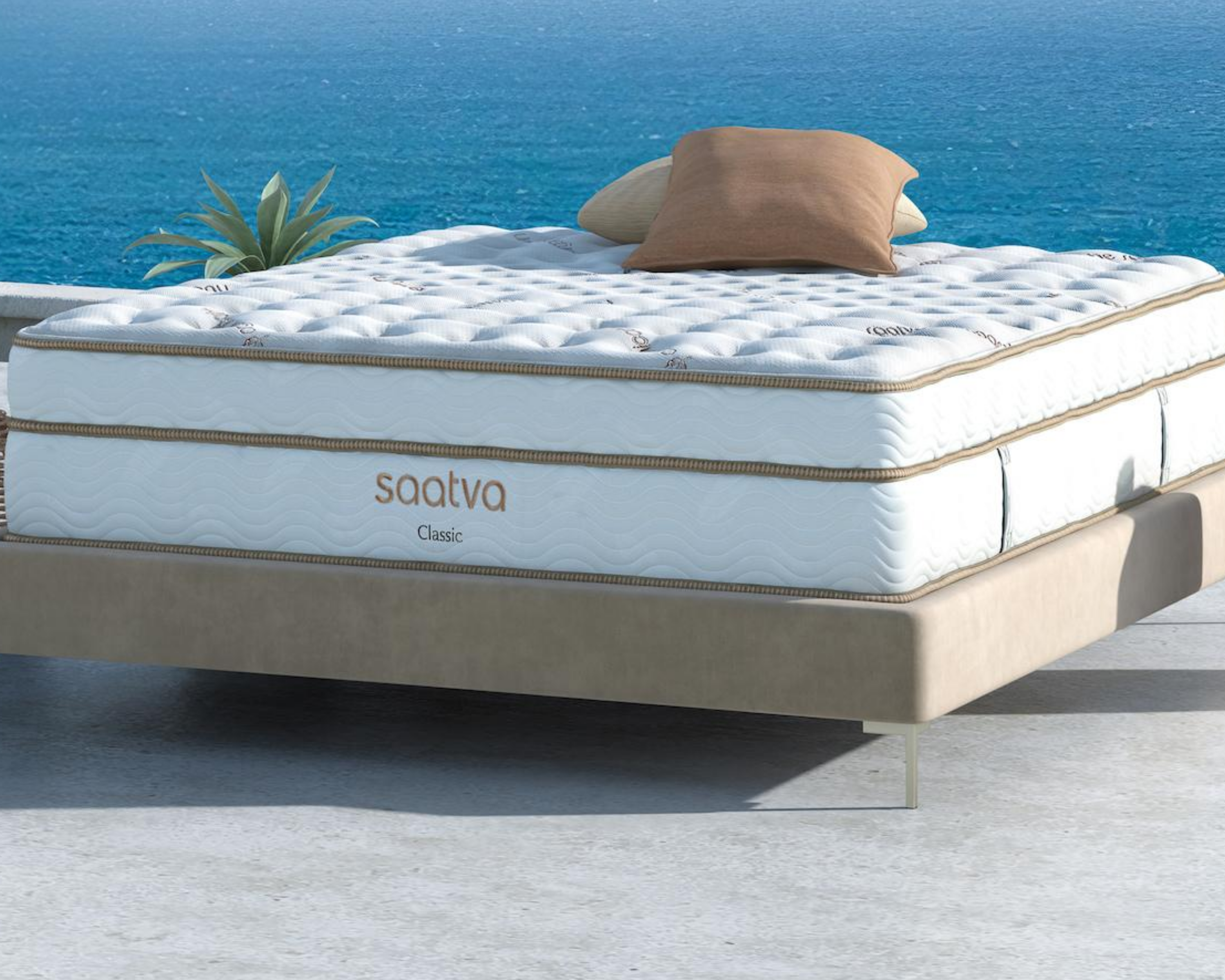 Saatva is known for their hotel-quality mattresses, so they're sure to wow your guests with support and comfort. While technically not classified as a true bed in a box, this online mattress is brought to you by a team and set up for you.
The Saatva Classic has a lot to offer, with a cushioned pillow top, two separate coil layer support systems, and memory foam developed with lumbar support in mind. This mattress is an all-around great option for all sleep styles, body types, and ages.
Material: Hybrid
Firmness: Plush (3/10), Luxury Firm (6/10), Firm (8/10)
Customer Rating: 4.8/5
Delivery: Free white glove delivery and set up in 15 business days
15-year limited warranty
Pros and Cons of the Saatva Classic
| Pros | Cons |
| --- | --- |
| Great for seniors and heavier sleepers | Might be too expensive if shopping on a budget |
| Compatible with all sleep positions | Does not come in a box |
| Firmness level can be customized | |
| Pros | Cons |
Helix Midnight Luxe – Best Cooling Mattress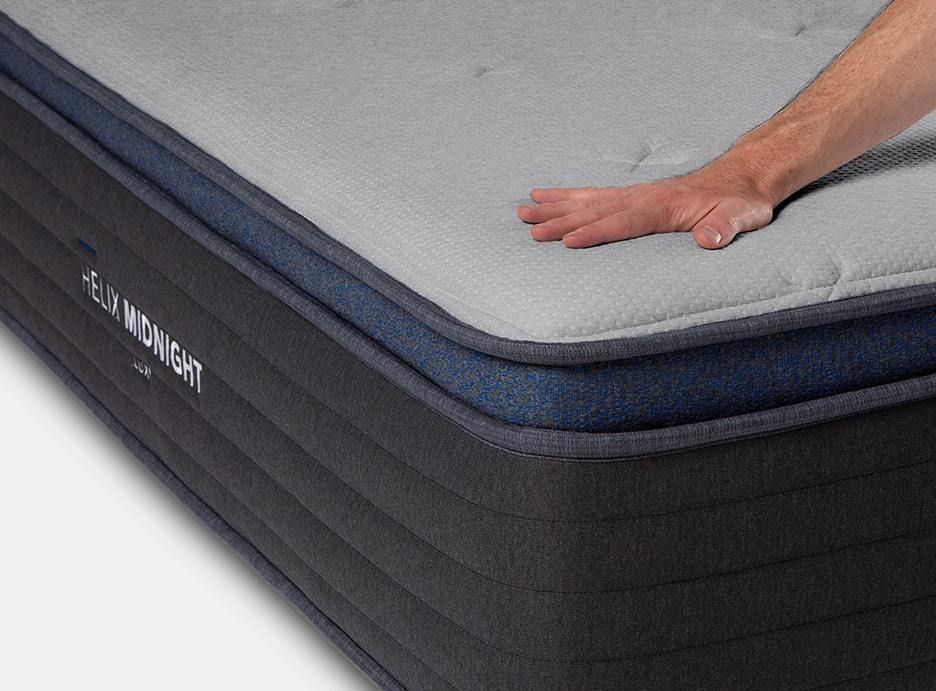 The Helix Midnight Luxe is Helix's most popular model, offering advanced lumbar support and a cooling cover. This mattress is great for anyone who tends to run hot at night because of its hybrid design. Its cooling cover paired with innerspring allows air to easily circulate and prevent body heat from getting trapped. The multiple foam layers of the Helix also help with motion isolation and lumbar support.
Helix is known for its variety of customizable options and uses a special Color-MATCH system, which helps identify the right model of mattress for you by asking questions about your sleeping preferences. The Helix Midnight Luxe is its most popular model, thanks to its cooling, supportive features.
Material: Memory foam
Firmness: Medium-firm, (6/10)
Customer Rating: 4.6/5
Delivery: Delivered in 3-7 business days
Warranty: 10-year limited
Pros and Cons of the Helix Midnight Luxe
| Pros | Cons |
| --- | --- |
| Helix offers a variety of choices for different sleep preferences | Some models may not provide enough support for heavier sleepers |
| High level of responsiveness | With a variety of different models, some popular choices are pricier |
| All foam used in the Helix mattress is CertiPUR-US certified | |
| Pros | Cons |
DreamCloud Premier – Best Mattress for Heavier Sleepers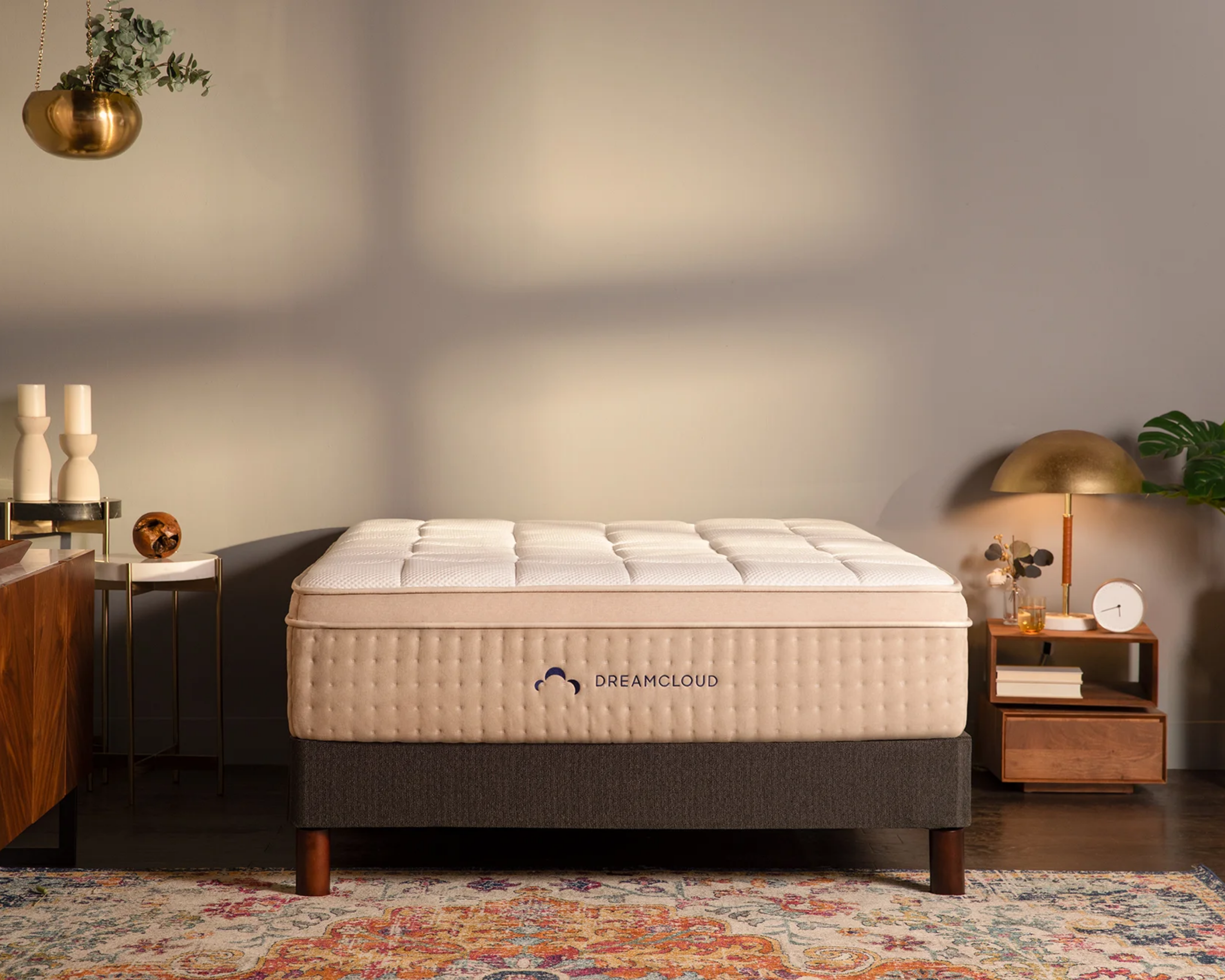 DreamCloud Premier is a luxury mattress that you can get for a great price. It contains six layers, including a cashmere pillow top, pressure-relieving memory foam, and a coil system built to be ultra-responsive as you move around. Because it uses a solid combination of materials, it can parlay support that heavier sleepers need.
With traditional bed-in-a-box brands, the majority are all-foam. Foam beds are wonderful options, but sleepers who are bigger and taller require extra support that these beds can't ultimately give. DreamCloud Premier was built for all types of sleepers and makes sure heavier sleepers have pressure relief and spine alignment.
Material: Hybrid
Firmness: Medium-firm (6.5/10)
Customer Rating: 4.6/5
Delivery: Delivered in 5-7 business days
Lifetime Warranty
Pros and Cons of the DreamCloud Premier
| Pros | Cons |
| --- | --- |
| All sleep styles can enjoy this bed | Not as soft as a memory foam mattress |
| Great support for plus size sleepers | While a great value, not top pick for bargain shoppers |
| Supportive enough for couples and senior sleepers | |
| Pros | Cons |
Nectar – Best Budget Mattress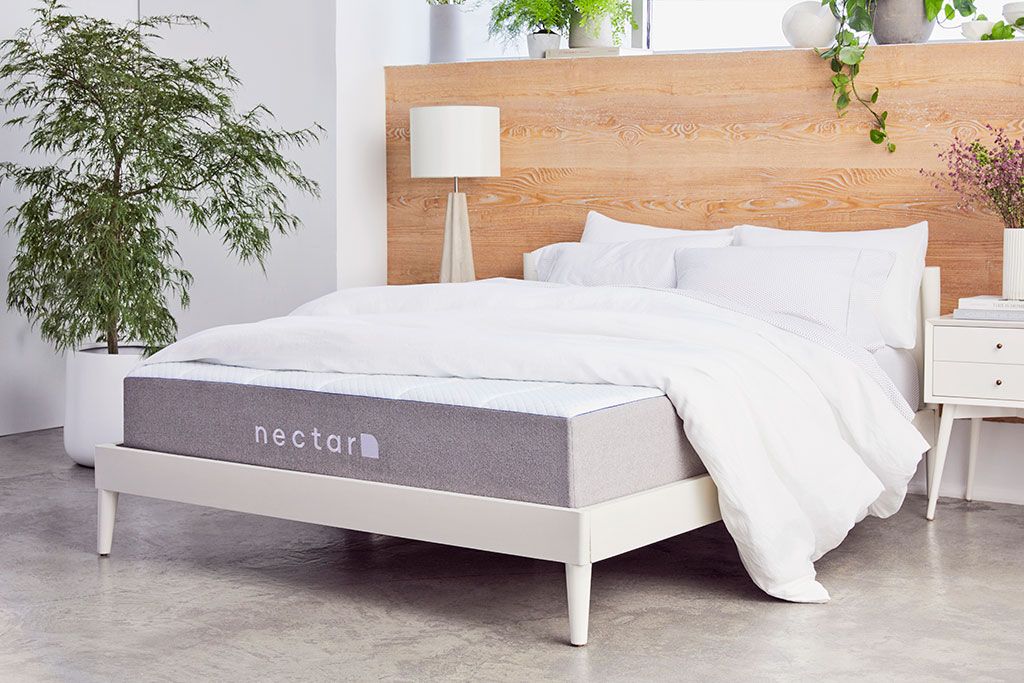 If you are looking for an all-around quality mattress at a budget price, the Nectar is a great pick. This memory foam mattress scored well in all 14 categories including motion isolation, pressure relief, and responsiveness. This mattress also scored especially well in edge support and durability testing, both of which will help prevent sinkage and mattress sagging over time.
The Nectar comes with other perks besides being one of the best mattresses under $1,000. It comes with a 365-day sleep trial, so you can break in the bed and sleep on it for an entire year before you commit. When you purchase the bed, it comes with a lifetime warranty that lasts as long as you own the mattress to protect your investment for years.
Material: Gel memory foam
Firmness: Medium firm, (6/10)
Customer Rating: 4.8/5
Delivery: 2-5 business days
Lifetime warranty
Pros and Cons of the Nectar
| Pros | Cons |
| --- | --- |
| Overall great mattress at an excellent price point | May not provide enough support for people with more body mass |
| Strong pressure relieving properties | May have an off-gassing period that lasts a few hours to a few days |
| Nectar mattress comes with a 365-day sleep trial and a lifetime warranty | |
| Pros | Cons |
Bear – Best Mattress for Athletes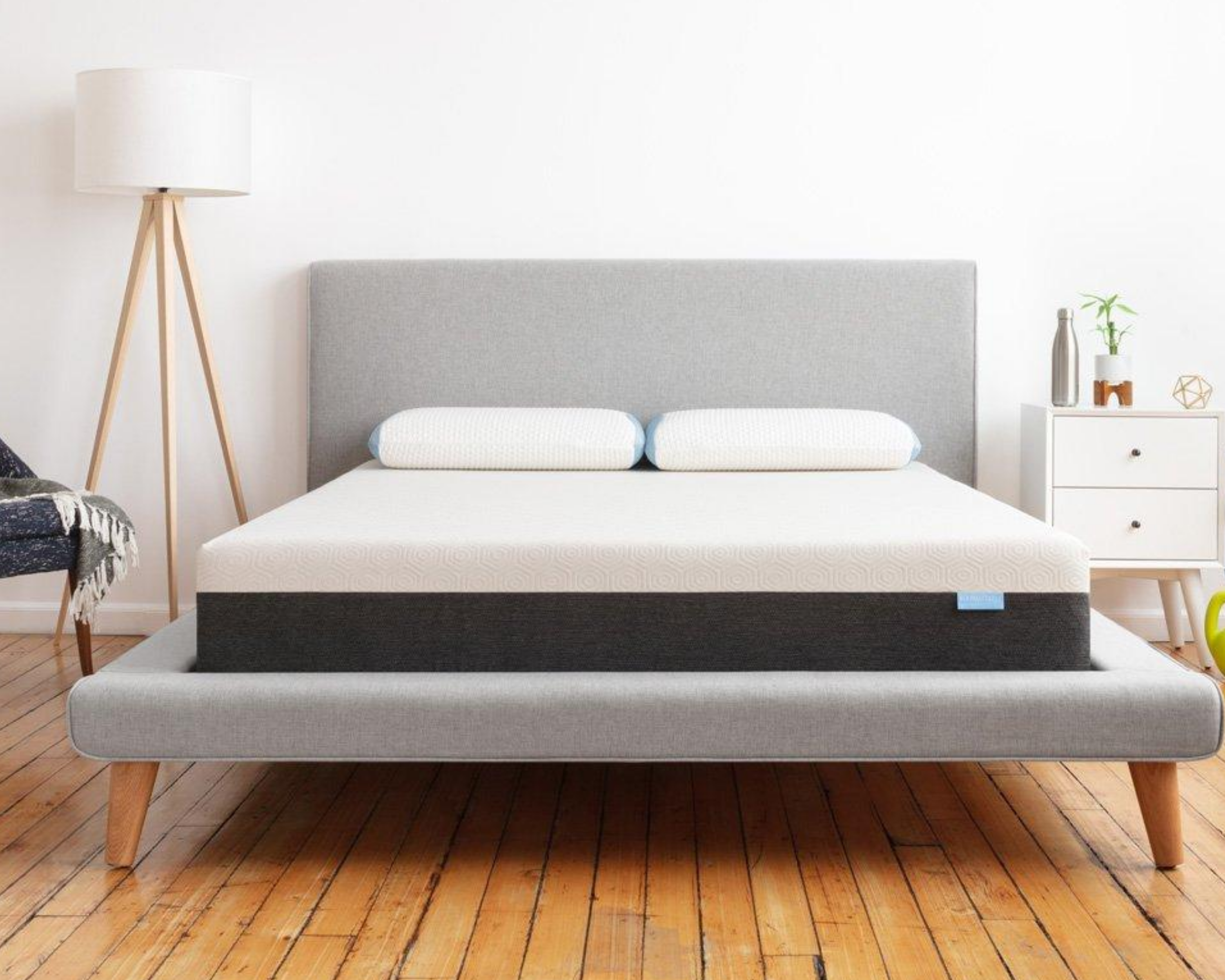 For all the family members who love to lead an active lifestyle, Bear is the perfect match for their sleep needs. This mattress was crafted especially for athletes, from the cooling cover to its supportive memory foam layers.
While the Bear mattress excels in cooling, it also knocks it out of the park for staying responsive to your every movement. Add in great spine alignment and durability, and the Bear mattress helps you wake up feeling even better.
Material: Memory foam
Firmness: Medium-firm (6/10)
Customer Rating: 4.7/5
Delivery: Delivered in 4-7 business days
Warranty: 10 years
Pros and Cons of the Bear
| Pros | Cons |
| --- | --- |
| Perfect for athletic sleepers | Not the best pick for side sleepers who need pressure relief |
| Materials all work to keep you cool and prevent overheating | Motion not isolated as well as other options |
| Good for combination sleepers | |
| Pros | Cons |
Brooklyn Signature – Best Hybrid Mattress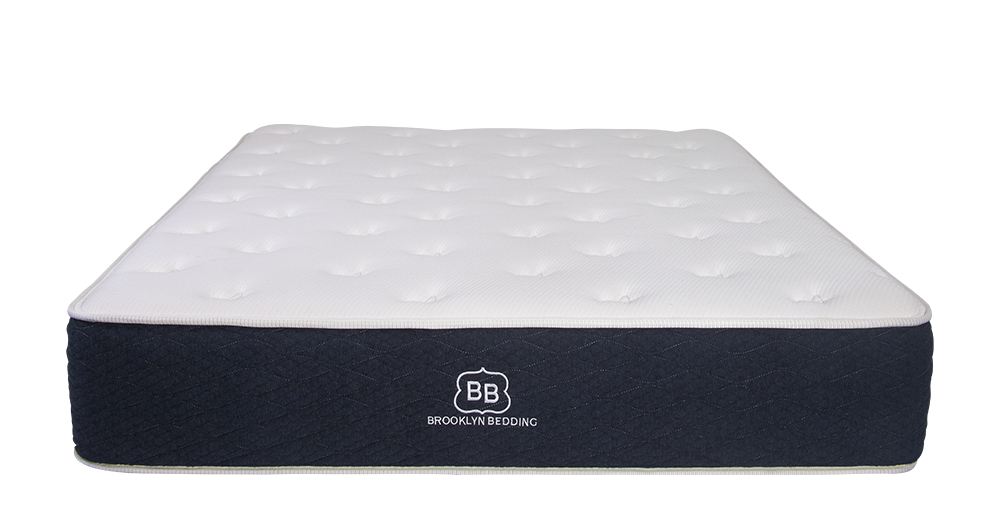 The Brooklyn Signature is one of the best-rated bed-in-a-box mattresses in our tests. This hybrid mattress provides the benefits of both a foam and an innerspring mattress in a single bed. The Brooklyn Signature earned excellent scores across the board in all 14 of our criteria. It achieved a near-perfect score in the pressure relief test, making this an excellent mattress for side sleepers or anyone that suffers from aches and pains.
The three different firmness level options make this hybrid mattress suitable for all sleeping positions. Side sleepers should opt for one of the two softer firmness levels to ensure that the mattress is soft enough to cushion the shoulders and hips. Back sleepers or stomach sleepers should opt for the medium firmness level, which provides a strong level of pushback to support the spine but is plush enough to provide contouring comfort. The firm mattress is an ideal choice for those who need additional lumbar support.
Material: Hybrid (Innerspring coils and foam)
Firmness: Soft (4/10), Medium (6/10), or Firm (8/10)
Customer Rating: 4.7/5
Delivery: Delivered in 4-8 business days
Warranty: 10-year limited
Pros and Cons of the Brooklyn Signature
| Pros | Cons |
| --- | --- |
| Works for all sleeping positions | Not the best choice for motion isolation |
| Available in three firmness levels: soft, medium or firm | Slight off-gassing for a short period after unboxing |
| Excellent pressure relief | |
| Pros | Cons |
Layla – Best Flippable Mattress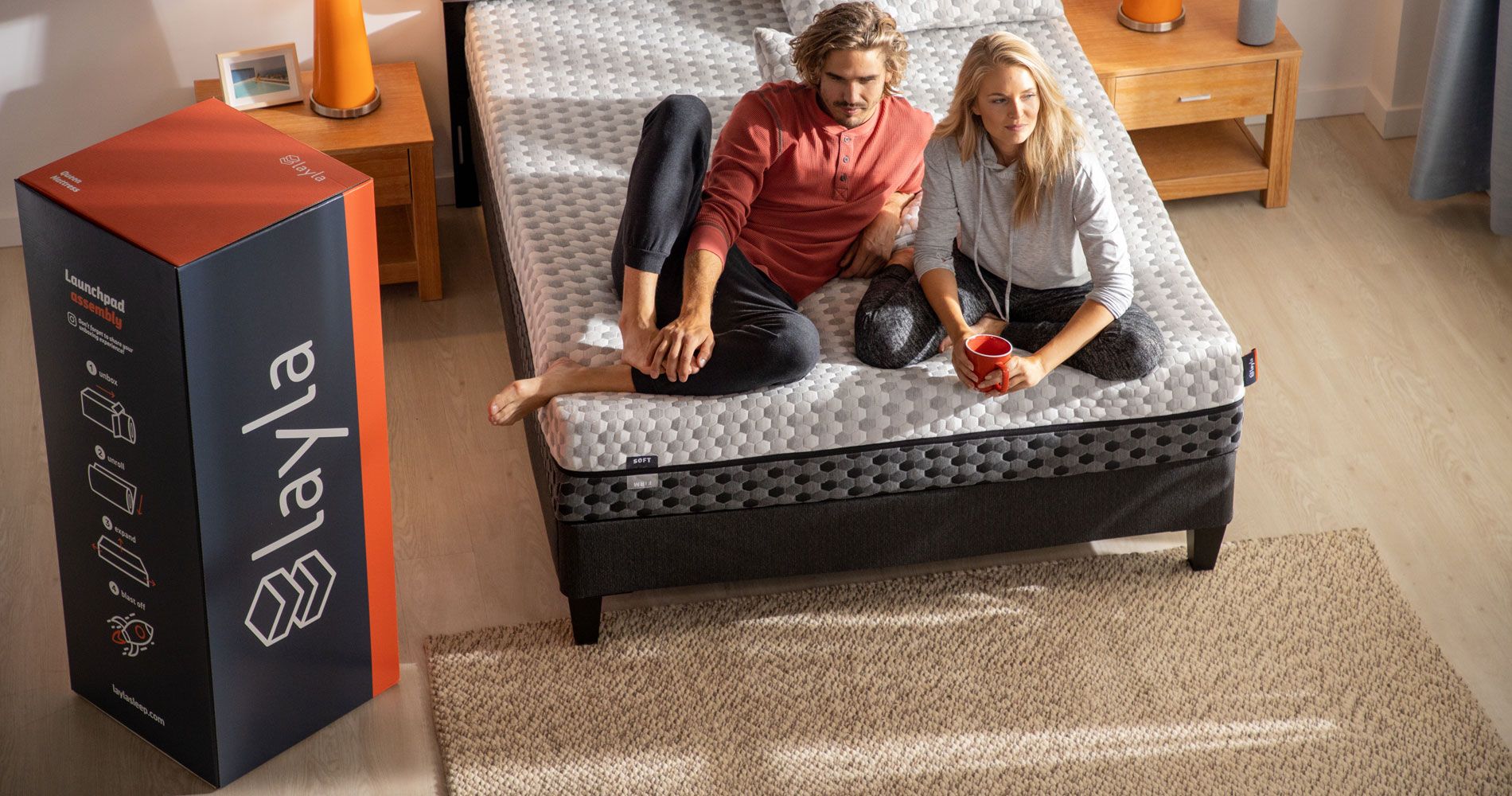 Layla is one of the most unique mattresses in a box in that it is two-sided, letting you customize your mattress firmness. With one soft side and the other firm, all you have to do is flip to your side of choice.
Besides this customizable design, Layla uses memory foam infused with copper to help with cooling by absorbing and carrying away heat. These same memory foam layers are also very responsive, supporting you no matter what sleep position you prefer.
Material: Copper-infused memory foam
Firmness: Soft side, (5/10); Firm side, (7/10)
Customer Rating: 4.5/5
Delivery: Delivered in 4-7 business days
Lifetime Warranty
Pros and Cons of the Layla
| Pros | Cons |
| --- | --- |
| Flippable mattress has two firmness options in a single bed | Not the best choice for hot sleepers |
| Copper-infused foam layers provide comfort and cooling | A pricier option |
| Pros | Cons |
Tuft & Needle – Best Twin Mattress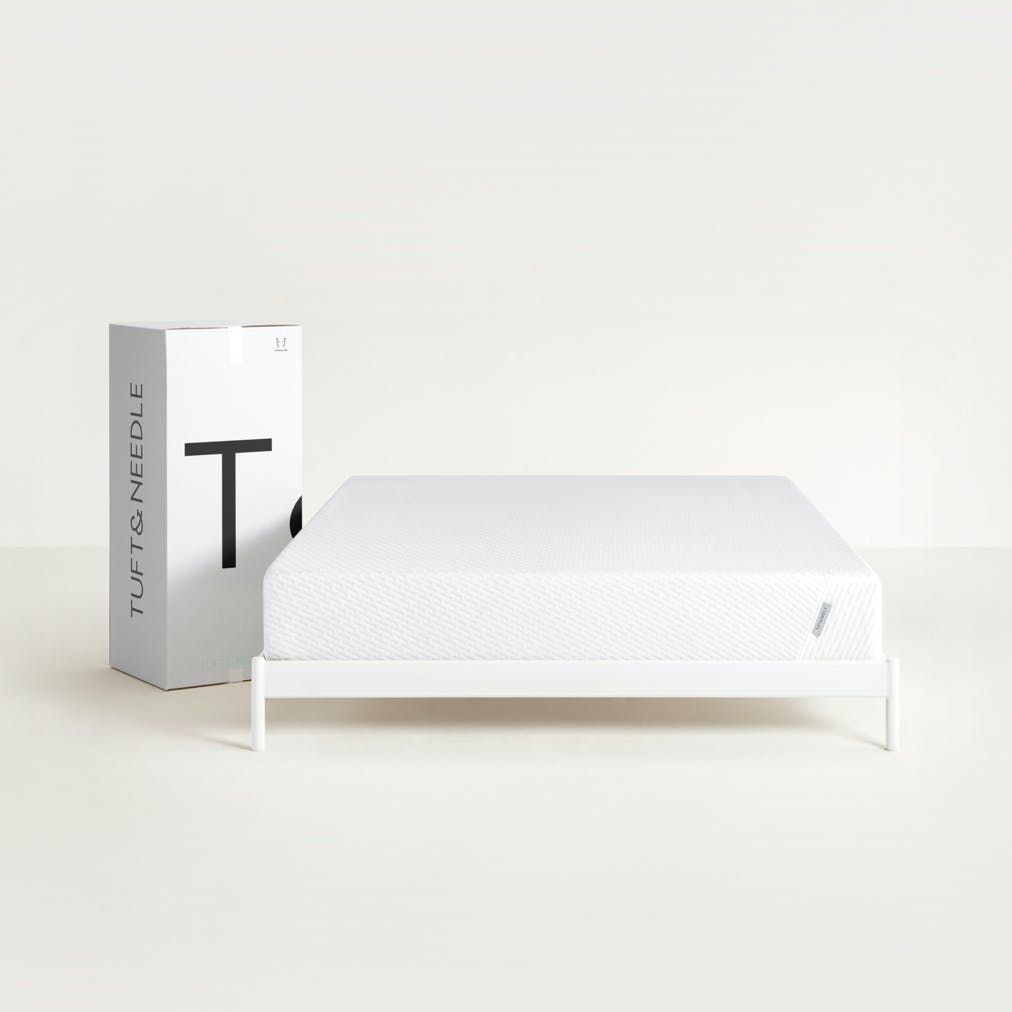 Converting a small space into a guest room? A twin mattress is the best bet for comfortably fitting a smaller size mattress into tight quarters. Tuft & Needle offers impeccable value in this category, with a twin costing under $600.
This all-foam bed is a good option for any sleep position you choose, utilizing three memory foam layers to assist with responsiveness and keeping the spine aligned. The Tuft & Needle is also durable, built to last while still being available at a great price point.
Material: Foam blend
Firmness: Medium-Firm
Customer Rating: 4.6/5
Delivery: Delivered in 1-5 business days
Warranty: 10-year limited
Pros and Cons of the Tuft & Needle
| Pros | Cons |
| --- | --- |
| A versatile mattress that suits all sleeping positions | Size and weight of the box may make mattress difficult to set up alone |
| Great edge support | Memory foam can sleep warmer than other materials |
| Compatible with most bedsprings | |
| Pros | Cons |
Casper – Best Memory Foam Mattress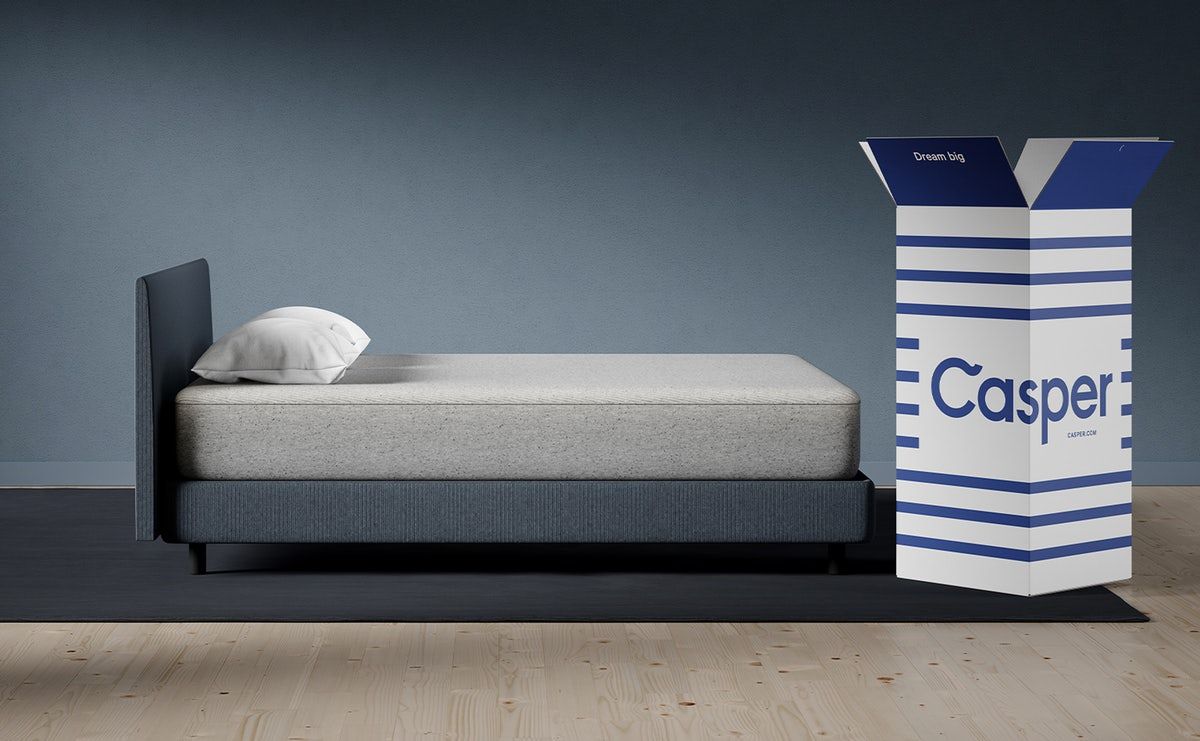 The Casper mattress is an all-around high performing memory foam mattress. This mattress offers a medium firmness level and a balance of support and pressure-relieving comfort, making it a great pick for the average sleeper. Other memory foam mattresses are known for sinkage and sleeping hot, but the Casper mattress excels in both of those categories.
Our testers were able to move around effortlessly on the surface of the Casper mattress, earning this bed a perfect score in our responsiveness testing. Also, Casper's breathable comfort foam helps bring airflow through the mattress to keep you cool and comfortable.
Material: Memory foam
Firmness: Medium firm, (6/10)
Customer Rating: 4.5/5
Delivery: Delivered in 2-7 business days
Warranty: 10-year limited
Pros and Cons of the Casper
| Pros | Cons |
| --- | --- |
| Excellent pressure relief | Not a good choice for those who want a traditional memory foam mattress |
| Suits all sleeping positions | May not support larger body types |
| Sleeps cool | |
| Pros | Cons |
MA Score: The Mattress Advisor Score is a weighted score that takes into account 14 different factors related to the mattress' performance, function, convenience and the brand's social responsibility.
What is a Mattress in a Box, and How Does it Work?
A bed-in-a-box mattress has been compressed into an easy-to-deliver package that is compact and light enough to fit through your front door, upstairs and into your bedroom. Once you receive your new mattress, you simply unroll the mattress onto your foundation after unboxing. Ordering and setting up a bed-in-a-box is simple and hassle-free.
Perks of Buying a Mattress in a Box
Convenience: Gone are the days of negotiating for better prices at a brick-and-mortar mattress store. Mattresses in a box are direct-to-consumer products, meaning they will cost less since they are shipped right from the manufacturer to you. And running out to pick out a new mattress is one less errand you'll need to run, since you can do it all online.
Sleep Trials: If the thought of buying a mattress without seeing and feeling it first is anxiety-inducing, not to worry–online mattress brands provide you with a sleep trial period, letting you do a test run of the mattress before you fully commit. And if after 30 days you decide it's not a good match, you can get your money back.
Lower Price Tag: Mattresses in a box are shipped straight to you, removing any extra costs or surprise upcharges that you may find at a mattress store. Many brands also run sales or coupon codes, which can take the price down even more. If you want a total steal, keep an eye out on Cyber Monday or the Fourth of July.
How to Buy the Best Mattress in a Box Online
Research: When you embark on your mattress buying journey, learn more about the different types of mattresses in a box as well as figure out what your sleep needs are. If you notice you sleep on your side, read up on why memory foam mattresses are a good pick for you. If you're shopping for a guest room bed, figure out which mattress brands will be best for your budget.
Reviews: Mattress reviews are a helpful resource in helping you choose your new bed. These guides will provide in-depth analyses of the top mattress brands. If you're still curious about what each mattress has to offer, head over to the brand's website and chat with customer service.
Setup Logistics: If you've narrowed down your list, learn more about what the set-up process entails for each mattress brand. Some brands like Saatva will provide you with white-glove delivery in which the set-up is done for you. With other brands such as Casper, you will simply remove the mattress from a box and let it inflate over the course of a few hours.
Mattress Firmness: This measures how soft or firm a mattress feels on a scale from 1 to 10. The softest mattress is a 1 on this scale, while the firmest mattress is a 10. Mattress firmness is a subjective measurement, meaning that what feels too soft or firm to you may feel perfect to someone else. No matter what your preferences are, however, most sleepers find mattresses that fall within the 3 to 8 range most comfortable.
Mattress Foundation: A mattress base, bed frame, or foundation is an important step to include during your research. Many online brands will offer accessories and foundations you can purchase alongside your new bed. The level of support a mattress gives can be tied to its foundation, so it may be worth considering if your mattress foundation needs a refresh as well.
Types of Mattresses in a Box
You can buy virtually every type of mattress on the market as a mattress in a box. Here are the key characteristics of the four most popular mattress types available.
Memory foam: Memory foam mattresses are made with layers of foam that were originally invented by NASA to help cushion astronauts during takeoffs and landings. By the early 1990s, memory foam had been adapted into beds to be an ideal pressure-relieving sleeping surface for the average sleeper. Memory foam adapts to the shape of your body and provides a contouring comfort to your curves, minimizes motion transfer, and keeps the bed quiet. Some sleepers, however, find that memory foam feels too plush and retains heat when you sink into the foam. To combat the feeling of sleeping hot, mattress brands have infused memory foam with temperature-regulating gel or other cooling materials.
Innerspring: Innerspring mattresses are typically thought of as the traditional mattress. Made of rows of innerspring coils covered with a foam layer, innerspring mattresses are typically very responsive, sleep cool, and have a bouncy feel that many sleepers prefer. Innerspring mattresses, however, typically are not the best pick for motion isolation and are not as durable as foam mattresses, so make sure you choose a mattress that comes with at least a five or 10- year warranty.
Latex: Latex mattresses offer a unique combination of both the bouncy and cool features typical of an innerspring mattress and the pressure-relieving features and durability similar to a memory foam bed. These great features come with a price, however, as latex mattresses tend to be some of the pricer beds on the market.
Hybrid: Can't decide which one of these types would work best for you? A hybrid mattress might be your best bet. A hybrid mattress combines layers of innerspring coils, latex or memory foam (or all three materials), so you can have the best features of several mattress types in a single bed. Because of their unique and complex construction, hybrid mattresses are typically offered at a higher price point than mattresses made of a single material.