Each product we feature has been independently selected and reviewed by our editorial team. If you make a purchase using the links included, we may earn a commission.
People afflicted with allergies are smart to seek out the best hypoallergenic mattress they can find. When allergens like pollen, dust, or pet hairs invade your bed and irritate your eyes, nose and skin, they also wreak havoc on your ability to get a good night's sleep. And even if a Benadryl successfully lulls you into slumber, you'll be rudely awakened when congestion, coughing or sneezing strike in the middle of the night.
A hypoallergenic mattress can help you avoid nighttime allergy symptoms by using materials that repel dust and dander and prevent the growth of mold and mildew. One of the best parts? Because organic mattresses use materials that are hypoallergenic by nature, you'll likely also be buying a sustainably-manufactured, green mattress (that also keeps your nose and eyes from getting red).
With the help of the experts at Mattress Advisor, we've rounded up the top hypoallergenic mattresses that'll provide tip-top comfort while keeping your allergies in check. Here are our picks, what we most loved about each bed, and any factors you may want to consider before clicking "buy":
Affiliate Disclosure:This Old House's Reviews Team is committed to delivering honest, objective, and independent reviews on home products and services. To support this business model, This Old House may be compensated if you purchase through links on our website.
Best Hypoallergenic Mattresses – Our Top Picks
Editor's Pick – Saatva Latex Hybrid
Pros of the Saatva Latex Hybrid
| Pros | Cons |
| --- | --- |
| White glove delivery is included with your purchase at no extra cost | Price tag may exceed some shoppers' budgets |
| Hybrid build helps promote airflow to cool hot sleepers | Other Saatva mattresses can be ordered in a range of firmness options |
| Pros | Cons |
Material: Hybrid (latex and coils)
Firmness: Medium-firm (6/10)
Customer Rating: 4.9/5
Delivery: 9-21 days, free white glove delivery
Warranty: 15 years
If you're not familiar with the brand, "Saatva" might sound like the latest line from the Swedish furniture company IKEA. In reality, Saatva is a U.S.-based mattress company that got its name from the Sanskrit word "sattva," which means "pure." The brand's name origins are fitting given that Saatva furnishes standout clean mattresses: Two Saatva mattresses made the cut for best hypoallergenic mattresses, including our top pick, the Saatva Latex Hybrid.
The mattress uses natural materials that lend themselves to purity, including certified organic latex, cotton, and wool. The springy coil base helped the Latex Hybrid earn a 9 out of 10 from testers in responsiveness and durability. The coils are pocketed, or wrapped to spring independently from one another, and reinforced on the periphery for extra edge support (rated 9 out of 10 by testers). Rounding out the bed's excellent scores are 9s out of 10 in pressure relief and motion isolation, ensuring a restorative, undisturbed sleep.
Best Organic Hypoallergenic Mattress – Nolah Natural
Pros and Cons of the Nolah Natural
| Pros | Cons |
| --- | --- |
| Lavish lifetime warranty | Less than stellar motion transfer and edge support scores aren't considerate for couples |
| Offers excellent responsiveness for fidgety sleepers or those with back pain | |
| Pros | Cons |
Material: Hybrid (latex and coils)
Firmness: Medium-firm (6/10)
Customer Rating: 4.9/5
Delivery: Free, within 5-7 business days
Warranty: Lifetime
As noted, a commonality among hypoallergenic mattresses is the use of organic textiles, which are naturally less irritating. The Nolah Natural is a great example of such, manufactured with organic materials that are also hypoallergenic. The green mattress sits on a base of recycled steel coils, topped by Talalay latex, organic wool, and organic cotton comfort layers.
The bed offers excellent pressure relief for side sleepers (rated 9 out of 10 by testers) and responsiveness (8.5/10) for sleepers who toss and turn. Although if you toss and turn because you sleep hot (and who doesn't love finding the cool side of the pillow), Nolah is also a good fit. Testers awarded Nolah Natural 9 out of 10 in cooling, crediting its hybrid build and breathable materials.
Best Value Hypoallergenic Mattress – Nectar Original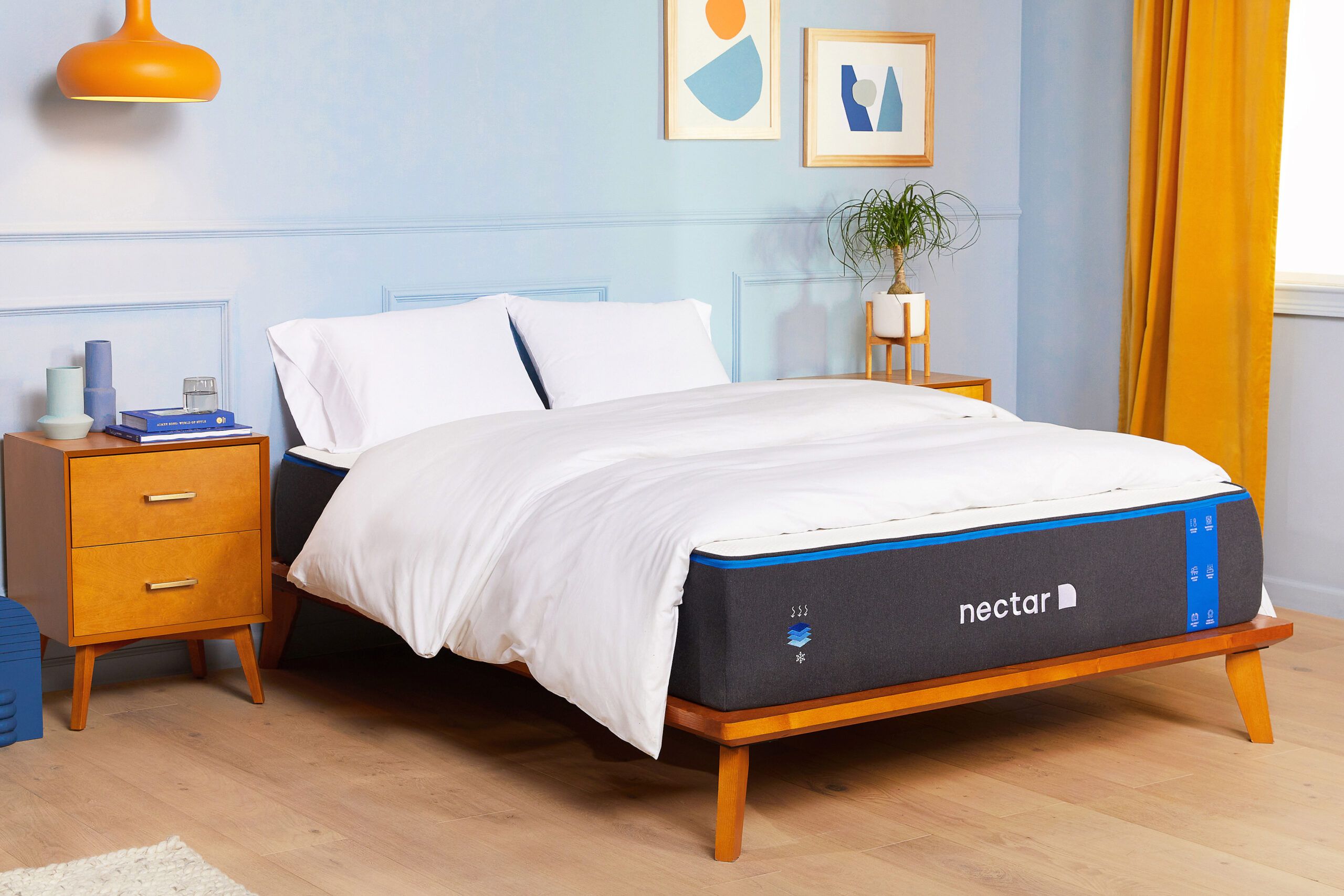 Pros and Cons of the Nectar Original
| Pros | Cons |
| --- | --- |
| Excellent edge support, with high marks from testers (9/10) | Mild scent upon unboxing requires mattress to be aired out for a few days without bed sheets |
| Lifetime warranty and one-year sleep trial | Hot sleepers may need cooler construction |
| Mattress cover designed to keep out dust mites and dead skin cells | |
| Pros | Cons |
Material: Gel memory foam
Firmness: Medium-firm (6/10)
Customer Rating: 4.8/5f
Delivery: 2-5 business days
Warranty: Lifetime
Plant pollen is the ultimate allergen for many, however, Nectar can be your friend — the Nectar mattress, that is. Although the best hypoallergenic mattresses often use premium materials like latex, making it difficult to find a suitable mattress on a budget, Nectar presents an affordable option.
The medium-firm memory foam mattress is comfortable for most sleepers and body types. A plush, quilted cover cushions your body, and a layer of adaptive foam responds seamlessly to your movements. The bed received high marks for responsiveness (8.5/10), which isn't always achievable for mattresses with a slow-moving memory foam feel. Nectar also comes with a full-year sleep trial and lifetime warranty, giving you plenty of time to decide if the Nectar is a healthy fit.
Best Hybrid Hypoallergenic Mattress – WinkBed EcoCloud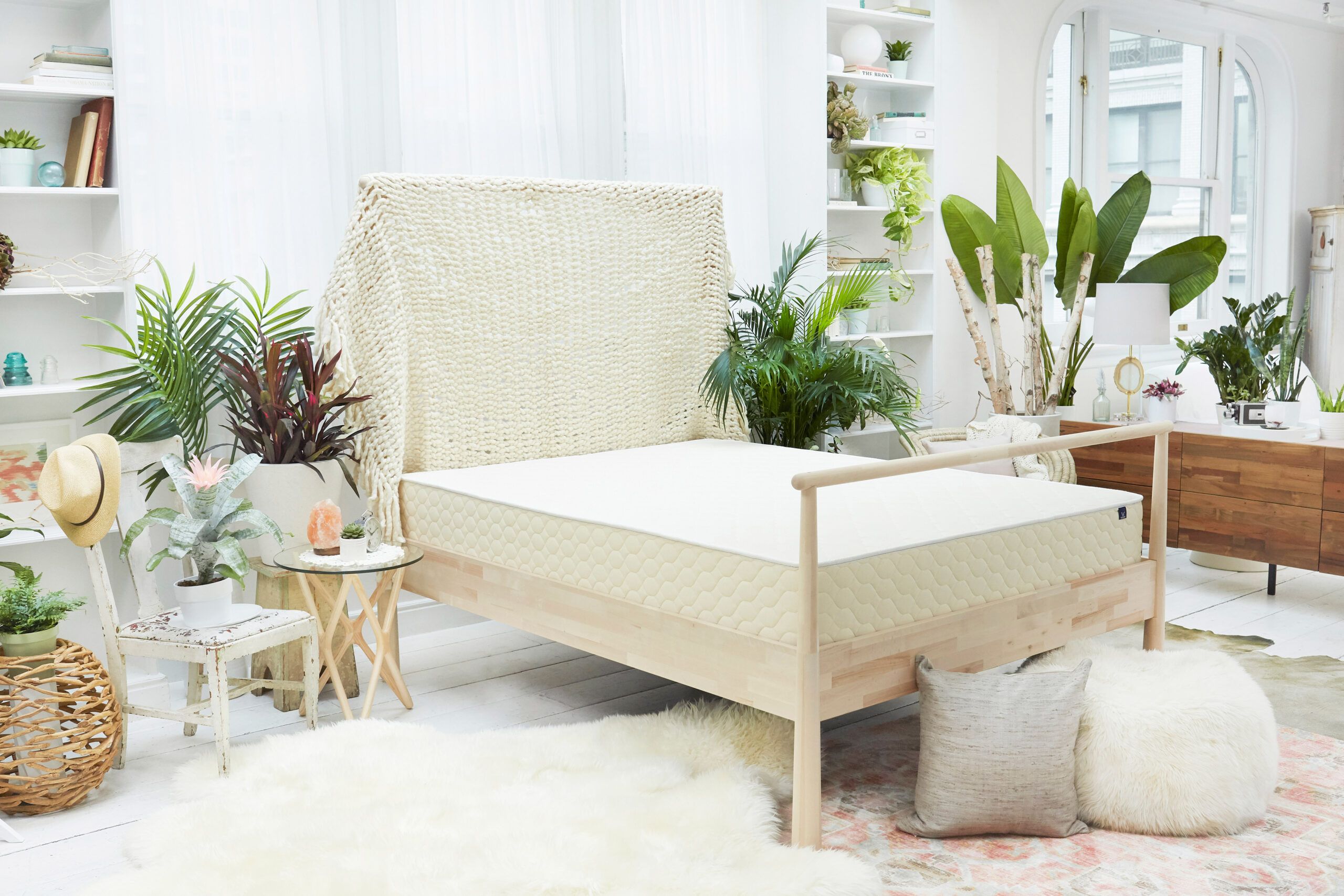 Pros and Cons of the Winkbed Ecloud
| Pros | Cons |
| --- | --- |
| Lifetime warranty ensures your investment | Hot sleepers may need more cooling-oriented materials |
| Pros | Cons |
Material: Hybrid (coils and foam)
Firmness: Medium-firm (6.5/10)
Customer Rating: 4.5/5
Delivery: 7-10 business days
Warranty: Lifetime
If your old mattress coils seem to have lost the spring in their step, a continuous wire coil build is the likely culprit causing sagging. However, modern hybrid innersprings like the WinkBed EcoCloud use springy, pocketed coil systems in conjunction with hypoallergenic natural foams. The result: A supported body, comforted joints, and a clean night's rest. Because innersprings are responsive by nature, the good bounce and ease of movement make WinkBed EcoCloud excellent for combination sleepers. Testers gave the EcoCloud an 8.5 out of 10 in responsiveness.
Best Cooling Hypoallergenic Mattress – Brooklyn Bedding Bloom
Pros and Cons of the Brooklyn Bedding Bloom
| Pros | Cons |
| --- | --- |
| Excellent scores (8.5/10) for cooling, edge support, and responsiveness | Modest motion transfer may disturb those who co-sleep with a partner or pets |
| Natural materials means little to no off-gassing smell when unboxed | |
| Pros | Cons |
Material: Hybrid (latex and coils)
Firmness: Medium (5/10)
Customer Rating: 4.8/5
Delivery: 3-4 business days
Warranty: 10 years
Sleeping like a starfish is one way to keep your limbs sweat-free, but there are easier ways. One solution? A cooling, hypoallergenic mattress like the Brooklyn Bedding Bloom. The Bloom mattress delivers a harsh-chemicals-free, cooling sleep experience that testers rated 9 out of 10 in the sleep lab.
The secret? The Bloom's use of breathable coils, thermoregulating wool and bouncy, natural latex. Hot sleepers will also appreciate the bed's cotton cover, which testers said felt cool to the touch.
Best Hypoallergenic Mattress for Side Sleepers – Helix Midnight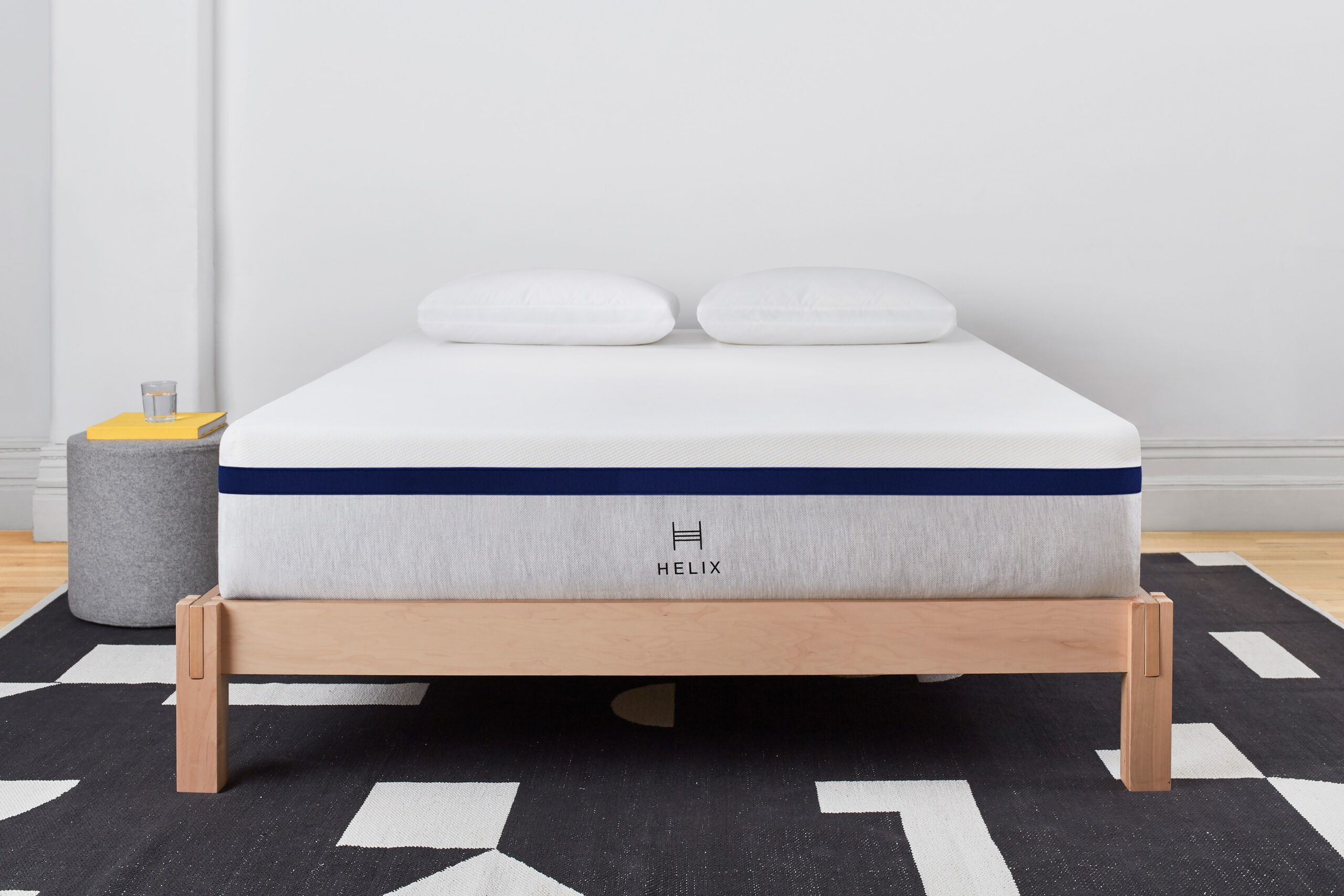 Pros and Cons of the Helix Midnight
| Pros | Cons |
| --- | --- |
| Well-scoring across the board in the sleep lab | Mild scent upon unboxing requires mattress to be aired out for a few days without sheets |
| Excellent value, especially for hybrid beds that tend to be pricier | |
| Pros | Cons |
Material: Hybrid (foam and coils)
Firmness: Medium (5.5/10)
Customer Rating: 4.5/5
Delivery: 3-7 business days
Warranty: 15-year limited
Unlike the Birch, Helix doesn't explicitly market the Midnight to those seeking a hypoallergenic or organic mattress. The hypoallergenic-friendly Midnight is, however, expressly marketed to side sleepers. What those sleepers will love about Helix Midnight is how its top layer of foam eases aches and pains (scoring a 8.5 out of 10 in pressure relief) on the side points of contact, mattress testers said. A polyfoam layer beneath it responds to your movements, making it effortless to change positions.
Mattress Advisor testers also rated the Midnight well in motion transfer (9/10), or keeping your partner's movements contained to their side of the bed. Plus, with a 9 out of 10 from Mattress Advisor in spine alignment and edge support, side sleepers with bad backs can enjoy the Midnight top-to-bottom and side-to-side. If you decide you don't like it during the 100-night sleep trial, Helix has one of the largest mattress portfolios on the market, giving you plenty of other options to choose from.
Best Hypoallergenic Mattress for Back Pain – Birch by Helix
Pros and Cons of the Birch
| Pros | Cons |
| --- | --- |
| Scored well across the board in most sleep lab performance factors | Lower motion transfer score may not suit light sleepers |
| Great fit for those seeking a firm mattress | May be too firm for some sleepers |
| Pros | Cons |
Material: Hybrid (latex and coils)
Firmness: Firm (8/10)
Customer Rating: 4.6/5
Delivery: 5-10 business days
Warranty: 25 years
A well-aligned spine is an important factor that Mattress Advisor tests for when assessing if a mattress meets the needs of back pain sufferers. Testers of the Birch by Helix rated its spinal alignment an excellent 9 out of 10, indicating its appropriateness for those with back pain.
However, if you'll try anything to alleviate back pain, you probably want comfort that goes beyond a nicely aligned spine alone. Where Birch really excels for back pain relief is its excellent pressure relief (8.5/10), and perfectly rated edge support, meaning your back will be cradled without slumping, even when you drift to the sides.
The only buyer beware: The Birch does have a modest motion isolation rating (7/10) score from Mattress Advisor testers. If bumps in the middle of the night tend to rouse you from restorative sleep, consider an all-foam bed — those builds tend to have superior motion isolation.
Best Hypoallergenic Mattress for Couples – Awara Original
Pros and Cons of the Awara Original
| Pros | Cons |
| --- | --- |
| 365-days sleep trial and lifetime warranty provide excellent coverage | Pressure relief was lacking on testers' hips, so may not be best for hip pain sufferers |
| Well-scoring (8.5/10 or higher) in almost all sleep lab performance categories, including cooling, spine alignment, edge support and motion transfer | The pricier Awara Premier may be a better match for a more luxury sleep experience |
| Pros | Cons |
Material: Hybrid (latex and coils)
Firmness: Medium-firm (7/10)
Customer Rating: 4.8/5
Delivery: 3-5 business days
Warranty: Lifetime
For couples looking at a hypoallergenic mattress for two, several factors beyond clean materials must be considered. That's where the Awara mattress shines, testers said. The bed's build of organic and sustainably-sourced textiles also accommodate couples' boudoir needs. What's that entail exactly? According to testers, excellent motion transfer (9/10), edge support (9/10), and cooling (8.5). That means you'll sleep through your partner's night movements, feel supported on the edge if your partner drifts to your side, and won't overheat next to a hot-sleeping partner.
Best Luxury Hypoallergenic Mattress – Saatva Zenhaven
Pros and Cons of the Saatva Zenhaven
| Pros | Cons |
| --- | --- |
| This 100% latex mattress's build ensures the bed's longevity | Bouncy latex means less motion isolation |
| Well scoring (at least 8 out of 10) in pressure relief, spine alignment, cooling, responsiveness and edge support | One of the priciest mattresses we recommend |
| The bed is flippable, i.e., you can swap sides and experience a different firmness level | |
| Pros | Cons |
Material: Latex
Firmness: Soft (4.5/10) and firm (7.5/10)
Customer Rating: 4.9/5
Delivery: 9-21 days, free white glove delivery
Warranty: 20 years
Sitting snugly in the class of luxury mattresses, the Saatva Zenhaven appeals to those seeking an indulgent hypoallergenic mattress. Some of Zenhaven's most luxurious qualities are its flipability, all-latex construction, and use of zoned firmness. The "zoned" build means that the bed is more robust toward the mattress's middle, adding ergonomic comfort, especially for those with back pain. Latex — bouncy by nature — gives the bed ample give-and-take. Testers gave Zenhaven 9 out of 10 in the responsiveness category. However, the bed's bounciness also makes motion transfer harder to tamper, a performance measure to consider if you're a light sleeper.
Why is a Hypoallergenic Mattress Better for Allergy Sufferers?
Measures at home can mitigate potential allergic reactions stemming from outdoor (like pollen) and indoor (like dust mites) sensitivities. But given the importance of sleep, the bedroom is arguably the most important space to evict allergens that can cause sneezing, itching, and other irritation.
With a hypoallergenic mattress, the fabrication emphasizes repealing and resisting potential allergens so that you stay allergy-free under the covers. A few common examples include the use of tightly woven fabrics to keep out dust and bed bugs; and incorporating light, moisture-wicking materials (like cotton, bamboo, and wool) with breathability that prevent wetness from harboring mold or mildew growth. Pay particular attention to the make-up of your mattress cover or mattress protector — i.e., the layer closest to making contact with you.
Types of Hypoallergenic Mattresses
Memory foam: Virtually all memory foam mattresses considered to be hypoallergenic will have met CertiPUR-US standards. The certification ensures the foam is free of toxic compounds like ozone depleters, formaldehyde, and heavy metals. If you sleep hot, look for memory foams that also have cooling properties, like aerated layers or thermoregulating gel infusions. Less moisture means less chance of harboring mold and mildew, which can prompt reactions.
Latex: Latex is an extremely popular choice of material for hypoallergenic mattresses, and (assuming you don't have latex allergies, of course) an excellent anti-allergy option. Latex is resilient to allergens like pet dander, dust, and mildew, and an excellent, seamless dispeller of heat.
Innerspring: Because hypoallergenic mattresses are often manufactured "green," hypoallergenic beds with an innerspring support layer will often use recycled coils. Beds that only rely on an innerspring support with little else to offer in the way of comfort are less and less common, however.
Hybrid: Hybrid beds are the modern take on the innerspring, and rely on both coils and comfort layers to support and cushion the body. Look for hybrids that use latex with the coil base for a breathable build with good airflow that also has bounce and hypoallergenic attributes.
Performance Factors to Consider in a Hypoallergenic Mattress
Set-up: Most of the hypoallergenic mattresses we recommend will arrive at your doorstep in a box, with a few exceptions. If you want to get the "white glove" treatment with your delivery (removal of old mattress and assembly of new mattress), we suggest opting to pay extra or buy a mattress that automatically includes the service, like Saatva.
Pressure relief: Relief of pressure points is exceptionally important for those with hip, back or shoulder pain. If you experience such pains, look for a mattress with well-rated pressure relief from mattress testers — we'd suggest a minimum of 8.5 out of 10 or higher. Be wary of mattresses that boast ultra-fluffy pillow top layers, as they can harbor dust and other allergens.
Spine alignment: An innerspring coil mattress layer is a good way to ensure stable spinal support, especially with modern hybrids that use individually wrapped coils to isolate motion. If you have back pain but prefer the slow-moving feel of memory foam, make sure the spine alignment and firmness are adequate.
Durability: Durability is key for ensuring your mattress won't land in a landfill prematurely. Fortunately, hypoallergenic materials, like latex, are also some of the most durable, helping you make a sustainable purchase.
Motion transfer: Motion transfer is an important factor for couples, especially where one or both partners sleep light. If you're worried about nighttime movements disrupting your sleep, you should seek a mattress with well-rated motion transfer (a score of 8.5 out of 10 or higher).
Temperature regulation: Cooling often correlates with hypoallergenic mattresses. Materials like latex are naturally breathable, and viscose materials like bamboo and cotton wick away moisture. Try a bed with innerspring coils for even more cooling, which adds airflow.
Responsiveness: Combination sleepers need a bed with good give-and-take so that you don't feel stuck in one position. Latex is naturally bouncy, and coils provide nice pushback for position-switching.
Edge support: You can get the most out of every inch of your mattress when it has superior edge support. It's also an important factor if you're in a small space, and use your bed like a bench where you tie shoelaces or slip on socks.
FAQ About the Best Hypoallergenic Mattresses
How much will I have to pay for a hypoallergenic mattress?
There are budget options available, in the sub-$1,000 arena, like the Nectar mattress. However for the most part, you can expect to pay a slight premium for hypoallergenic materials. Hybrid mattresses are more durable but generally more costly. Look for a solid warranty — at least a 15-year warranty is a good start — to protect your investment.
How long will shipping and delivery take?
Premium mattresses are often made-to-order, so you might have to wait a little longer (2-3 weeks) for your mattress to arrive compared to more budget picks. Because of the large-ticket nature of the purchase, shipping is almost always free unless you're outside the continental U.S.
Are hypoallergenic mattresses good for the environment?
Hypoallergenic mattresses are generally also better for the earth, often earning certifications like the GreenGuard Gold certification for lower emissions and use of non-toxic materials.
Summary of Our Top Picks for the Best Hypoallergenic Mattress