Each product we feature has been independently selected and reviewed by our editorial team. If you make a purchase using the links included, we may earn a commission.
Hybrid mattresses use a combination of different mattress materials to hit that just-right sweet spot of support, pressure relief, and bounce. Since each material brings different support elements to the table, wrapping them all into one bed truly gives sleepers a supportive sleep space that works with their needs. With the use of coils, latex, and cooling foams, hybrid mattresses sleep cool and are highly durable. But not all hybrid mattresses are created equal, with some mattresses dialing in on specific features more than others.
To determine which hybrid mattress works best for each kind of sleeper, This Old House Reviews Team and Mattress Advisor put these top mattresses to the test. Before buying any new bed, check out this guide to learn about some of the best hybrid mattresses across a range of categories.
The Best Hybrid Mattresses – Our Top Picks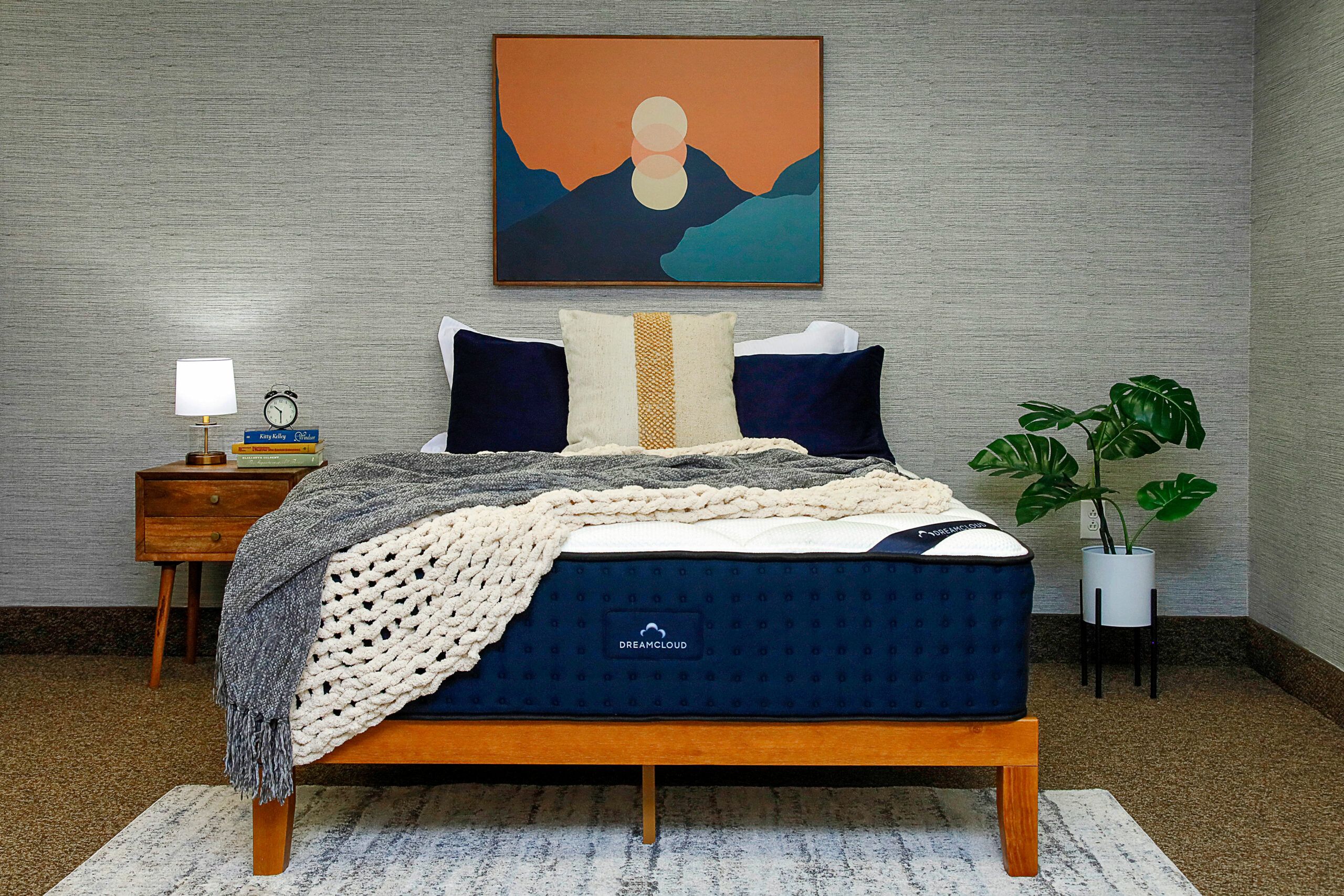 Pros and Cons of the DreamCloud
| Pros | Cons |
| --- | --- |
| Supportive of all sleep positions | Firmer feel not the best match for soft mattress lovers |
| Great responsiveness and lower back support | |
| Cooling design and materials | |
| Pros | Cons |
Material: Hybrid (foam and coils)
Firmness: Medium-firm (6.5/10)
Customer Rating: 4.6/5
Delivery: Free delivery within 18-21 Business Days
Trial Period: 365 Nights
Warranty: Lifetime
There's a lot to love about the DreamCloud Original: This luxury hybrid offers exceptional pressure relief, keeps the spine in nearly perfect alignment, is suitable for all positions and comes with a full year to test it out, plus a lifetime warranty. The DreamCloud mattress also excels in motion isolation, and as such, it's considered one of the best mattresses for couples. DreamCloud's four foam and coil layers are highly responsive, reacting quickly to any movement happening on the mattress surface.
This is a medium-firm hybrid mattress, and its materials (namely the innerspring system and cashmere cover) help it stay breathable and cool, preventing overheating. This mattress earned a perfect score in edge support, which means sleepers can either lie near the periphery (a good option for couples or those who sometimes find a pet crowding them out in the bed) or like to sit on the edge to put on shoes or perform other tasks.
Most Comfortable Hybrid Mattress – Saatva Classic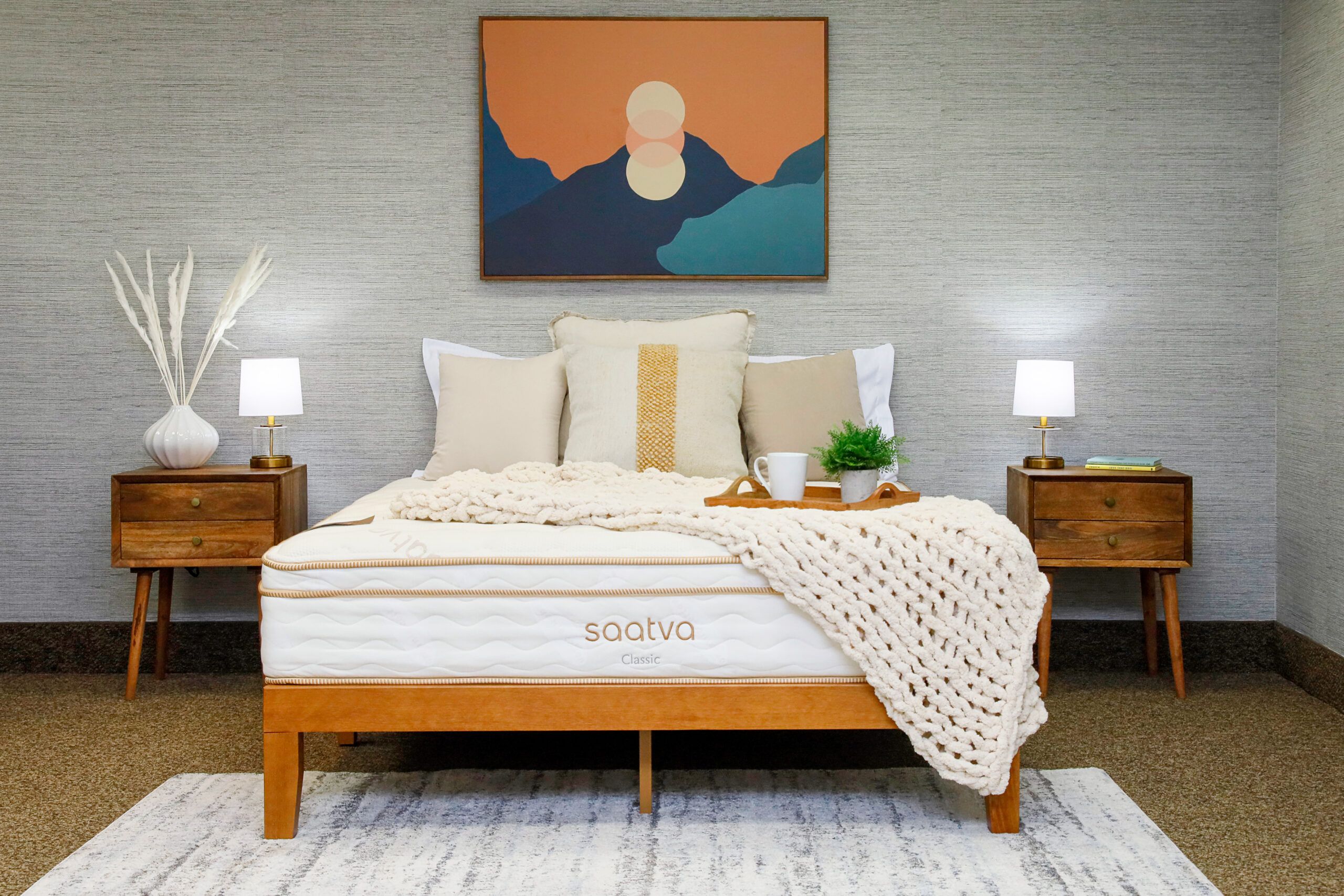 Pros and Cons of the Saatva Classic
| Pros | Cons |
| --- | --- |
| An excellent choice for stomach and back sleepers | Shoppers on a budget should skip this mattress |
| Helps relieve back pain with lumbar support layer and coils | Not recommended for those who want a traditional memory foam mattress |
| Offers ample support for heavyweight sleepers | |
| Pros | Cons |
Material: Hybrid (foam and coils)
Firmness: Soft (3/10), luxury-firm (6/10) and firm (8/10)
Customer Rating: 4.9/5
Delivery: Free White Glove Delivery
Trial Period: 365 Nights
Warranty: Lifetime
If you're looking for a mattress that will provide you with a five-star sleep experience, consider the Saatva Classic. This high-end hybrid offers the plush, contouring feel you'd expect from a fancy hotel mattress, and it's made with materials designed for long-term durability and unyielding support. With dual-coil layers, a targeted spine support layer, and cushioning memory foam, it checks out with exceptional test scores in cooling, spine alignment, responsiveness, and pressure relief. With all these support mechanisms the Saatva Classic supports all body types and sleeping positions, especially back and stomach sleepers (though side sleepers will likely love the softer firmness option). As a bonus, you get free white glove delivery and setup; plus three customizable firmness levels to choose from (plush, luxury firm, and firm). If you're looking for a supremely comfortable night's sleep, look no further than Saatva.
Best Hybrid Mattress for Side Sleepers – Helix Midnight Luxe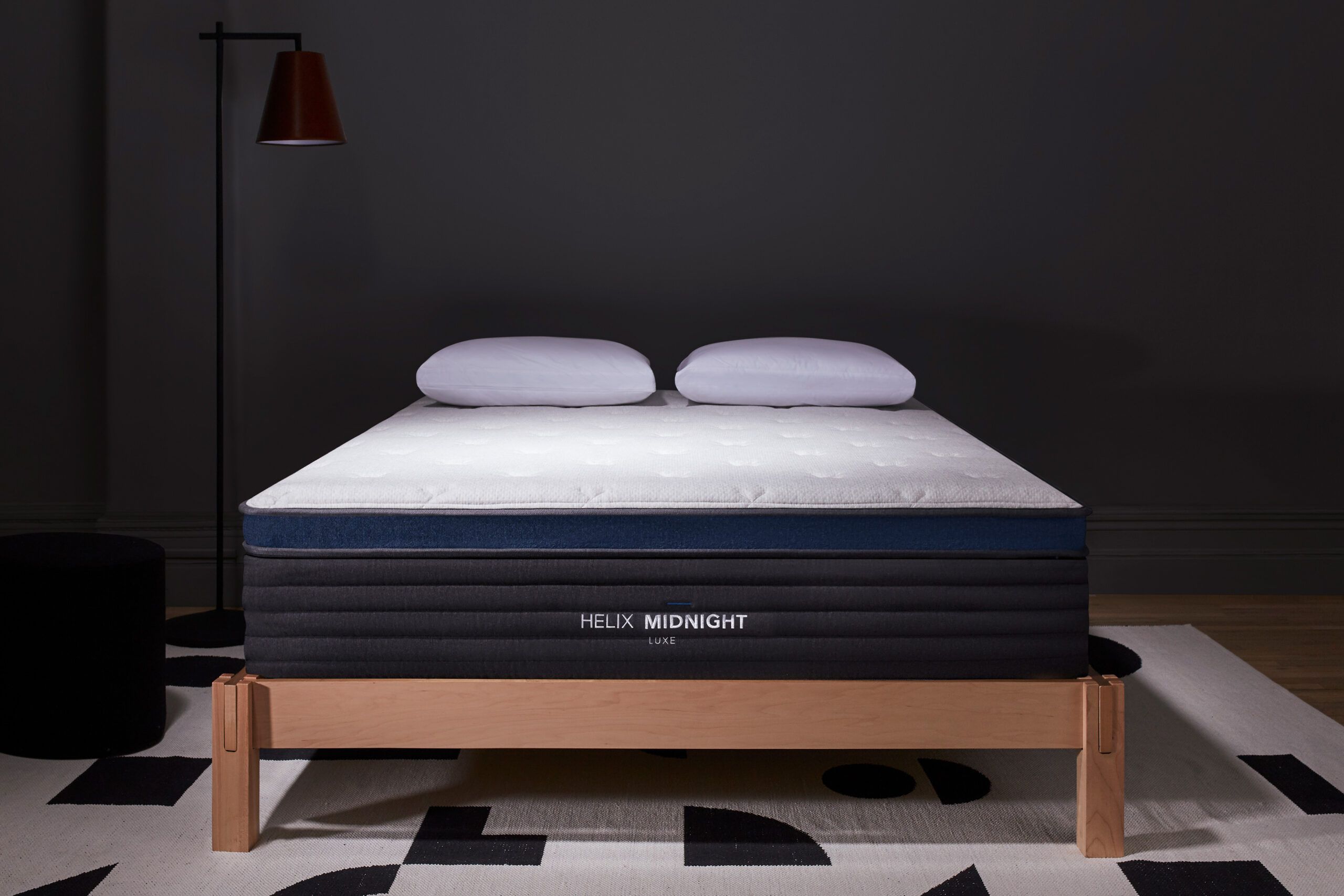 Pros and Cons of the Helix Midnight Luxe
| Pros | Cons |
| --- | --- |
| Cooling materials regulate body heat | Not recommended for those who prefer a traditional innerspring mattress or memory foam feel |
| Great for side sleepers | |
| Recommended for couples | |
| Pros | Cons |
Material: Hybrid
Firmness: Medium (5/10)
Customer Rating: 4.6/5
Delivery: Free Delivery within 3-7 Business Days
Trial Period: 100 Nights
Warranty: 15-Year Limited
Side sleepers rely on ample pressure relief to sleep soundly and wake without aches and pains in their back and hips. Thankfully, the Helix Midnight Luxe is designed to cradle the body and provide pressure points with cushioning relief, backed by high-ranking test scores in this category (8.5 out of 10). The Helix Midnight Luxe's dual foam layers provide the level of contouring that side sleepers need.
Memory foam allows the shoulders and hips to sink in, helping to relieve tension in those areas. Zoned support foam targets the areas of the body that need the most support, like the lower back and hips, to keep them uplifted. The individually wrapped pocket coil core provides plenty of responsiveness that helps sleepers move around easier and avoids that "stuck in the bed" feeling that memory foam can sometimes elicit. The combination of high-density foam and pocketed coils provide sleepers with great spine alignment, which is needed for all sleep positions.
Best Value Hybrid Mattress – Nectar Hybrid
Pros and Cons of the Nectar Hybrid
| Pros | Cons |
| --- | --- |
| Great for couples | Can be a little noisy with a lot of movement |
| Excels at temperature regulation | Quite heavy – may be difficult to move up stairs |
| Offers superb edge support | |
| Pros | Cons |
Material: Hybrid
Firmness: Medium-firm (6.5/10)
Customer Rating: 4.8/5
Delivery: Free shipping within 5-10 business days
Trial Period: 365 nights
Warranty: Lifetime
Hybrid mattresses can be pricier than their innerspring and memory foam counterparts due to the complexity of their construction and the greater amount of materials used to create them, but that's not the case with the Nectar Hybrid. True to their legacy, Nectar has created a budget-friendly hybrid mattress that offers exceptional comfort for the price, incorporating gel memory foam and a system of individually wrapped coils that serve to allay back pain, keep the spine in proper disposition, and keep sleepers cool while they rest. During in-lab testing, the Nectar Hybrid earned a notable 9 out of 10 in motion transfer. This is pivotal for couples sharing the mattress, plus the same score for spinal alignment, cooling, and edge support. These top marks indicate the bed will deliver lasting relief and support, an analysis endorsed by Nectar's "Forever Warranty" that accompanies the mattress.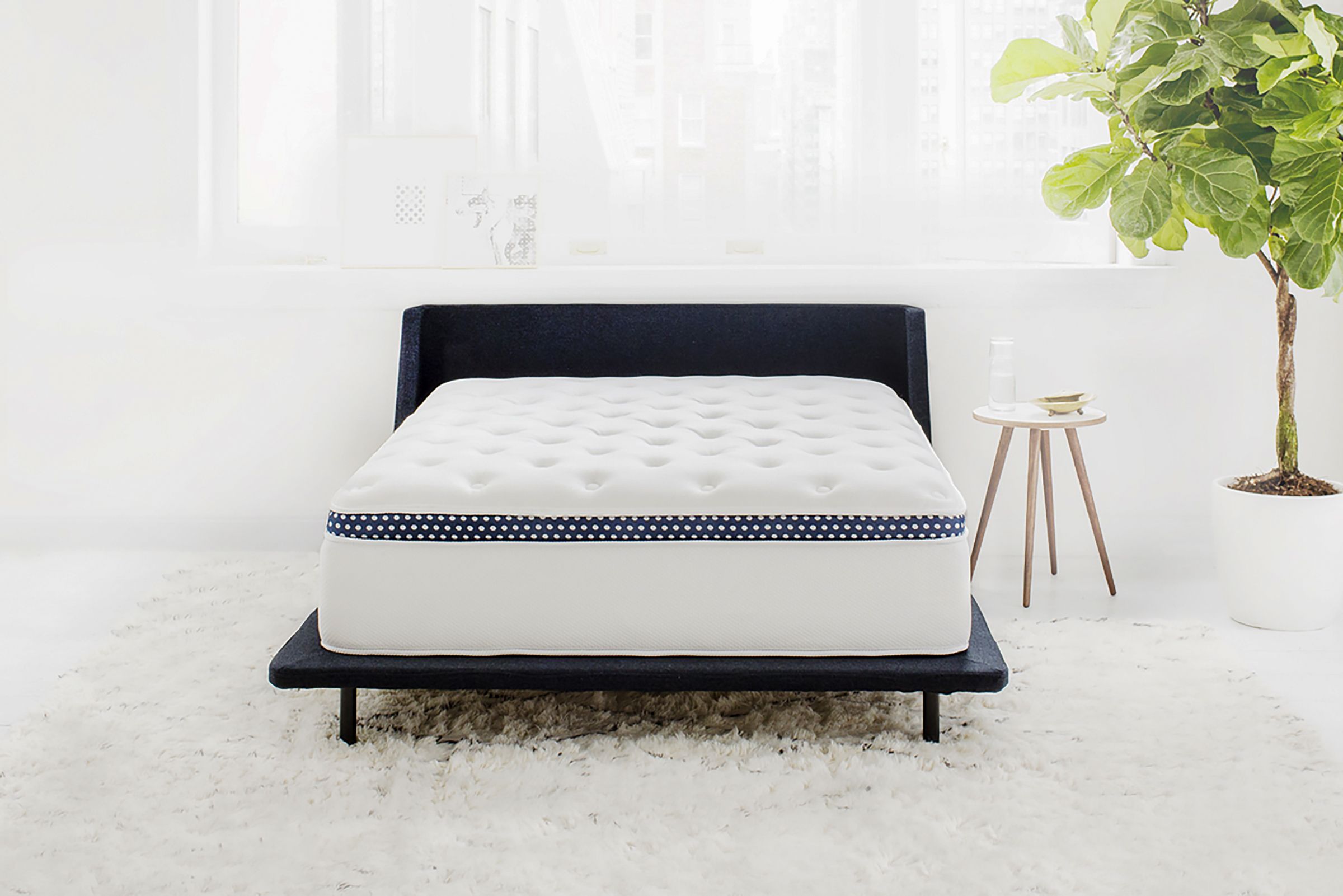 Pros and Cons of the WinkBed
| Pros | Cons |
| --- | --- |
| Coils and lumbar support layer help with high spine alignment support scores | Does not isolate motion well, not a good match for couples |
| Materials all assist with cooling | May be too firm for side sleepers |
| Pros | Cons |
Material: Hybrid
Firmness: Soft (4.5/10), luxury-firm (6.5/10), firm (7.5/10), plus (8/10)
Customer Rating: 4.5/5
Delivery: Free Shipping within 7-14 Business Days
Trial Period: 120 Nights
Warranty: Lifetime
How effectively a mattress keeps sleepers cool is entirely dependent upon the construction of the bed and the materials used. The WinkBed Original is a luxury hybrid mattress with two coil systems (supplying the mattress with plenty of airflow), a gel-infused foam layer, and a cover made with eucalyptus-based performance fabric that wicks away moisture. For those who aren't quite sure which firmness they prefer, the WinkBed offers four firmness options for sleepers to choose from. The customizable firmness level isn't the only merit of this bed–this bed-in-a-box is made in the USA and uses eco-friendly materials. In the testing lab, Mattress Advisor simulated 10 years of use and found that it only displayed 2% condensing in the foam, and as a result gave this bed a 10 out of 10 in durability. You'll get plenty of bang for your buck with the long-lasting construction of this mattress.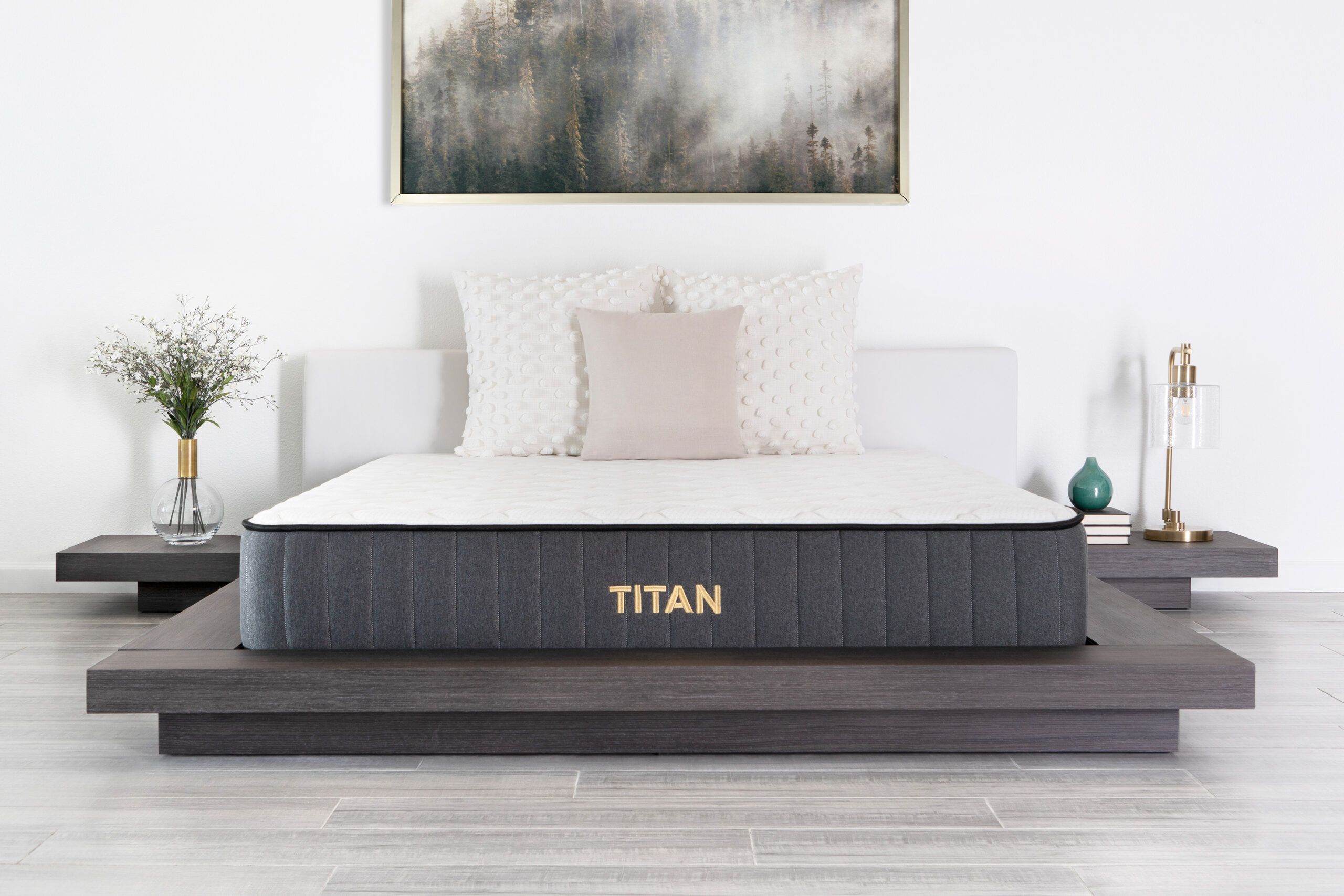 Pros and Cons of the Titan Plus
| Pros | Cons |
| --- | --- |
| Firm mattress that keeps plus-size sleepers supported and cool | Lower pressure relief score; may not be as comfortable for plus-size side sleepers |
| Responsive and keeps lumbar region uplifted | Lower edge support scores |
| Highly durable coils and foam | |
| Pros | Cons |
Material: Hybrid
Firmness: Firm (8/10)
Customer Rating: 4.7/5
Delivery: Free Shipping within 3-4 Business Days
Trial Period: 120 Nights
Warranty: 10-Year Limited
Plus-size sleepers often have the hardest time finding a comfy mattress that supports extra body weight. It can be very frustrating, but the search is over–Brooklyn Bedding's Titan Plus implements a durable support system that promotes healthy, comfortable sleep. This hybrid model has a quilted gel memory foam on top, with pressure-relieving foams and coils below. Cooling is often an issue with plus-size sleepers, as more body mass means more heat. You have the option of adding a cooling panel for extra heat dispersal. Overall, plus-size testers concurred that the materials in the Titan Plus mattress yield great spine alignment and stay responsive to movement.
Best Hybrid Mattress for Back Pain – Bear Elite Hybrid
Pros and Cons of the Bear Elite Hybrid
| Pros | Cons |
| --- | --- |
| Uses cooling technology to prevent overheating | More expensive than other options |
| Durable design is built to last | |
| Several firmness options | |
| Pros | Cons |
Material: Hybrid (foam and coils)
Firmness: Luxury-plush (5.5/10), luxury-firm (6.5/10), extra-firm (7.5/10)
Customer Rating: 5/5
Delivery: Ships Free within 7-10 Business Days
Trial Period: 365 Nights
Warranty: Limited Lifetime
If you regularly wake up with an achy back and sore neck, changing up your mattress might be a good idea. The Bear Elite Hybrid comes in three different firmness levels, allowing you to select the amount of cushion and support you need to give you the best night's sleep possible. A system of wrapped coils provides the back with the proper posture throughout the night, helping to dissolve tension in the shoulders and keep the spine in a natural alignment as you sleep. This, combined with the zoned support and pressure relief from layers of polyfoam, works to reduce and mitigate back pain. Memory foam and polyfoam work in tandem to isolate movement, keeping you sound asleep if your pet or partner shifts in the night.
Pros and Cons of the Nolah Evolution
| Pros | Cons |
| --- | --- |
| Multiple firmness options | Not great budget option |
| Cooling materials prevent overheating | Motion response could be improved |
| Good for all sleep positions | |
| Pros | Cons |
Material: Hybrid
Firmness: Plush (4.5/10), luxury-firm (6.5/10), firm (8/10)
Customer Rating: 4.9/5
Delivery: Free Shipping within 2-8 Business Days
Trial Period: 120 Nights
Warranty: Lifetime
The Nolah Evolution is our pick as the best luxury hybrid mattress due to its high-quality construction. An orthopedic core, high-support innerspring coils, and two layers of foam provide sleepers with excellent spine alignment and pressure relief. A quilted Euro top infused with cooling technology adds an additional layer of plush comfort while working to keep sleepers cool and comfortable throughout the night. Nolah's proprietary graphite-infused foam sits underneath the Euro top, improving the cooling capabilities and offering additional pressure relief.
The Nolah Evolution has an edge support system that prevents the periphery from sagging, so couples can spread out on the bed without losing support. One phenomenal perk: This bed has a firmness option for all sleeper types: Plush for lightweight back and side sleepers, Luxury Firm for back and side sleepers, and Firm for heavier sleepers and stomach sleepers.
Best Hybrid Mattress for Pressure Relief – Layla Hybrid Mattress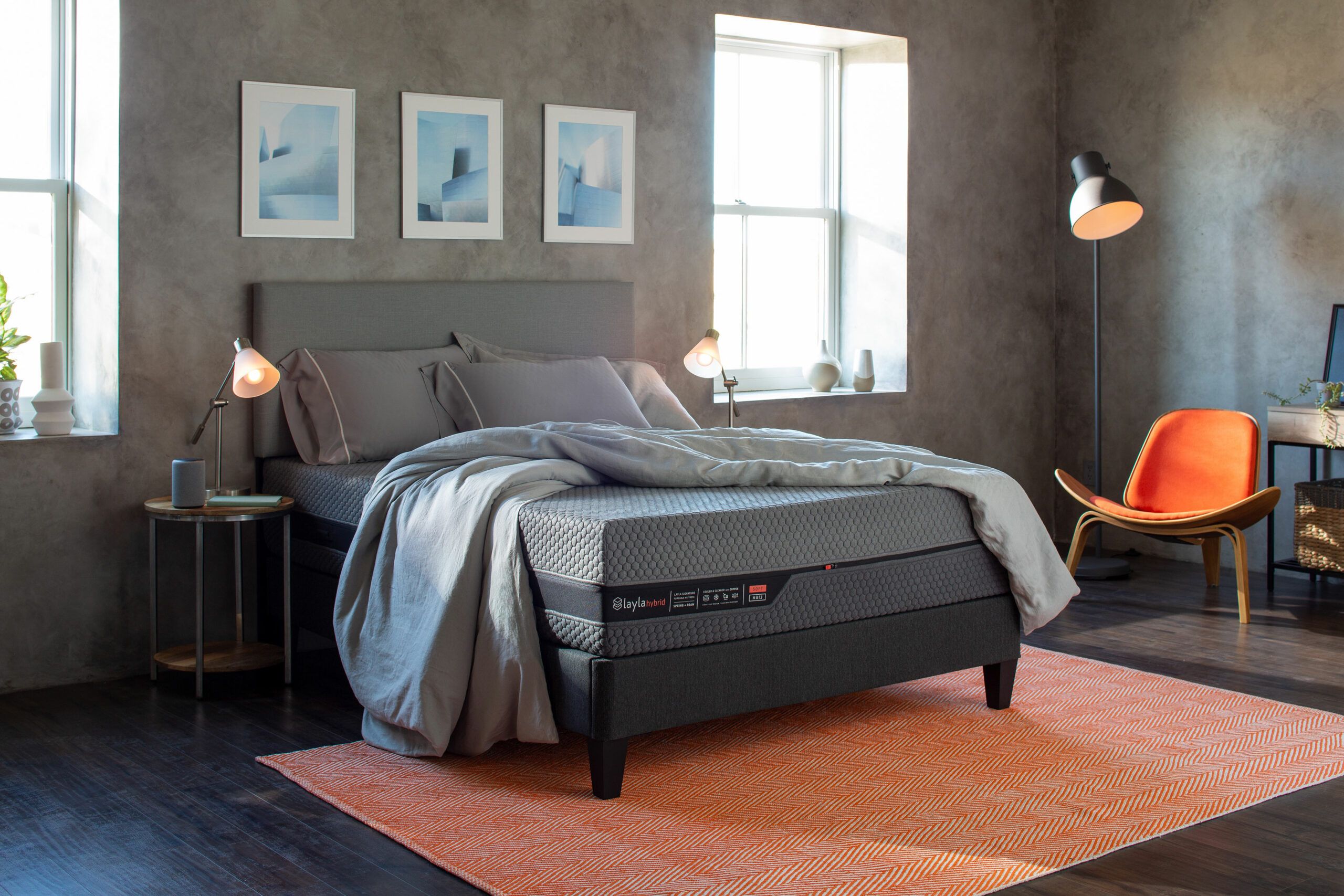 Pros and Cons of the Layla Hybrid
| Pros | Cons |
| --- | --- |
| Flippable design | Only comes in soft and firm feel, no medium option |
| Removable cover for easy cleaning | Mattress is heavy, which might make it difficult to flip for some users |
| Very supportive edges | |
| Pros | Cons |
Material: Hybrid
Firmness: Soft (4.5/10), Firm (7/10)
Customer Rating: 4.5/5
Delivery: Free Delivery in 10-15 Business Days
Trial Period: 120 Nights
Warranty: 10 Years
Soreness in the hips, shoulders, or lower back can make quality sleep hard to come by. If you're tired of being tired, it might be time to ditch that old mattress for a new mattress that relieves the tension in your pressure points, such as the Layla Hybrid. The top layer on each side of this flippable hybrid mattress is made of copper-infused memory foam, with one inch of low-density foam on the firmer side and two and a half inches of higher density foam on the softer side for extra contouring. A layer of polyfoam underneath the memory foam layers improves airflow and offers extra support for areas that need it most. Individually wrapped coils serve as the core of this mattress. All these layers work together to ensure this mattress feels like a squishy and supportive cloud, intended to ease your soreness and help you sleep better and wake up feeling refreshed.
Pros and Cons of the Brooklyn Sedona Elite
| Pros | Cons |
| --- | --- |
| Strong edge support | Warranty isn't very impressive compared to competitors |
| Built to order in the USA | Mattress is heavy and could be difficult to move around |
| Cool, breathable construction | |
| Pros | Cons |
Material: Hybrid (foam and coils)
Firmness: Medium-firm
Customer Rating: 4.7/5
Delivery: Free Shipping in 7-21 Business Days
Trial Period: 120 Nights
Warranty: 10-year Limited
There's nothing better than getting into your cozy bed with your partner at the end of a long day. Unless, of course, you have a bed that keeps you lying awake at night, jostled by your partner's tossings, turnings, and midnight trips to the fridge. If that's the case, we suggest opting for a mattress that keeps movement isolated, such as the Brooklyn Sedona Elite.
This luxury hybrid contains a whopping five layers of foam, including two layers of gel-infused memory foam, a comfort layer that's highly responsive for combination sleepers, and transition foam between the cushioning layers and supportive coils. All these layers serve to prevent motion transfer across the bed, keeping it isolated at the source so you can keep dreaming while your partner or pet is moving around. The layers also excel at relieving pressure in sore spots for night after night of intensely relaxing sleep. This is one of the best cooling hybrid mattresses on this mattress review, helping hot sleepers remain comfortable and sweat-free while they sleep.
Pros and Cons of the Saatva Latex Hybrid
| Pros | Cons |
| --- | --- |
| Great for hot sleepers | May take longer to arrive than other beds due to the fact that it's handmade to order |
| Highly durable | |
| Good pick for combination sleepers | |
| Pros | Cons |
Material: Hybrid (latex foam and coils)
Firmness: Medium-firm (6/10)
Customer Rating: 4.8/5
Delivery: Free White Glove Delivery
Trial Period: 365 Nights
Warranty: Lifetime
Saatva is a top-notch mattress brand for several different types of mattresses, but their Latex Foam Hybrid is one of the best beds available for sleepers who want something buoyant, hypoallergenic, cooling, and pressure-relieving all in one. Rather than using memory foam and steel coils, like other hybrid mattresses, the Saatva Latex Hybrid incorporates Talalay latex for back-pain-busting, pressure-relieving, bouncy comfort.
A layer of organic wool plus an organic cotton cover add to the hypoallergenic properties of the latex, helping prevent dust mites, bacteria, and other allergens from finding their way in the mattress. Not only are the natural and organic materials used in this mattress good for sleepers and our planet, but they also lend the bed exceptional durability (which is great, considering its price tag!); the mattress can support up to 800 lbs, comes with a lifetime warranty, and earned high marks in durability testing in the mattress lab.
What Makes a Mattress a Hybrid?
A hybrid uses an assortment of mattress materials built into one bed. The mattress core will either be a coil network or dense foam for support. Foam or latex layers are then built on top for extra comfort, pressure relief, and support.
Comparing Mattress Types
Each mattress type comes with its strengths and weaknesses. What appeals to and feels comfortable for one sleeper may not work for another, which is why hybrid mattresses tend to be so popular: They combine the best of all mattress types and wrap it into one bed.
Foam vs Hybrid: Memory foam beds tend to rate well for pressure relief, but suffer from a lack of breathability. Coil insertion helps to provide a softer sleep surface with more internal space for air circulation.
Innerspring vs Hybrid: Innerspring mattresses sleep cooler because the coils within create space, but don't always work for all body types. Innerspring mattresses alone may feel too firm, so they're not always the best match for side sleepers or those with joint pain. A hybrid helps alleviate this issue by coupling supportive coils and foam layers to provide more comfort.
Latex vs Hybrid: These mattresses help mediate heat retention, but they can sometimes be on the expensive side. Synthetic latex can help lower the cost, and some hybrids can also be less expensive than a full-latex mattress.
Sleeping on a Hybrid Mattress
Some standout features that make hybrid mattresses appealing to all kinds of sleepers.
Durability: With the use of multiple mattress materials, hybrids are made for the long run. Coil insertion helps to maintain support for years, while foam and latex help with the wear and tear of sleeping on the bed night after night.
Edge Support: An indicator of the hybrid's durability, edge support is indicative of how a mattress will maintain its shape over time. Often with all-foam beds, mattresses can sink and sag over time and compromise the overall support. Coils help to solve this issue and give support across the entire mattress surface.
Cooling: Along with coils, latex and gel memory foam are all designed with temperature regulation in mind. These materials work in tandem to stop overheating and keep sleepers comfortable.
Motion Isolation: For couples in particular, hybrid mattresses can absorb movement happening atop the mattress and prevent it from shaking the entire bed. Foam and coils keep motion isolated to one side of the bed, keeping the other side stable.
Coils: There are two main factors to pay attention to about the coils that lie within a hybrid. Coil count is the number of coils used in a hybrid and can be tied to how supportive a mattress will feel. The more coils, the more support it will yield. Coil gauge means coil thickness, so a thicker coil will result in a firmer mattress, while a thinner coil will feel softer.
Price: When it comes to hybrid mattresses, generally they are going to ring in at a higher price. However, there are plenty of hybrids that come in under $1,000 that offer the same great perks this mattress type is known for. Deciding your personal sleep preferences and how much you're willing to spend can help you narrow down your list on the best hybrid mattress for you.
Types of Sleepers:
There are different sleeping styles, which means certain beds feel differently for people based on their sleep preferences. Hybrid mattresses come in a variety of firmness levels, so finding one suitable for your sleep style of choice should not be difficult. We've covered the various sleeping positions below to help you hone in on what type of mattress you would rest most comfortably on.
Stomach Sleepers: Resting on your stomach requires a mattress firm enough to keep your spine aligned and prevent your hips and shoulders from dipping into the mattress too much. A soft mattress will likely give stomach sleepers some back and neck pain, which means it's important for them to find a bed that gives their pressure points enough cushioning while still providing the necessary lift to keep the back in a supported, comfortable position.
Back Sleepers: Of all the sleeping positions, back sleepers tend to have the widest range of firmness levels that are suitable for them. That being said, personal preference should be considered when choosing a mattress firmness. If you prefer a softer mattress (which some lightweight and average-weight sleepers tend to), finding a suitable hybrid model will be simple. The same goes for those who prefer a firmer surface.
Side Sleepers: The hips and shoulders need extra cushioning and pressure relief when you're sleeping on your side. These points tend to feel the most pain and tension if the mattress isn't soft enough, so finding a bed that offers good pressure relief is important for side sleepers. Softer mattresses tend to be better suited for side sleepers. Another important consideration is spine alignment, so your back maintains good posture even as you sleep.
FAQs
What is the lifespan of a hybrid mattress?
A hybrid mattress should last at least 10 years. Most mattress companies include a 10-year warranty at the minimum. Some companies offer longer warranties, like Helix. And then there are mattress companies that offer a lifetime warranty for their mattresses, including DreamCloud, WinkBeds, Puffy, and Saatva.
While a good mattress can technically last for well over 10 years, that doesn't necessarily mean that it's comfortable to sleep on past a certain point. Once a mattress starts to sag, makes creaking noises, becomes lumpy, or no longer offers adequate pressure relief, it's likely time to replace that mattress. You can extend the lifespan of your mattress by adding a mattress protector, topper, or pillow top if you want to keep your mattress for a while.
How much does a good hybrid mattress cost?
The price range for all types of mattresses ranges dramatically: Some budget-friendly brands offer mattresses for under $1000, while other companies only offer mattresses on the more expensive end. Hybrids tend to be a little more expensive than other mattress types due to their complex construction containing various materials. You can expect to pay anywhere between $1,000 to $3,000 for a quality, queen-size hybrid mattress. Fortunately, mattress companies run sales and promotions all the time, so you can usually find some mattresses at a discount or receive mattress accessories with your purchase, which should help with the overall costs of redoing your bedroom or guest room and help keep you within your budget.
Who are hybrid beds best for?
Their varied construction and range of materials used means that there's a hybrid mattress that should be compatible with every sleep position and body type. One of the perks of hybrid mattresses is their versatility. Whether you're a lightweight side sleeper who needs the right amount of pressure relief or a heavyweight stomach sleeper who needs proper lift in the hips to sleep comfortably, you should be able to find a hybrid mattress that suits your needs. Hybrid mattresses can be hypoallergenic, flippable, built for larger bodies, designed for back pain relief, and accommodate a host of other needs.
Do you need a box spring with a hybrid mattress?
You don't need a box spring for a hybrid mattress for the most part. Most of these beds can rest on a platform, standard bed frame, or other firm, flat surface and should function just fine. We still recommend that you double-check the company's website to determine whether or not a box spring is required for proper use with your hybrid mattress, just to be sure you're getting the best sleep experience possible.
Are hybrid mattresses good mattresses?
The combination of support from coils with pressure relief from latex or memory foam means that hybrid mattresses are usually very good options for just about anyone. Those who prefer the definitive hugging feeling of memory foam or the bouncy support of innersprings would, obviously, do better with a mattress made with just those materials. However, those who like the cushioning of memory foam but want something a little cooler would enjoy the breathability of hybrid mattresses, and innerspring lovers who want just a bit more cushioning will enjoy the foam layers hybrids offer, too.
Hybrid mattresses are good for those who don't want to be limited to just one kind of mattress; rather, they want to enjoy the best of what each material offers. They're also a great option for couples who have different sleep styles and body types since hybrids are built especially for durability and support.
Summary of the Best Hybrid Mattresses