Each product we feature has been independently selected and reviewed by our editorial team. If you make a purchase using the links included, we may earn a commission.
The 9 Best Firm Mattresses
If you've ever slept on a firm mattress, then you know the feeling of sleeping "on" the bed rather than "in" it. There are a lot of benefits to this–the best firm mattress keeps your lower back from sinking out of alignment, allows for better air circulation, and keeps pressure points uplifted. There's a variety of firm mattresses made for all sorts of sleep needs. The This Old House Reviews team worked with Mattress Advisor to test each firm mattress based on their mattress testing process. Each mattress is evaluated on a 14 step test, and then ranked on a scale of 1 to 10, with 10 equating to a perfect score. This guide helps break down what makes up a firm mattress, how firm you want your bed to be, and what the top online options are today based on our findings.
Affiliate Disclosure:This Old House's Reviews Team is committed to delivering honest, objective, and independent reviews on home products and services. To support this business model, This Old House may be compensated if you purchase through links on our website.
Best Firm Mattress – Our Top Picks
Best Overall Firm Mattress – Saatva Classic
Pros and Cons of the Saatva
| Pros | Cons |
| --- | --- |
| Included white glove delivery | Couples who move around may need more motion isolation |
| Exceptional spinal alignment and pressure relief scores | Not a great choice for budget shoppers |
| Three firmness choices to pick from | |
| Pros | Cons |
Material: Hybrid (foam & coils)
Firmness: Plush Soft, Luxury Firm, Firm
Customer Rating: 4.8/5
Delivery: 10-15 business days
Trial Period: 365 Nights
Lifetime Warranty
If you're searching amongst the best affordable luxury mattresses and what they have to offer, the Saatva Classic rises to the top. This hybrid mattress is made of durable materials, including a generous pillow top layer for slight cushioning and firm support from the coils below. The Saatva mattress uses two different innerspring coil systems paired with foam to help with back support, cooling, and durability. The materials in this mattress are made to help with lumbar support, which helped it achieve a perfect spine alignment score in testing. There are two dedicated "firm" options you can choose from, so you can customize your firm mattress experience based on your needs. Free white glove delivery and setup are added luxurious perks.
Best Firm Luxury Mattress – WinkBeds Original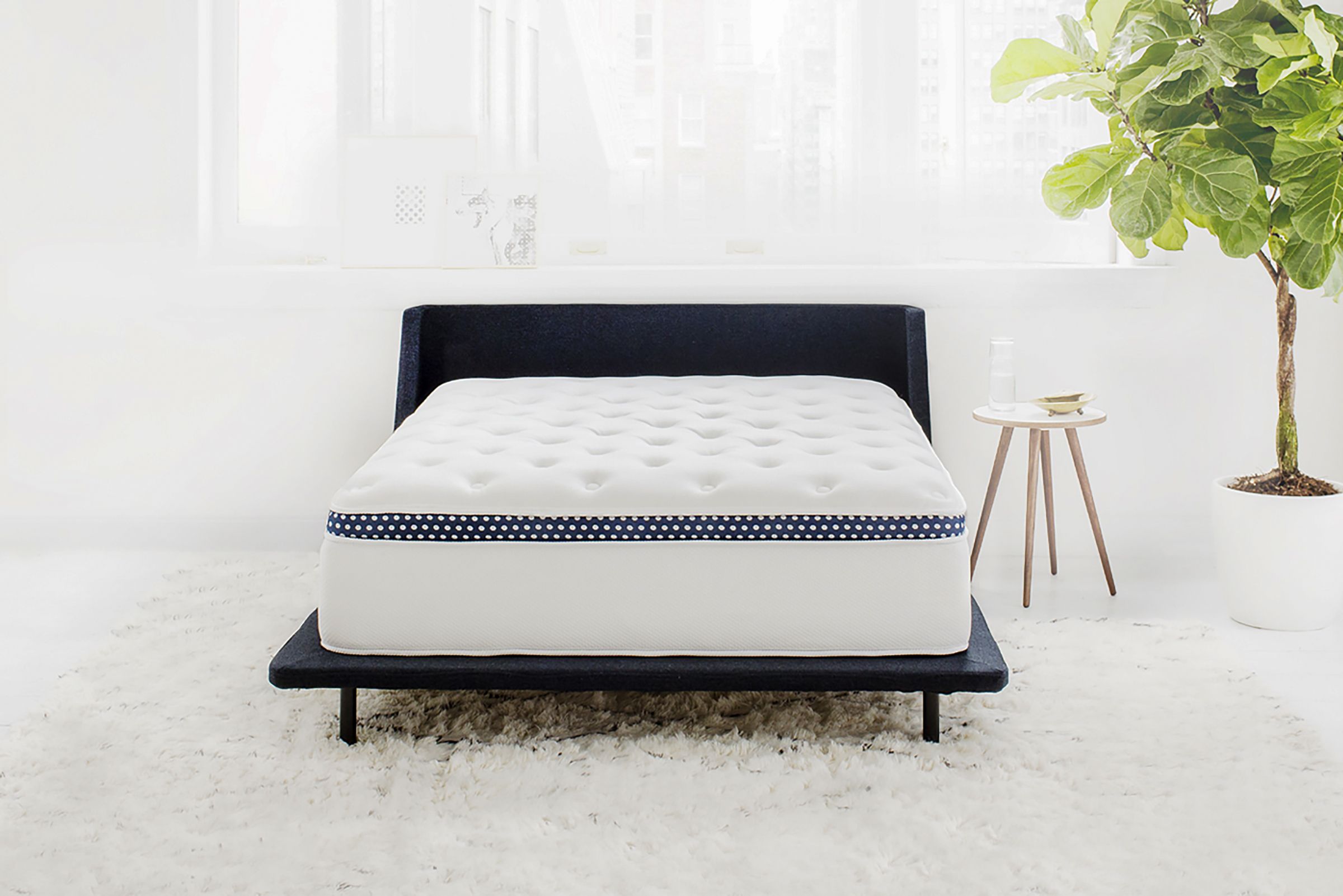 Pros and Cons of the WinkBed Original
| Pros | Cons |
| --- | --- |
| High-quality materials lend this mattress great durability | Could have better motion isolation |
| Good for hot sleepers | Heavy weight (135 lbs for a queen) could be difficult to set up |
| Firmer levels may help reduce back pain | |
| Pros | Cons |
Material: Hybrid (foam & coils)
Firmness: Softer, Luxury Firm, Firmer, Extra Firm
Customer Rating: 4.5/5
Delivery: 7-14 business days
Trial Period: 120 Nights
Lifetime Warranty
Innerspring coils are a tried and true component of many firm mattresses; cooling and breathable by nature, with a bouncy feel. The WinkBeds Original mattress is an affordable luxury option with a Euro pillow top, lumbar support pad, gel foam, and innerspring coils. The WinkBed not only has four firmness options, but over 1,000 coils broken up into two layers. Whether you opt for a softer luxury-firm, firm, or an extra-firm bed, the WinkBed's design helps with spine alignment (8.75 out of 10) and back pain. Earning a near-perfect responsiveness score (9 out of 10), the WinkBed effortlessly reacts to your movements, so you can rest comfortably even when you move around a little more. However, because this is a luxury mattress handmade in the USA it comes in at a higher price that may be out of budget for some.
Best Extra-Firm Mattress – Brooklyn Bedding Plank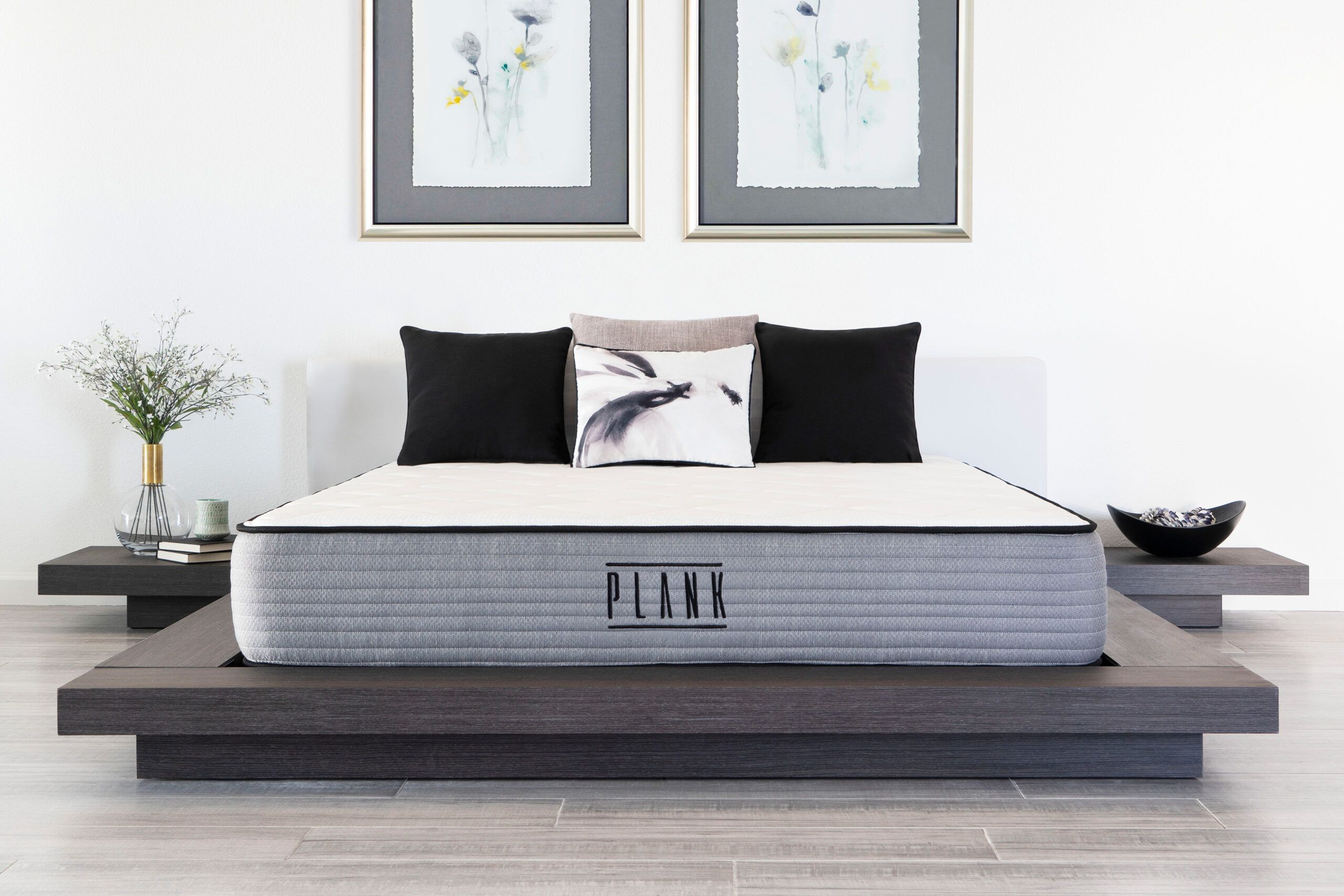 Pros and Cons of the Plank
| Pros | Cons |
| --- | --- |
| Good for sleepers of all sizes | Lower edge support; higher risk of sagging at the edges over time |
| Two firmness options | Pricier mattress option |
| Extra-firm feel may appeal to firm mattress shoppers | |
| Pros | Cons |
Material: Foam
Firmness: Firm, Extra-Firm
Customer Rating: 4.8/5
Delivery: 3-4 business days
Trial Period: 120 Nights
Warranty: 10 years
The Plank by Brooklyn Bedding is a mattress specifically designed for those who crave an extra-firm mattress. This mattress offers two firm sleep experiences in one–there is a firm side and an extra firm side, so sleepers can flip back and forth between the two options to determine which one works best for them. When put to the test, both sides of this mattress give strong spine alignment (8.75 out of 10), responsiveness (8.75 out of 10), and pressure relief (9 out of 10). Firm mattresses are usually not a top pick for side sleepers, but the Plank proved in testing to give ample pressure relief. It also proved to keep tester's lower backs supported, making it truly be compatible with all sleep positions.
Best Firm Mattress for Side Sleepers – Helix Dawn Luxe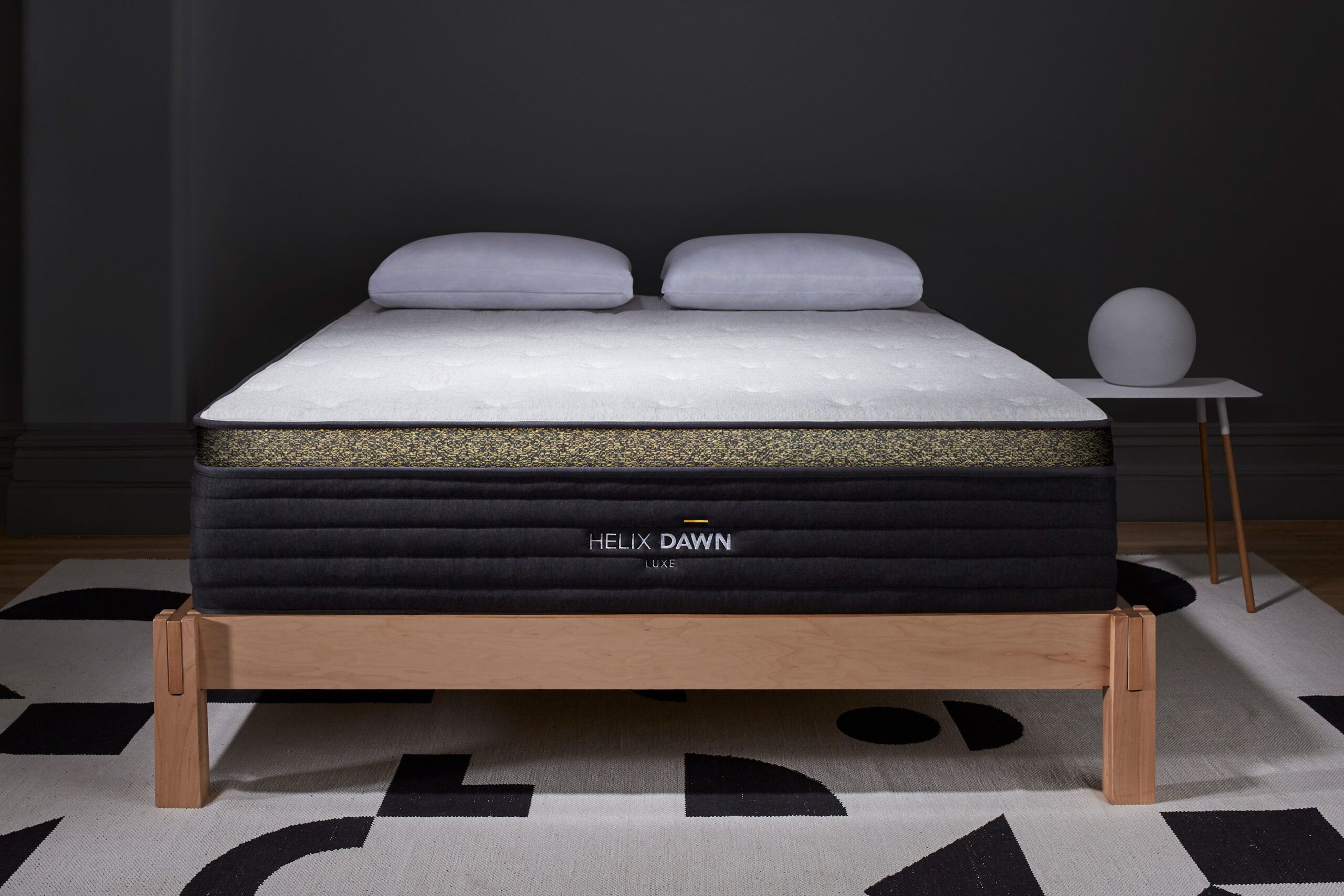 Pros and Cons of the Helix Dawn Luxe
| Pros | Cons |
| --- | --- |
| Good for plus-size sleepers | Tall mattress might not be suitable for everyone |
| Luxury build | Not a great choice for budget shoppers |
| Cooling materials | |
| Pros | Cons |
Material: Hybrid (foam & coils)
Firmness: Medium-Firm
Customer Rating: 4.6/5
Delivery: 6-10 business days
Trial Period: 100 Nights
Warranty: 15-year warranty
The best mattress for side sleepers supplies pressure relief for the hips and shoulders, while also maintaining lumbar support to prevent back pain. The Helix Dawn Luxe is a firm mattress that checks all these boxes, and is geared towards side sleepers' needs. Using a cooling pillow top, responsive foam, and breathable coils this hybrid is made to keep the lumbar region supported while still giving firm, full body support. The Helix Dawn Luxe cradles you in comfort and gently contours the body, yet it doesn't sag or sink in.
Best Firm Mattress for Couples – DreamCloud Original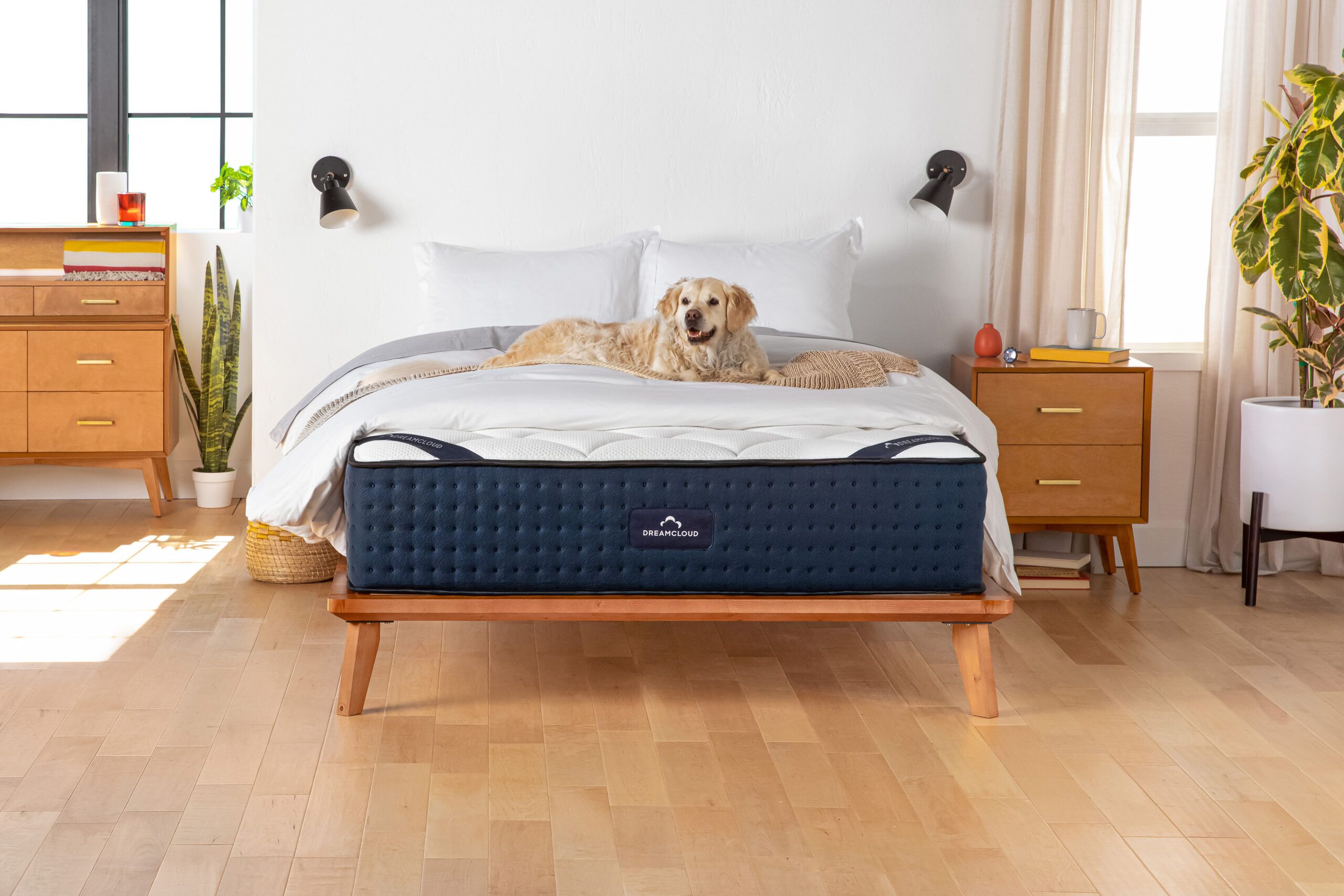 Pros and Cons of the DreamCloud
| Pros | Cons |
| --- | --- |
| Compatible with all sleep positions and body types | More expensive hybrid option |
| High test scores in spine alignment, motion isolation, cooling, and more | Side sleepers with joint pain may require more pressure relief from an all-foam build |
| Generous warranty | |
| Pros | Cons |
Material: Hybrid (foam & coils)
Firmness: Relaxed Firm, Firm
Customer Rating: 4.8/5
Delivery: 10-15 business days
Trial Period: 180 Nights
Lifetime Warranty
One of Mattress Advisor's best hybrid mattresses they've tested to date, the DreamCloud offers support for all types of sleepers regardless of position and body type, which is perfect for couples looking to compromise. Exceptional edge support (9.75 out of 10) allows both sleepers to spread out a bit as they snooze, while the hybrid design allows for good cooling (8.75 out of 10) so both partners keep cool. The DreamCloud balances all of the benefits of a firm mattress with the pressure-relieving comfort you need for a good night's sleep, a score of 8.75 out of 10 indicates that your pressure points will be cradles regardless of how you sleep. A system of pocketed coils underneath layers of memory foam make this firm hybrid mattress great for lower back pain, it received a 9 out of 10 in spinal alignment.
With high test scores and a durable design, this supportive mattress works for all sleep positions. As an added bonus, DreamCloud offers a lifetime warranty, so you know it's made to last and keep you supported for the long haul.
Best Firm Value Mattress – Nolah Signature
Pros and Cons of the Nolah Signature
| Pros | Cons |
| --- | --- |
| Good for all types of sleepers | Spine alignment could be improved |
| Phenomenal pressure relief | Doesn't offer great edge support |
| Lifetime warranty demonstrates durable construction | |
| Pros | Cons |
Material: Air foam
Firmness: Medium
Customer Rating: 4.8/5
Delivery: 2-8 business days
Trial Period: 120 Nights
LIfetime Warranty
Buying an all-foam bed can be expensive, especially if you're looking for a long-lasting mattress that delivers the right balance of support with a firm feel. The Nolah Signature is a great value for a high-quality foam mattress, it's made of their proprietary AirFoam, a high-resilience memory foam alternative that's created without the use of viscoelastic chemicals that trap heat in memory foam. This AirFoam is super bouncy, giving this mattress a score of 9.5 out of 10 in responsiveness. The layers of foam conform to your body and relieve pressure incredibly well, which gave the bed a 9.25 out of 10 in this category. It also sleeps cooler than most memory foam mattresses (8 out of 10), which is great for hot sleepers.
Best Medium-Firm Mattress – Bear Pro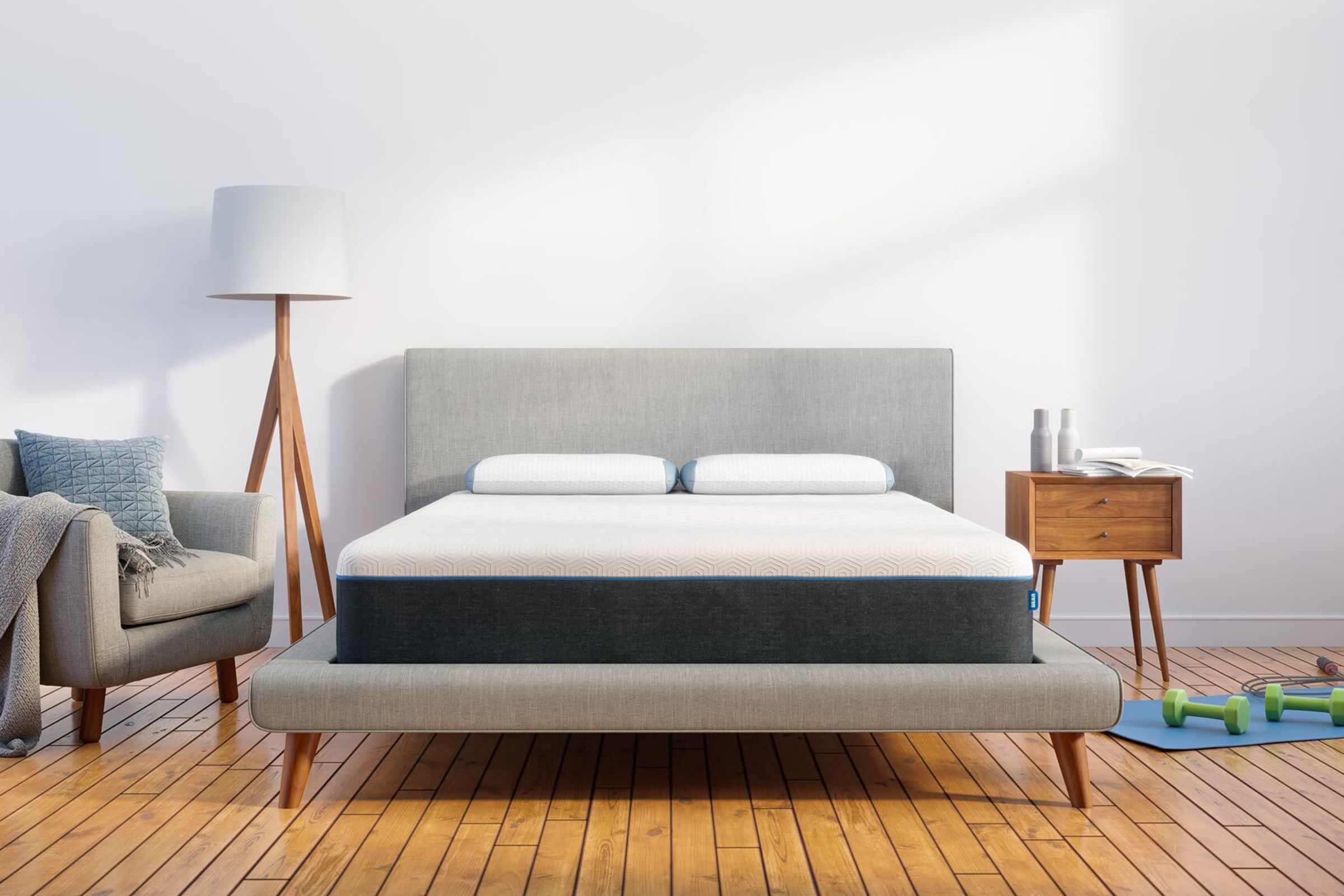 Pros and Cons of the Bear Pro
| Pros | Cons |
| --- | --- |
| People with active lifestyles | All-foam mattress might not appeal to some shoppers |
| Good for sleepers with back pain | Not especially budget-friendly |
| Ample cooling for hot sleepers | |
| Pros | Cons |
Material: Memory foam
Firmness: Medium-firm (6.5/10)
Customer Rating: 5/5
Delivery: Ships free within 7-10 business days
Trial Period: 120 Nights
Warranty: Limited Lifetime
If you prefer more middle-of-the-road firmness, the Bear Pro mattress is a great medium-firm option. This all-foam mattress uses high-density foam, responsive foam, gel memory foam, and copper-infused foam stacked atop one another to create that perfect sweet spot of firmness that gives stomach and back sleepers the firm support they need and side sleepers the contouring relief they require. Bear specializes in making mattresses for people leading active lifestyles, working to provide customers with deep and restful sleep so they can recover from their busy days and prepare for their next activity. They focus on ensuring their mattresses provide ample pressure relief for any sore spots, plus make sure sleepers' spines are in alignment to reduce and prevent any back pain.
Best Firm Mattress for Back Pain – Casper Wave Hybrid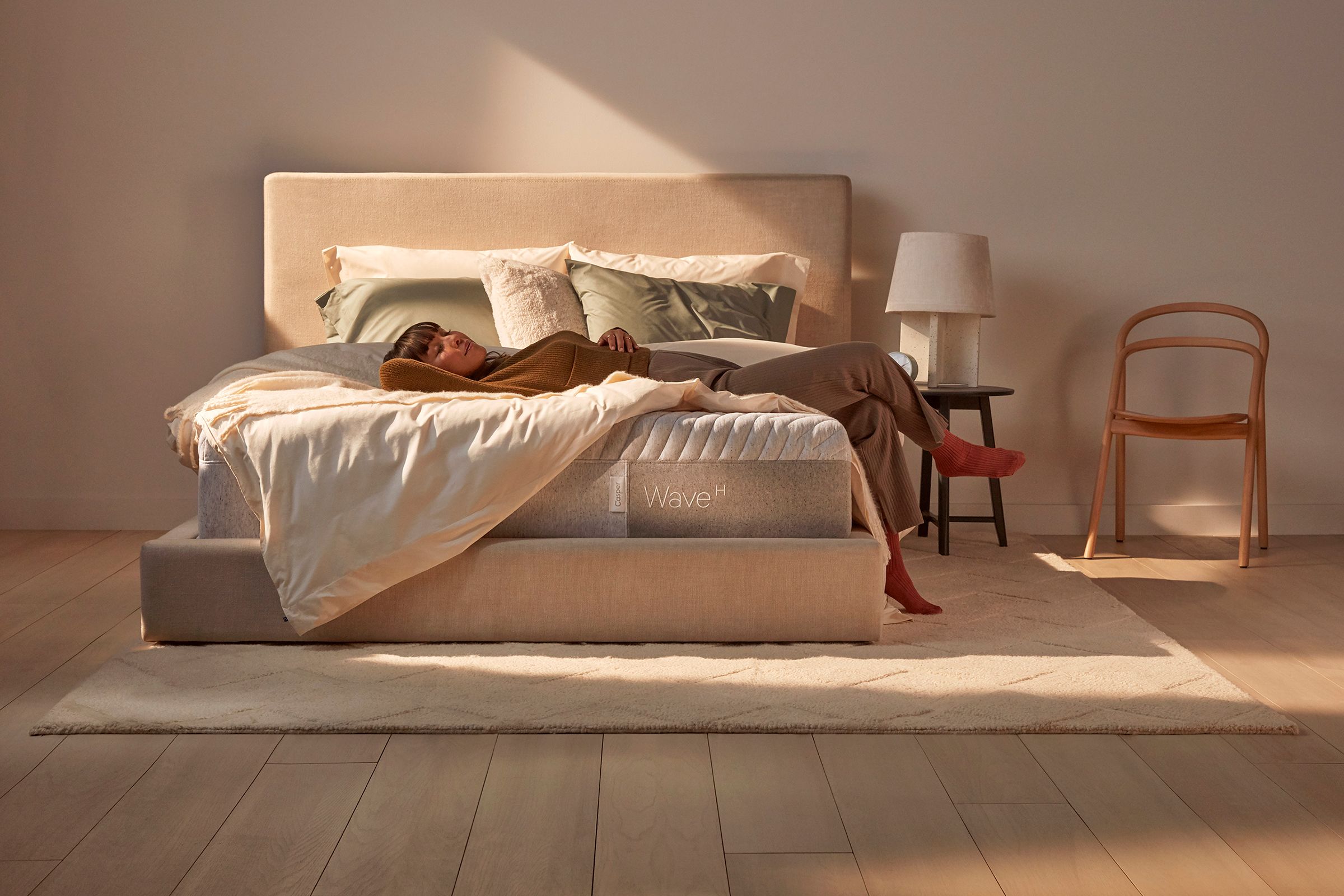 Pros and Cons of the Casper Wave Hybrid
| Pros | Cons |
| --- | --- |
| Great option for hot sleepers | Some shoppers may want a more budget-friendly bed |
| Good motion isolation for couples | May be too soft for some sleepers |
| High responsiveness is helpful for combination sleepers | |
| Pros | Cons |
Material: Hybrid (foam & coils)
Firmness: Medium
Customer Rating: 4.6/5
Delivery: 2-7 business days
Trial Period: 100 Nights
Warranty: 10 years
A firm mattress is a prime option for anyone seeking back pain relief because it distributes your weight evenly while still keeping the spine supported. The Casper Wave Hybrid takes it to a new level, incorporating distinct support "zones" around the upper body, lumbar region, and lower body. As a result, this mattress got a top score for spine alignment, reaching a 9 out of 10. Its internal coil system ensures targeted relief for sensitive pressure points and a sore back, while a foam layer contours to your body and helps you feel cradled in place. The balance of pressure-relieving foam and springy coils creates a luxurious feel for a superior night's sleep.
Best Organic Firm Mattress – Birch Original
Pros and Cons of the Birch Original
| Pros | Cons |
| --- | --- |
| Great for back and stomach sleepers | May be too firm for some side sleepers |
| Good motion isolation for couples | Not good for sleepers who like the "sinking in" feeling of memory foam |
| Eco-friendly materials | |
| Pros | Cons |
Material: Hybrid (latex and coils)
Firmness: Firm (8/10)
Customer Rating: 4.6/5
Delivery: 5-10 business days
Trial Period: 100 Nights
Warranty: 25-year warranty
If you're looking to purchase a mattress that's good for allergies, the planet, and the people sleeping on it, the Birch Original mattress is an eco-friendly hybrid that uses natural materials for a natural, comfortable sleeping environment. This bed received perfect scores in edge support and durability, so sleepers can rely on the edges to provide ample support, but they can purchase this mattress knowing that its quality build is designed to deliver lasting comfort. Natural latex and pocketed coils keep the spine in healthy alignment and give the bed good responsiveness for good posture and ease of movement. Fire-retardant layers on the top and bottom of this mattress add an element of safety to the bed, while a soft cotton cover promotes breathability.
MA Score: The Mattress Advisor Score is a weighted score that takes into account 14 different factors related to the mattress' performance, function, convenience and the brand's social responsibility.
Firm Mattress Shopping Tips
While searching for the best firm mattress, make sure to consider how you like to sleep. Sleep position, lumbar support, and pressure relief are big determining factors in choosing a new firm mattress. Apart from the mattress, see what each brand has to offer in terms of sleep trials and warranties, ensuring you're getting the most out of your purchase.
Let's first dive into what constitutes a firm mattress.
How Do You Measure Firmness?
Mattress firmness is evaluated on a scale of 1 to 10: 1 represents the softest and 10 represents the firmest you can get. 6 to 7 on that scale denote medium-firm, while 8 and up are classified as true firm. Note that, when we talk about the firmness scale, we are talking about the immediate feel you have when lying down on the bed. This is not quite the same as support, though the two can be related.
Who Should Get a Firm Mattress?
Sleepers who suffer from back pain and need extra lumbar support benefit from a firm mattress. Spine alignment is important for all sleep positions, but sleepers with back pain may need even more support.
A firm mattress will work for stomach sleepers who don't want to feel like they are sinking down into their mattress. Sink too far, and it puts you at risk for back pain. Firm mattresses are often constructed to prevent sagging and remain supportive.
A firmer mattress option is a great pick for back sleepers who don't want to feel like their hips are disappearing into the top layer of their mattress. Sagging hips can contribute to a misaligned spine, and a firm mattress can help keep your body supported and your hips lifted.
Hot sleepers benefit from firmer mattresses, since there is little sink and almost no material that traps heat on the mattress surface.
Who Shouldn't Get a Firm Mattress?
Side sleepers who may want a softer mattress that hugs their hips and shoulders (which are major pressure points) may feel that a firm mattress is too hard on these joints. Medium-firm is a good bet for side sleepers, but a true firm may feel too strong. Plush mattresses are designed for those who want to sink into the comfort layer of their mattress.
Pros of Having a Firm Mattress
Spine alignment: Firmer mattresses can help you keep a straight and natural spine, which can help mediate or even eliminate any aches and pains.
Durability: Firm mattresses are often made from sturdier materials, which means they can hold up longer and support more body weight over time (a plus for couples and heavier sleepers).
Motion transfer: With a firm mattress, there is typically less risk of your movements disrupting your sleep partner.
Temperature regulation: Firmer mattresses tend to work well for temperature regulation, especially those that come with breathable materials, such as an organic cotton cover. With less cushioning material in the top layers, your body doesn't sink into the mattress quite as much, so less heat is trapped.
Edge support: Firmer mattresses are less likely to sag at the edges, which is especially welcome for those who like to sleep at the periphery of their bed.
Type of Mattress
Memory foam: Memory foam often falls somewhere in the medium-soft range, but a few mattress manufacturers now offer it in a firmer setting, as well. Whether used as the sole mattress material or simply as a support layer, memory foam tends to be great for relieving pressure points, promoting motion transfer, and offering zoned support.
Innerspring: Innerspring systems are great for responsiveness and typically lean toward the firmer side. They are made with metal coils, which tend to be great for promoting air circulation.
Latex: For those who prefer their beds to be made with natural materials, organic latex is one of the top options. Dunlop latex is firmer and made to be denser than softer Talalay latex. While latex is also cool and responsive, it's more expensive than a conventional foam mattress.
Hybrid: Hybrid mattresses are simply made from multiple mattress materials to have a firm feel and heightened support. They typically come at a higher price point but tote more features thanks to the inclusion of coils, foams, and latex. High-quality polyfoam relieves pressure points while supportive coils protect the entire body.
FAQ's
Is a firm mattress better for back pain?
Firm mattresses are great for those who prefer more support when they sleep, namely stomach sleepers and some back sleepers. Any mattress that keeps the spine aligned and works to relieve pressure is good for back pain, not necessarily all firm mattresses in general. Side sleepers, for example, might experience more back pain on a firm mattress, as they need more soft cushioning for their shoulders and hips. Stomach and back sleepers, on the other hand, will likely have less back pain on a firmer mattress.
Can a mattress be too firm?
Whether or not a mattress feels "too firm" is entirely up to the preference of the person sleeping on it. Granted, a bad mattress that offers little to no support and pressure relief probably isn't the best option for people, but some sleepers enjoy the extra supportive feel of a super firm mattress.
Will my firm mattress become softer as time goes by?
The support and firmness of your mattress will likely decrease over time. After all, mattresses have an estimated life span of around 7 to 10 years. There is also usually a "break in" period with new mattresses, during which time the foams, coils, or both adjust to the weight of the sleeper and become more conforming.
Will a firm mattress work well for side sleepers?
Side sleepers require good pressure relief around their hips and shoulders, allowing those points to sink into their mattress all while keeping the spine from sinking too far and out of alignment. While some side sleepers may enjoy the feel of a firmer mattress, most will need a softer bed to give them the blend of cushioning and support they need to sleep comfortably and pain-free.
Summary of the Best Firm Mattress