Each product we feature has been independently selected and reviewed by our editorial team. If you make a purchase using the links included, we may earn a commission.
The best memory foam mattresses have played a huge part in the bed-in-a-box mattress boom, proving to shoppers that affordable, pressure-relieving mattresses can be purchased online. But, there's a lot to think about when researching the best mattress for your needs—quality, comfort, price, and convenience. This Old House Reviews team worked with the expert review team at Mattress Advisor to evaluate the top memory foam mattresses for this mattress review, breaking down characteristics such as motion isolation, responsiveness, pressure relief, edge support, spine alignment, and cooling, to identify the best memory foam mattresses for your particular needs.
Affiliate Disclosure:This Old House's Reviews Team is committed to delivering honest, objective, and independent reviews on home products and services. To support this business model, This Old House may be compensated if you purchase through links on our website.
9 Best Memory Foam Mattresses – Our Top Picks
Top-Rated Memory Foam Mattress – Saatva Modern Foam
The Saatva Modern Foam relies on top-shelf, luxury mattress materials to create a space you look forward to retreating to night after night. Crafted with an organic cotton cover, latex, and layers of special foam by Saatva, these components provide more support capabilities than traditional memory foam. Combination sleepers can switch back and forth between positions with ease thanks to the great responsiveness of this bed (9 out of 10).
Sleepers that grapple with back pain each night will appreciate the Modern Foam's high spine alignment score, which ensures your lumbar stays supported no matter what. The latex offers superb breathability, making this one of the best cooling mattresses for those among us who tend to run warm when we sleep. Plus, to take one more item off of your busy schedule, Saatva will take care of delivery, set-up, and haul away your old mattress as part of your purchase.
Firmness: Medium-firm
Customer Rating: 4.8/5
Delivery: White glove delivery in 9-21 business days
Trial Period: 365 nights
Lifetime Warranty
Pros and Cons of the Saatva Modern Foam
Pros
Cons
Good option for all body types
Pricier than other options
Top spine alignment score helpful for sleepers with back pain
Delivery may take a while
Highly responsive
Pros
Cons
Best Value Memory Foam Mattress – Nectar Original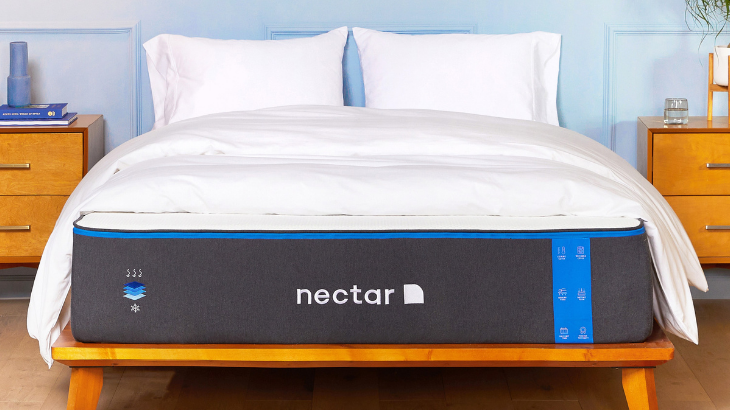 The Nectar mattress offers a lot of bang for your buck, making it ideal for shoppers on a budget: Customers can snag a queen-size mattress for less than $1,000 with Nectar's frequent deals and sales events. But that doesn't mean the Nectar isn't a high-quality memory foam mattress; in fact, it offers many of the same benefits as much pricier options, earning our vote for the best value mattress on this list. The Nectar responds well to your changing positions, keeps the spine aligned, and isolates your movements. Plus, the company sweetens the deal with an impressive 365-night sleep trial, a lifetime warranty, and a return policy that doesn't cost you a penny if you decide the Nectar mattress isn't right for you.
Firmness: Medium-firm
Customer Rating: 4.8/5
Delivery: 2-5 business days
Trial Period: 365 nights
Lifetime Warranty
Pros and Cons of the Nectar Original
Pros
Cons
Low price plus free amenities
Not best option for back pain sufferers
365-night sleep trial
Hot sleepers may require more cooling features
Lifetime warranty
Pros
Cons
Best Memory Foam Mattress for Combination Sleepers – Bear Original
The Bear Original memory foam mattress has a lot of features that make it especially appealing to combination sleepers, like high test scores in spine alignment (8.5 out of 10) and responsiveness (9 out of 10). Spine alignment, or maintaining a healthy posture as you sleep, is essential for every sleeper as you want your back to maintain a natural position no matter how you sleep. If the lower back isn't adequately supported, the hips can sink into the mattress and cause needless back pain.
With the Bear Original mattress, three durable support layers keep the spine elevated and comfortable, and a comfort layer of bouncy foam makes it easy to adjust in bed. Another perk of the Bear is that it incorporates a cooling cover and adaptive top layer to keep you from feeling like you're sizzling when you're supposed to be sleeping, it scored a 9 out of 10 in cooling. Bear often runs specials where they include free pillows with a mattress purchase, so you can snag a high-quality mattress and new accessories for a good price.
Firmness: Medium-firm
Customer Rating: 4.7/5
Delivery: 4-7 business days
Trial Period: 120 nights
Lifetime Warranty
Pros and Cons of the Bear Original
| Pros | Cons |
| --- | --- |
| Affordable price tag | Plus-size sleepers may need to seek out a more supportive mattress |
| Top marks in spine alignment, responsiveness, and cooling | Lackluster pressure relief |
| Pros | Cons |
Best Hybrid Memory Foam Mattress – Helix Midnight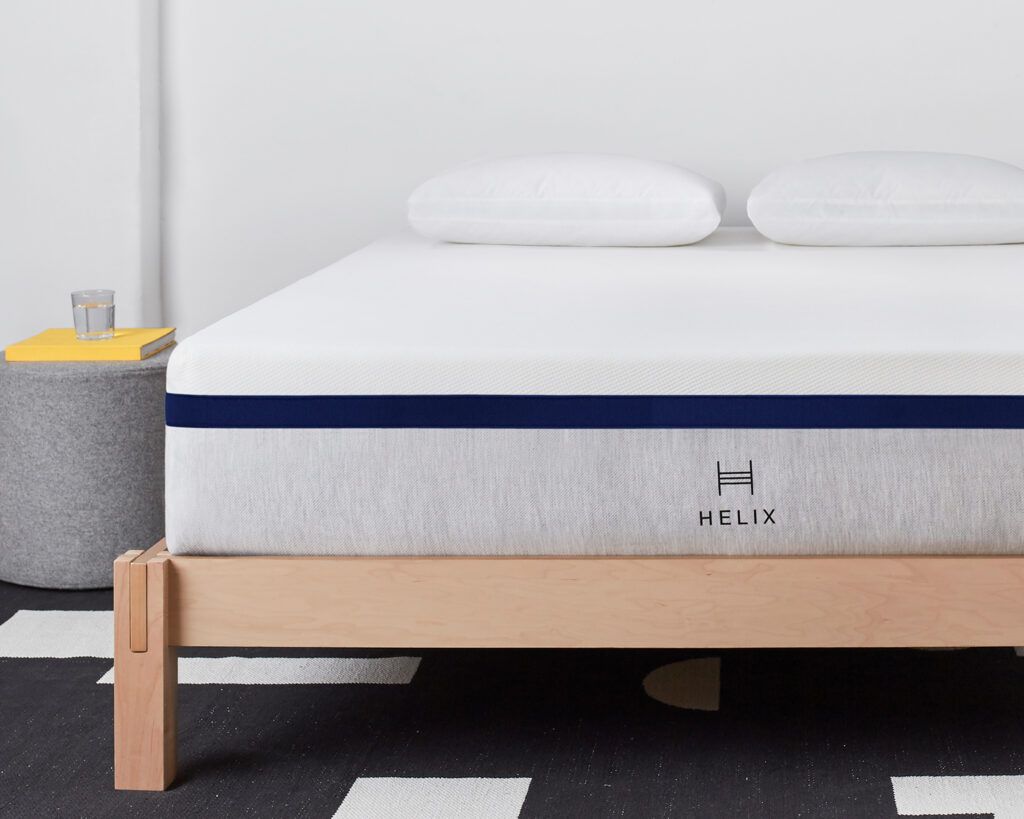 Want both firm support of coils and the plush contouring of foam in your mattress? You'll love the hybrid construction of the Helix Midnight. This mattress combines the best of both mattress types for a just-right sleep experience, with the responsive bounce of a spring mattress and the plush contouring of a foam mattress that's suitable for all sleep styles. The coils provide great spine alignment (9 out of 10) and the cushioning foam layers give sensitive areas like your hips and shoulders the pressure relief they need (8.5 out of 10). The foam layers allow for superb motion isolation (9 out of 10) making this a great option for couples. The Midnight's perfect edge support score helps with its longevity, overall performance, and keeps you from tumbling off the side of the bed if you sleep on the outer edges.
Firmness: Medium-firm
Customer Rating: 4.5/5
Delivery: 3-7 business days
Trial Period: 100 nights
Warranty: 10-year warranty
Pros and Cons of the Helix Midnight
Pros
Cons
Top-notch cooling, support, and motion isolation for couples
Lower cooling score compared to other hybrids, such as the Helix Midnight Luxe
Excellent spine alignment to stave off back pain
Some off-gassing smell when the mattress is opened
Very responsive to movement
Pros
Cons
Best Firm Memory Foam Mattress – WinkBeds GravityLux
Memory foam tends to be synonymous with a softer mattress feel, but that's not necessarily the case with all memory foam beds. The WinkBeds GravityLux aims to go above and beyond in providing the ideal bed that caters to all kinds of sleepers, even back and stomach sleepers who prefer a firmer surface while they sleep. WinkBeds GravityLux uses three types of foam that specialize in cooling, pressure relief, and overall durability. The top-most foam layer contains air capsules that have a "shock-absorbing" effect, keeping any weight and strain off sensitive areas and isolating motion, so you won't wake up if your partner gets up in the middle of the night. A secondary layer maintains firm support below the lower back and softer support around the hips and shoulders. The final layer of support foam assists with long-term durability and overall support for the mattress's structure.
It's all wrapped in a breathable, cooling cover with a layer of gel-infused memory foam for extra heat dissipation. WinkBeds is known as one of the leading affordable luxury mattress brands, letting you customize your preferred firmness (GravityLux included), plus a lifetime warranty.
Firmness: Soft, Medium, Firm
Customer Rating: 4.8/5
Delivery: 7-10 business days
Trial Period: 120 Nights
Lifetime Warranty
Pros and Cons of the Winkbeds GravityLux
Pros
Cons
Incorporates cooling cover and foam
May not feel as cool as mattresses with innerspring cores
Customizable firmness options
Not enough lumbar support for stomach sleepers
Lifetime warranty
Pros
Cons
Best Soft Memory Foam Mattress – Dreamfoam Essential
Memory foam mattresses tend to fall somewhere in the medium to medium-firm range on the firmness scale, largely due to the fact that those are the more popular firmnesses for most sleepers. If, however, you want something even softer, we recommend the 14-inch Dreamfoam Essential mattress.
This is a budget-friendly bed crafted by Brooklyn Bedding that comes in five different heights, with the thinner models (six, eight, and 10 inches) being on a firmer end, and the thicker choices (12 and 14 inches) offering more plush softness to sink into. The Dreamfoam Essential comes with a cover that's both stain- and water-resistant, making this a great option for anyone with pets or children. This all-foam mattress performed exceptionally well in spinal alignment during testing, earning a near-perfect score that indicates it's great for keeping your spine in a healthy position while you sleep.
Firmness: Medium-soft to firm
Customer Rating: 4.7/5
Delivery: 4-7 business days
Trial Period: 120 nights
Warranty: 10-year warranty
Pros and Cons of the Dreamfoam Essential
| Pros | Cons |
| --- | --- |
| Budget-friendly option | Sleeps a bit warm |
| Different thicknesses offer various firmness options | Not responsive enough for combination sleepers |
| Pros | Cons |
Best Memory Foam Mattress for Back Pain – Puffy Lux Hybrid
Nearly 16 million adults in the United States report dealing with chronic back pain, which can make many elements of life, including sleep, more difficult. For those struggling to fall asleep or rest comfortably due to an aching back, we recommend trying a mattress that's geared towards your specific sleep position and offers good spinal alignment. The Puffy Lux Hybrid is one such mattress, best for stomach or back sleepers with back pain.
This hybrid earned a high score for spinal alignment in testing, plus good marks in cooling and durability. The medium-firm feel (a six out of 10 on the firmness scale) is best for back or stomach sleepers who need a bit more support and lift under their lower back and hips to keep the back in a comfortable position throughout the night. The Puffy Lux Hybrid also features a removable cover that's stain-resistant for easy cleaning and a more hygienic sleep space. During some promotional events, Puffy includes free pillows, sheets, and a mattress protector with the purchase of a mattress, too.
Firmness: Medium-firm
Customer Rating: 4.8/5
Delivery: 4-7 business days
Trial Period: 101 nights
Lifetime Warranty
Pros and Cons of the Puffy Lux Hybrid
| Pros | Cons |
| --- | --- |
| Good score in cooling | More expensive than other options |
| Excellent customer service | Lackluster edge support |
| Pros | Cons |
Best Memory Foam Mattress for Couples – Nectar Premier Copper
Sharing the bed can quickly become problematic for the quality of your sleep if your mattress isn't conducive to helping both partners sleep soundly. A good bed for couples should have plenty of motion isolation, should allow both sleepers to rest comfortably without overheating, and should be a good firmness that's suitable for multiple sleep positions. The Nectar Premier Copper is one such bed that couples should find more than suitable for their needs, combining four inches of memory foam infused with phase-change material to keep sleepers cool, a firmer high-density foam base, and a transition foam layer between the two. The thick memory foam helps prevent motion transfer, keeping disturbances from each partner's movements to a minimum. The medium-firm feel and responsive foam is suitable for back, side, and combination sleepers; most stomach sleepers, especially heavier sleepers, will likely need a firmer mattress with more support.
Firmness: Medium-firm
Customer Rating: 4.8/5
Delivery: 3-7 business days
Trial Period: 365 nights
Lifetime Warranty
Pros and Cons of the Nectar Premier Copper
Pros
Cons
Two firmness options in one mattress
Not as cooling as other mattresses
Lifetime warranty
Can take up to a month to break in the mattress
Good for those with back pain
Pros
Cons
Best Memory Foam Mattress for Side Sleepers – Layla Original
The Layla mattress offers two comfortable sleeping surfaces with its flippable foam design, both of which are perfect for side sleepers and those looking to alleviate joint pain. On one side, it's a firm memory foam mattress that sleepers of all styles enjoy. Even though this side has a firmer feel, there's just enough "sink" to keep pressure points padded. On the other side, it's a soft mattress, ideal for lightweight side sleepers who need a little added cushioning for their hips and shoulders while they sleep. Together, these foam layers assist with spinal support (9 out of 10 in spine alignment) and pressure relief. No matter which side you choose, Layla's dual-foam layers are highly responsive (9.5 out of 10) and adapt to your movements, which is perfect for combination sleepers who tend to move around as they rest.
Firmness: Medium-soft, Medium-firm
Customer Rating: 4.5/5
Delivery: 3-7 business days
Trial Period: 120 nights
Lifetime Warranty
Pros and Cons of the Layla Original
Pros
Cons
Two firmness options in one mattress
Not as cooling as other mattresses
Lifetime warranty
Can take up to a month to break in the mattress
Good for those with back pain
Pros
Cons
MA Score: The Mattress Advisor Score is a weighted score that takes into account 14 different factors related to the mattress' performance, function, convenience and the brand's social responsibility.
Who Should Get A Memory Foam Mattress?
Memory foam is a stand-out mattress type for side sleepers, sleepers with joint pain, and couples in particular. Thanks to years of development and engineering, this material now can help maintain healthy lumbar support and keep weight off areas of the body dealing with pressure, such as the hips and shoulders. However, plus-size sleepers, stomach sleepers, and sleepers who run on the warmer side may need a more supportive, cooling bed such as a hybrid mattress.
I'm Shopping for a New Memory Foam Mattress: What Should I Look For?
Types of Memory Foam
When looking for a new memory foam mattress, it can feel like there are a lot of differences between the types of foam used and the types of mattresses. This can get confusing if you aren't sure what the benefits and disadvantages are of each type of foam. To help you make your decision, we've outlined some of the notable information about types of memory foam and how these mattresses compare to other mattresses.
Memory foam falls into one of these three categories:
Traditional memory foam: Also called viscoelastic, this type of memory foam is derived from polyurethane foam (or polyfoam), and is the most commonly used foam in mattresses.
Plant-based foam: Beds made with plants, such as coconut or soy, are more breathable, bouncy, and eco-friendly.
Gel-infused foam: Memory foam can be infused with cooling gels to help with temperature regulation.
Memory Foam Vs Other Mattress Types
Memory Foam Vs Innerspring: These two mattress types typically fall on different ends of the firmness spectrum, with foam being a softer material and innerspring coils having a firm feel. Where memory foam may not feel supportive enough for plus-size sleepers, innerspring can provide extra support.
Memory Foam Vs Hybrid: Both of these mattress types are some of the most sought-after on the market, but many sleepers can prefer one over the other. Hybrids contain innerspring coils, which can be more helpful for cooling and keeping the spine supported. Memory foam is softer, offering more pressure relief.
Memory Foam Vs Latex: While both mattress types perform when it comes to pressure relief and responsiveness, it ultimately boils down to cooling and price. Latex is a material that is cooling by nature, but because of sourcing, latex mattresses ring in for a far higher price than most memory foam mattresses.
Memory Foam Factors
Indentation Load-Deflection (ILD): This technical-sounding term essentially refers to how firm a mattress is. A low ILD will be more contouring but too sinking. A high ILD will be too firm and lack the cushioning comfort you'd expect from memory foam. The sweet spot is somewhere right in the middle.
Density: The foam's density defines how well it responds to movements and also provides pressure relief. High-density foam will adapt to your body and provide great pressure relief, but may not be responsive enough to movement. Sinking is more likely to occur with this type of foam. With low-density foam, it remains highly responsive and can bounce back into shape quickly but will not parlay the same level of pressure relief as a foam with a higher density.
Thickness: Most memory foam mattresses vary in thickness, available from 6 inches to 14 inches, though some are thinner or thicker. Note that thinner mattresses may not provide adequate support. Thicker mattresses, especially ones that exceed 14 inches, can be more expensive. If you plan to invest in a thicker mattress, make sure your sheets are deep-pocketed so that they can accommodate for the added girth.
Memory Foam Mattress Performance Factors
Responsiveness: What people love about memory foam is how the mattress hugs around their bodies. But too much of a good thing is not necessarily great. The best memory foam mattresses balance this effect with support and responsiveness, ensuring the materials react quickly to your movements and don't leave you stuck in the bed.
Pressure relief: Sleeping on a too soft or too firm mattress can result in pressure point discomfort, such as at the shoulders or hips. The best memory foam mattress can help evenly distribute your body weight, depending on your sleep position and the firmness level of your mattress.
Spine alignment: The best memory foam mattress allows your shoulders and hips to sink deeper into the mattress while holding up your middle section so that your spine stays aligned. This helps prevent or relieve back pain and ensures a better night's sleep.
Motion transfer: No one wants to be rattled awake during a restful slumber. But if you sleep with a partner or even a pet, you know how easily your sleep can be disrupted when they switch positions or get out of bed for a bathroom break. Memory foam mattresses that can isolate a sleeper's movements are especially great for light sleepers.
Temperature regulation: Traditional memory foam is known for its tendency to trap body heat. Newer versions use open-cell technology, or foam with air bubbles built in, to improve airflow and offer a cooler night's sleep.
Edge support: Why is edge support important? If you tend to sleep toward one side of the bed or sit on the edge of the bed to put on your shoes, you may notice sagging at the edge. Beds with higher edge support mean you can hang out at the outer edges feeling just as supported as you would in the middle of the bed.
Durability: For the most part, memory foam mattresses are durable, lasting on average about 7-10 years. High-density foam is more durable and longer-lasting. Flipping or rotating your memory foam mattress also helps ensure maximum performance and long-term use. Mattress accessories like mattress protectors and mattress toppers can also extend the life of your bed.
Off-gassing and odors: Don't be surprised if you open the box to your brand new memory foam mattress and smell a slight odor. That's the off-gassing of volatile organic compounds. These chemicals at low levels are not harmful and typically dissipate within a couple hours to a few days after the mattress is unpackaged.
Price: Expect to pay between $500 to $2,000 for a quality memory foam mattress. The price is generally dictated by the quality and density of the foam. The higher the density, the higher quality and, thus, the higher the price. Some luxury mattresses can cost even more. But beware of cheap memory foam mattresses that cost a few hundred dollars. They may not provide long term support or durability.
Shipping and Delivery
One of the best advantages of memory foam is that you can purchase a mattress entirely online without ever setting foot in a retail store. Most memory foam mattresses can be compressed, and a bed-in-a-box will be delivered to your doorstep. Some mattress companies also offer to set up and unpackage your new mattress as well as haul away your old one.
Sleep Trial and Warranty
If you're worried about ordering a bed online without first testing it out, you can rest assured knowing that many mattress companies offer a sleep trial period. Many offer at least 100 nights—and some offer free returns if you're not completely satisfied with your mattress purchase. Plus, most mattresses come with a warranty that ranges from 10 to 15 years. However, some offer lifetime warranties.
FAQs
How firm should my memory foam mattress be?
Memory foam mattresses usually range between soft, medium-firm, firm, and extra-firm. A medium-firmness will work best for sleepers with back pain, as it's a good balance of being soft yet supportive. Side sleepers should steer towards a softer to medium-firm mattress, while back and stomach sleepers should go from medium-firm to firm to maintain spinal support.
Do memory foam mattresses last a long time?
Nowadays, memory foam mattresses are manufactured to stay durable and stand the test of time. Look for the use of high-quality foams that come with certifications such CertiPUR-US. The thickness of the foam used in a mattress can also help determine its longevity.
What kind of foundation will work with my memory foam mattress?
Another great feature of memory foam mattresses is that they work well with most bed frames and foundations. Innerspring mattresses require box springs, but memory foam does not. You can put your memory foam on a box spring if you wish. But placing them directly on a slatted foundation helps with airflow and keeps the mattress cooler at night. Platform foundations should be firm enough to allow the mattress to keep the spine in alignment. Some memory foam mattresses are also comparable with adjustable bases.
Can I get a memory foam mattress for under $1,000?
Yes, many of the top mattress in a box retailers will regularly run deals that bring the price below $1,000. Many brands like Nectar, Cocoon, and Bear will also give you free mattress accessories to go with your new bed purchase. During holiday sales, the price tag can drop even more.
What are the disadvantages of a memory foam mattress?
Memory foam mattresses are great options for some sleepers, but not all. Those who sleep hot and overheat at night should steer clear of most memory foam mattresses, due to the heat-trapping nature of memory foam. That's not to say all memory foam mattresses sleep hot, but those who are sensitive to heat while sleeping may experience discomfort. Stomach sleepers who need a firmer, more supportive sleep surface should also opt for a different mattress type, as memory foam tends to be softer and more cushioning, which is better for side or back sleepers.
Summary of the 9 Best Memory Foam Mattresses