Each product we feature has been independently selected and reviewed by our editorial team. If you make a purchase using the links included, we may earn a commission.
You start and end each day in the same spot—the bedroom. And if you sleep with a partner, a well-designed master bedroom that addresses both of your sleep needs is especially important. After all, your bedroom sets the stage not only for your quality of sleep but the quality of your relationship with your partner. So, when tackling a bedroom renovation, make sure your game plan includes finding the best mattress for couples: The right mattress does more than simply transform the feel and look of the room, but also helps to improve your shared sleep health and overall satisfaction as a couple.
There are a few factors you'll want to consider. For starters, if your relationship goes the distance, you'll want a high-quality mattress that can also withstand the test of time. And to ensure you both enjoy your mattress for all those years to come, you'll want to give more weight to certain mattress qualities. For instance, good motion isolation if your partner sleeps light; cooling properties if your partner sleeps hot; and solid support for differing sleep styles if your position preferences aren't aligned. Plus, if you're revamping your space, you may want a budget-friendly mattress that won't add to your costs.
This Old House Reviews Team took all of these factors into consideration and rounded up the 11 best mattresses for couples, with crucial help from the expert testers at Mattress Advisor and their 14-step mattress review process. The best part: Because most of these are bed-in-a-box mattresses, they're priced low and available online. Consider your options by taking a look at our top picks.
Affiliate Disclosure:This Old House's Reviews Team is committed to delivering honest, objective, and independent reviews on home products and services. To support this business model, This Old House may be compensated if you purchase through links on our website.
Best Mattress for Couples – Our Top Picks
Best Overall Mattress for Couples – DreamCloud Original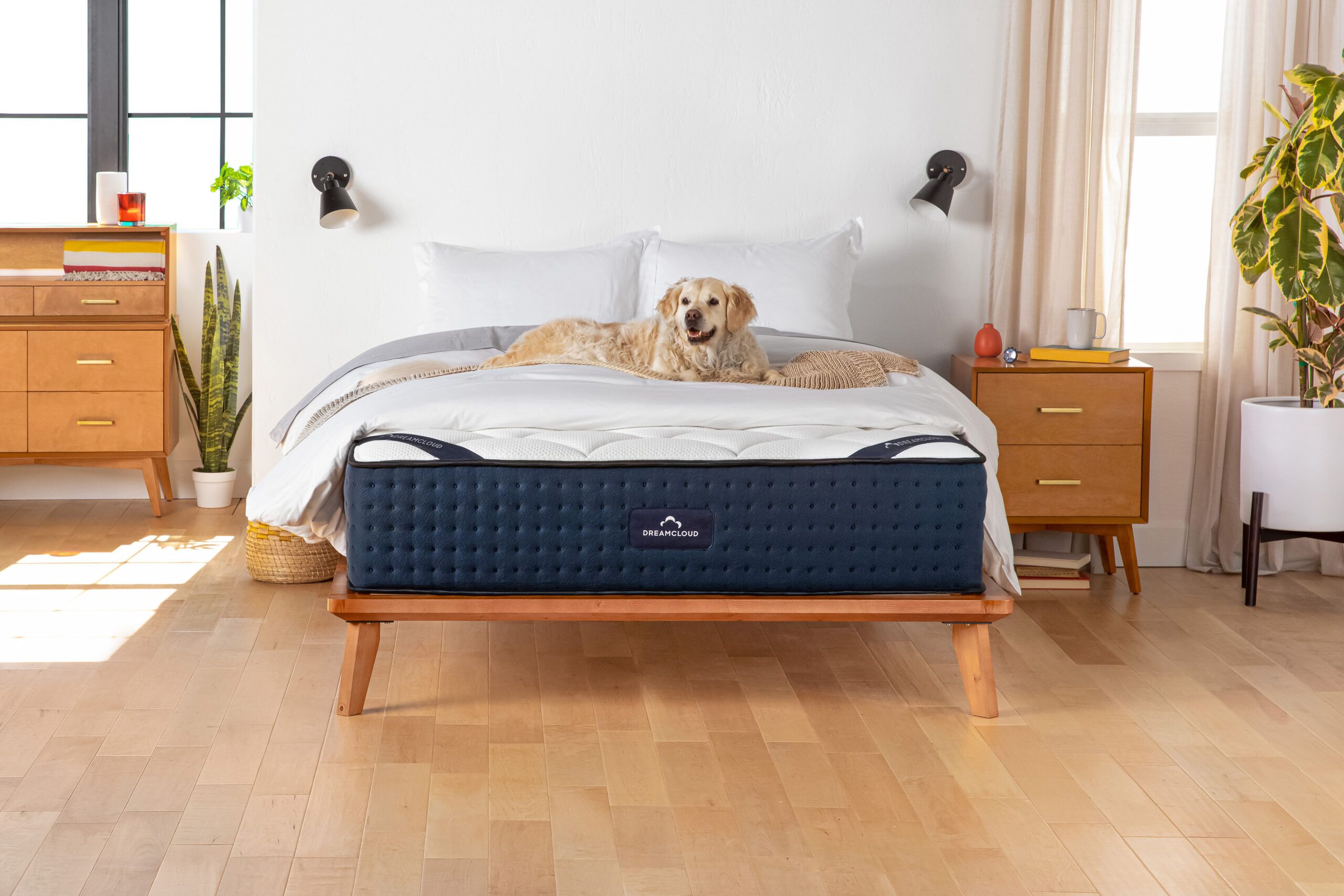 Pros and Cons of the DreamCloud
| Pros | Cons |
| --- | --- |
| Affordable hybrid with top test scores | Its medium-firmness may be too much for light sleepers who require a softer bed |
| Lifetime warranty that only adds to the value of this mattress | |
| Works for all sleeping positions | |
| Pros | Cons |
Material: Hybrid (foam and coils)
Firmness: Medium-Firm (6.5/10)
Customer Rating: 4.6/5
Delivery: Delivers in 18-21 business days
Trial Period: 365 nights
Lifetime warranty
If it's time to toss your old mattress, DreamCloud Original may be the luxe, affordable upgrade you've been looking for. The hybrid mattress earned our pick for best overall because of its superb construction at an affordable price—the brand often runs deals that put DreamCloud in the under-$1,000 category. The coil and memory foam build help the bed stay cool, while a cashmere cover gives you a soft place to rest your head. The coils are pocketed so that the springs move independently from each other, and help DreamCloud respond quickly to movement, support the lumbar and isolate motion. One quick note: If you're willing to spend a bit more for a thicker comfort layer try the DreamCloud Premier. The Premier also has slightly better motion isolation (rated 9 out of 10 to DreamCloud Original's 8.25 out of 10 by testers). Both mattresses have incredible value, year-long sleep trials, and lifetime warranties to boot.
Best Value Mattress for Couples – Nectar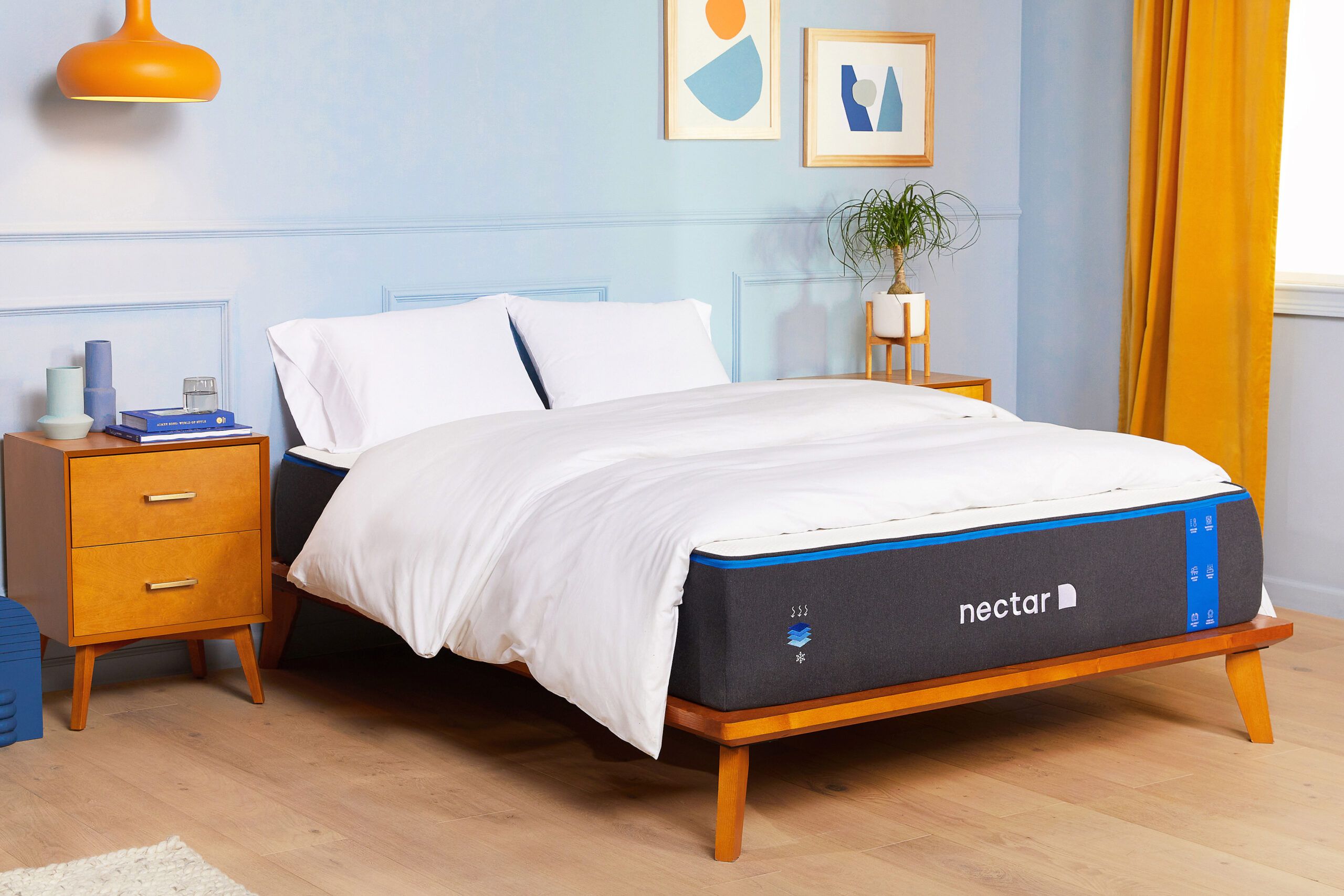 Pros and Cons of the Nectar
| Pros | Cons |
| --- | --- |
| Lifetime warranty | Not for hot sleepers |
| Low price point | During unboxing, off-gassing can likely occur |
| One-year sleep trial | |
| Pros | Cons |
Material: Gel memory foam
Firmness: Medium-firm (6/10)
Customer Rating: 4.8/5
Delivery: Delivered in 2-5 business days
Trial Period: 365 nights
Lifetime warranty
When redoing a bedroom, costly renovations may have left little room in your budget for a mattress, one of the pricier line items. Fortunately, you can sleep on a Nectar, a great value mattress for couples if affordability is a big factor. Mattress Advisor in particular, loves the pressure point relief offered by Nectar, despite its low price point. During testing, Nectar's gel memory foam layers quickly sprung back into place as testers moved around, no matter what sleep position they chose. When it comes to responsiveness, the Nectar is great for sleepers (and the partners of sleepers) who toss and turn at night.
Best Mattress for Back Pain – Saatva Classic
Pros and Cons of the Saatva Classic
| Pros | Cons |
| --- | --- |
| Perfect spine alignment score thanks to lumbar support layer and coils | Did not achieve the highest score for isolating motion |
| Works well for back, stomach, and side sleepers | Luxury materials factored into the price |
| Customizable features and free delivery | |
| Pros | Cons |
Material: Hybrid
Firmness: Plush (3/10), Luxury Firm (6/10), Firm (8/10)
Customer Rating: 4.8/5
Delivery: Free white glove delivery with purchase
Trial Period: 365
Lifetime warranty
If you're looking for a worthy throne to cradle you or your partner's bad back, check out the Saatva Classic. This mattress performs exceptionally well for cooling, durability, responsiveness, and (crucial for back pain) lumbar support. The bed also boasts lots of luxury with its thick organic cotton pillow top, held up by two layers of supportive coils underneath. No need to check into a five-star hotel; the Saatva Classic offers customizable height and firmness options so you can get exactly what you want. Saatva throws in free white glove delivery which handles delivery and setup for you, so you'll have more time to focus on other renovation projects.
Best Luxury Mattress for Couples – Nolah Evolution
Pros and Cons of the Nolah Evolution
Pros
Cons
Good choice for heavy sleepers
One of the pricier mattresses we recommend
Long-lasting, durable 15" build
Can take up to 30 days to break in the mattress
Customizable firmness options available
Pros
Cons
Material: Hybrid (foam and coils)
Firmness: Plush (5/10), Luxury-Firm (6.5/10) and Firm (8/10)
Customer Rating: 4.8/5
Delivery: Delivers in 3-4 business days
Trial Period: 120 nights
Lifetime warranty
If your bedroom renovation is one that you plan to enjoy for years to come, a luxury mattress like the Nolah Evolution may be a worthwhile splurge. With an impressive 15" build of foam and individually wrapped coils, the mattress lends itself to an exceptionally luxe sleep experience. The top layers of foam are infused with graphite to promote cooling and pressure relief. And because testers said Nolah's comfort layers also do an excellent job isolating motion, you don't have to worry about disturbing your partner when you get up to make a midnight snack run. You can select from one of three Evolution models (Plush, Luxury-Firm, and Firm) to most align with you and your partner's firmness preferences.
Best Mattress for Side Sleepers – Helix Midnight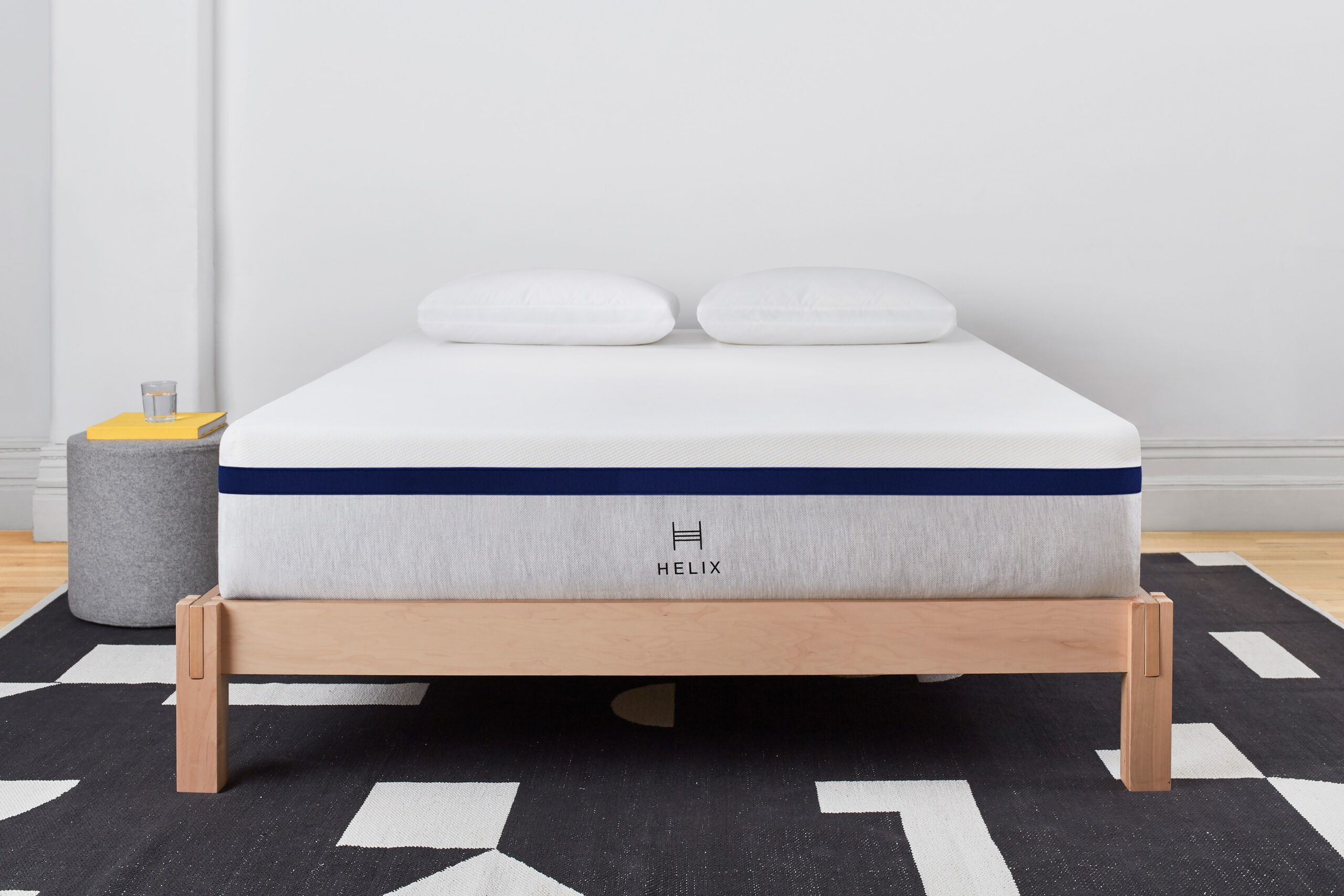 Pros and Cons of the Helix Midnight
| Pros | Cons |
| --- | --- |
| This hybrid build is highly supportive but breathable for hot sleepers | Less cooling than the more expensive Helix Midnight Luxe |
| Excellent lumbar support prevents and eases lower back pain | Slight off-gassing smell when unboxed |
| Pros | Cons |
Material: Hybrid
Firmness: Medium (6/10)
Customer Rating: 4.5/5
Delivery: Delivers in 3-7 business days
Trial Period: 100 nights
15-year limited warranty
Spine alignment, pressure relief, and responsiveness are all important factors side sleepers have to keep in mind when searching for a new mattress. Luckily, the Helix Midnight is up to the task with the test scores to back it. It achieved high scores in all three of these categories during testing. Springy coils and cooling foam also help with airflow, which is helpful for couples who are also trying to sleep cool. These materials also help the Midnight isolate motion, so nobody rocks the bed as they try and settle down for the night.
Best Mattress for Combination Sleepers – The WinkBed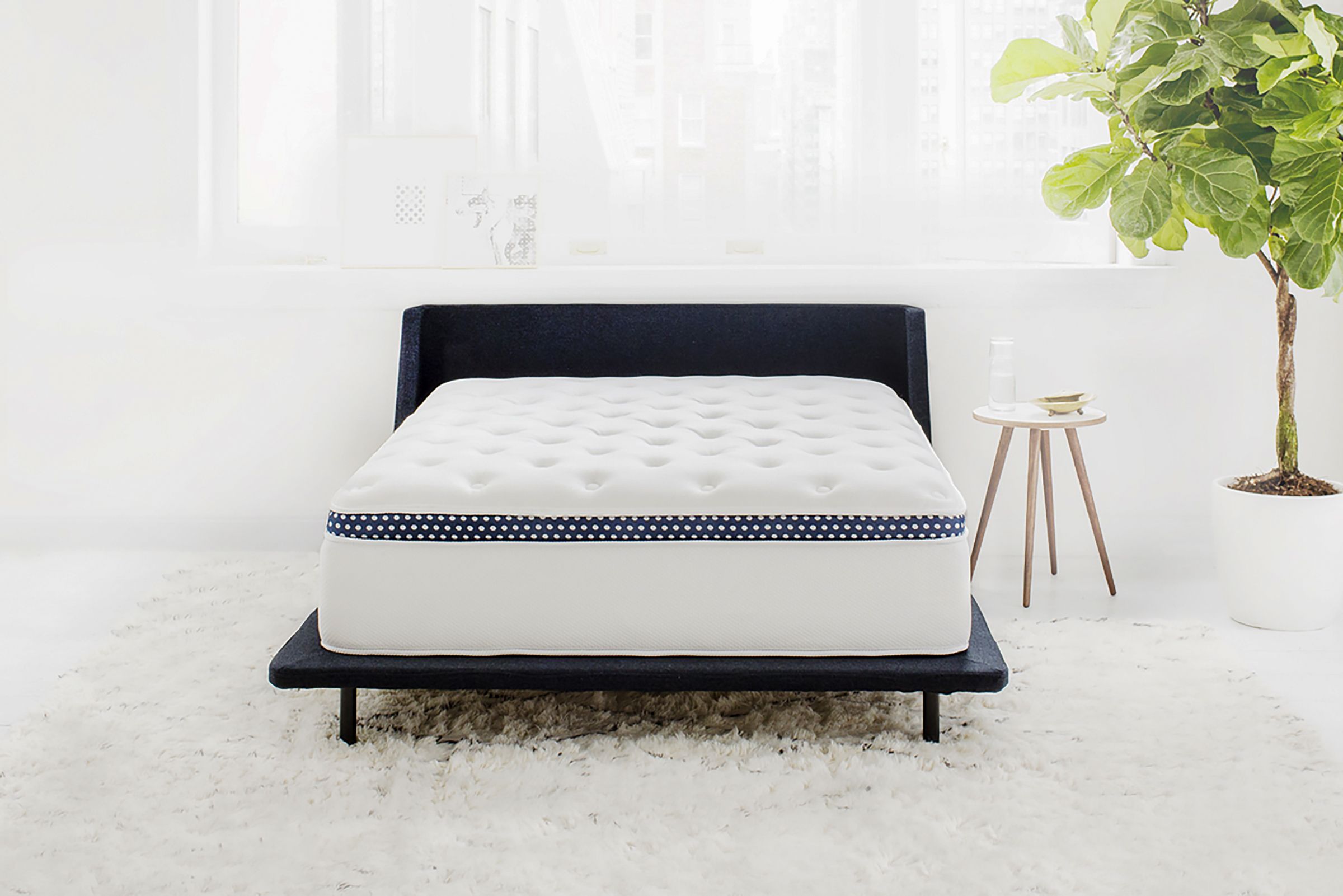 Pros and Cons of the WinkBed
| Pros | Cons |
| --- | --- |
| Top layers of foam keep pressure off joints | Higher price |
| Dual coil build is especially supportive for back and stomach sleepers | Light sleepers should be aware that The WinkBed has mediocre motion transfer |
| Pros | Cons |
Material: Hybrid (foam and coils)
Firmness: Medium-firm (6.5/10)
Customer Rating: 4.5/5
Delivery: 7-10 business days
Trial Period: 120 nights
Lifetime warranty
When it comes to deciding on a color scheme, opposites attract. But when deciding on a bed as a couple, you need a mattress that complements both you and your partner—even if your sleep styles are opposite. As a hybrid mattress with a medium-firm feel, The WinkBed flexibly accommodates multiple sleep styles: back, side, and stomach sleepers, and those who switch throughout the night. A responsive foam and coil base quickly supports, adapts and responds to your movements, making it easy to switch sleeping positions. A dual layer of memory foam comforts and contours as well, cradling your body. Top-rated edge support also means couples can comfortably take advantage of every square inch of The WinkBed, in whichever sleep positions you've settled into. For the time being, at least.
Best Mattress for Edge Support – DreamCloud Premier
Pros and Cons of the DreamCloud Premier
Pros
Cons
Great for side sleepers
Mattress runs heavy, so help may be required when moving it
A go-to for hot sleepers
Not entirely assembled in the U.S.
Suitable for all sleeper types
Pros
Cons
Material: Hybrid (foam and coils)
Firmness: Medium-firm
Customer Rating: 4.7/5
Delivery: Free shipping and returns
Trial Period: 365 nights
Lifetime warranty
As much as we love our significant other, sometimes we need our own space on the bed to spread out and get the proper rest we need. Therefore, having a mattress that offers consistent edge-to-edge support and comfort can be essential for ensuring we can experience quality sleep while sharing the bed. The DreamCloud Premier is an exceptionally durable (9/10) luxury-grade mattress that specializes in delivering support and comfort wherever you rest on the bed. Our testers gave the Premier an 8.5 out of 10 for its impressive edge support. Making this mattress not only an excellent choice for couples looking to spread out but also a go-to for side sleepers who utilize the side of the bed or older sleepers who struggle to get in and out of bed.
Beyond the Premier's edge support, testers also found the bed to offer consistent comfort wherever you sleep on it, scoring a 9 out of 10 for its responsiveness. And if you struggle with back pain and require quality relief in a bed, the DreamCloud scored a near-perfect 9 out of 10 for its ability to relieve pressure. In addition, the DreamCloud Premier is a hybrid of foam and coils, making it highly versatile and accessible to all sleeper types, including hot sleepers, scoring an 8.5/10 for its cooling ability. So whether cuddling with your partner or spreading out to the edge, expect restorative sleep and support with the DreamCloud Premier.
Best Mattress for Overweight Sleepers – Brooklyn Bedding Titan Plus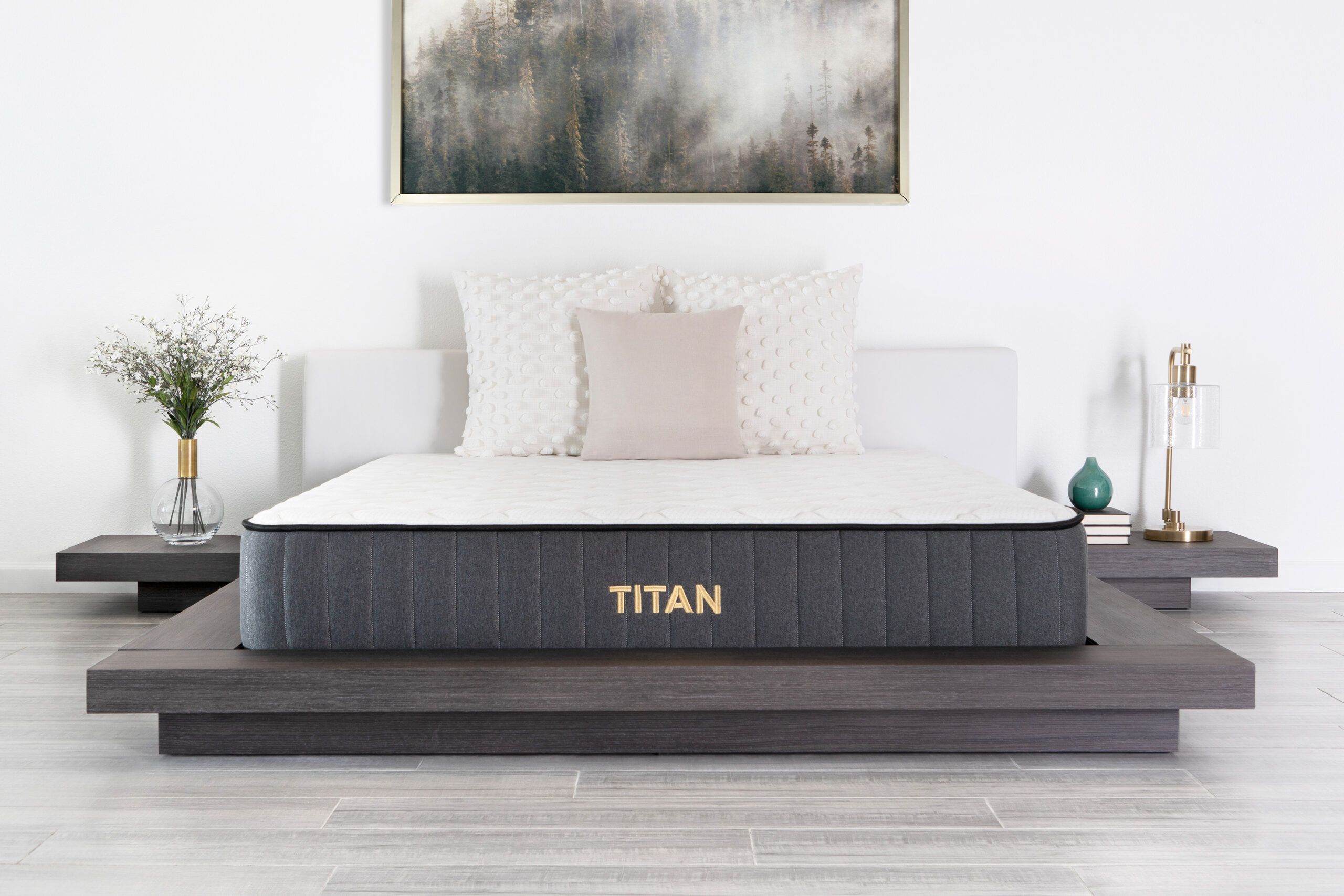 Pros and Cons of the Brooklyn Bedding Titan Plus
| Pros | Cons |
| --- | --- |
| Excellent spine alignment, which can provide relief for back pain | Not the most robust warranty |
| Option to add a modestly-priced ($150 for a Queen) cooling panel | Some off-gassing may occur during the unboxing and set-up process |
| Pros | Cons |
Material: Hybrid (foam and coils)
Firmness: Firm (8/10)
Customer Rating: 5/5
Delivery: Delivers in 2-5 business days
Trial Period: 120 nights
10-year warranty
Sometimes, there's nothing more supportive than a truly firm mattress, and one of the firmest out there is the Titan Plus. Designed with heavier sleepers of different weights in mind, testers said the Titan is uniquely supportive and responsive (rated 9.5 out of 10 for both spine alignment and responsiveness). That's especially good news for heavier stomach sleepers who need a mattress that won't let hips slump out of alignment with the neck and spine. You can elect to add a cooling panel to the top of Titan if you or your co-sleeper sleep hot, however, testers said it's not as necessary as it is for all-foam models by Brooklyn Bedding, like the flippable Plank Firm. Unlike the Plank Firm, the Titan Plus has a 6-inch support core of breathable coils, individually wrapped to better isolate motion (rated 9 out of 10).
Best Hybrid Mattress for Couples – Bear Star Hybrid
Pros and Cons of the Bear Star Hybrid
| Pros | Cons |
| --- | --- |
| Excellent spine alignment makes this a good choice for backache sufferers | Not great for side sleepers |
| Good choice for hot sleepers | Not for someone who wants a memory foam mattress |
| Durable and supportive | |
| Pros | Cons |
Material: Hybrid
Firmness: Medium-firm (6.3/10)
Customer Rating: 4.7/5
Delivery: Delivers in 7-10 business days
Trial Period: 100 nights
10-year warranty
After a long day of moving around furniture and tackling projects around the house, you're ready to hit the hay. Make sure your mattress is equipped with support features to help you rest up for tomorrow's tasks. Bear Star Hybrid relies on a cooling cover, foams, and innerspring coils to regulate body temperature and have you sleeping soundly. These same mattress components are very responsive, keeping the spine and pressure points boosted up. Bear develops its mattresses especially for athletic folks, but all sleepers can benefit from Bear Star Hybrid's cooling support.
Best Mattress for Couples who Toss and Turn – Bear Pro Hybrid
Pros and Cons of the Bear Pro Hybrid
Pros
Cons
Perfect for combination sleepers
All-foam design may not be ideal for hot sleepers
Exceptional motion isolation
Heavier sleepers may not experience adequate support
Great for back sleepers
Pros
Cons
Material: Hybrid (memory foam and coils)
Firmness: Medium-firm
Customer Rating: 5/5
Delivery: Free shipping and returns
Trial Period: 120 nights
Warranty: Lifetime
While you may sleep soundly and still on your back at night, your partner may be a combination sleeper who moves around, disturbing you throughout the night. The Bear Pro Hybrid is a four-layer durable hybrid mattress with individually wrapped coils that maintain exceptional motion isolation throughout the bed's core. In addition, the mattress is designed to accommodate all types of sleepers comfortably. Offering outstanding pressure-relieving support across the entire bed that helps even the most restless sleepers find a comfortable spot to rest.
The Bear Pro's memory foam and dynamic foam layers help to prevent disturbance between sleepers. Our testers found that despite one sleeper's movements on the Bear Pro's surface, the other sleeper could rest undisturbed while still experiencing consistent comfort despite sharing the bed. Regardless of the joy of sharing a bed with your partner, waking up in the night to their movements can cause resentment and grumpy mornings. The Bear Pro is built to help comfort you and your partner while providing a foundation of support that can offer each of you your own restful and sound space on the bed.
Best Cooling Mattress for Couples – Layla Hybrid
Pros and Cons of the Layla Hybrid
Pros
Cons
Different firmness levels available by flipping sides
The bed's heavy weight may be hard for some to flip it for different firmness options
Very breathable
May not be for fans of ultra-firm or ultra-soft mattresses
Durable construction
Pros
Cons
Material: Hybrid: coils and foam
Firmness: Medium-soft (4.5/10), medium-firm (7/10)
Customer Rating: 5/5
Delivery: Free shipping and returns
Trial Period: 120 nights
Warranty: 10 years
Falling asleep while feeling hot can be dreadful for some. It can be even more frustrating with the shared body heat that may come with sleeping next to your partner. Fortunately, the Layla Hybrid is built with a fusion of memory foam, polyfoam and coils to deliver a luxury combination of cozy comfort and temperature-regulating airflow throughout the bed's core. Testers gave the Layla Hybrid an 8.5 out of 10 for its cooling abilities. Helping to make cuddling with one's partner, even for the hottest sleepers, a far more pleasant experience.
In addition, if you or your partner struggle with back pain, the Layla Hybrid can offer restorative sleep and near-perfect spinal alignment scoring a 9 out of 10. However, despite Layla's excellent cooling abilities, if you still find yourself sleeping hot and needing space from your partner, you can expect quality and consistent comfort throughout the bed's surface. Our testers found the Layla Hybrid to have fantastic responsiveness (8.5/10) and edge support (8.5/10). In conclusion, for sweat-free nights of rest and cuddling, consider the Layla Hybrid a gift for hot sleepers seeking relief.
Shopping for Two: Finding the Best Mattress for Couples
Performance Factors
Motion transfer: Ever wake up to your bed shaking, as your partner moves around? A mattress's motion transfer measures how well it can stop this shaking from happening by absorbing the feeling of movement.
Temperature regulation: A mattress for two also means extra body heat. Look for the inclusion of gel memory foam, cooling technology, coils, and other cooling materials to help with temperature regulation.
Edge support: If you sleep at the edge of your mattress, pay attention to its edge support. A mattress with good edge support will keep you supported across the entire surface of your bed, keeping you from rolling off of the bed.
Mattress Size: Size is another key consideration when choosing the best mattress for couples. If you and your partner both love to cuddle, something like a queen size mattress is probably just fine. But if you prefer to have a little more personal space, you may want to look into a king or a California king.
Firmness Level: Usually, heavyweight sleepers require a firmer mattress to support them, while lighter sleepers are more comfortable on a plush mattress. If you and your partner have different body types, you may want to look into a mattress that lets each of you select your own zoned comfort level.
Responsiveness: Responsiveness is a measure of how easy it is to move around on the mattress. This is an important consideration for anyone who tosses and turns.
Noise: Some mattress builds, particularly older innerspring mattresses, may be a little creaky. If noise is going to disrupt you or your partner, that's definitely something to think about as you shop for a mattress.
The Best Type of Mattress for Couples
Memory foam: There's a smushy comfort and contouring to mattresses that are fully memory foam: Beds made of layers of foam lend themselves to desirable qualities, including pressure relief, spine alignment, and motion isolation. In lieu of cooling tech such as a cooling gel foam layer, an all-foam bed may run a little hotter, but for couples who value pressure point relief or who like to feel as though they are being hugged to sleep, memory foam is usually the way to go.
Innerspring: Traditional innerspring mattresses have come a long way from their sad, quickly sagging uniform coil bases. Now, innerspring mattresses are often built with a "pocketed" coil system that individually wraps coils for excellent support and responsiveness without too much bounce. Pocketed coils in an innerspring mattress also create better airflow for a cooler night's sleep, although the lack of foam can also mean a lack of pressure point relief and spine alignment. And while innerspring mattresses aren't as well-known for their motion isolating ability, they do offer couples a sturdy, durable, cool, and responsive sleep experience.
Latex: Latex mattresses are more breathable than their closest counterparts, memory foam mattresses. Because a latex mattress is naturally one of the most cooling and hypoallergenic mattresses, couples who desire a clean, eco-friendly sleep experience may want to opt for a bed with a natural latex foam base.
Hybrid: Hybrid mattresses are a best of both worlds build, typically consisting of innersprings, a thick layer of foam, and with luxury models, a lush pillow top or another cushioning layer. Many couples will find that a hybrid mattress, while pricier, offers the best balance of comfort, support and suitability for different needs as a couple.
Delivery and Warranty
When selecting the best mattress for couples, there are a few final considerations to make.
Delivery: How long will it take for you to get your new mattress? Will you have to pay for delivery?
Setup: How hard will it be to unbox the mattress? Note that a few companies, including Saatva, will provide free setup in your bedroom, which just makes everything so much easier!
Sleep trial: You and your partner will have a certain number of nights to try out the mattress and ensure it's to your liking. You can get a full refund if you return the mattress during the trial period.
Warranty: Most mattress companies will offer you at least 10 years of protection against manufacturing defects. This can give you and your partner peace of mind as you make this big purchase.
Final Thoughts
Mattress shopping is exciting and no doubt a bit stressful–you're tasked with not only finding a mattress that fits your needs but your partner's as well. As you get started, establish what factors will be the most important to you with your new mattress. Whether that's cooling, mattress construction, lumbar support, or responsiveness for different sleep positions, discuss which elements your mattress will need to have. Finally, make sure to discuss your budget. Perhaps you are planning a home renovation or a new DIY project, and need to spread finances across the board. Plenty of the best mattresses for couples will fall under $1,000 and range up to $2,000.
Summary of The Best Mattress for Couples