Each product we feature has been independently selected and reviewed by our editorial team. If you make a purchase using the links included, we may earn a commission.
Are you looking for a simple way to make your bedroom more eco-friendly, or do you want an allergen-free sleep space? It may be time to replace your bed with one of the best latex mattresses available. Bedding products made with organic latex (that is, materials made from a rubber tree) represent some of the safest, cleanest, and most environmentally friendly options available today. Latex is a comfortable and increasingly affordable solution for those who want to avoid beds made with artificial chemicals.
This Old House Reviews team partnered up with Mattress Advisor to evaluate which latex mattresses online rose to the top. Each mattress was thoroughly tested via a 14-step process, with each category ranked between 1-10. Whether you are a side sleeper seeking pressure relief or want one of the top mattresses in a box, you can find the best latex mattress for your individual sleep needs in this roundup.
Affiliate Disclosure:This Old House's Reviews Team is committed to delivering honest, objective, and independent reviews on home products and services. To support this business model, This Old House may be compensated if you purchase through links on our website.
Best Latex Mattresses – Our Top Picks
Best Latex Mattress Overall – Saatva Latex Hybrid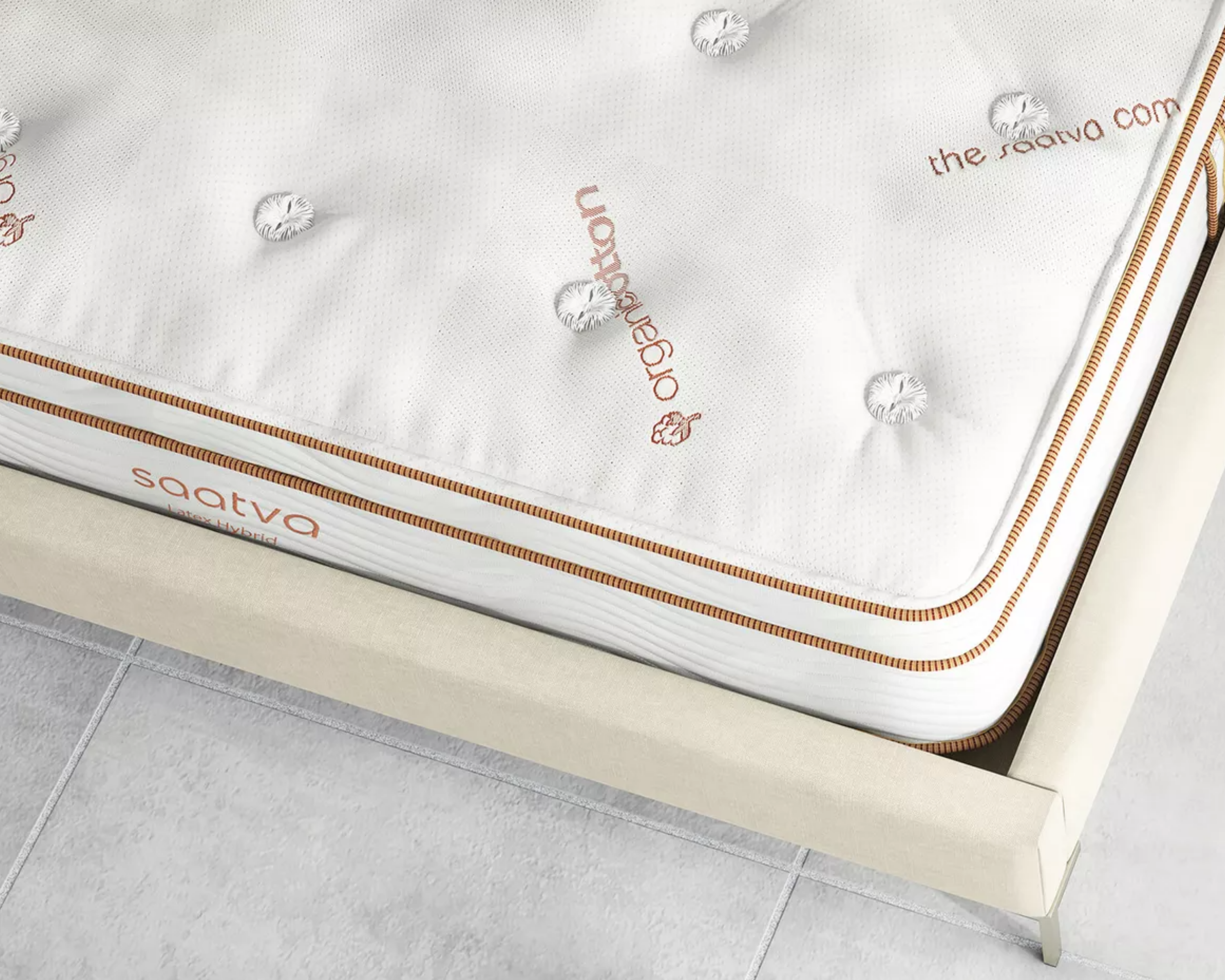 Whether you're looking for a completely organic mattress, are shopping for two, or need solid back support from your bed, the Saatva Latex Hybrid fits the bill. With an organic cotton cover, organic wool support layer, 3″ of Talalay latex, and coils, this is a completely hypoallergenic mattress that relieves pressure and soaks up extra body heat. You can be additionally reassured of the safety of Saatva's materials, as they comply with the GOLS (Global Organic Latex Standard) and GOTS (Global Organic Textile Standard) non-toxicity levels for latex and wool, respectively. The bed also isolates motion well, and its latex layer moves with you to stay responsive–both important factors for couples. Saatva provides white glove delivery with your new mattress, so a representative will handle the setup for you.
Firmness: Medium-Firm
Customer Rating: 4.9/5
Free White Glove Delivery
Trial Period: 365 nights
Warranty: Lifetime
Pros and Cons of the Saatva Latex Hybrid
| Pros | Cons |
| --- | --- |
| Free white glove delivery and set-up | Not recommended for those who want a more traditional foam feel |
| A great choice for combination sleepers | |
| High-quality materials ensure long-term durability | |
| Pros | Cons |
Best Latex Mattress for Side Sleepers – Birch by Helix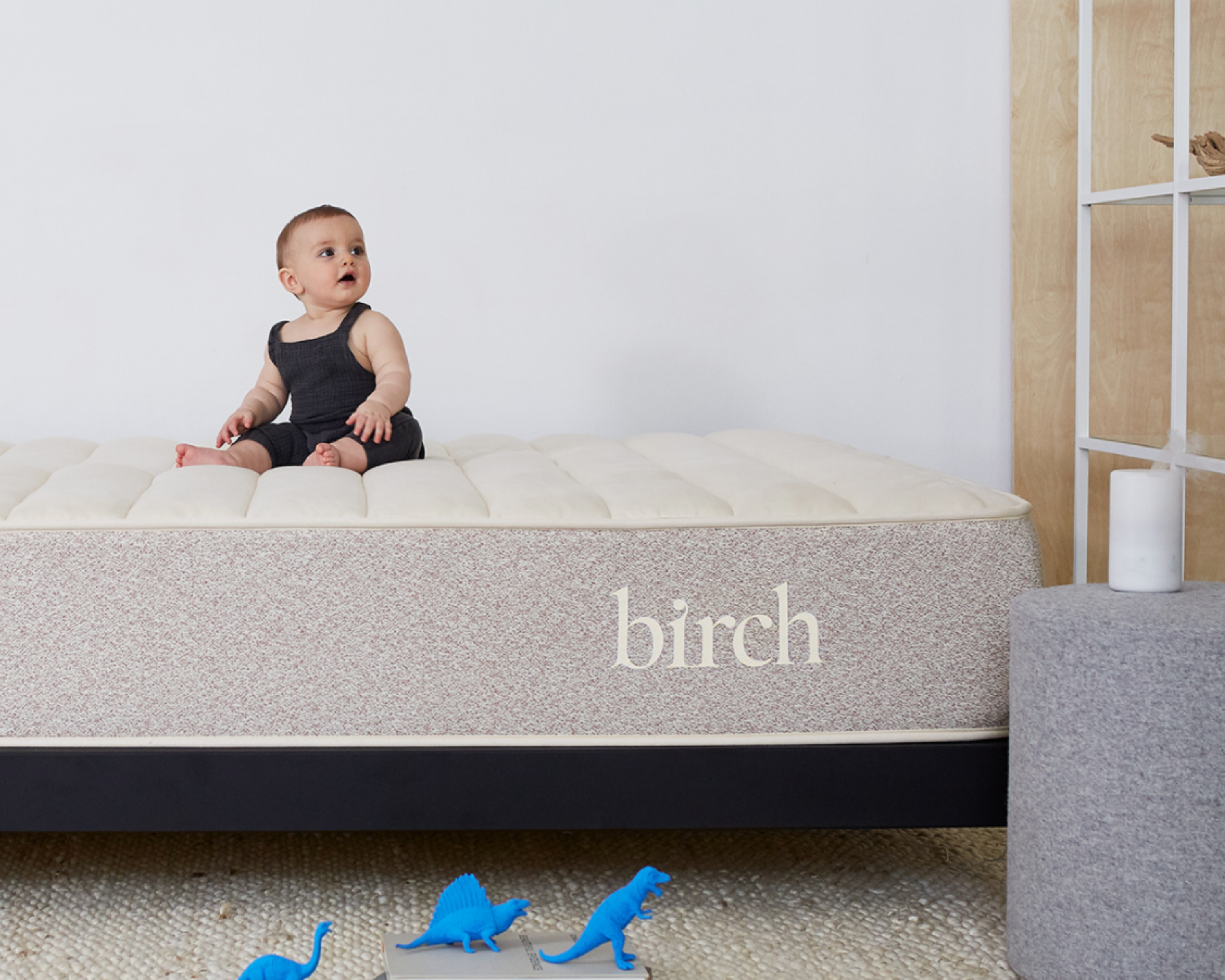 Side sleepers can experience benefits from the pressure-relieving support latex has to offer. Consider the Birch, which is handmade with breathable, natural wool from New Zealand, and layers of latex, which are GREENGUARD Gold, GOTS, and OEKO-TEX certified to be sustainably-sourced and free of harmful chemicals. The mattress construction ensures plenty of "give" for side sleepers, evenly distributing body weight to keep your shoulders and hips from feeling "bunched up" or strained. Not only does it offer the cushioning and supportive feel that side sleepers crave, but it also offers long-term durability that any shopper can appreciate. Helix is so confident in Birch's performance, they offer a generous 25-year warranty to back it.
Firmness: Medium-Firm
Customer Rating: 4.7/5
Delivery: 4-6 business days
Trial Period: 100 nights
Warranty: 25 years
Pros and Cons of the Birch
| Pros | Cons |
| --- | --- |
| High motion isolation scores, helpful for couples | Higher price tag due to natural materials; May want to skip if you're on a budget |
| Excellent long-term investment | Not one of the cooler entries on the list |
| Well-suited for side sleepers | |
| Pros | Cons |
Best Latex Mattress Under $1,000 – DreamFoam Elements Latex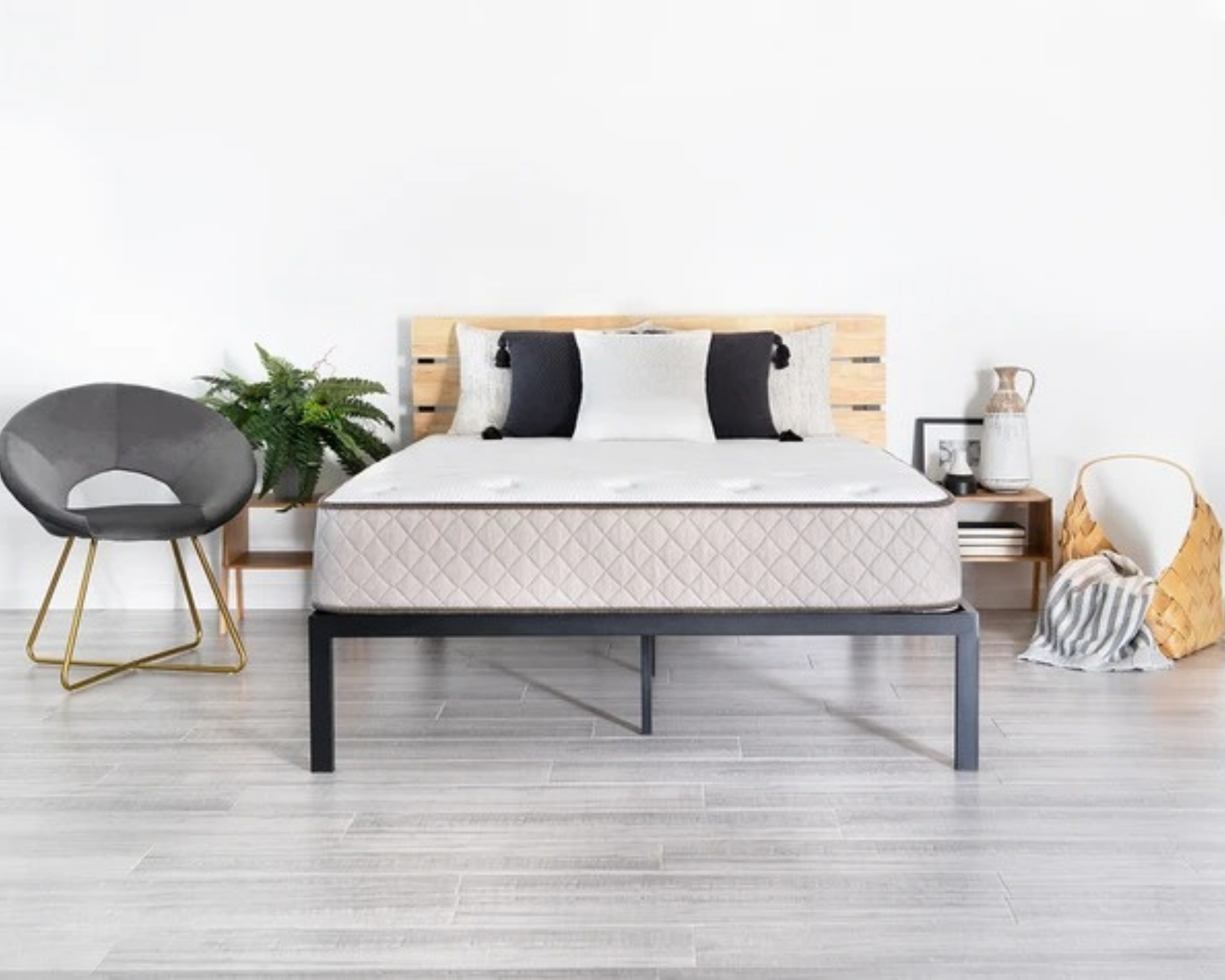 All-natural latex can be one of the priciest mattress materials, but the DreamFoam Elements Latex is the real deal for under $1,000. This hybrid compiles 4" of Talalay latex (OEKO-TEX certified for environmentally friendly sourcing), foam, and coils resulting in an affordable, supportive mattress. Mattress review testers found that these materials altogether helped keep the spine aligned while taking pressure off of the hips and shoulders. You'll also be able to choose between 10 to 12" for your mattress height and firmness level, ranging between soft, medium, and firm.
Firmness: Medium-Firm, Firm
Customer Rating: 4.6/5
Delivery: Up to 14 business days
Trial Period: 365 nights
Warranty: 25 years
Pros and Cons of the DreamFoam Elements Latex
| Pros | Cons |
| --- | --- |
| Good pressure relief test scores, helpful for side sleepers | Did not achieve high durability scores |
| Naturally cooling for hot sleepers on a budget | Did not provide solid edge support in testing |
| Decent motion isolation for couples | |
| Pros | Cons |
Best Customizable Latex Mattress – Plushbeds Botanical Bliss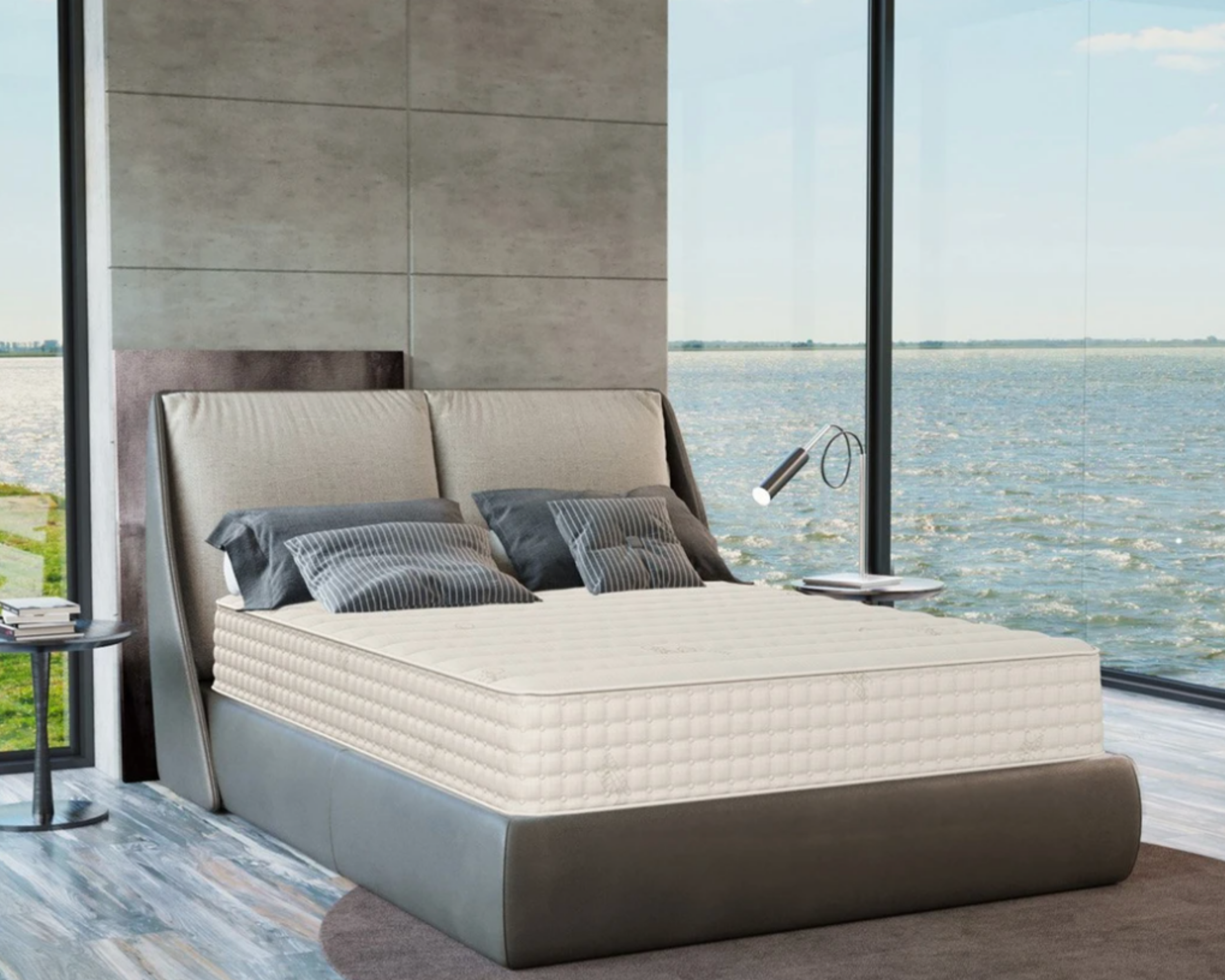 Looking for an all-latex mattress that you can customize to fit your body type, sleeping position, and comfort preferences? Check out the Plushbeds Botanical Bliss, a mattress that's hand-crafted from all-organic materials. Made to include chiropractic benefits, this mattress tested well for pressure point relief and lumbar support. The Plushbeds Botanical Bliss lets you choose between two firmness settings (medium and firm), as well as three different mattress heights. It's a mattress that you can make your own.
Firmness: Medium, Firm
Customer Rating: 4.9/5
Delivery: 10-16 business days
Trial Period: 100 nights
Warranty: 25 years
Pros and Cons of the PlushBeds Botanical Bliss
| Pros | Cons |
| --- | --- |
| Made with all organic materials | Not the best option for those who prefer a traditional foam feel |
| Great pressure relief | |
| Ideal balance of comfort and support | |
| Good pick for hot sleepers | |
| Pros | Cons |
Best Latex Mattress for Couples – Awara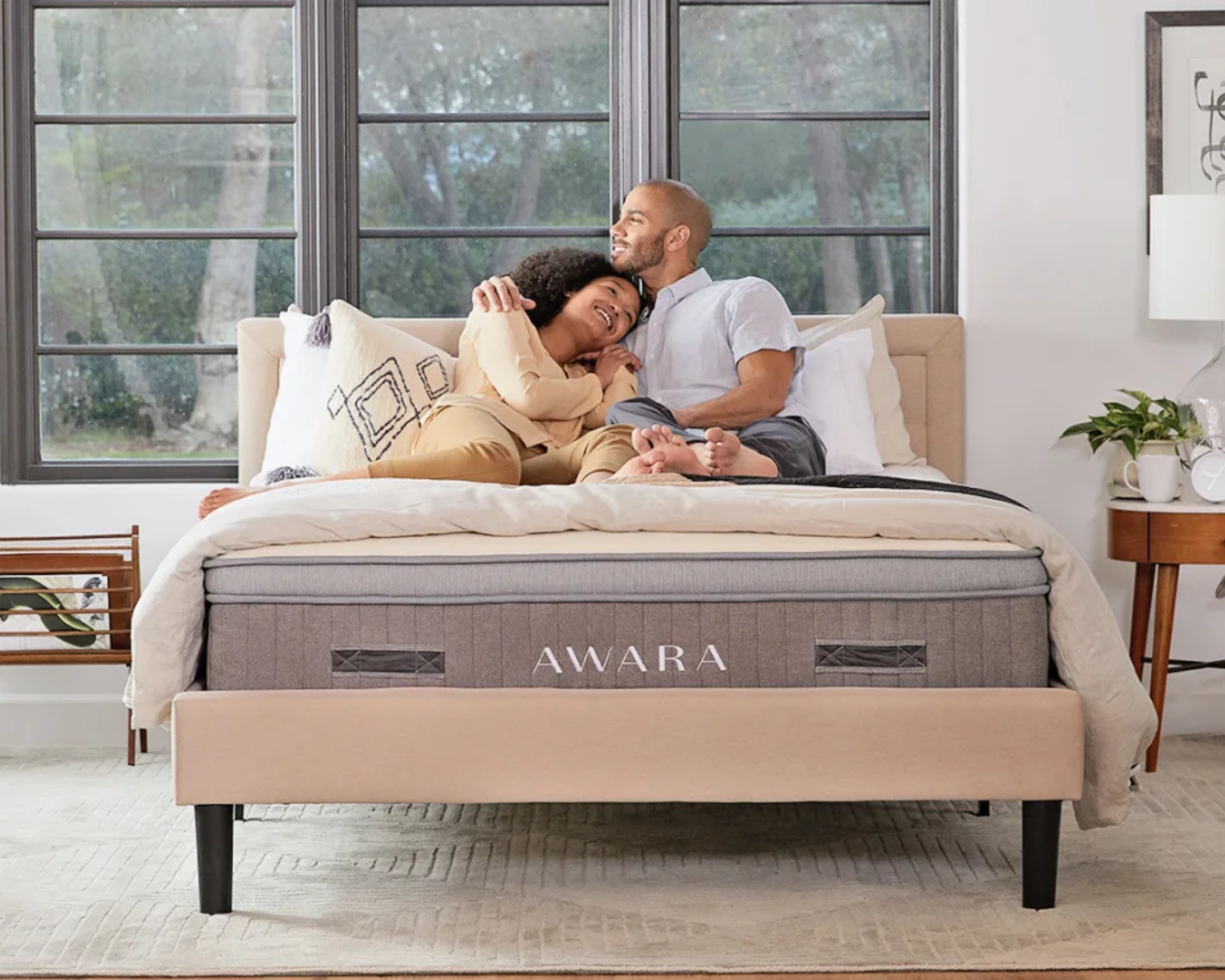 A medium-firm mattress made with latex and coils, the Awara mattress is especially recommendable for couples. The Awara scored a 9 out of 10 for motion transfer, meaning it prevents movements on one side of the bed from traveling over to the other. For couples who don't want to wake to the bed shaking, this is a major perk. Some other premium features include specially zoned pressure relief for entire-body and lumbar support, plus mattress materials that are naturally hypoallergenic and resistant to dust mites.
Firmness: Medium-Firm
Customer Rating: 4.8/5
Delivery: 3-5 business days
Trial Period: 365 nights
Lifetime Warranty
Pros and Cons of the Awara
| Pros | Cons |
| --- | --- |
| Recommended for hot sleepers | Not recommended for side sleepers |
| Recommended for sleepers with allergies | |
| Great for couples | |
| Pros | Cons |
Best Latex Mattress for Combination Sleepers – Brooklyn Bedding Bloom
Latex mattresses are one of the best options for combination sleepers who often change sleep positions through the night. The Brooklyn Bedding Bloom is a hybrid mattress containing latex, foam, and coils, plus a soft Euro pillow top with organic cotton and wool. Its latex top layer bounces back quickly to support you as you move, earning an 8.5 out of 10 for responsiveness. Latex naturally excels at pressure relief, and the Brooklyn Bedding Bloom is no exception. Testers found it softly cushioned the hips and shoulders, thus earning it a 9 out of 10 in this category. If you also sleep hot, the organic cotton cover is naturally moisture-resistant while the innerspring coil layer allows plenty of air circulation to keep your body well-ventilated.
Firmness: Medium
Customer Rating: 4.8/5
Delivery: 3-4 business days
Trial Period: 120 nights
Warranty: 10 years
Pros and Cons of the Brooklyn Bloom
| Pros | Cons |
| --- | --- |
| Great for combination sleepers | Not a top pick for budget shoppers |
| Highly responsive; good for those who suffer from back pain or joint pain | |
| Great for hot sleepers | |
| Pros | Cons |
Best Luxury Latex Mattress – Saatva Zenhaven
As far as mattress companies go, sleep experts hold Saatva in pretty high regard—the Saatva Latex Hybrid is our top pick, after all. But if you're looking for a bed that's even more self-indulgent, we suggest the brand's ultra-luxe Zenhaven mattress. The Zenhaven is the embodiment of a luxury hotel mattress, with each mattress made to order in one of several of Saatva's U.S.-based production facilities. 
The bed features natural Talalay latex and coils, allowing air and heat to easily pass through the mattress, regardless of which side you sleep on. Zenhaven is flippable, with a denser, firmer side, and a softer, cushier side—no plush mattress topper needed. Another luxury touch for this latex mattress is white glove delivery service, which not only brings the mattress to your doorstep, but all the way assembled into your bedroom. You can even schedule a mattress flip if you find the initial side of Zenhaven you choose isn't your preferred firmness.
Firmness: Medium-soft, Medium-Firm
Customer Rating: 4.9/5
Delivery: 9-21 days, free white glove delivery
Trial Period: 365nights
Lifetime Warranty
Pros and Cons of the Saatva Zenhaven
| Pros | Cons |
| --- | --- |
| Materials are GREENGUARD Gold certified for safety and GOLS-certified for sustainability | One of the highest price points for a latex mattress |
| Among the best cooling mattresses | Couples may prefer a bed with better motion isolation |
| Pros | Cons |
Best Organic Latex Mattress – Avocado Green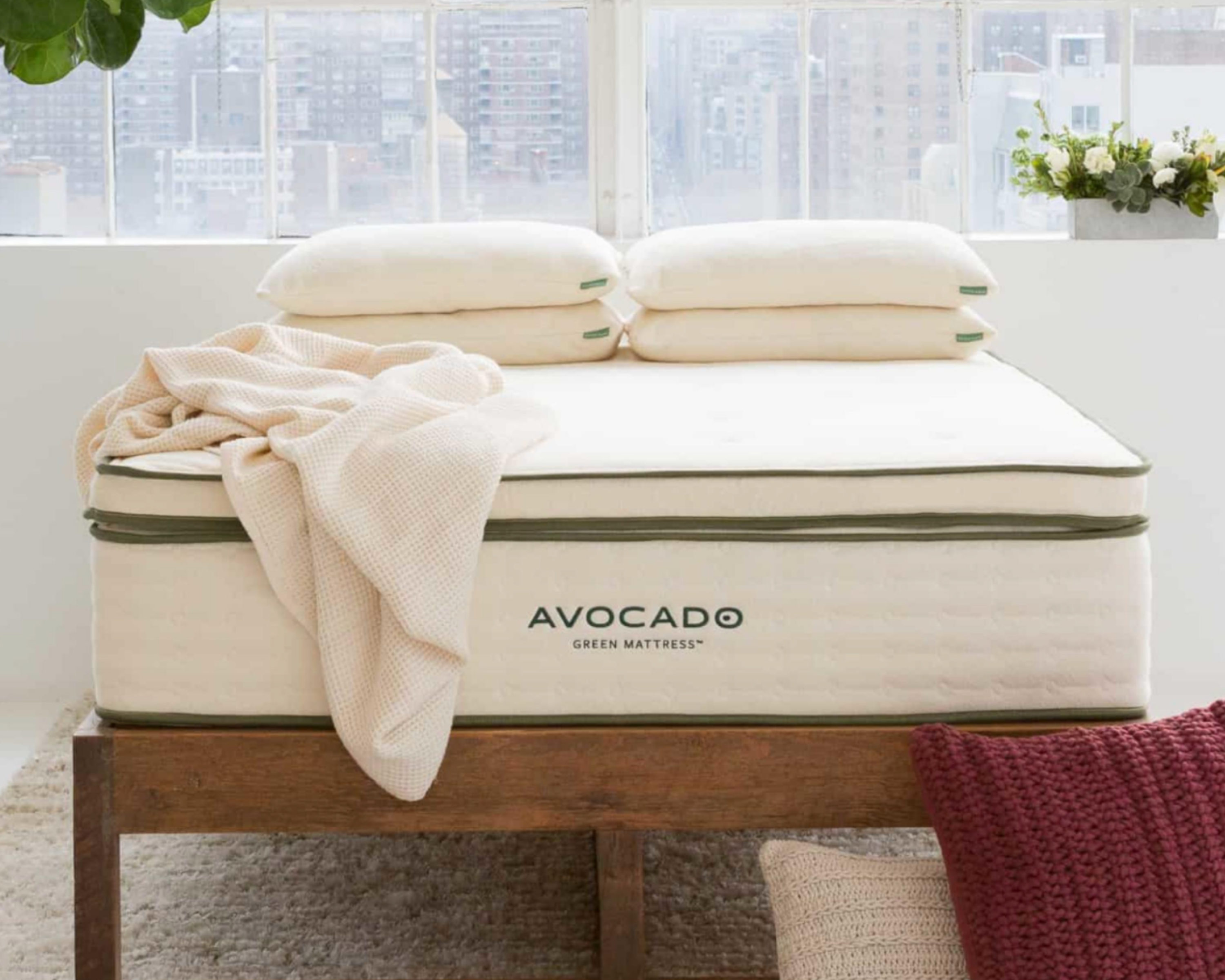 The luxurious yet durable Avocado Green mattress has long been the gold standard for being one of the best organic mattresses. Completely handmade from natural materials, it's fully certified as an all-organic product, making it truly top-of-the-line in terms of clean, safe, hypoallergenic mattress design. Testing proved this bed to be very responsive, meaning it adjusts to your movements at night, making it an excellent choice for combination sleepers. Combination sleepers are also excellent candidates for an adjustable base mattress, which the Avocado Green is well-suited for due to its size (11-inches thick) and pliability. For those who want their next mattress to have a minimal environmental footprint, the Avocado is about as "green" as it gets.
Firmness: Medium-Firm, Firm
Customer Rating: 4.6/5
Delivery: Up to 14 business days
Trial Period: 365 nights
Warranty: 25 years
Pros and Cons of the Avocado Green
Pros
Cons
Great spinal alignment for back and stomach sleepers
More expensive, not a top pick for shoppers looking for a deal
Materials help cool off hot sleepers
Lackluster motion transfer; Not recommended for couples
Highly durable
Pros
Cons
Best Latex Hybrid Mattress – Brooklyn Bedding EcoSleep
The Brooklyn Bedding EcoSleep is a hybrid mattress that blends the comfort and support of a foam and coil mattress. Additionally, the EcoSleep is a flippable mattress, providing different firmness levels to suit your needs. The result is an excellent bed for side, stomach, and back sleepers. Mattress Advisor testers said side sleepers may prefer the more cushioning comfort layer on the soft side, while stomach sleepers get excellent spine support on the firm side. The mattress also sleeps cool, offers superior pressure point relief, and the pocketed coils provide airflow and a responsive feel without compromising sturdiness and support. And a common thread among other latex beds, testers said they didn't have to endure a chemical off-gassing odor after opening the EcoSleep.
Firmness: Medium, Firm
Customer Rating: 4.7/5
Delivery: Free shipping, delivery within 3-5 business days
Trial Period: 120 nights
Warranty: 10 years
Pros and Cons of the Brooklyn Bedding EcoSleep
Pros
Cons
The bed's flippability gives the sleeper two firmness options in one mattress
Less warranty coverage than many beds in similar price range
Flippability adds to the bed's lifespan
Pros
Cons
Factors to Consider when Choosing the Best Latex Mattress
Talalay vs. Dunlop
Dunlop: The Dunlop process dates back to the 1920s, and involves a thick rubber serum being spun in a centrifuge, poured into a mold, then baked. Mattresses that rely on natural Dunlop latex have a firmer feel, and not as much "bounce" as its Talalay counterpart.
Talalay: During the Talalay process rubber sap is vacuum-sealed and put through flash-freezing. After undergoing these first steps, it is then baked at high temperatures. The result is a more consistent feel throughout the mattress layers, meaning the Talalay latex can offer more versatility in firmness and feel. It can also be a little "springier" and more responsive than Dunlop latex.
Types of Latex Mattresses
Synthetic Latex: This type of latex requires the use of chemical additives in the manufacturing process. This results in bedding that isn't as eco-friendly, and may not be as naturally clean and hypoallergenic as organic latex. With that said, synthetic latex is often less expensive than Dunlop or Talalay.
Latex Foam: Sap from a rubber tree can be processed to create the feeling of traditional foam bedding. Other times mattress retailers will process it with foam to replicate the feeling of latex but is more budget-friendly.
Blended Latex: Just as the name implies, 30% natural latex is processed with 70% latex foam, synthetic latex, or a blend of the two. This also comes at an affordable price and is developed to perform just like all-natural latex.
Latex vs. Other Types of Mattresses
Latex vs. Memory Foam: Memory foam mattresses "hug" around the body to create a softer feel. Talalay latex and latex foam are your best bet for accomplishing this contouring feel. When it comes to pressure relief, both mattress types get the job done.
Latex vs. Innerspring: Both all-latex and innerspring mattresses excel with breathability, being permeable enough for air to flow through, and responsiveness. Innerspring mattresses tend to be less expensive, but don't feature as much pressure relief as latex.
Latex vs. Hybrid: Latex and hybrid mattresses rank amongst the most expensive mattress types available, given the quality and amount of materials used. Latex mattresses present an organic, hypoallergenic sleep space. Hybrids that infuse latex into their designs can also implement these factors with spring insertion to help with cooling.
Pros and Cons of Latex Beds
Pros
Hypoallergenic: Not only are natural latex mattresses hypoallergenic, but they are also resistant to mold and dust mites. Kids and sleepers with allergies should gravitate towards a latex mattress, as it provides a clean and all-natural sleep space.
Bounce: Latex feels very squishy and bouncy to the touch. Responsiveness is the measure of how quickly a mattress can bounce back as you move around, and it's a key feature that combination sleepers rely on for support.
Cooling: Latex is a great element used in cooling mattresses since it easily disperses body heat. Latex is often perforated with air channels to stay breathable and let heat flow through the mattress.
Cons
Price: Latex is a pricier material, sourced from a few specific locations worldwide. It's also labor-intensive, as the Talalay, Dunlop, and even latex foam processes take time to produce. However, many online mattress brands can bring down the cost by handling sourcing, production, and cutting out middleman fees.
Weight: Generally speaking, latex mattresses tend to be heavier than other mattress types. This doesn't matter much when you're sleeping, but it can make set-up a little more challenging. Additionally, if you need to move your mattress, it may be slightly more difficult than if you were moving, for instance, a lightweight foam bed.
Latex Mattress Performance Factors
ILD (Indentation Load Deflection): This is a key metric used to gauge how hard or soft a foam mattress will be, and that includes latex foam. ILD refers to the amount of pressure needed to indent a piece of foam by 25 percent or more. A higher IDL means the bed is likely to feel a little bit firmer and less responsive to your movement during the night.
Density: The density of individual latex layers may be evaluated as low, medium, or high. High-density latex tends to be more durable and also works better for pressure relief, while low-density latex is generally superior for cooling.
Pressure relief: Those with back and joint pain will want to make sure their mattress is rated well for relieving pressure points. Most latex beds are well-rated for pressure relief, offering targeted support that evenly distributes body weight to avoid undue strain.
Durability: High-quality synthetic and organic materials ensure the mattress supports you for many years to come. (A robust warranty and sleep trial adds some peace of mind.) Latex shoppers can generally anticipate their bed will hold up for at least seven to 10 years.
Latex Mattress FAQ's
What are the benefits of a latex mattress?
Sleepers with allergies, joint pain, back pain, combination sleepers, and those who just want an eco-friendly mattress can all benefit from a latex mattress. Since latex is great at pressure relief and staying buoyant, it's a natural fit for sleepers who need those qualities. If you don't fall into one of these categories, that doesn't mean you can't also get a latex mattress. An organic mattress works well for all body types, sleep positions, and anyone avoiding synthetic chemicals.
Which density of latex mattress is the best?
There's a reason Saatva offers one free "flip" should you decide you want to topple over the 125-pound Zenhaven—latex mattresses tend to be denser and heavier than their memory foam counterparts. However, latex density tends to vary, and a bed's overall durability will in large part be determined by density (or lack thereof) in the foam. If you want to closely examine latex density, look for the foam's "pounds per cubic foot" (PCF for short). A latex mattress above 5.3 PCF is considered highly dense, while less than 4.3 PCF is less dense.
Beds will also often have multiple layers of latex or memory foam, and the densities of the layers will vary. What's most important if you want a long-lasting latex experience is to look for a bed that either has a high density base foam that's several inches thick, or a steel pocketed coil core. Beyond that, the foam densities will affect firmness, which is a matter of personal preference.
Is a latex mattress better than a memory foam mattress?
Memory foam isn't necessarily better than latex and vice versa–they are simply two different materials that perform similar functions. Both types are great for pressure relief and responsiveness. Where they differ is latex is all-natural, whereas foam has a chemical composition. If you're concerned about chemicals, look for a CertiPUR-US certification that shows your foam mattress is free of any harmful volatile chemicals. The biggest difference between the two is price, as latex requires more labor to source and produce.
Do latex mattresses help with cooling?
Latex does not retain heat and is often aerated to keep air flowing through the core of the mattress. Many organic mattresses will also implement cooling materials and coils to help with temperature regulation.
How much does a latex mattress cost?
Latex does usually come at a higher price, but many direct-to-consumer brands are able to keep their mattress products affordable by shipping products straight to you. Some will even blend latex with foam to bring the cost down even more, without diminishing the properties latex is known for.
Summary of Our Picks for the Best Latex Mattress