Liquid Assets
Is a lakeside view your idea of heaven on earth? Or do you long to live near the ocean, where you can hear the surf crash onto the shore? If you love the water, we've picked out neighborhoods where you can find the place of your dreams—and they're just a handful of the 61 vibrant neighborhoods from coast to coast where you'll find one-of-a-kind period houses. Read on to see which ones have the best access to beaches, boats, and all things nautical, or see all the neighborhoods and categories.
Kaimuki Neighborhood, Honolulu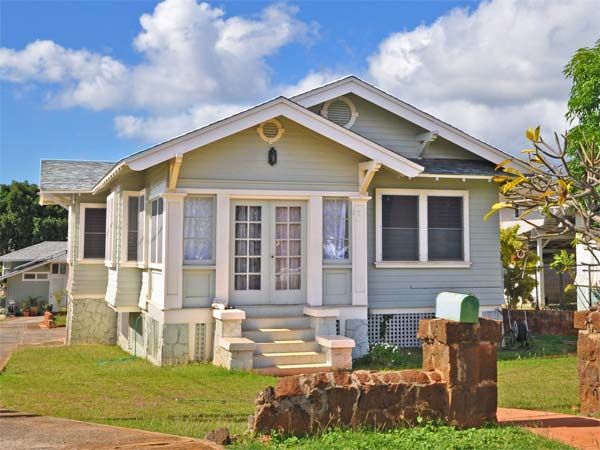 Population: 20,548 in the city of Honolulu
House styles: Bungalows prevail here; some are Craftsman-style while others are known locally as "Hawaiian plantation-style"
Expect to pay: A fixer-upper on a small lot will run you about $500,000, with finished houses costing more
Located between Diamond Head crater and the Koolau mountain range, this Honolulu neighborhood was a watch station during the 19th century for spotting enemies arriving by sea. It had a brief stint as an ostrich farm before being sold to developers for $20,000 in 1898. They brought in plumbing and infrastructure to transform the area into a residential enclave, which it has remained ever since. Today, many residents are bohemians and artist types who want to preserve Kaimuki's low-key charm and prevent builders from replacing old structures with soulless McMansions and duplexes. Dining out is a notable pastime here; mom-and-pop restaurants that have been around for 70 years or longer line Waialae Avenue, the town's first road; it was paved in 1905 and connects the area with downtown Honolulu. Many of the historic houses were built with lava-rock foundations and with single-wall construction without insulation, a technique commonly used in older Hawaiian homes because of the mild climate and hard-to-come-by building materials. Some houses are modest on detail, while others have more elaborate Craftsman-inspired touches. "There are several blocks here built in the 1930s and 1940s that look untouched today," says resident Lori Yamada, who adds that neighbors look after one other and share fruit from the trees on their property. Add in Hawaii's beaches and opportunities for outdoor adventures, and you've got the makings of a tropical paradise.
Among the best for: The West, Fixer-Uppers, Cottages and Bungalows, Waterfront, Easy Commute, Family-Friendly, Walkability, Gardening, Parks and Recreation
Coeur d'Alene, Idaho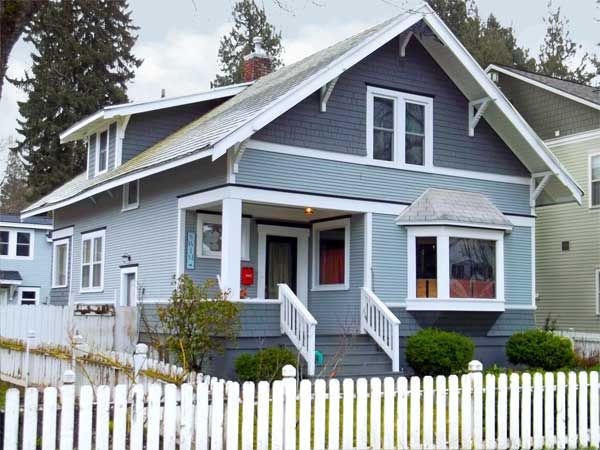 Population: 44,137
House styles: Craftsman, Colonial Revival, and Tudor Revival
Expect to pay: At least $100,000 for a fixer-upper; the very fanciest houses top out at seven figures
Originally home to the Fort Sherman military base from 1878 to 1900, Coeur d'Alene—or CDA, as the locals say—wasn't seeing much action. So the encampment was dissolved, and many homes were built near the original base between 1905 and 1940. Sparkling Lake Coeur d'Alene is the main attraction here, and the popular resort town has retained a relatively healthy housing market even over the past few years, says local Realtor Brad Jordan. The lake offers everything from sailing, paddleboats, and canoeing to over 100 miles of sandy beachfront. Other outdoor amenities include the 23-mile Centennial Trail, which parallels an old railroad track, for walking or biking; a popular golf course at the Coeur d'Alene Resort; and two major ski resorts within driving distance. Most of the city's period homes were built in the Craftsman style, and while they range in condition from handyman's specials to fully restored beauties, they tend to sell fast no matter what shape they're in. So if you fall for a fixer-upper here, be prepared to act quickly to make it your own.
Among the best for: The West, Waterfront, College Towns, Small Towns, Retirees, Family-Friendly, Gardening, Parks and Recreation
Castine, Maine
Population: 1,366
House styles: Federal, Georgian, and Greek Revival houses line many of Castine's most well-known streets; other local types include Queen Anne, Italianate, Shingle, Cape Cod, and Colonial Revival
Expect to pay: Smaller houses outside the historic core can be had for under $200,000; the fanciest fixed-up homes can fetch in the millions
Some folks might think twice before settling down in a town where more than half the residents are college students. Not so the folks of Castine, a small coastal town about a hour's drive from Bangor. That's because the highly disciplined students attend the Maine Maritime Academy, a respected state-run school that preps its graduates for careers in the U.S. Navy and other marine-related fields—not exactly your stereotypical "three keggers before curfew" college kids. A former shipping port, Castine is now a destination for sailing and summer vacations.
The Village district, which is peppered with historic markers and local businesses, is a compact, walkable, mixed-use area, while the more rural, so-called "off neck" neighborhoods are primarily residential. But you'll find period houses in all these areas—some needing more work than others—and residents take advantage of the shopping and dining opportunities on Lower Main Street and along the town dock, the family-friendly sands of Backshore Beach, and the miles of hiking trails in the 185-acre Witherle Woods.
Among the best for: The Northeast, Waterfront, College Towns, Small Towns, Parks and Recreation
Locust Point Neighborhood, Baltimore, Maryland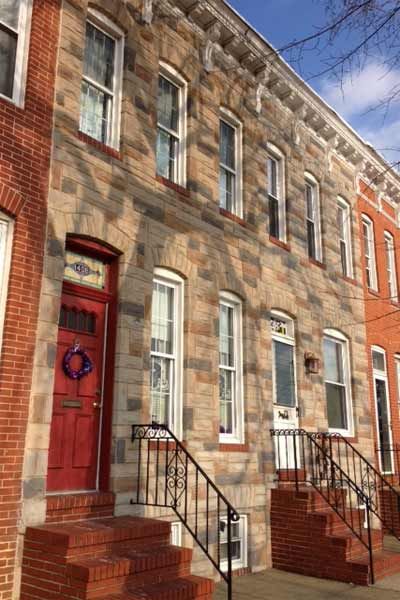 Population: 2,138 in Locust Point; 621,342 in the city of Baltimore
House styles: Rowhouses dating from the mid- to late 1800s; many are covered in formstone, a stucco-based cladding once popular in the area
Expect to pay: $175,000 and higher for a fixer-upper; $275,000 or more for a house in move-in condition
Populated by a mix of young singles and multigenerational blue-collar locals, Locust Point has a gritty feel that celebrates its industrial past. It's anchored by the Domino's sugar refinery, the last major manufacturer still operating in Baltimore's Inner Harbor. "When the wind blows just right, it smells like toasted marshmallows here," says resident Laura Rodini. The neighborhood suffered a big blow when many nearby manufacturers closed down in the middle of the 20th century, but it began a long, slow turnaround in the late 1960s and the 1970s, when the mayor's office sold crumbling 19th-century rowhouses for $1 on the promise that owners would fix them up.
Though some of the brick facades have been restored, many of the houses are still clad with formstone, a type of stucco that was popular here in the 1950s and is colored and shaped to resemble masonry; some consider it an affront to the area's original architecture, but there's no question that it gives Locust Point's houses a distinctive look and a low-key charm of their own. Fort Avenue, the neighborhood's main drag, has a mix of local bars and crab houses, terminating at historic Fort McHenry, the inspiration for Francis Scott Key's "The Star-Spangled Banner." Up Key Highway, you'll find the American Visionary Art Museum, which is devoted to the work of self-taught and outsider artists—just the kind of place that would make Baltimore native and avant-garde filmmaker John Waters proud.
Among the best for: The Northeast, Waterfront, City Living, Easy Commute, First-Time Buyers, American Heritage
Sandwich, New Hampshire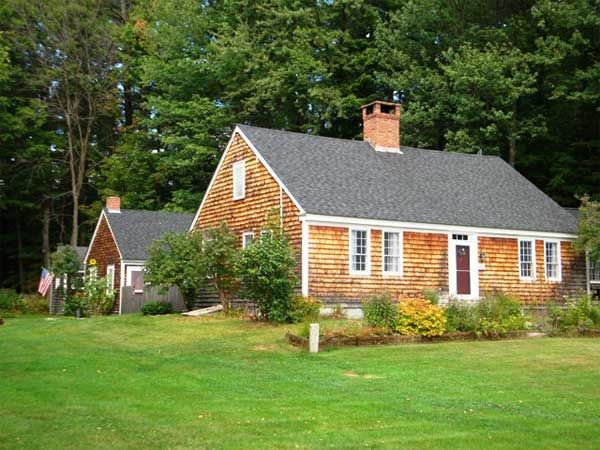 Population: 1,326
House styles: Classic New England Capes and colonials from the early 19th century are the most popular
Expect to pay: About $225,000 to $250,000 for a fixer-upper; $300,000 or higher for a house in good condition
Located 50 miles north of Concord, the state capital, this Granite State gem of a town boasts preservation and historic boards that have worked hard to protect its architectural integrity and have kept a close eye on renovations, such as the conversion of houses in the downtown core from multifamily use to their original single-family origins. This year, Sandwich is celebrating its 250th anniversary, but many festivities enliven its social calendar each year, including a 60-mile sled-dog race in February, Old Home Week in August, and the annual Sandwich Fair in October. Outdoorsy types can enjoy summer boating and fishing on Squam Lake (the backdrop for the movie On Golden Pond), as well as cross-country skiing, snowshoeing, and downhill skiing in the White Mountains, which are within an hour's drive. Buyers looking for a classic New England setting and an abundance of year-round activities may just find their paradise here.
Among the best for: The Northeast, Waterfront, Small Towns, Parks and Recreation
Asbury Park, New Jersey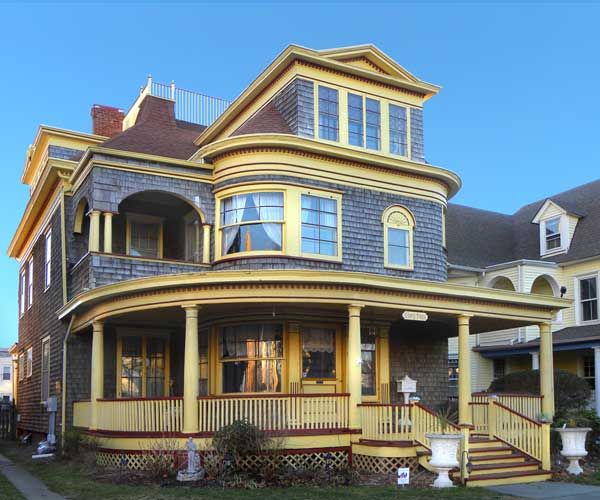 Population: 16,132
House styles: Queen Anne, Gothic Revival, American Foursquare, and Craftsman
Expect to pay: As little as $75,000 to $100,000 for a boarded-up foreclosure; period houses that have been updated start in the high $200,000's
The famed boardwalk in this iconic Jersey Shore resort city took a big hit from Superstorm Sandy in October 2012. But, as in so many other places around the state, locals rallied to get repairs made, and it reopened to great fanfare on May 18. Even better: The gem-speckled residential areas in Asbury Park were largely spared. "We were very fortunate that we didn't suffer the widespread damage borne by other places in the state," says Randy Thompson, president of the Asbury Park Homeowners' Association. Since the late 1800s, visitors have flocked here to enjoy the seaside, as well as music and live entertainment; at its peak, in the middle of the 20th century, some 600,000 tourists strolled its beaches and boardwalk each summer.
Seasonal tourism is still vital to the local economy, and today a good handful of full-time residents are big-city escapees, many of whom bought homes in the 1990s, when a haggard Queen Anne could be had for under $100,000. Steals like this are hard to find these days, but prices remain competitive, especially for a seaside town just 60 miles from New York City. Preservationists have worked tirelessly to keep historic treasures intact, and the storm jump-started a movement to rebuild and protect the shoreline. Yearning to soak up the salty air from your front porch—or a clam shack? Now's a good time to get in on this area's latest renaissance.
Among the best for: Editors' Picks, The Northeast, Victorians, Waterfront, Small Towns, First-Time Buyers, Lots to Do, American Heritage
Newburgh, New York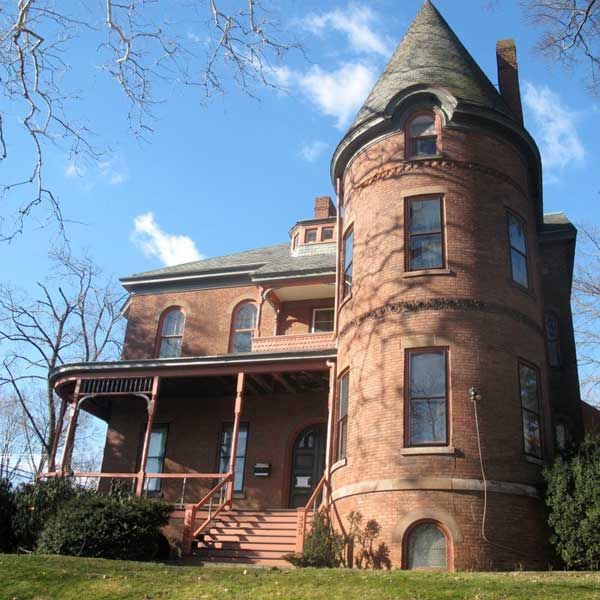 Population: 28,651
House styles: Queen Anne, Italianate, Federal, Second Empire, Colonial, Tudor, Craftsman, American Foursquare, and rowhouses
Expect to pay: Well under $100,000 (even under $25,000!) for a dilapidated attached house or a carriage house on a less desirable block; less than $400,000 for a renovated Victorian mansion in the main historic district
In Newburgh, just 60 miles from New York City and accessible by ferry, bus, or train, it's possible to buy a turnkey house—even a 5,000-square-foot restored period mansion with Hudson River views—for less than $80 per square foot, an unheard-of bargain in the area. But a troubling crime rate, talk of ballooning taxes, and suspicion of corrupt city management have discouraged many buyers. Still, those who own houses here insist that the city's worst days are in the past. "There's a lot of fear-mongering," says Chris Hanson, a local broker, who's restoring a seven-bedroom house he bought in 2011 for $210,000. The place where Thomas Edison built one of the world's first central electric stations is a veritable style show of American architecture—particularly in the East End Historic District, which features work by vaunted architects Calvert Vaux, Thornton Niven, Stanford White, and others. Local blog Newburgh Restoration chronicles the city's revitalization efforts and new business endeavors, which have picked up pace in the past couple of years. For DIY enthusiasts and pioneers who want to put down roots in up-and-coming areas, this city is absolutely worth a look.
Among the best for: The Northeast, Bargains, Fixer-Uppers, Victorians, Waterfront, First-Time Buyers, American Heritage
St. Johns Neighborhood, Portland, Oregon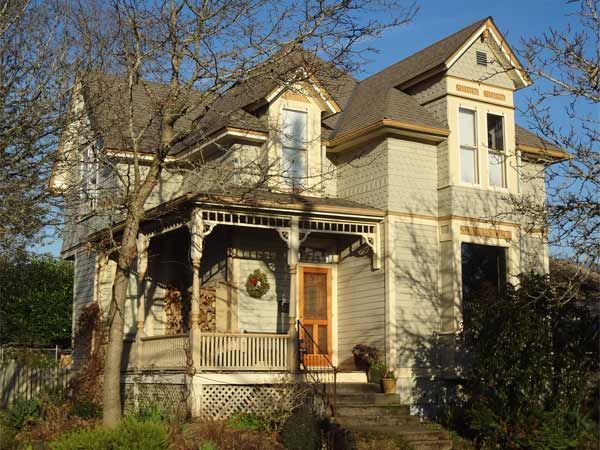 Population: About 12,207 in St. Johns; nearly 583,000 in the city of Portland
House styles: Craftsman bungalow, Cape Cod, mid-century ranch, and various vernacular styles
Expect to pay: About $185,000 for a wreck with potential; well-restored houses cost around $300,000
St. Johns feels more like a rough-and-tumble small town than a neighborhood of shiny, happy Portland. Perhaps that's because in a former life, that's exactly what it was. First settled in 1850 and located at the tip of the peninsula formed by the confluence of the Willamette and Columbia Rivers, St. Johns was an incorporated city before citizens voted to be annexed by Portland in 1915. This working-class enclave is seeing a wave of newcomers, as thirtysomething couples with or without kids flock here for affordable homes. Though many of the houses are truly handyman specials, the best finds are in Cathedral Park, a neighborhood-within-a-neighborhood that flanks a waterfront green space of the same name; its streets are lined with Craftsman bungalows and vernacular styles, punctuated by the occasional Queen Anne or Dutch Colonial. Recent transplants have been happily supporting local stalwart businesses, like Wayne's Barber Shop and Tulip Bakery, even as they open shops and eateries of their own. An active neighborhood association; an easy commute to downtown via bike, bus, or (gasp!) car; and views of the waterfront and the spectacular St. Johns Bridge make this area feel downright promising.
Among the best for: Editors' Picks, The West, Fixer-Uppers, Cottages and Bungalows, Waterfront, City Living, Easy Commute, Family-Friendly, First-Time Buyers, Lots to Do
Tacony Neighborhood, Philadelphia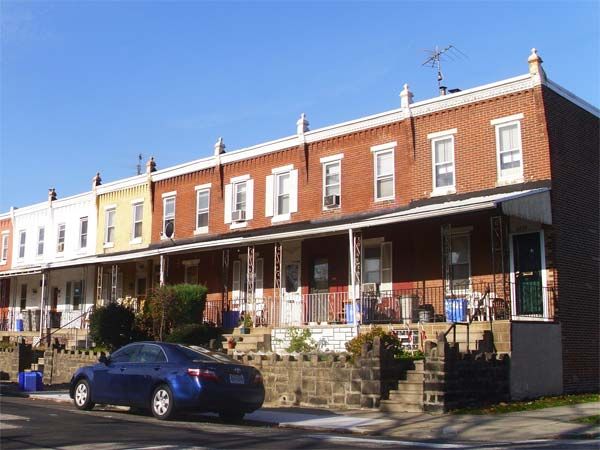 Population: About 6,000 in Tacony; approximately 1.54 million in the city of Philadelphia
House styles: Brick and wood-sided rowhouses, two-families, and large single-family houses in the Queen Anne and Georgian styles
Expect to pay: $40,000 and up for a rowhouse or $65,000-plus for a twin needing work. Single-family homes will set you back $125,000 to $200,000
This area has recently been touting its Hoagie Trail, a strand of sandwich shops packaged by the Historic Tacony Revitalization Project to highlight the spiffed-up main drag, Torresdale Avenue. And why not? The neighborhood was built on business. Sitting on the Delaware River seven miles northeast of Philadelphia's city center, Tacony got busy in the mid-19th century with the arrival of the Philadelphia and Trenton Railroad and the 1854 Consolidation Act, which turned Tacony over to the City of Philadelphia.
Then along came Henry Disston, a manufacturer of saws. Over the next century, he and his descendants amassed 400 acres to create the Henry Disston & Sons company town, offering livelihoods and housing to employees at all levels. The company was sold in 1955, but the houses remain: some 1,400 "singles" (single family), "twins" (two-families), and rowhouses, built beginning in 1876. Many have pressed-metal accents, inlaid hardwood floors, open porches, and big yards. Though some properties in the area need work, you can still score a single-family fixer-upper for under $200,000 inside the city limits. We'll bite.
Among the best for: The Northeast, Bargains, Fixer-Uppers, Waterfront, City Living, Easy Commute
Danville, Virginia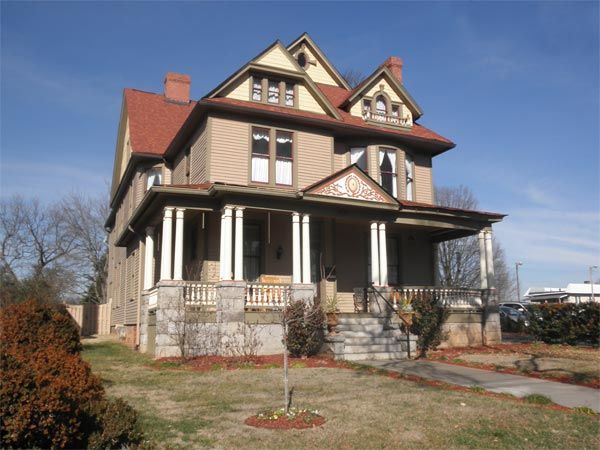 Population: 42,852
House styles: A high-low mix of stately Victorian-era and Edwardian houses, Craftsman bungalows, and workers' cottages
Expect to pay: Houses needing work can be had for as little as $10,000; you'll pay about $150,000 for a move-in ready place
Danville, a city founded on tobacco in 1793 that later added textiles as a major industry, was once a wealthy trading hub on the North Carolina border. Its richest residents lived in the ornate Victorian-era mansions lining Main Street's Millionaires' Row; one of these houses even served briefly as the capitol for the Confederate States during the Civil War. But the area's fortunes dried up as the textile mills closed down, leaving behind beautiful old bones but little economic opportunity. Though some of its historic buildings have been demolished, community efforts to preserve the downtown River District have taken root in the past few years, and the city is widening sidewalks and spiffing up streetscapes to lure people and businesses back to the area. Most of the Millionaires' Row houses have been restored, but several other neighborhoods have properties up for grabs at rock-bottom prices, including the Holbrook-Ross Street Historic District, founded in the 1870s by black professionals, and Schoolfield Mill Village, a neighborhood of small workers' cottages. A case in point: A refurbished 6,000-square-foot Italianate mansion, with seven bedrooms and six baths, that's listed on the National Register of Historic Places recently sold for only $262,000.
Among the best for: The South, Bargains, Cottages and Bungalows, Victorians, Waterfront, First-Time Buyers, American Heritage
Stoughton, Wisconsin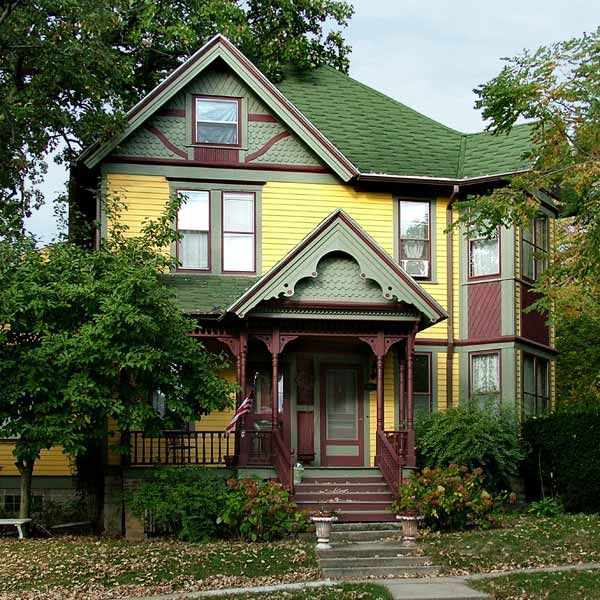 Population: 12,817
House styles: Queen Anne, Italianate, American Foursquare, Cape Cod, and Craftsman
Expect to pay: $150,000 to $170,000 for a house that needs TLC; restored houses typically cost around $350,000
Just 15 miles south of Madison, this idyllic, thriving community defies the notion that small towns are on the decline. Founded in 1847, it blossomed two decades later when Norwegian immigrants flocked here to work in the fields and factories along the Yahara River, then known as the Catfish River. Today, Stoughton's four residential historic districts and perfectly preserved downtown area give it an air of bygone times. "There is a lot going on here, and we found a beautiful 1904 Queen Anne that we could actually afford," says homeowner Peggy Veregin, who moved here two years ago from the Chicago area. Main Street, lined with Norwegian flags to this day, is a bustling mix of antiques shops, boutiques, and eateries, as well as a live-stage theater and the 1901 Stoughton Opera House. At the annual Syttende Mai (Norwegian for "May 17th") festival, locals still celebrate the signing of Norway's constitution with a parade and by dressing in authentic costumes and gathering to folk-dance, listen to music, and compete in the Ugliest Troll Drawing contest. This small town knows how to live big.
Among the best for: The Midwest, Cottages and Bungalows, Victorians, Waterfront, Small Towns, Easy Commute, Family-Friendly
Victoria West, Victoria, British Columbia, Canada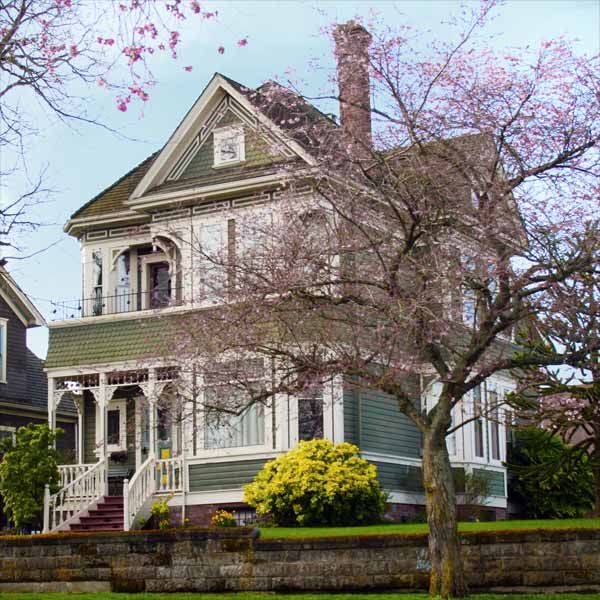 Population: 4,095 in Victoria West; 80,017 in the city of Victoria
House styles: Victorian-era mansions, along with modest bungalows and workers houses
Expect to pay: Less than $400,000 for a house that needs TLC; the fanciest refurbished mansions can fetch seven figures
Surrounded by water on three sides, Victoria West—known locally as Vic West—was founded in the mid-1850s as a fur-trading post and later in the century became the chosen spot for vacation homes built by the city's über-rich. Its streets feature both upscale and modest historic homes interspersed with new condo developments, and the diverse mix of residents here are an eco-conscious group. "All of my neighbors raise chickens for their eggs—Im the only holdout," says Diane Carr, president of the Victoria West Community Association. They're also committed to staving off development that doesn't suit the neighborhoods character, such as the high-rise luxury condos on the water proposed by one builder. But when they're not fighting these battles or restoring their period properties, you might find them at the Spiral Cafe, a local coffee joint known citywide for its live music.
Among the best for: Canada, Victorians, Waterfront, Family-Friendly, Walkability
Uptown Saint John, Saint John, New Brunswick, Canada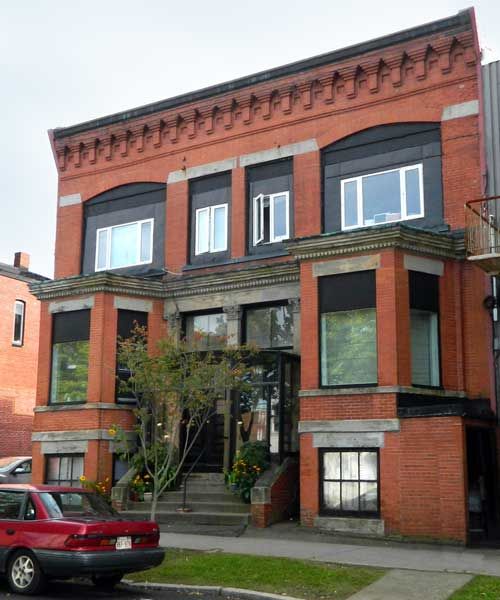 Population: 70,063 in the city of Saint John
House styles: Italianate, Queen Anne, and Second Empire are the most popular
Expect to pay: From $100,000 to $500,000, depending on size and condition
Located on the Bay of Fundy on New Brunswick's southern coast, Uptown Saint John sits in the downtown core of Canada's oldest incorporated city. Though Saint John itself was established in 1785, much of this neighborhood was rebuilt in the five years following the Great Fire of 1877; the large Italianate, Queen Anne, and Second Empire houses here once belonged to wealthy merchants and ship owners, who called in architects from other cities and imported building materials from as far away as Italy and Honduras. Today, some of these houses still need work, while others have been fully rehabbed. But resident and real-estate agent Bob McVicar says that many homeowners have been improving their properties in the past five years, often with help from a grant program coordinated by the local Heritage Conservation Service. Tight-knit neighbors frequently post local news and announcements on Uptown's active Twitter and Facebook accounts—just one example of the sense of community here, says McVicar. And the several blocks of great restaurants and art galleries within walking distance make it an even more enviable place to live.
Among the best for: Canada, Fixer-Uppers, Victorians, Waterfront, City Living, Walkability, Lots to Do
Townsite, Corner Brook, Newfoundland, Canada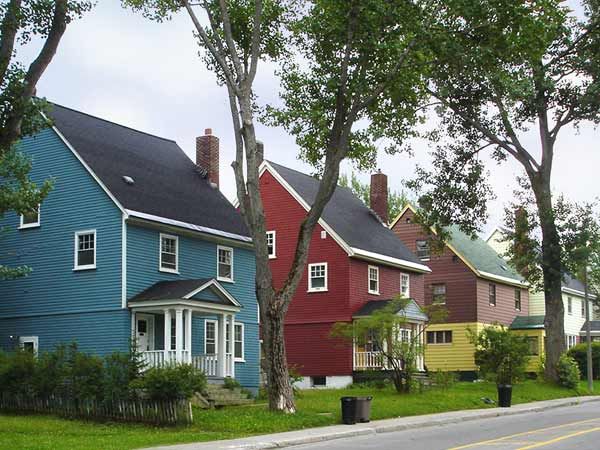 Population: 400 (estimated) in Townsite; 20,083 in the city of Corner Brook
House styles: Vernacular "mill houses" built during the early 20th century; some have Craftsman-inspired details
Expect to pay: From $130,000 for a fixer-upper; about $300,000 for a fully renovated home
In 1900, when the Reid Newfoundland Railway was extended to Corner Brook, this city on the shores of the Bay of Islands was a bustling community supported by the lumber and fishing industries. But with an eye on the region's abundant forest resources, industry moguls saw the potential for something bigger: They built a pulp and paper mill between 1923 and 1925, along with enough housing for all its employees, and turned the city into the largest industrial center in western Newfoundland. Turns out it was a prudent investment; the mill still employs many people in the region, and most of the 180 original houses built on what's known as the Townsite are still intact. They were designed by architect Andrew Randall Cobb, who drew inspiration from the Arts and Crafts movement when he came up with four distinct house types, ranging from "Type 1" larger homes for the mill's managers to "Type 4" smaller houses for the average worker. You'll recognize them all by their steep, gabled roofs, covered porches, and full concrete basements, as well as flooring and stairs built from local birch. Earlier this year, the Townsite was designated as a Heritage Conservation District, which will help protect the integrity of these homes in future years. But in the meantime, residents are doing the upkeep necessary to keep them looking period-perfect—a boon to would-be owners looking for a place that's already in good condition.
Among the best for: Canada, Fixer-Uppers, Cottages and Bungalows, Waterfront, Small Towns, Family-Friendly
New Edinburgh Neighborhood, Ottawa, Ontario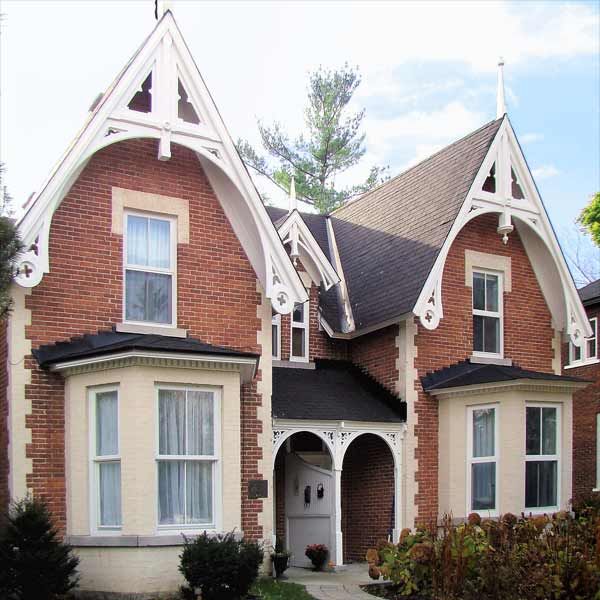 Population: About 3,600 in the New Edinburgh; 883,000 in the city of Ottawa
House styles: Georgian, Second Empire, Gothic Revival, and various Victorian-era styles
Expect to pay: Less than $500,000 for a house that needs TLC; refurbished mansions can go for more than $800,000
Founded in 1834 along the Rideau River, New Edinburgh was built as one of Canada's first planned communities, and later in the 19th century it blossomed as a lumber and mill town. Just a mile and a half from Parliament Hill, this tony residential community is home to Canada's prime minister and several handsome foreign embassies. Yet despite its A-plus location, locals must fiercely protect the area's architectural assets because Canada does not have rigorous preservation laws. "We have to fight to stop demolition and inappropriate development," says resident Joan Mason, "so we're developing experts in the community who can speak intelligently about why the properties here deserve safeguarding." With the blessing of the New Edinburgh Community Alliance, the Vietnamese government recently acquired a 19th-century mansion to use as its embassy; the property had been up for sale for two years and could have been subject to the wrecking ball if a less sympathetic buyer had snapped it up. Beechwood Avenue, the main shopping district, was crippled by fire in 2011, but residents still frequent the area's eateries, independent bookstores, and organic grocers.
Among the best for: Canada, Victorians, Waterfront, City Living, Walkability, Lots to Do
Victoria-by-the-Sea, Prince Edward Island, Canada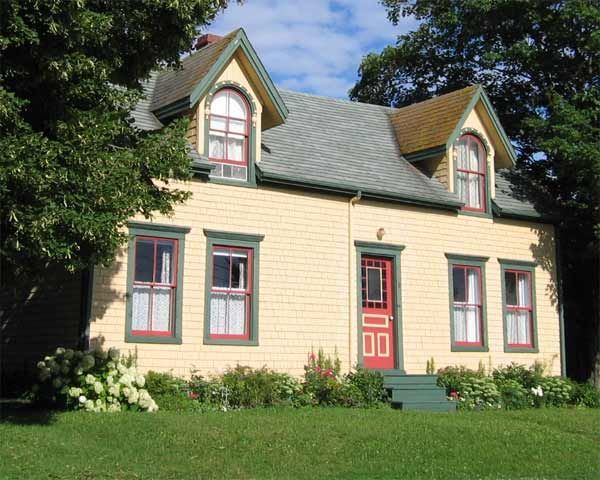 Population: 104
House styles: A hodgepodge of Georgians as well as Victorian-era homes, including a former schoolhouse that was transported from nearby Tryon across the ice by a team of horses in the 1920s
Expect to pay: $140,000 to $175,000 for a period house
Roughly 30 years ago, serenity-seeking city dwellers began moving to this tiny, idyllic hamlet, where extended families still live within whistling distance of one another. Founded in 1819, Victoria-by-the-Sea benefited from a sheltered harbor and a strategic location on the Northumberland Strait, which helped it grow into a thriving seaport by the latter half of the 19th century. The waters are quieter these days, but tourists are still drawn to this area and its maritime history. Although downtown is a mere two blocks long, it offers a lot: seafood restaurants, an art gallery, a chocolate factory, a cafe, a teahouse, and the 1915 Victoria Playhouse, once a community hall and now a live-performance venue. In the summertime, the population doubles with an influx of summer residents, who take advantage of kayak and bicycle rentals and, at the end of Main Street, a public beach. Houses sit on small lots, but none of their owners mind—it's the kind of place where you know all your neighbors, anyhow.
Among the best for: Canada, Bargains, Waterfront, Small Towns, Retirees, First-Time Buyers