Settle Down in the Midwest
If you like plenty of room to spread out, consider shopping for real estate in these middle-of-the-country states, where your dollar usually goes further than it does on the East Coast or West Coast. From the lowlands to the Ozarks, we scouted out everything from quaint small-town outposts to vibrant urban communities. And these are just a few of the 61 neighborhoods from coast to coast where you'll find one-of-a-kind period houses. Read on to see which ones are in the Midwest, or see all the neighborhoods and categories.
Bronzeville Neighborhood, Chicago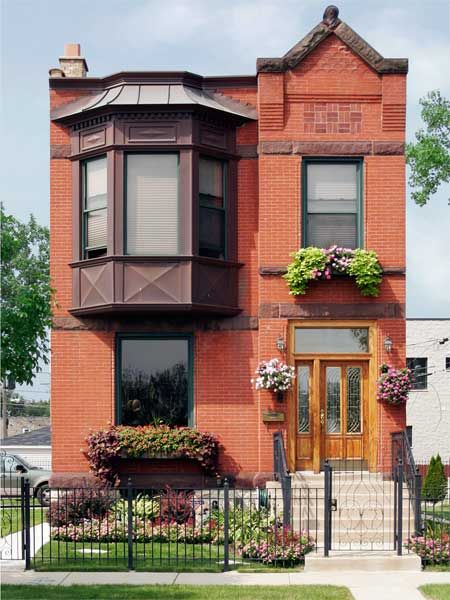 Population: 4,566 in Bronzeville; 2,707,120 in Chicago
House styles: Most period houses date from 1881 to 1910 and include Queen Annes and Richardsonian Romanesques; they're built largely from stone, a legacy of the Great Chicago Fire of 1871
Expect to pay: About $50,000 for a fixer-upper; $275,000 and up for a refurbished home
When Southern blacks migrated north in search of work in the early 20th century, thousands settled in this community on Chicago's South Side. In time, Bronzeville became a hotbed of activists, musicians, artists, and writers whose work has shaped the African-American urban experience, including such luminaries as Richard Wright, Louis Armstrong, Lorraine Hansberry, Muddy Waters, and Buddy Guy. But throughout the 1960s and 1970s, many residents of its high-rise public housing left to find less-crowded quarters in the suburbs. Thankfully, the neighborhood's landscape began shifting from the mid-1990s through 2007, when these neglected projects were torn down, paving the way for smarter development and the refurbishment of its rich stock of period houses, most of which predate the Great Migration.
Today, middle-class black families are moving back Bronzeville to reclaim it as a historic, urban neighborhood, and bus tours make the rounds to its many points of interest, including trails for the Underground Railroad. From here, you can get to the center of the downtown Loop by car in less than 15 minutes or by riding the elevated train's Green Line; since 2011, there's been a stop here for a commuter train that connects the city to its southern suburbs. And it's just a short bike ride or walk to many of the Windy City's A-list attractions, including the Art Institute, the Museum of Science and Industry, and Lake Michigan. Sweet home Chicago, indeed.
Among the best for: Editors' Picks, The Midwest, Bargains, Victorians, City Living, Easy Commute, First-Time Buyers, Lots to Do, American Heritage
Franklin, Indiana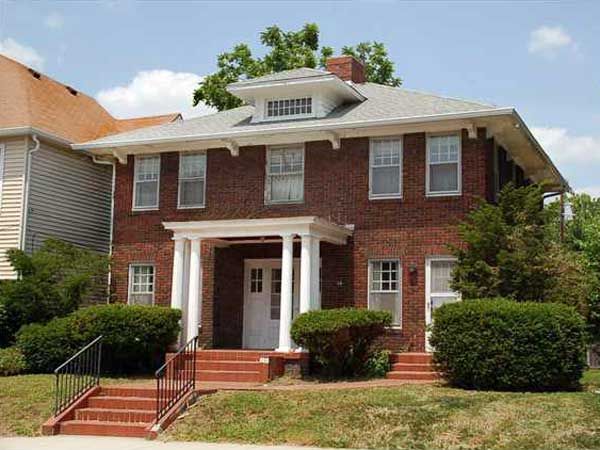 Population: 24,040
House styles: Greek Revival, Colonial Revival, Italianate, Queen Anne, American Foursquare, and Craftsman bungalow
Expect to pay: $55,000 for a fixer-upper; $285,000 for a fully restored home
This quaint bedroom community an hour and a half north of Louisville, Kentucky, was founded in 1823 as a log-cabin settlement and took off in the 1840s when railroad travel linked it to Indianapolis some 20 miles away. Franklin College emerged a decade later, eventually becoming the first coeducational college in the state. Just 10 years ago, though, the town center was littered with empty storefronts and vacant period homes. So several nonprofits and local merchants banded together to lure residents and businesses back to downtown. Their efforts have paid off: Renovations by committed homeowners are underway throughout the historic residential areas, and the revived downtown area, primarily along Main Street and Jefferson Street, boasts new restaurants and shops. In true Americana form, Franklin holds a strawberry festival in May, a barbecue competition in June, and a beer-and-bluegrass festival each August, offering foodies a bevy of events to feast on. And at the 90-plus-year-old Historic Artcraft Theatre, which began its life as a silent-movie theater and vaudeville house, you can watch classic films while having snacks—including popcorn made from local corn—delivered seatside.
Among the best for: The Midwest, Bargains, College Towns, Small Towns, Family-Friendly
Le Mars, Iowa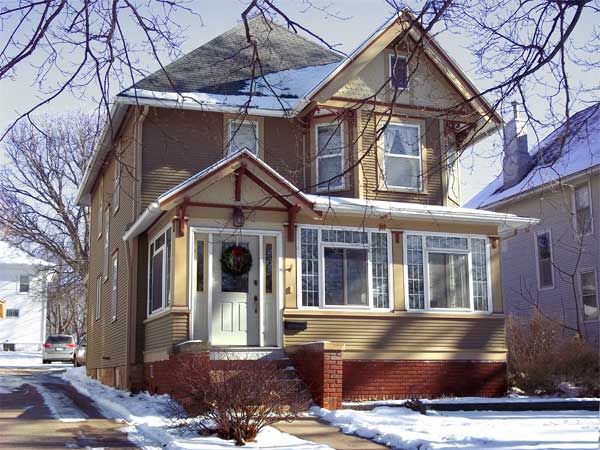 Population: 9,826
House styles: A wide mix, including American Foursquare and Craftsman
Expect to pay: About $40,000 to $60,000 for a house in need of work; up to $260,000 for a refurbished home
Formally established and named in 1869, this small midwestern outpost 25 miles from Sioux City was a magnet for pioneers of British, German, and Dutch descent, who ran its farms and businesses in the late 19th and early 20th centuries. These days, family-friendly Le Mars is best known for its top export: ice cream. Local producer Wells Enterprises, the century-old company that makes the famed Blue Bunny brand, churns out more than 100-million gallons of the sweet stuff each year; its two local production companies employ many of the area's residents. The Plymouth County Fair draws thousands of attendees from around the state for livestock competitions and horticultural exhibits. Period homes here are concentrated in the Foster Park Historic District and range from relatively modest bungalows built for former industrial workers to larger, more ornate homes that industry magnates enjoyed. The local historic commission and Main Street program ensure that architectural treasures are kept shipshape. If you're a DIY die-hard, the fixer-uppers here offer plenty of projects for honing your skills.
Among the best for: The Midwest, Small Towns, Easy Commute, Retirees, Family-Friendly, Walkability, Lots to Do,
College Hill Neighborhood, Topeka, Kansas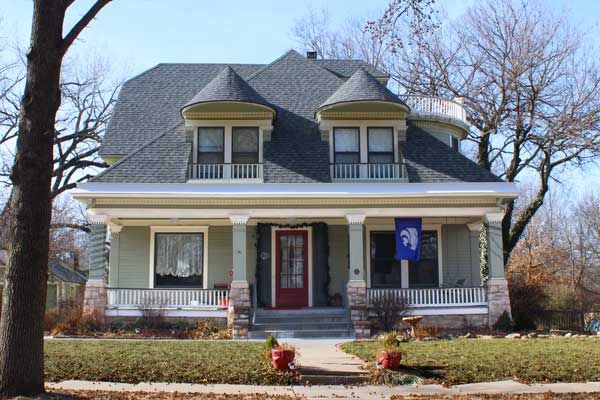 Population: 1,558 in College Hill; 128,188 in the city of Topeka
House styles: The most common type is the so-called airplane bungalow, a vernacular style named for a feature that resembles a cockpit: a "pop-up" level above the main floor that contains a sleeping porch for hot summers
Expect to pay: About $70,000 for a fixer-upper; nicer houses clock in at about $150,000
For decades, Topeka suffered from an identity crisis, finding itself as the butt of many a "How boring is it?" joke from fellow Kansans. But locals have begun grass-roots redevelopment efforts to change the narrative, and College Hill is one of their success stories. This leafy, friendly enclave just north of Washburn University has about 600 bungalow-style homes dating from the early 1900s, and no two are exactly alike. "You see something unique at each address," says Brendan Jensen, president of the College Hill Neighborhood Association. Residents include young couples taking advantage of the area's affordable housing, as well as law students and professors who can walk to campus. Small businesses are sprouting up in the ground-level retail spaces of the multifamily College Hill Lofts, and you'll find kids playing soccer in Boswell Square Park, a community green space created after the demolition of a junior high school in the early 1980s. The neighborhood association sponsors community events year-round, such as a chili feed in January, a Fourth of July parade, and an annual Christmas light contest. For those who think Topeka is still a snore, the joke's on them.
Marshall, Michigan
Population: 7,053
House styles: Queen Anne, Greek Revival, Gothic Revival, and Italianate are the most common
Expect to pay: $60,000 and up for a sizable fixer-upper; up to $300,000 for a restored Queen Anne or Italianate
A stunning group of 850 houses in this mid-state city was named a National Historic Landmark District in 1991, and local pride is in full flower during the annual Marshall Historic Home Tour. The event, which turned 50 this year, brings in thousands to see the area's stately Queen Anne, Italianate, Revival-style, and other period homes. Most were built starting in the early 19th century, when Marshall drew both industrial leaders and politicians; a state capital contender, it lost to Lansing by one vote in 1847. "People who take the tour fall in love with the town and move here," says Bill Mabin, a trustee of the Marshall Historical Society.
Among the city's many picturesque streetscapes is Fountain Circle—at the west end of the business district—where people gather to relax on summer evenings. (It's definitely the place to be on the Fourth of July, as residents plunk down lawn chairs to enjoy fireworks.) As in many American communities, the Great Recession softened the housing market, so if you're good with tools, you'll find plenty of affordable places here to put those skills to use.
Among the best for: Editors' Picks, The Midwest, Fixer-Uppers, Victorians, Small Towns, Retirees, Family-Friendly, Gardening, American Heritage
Frogtown, St. Paul, Minnesota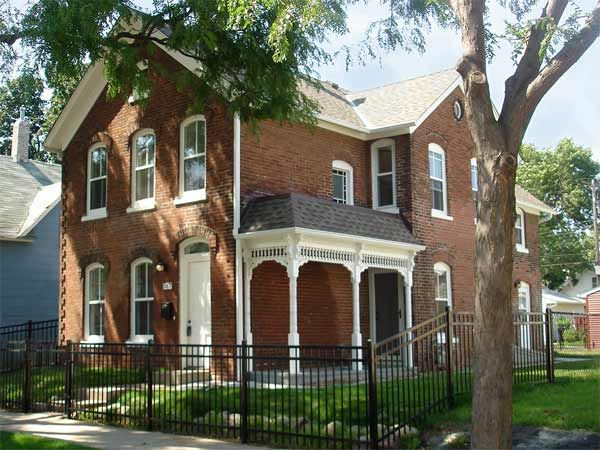 Population: About 15,000 in Frogtown; 288,448 in the city of St. Paul
House styles: Colonial Revival, Queen Anne, Craftsman, Prairie, Italianate, and Tudor Revival
Expect to pay: $40,000 or higher for a fixer-upper; about $140,000 for a restored home
Frogtown was built by German-Bohemians in 1860 on land just south of swampy Lake Lafond, where the croaking and chirping of its namesake amphibians was so loud at night that the locals called the area Froschburg ("Frog City"). Always a working-class immigrant community, many of its period houses were built in the 1880s and 1890s by early residents, the highly skilled masons and builders who also worked on mansions in St. Paul's more affluent neighborhoods. It's still populated by lower- and middle-income residents, albeit largely of Hmong, Cambodian, and Vietnamese descent, and the number of citizens who hail from Somali and Karen is growing. Not surprisingly, University Avenue, the main commercial strip, has a lively mix of ethnic restaurants and is the center point of the Green Line, a light commuter rail opening in 2014 that will connect the downtowns of Minneapolis and St. Paul. Right now, the area's modest-size houses are reasonably priced, and chances are you'll find neighbors willing to lend a hand with your renovation. "Our goal is to preserve the area's historic character while maintaining affordability," says Tait Danielson-Castillo, executive director of the Frogtown Neighborhood Association. As locals like to say, "Frogtown is a place to start, and a place to stay."
Among the best for: The Midwest, Victorians, Easy Commute, Family-Friendly, First-Time Buyers, Walkability,
Pendleton Heights, Kansas City, Missouri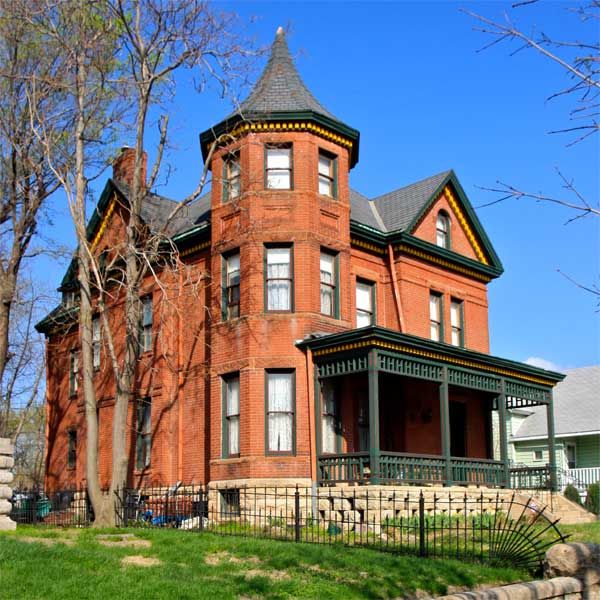 Population: 3,668 in Pendleton Heights; 463,202 in the city of Kansas City
House styles: Queen Anne, Richardsonian Romanesque, Shingle style, and Folk Victorian; there's also a sprinkling of Italianate, Craftsman, and other styles.
Expect to pay: As little as $30,000 for a small fixer-upper; larger, move-in ready houses can cost $250,000 or more
Ask just about anyone in Pendleton Heights, and they'll tell you that they moved here for the beautiful Victorian-era architecture, affordability, or the five-minute drive to downtown but stayed for the sense of community. Residents sit on their front porches, stop one another on the street to chat, and share house keys. Maple and Kessler Parks constitute about one-third of the neighborhood's footprint—one of the largest green-space percentages in the city—and the local community garden is a popular, informal gathering spot where neighbors sow veggies side by side. But for those who aren't ready to leave the city's nightlife behind, it's a five-minute drive to the new Power & Light District, an eight-block downtown area with more than 50 restaurants, bars, shops, and entertainment venues. Originally developed as Kansas City's first suburb, the neighborhood is filling up with artists, singles, and young families leaving their converted-warehouse lofts downtown for more breathing room. Kansas City, here we come.
Among the best for: The Midwest, Bargains, Victorians, City Living, Easy Commute, First-Time Buyers, Lots to Do
Fremont, Nebraska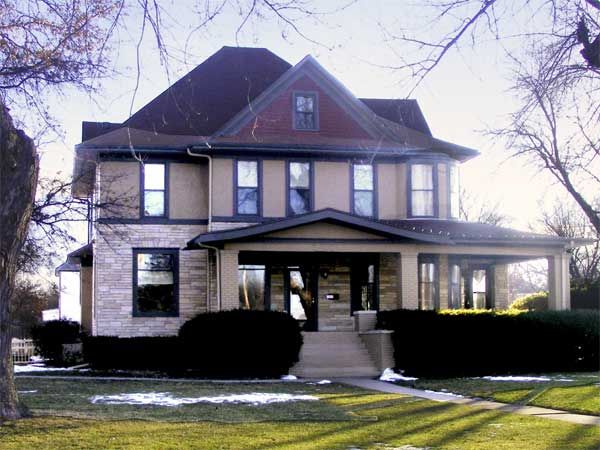 Population: 26,397
House styles: Queen Anne, Italianate, and Tudor Revival, along with Craftsman and vernacular farmhouses and bungalows
Expect to pay: About $70,000 to $80,000 for a fixer-upper; up to $600,000 for a fully-restored larger house
Founded in 1856 and named after a general who once ran for President, Fremont was, and still is, an agricultural city. Its first settlers were farmers who planted its fertile fields and sold produce to the pioneers who passed through en route to Colorado and Utah. These days, in addition to its agricultural businesses, the city is home to Midland University, a liberal arts college, and to production facilities for Hormel Foods, makers of the sandwich staple Spam. Omaha is an easy commute, too, less than 30 miles to the southeast. "Fremont is a great place to raise a family," says Marianne Simmons, a 55-year resident, who notes its large YMCA (second-largest in the country, in fact) and the swimming, boating, fishing, and other activities available at the Fremont Lakes State Recreation Area. "We've always been very conscious of preservation here." You'll see evidence of that care along Nye Avenue, where many of Fremont's founders built homes in the late 1800s, and in the Barnard Park area, where a few original, brick-paved streets still exist. The best bargains here are houses that offer DIYers a chance to hone their skills.
Among the best for: The Midwest, Fixer-Uppers, Victorians, College Towns, Family-Friendly
Oak Grove Residential District, Fargo, North Dakota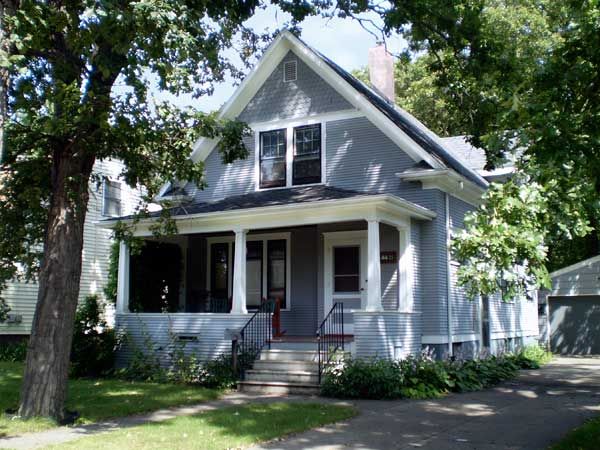 Population: 105,549 in the city of Fargo
House styles: Craftsman, Colonial Revival, and vernacular bungalows
Expect to pay: About $75,000 for a fixer-upper; as much as $130,000 for a move-in ready house
Nestled in the east edge of Fargo, Oak Grove was founded by working-class residents around 1895 and experienced significant growth in 1904, when an electric streetcar system connected it to downtown Fargo. The streetcars have long been a thing of the past, but most of the area's pre-1950s houses are still in decent shape, though some workman's specials can be found. One signature local style is the "mechanic's cottage," which features gable fronts, porticos, and other details inspired by Greek Revival houses, says Steve Martens, an architectural historian and a professor at North Dakota State University. Known as a family-friendly neighborhood, Oak Grove is surrounded on three sides by fields and parks, where residents can picnic, bike, play horseshoes, and enjoy the local playgrounds. Added bonus: Small-business owners get a big boost from Fargo's population of nearly 30,000 college students, who fill area restaurants, shops, and pubs throughout the school year.
Among the best for: The Midwest, Bargains, Fixer-Uppers, Retirees, Family-Friendly, First-Time Buyers, Lots to Do
Ohio City, Cleveland, Ohio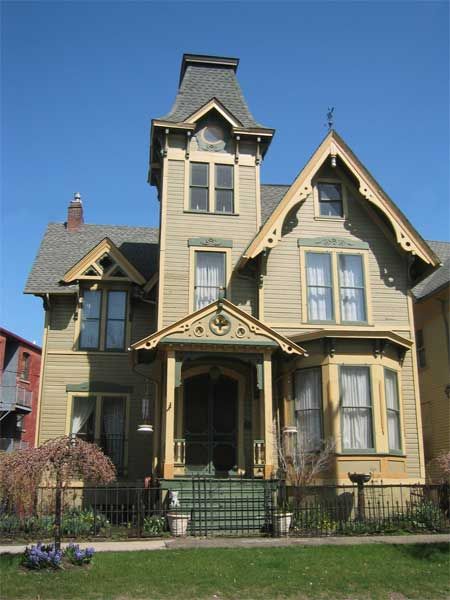 Population: 9,210 in Ohio City; 393,806 in the city of Cleveland
House styles: Various styles from the Victorian era, ranging from simple, vernacular workers' cottages to high-style, architect-designed Queen Anne, Second Empire, and Italianate houses
Expect to pay: $30,000 and up for homes needing work; refurbished homes start around $130,000
Lying just west of downtown Cleveland across the Cuyahoga River and accessible via light rail, Ohio City was incorporated in 1836 but was annexed to Cleveland proper in 1854. Previously a shipbuilding community and later an area where workers and managers for the area's docks, distilleries, and mills settled, today its residents are a vibrant urban mix of young professionals and artisan-entrepreneurs who take full advantage of their ability to lead a car-free life. Anchoring the neighborhood is the West Side Market, Cleveland's 100-year-old public-food market, where more than 100 vendors hawk produce, meats, seafood, and other foodstuffs, as well as fresh flowers. The Market District, the main commercial hub, is alive with the foot traffic of locals running errands, grabbing a meal, or meeting friends for beer at one of the three nearby breweries. Bike racks scattered throughout the neighborhood were designed by local artists, and the Hope Memorial Bridge that spans the river was rehabbed in 2012 to make it more pedestrian- and bike-friendly. The local housing stock, most of which was built during the Victorian era, is as varied as the residents. The neighborhood also abuts Lake Erie and Edgewater State Park, which features a swimming beach, fishing, and one of the best views of downtown Cleveland you'll find. Looks as though this neighborhood's day as an independent, thriving community has come again.
Among the best for: Editors' Picks, The Midwest, Fixer-Uppers, Victorians, City Living, Walkability, Lots to Do
Stoughton, Wisconsin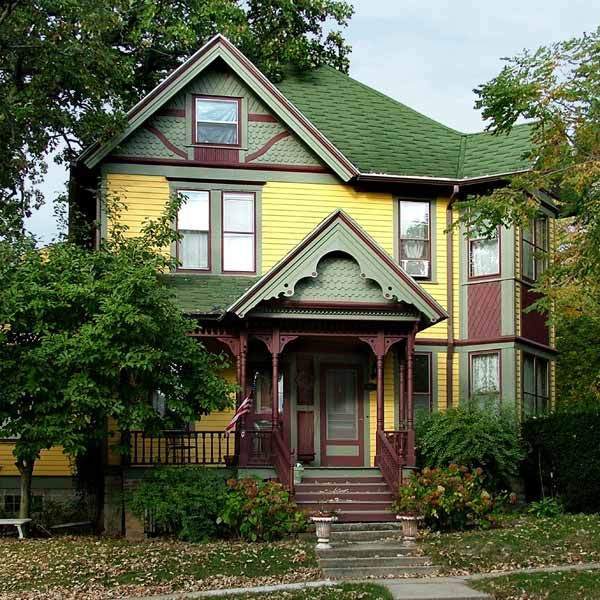 Population: 12,817
House styles: Queen Anne, Italianate, American Foursquare, Cape Cod, and Craftsman
Expect to pay: $150,000 to $170,000 for a house that needs TLC; restored houses typically cost around $350,000
Just 15 miles south of Madison, this idyllic, thriving community defies the notion that small towns are on the decline. Founded in 1847, it blossomed two decades later when Norwegian immigrants flocked here to work in the fields and factories along the Yahara River, then known as the Catfish River. Today, Stoughton's four residential historic districts and perfectly preserved downtown area give it an air of bygone times. "There is a lot going on here, and we found a beautiful 1904 Queen Anne that we could actually afford," says homeowner Peggy Veregin, who moved here two years ago from the Chicago area. Main Street, lined with Norwegian flags to this day, is a bustling mix of antiques shops, boutiques, and eateries, as well as a live-stage theater and the 1901 Stoughton Opera House. At the annual Syttende Mai (Norwegian for "May 17th") festival, locals still celebrate the signing of Norway's constitution with a parade and by dressing in authentic costumes and gathering to folk-dance, listen to music, and compete in the Ugliest Troll Drawing contest. This small town knows how to live big.
Among the best for: The Midwest, Cottages and Bungalows, Victorians, Waterfront, Small Towns, Easy Commute, Family-Friendly