Looking into getting a bunk bed? Bunk beds are an easy way to give your kids, teens, or guests extra floor space, and nobody said they couldn't be comfortable. Whether you're looking for a mattress to support your child's growing body, relieve some tension from your teenager, or ensure any overnight guests wake up feeling well-rested, we're here to help. We've compiled a list of the best mattresses for bunk beds, with options for toddlers and kids, lanky teens and young adults, and everyone else. Read on to learn more about our top picks for bunk bed mattresses, and find out how to choose the best bunk bed-in-a-box for your home.
Each product we feature has been independently selected and reviewed by our editorial team. If you make a purchase using the links included, we may earn a commission.
Best Mattress for Bunk Beds – Our Top Picks
Affiliate Disclosure:This Old House's Reviews Team is committed to delivering honest, objective, and independent reviews on home products and services. To support this business model, This Old House may be compensated if you purchase through links on our website.
Best Overall Mattress for Bunk Beds – Saatva Youth
Pros and Cons of the Saatva Youth
| Pros | Cons |
| --- | --- |
| Dual firmness to accommodate growing bodies | Not suitable for adults |
| Water-resistant cover | Might be a bit firm for kids who prefer softer beds |
| Pros | Cons |
Material: Hybrid (foam and coils)
Firmness: Medium (5.5/10), medium-firm (6/10)
Customer Rating: 5/5
Delivery: Within 18-21 business days
Trial: 365 nights
Warranty: Lifetime
Available sizes: Twin, twin XL, full
A bunk bed is a great option for a kid's or teen's room, lofting a bed can offer a lot more room for activities in a bedroom that's on the smaller end. Our top pick for a bunk bed mattress is the Saatva Youth because it's a great mattress for kids of all ages. With a flippable design and a weight capacity of up to 250 lbs, your child could use this mattress from age 6 to 16 and experience excellent spinal alignment, responsiveness, and pressure relief every night along the way. The innerspring system helps to keep sleepers cool, so your kid won't wake up sweating even if they have a big test the next day. All Saatva mattresses include white glove delivery, meaning Saatva's team will come set up your new mattress for you free of charge.
Best Kids Mattress for Bunk Beds – Nest Bedding Puffin
Pros and Cons of the Nest Bedding Puffin
| Pros | Cons |
| --- | --- |
| Good for children with allergies | Weight capacity is 100 lbs |
| Works for toddlers, kids, and lightweight teens | Might be too warm for especially hot sleepers |
| Pros | Cons |
Material: Foam blend
Firmness: Firm (7/10)
Customer Rating: 4.9/5
Delivery: Within 8-14 business days
Trial: 100 nights
Warranty: Lifetime
Available sizes: Twin, twin XL, full
If you're surprising your little one with a bunk bed, an excellent kids mattress makes a great accompaniment to their new set up. The Nest Bedding Puffin is a mattress designed for kids and boasts a low profile that's perfect for bunk beds. The foams used in this mattress are GREENGUARD Gold and Certipur-US certified, which makes them safe for children who suffer from allergies or asthma. The Nest Bedding Puffin is a firm mattress, ideal for supporting growing bodies and ensuring kids are maintaining proper spinal alignment while they sleep. The foam layers offer enough cushioning for side sleepers but ample support for kids who prefer to sleep on their backs or stomachs, so it's a viable option for all sleep positions.
Best Hybrid Mattress for Bunk Beds – Helix Kids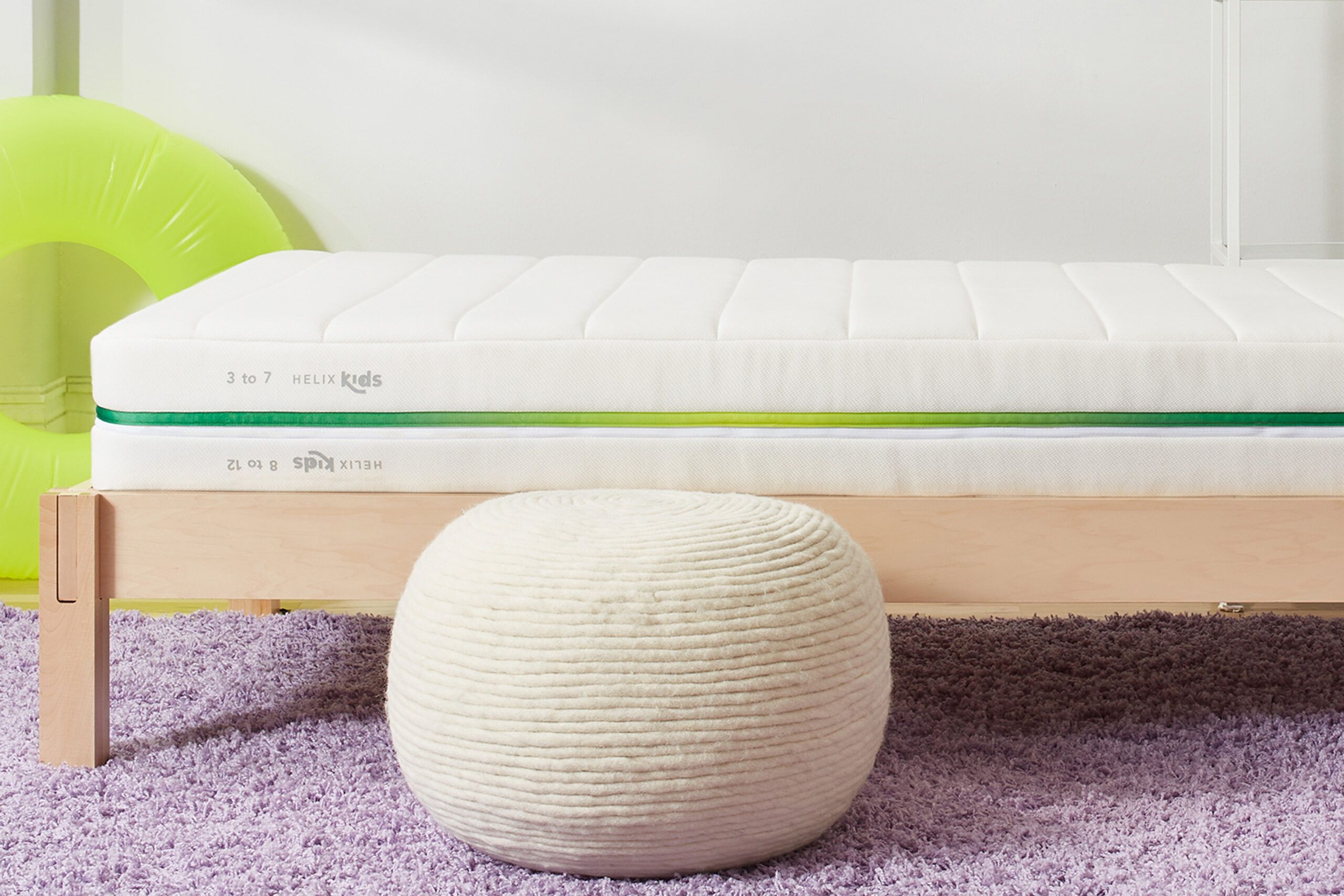 Pros and Cons of the Helix Kids
| Pros | Cons |
| --- | --- |
| Great for kids who sleep hot | Customer service could be improved |
| Suitable for any sleeping position | Somewhat pricey |
| Pros | Cons |
Material: Hybrid
Firmness: Medium-soft (4.5/10), medium-firm (6.5/10)
Customer Rating: 4.9/5
Delivery: Within 10-15 business days
Trial: 100 nights
Warranty: 10-year Limited
Available sizes: Twin, full
Hybrid mattresses excel at providing sleepers with that perfect blend of sink-in comfort and lifted-up support, and the Helix Kids mattress does exactly that for the little sleepers it's designed for. Dual-sided, a firmer end is meant for younger kids (ages 3-7) who need more support to keep their spine in alignment, while a softer side designed for older kids (ages 8+) offers more pressure relieving cushioning. The hybrid design adds an element of bounce to the cushioning foam layers, with a responsive innerspring core that allows sleepers to easily shift around while they rest. The Helix Kids mattress also excelled in pressure relief and keeping sleepers cool, ensuring your kids are climbing into a comfortable bed for a restful sleep experience.
Best Bunk Bed Mattress for Side Sleepers – Nectar Original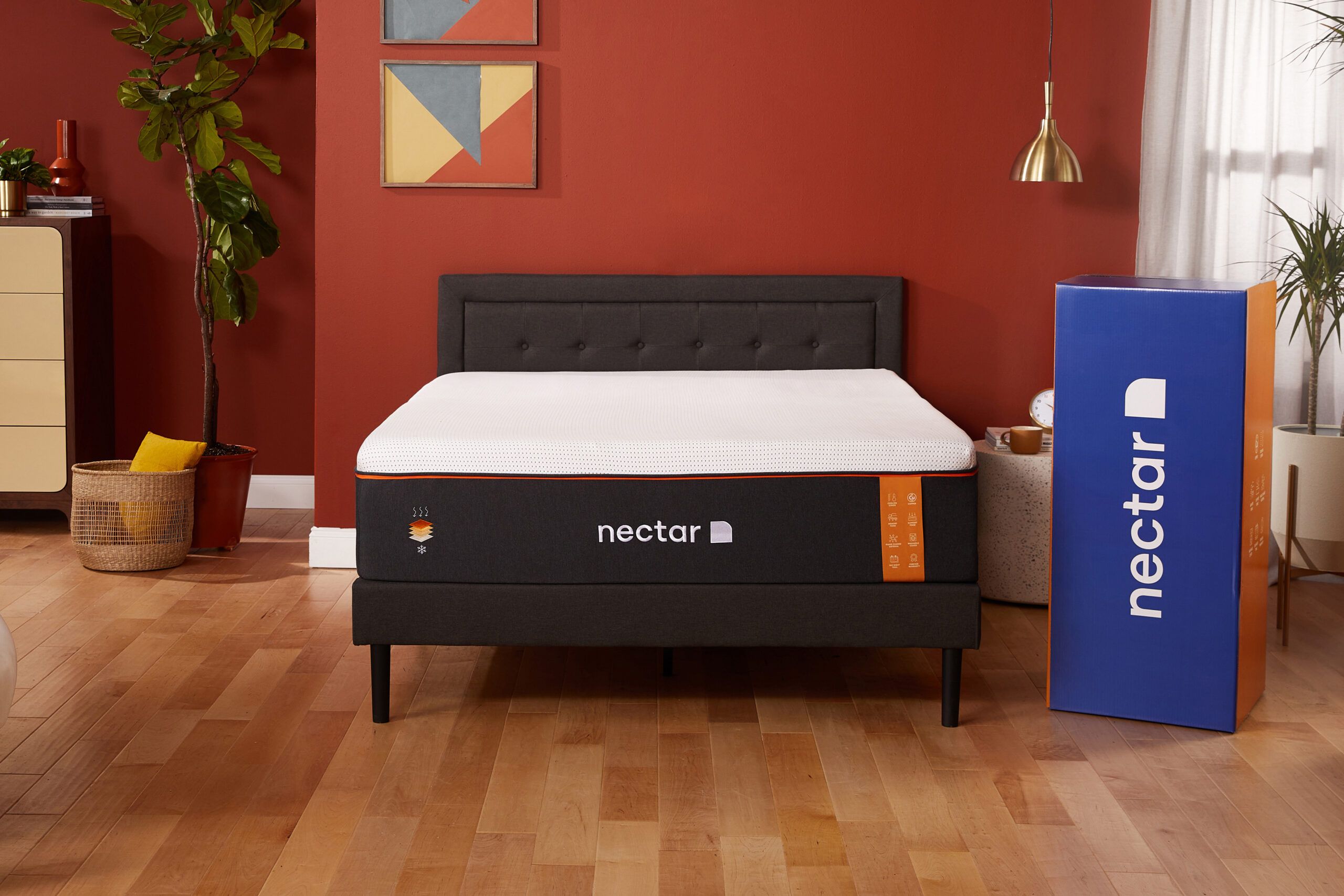 Pros and Cons of the Nectar Original
| Pros | Cons |
| --- | --- |
| Excellent sleep trial and warranty | Can trap body heat |
| Memory foam offers remarkable pressure relief | |
| Pros | Cons |
Material: Gel memory foam
Firmness: Medium-firm (6/10)
Customer Rating: 4.8/5
Delivery: 2-5 business days
Trial: 365 nights
Warranty: Lifetime
Available sizes: Twin, full
Sleep position is an incredibly important factor to consider when picking out a new mattress, even for a bunk bed! Side sleepers require ample cushioning and a softer sleep surface than other sleep positions to prevent tension and pain in their hips and shoulders, and the pressure-relieving foams in the Nectar Original make it the best mattress for the job. Multiple foam layers (three, to be precise) work to evenly distribute body weight, contour to the body's curves, and support sleepers where they need it. A comfort layer of gel-infused memory foam and a cooling cover helps to mitigate some of the heat trapping that memory foam mattresses are known for. Supportive edges make the Nectar good for bunk beds, as sleepers can expect the Nectar to keep them lifted even if they rest near the edge.
Best Value Bunk Bed Mattress – Siena Memory Foam
Pros and Cons of the Siena Memory Foam
| Pros | Cons |
| --- | --- |
| Good bed for kids, teens, and lightweight adults | Can sleep a bit hot |
| Affordable price point | |
| Pros | Cons |
Material: Foam
Firmness: Medium-firm (6/10)
Customer Rating: N/A
Delivery: 2-5 business days
Trial: 180 nights
Warranty: 10-year
Available sizes: Twin, twin XL, full, queen, king, California king
What do you get when you take a Nectar memory foam mattress and make it even more affordable? The Siena memory foam mattress! Designed by the team at Nectar, this sister company also offers super comfortable memory foam mattresses at an even more affordable price point than the Nectar line. The Siena mattress is more geared towards lightweight sleepers, such as kids, teens, or smaller adults, making it a great pick for a bunk bed. The slow-moving foams in this bed guarantee top-notch pressure relief for sleepers, and the medium-firm feel should provide enough support for back and side sleepers (some stomach sleepers may prefer a firmer bed). The foam construction also guarantees absolutely no noise from this mattress, which is ideal for a bunk bed. It does have a 10-inch loft, which may be slightly too thick for some bunk bed frames.
Best Low-Profile Bunk Bed Mattress – DreamFoam Essential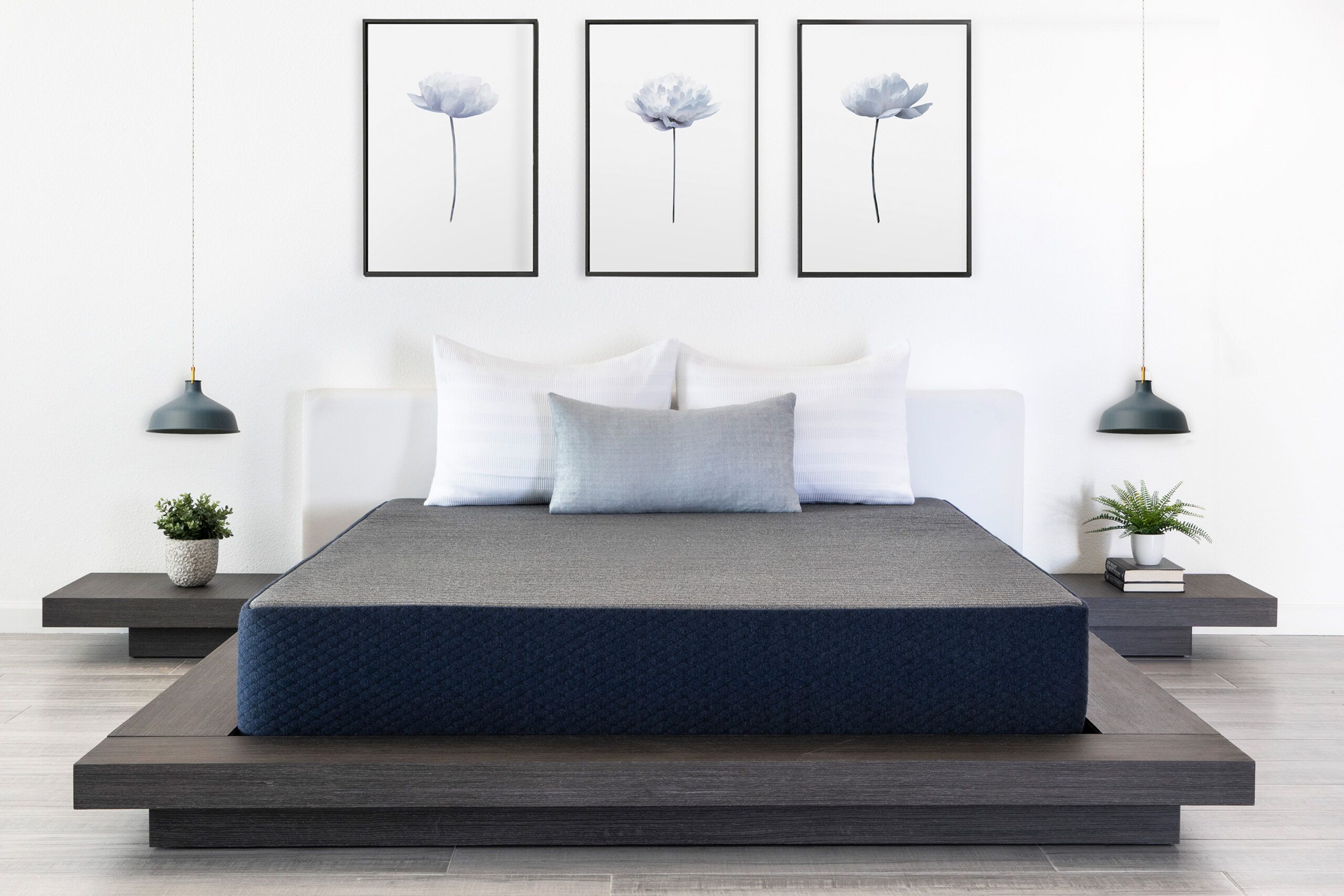 Pros and Cons of the DreamFoam Essential
| Pros | Cons |
| --- | --- |
| Available in several different loft options | Foams can trap body heat |
| Stain- and water-resistant mattress cover | Not very responsive |
| Pros | Cons |
Material: Memory foam
Firmness: Medium-soft (4/10), medium (5/10), medium-firm (6/10, 7/10), firm (8/10)
Customer Rating: 4.7/5
Delivery: Within 10-15 business days
Trial: 120 nights
Warranty: 10-year Limited
Available sizes: Twin, twin XL, full, queen, king, California king
Looking for a low-profile mattress that fits your budget? The DreamFoam Essential comes in five profile options, with the thinnest mattress being only 6 inches thick, perfect for even the smallest bunk bed frame. The profiles range from 6″ to 14″; the thinner models are firmer and become softer as the profile increases. Two layers of foam (the 14″ model has three layers) provide a firmer sleep surface that still does a good job of relieving pressure, perfect for growing bodies, back sleepers, or stomach sleepers. A stain-resistant mattress cover makes this the perfect bed for younger kids, ensuring accidents and spills won't soil the mattress and making cleanup much easier. This is a great budget mattress at less than $300 for a twin bed.
Best Eco-Friendly Bunk Bed Mattress – PlushBeds Natural Bliss
Pros and Cons of the PlushBeds Natural Bliss
| Pros | Cons |
| --- | --- |
| Three loft options (8″, 10″, 12″) | Expensive |
| Hypoallergenic construction | |
| Pros | Cons |
Material: Natural latex
Firmness: Medium-firm (7/10), firm (8.5/10)
Customer Rating: 4.9/5
Delivery: Within 7-9 business days
Trial: 100 nights
Warranty: Lifetime
Available sizes: Twin, twin XL, full, queen, split queen, king, split king, California king
If you struggle from allergies or want to invest in a mattress made with high-quality, Earth-friendly materials, the PlushBeds Natural Bliss is an excellent choice. Featuring organic cotton covers that come off for easy cleaning, this is a great bed for kids who may be prone to messes or accidents. The six-inch mattress features organic Dunlop latex, while the eight- and ten-inch versions use both organic Talalay and Dunlop latex in their constructions. Two firmness levels (medium-firm and firm) allow customers to select how much support and give they'd like from their mattress. A lifetime warranty ensures this mattress will provide quality support and comfort for years, so your child can use this bed from their younger years into teenage and young adulthood.
MA Score: The Mattress Advisor Score is a weighted score that takes into account 14 different factors related to the mattress' performance, function, convenience and the brand's social responsibility.
What Makes a Mattress Good for Bunk Beds?
When deciding which mattress to get for your bunk bed, you'll want to consider what mattress type is best for whoever will be sleeping on the bed, whether that's a young child, a growing teenager, or an adult. We've covered the different types of mattresses, their sizes, and other considerations to factor in when deciding on the right bunk bed mattress for your home.
Type of Mattress
Memory foam: Beds with all-foam constructions are great at alleviating pain in pressure points, notably the hips and shoulders. Side sleepers tend to sleep well on memory foam mattresses because of how effectively these beds cradle and contour to the body.
Innerspring: With a sturdy core of steel coils, innerspring mattresses offer excellent responsiveness, with a notable "bouncy" quality to them that makes moving around and changing positions much easier for sleepers. These mattresses provide lots of cooling airflow, too.
Latex: Made from rubber trees, latex is a bouncy yet cushioning material that makes for great mattresses. Latex mattresses are durable and more breathable than all-foam mattresses, plus latex is naturally hypoallergenic and resistant to dust mites.
Hybrid: Hybrids vary in their exact construction, but always have an innerspring core that's topped or surrounded by contouring layers of foam, latex, or both, in some cases. The result are beds that provide the sturdy support and excellent bounce of an innerspring bed but with improved pressure-relieving and cushioning abilities.
Mattress Size
Twin: A double twin or twin over full are two popular bunk bed frames, especially for younger children who need less room to sleep at night. Twin-size mattresses are great for kids who don't require a bigger bed yet.
Twin XL: A twin XL bunk bed is commonly found in college dorms and is a great option for taller kids, teens, or even young adults who could benefit from some extra space at the foot and head of the bed. Twin XL mattresses are 80 inches long, whereas a standard twin bed is 75 inches long.
Full: A full-size mattress is suitable for a single person, or two smaller people to share. A full mattress is common for the bottom bunk in a bunk bed, and is spacious enough for two teens or kids to share (though might be a little tight with two adults). Fulls are 54 inches wide where twins are 38 inches wide, but both have lengths of 75 inches.
Queen: A twin over queen bunk bed is a great option for a more adult-friendly bunk bed, as the bottom bunk provides ample room for two adults to share the mattress. Siblings sharing a room can also benefit from having a larger bed on the bottom: It's a good design for growing kids to slowly move to a larger mattress, and provides plenty of space for sleepovers, too. Queens measure 60 inches wide and 80 inches long.
Your Bunk Bed Mattress Buying Guide
Profile/Loft: The profile or loft refers to the mattress height. Bunk beds (especially those with guardrails or thinner frames) often require mattresses with lower profiles, meaning they have less loft. For the most part, mattresses with an 8-inch loft or lower should be suitable for bunk beds.
Weight Capacity: Pay attention to the weight capacity of both the bed frame and the mattress you purchase. If you opt for a children's mattress, it's likely that it will have a smaller weight capacity that may not make it suitable for teens or adults. Similarly, some bunk bed frames may only be intended for children or lightweight teens and adults.
Noise: It can be tough having a noisy roommate, but someone on the top bunk with a noisy mattress can make sleep feel impossible. Double-check how noisy the mattress is once you get it in the frame (all of the mattresses on this list come with a sleep trial, so you'll be able to return them if you find them too noisy).
Type of Bunk Bed: Bunk beds come in different varieties, from a standard bunk bed to a trundle bed to a top bunk bed over a futon. When looking for the right bunk bed mattress, think about how often the bed will be used, who will be sleeping on it, and whether the mattress will fit the type of bunk bed frame you have.
Performance Factors Tested
Firmness
The ideal firmness of a bed varies from person to person. In the lab, we make sure several testers of different weights and sizes lie on the mattresses to calculate an accurate firmness score.
Pressure relief
Pressure relief measures how well a bed contours to the body and reduces pressure and tension in areas such as the hips and shoulders. Testers in the lab use a tool designed specifically to measure the amount of pressure on these areas when lying on the bed.
Spine alignment
How effectively a mattress keeps the sleeper's spine aligned is the measure of spinal alignment. This factor is key for anyone with back pain and is important for kids who are growing and developing.
Durability
A bed's durability varies on the materials it's made of, the quality of the construction, its expected lifespan, and the amount of structural support it has.
Motion transfer
How well a mattress can isolate movement is what we mean when we say motion transfer. Beds with foam construction isolate motion well, meaning the movement stops at the source rather than shaking or moving the whole bed.
Temperature regulation
Some beds keep sleepers cooler than others, while others tend to have poor temperature regulation and trap body heat.
Responsiveness
The responsiveness of a bed essentially refers to how bouncy it is, and whether or not it's easy to move around on.
Edge support
Supportive edges are useful for those who like to sleep near the edges or sit on the bed to get ready in the morning. This isn't super important for bunk beds, but a supportive edge may be helpful for a bunk bed without guardrails.
FAQ About the Best Mattresses for Bunk Beds
Are bunk beds safe for kids?
Yes! Bunk beds are a safe and viable option for kids, provided the bed has guard rails and the child is able to safely climb up and down the bed frame.
Can an adult sleep on a bunk bed?
As long as the frame and mattress can support the adult's weight, they should have no issues sleeping on the bunk bed! Bunk beds are a popular option for college dorms as a way to save space.
Do bunk beds require a specific mattress?
This depends on the bunk bed frame you're using. Some bunk beds will require a twin XL mattress (this is a common frame for college dorm bunk beds) while others may need a low-profile mattress to fit in the frame properly. Be sure to check out the specifications of the frame, and if there are no restrictions or special requirements you should be able to use any mattress.
Can teens use bunk beds?
Teenagers might not love a bunk bed, but a bunk bed that's big enough (such as a twin XL for taller sleepers) is perfectly fine for teenagers. A bunk bed or lofted bed is a great way to open up a kid's room to give them more space for other things.
Summary of Our Top Picks for the Best Mattress for Bunk Beds