What does "best value" mean when it comes to buying a new mattress? For starters, what it doesn't mean is the cheapest option. After all, the least expensive mattress won't necessarily lend your bedroom the best value if its longevity is limited. Instead, in seeking out the best value mattresses, our This Old House Reviews Team — with help from the enviable expertise of Mattress Advisor testers — sought high-quality beds that boast bang for the buck.
Each of the beds in this mattress guide are suited for specific sleepers per tester feedback at the Mattress Advisor sleep lab in Raleigh, N.C. Most importantly, all 10 merit the title of a best value mattress, allowing you to pad the remainder of your bedroom renovation budget.
Each product we feature has been independently selected and reviewed by our editorial team. If you make a purchase using the links included, we may earn a commission.
The 10 Best Value Mattress – Our Top Picks
Affiliate Disclosure:This Old House's Reviews Team is committed to delivering honest, objective, and independent reviews on home products and services. To support this business model, This Old House may be compensated if you purchase through links on our website.
Best Overall Value Mattress – Nectar Original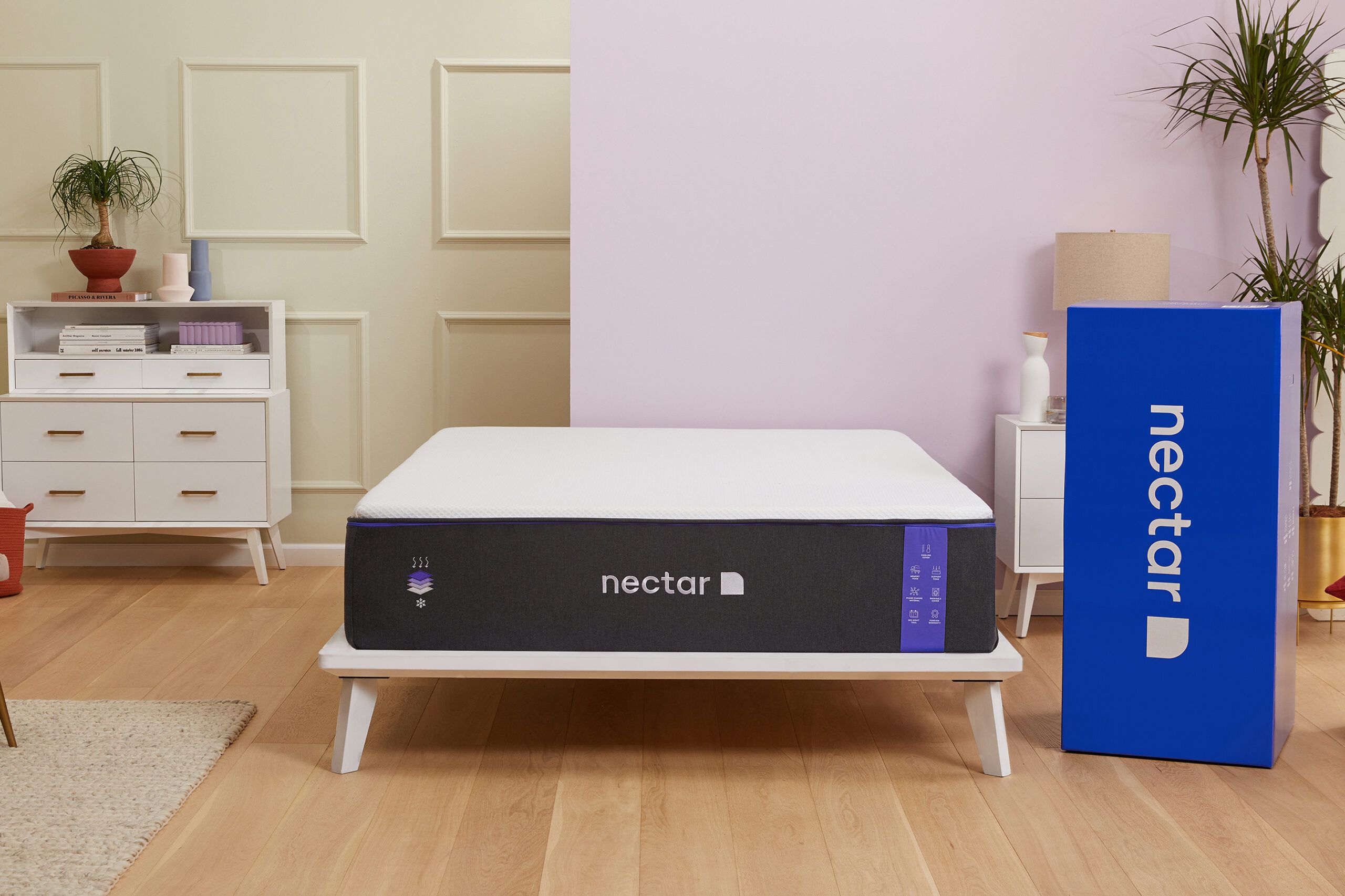 Pros and Cons of the Nectar Original
| Pros | Cons |
| --- | --- |
| Excellent scores in sleep lab all around | Made in China, rather than in the U.S., like most of list |
| Great match for side sleepers, the most popular sleep position | Hot sleepers may need more cooling tech |
| Lifetime warranty and year-long trial period | |
| Pros | Cons |
Material: Gel memory foam
Firmness: Medium-firm (6/10)
Customer Rating: 4.8/5
Delivery: 2-5 business days
Trial Period: 365 nights
Warranty: Lifetime
Available Sizes: Twin, twin XL, full, queen, king, California king
Nectar, a longtime favorite among Mattress Advisor's mattress testers, has completed a "best of" hat trick of sorts, topping three roundups that relate to affordability. As one of the best affordable mattresses on the market, the Nectar's value stems from its practical construction materials: Three variations of memory foam — a gel-infused cooling memory foam, bouncy transition foam, and 6-inch high-density foam foundation block — contour to the body and add support. At the very top, the bed's quilted polyblend cover adds a comforting, pillowy feel. Testers cited edge support (9/10), motion transfer (8.5/10), and pressure relief (8.5/10) as three top-tier testing areas in the sleep lab. Well-rated edge support makes the bed excellent for those with limited bedroom space, who might opt to often perch on their bed's edge rather than an end-of-bed storage bench. Side sleepers are also a great fit for beds with solid pressure relief, since a good score indicates pressure on the hips and shoulders will be adequately alleviated. You can really hit the value sweet spot if you shop Nectar during one of its sales events: At publication time, the brand was including two cooling pillows, a set of sheets, and a mattress protector (a $499 value, the brand says) with all purchases of a queen-size mattress.
Best Value Hybrid Mattress – DreamCloud Original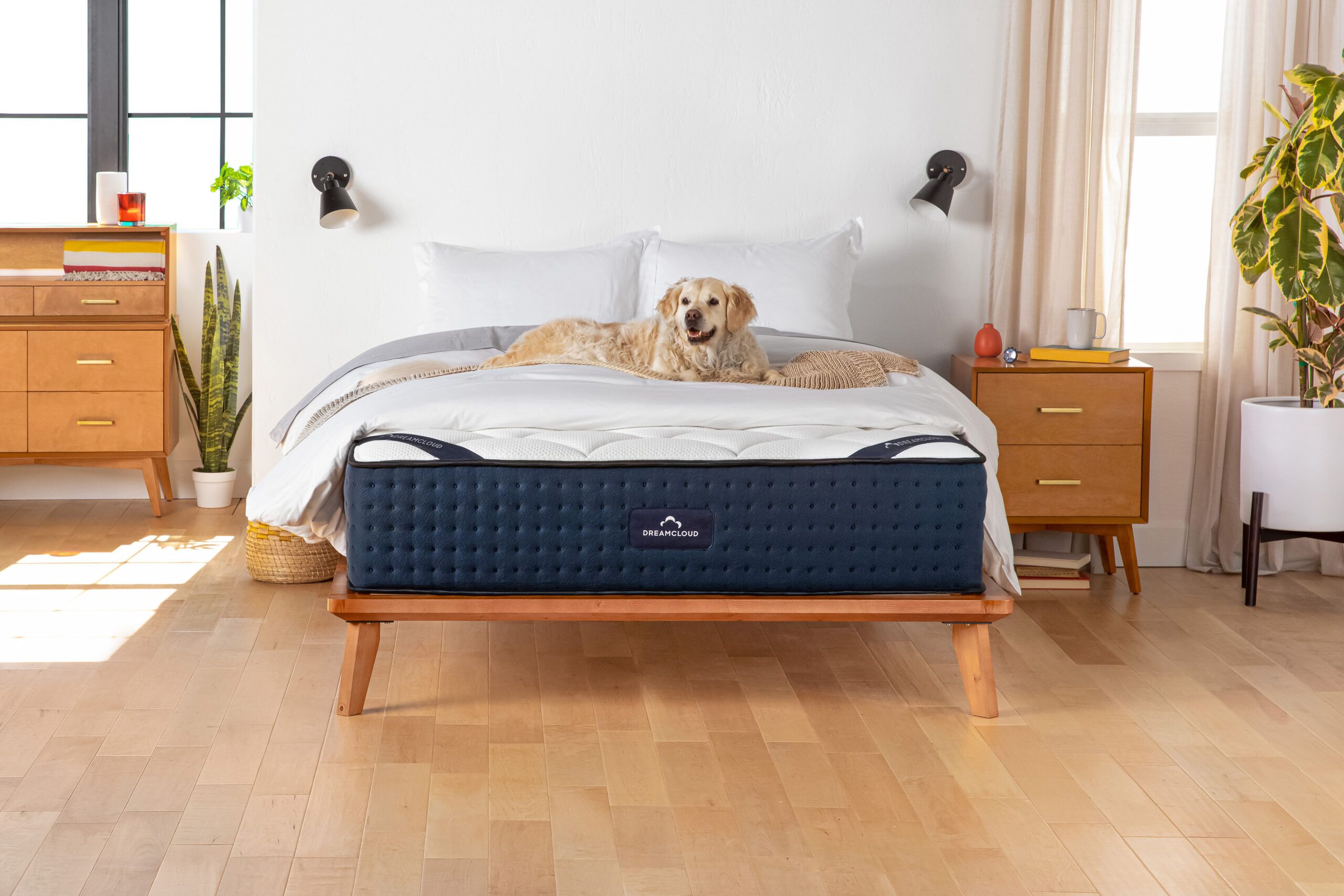 Pros and Cons of the DreamCloud Original
| Pros | Cons |
| --- | --- |
| One of the all-around top-rated beds | DreamCloud Premier a better bet for sleepers who crave a plush top |
| Cozy, quilted sleep surface a favorite of testers | Bed can be pricier when not on sale |
| Lifetime warranty and year-long sleep trial | |
| Pros | Cons |
Material: Hybrid (foam and coils)
Firmness: Medium-firm (6.5/10)
Customer Rating: 4.8/5
Delivery: Within 18-21 business days
Trial: 365 nights
Warranty: Lifetime
Available Sizes: Twin, twin XL, full, queen, king, California king
To sleep on a literal cloud may be reserved for the rosy-cheeked cherubs in your home's Rococo works of art. However, the DreamCloud Original comes pretty darn close to evoking that feeling when you lie on its bestselling foam- and cashmere-topped hybrid bed. DreamCloud's cozy, tufted cover is a favorite feature among mattress testers, who often designate DreamCloud as an "affordable luxury" mattress because of its highly reasonable price tag ($999 for a queen mattress) considering the value-add it brings to the bedroom. Contributing a great deal to the bed's durability (which scored 9 out of 10) is DreamCloud's layer of individually wrapped coils. The coils also lend the sleeper a lifted-up feeling rather than a sunken-in one. And to add comfort, 5 inches of conforming gel memory foam and polyfoam are layered atop the coils, providing top-notch pressure relief, testers said (9/10).
Best Value Innerspring Mattress – Saatva Classic
Pros and Cons of the Saatva Classic
| Pros | Cons |
| --- | --- |
| Suited for any sleep positions, including stomach, side, and back sleepers | Good value, but one of the more expensive mattresses, and less substantial sales |
| Beds are customizable by height and firmness level | Modest motion transfer (7.5/10) can be a problem for couples who require little interruption |
| One of the best mattresses for back pain, thanks to perfect spine alignment | |
| Lifetime warranty and year-long sleep trial | |
| Pros | Cons |
Material: Hybrid (foam and coils)
Firmness: Soft (3/10), luxury-firm (6/10) and firm (8/10)
Customer Rating: 4.9/5
Delivery: 9-21 days, free white glove delivery
Trial: 365 nights
Warranty: Lifetime
Available Sizes: Twin, twin XL, full, queen, king, California king
Value comes in lots of packages, even luxury ones, like the Saatva Classic. The innerspring mattress with a quilted Euro pillow top arrives made-to-order on a truck (rather than in a box). Upon delivery, Saatva representatives will unload and assemble the bed in your preferred space and remove the old mattress. All of that is included in the price of the Saatva Classic, adding to the value of a durable mattress that's one of the highest-scoring to come through the sleep lab. The hybrid bed received perfect scores in edge support and spine alignment and aced its pressure relief heat mapping and cooling assessments (9 out of 10 in both categories). Another brand offering that adds value is the Saatva Classic's customizability. The bed can be ordered per your preferred level on the firmness scale (soft, luxury-firm, or firm) and height. Height modifications won't affect the bed's price or core materials and are a handy way to custom fit the mattress to your bedroom's pillowboard and bedside tables.
Best Cheap Mattress – Dreamfoam Essential by Brooklyn Bedding
Pros and Cons of the Dreamfoam Essential
| Pros | Cons |
| --- | --- |
| High spine alignment score which can mean back pain prevention | Lack of responsiveness may be a deal breaker for combination sleepers |
| Side sleepers should get plenty of pressure relief | Modest 10-year warranty |
| Pros | Cons |
Material: Memory foam
Firmness: Medium-soft (4/10), medium (5/10), medium-firm (6/10, 7/10), firm (8/10)
Customer Rating: 4.7/5
Delivery: Within 10-15 business days
Trial: 120 nights
Warranty: 10-year limited
Available Sizes: Twin, twin XL, full, short full, queen, short queen, king, California king
The Brooklyn Bedding brand houses an eclectic mix of beds, including its Plank geared toward firm mattress lovers, and the Spartan, designed for athletes. The brand's top contender for the budget mattress shopper is the Dreamfoam Essential, formerly called the Dreamfoam Chill. Testers deemed the mattress excellent for a broad range of sleepers including couples thanks to above-average motion isolation (8.5/10); side sleepers, stemming from solid pressure relief (8.75/10); and sleepers with back pain, citing the excellent spine alignment (9.5/10) testers experienced atop the bed. The bed comes in five models, which vary in price and thickness, although each uses the same materials in the top and bottom layers — a gel memory foam for cooling and cushioning at the surface and a dense polyfoam base for support. The thinnest, firmest 6-inch mattress comes in at $524. However, even if you order the softest, thickest 14-inch model, you're burdened with a highly reasonable $949 price point.
Best Value Mattress for Side Sleepers – Nolah Original
Pros and Cons of the Nolah Original
| Pros | Cons |
| --- | --- |
| AirFoam has excellent bounce for side sleepers who switch sides | Plus-sized sleepers may require more support |
| Excellent choice for couples looking for good value | AirFoam is not the typical "hugging" memory foam feel some sleepers may like |
| Pros | Cons |
Material: All-foam
Firmness: Medium-firm (5.5/10)
Customer Rating: 4.7/5
Delivery: Free within 2-8 business days
Trial: 120 nights
Warranty: Limited lifetime
Available Sizes: Twin, twin XL, full, queen, king, California king
Nolah isn't shy to assert the claim that its proprietary "AirFoam" outperforms traditional memory foam. Testers agree that the AirFoam component is what lends the Nolah Original the bulk of its value — especially for side sleepers. The Nolah Original has a 2-inch AirFoam layer, and according to the brand, the AirFoam is less heat-trapping and more responsive than classic memory foam. Testers agreed that the bed has excellent responsiveness (9.25/10) to it so that rather than sucking you in, the bed provides a bouncy give-and-take. That's good news for side sleepers who need to swap sides seamlessly. Plus, they can do so without waking their partner, thanks to excellent motion transfer (9/10).
With an affordable price point for a queen ($1,149 at publication), Nolah is also one of the best budget-friendly mattresses to provide a lifetime warranty.
Best Value Mattress for Hot Sleepers – Cocoon Chill Hybrid by Sealy
Pros and Cons of the Cocoon Chill Hybrid
| Pros | Cons |
| --- | --- |
| Back, side and stomach sleepers get lots of support | Lack of responsiveness (7.75/10) might leave combination sleepers feeling trapped |
| One of the best cheap mattress options for those with back pain | Extra-firm mattress lovers may require a stiffer bed |
| Pros | Cons |
Material: Hybrid (foam and coils)
Firmness: Medium (5/10)
Customer Rating: 4.5/5
Delivery: Within 5-7 days
Trial: 100 nights
Warranty: 10 years
Available Sizes: Twin, twin XL, full, queen, king, California king
Sealy has been — and remains — a long-time staple brand in brick-and-mortar mattress stores. But the brand also offers excellent value bed-in-a-box mattress choices, and the Cocoon Chill Hybrid is a favorite among Mattress Advisor testers. Testers gave this cooling mattress its highest marks in spine alignment (8.75/10), pressure relief (8.9/10), and, most important for hot sleepers, cooling (8.5). Testers said that the bed's combination of gel memory foam and coils promotes airflow to move body heat away from the sleeper and keep the bed's surface feeling cool to the touch.
Best Organic Value Mattress – Awara Natural Hybrid Mattress
Awara Natural Hybrid
| Pros | Cons |
| --- | --- |
| Quality materials, including latex, means great longevity | Side sleepers may prefer a traditional memory foam mattress, or a mattress with more pressure relief |
| Scored well in every major sleep lab performance category | |
| Lifetime warranty and year-long sleep trial | |
| Pros | Cons |
Material: Hybrid (latex and coils)
Firmness: Medium–firm (7/10)
Customer Rating: 4.8/5
Delivery: 3-5 business days
Trial Period: 365 nights
Warranty: Lifetime
Available Sizes: Twin, twin XL, full, queen, king, California king
Sleeping on an organic mattress is an added way to prevent or lessen exposure to chemicals that you don't need to otherwise. For that reason, the Awara Natural Hybrid Mattress is an apt bedroom selection for sleepers with allergies or sensitive skin. Awara is also recommended for couples by testers, who gave 9 out of 10 scores for both the bed's edge support and motion transfer. That means that you won't be as impacted even if your co-sleeper tends to wiggle and shuffle you toward the edge of the bed. Adding to its value, Awara also earned an 8.5 out of 10 in spinal alignment and cooling from testers. Testers also said that the bed's use of coils and breathable latex helped hot sleepers get relief. Mattress Advisor best likes the Awara for back and stomach sleepers, due to the bed's medium-firm feel support. However, side sleepers can always opt to add a plush quilted pillow top for extra pressure relief on their sides.
Best Memory Foam Value Mattress – Layla Original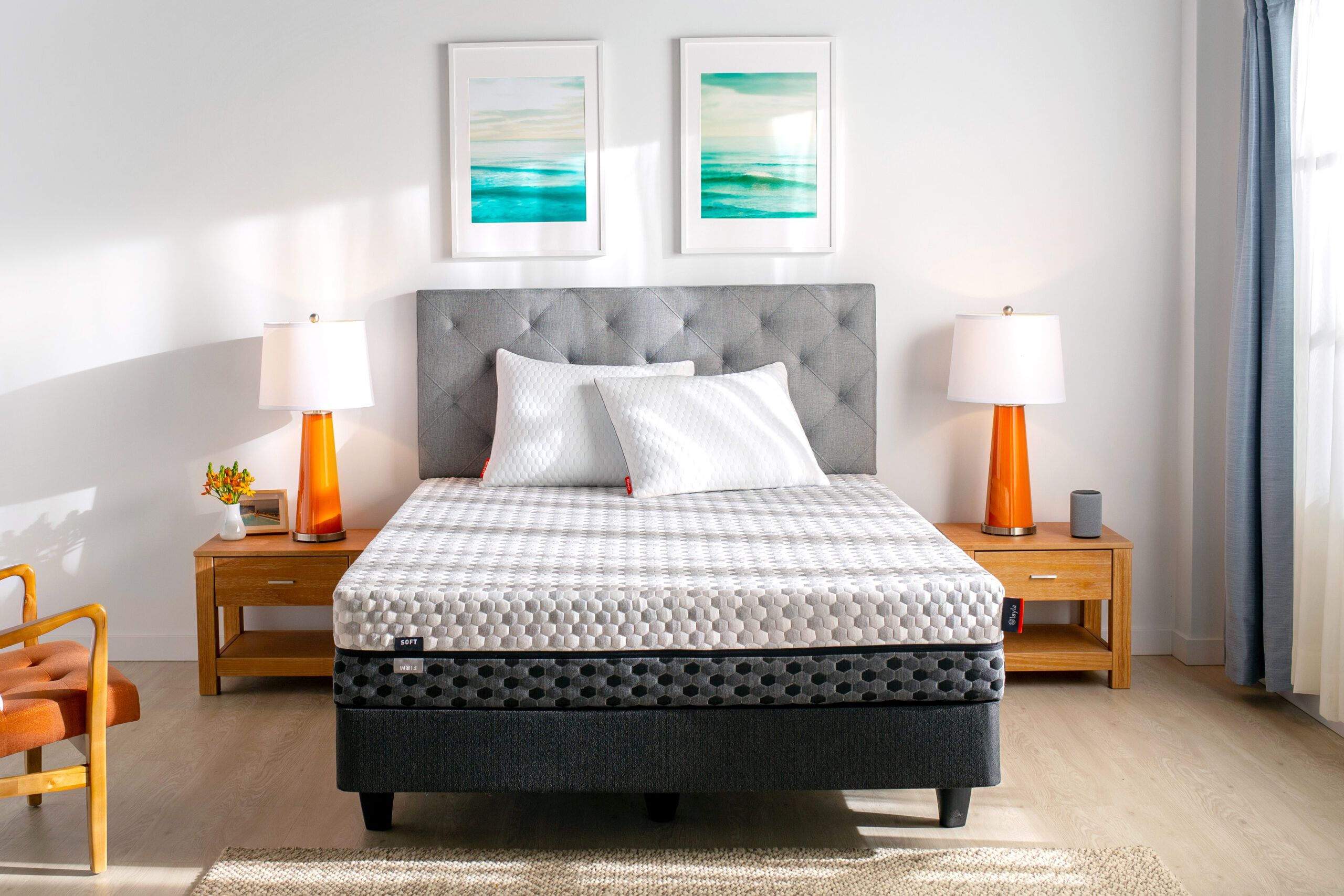 Pros and Cons of the Layla Original
| Pros | Cons |
| --- | --- |
| You get two beds in one with the flippable Layla, excellent for guest rooms and those with myriad sleep needs | Heavier bodies may need more support |
| The bed's soft side is excellent for side sleepers | Not great for those who would rather feel held up, since you sink into the Layla more |
| The firm side is excellent for couples, back, and stomach sleepers | |
| Lifetime warranty and 365-night sleep trial | |
| Pros | Cons |
Material: Memory foam
Firmness: Medium-soft (4/10) and medium-firm (7/10)
Customer Rating: 4.5/5
Delivery: Ships free within 4-8 business days
Trial: 365 nights
Warranty: Lifetime
Available Sizes: Twin, twin XL, full, queen, king, California king
Layla is an around-$1,000 mattress option with a signature feature that practically doubles its value. How? Because you get two mattresses for one with the flippable Layla. Layla's quality covers each side of the all-foam bed as well: Testers rated Layla at 8 out of 10 or higher in every major performance category, including motion transfer (8.5/10), edge support (9/10), pressure relief (9/10), and responsiveness (9.5/10). The one exception was the bed's more modest score for cooling (7.5/10). However, hot sleepers have a solution without having to navigate to Amazon or another bedding brand. Layla's bamboo sheets are cool to the touch and wick away sweat effectively to keep you cool and crisp, reviewers said. Testers also had good news for firm mattress lovers — although side sleepers are advised to sink into Layla's softer side, both firmness options are cushioning and cradling on pressure points.
Best Value Mattress for Couples – Puffy Original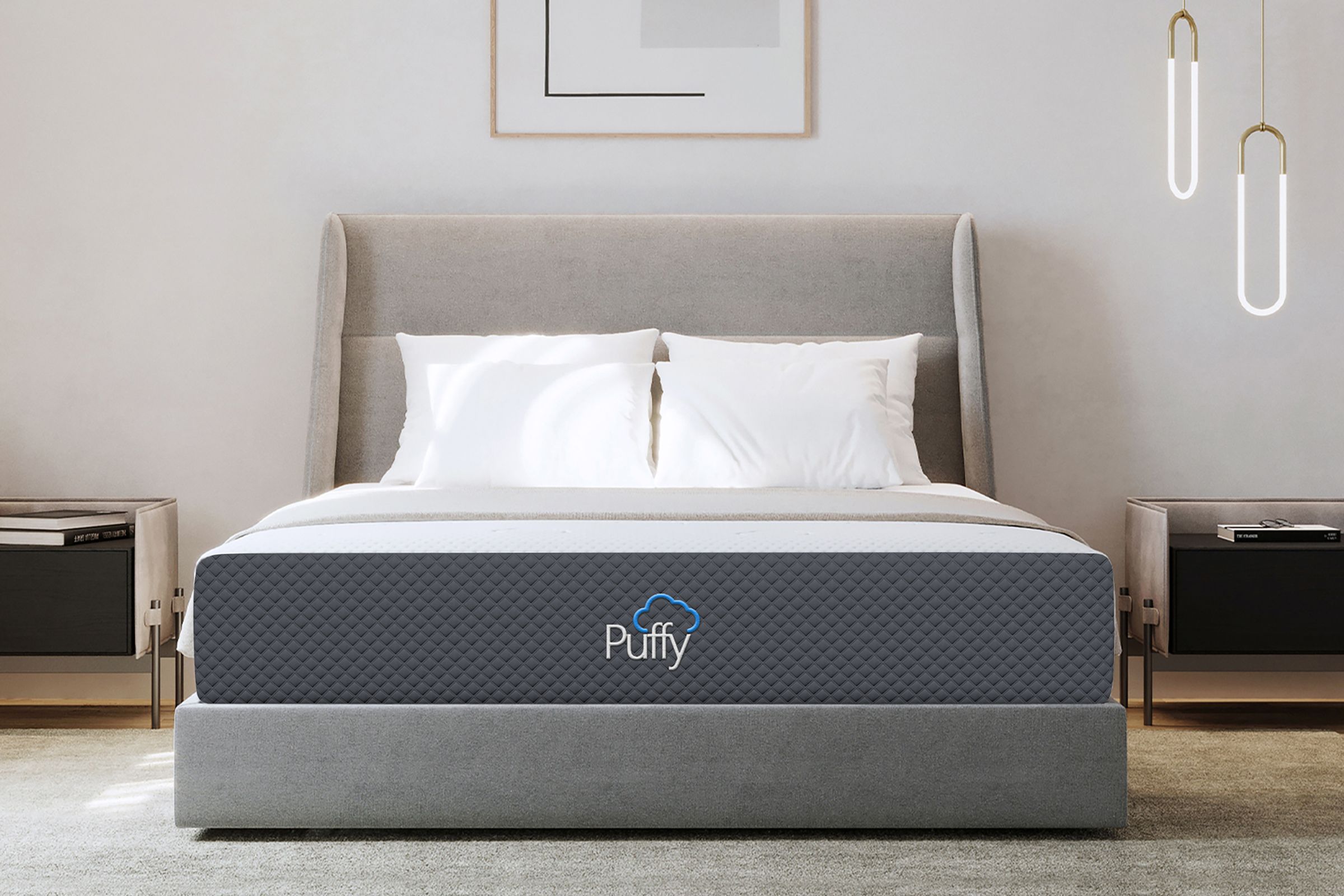 Pros and Cons of the Puffy Original
| Pros | Cons |
| --- | --- |
| Puffy offers some of the steepest discounts compared to other mattress companies | Puffy Lux may be a better fit for sleepers with prefer innerspring support |
| High-performing across the board in the sleep lab | When not on sale, Puffy is much pricier |
| Lifetime warranty coverage | |
| Pros | Cons |
Material: Memory foam
Firmness: Medium-firm (7/10)
Customer Rating: 5/5
Delivery: Ships free within 2-5 business days
Trial: 101 nights
Warranty: Lifetime
Available Sizes: Twin, twin XL, full, queen, king, California king
Puffy's sticker price is on the higher side, but the "leaving the lot" price is often much lower, given the brand's generous sales. That means that often, you can snag the luxury memory foam mattress that's excellent for couples for just over $1,000. Co-sleeping-friendly qualities include Puffy's limited motion transfer, rated 9.25 out of 10 by testers, robust edge support, rated 8.75 out of 10, and cooling rated 8 out of 10. The bed's medium-firmness is also a popular choice that should suit all sleep positions. For a more smothering experience that's also good value, you can try the Puffy Lux, a hybrid that includes a plush mattress topper.
Best Value Mattress for Back Pain – Bear Original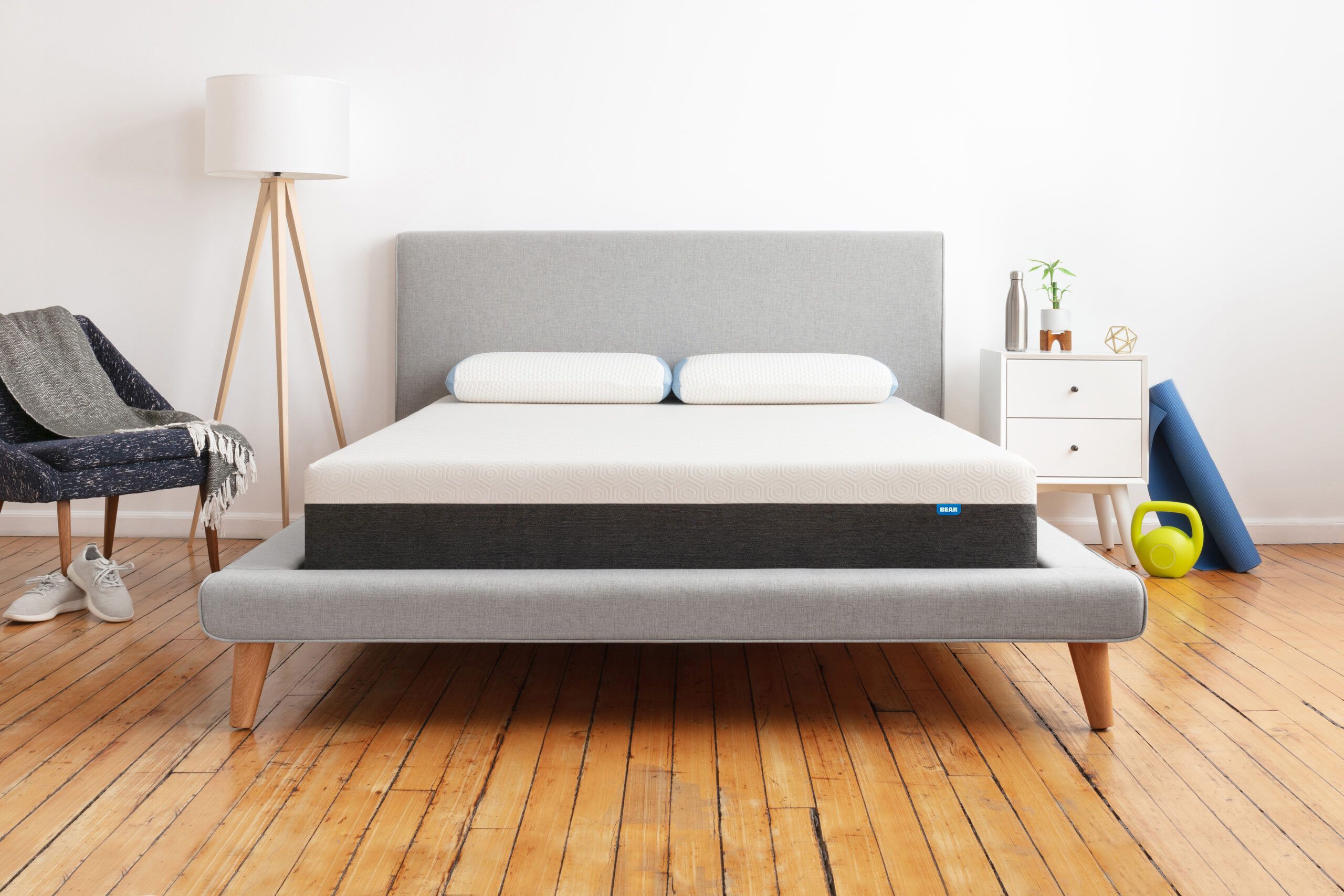 Pros and Cons of the Bear Original
| Pros | Cons |
| --- | --- |
| Designed with recovery for athletes in mind | Those with severe back pain may be more inclined to sleep on a hybrid bed with innerspring support |
| Testers said bed is cool to the touch | |
| Lifetime warranty protection | |
| Pros | Cons |
Material: Memory foam
Firmness: Medium-firm (6.5/10)
Customer Rating: 4.7/5
Delivery: Ships free within 7-10 business days
Trial: 120 nights
Warranty: Lifetime
Available Sizes: Twin, twin XL, full, queen, king, California king
The Bear Original mattress is geared toward athletes, with a mission of helping promote swift recovery while under the covers for active bodies. And unfortunately, a common affliction of active people, and all adults, is back pain, making sleep all the more crucial a time for the prevention and relief of back pain. Mattress Advisor admittedly isn't equipped to verify the brand's claims about how Bear Original's use of Celliant fiber reflects infrared light back to the body to aid circulation and, thus recovery. However, testers said Bear's supportive medium-firmness (although if you're willing to spend a bit more for innerspring coil support, read our mattress review for the Bear Hybrid) and cool-to-the-touch surface are certainly a terrific start. Good posture is another key toward preventing back pain, and testers said the bed performed well at keeping their spines in its natural S-curvature (8.5/10). The bed's use of gel- and graphite-infused memory foam also help dispel rather than trap heat, which earned the bed a 9 out of 10 in cooling. And with a cool sub-$1,000 price point, 120 night sleep trial, and lifetime warranty, there's little risk in testing the mettle of Bear's bolder claims.
What Makes a Mattress a Good Value Pick?
With consumer goods, value is inextricably linked with longevity. So durability is a must to purchase a mattress with good value. However, you'll be sleeping for a long time — uncomfortably — if your high-quality mattress doesn't jibe with your personal preferences. In a more holistic sense, a better mattress can also add significant value to your life and well-being if it helps you tackle insomnia, which is known to hamper productivity and even harm personal relationships. Further, you'll want to make sure your mattress doesn't burden you with unexpected extra costs, like having to buy deep pocket fitted sheets, a new bed frame, or box spring (which fortunately isn't required for any beds on this list).
Type of Mattress
Memory foam: Foam layers comprise the entirety of a memory foam mattress, and the bed's firmness level will be determined by the height and density of the foams used. Generally, there's a base layer of memory foam, and cushier top layers. Memory foam beds kicked off the bed-in-a-box trend, although proprietary foams and hybrids have quickly become a standard feature of most online bed brands.
Hybrid: Hybrid mattresses are a modern melding that combines a box spring (in the form of a coil layer) with an all-foam mattress. Hybrids sometimes also include a pillow top layer to boot. The coil springs are wrapped in individual fabric pockets, so each coil can spring independent of one another, isolating movement. Hybrid mattresses are great for larger body types since they have a durable coil support layer.
Innerspring: The innerspring mattress type sometimes refers to old-school innerspring beds made with a continuously wrapped coil. However, in the context of online bed brands, a bed deemed "innerspring" is often technically a hybrid and thus includes foamy comfort layers, or at the very least, a Euro-style tufted pillow top.
Latex: Latex mattresses are so-named because of their use of latex foams, which are used either with an all-foam build or hybrid build. Latex can be naturally derived, tapped from rubber trees, or a synthetic creation. Latex is known for adding breathability and durability to mattresses.
Performance Factors We Tested For
Set-up: The ease with which you can set up your bed is a particularly important factor for solo sleepers who may be in a new house in a new town and sans a helper. Mattress Advisor testers time how long beds take to set up, and the difficulty handling the mattresses based on weight, whether the cover has handles, etc. In some cases, like with a Saatva mattress, there will be no set-up on your part at all since white glove delivery is included.
Pressure relief: Pressure relief, as measured by Mattress Advisor testers, assess how evenly and adequately the mattress absorbs body weight without inflicting too much pressure, especially in around the hips, shoulders, and lower back. In a visualization of Mattress Advisor's pressure map test, beds that perform well will show none or little red (indicating high pressure) on the body.
Spine alignment: A typical spine's natural alignment — fairly straight but with an S-shaped curve — should be exceedingly simple to settle into when you lie down. Such is the case if a bed performed well in Mattress Advisor's spine alignment assessment. Spine alignment is especially important for sleepers with back pain.
Durability: When assessing durability, Mattress Advisor takes into account the quality of materials used, the structural integrity of the bed's build, and the expected lifespan of the bed to perform at its best.
Motion transfer: The "wine" test — or checking if a glass of wine perched on a mattress will topple over due to movement on another part of the mattress — is a classic measure of motion transfer. Mattress Advisor has used the wine glass test, among others, to test and assess how well a bed isolates motion.
Temperature regulation: If you tend to wake up covered in sweat, a bed with excellent cooling properties can be a huge value-add. Mattress Advisor testers assess a bed's airflow and breathability (or lack thereof), how well a bed prevents overheating, and any proprietary cooling tech the brand is touting.
Responsiveness: A measure of how seamlessly a sleep can switch positions, based on the bed's give-and-take. A bouncy bed doesn't necessarily mean you won't feel held or hugged by the foams, but rather the foams can quickly reform when your body changes positions.
Edge support: If you're in a smaller bed or bedroom, pay attention to edge support. A bed with robust edge support will feel bigger, in a sense, since you can comfortably use every inch. Good edge support may also mitigate the need for a bedroom chair or bench for everyday tasks like putting on your socks.
Additional Considerations to Make
Price: Of course, price correlates to value. However, high price doesn't necessarily mean low value, and vice-versa. A mattress for a lower price that ends up in a landfill in fewer than five years is not good value, for instance. Also, factor in how much of a deal you're getting on the mattress, as brands often run generous sales, particularly around the holidays.
Shipping and Delivery: If you need a new mattress right away, make sure you check whether the bed is made-to-order. A made-to-order bed often signals quality and luxury, but also can be a time consuming process. All of the beds we've rounded up ship for free, and most are delivered within five business days.
Warranty: Mattress warranties are generally a minimum of 10 years, and while lifetime warranties aren't quite the norm, they are increasingly common. Make sure to read the fine print of your warranty (and sleep trial) if you're wary of making a big purchase without substantial protection and return period.
Ways to Make Your Mattress Last
Flip your mattress: Sometimes, flipping a mattress is explicitly not advised by brands. Other times, it's a feature. Check the brand's website if you're unsure what's recommended, however, if flipping isn't frowned upon, it can be an excellent way to stretch the longevity and value of your mattress. Rotating a mattress 180-degrees (so that the head becomes the foot) is another way to extend longevity by re-distributing body weight.
Buy a mattress cover: Mattress covers provide clutch cover for accidental spills and protection from dust and mildew if and when the mattress is moved or stored. If you sleep hot though, make sure the mattress cover has cooling features incorporated. Otherwise, a mattress cover can cause a breathable mattress to sleep stuffier.
Avoid bouncing: We warn children not to jump on the bed to avoid injury. That wisdom still applies, of course, but you'll also want to stop your kids from jumping on the bed to protect its value — the high velocity, acute forces from jumping can hamper the lifespan of your mattress. Try investing in a trampoline (and some good homeowners insurance) instead.
Keep your mattress clean: More specifically, keep your mattress clean and dry. A dry mattress means a mattress free of mildew and mold. That logic also extends to keeping your room clean and dry, so that bed bugs and mold don't have safe harbor. Be careful what salvaged furniture you bring into the bedroom as well, as clinger-on bed bugs may be a less pleasant find within the furniture.
FAQ
What affects the price of a mattress?
Materials and time of year are the primary drivers of mattress price. Hybrid beds with an innerspring coil layer are more durable but more expensive, so their value is on par with less expensive, less durable memory foam mattresses. Latex is another pricey material, especially natural versus synthetic latex. Some beds also have optional add-ons that up the cost, most notably cooling panels, which can run anywhere from $100 to $300.
When is the best time of year to buy a mattress?
Sales are often a constant in the mattress world, but the best sales tend to be before, during, and just after holidays. Time your purchase around major shopping events, like Black Friday, or even the more humble holidays, like Labor Day, for excellent deals.
What are the best value mattress brands?
Beds-in-a-box brands that can be bought online directly tend to be good value, thanks to the elimination of the retail store markup. When selling directly to the consumer, brands also offer discount bundles that increase their value in ways you won't see on Amazon or from outside retailers.
How does an online bed-in-a-box work?
The idea of a bed-in-a-box and its shipping process is understandably bewildering to some. How does so much bed fit in so little box? The answer: Lots and lots of compression, then placement in an air-sealed bag. Upon unboxing and removal of the plastic, the bed will unfurl and reveal its true size over just a few minutes. The accompanying unboxing smell as volatile organic compounds break down and form gasses (known as "off-gassing"), can be unpleasant. Make sure you're in a well-ventilated room when you unfurl the bed. Finally, don't let it linger in the box for too long. Brands have specific advice, but generally, after two weeks in the box, the bed's structure will start to become negatively affected from being tightly compressed.
Summary of Our Top Picks for the Best Value Mattress