Each product we feature has been independently selected and reviewed by our editorial team. If you make a purchase using the links included, we may earn a commission.
Affiliate Disclosure:This Old House's Reviews Team is committed to delivering honest, objective, and independent reviews on home products and services. To support this business model, This Old House may be compensated if you purchase through links on our website.
Plus-size sleepers who are on the hunt for the best mattress for heavy people often have a more challenging time finding options that incorporate the support features they need. The term "heavy sleepers" doesn't necessarily mean overweight people, but rather those who are taller, larger, and weigh more than some mattresses can viably support (around 230 lbs per side). Most mattresses are designed with a weight limit that can simply inhibit larger individuals from receiving the level of comfort and support they need to wake up feeling rested. However, the This Old House Reviews Team has found the top mattresses for those with a larger body type, helping everyone find the right mattress for their needs in this guide.
Best Mattresses for Heavy People – Our Top Picks
Best Overall – Saatva HD
Buying a new mattress is a big commitment, and you want to be sure you're getting the absolute best option for your money. Not only is the Saatva HD an incredibly durable mattress for heavy people (9 out of 10), but it's built with eco-friendly, hypoallergenic materials–so this luxury mattress is suitable for both you and the planet. Natural latex, steel coils, and an organic cotton pillowtop prevent body heat from getting trapped, and its high score in cooling (9 out of 10) ensures a cool and comfortable night's sleep.
The latex layer in the Saatva HD mattress provides 5-zoned support, targeting your lumbar region as well as your shoulders and hips, working to alleviate joint pain and making this a great option for back sleepers.
Mattress Type: Hybrid
Customer Rating: 4.9/5
Firmness: Medium
Trial: 365 Nights
Warranty: Lifetime
Pros and Cons of the Saatva HD
| Pros | Cons |
| --- | --- |
| White glove delivery and setup is included with your mattress | This bed has a luxury price tag, not for budget shoppers |
| Optimal for back and stomach sleepers | Side sleepers may need a little more pressure relief |
| Cooling construction is great for hot sleepers | |
| Pros | Cons |
Best Extra-Firm – Brooklyn Bedding Titan Plus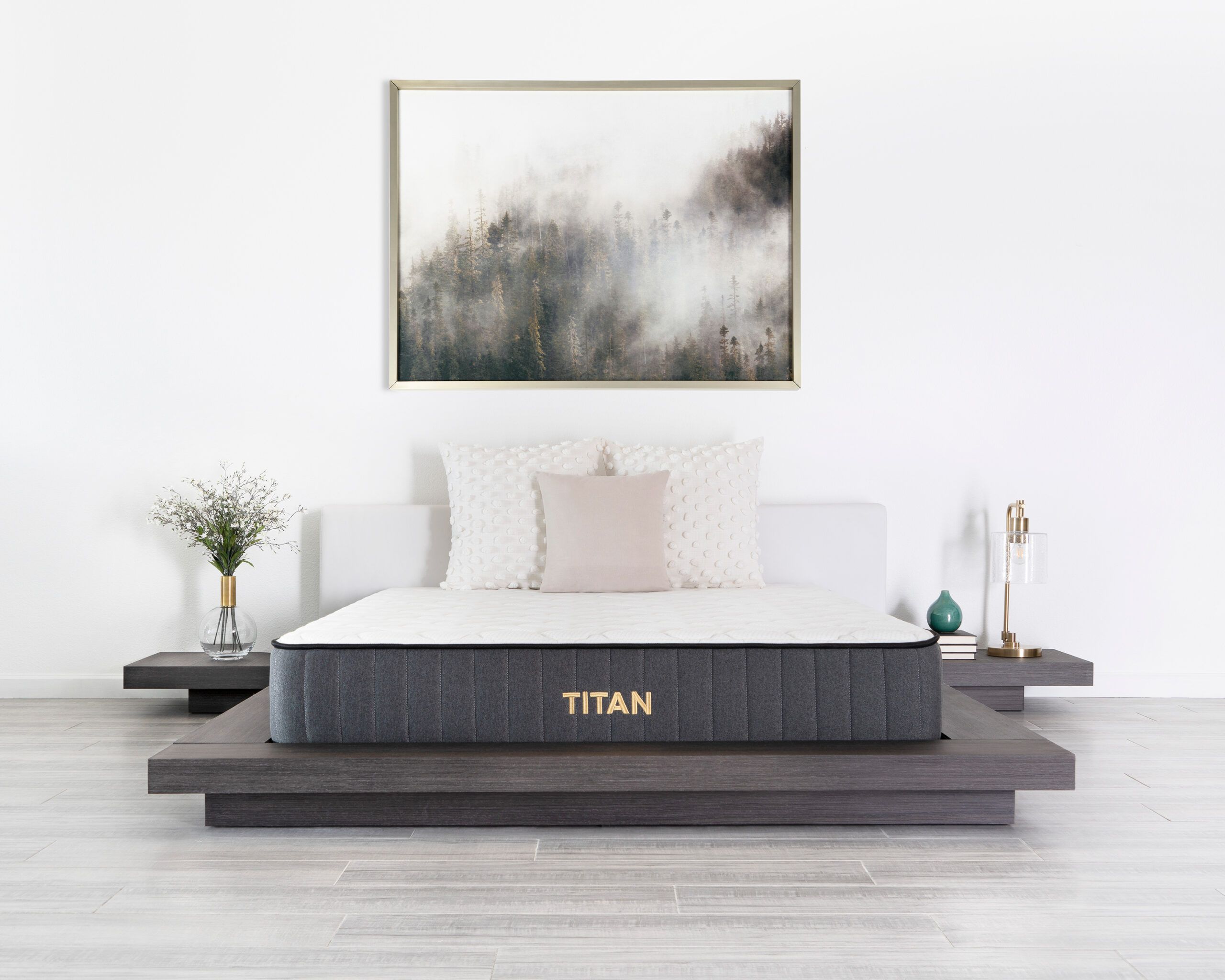 The Titan Plus by Brooklyn Bedding was designed to be a durable and firm mattress, with heavy duty coils that support and layers that provide comfortable pressure relief. The Titan Plus sits at an 8 out of 10 on the firmness scale, which should work well for stomach and back sleepers. The near-perfect spine alignment score (9.5 out of 10) is a testament to how well this bed maintains your posture as you sleep. People that shift around all night can do so without fear of feeling swallowed up by the bed (9.5 out of 10 in responsiveness), or waking their partner with the mattress shaking (9 out of 10 in motion transfer).
A gel memory foam layer pulls body heat away from the surface to keep hot sleepers comfortable (8.5 out of 10 in cooling). Brooklyn Bedding also offers an optional cooling panel that uses phase-change material to regulate body temperature as you sleep.
Mattress Type: Hybrid
Customer Rating: 4.7/5
Firmness: Firm
Trial: 120 nights
Warranty: 10 years
Pros and Cons of the Brooklyn Titan Plus
| Pros | Cons |
| --- | --- |
| Made in the USA; keeps cost low | Side sleepers will need a softer bed |
| Good motion isolation makes this suitable for couples | Optional cooling panel is additional cost |
| Highly durable mattress | |
| Pros | Cons |
Best Hybrid – Helix Plus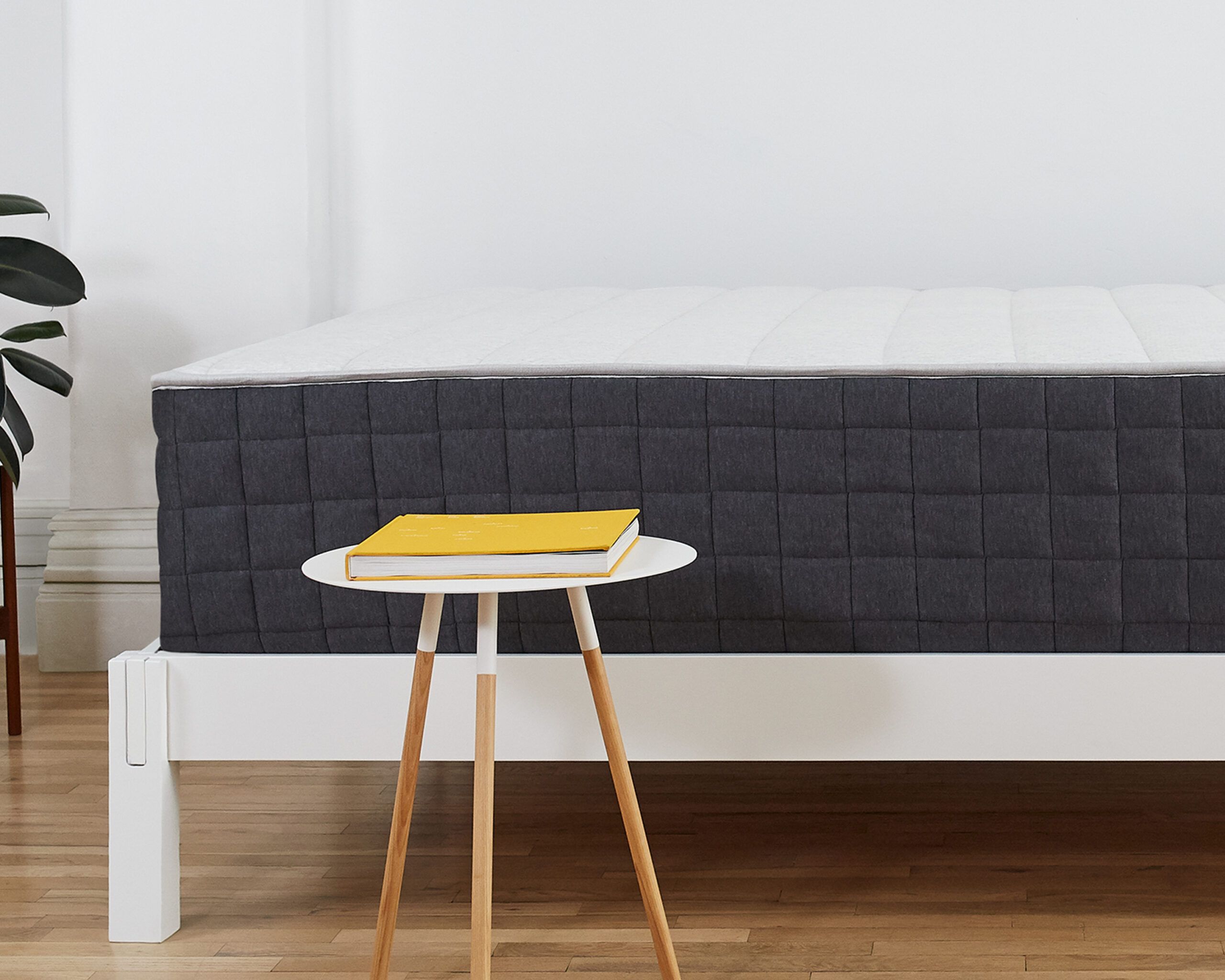 Hybrid mattresses pick and choose the best mattress materials to roll up into one design. The Plus by Helix is constructed to hold more weight–this hybrid mattress is made of high-density latex foam, Helix's specialized pressure relief foams, and strong pocketed coils to provide extra support and durability (8.5 out of 10). With an 8.5 out of 10 score in spine alignment, it's suitable for side, back, and stomach sleepers.
Heavier sleepers can often feel overly warm, and the Plus's breathable cover (8 out of 10 in cooling) helps regulate the mattress's surface temperature.
Mattress Type: Hybrid
Customer Rating: 4.5/5
Firmness: Firm
Trial: 100 nights
Warranty: 15 years
Pros and Cons of the Helix Plus
| Pros | Cons |
| --- | --- |
| Great spine alignment for back, stomach, and side sleepers | Combination sleepers may want a more responsive bed |
| Cooling technology helps hot sleepers remain comfortable | Motion transfer isn't great, couples might need better motion isolation |
| Option for dual-comfort mattress for couples | |
| Pros | Cons |
Best for Back Pain – WinkBeds Plus
If you struggle with back pain (and most adults do at some point), finding a bed that provides the right amount of support to keep your back comfortable is critically essential. The WinkBeds Plus provides sleepers with the necessary spinal alignment (8.5 out of 10) to help alleviate tension in your lumbar region. A perfect durability score (10 out of 10) and lifetime warranty enables you to rest easy knowing this bed is built to last.
Layers of gel and latex foam, a lumbar support pad, and zoned support coils give this bed ergonomic support that's well suited to back and stomach sleepers. Plus, this Wisconsin-made mattress is made with foam layers that are CertiPUR-US certified and eco-friendly.
Mattress Type: Hybrid
Customer Rating: 4.5/5
Firmness: Medium-firm
Trial: 120 nights
Lifetime Warranty
Pros and Cons of the WinkBeds Plus
| Pros | Cons |
| --- | --- |
| Good for hot sleepers | Doesn't offer enough pressure relief for side sleepers |
| Generous lifetime warranty | Motion isolation could be better for couples |
| Highly durable | |
| Pros | Cons |
Best for Side Sleepers – Nolah Evolution 15″
Heavy side sleepers need a mattress firmness that's a little softer and forgiving than the firmer mattresses preferred by stomach and back sleepers. Fans of soft, cushioning mattresses will love the plush contouring the Nolah Evolution 15″ offers. Nolah's most luxurious model, the Evolution 15″ employs layers of foam that gently support the midsection and lower back, keeping your spine comfortable and your pressure points cushioned. A heat escape gusset encloses the top three layers of this mattress, allowing for enhanced breathability and airflow. The plush 2-inch Euro pillow top is designed to stay cool while encouraging pressure relief, perfect for hot sleepers and side sleepers alike.
This 15″ mattress is thicker than traditional mattresses (most tend to sit between 10″ and 13″) but provides you with extra layers of comfort and support while preventing bottoming out.
Mattress Type: Hybrid
Customer Rating: Coming soon
Firmness: Plush, Luxury Firm, Firm
Trial: 120 nights
Lifetime Warranty
Pros and Cons of the Nolah Evolution
| Pros | Cons |
| --- | --- |
| Cooling technology and heat gusset is great for hot sleepers | Not ideal for budget shoppers |
| Layers of foam provide pressure relief | Stomach sleepers will need more support |
| Three firmness levels to pick from | |
| Pros | Cons |
Best Luxury – DreamCloud Original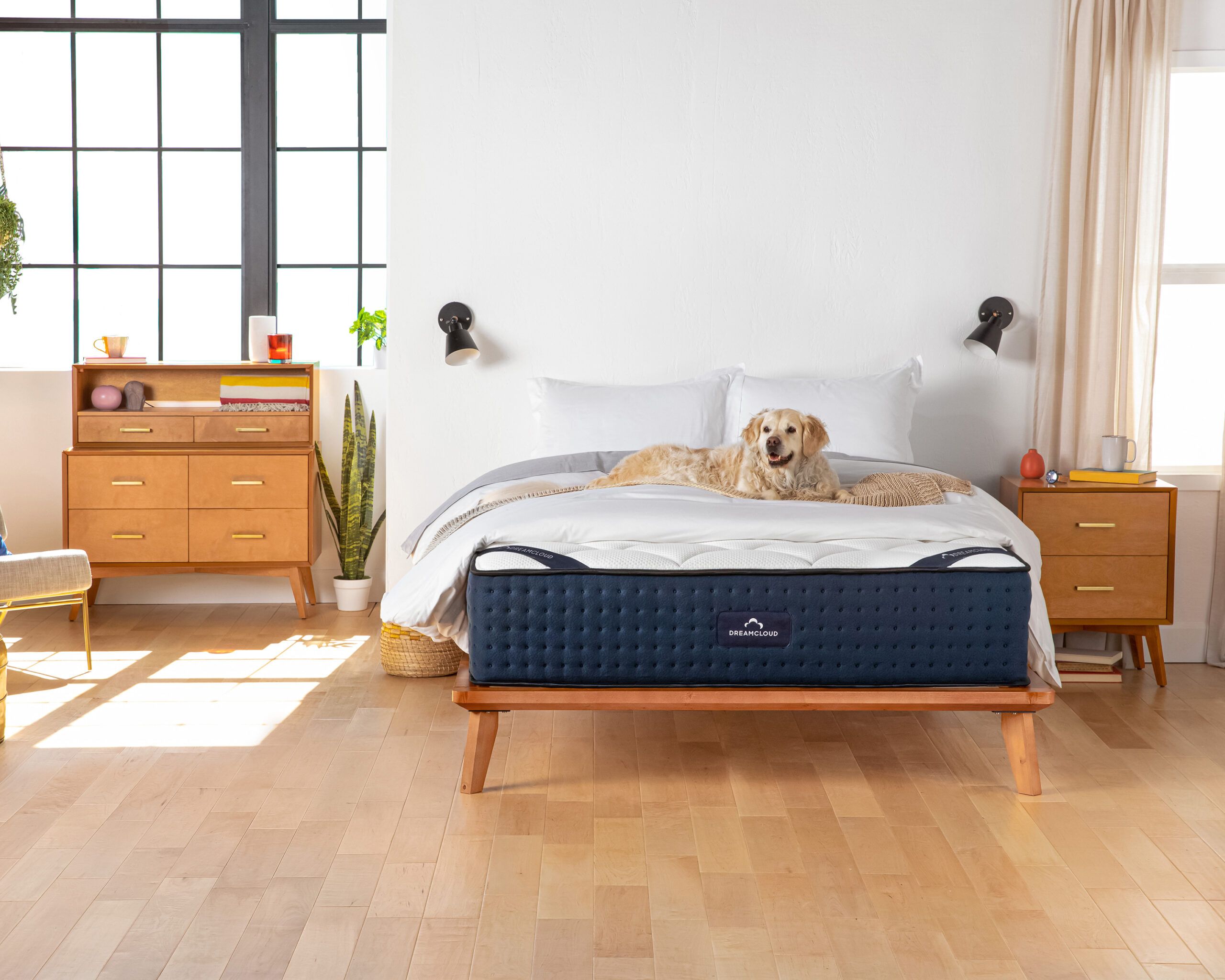 For those who crave that hotel bed feeling, the DreamCloud Original mattress offers a way to get that luxury sleep experience in the comfort of your home. Featuring a cashmere cover, a layer of sink-in foam, and a gel memory foam comfort layer, you'll be drifting off to sleep in no time on this bed. The DreamCloud is well-suited for all sleepers, scoring a 9 out of 10 in spine alignment and an 8.75 out of 10 in pressure relief; it'll keep your pressure points cushioned and your posture natural. Combination sleepers and those that shift in the night will enjoy the high responsiveness (9 out of 10) of this bed.
The luxury build and materials of the DreamCloud, such as the quilted cover and pocketed coils, give this bed excellent cooling properties (8.75 out of 10) and good durability (9 out of 10). All foams used in this high-quality mattress are CertiPUR-US certified.
Mattress Type: Hybrid
Customer Rating: 4.6/5
Firmness: Medium-firm
Trial: 365 nights
Lifetime Warranty
Pros and Cons of the DreamCloud
| Pros | Cons |
| --- | --- |
| Year-long sleep trial and lifetime warranty give you peace of mind | Couples may want better motion isolation |
| Superior spinal alignment | Some people may want a firmer or softer mattress rather than a middle-of-the-road feel |
| Cooling materials are great for hot sleepers | |
| Pros | Cons |
Best Memory Foam – Puffy Original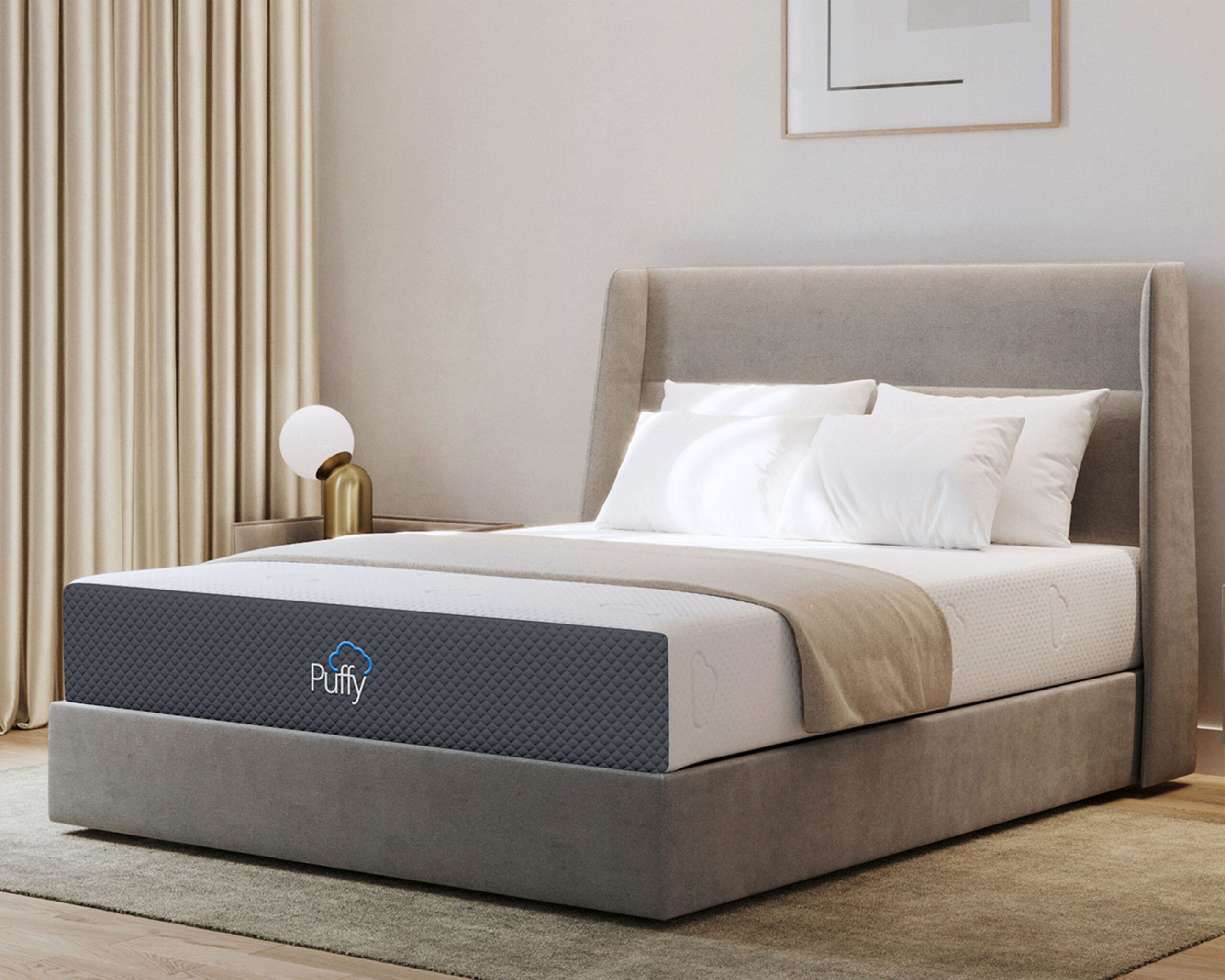 Anyone who loves that memory foam feel will adore the Puffy Original mattress. Puffy designed their beds to feel so lofty and cushioning they even put a cloud in their logo. The foam layers isolate motion exceptionally well, earning this bed a 9.25 out of 10 in this category. Those with back pain and tension can benefit from the spine alignment (8.75 out of 10) and pressure relief (8 out of 10) this memory foam mattress provides. Back and side sleepers should be able to doze off peacefully and wake without as many of the aches and pains they may usually experience because this bed conforms to your body and cradles it.
The Puffy Original mattress uses cooling gel memory foam and a layer of foam that's resistant to changes in temperature, helping to keep sleepers comfortable as they rest.
Mattress Type: Memory foam
Customer Rating: 4.6/5
Firmness: Medium-firm
Trial: 101 nights
Lifetime Warranty
Pros and Cons of the Puffy Original
| Pros | Cons |
| --- | --- |
| Quality bed at a good price | Not supportive enough for stomach sleepers |
| Great motion transfer for couples | Off-gassing odor when you first open this mattress |
| More responsive than other memory foam beds | |
| Pros | Cons |
Best Latex – Awara Original
The Awara Original mattress compiles all-natural materials to give you a comfortable, hypoallergenic, and eco-friendly sleeping experience. Rainforest Alliance-certified latex, a cover made from organic cotton and wool, and a layer of pocket coils keep you cool as you rest (8.5 out of 10) while also lending durability to this mattress (9 out of 10). The latex allows you to sink into the bed in all the right places while keeping your spine in a natural position (8.5 out of 10 in spine alignment) and effectively isolating motion (9 out of 10), making this bed a good option for couples.
Those who want to spread out a bit can do so with the edge support this bed offers (9 out of 10), which is great for elderly sleepers or those who struggle to get in and out of bed.
Mattress Type: Hybrid
Customer Rating: 4.8/5
Firmness: Medium-firm
Trial: 365 nights
Lifetime Warranty
Pros and Cons of the Awara Original
| Pros | Cons |
| --- | --- |
| Hypoallergenic, natural materials are great for those with allergies | Natural materials gives this bed a higher price point |
| Motion isolation and edge support makes this bed ideal for couples | Side sleepers may need more pressure relief |
| Latex keeps hot sleepers cool | |
| Pros | Cons |
MA Score: The Mattress Advisor Score is a weighted score that takes into account 14 different factors related to the mattress' performance, function, convenience and the brand's social responsibility.
What Makes a Mattress Good for Heavy Sleepers?
Mattresses come in all different firmness and support levels, just as people come in different shapes and sizes. Mattresses for heavy sleepers tend to be firmer, allowing for better support and pressure relief for those with higher body weight. These beds usually have a more durable construction to support greater weights (around 1000 lbs per side), prevent sagging, and offer quality sleep for years. Choosing the type of bed that is most suited to your needs is the best way to ensure you're getting a good night's sleep, whether that's the plush contouring of memory foam, the firm support of innersprings, or the mixture of both in hybrid and latex mattresses.
Also, take into account your sleep position, type of mattress, durability, weight limit, mattress thickness, and firmness. These factors can make a huge difference in sleep quality, but what works for one person may not work for another. For example, stomach sleepers should opt for a firm-feeling mattress that helps lift their hips and keep their spine aligned, while side sleepers need a softer surface to contour around their joints. Heavy sleepers need a bed that is a bit firmer than what a lightweight or average-weight sleeper would need while still receiving the necessary pressure relief and support to give them quality rest.
Type of Mattress
Memory foam: Memory foam beds have an all-foam construction that yields pressure relief, motion isolation, and responsiveness. These mattresses can be good for couples and restless sleepers. The foam can sleep a lot warmer than other mattress types, so hot sleepers may want to look for incorporated cooling features or skip memory foam altogether.
Innerspring: The traditional mattress build, innerspring mattresses, are built around a core of springs that provide good support and responsiveness. These beds tend to work well for those who like to sleep on their stomachs and backs, and those who sleep hot and could use the airflow provided by the innerspring construction.
Latex: Latex is all-natural and hypoallergenic, making it a good choice for customers who want to sleep green. It's responsive and cooling like innerspring beds, and is a super durable option.
Hybrid: Hybrid beds are a combination of materials, usually layers of latex or memory foam atop a bed of innerspring coils. These mattresses are a great choice for those who want a combination of firm and cushioning.
Performance Factors
Pressure relief: Pressure relief is an important factor for side sleepers. When you sleep on your side, you want to minimize tension and pressure on your shoulders and hips as you rest. Good pressure relief can also help alleviate back pain.
Spine alignment: Nobody wants to wake up with an achy back, which is why spinal alignment is such an essential part of a quality mattress. Beds that keep your spine in a natural position as you sleep are best for those who deal with back problems.
Durability: The durability of your mattress will be a determining factor in how long your bed lasts. Heavier sleepers especially will want to aim to get a bed with more durable construction to ensure that the mattress lasts for a good deal of time.
Motion transfer: How well a mattress can isolate motion is referred to as the motion transfer, which is a hugely essential consideration for couples and co-sleepers who don't want to be woken up whenever their pet or partner shifts. Memory foam beds are usually the best at isolating motion.
Temperature regulation: Hot sleepers know the importance of good temperature regulation. It can mean the difference between a good or bad night's rest for many people. Many beds are designed with materials that do a good job dissipating body heat and working to improve airflow, helping to keep you cool and comfortable as you sleep. Some materials, such as foams, can trap heat and make you hotter, while others, such as latex or innersprings, are more breathable.
Responsiveness: The responsiveness of a bed refers to how well you're able to move on it and how easily you can change positions. Combination sleepers especially rely on good responsiveness when they sleep to quickly and comfortably move without feeling trapped or stuck in the mattress.
Edge support: Heavier sleepers, older people, and those who like to sleep near the perimeter of the bed will need a mattress with good edge support so you don't feel like you're going to roll off the bed if you sit or lay near the edge.
Thickness: To avoid the feeling of "bottoming out" in your mattress, heavier sleepers need a mattress that is a bit thicker. A 12″ or thicker bed should do the trick, and many mattresses designed for heavy sleepers offer thick cushioning to support the weight.
Delivery, Trial, and Warranty
Delivery and Setup: Before you purchase a new bed, it's worth taking a look at what sort of delivery and setup they offer. How long will it take for your new mattress to arrive? Will you be able to set up your new mattress on your own? Setting up a new mattress can be difficult, but a bed-in-a-box offers an easy way to get your new mattress upstairs, and some companies offer white glove delivery, which includes setup and removal of your old mattress.
Sleep trial: It's standard for mattresses to come with a sleep trial that is usually at least several months, though some companies give you even longer than that to test drive your new mattress. It can take up to a month to adjust to a new bed, so be sure you take that into consideration as you're trying out a new mattress. If it doesn't work, you can always return it within the trial period at no cost to you!
Warranty: The industry standard for mattresses is a 10-year warranty, but some companies offer 15-year, 25-year, or even lifetime warranties, giving you the opportunity to exchange and replace your mattress should any defects or issues arise.
FAQ About the Best Mattresses for Heavy Sleepers
Do mattresses have a weight limit?
The weight limit of a mattress might not always be advertised, though they tend to be pretty standard across general builds of mattresses and range between 200-230 pounds per side. This is why heavy sleepers are better off buying a mattress designed for larger bodies because odds are these beds will provide better support and pressure relief than normal mattresses.
What type of mattress is best for a heavier sleeper?
There is no "best" type of mattress for all people, as different people have varied needs and preferences. Back and stomach sleepers typically require a firmer mattress, while side sleepers typically sleep better on a softer bed.
What type of best frame is ideal for heavy people?
Heavy sleepers will want to choose a bed frame that's durable and sturdy enough to support both the heavy mattress and weight of the people on the bed, as well as the weight of a foundation or box spring should you opt to use one. Metal and hardwood frames offer more support than weaker materials, so it's best to choose one of those.
Summary of Our Top Picks for the Best Mattress for Heavy Sleepers