Each product we feature has been independently selected and reviewed by our editorial team. If you make a purchase using the links included, we may earn a commission.
Affiliate Disclosure:This Old House's Reviews Team is committed to delivering honest, objective, and independent reviews on home products and services. To support this business model, This Old House may be compensated if you purchase through links on our website.
Helix Mattress Review
Finding the right mattress for your preferences is no small feat. There are an overwhelming amount of beds and brands to choose from, not to mention the different materials and firmness options available. Whether you're choosing a new mattress for your dream primary bedroom or looking to replace the bed in the guest room, narrowing down the selection can prove tricky–but this Helix mattress review can help the process along a bit. Helix is a mattress company based in New York that takes the construction of mattresses very seriously. The Helix line of hybrid mattresses are made of high-quality materials and come in a variety of firmness levels, each geared towards different kinds of sleepers. If you don't know which mattress is the best fit for you, Helix even has a mattress quiz that asks you questions about your sleep styles and preferences and uses your responses to inform you of which mattress will give you the best night's sleep.
All Helix models are made in the USA and come with free shipping as well as a 100-night sleep trial period so you can test out your bed before you commit to it. These beds also feature 10- to 15-year warranties so you'll be covered should anything come up. This Old House Reviews Team compiled a full review of all the mattresses in the Helix fleet to help make the choice easier for you.
Helix Fleet Overview
Helix has 16 different mattress options, including luxury models if you want something more upscale for your bedroom remodel. They come in a variety of firmness levels that cater to different sleep positions and body types. We've made a chart to quickly identify which mattresses are best for different sleeping preferences, though we still recommend taking Helix's sleep quiz to make a more informed decision if you aren't sure.
Helix Mattress Comparisons
What Are The Differences In The Helix Mattresses?
While the basic construction of each Helix mattress model is essentially the same–layers of foam atop pocketed innerspring coils–the firmness options vary greatly, which means that every mattress will work differently for different sleep styles. We've covered each mattress in the fleet below, as well as their Luxe counterparts, so you have all the information you need to make a decision on which Helix mattress is the one for you.
Helix Dawn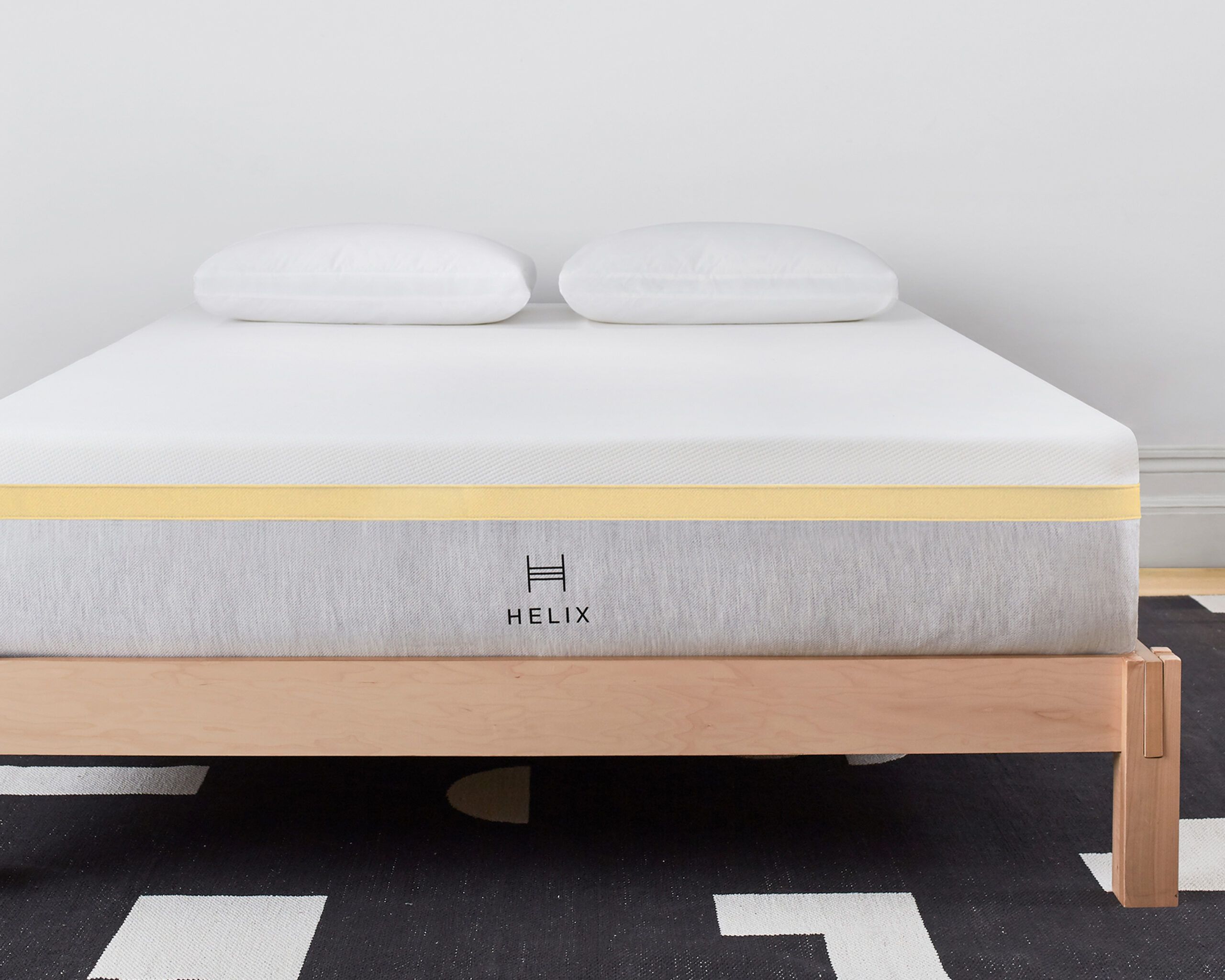 Have your sights set on a firm mattress? Meet the Helix Dawn. With a high score in spine alignment (9 out of 10) and a very firm feel (8-9 on the 1-10 firmness scale) the Helix Dawn is best suited for back and stomach sleepers who need a firmer sleep surface and good support. It's one of the firmest beds in the Helix lineup. Solid edge support (8.5 out of 10) allows you to rest on the periphery of the Helix Dawn and makes getting in and out of bed easier, which is helpful for heavier or elderly sleepers.
Firmness: Firm
Customer Rating: 4.5/5
MA Score: 8.8/10
Warranty: 10-Year Limited
Helix Dawn Luxe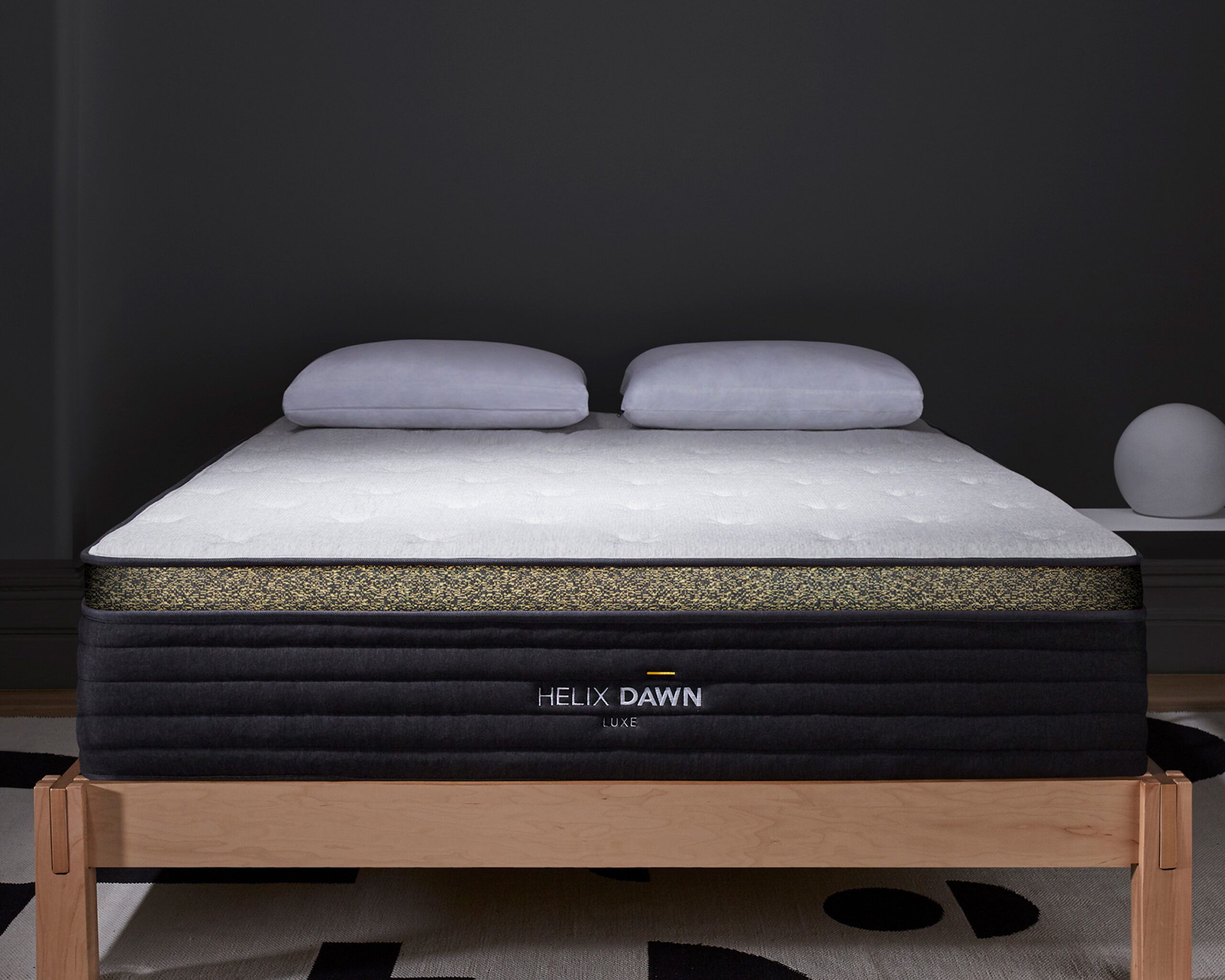 With a similar make and feel of the original Helix Dawn, the Luxe adds zoned lumbar support, a quilted pillow top, and a breathable cooling cover to provide a more luxurious sleep experience. Zoned lumbar support ensures the midsection is firmly uplifted and supported, while providing a slightly softer support level under the legs, shoulders, and head. This mattress is 2 inches thicker than the original model, and still caters specifically to back and stomach sleepers.
Firmness: Firm
Customer Rating: 4.6/5
MA Score: Coming soon!
Warranty: 15-Year Limited
Helix Dusk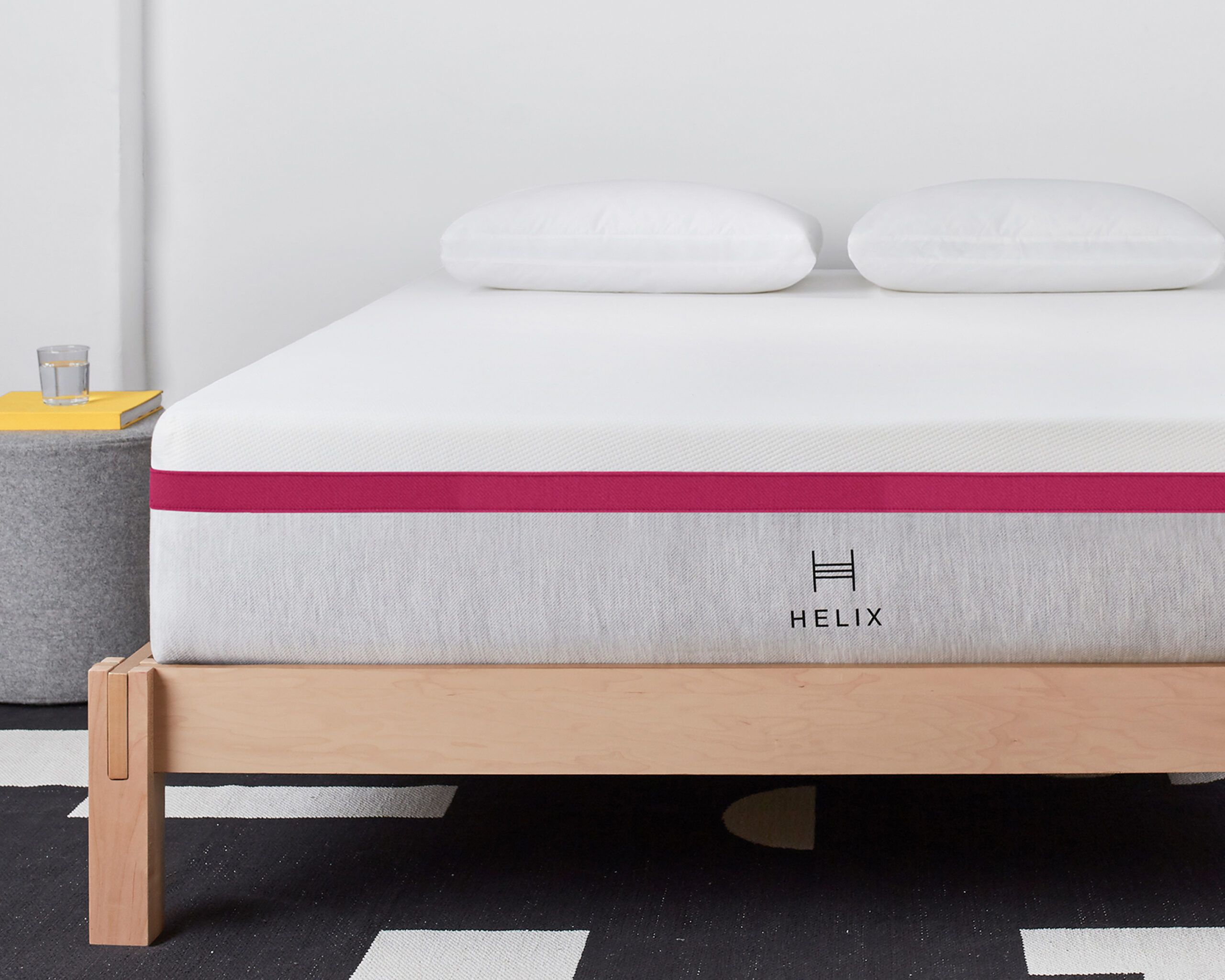 According to testers, the Helix Dusk falls between a 5 and 6 on the firmness scale, and is a great pick for the average sleeper or for couples who have different sleeping styles. High scores in pressure relief and spine alignment (both 9 out of 10) helps keep tension off your back, hips, and shoulders while keeping your spine in a comfortable, natural position. Couples will also benefit from the excellent motion isolation (9 out of 10) the Helix Dusk offers, so you won't wake up if your partner is a restless sleeper who tosses and turns.
Firmness: Medium
Customer Rating: 4.6/5
MA Score: 8.9/10
Warranty: 10-Year Limited
Helix Dusk Luxe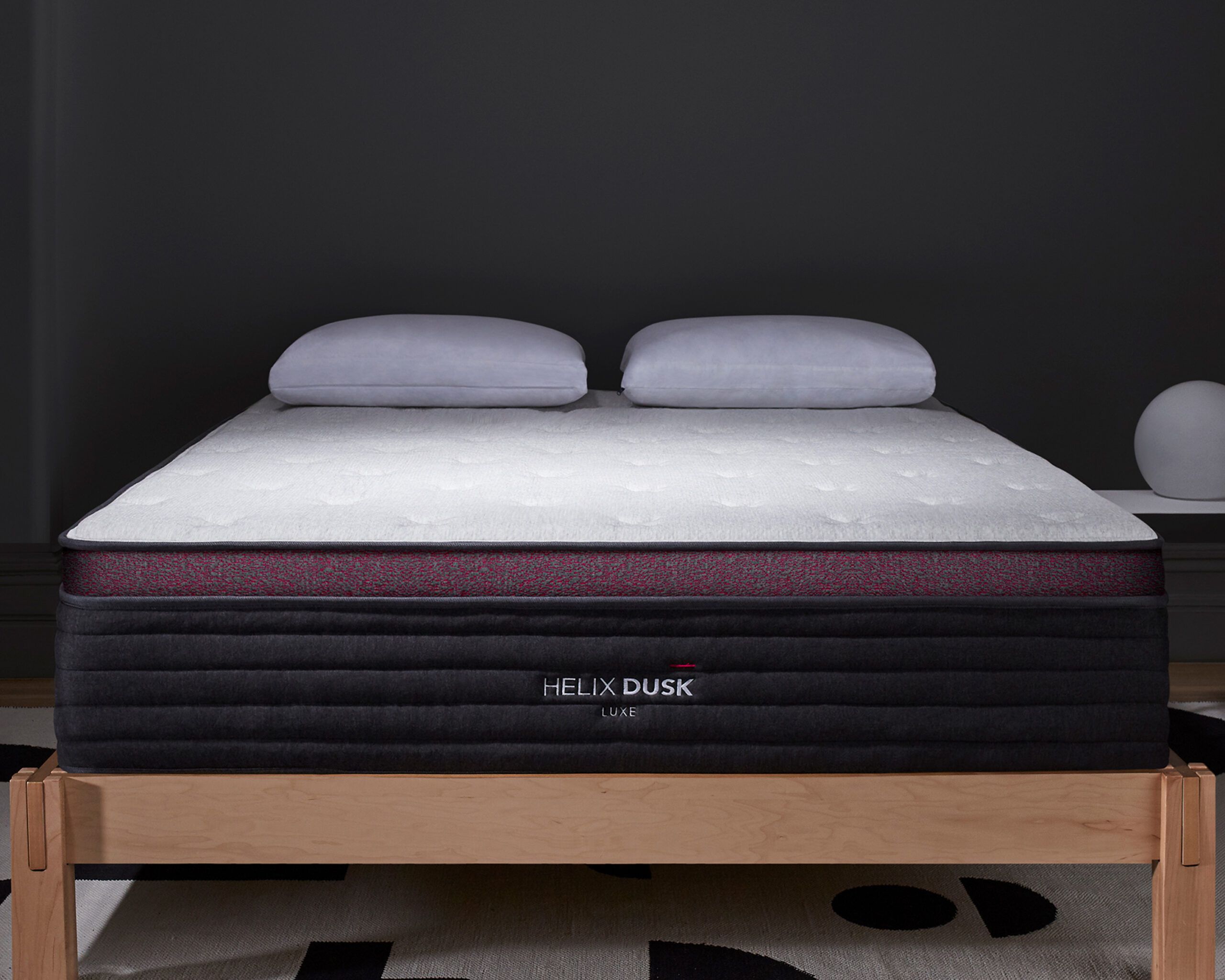 Building upon the Helix Dusk, the Dusk Luxe supports all sleep positions with a medium-firm feel, zoned lumbar support, a pillow top with enhanced contouring abilities, and a cooling cover. These components not only add an upgraded feel, but provide helpful support and comfort for couples.
Firmness: Medium
Customer Rating: 4.6/5
MA Score: Coming soon!
Warranty: 15-Year Limited
Helix Sunset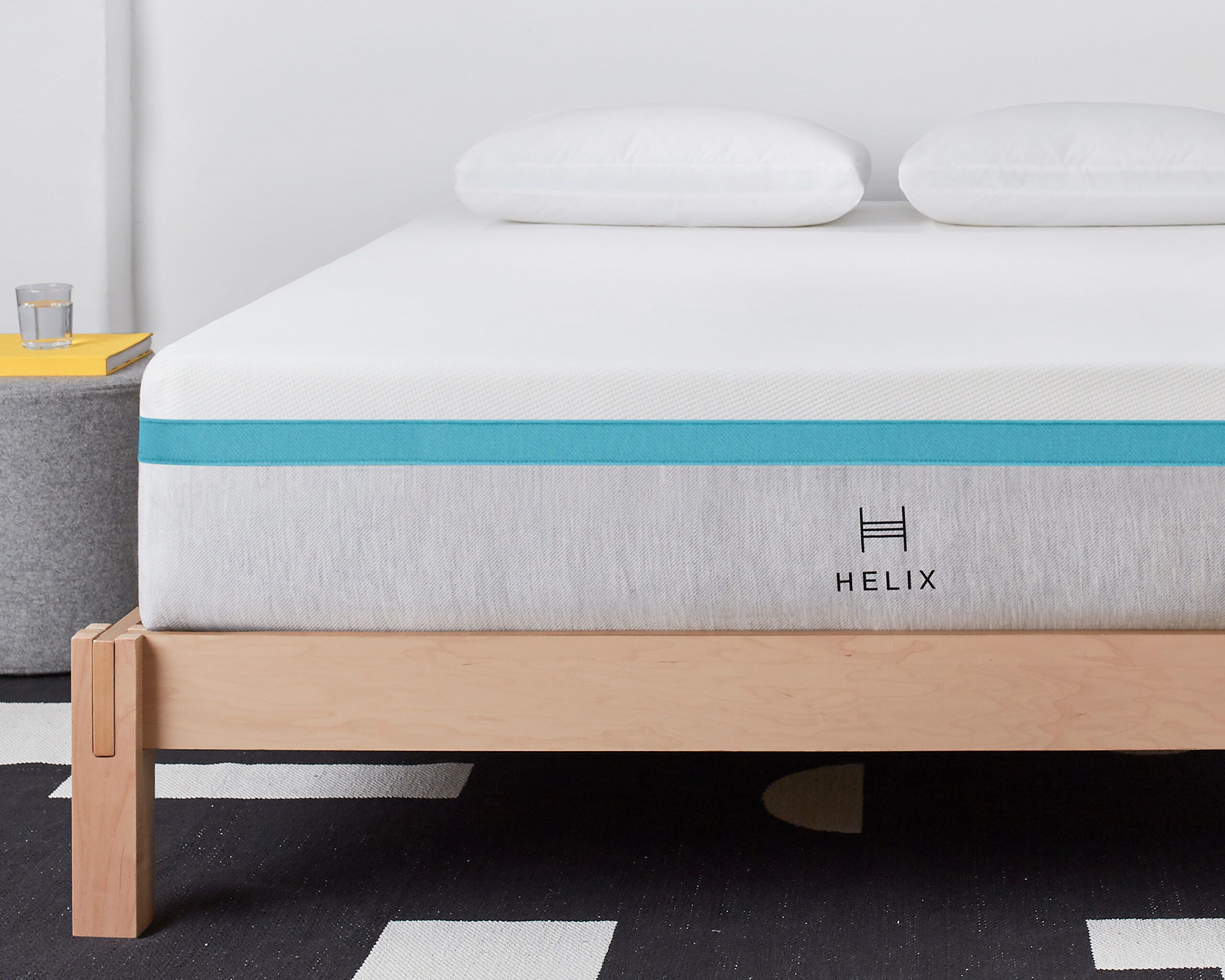 Side sleepers experience a lot of pressure buildup around their hips and shoulders when they settle in for the night, which makes pressure relief even more important when it comes to their mattress. Plus, sleepers who enjoy the pressure-relieving, "hugging" feel from their mattress will love the cloud-like sleep the Helix Sunset offers. This plush bed sits between a 2 to 3 on the firmness scale, classifying it as a true "soft" mattress. Lightweight sleepers should be comfortable in all positions on this bed, though heavier side sleepers and those with shoulder pain may want a bit more support.
Firmness: Soft
Customer Rating: 4.6/5
MA Score: 8.5/10
Warranty: 10-Year Limited
Helix Sunset Luxe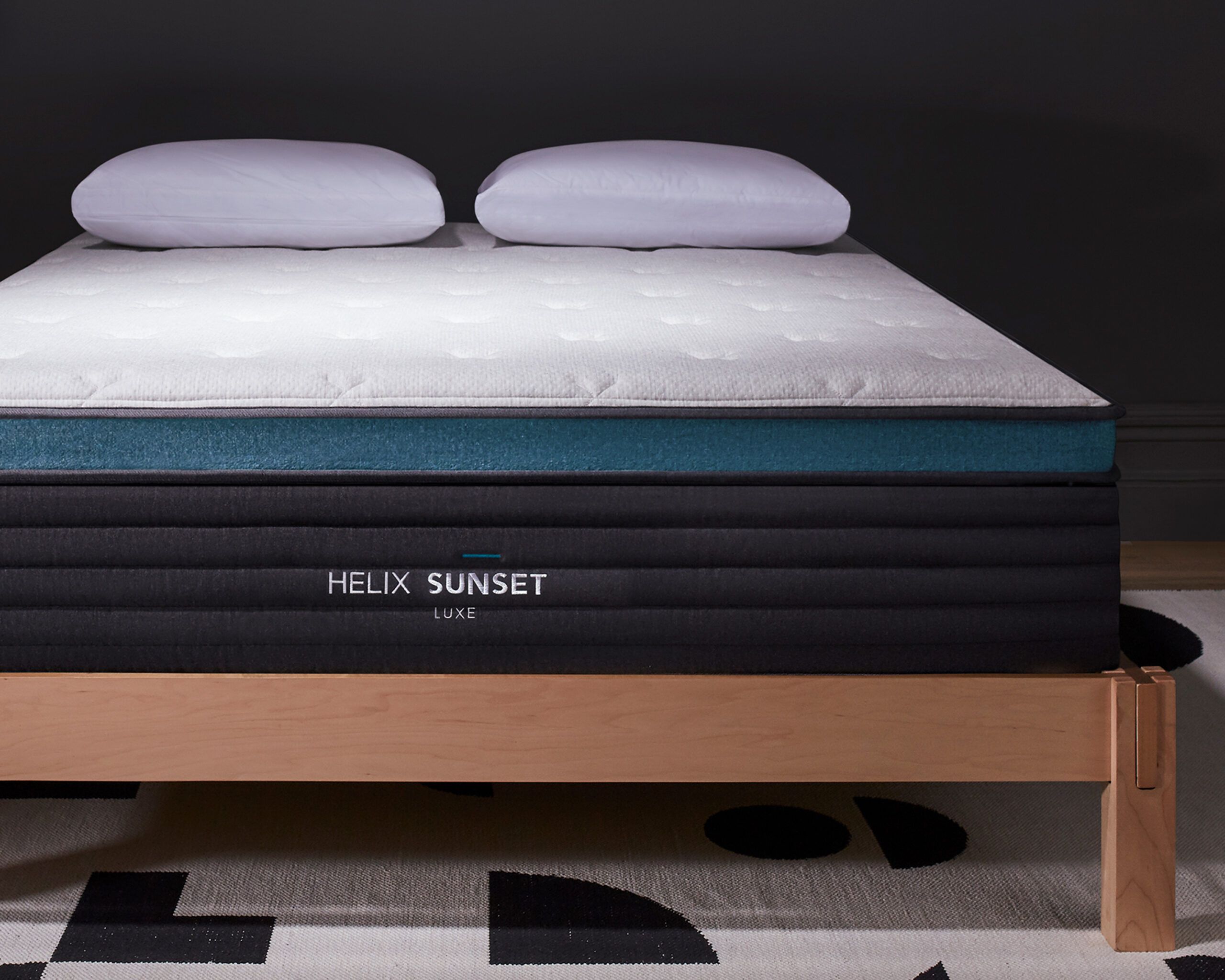 The Helix Sunset is categorized as a soft mattress, but the Luxe model only adds to the sumptuousness. From its pillow top to three soft foam layers below, the Sunset Luxe lets sleepers sink in while pocketed coils offer targeted support around the spine.
Firmness: Soft
Customer Rating: 4.6/5
MA Score: Coming soon!
Warranty: 15-Year Limited
Helix Midnight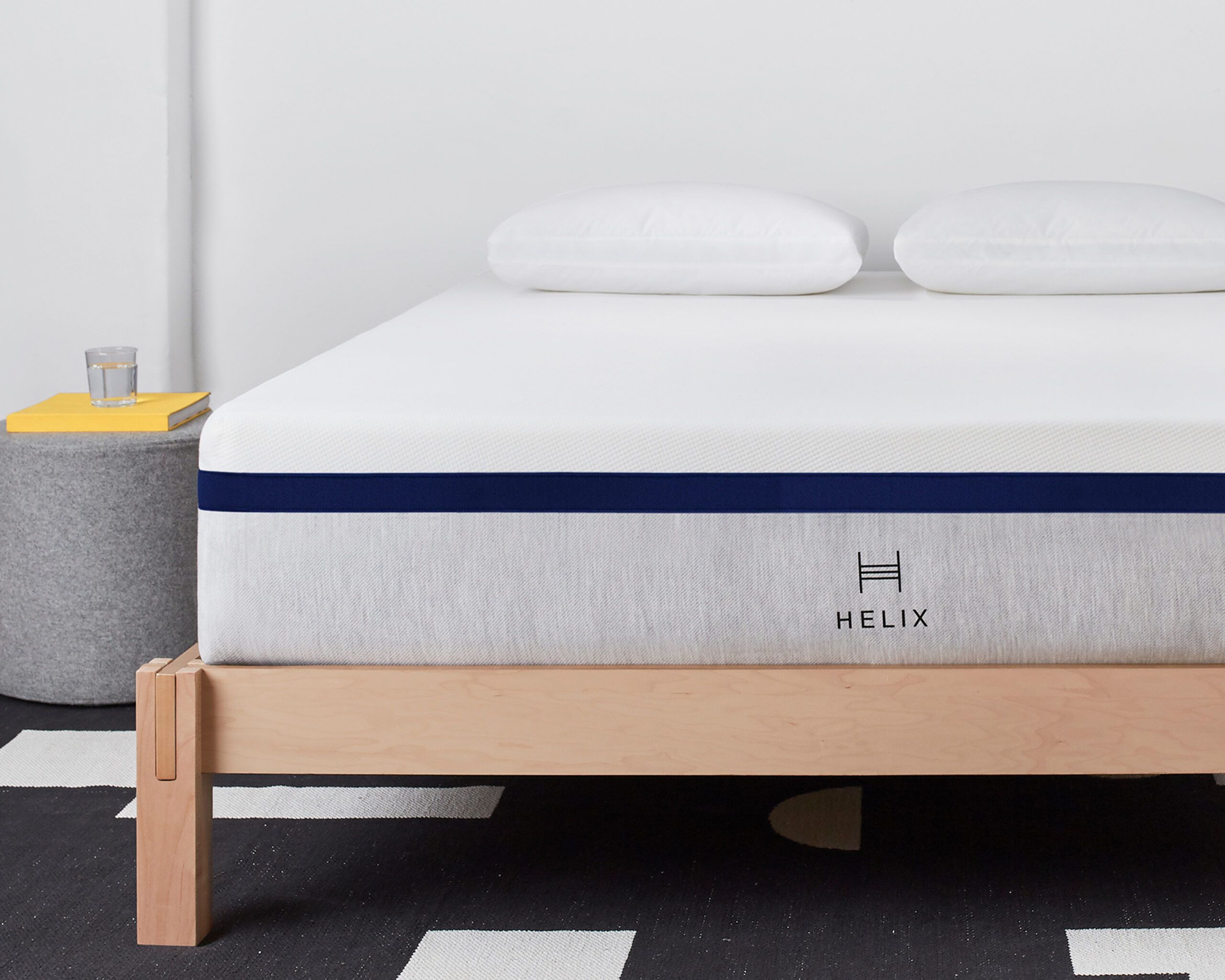 One advantage of having a medium-feel mattress is that it works for all sleep positions and allows everyone to sleep comfortably. The Helix Midnight mattress lies between a 4 and 7 on the firmness scale, providing enough cushioning for side sleepers' pressure points while giving back and stomach sleepers the lumbar support they need. Good spinal alignment (8.75 out of 10) ensures good posture as you sleep, and superb edge support (9 out of 10) allows for resting near the edge of the bed.
Firmness: Medium
Customer Rating: 4.5/5
MA Score: 8.9/10
Warranty: 10-Year Limited
Helix Midnight Luxe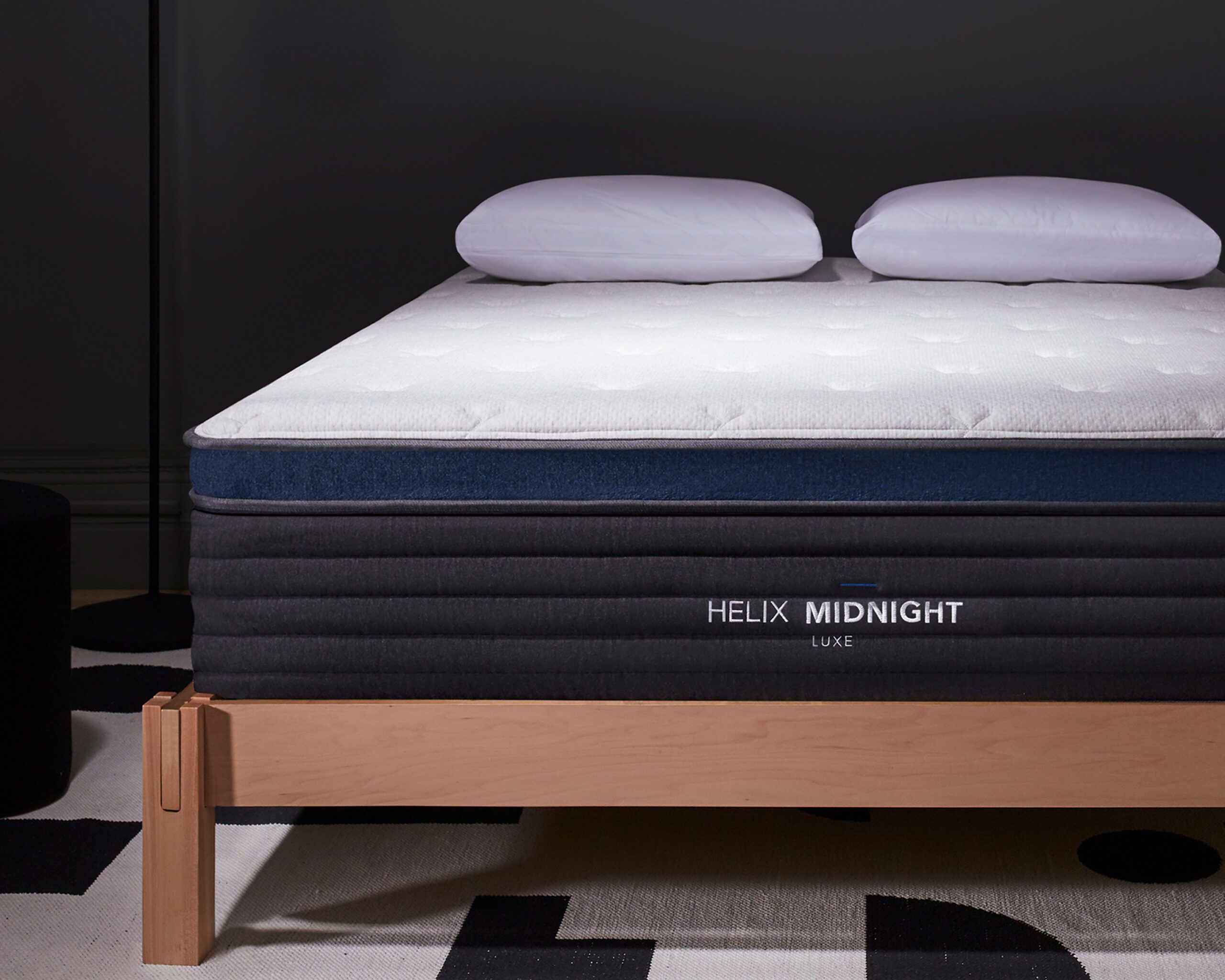 The Helix Midnight Luxe offers the same comfortable firmness as the Helix Midnight, but with advanced cooling, improved spine alignment, and pressure relief. The added cooling cover keeps sleepers comfortable throughout the night (this bed received a 9.5 out of 10 for cooling), and the added foam layers give sleepers additional cushioning and spine alignment (9 out of 10). The Midnight Luxe is great for heavier sleepers and can support up to 1000 lbs.
Firmness: Medium
Customer Rating: 4.5/5
MA Score: 8.9/10
Warranty: 15-Year Limited
Helix Twilight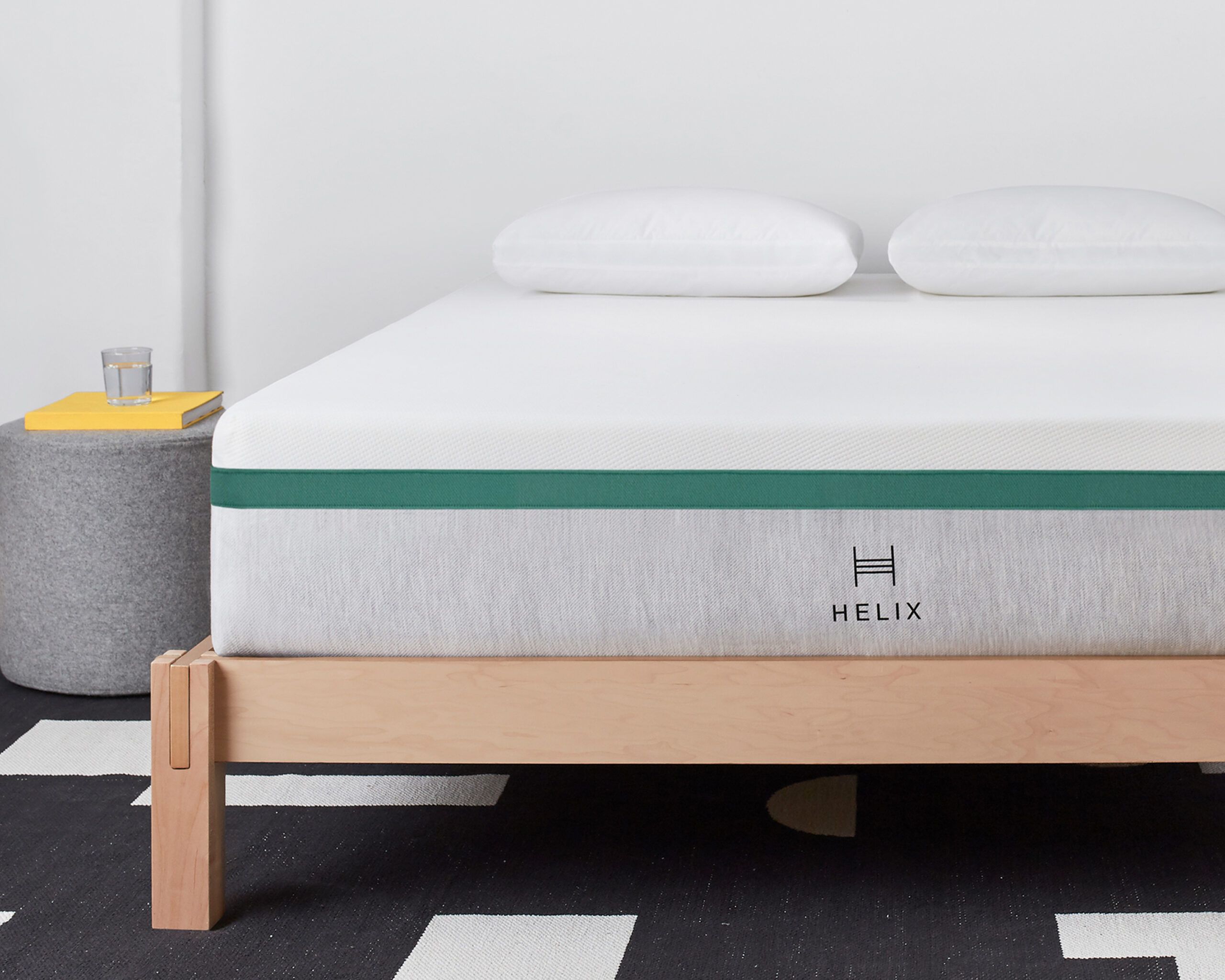 A layer of dense, slow-response foam makes this firm mattress (an 8-9 on the firmness scale) a good choice for back, stomach, and plus-sized sleepers. The Helix Twilight mattress received a high score in spine alignment (9 out of 10) and provides good pressure relief (8.5 out of 10) for those with back pain. Combination sleepers will enjoy the good responsiveness (9 out of 10) the Helix Twilight offers.
Firmness: Firm
Customer Rating: 4.5/5
MA Score: 9/10
Warranty: 10-Year Limited
Helix Twilight Luxe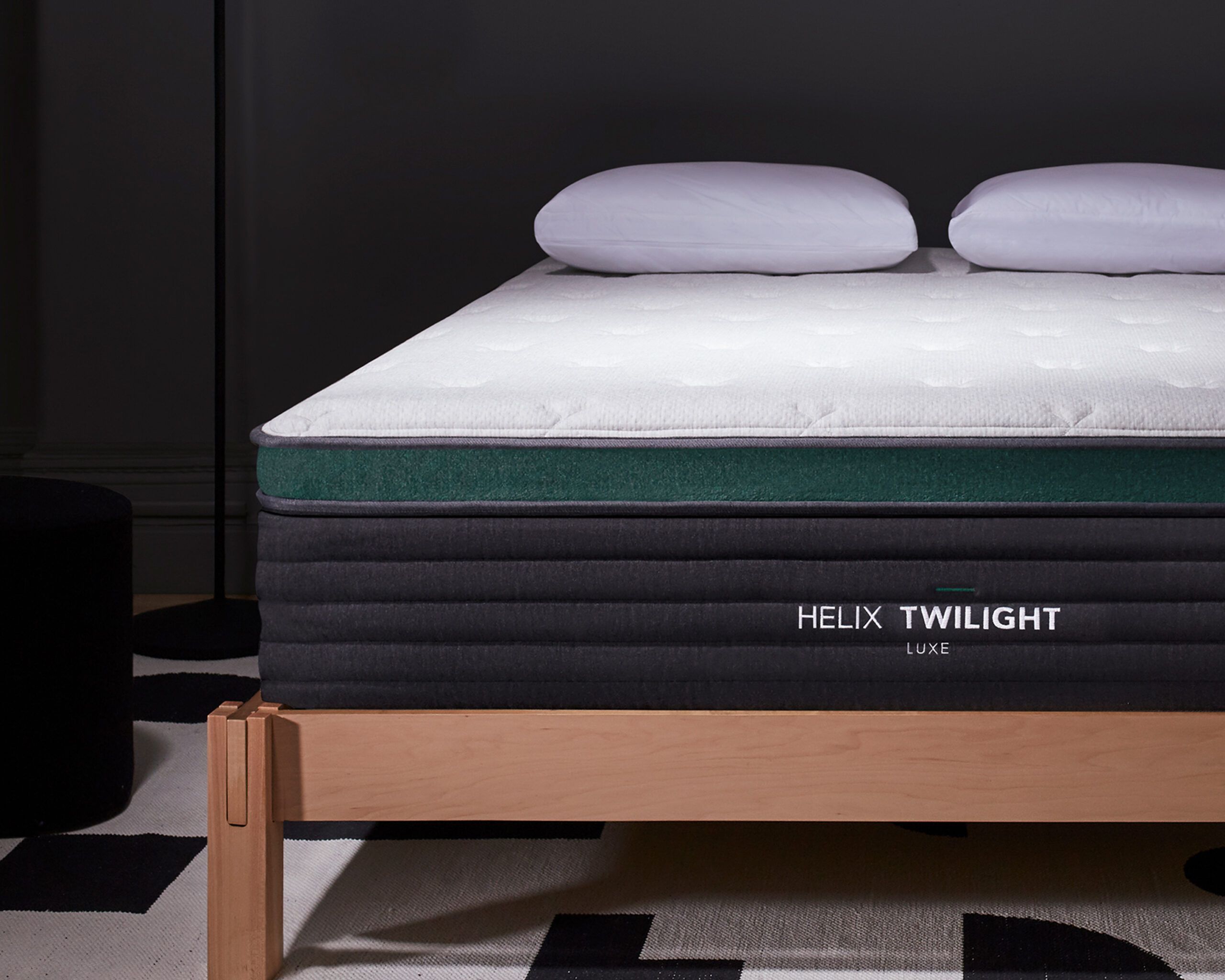 While the original Twilight model might not be ideal for all side sleepers, the Luxe version features an additional layer of plush memory foam that offers good pressure point relief for your hips and shoulders. This mattress still has the firm feel that won't cause you to completely sink into the bed, as it just adds a little extra cushioning.
Firmness: Firm
Customer Rating: 4.6/5
MA Score: Coming soon!
Warranty: 15-Year Limited
Helix Moonlight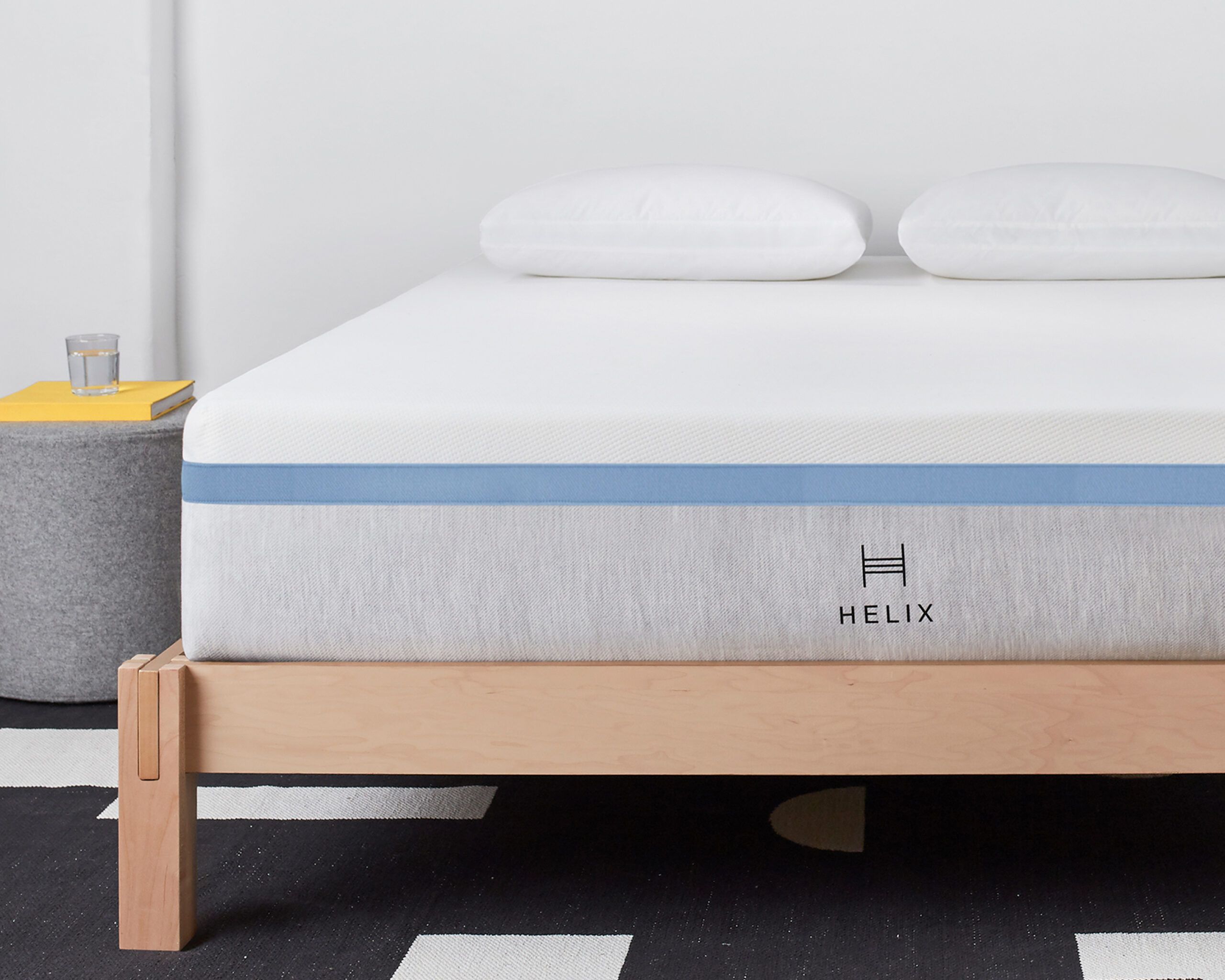 While most beds recommended for back and stomach sleepers tend to be on the firmer side, the Helix Moonlight is a soft mattress (2-3 on the firmness scale) intended for those who like to sleep on their stomach or back but still want a little "give" from their bed. The plush feel of this mattress allows you to feel weightless as you rest while also keeping your spine in alignment (it scored a 9 out of 10 in this category). Side sleepers will likely need a bit more pressure relief than the Moonlight offers.
Firmness: Soft
Customer Rating: 4.4/5
MA Score: 8.6/10
Warranty: 15-Year Limited
Helix Moonlight Luxe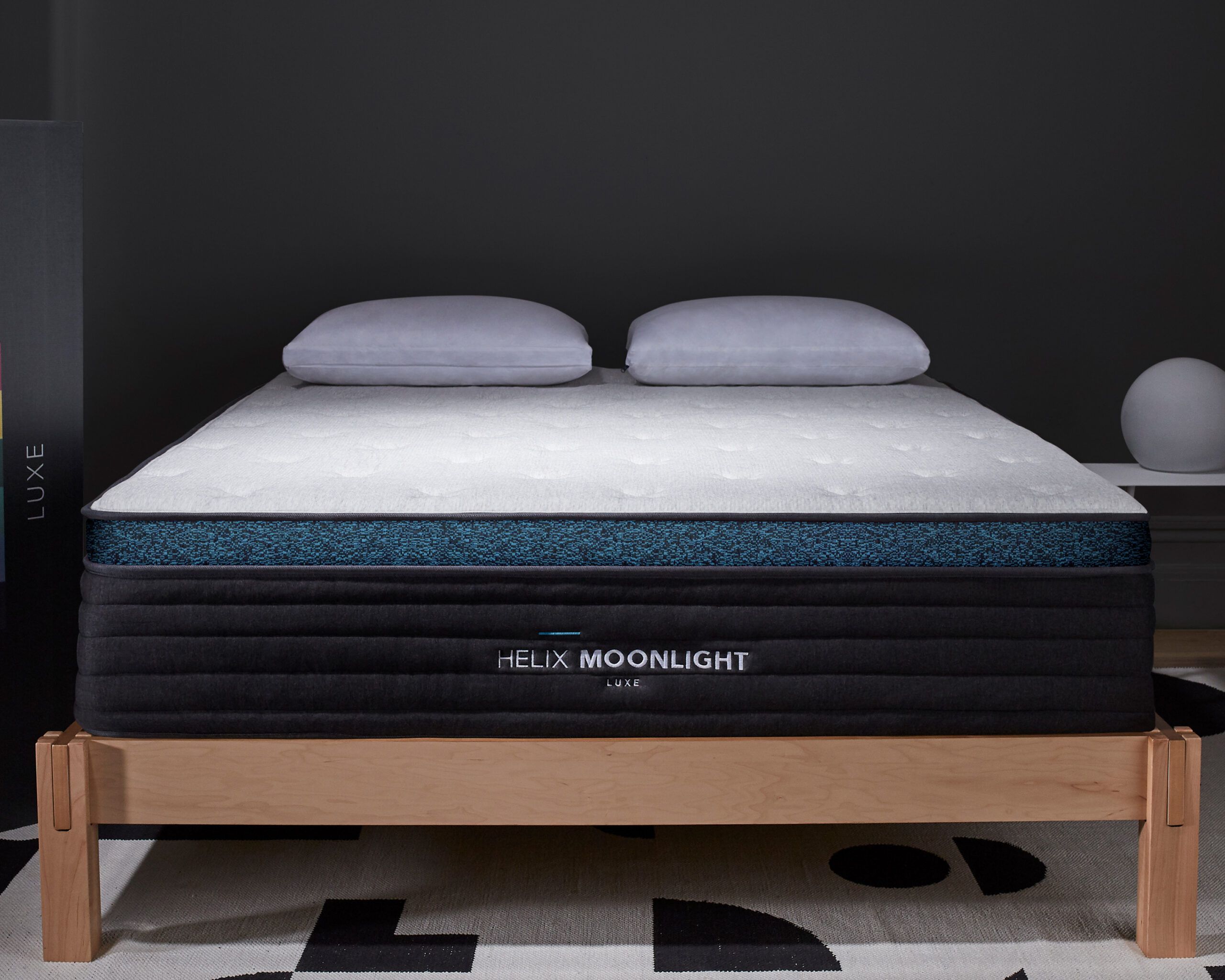 Like the other Luxe models, the Moonlight Luxe offers zoned lumbar support and a quilted pillow top to heighten your comfort and support as you sleep. Where the original Moonlight model didn't offer great edge support, the Moonlight Luxe boasts firmer, more supportive edges that some sleepers will find helpful.
Firmness: Soft
Customer Rating: 4.6/5
MA Score: Coming soon!
Warranty: 15-Year Limited
Helix Plus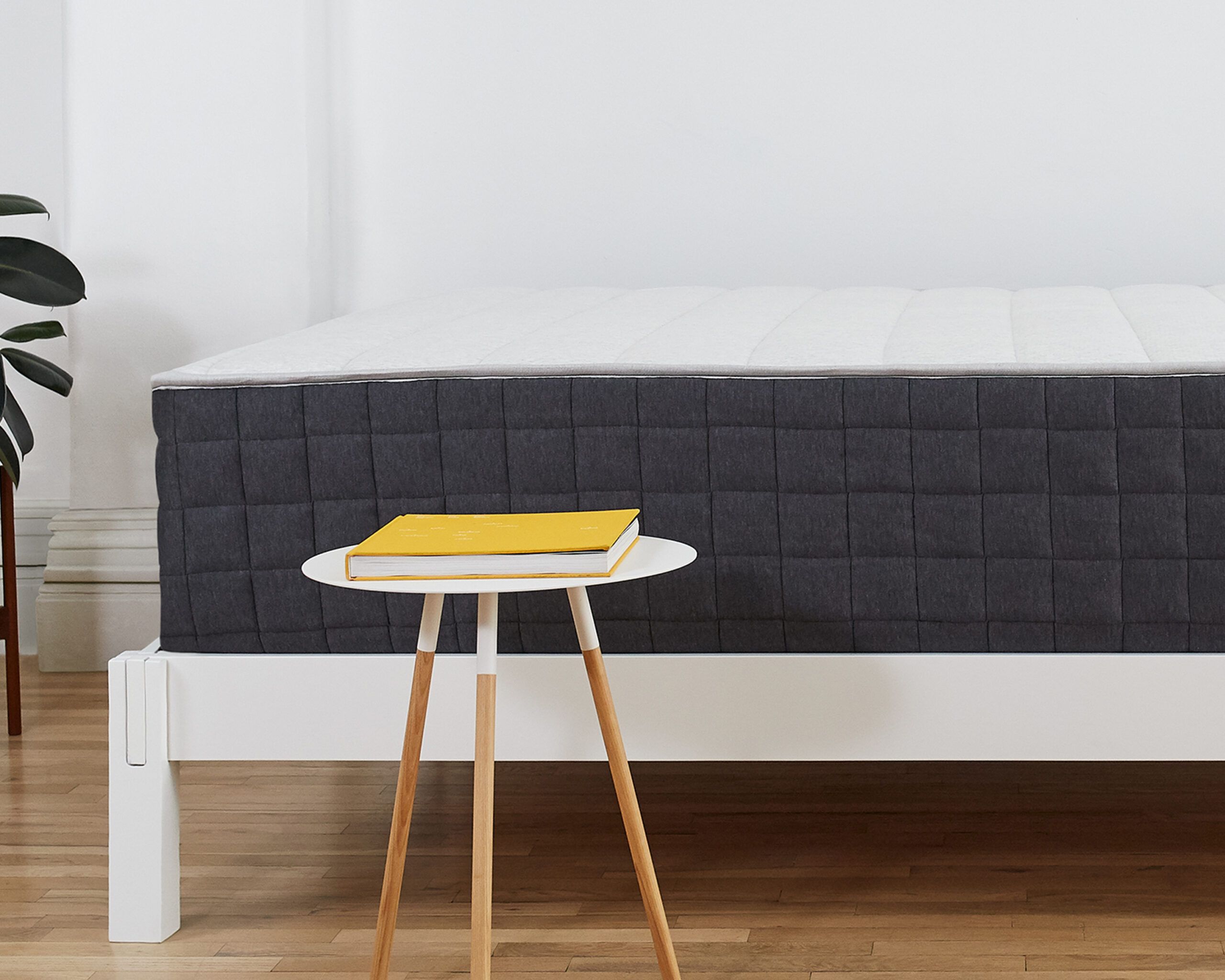 The Helix Plus was designed for larger and taller sleepers, with a firm feel (7-8 on the firmness scale) and specially made foams designed to support heavier bodies. This bed excels when it comes to spine alignment (8.5 out of 10) and will likely work best for stomach and back sleepers, though side sleepers should be comfortable as well. The breathable cover and coil system works to keep sleepers cool as they sleep.
Firmness: Firm
Customer Rating: 4.5/5
MA Score: 8.1/10
Warranty: 15-Year Limited
Helix Kids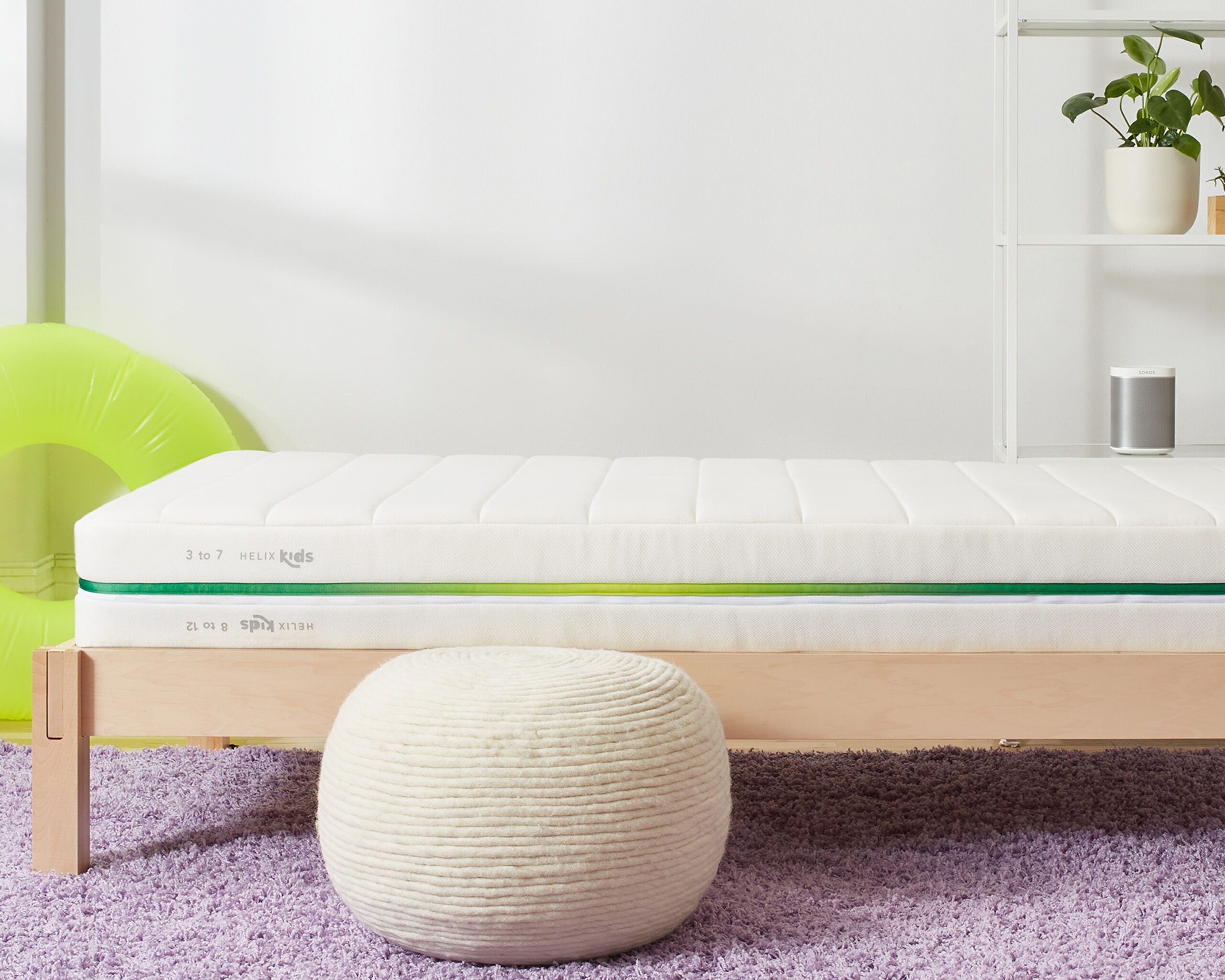 The Helix Kids mattress is specially designed for kids and their growing bodies. This hybrid mattress is flippable and boasts a firmer side (recommended for 3-7 year olds who need more support) and a softer side (suggested for kids ages 8-12), so this mattress adapts to their needs as they grow. The cover features a water-resistant and antimicrobial finish to keep your kids protected from bacteria. A fire retardant layer was added for extra protection as your kids snooze. The layers of foam used in this bed are CertiPUR-US Certified and naturally hypoallergenic, so you can feel good about what your child is sleeping on. You can even opt for an additional warranty option that covers stains, spills, and repairs.
Firmness: Softer, Firmer
Customer Rating: 5/5
MA Score: Coming soon!
Warranty: 25-Year
Birch by Helix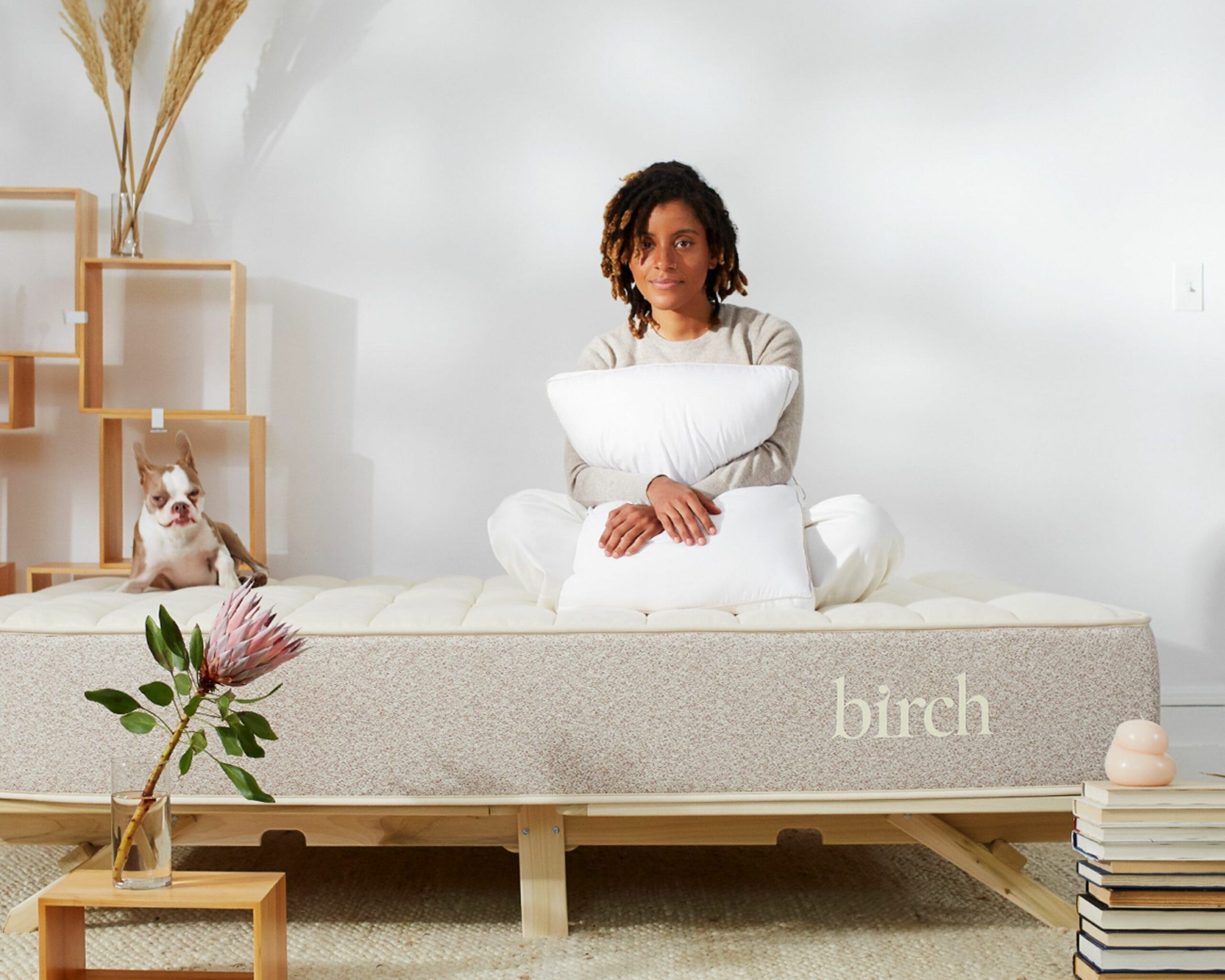 The Birch mattress is Helix's organic model, made with foams that are non-toxic and organically sourced wool. The quality craftsmanship in this bed is what gives it such an extended warranty, they're confident this mattress will last a long time. A high motion transfer score (9 out of 10) makes this bed a good choice for couples and restless sleepers, and good spine alignment (8.5 out of 10) keeps your back in good posture as you rest so you're less likely to wake with aches and pains.
Firmness: Medium-Firm
Customer Rating: 4.7/5
MA Score: 8.7/10
Warranty: 10-Year
MA Score: The Mattress Advisor Score is a weighted score that takes into account 14 different factors related to the mattress' performance, function, convenience and the brand's social responsibility.
Helix Mattress Features
All Helix mattresses have a variation of plush foams laid atop pocketed coils, though the layers of foam and the cushion they provide differ between the models. We've outlined the finer points of their construction and materials below.
Construction:
A soft cover is the top layer of every Helix mattress, made with breathable material that helps keep you cool as you sleep. These toppers are made with phase-change material in the Luxe models, which helps absorb extra body heat and regulates body temperature.
The next layer in the Helix fleet is usually some variation of memory foam. The Luxe models have an extra layer of high-density foam atop a layer of gel memory foam whereas the normal models have the gel memory foam comfort layer. This pressure-relieving foam provides sleepers with body contouring that supports the lower back and other tension points.
Beneath that is a layer of durable high-grade polyfoam that acts as a transition layer from foam to coils and adds an additional measure of support and cushioning for enhanced pressure relief.
Individually wrapped coils give sleepers lots of support and spine alignment to promote healthy spine alignment and alleviate any tension.
The base layer of dense foam keeps the whole mattress durable and also works as a support layer, thus adding to the longevity of the bed.
Helix Performance Factors
While the performance of the individual mattress varies, some mattresses in the Helix fleet excel in some categories over others, and if those are important factors it's worth considering that when making your final decision.
Edge Support: Every bed in the Helix lineup provides solid edge support, allowing you to rest on the edge without feeling like you may fall off. This also makes it easier to get out of bed in the morning, which can be useful for older people.
Motion Transfer: The ability to minimize the transfer of movement is a sought-after quality amongst couples, co-sleepers, and those who sleep with pets. Those sharing a bed want the motion to be isolated and absorbed rather than moving the whole bed. Among Helix mattresses, the Twilight, Sunset, and Midnight, as well as their Luxe counterparts, are the best at isolating motion and make them good options for couples.
Temperature Regulation: All Helix mattresses include breathable covers and an innerspring layer that promotes airflow. They're some of the best mattresses for keeping you cool as you sleep, so hot sleepers can rest comfortably without waking up sweaty.
Noise: The foam layers on each of these beds helps keep noise levels to a minimum, though the innerspring coils have the potential to squeak over the years.
Durability: High-density foams, durable coils, and quality construction all ensure the Helix mattresses will last you for a long time. Every mattress features at least a 10-year warranty, so you can rest assured that your bed should last you a while.
Setup: One perk of buying a bed-in-a-box is it's easier to get the bed from your door frame to your bed frame when it's rolled up compactly. These beds don't weigh too much (around 100 lbs for a Queen size) so you should be able to set up your new bed alone or with a partner.
Helix Mattress FAQs
Where can you buy a Helix Mattress?
All Helix mattresses are available online on Helix's website and on other sites that offer deals and promotions. They should arrive compressed in a box on your doorstep within a few days of ordering.
How long do Helix mattresses last?
Helix mattresses should last you for around 7-10 years.
What are the benefits of a hybrid mattress?
Hybrid mattresses rely on numerous materials to give you a more customizable firmness and sleep experience than traditional innerspring and memory foam mattresses.