Each product we feature has been independently selected and reviewed by our editorial team. If you make a purchase using the links included, we may earn a commission.
When you're looking to buy a new mattress, you want to be sure you're getting the best deal possible. With Nectar mattresses, you can ensure that you are. Not only are Nectar mattresses super affordable and available in sizes from Twin to Cal King, but the brand frequently runs sales events that discount the prices even more.
Before you determine which mattress is right for you, make sure you're taking into consideration how you prefer to sleep (on your stomach, back, or side, or a mixture); whether or not you share the bed with a partner, pet, or child; if you sleep hot; and what sort of support you find most comfortable. In the case of the Nectar lineup of mattresses, all of their offered beds are suitable for different sleep positions but vary in terms of composition, cost, and cooling capabilities. Whether you're redoing your entire bedroom or just refreshing your sleeping surface, making sure you aren't overspending on a new bed-in-a-box is a great way to save some extra money. Currently, Nectar is currently taking 33% off of everything as part of its "Black Friday Prices Today" sale (no promo code needed) plus $499 in additional items for $99, including two pillows, a sheet set, and mattress protector at checkout.
Affiliate Disclosure:This Old House's Reviews Team is committed to delivering honest, objective, and independent reviews on home products and services. To support this business model, This Old House may be compensated if you purchase through links on our website.
The Best Nectar Mattress Sales – Our Top Picks
Nectar Original Mattress Sale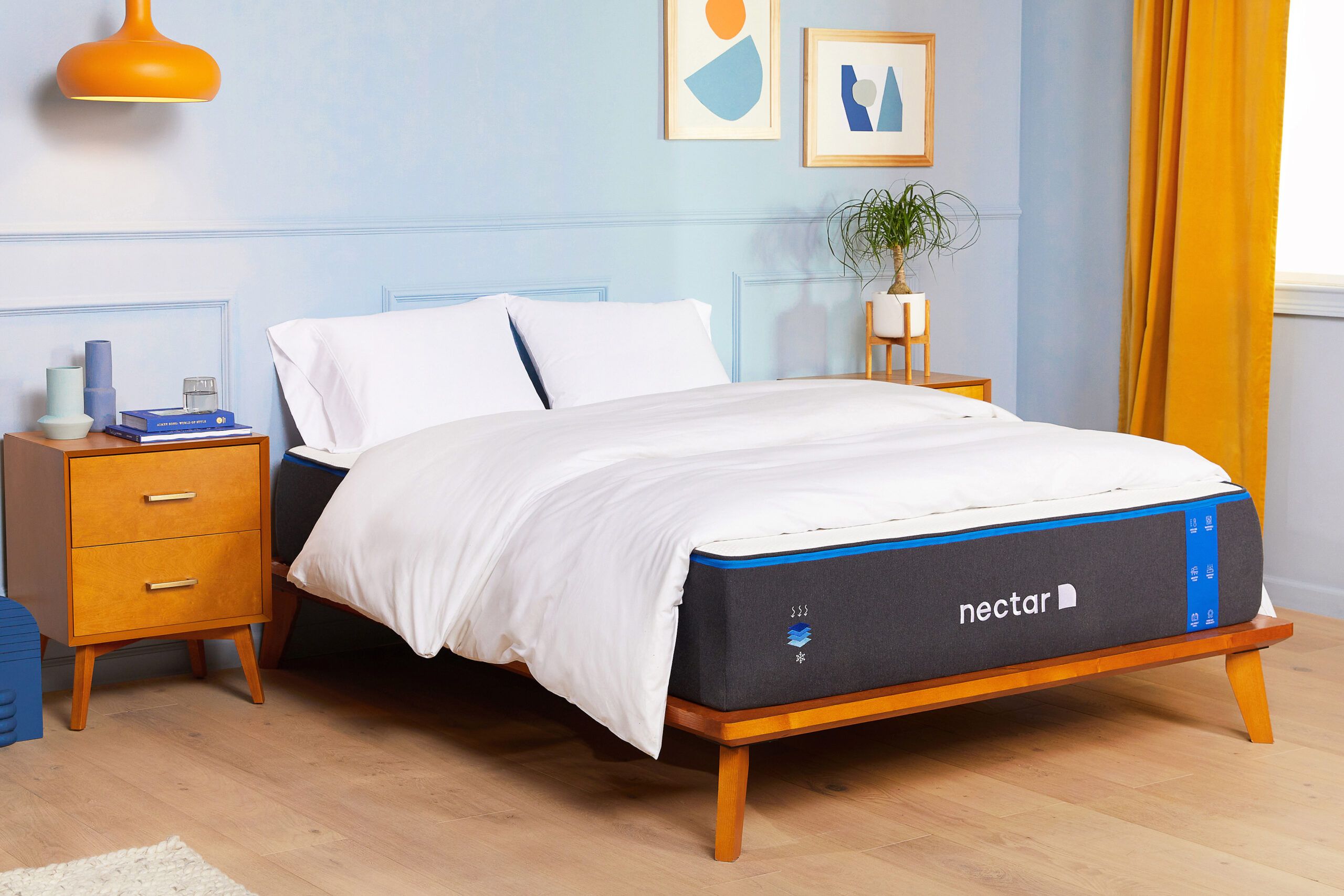 Pros and Cons of the Nectar Original
| Best For | Not So Great For |
| --- | --- |
| Couples and co-sleepers | Hot sleepers |
| All sleep positions | Those who prefer beds with more bounce |
| Budget-conscious shoppers | |
| Best For | Not So Great For |
Material: Gel memory foam
Firmness: Medium-firm (6/10)
Customer Rating: 4.8/5
Delivery: 2-5 Business days
The Nectar Original Mattress is a great pick for a huge variety of sleepers. It sits at a 6 out of 10 on the firmness scale, making it soft enough for side sleepers yet firm enough for stomach and back sleepers. Three separate layers of memory foam make up the Nectar memory foam mattress' construction, making it super effective at isolating motion (great for couples or those who share the bed) and pressure relief (perfect for side sleepers and those with joint pain).
This Nectar memory foam mattress is surprisingly responsive despite its all-foam build, giving combination sleepers enough bounce to easily change positions throughout the night. Plus, it's adjustable, working with a variety of bed frames. You can trust that this is a durable mattress, not only because it earned high marks in the testing lab for that category but also because Nectar offers a forever warranty with all of its mattresses. The Nectar Original is already available at a great low price, but their regular sales events throughout the year allow buyers to purchase one of these comfy mattresses at a discount, plus receive some extra sleep accessories. For a more detailed overview of the Nectar mattress, check out our Nectar Mattress Review.
Nectar Premier Mattress Sale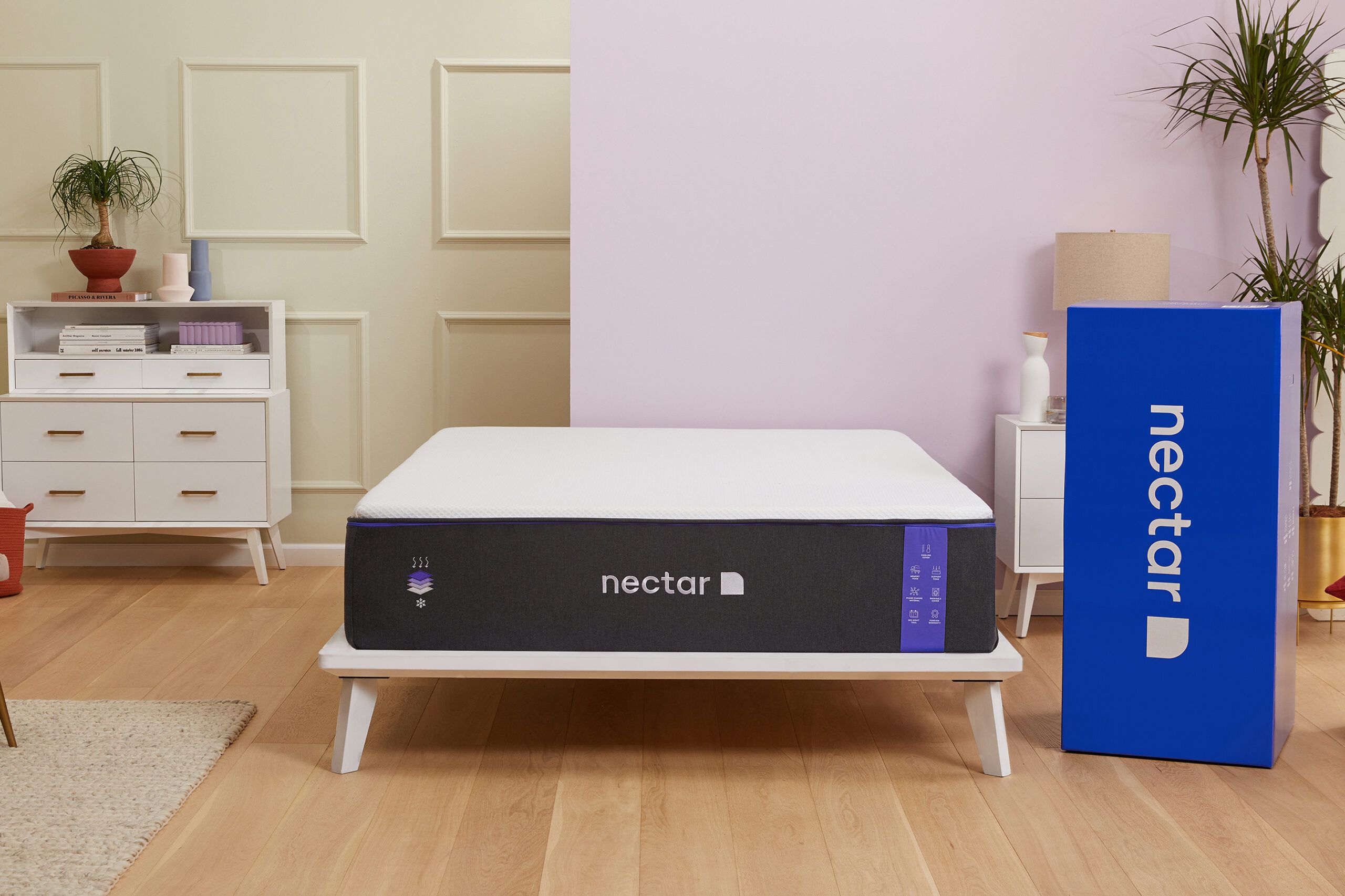 Pros and Cons of the Nectar Premier
| Best for | Not so great for |
| --- | --- |
| Those who sleep on their side or back | Stomach sleepers |
| Warmer sleepers | Larger bodies |
| Those who love memory foam | |
| Best for | Not so great for |
Material: Gel memory foam
Firmness: Medium-firm (6/10)
Customer Rating: 4.8/5
Delivery: 2-5 business days
Warranty: Lifetime
The Nectar Premier is a more luxurious take on the original Nectar mattress, with a different construction that places a heavy focus on keeping sleepers cool through the night. Like the Nectar Original, it's a 6 on the firmness scale out of a total of 10. This makes it a good pick for a variety of sleepers, though heavier stomach sleepers might not receive the support they need from this mattress. Like the Original, it has an all-foam construction that is great at isolating motion, relieving pressure, and keeping the back in a comfortable position for those with back pain.
A layer of gel-infused memory foam on the Nectar Premier works to regulate sleepers' temperature, giving this bed an additional cooling mattress element that hot sleepers should enjoy. A layer of foam in the middle is designed to dynamically adjust to the body's movements, helping combination sleepers shift positions as they sleep. The Nectar Premier is an especially good choice for back or side sleepers who tend to run hot while they sleep, or who share the bed with a partner and don't want to feel their partner's movements. The regular sales events put on by Nectar mean you can often get this bed at an excellent price without a discount code, which is perfect for anyone redoing their bedroom who's trying to stick to a budget.
Nectar Premier Copper Mattress Sale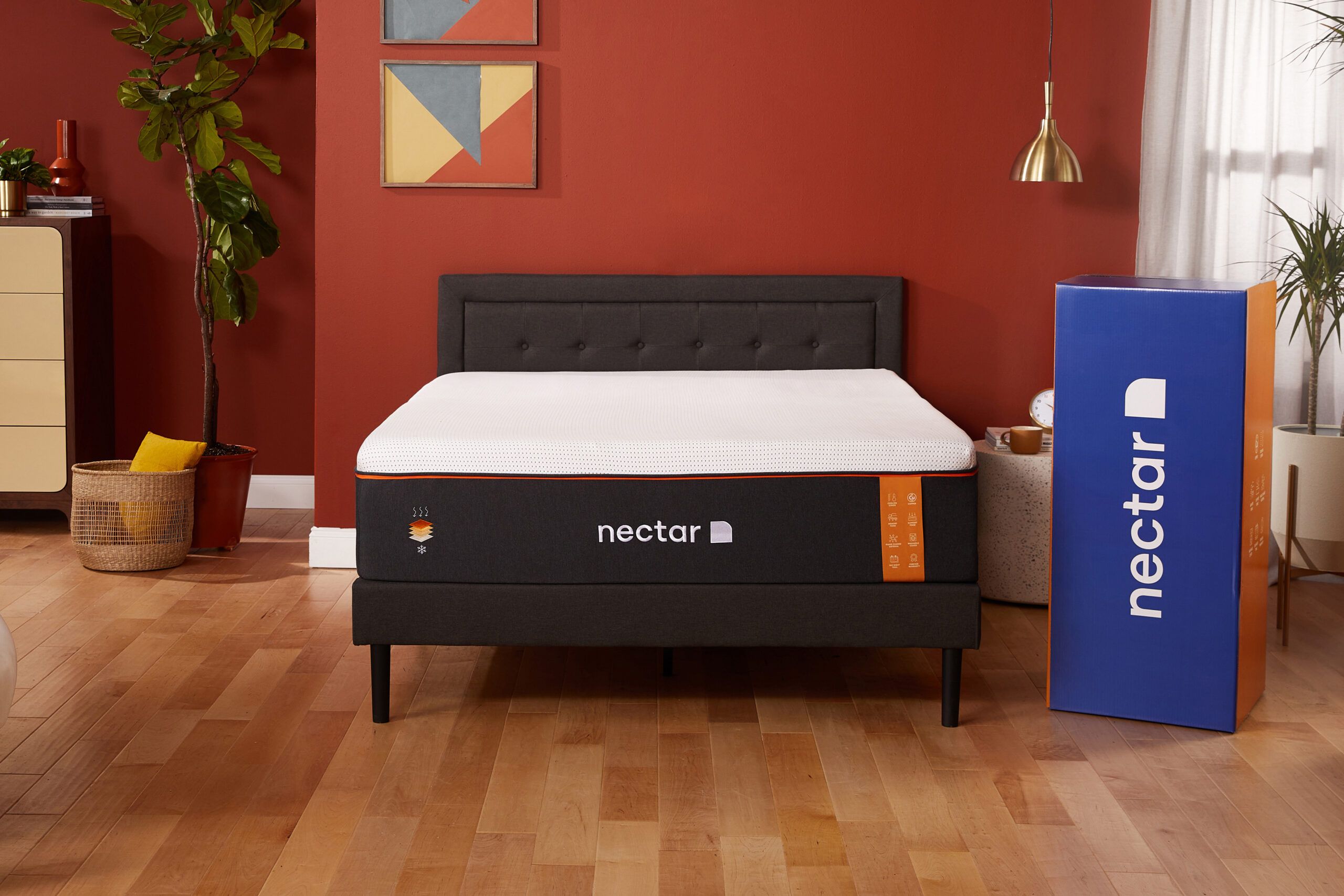 Pros and Cons of the Nectar Premier Copper
| Best for | Not so great for |
| --- | --- |
| Hot sleepers | Those who prefer a firmer bed |
| Side and back sleepers with joint pain | Stomach sleepers |
| Couples and co-sleepers | |
| Best for | Not so great for |
Material: Memory foam
Firmness: Medium-soft (5.5/10)
Customer Rating: 4.8/5
Delivery: 2-5 business days
Warranty: Lifetime
If you struggle with joint pain, finding a mattress that cradles and comforts your sore spots can be a good way to help reduce and prevent further pain. The Nectar Premier Copper is a medium-soft (5.5/10) memory foam mattress that contours to the body, giving high-tension areas like your neck, shoulders, and hips the cradling comfort they need for effective pain management and improvement. This mattress is the thickest in the Nectar lineup at 14″, so sleepers have a lot of layers to sink into.
An extra-thick base layer should lend the Nectar Premier Copper excellent support and durability while keeping the whole mattress nice and stable. A layer of responsive, dynamic foam gives it a bit of bounce, so sleepers won't feel stuck in all the foam layers. To prevent heat trapping, Nectar crafted a memory foam layer infused with copper, gel, and phase-change material that works to promote cooling while giving pressure points the relief they need. A breathable cool cover keeps the mattress chill and improves airflow. Though this is their most expensive mattress, the regular sales events often bring it down to around $1,500 and usually includes free accessories such as cooling pillows and sheets. That's a great deal for such an excellent mattress!
MA Score: The Mattress Advisor Score is a weighted score that takes into account 14 different factors related to the mattress' performance, function, convenience and the brand's social responsibility.
How Much Does a Nectar Mattress Cost?
Nectar is known for being one of the best mattress retailers for creating high-quality mattresses at value prices compared to other mattress brands. The company launched in 2017, selling mattresses online at a competitive price, and has continued to uphold (and improve upon) its mission of providing customers with excellent mattresses at affordable prices. They've always been exceedingly generous with their 365-night trial period and lifetime warranty. Sleepers have the opportunity to really determine whether a Nectar is the right fit for them (and it usually is, fewer than 3% of customers end up returning their mattress!) and can rest easily knowing that any defaults or issues with their new mattress will be covered with the warranty.
As with all things, the price of Nectar mattresses varies depending on the model you're looking at. Their Original mattress costs $999 for a queen size, though you can usually find good deals during holidays and other sales events that take at least $200 off, plus add in some free accessories such as sheet sets, pillows, and mattress protectors. The Nectar Premier is a bit more expensive at $937 for a queen, but again, savvy shoppers can usually find discounts or wait until holidays to get a better price. The Nectar Premier Copper is their thickest and most expensive mattress, at $1,209.
How to Get The Best Nectar Mattress Deals
Step One: Choose Your Mattress
Before you start scouring the internet for good deals on Nectar mattresses, it's helpful to determine which mattress is best for you. Are you a side sleeper? Do you need an affordable mattress? (Hint: Nectar repeatedly wins our pick as the best affordable mattress!) Deciding which mattress will give you the best sleep is a good place to start before hunting for discounts.
Step Two: Figure Out The Size
Obviously, it's important to realize what size mattress you want before you purchase it. If you're redoing a bedroom, breathing some new life into your guest room, or just want to upgrade your sleeping environment, figuring out which size mattress is right for you can help you stay within your budget. Do you want the best king size mattress available? Do you need a good mattress for couples? Once you figure out how much space you have and what size mattress you're looking for, you'll have a good idea of what your budget is, and can shop accordingly.
Step Three: Research Deals in Advance
If you know you're going to want a new mattress in the future, it's a good idea to plan on purchasing your new bed during a savings period. Nectar consistently has holiday sales, making it easy to anticipate times of year when you'll be able to take advantage of discounted prices. Plus, they usually have some flash sales around other times of the year, which you can usually find out about through their email list or by checking their website once in a while.
Nectar Holiday Mattress Sales
If you're considering purchasing a Nectar mattress, we recommend waiting until one of their holiday mattress sales to get a great price. Fortunately for you, you won't have to wait very long for a sales event. Nectar runs a gamut of sales throughout the year, including: Memorial Day, Labor Day, Presidents Day, Fourth of July, a Black Friday sale, Cyber Monday, and a few flash sales throughout the year that vary annually.
While the sales themselves differ, you can typically expect to receive a discount on whichever mattress you're interested in, plus some sleeping accessories that they'll sometimes include for free. Currently, Nectar is running their "Black Friday Prices Today" sale, which includes 33% off mattresses and $499 worth of bedding for $99.
Read More: