Bisbee, Arizona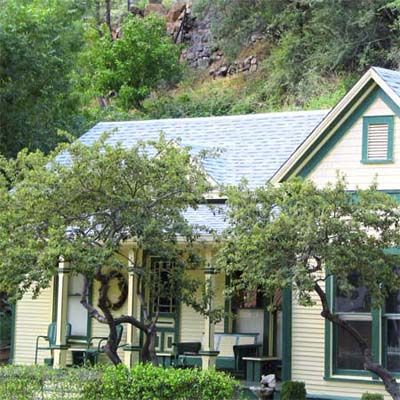 The Neighborhood
A former mining town nestled in the Mule Mountains, Bisbee rivaled New Orleans in the early 1900s as one of the most raucous locales in the country, with more than 50 saloons and a busy red-light district. Nowadays, it's a haven for artists who think of it as a mini San Francisco and retirees who've fled Florida. Saloons have been transformed into galleries and restaurants, and the old brothels are more reputable these days, reincarnated as B&Bs. "Quaint" is the operative word here, but the town is more Wild West than it is antiques and afghans.
The Houses
No-nonsense Victorians—primarily Queen Annes—and Arts and Crafts homes are set on hillsides along the city's narrow, winding streets.
The Prices
Househunters can make a killing for $200,000 or less in Bisbee, whether their heart's desire is a restored-to-the-nines Arts and Crafts home or a well-loved Queen Anne. The recent listing of a 1905 Craftsman-style home for $300,000 would be considered a splurge.
Why Buy Now?
Once a secret, Bisbee—which is enticing newbies thanks to its low property taxes—has been discovered. Get there soon to get in on this little jewel in the dusty Southwest.
Among the best for:
Eureka, California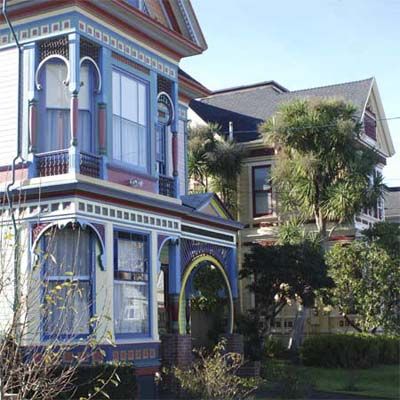 The Neighborhood
Sandwiched between Humboldt Bay and redwood forests 275 miles north of San Francisco, Eureka (population: 26,000) was settled in the 1850s as a home base for gold miners and remained inaccessible by road until 1924. Today, the town's median income is about half of the rest of the state's, but tourism helps keep the economy afloat, sustaining galleries, bookstores, restaurants, and other businesses. Tucked up at the ocean's edge are the College of the Redwoods, Humboldt State University, museums, parks, a wildlife refuge, and a cottage industry in outdoor recreation: hiking, biking, kayaking, birding, and sightseeing.
The Houses
The most sought after are ample Queen Annes with plenty of decorative detail. Fine Arts and Crafts—inspired houses, built primarily in the 1920s, can also be found here.
The Prices
A Queen Anne cottage in need of work fetches about $200,000, and a larger Victorian-era house that's showing its age can go for as little as $260,000. Arts and Crafts homes in good shape run from $240,000 to $500,000.
Why Buy Now?
Home prices in Eureka are low by California standards, and this area, surrounded by protected parks and forests, is likely to remain a draw for visitors as well as old-home lovers.
Among the best for:
Madison, Indiana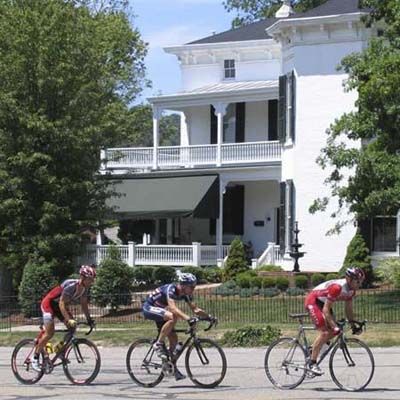 The Neighborhood
This Hoosier State town—with 133 blocks of National Register homes and buildings—offers bliss for all walks. Those who like the great outdoors will enjoy Clifty Falls State Park's 1,400 acres. Music lovers will revel in the free bluegrass concerts held monthly at the Jefferson County Fairgrounds. And for wine connoisseurs, Madison Vineyards offers regular tastings. Those who need to work before playing will find King's Daughters' Hospital, Madison's largest employer, providing over 1,000 jobs, as well as the cities of Cincinnati and Louisville less than an hour away. And there's also a great spot here for kids to keep busy: The Lydia Middleton Elementary School recently underwent a $15 million restoration.
The Houses
Styles of architecture include Federal, Greek Revival, Italianate, Second Empire, Gothic Revival, and Arts and Crafts.
The Prices
A shotgun-style Craftsman can be had for less than $100,000; restored Italianates go for three times as much.
Why Buy Now?
Indiana taxpayers receive 20 percent income tax credits on the cost of historic home rehabilitation or preservation.
Among the best for:
Eastport, Maine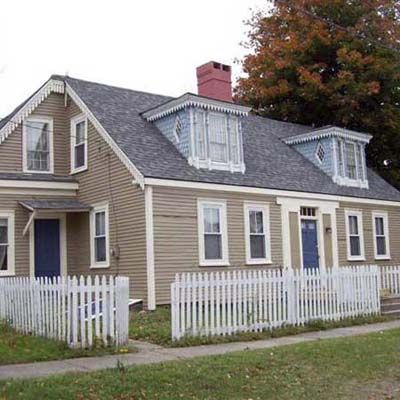 The Neighborhood
Here's the best thing about Eastport, Maine: Since it's the easternmost city in the country, residents here receive, literally, the very first sunshine of the day. Located on Moose Island in Passamaquoddy Bay, tiny Eastport (population: about 2,000) was settled by fishermen drawn not only to the abundant shoals but also to a harbor that never seemed to ice over. The town grew into a major shipping port, even rivaling New York. These days, tourists flock here to enjoy Eastport's maritime history and to catch glimpses of whales, seals, ospreys, and bald eagles. It's also a magnet for artists, thanks to its numerous galleries and an arts center that offers classes as well as frequent concerts.
The Houses
Eastport features turn-of-the-century Colonials and Cape Cods, as well as Victorian-era Second Empire and Queen Anne homes.
The Prices
A needy Cape Cod can be had for as little as $100,000, while the higher-end Second Empires run $300,000 and up.
Why Buy Now?
In a state where few of the properties along the water are still affordable, Eastport offers the charm of coastal living and loads of natural beauty, for a reasonable price.
Among the best for:
Kempton's Corners, New Bedford, Massachusetts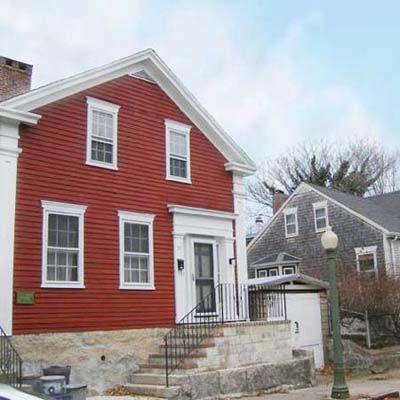 The Neighborhood
The seaside town where Herman Melville set Moby-Dick, New Bedford, is also known for its historic architecture. Its restored mansions are highly coveted, but the more modest neighborhood of Kempton's Corners and the adjacent Acushnet Heights Historic District offer affordable options, and they're just a short walk from downtown shops, galleries, and seafood restaurants. The local job market includes work in the civic sector, the textile industry, and the age-old fishing trade. A new commuter rail system to Boston is expected to begin service in the next few years.
The Houses
Kempton's Corners and Acushnet Heights are best known for single-family and multifamily dwellings in Federal and Greek Revival styles, though New Bedford's most sought-after neighborhood, the West End, is a cache of large Victorian-era mansions.
The Prices
Though a Victorian can run as much as $800,000, prices in the more accessible Kempton's Corners and Acushnet Heights start at $180,000 and top off at $300,000.
Why Buy Now?
Kempton's Corner is one of the final frontiers in New Bedford, and the recent mortgage crisis has left many properties on the market—and priced to sell.
Among the best for:
Art Lovers, Luxury Homes, The Northeast
Dayton's Bluff, St. Paul, Minnesota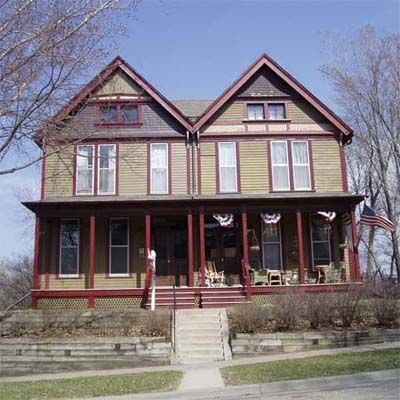 The Neighborhood
A large historic district with about 18,000 residents, Dayton's Bluff overlooks downtown and the Mississippi River valley. Many of this neighborhood's modest homes were built during a growth spurt in the 1880s, when a brewery, a factory, and railroad workers gathered around the local streetcar line. Today, Dayton's Bluff is a diverse urban enclave bursting with restaurants, churches, shops, and galleries (run and stocked by the many artists who call this neighborhood home).
The Houses
The city has designated 600 houses and other buildings as historic, and there's no shortage of other vintage properties to choose from, including Italianate, Queen Anne, Colonial Revival, and Arts and Crafts houses. While many have been restored, there are plenty of fixer-uppers, including long-vacant properties.
The Prices
Selling prices range from $20,000 for an abandoned property to $50,000 for a historic house in need of work to $300,000 for a lovingly restored Queen Anne.
Why Buy Now?
Prices are low, and there's help for home buyers, too. Restore Saint Paul, a private preservation group, provides low-interest loans to would-be owners of historic homes. The nonprofit Dayton's Bluff Neighborhood Housing Services offers down payment assistance, low-interest loans for repairs, and even help finding contractors.
Among the best for:
Natchez, Mississippi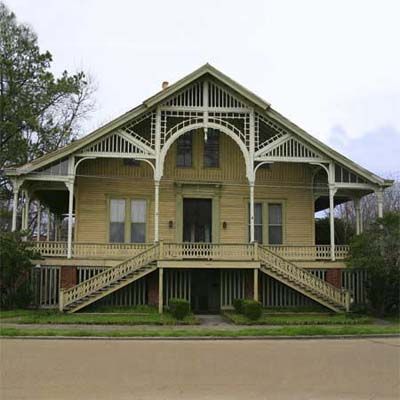 The Neighborhood
Natchez is literally rich in history: Before the Civil War, it was the nation's wealthiest town per capita. It now has seven historic districts on the National Register and at least 600 antebellum properties. A place for old-house and arts addicts, Natchez hosts a slew of festivals, including a literary and cinema celebration each February and an annual music festival in May. The 444-mile Natchez Trace, a path stretching from here to Nashville, is surrounded by parkland, offering biking, hiking, and horseback riding. All of these attractions, plus the city's melting-pot history (French, Spanish, English, and Native American), make it a tourism center, and jobs in bars, restaurants, B&Bs, and casinos are plentiful.
The Houses
Antebellum and Victorian-era homes line the streets downtown; other styles include Greek Revival, Classical Revival, and Federal.
The Prices
$100,000 buys a bungalow fixer-upper in the historic district; antebellum mansions with historical significance go for $1 million to $2 million.
Why Buy Now?
Homeowners who upgrade historic properties receive a state tax credit equal to 25 percent of the total cost of approved renovations over $5,000.
Among the best for:
Lakewood, Ohio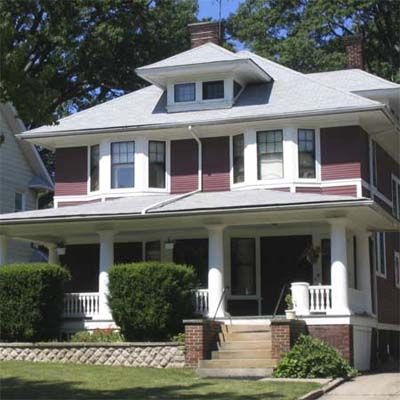 The Neighborhood
A well-established Cleveland bedroom community situated on Lake Erie, Lakewood has about 55,000 residents and thousands of single-family and multifamily homes built between 1890 and 1930. Locally owned shops, restaurants, theaters, and art galleries, strung behind vintage storefronts along a former streetcar line, are where families meet in summer—when they're not relaxing by the lake. Home to a celebrated public library, the Beck Center for the Arts, Lakewood also has great schools that have been making news for their rapid test-score gains and high graduation rates.
The Houses
Queen Anne, Spanish Revival, Tudor, and Colonial Revival houses can be found with all their original details, including magnificent millwork and stained-glass windows.
The Prices
Colonial Revival and Victorian-era houses in need of work start at foreclosure prices as low as $50,000, while large lakeside beauties go for as much as $600,000.
Why Buy Now?
The Cleveland Restoration Society, a nonprofit preservation group, offers low-interest loan programs for rehabs and renovations. And the Lakewood Heritage Advisory Board offers consultations and assistance for those looking to rehab old houses.
Among the best for:
Families with Kids, First-Time Buyers, Art Lovers, Queen Annes, The Midwest
Broadway-Armory District, Providence, Rhode Island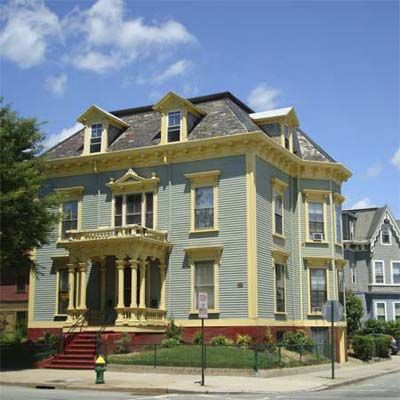 The Neighborhood
This evolving area on the west side of the city, listed on the National Register of Historic Places, has about 1,000 buildings, mainly dating to the 19th century. The neighborhood is anchored by the 1907 Cranston Street Armory and an adjacent park. Add a lively mix of long-term and first-time homeowners, stores, restaurants, bars, and even a dog park, plus proximity to Brown University and the Rhode Island School of Design, and you have the "hippest, coolest neighborhood in Providence," according to Kari Nel Lang, director of the West Broadway Neighborhood Association.
The Houses
Houses are primarily of the Victorian era, including Queen Annes, Italianates, Second Empires, and a smattering of Greek Revivals. Some have been restored, though there are plenty in need of TLC.
The Prices
Foreclosed Victorians often sell for less than $100,000, while historic houses in good shape range from $200,000 to $1 million.
Why Buy Now?
Along with reasonable prices, there's help for home buyers. The Providence Revolving Fund offers loans to purchasers, and there's also assistance available from the city and the state, which offers tax credits for certain types of restoration work.
Among the best for:
Georgetown, Texas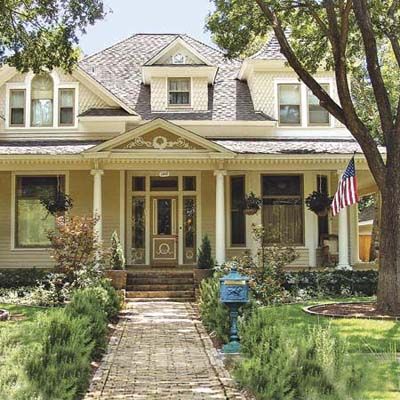 The Neighborhood
Georgetown once served as a staging area for cattle drives along the Chisholm Trail. These days, the town's historic center bustles with boutiques, art galleries, and restaurants, but it still looks like a scene from a John Wayne Western. Georgetown is located on the edge of the Texas Hill Country, and is home to Southwestern University, recently named one of "America's Best Value Colleges" by the Princeton Review. Plus, it's only 30 miles away from hip-and-happening Austin.
The Houses
Late-19th-century Queen Annes and Greek Revivals as well as beautiful 1930s Arts and Crafts and Stick Victorian homes are scattered throughout the area.
The Prices
Price tags on fixer-upper bungalows sometimes read as little as $90,000, though grander homes here can run in the millions.
Why Buy Now?
Old homes with Western flair are dang hard to come by, and these are close to Austin, the best little hot spot in Texas, with music, food, and culture that gets better by the minute.
Among the best:
Art Lovers, City Slickers, Luxury Homes, Craftsman Houses, The Southwest
Brandon, Vermont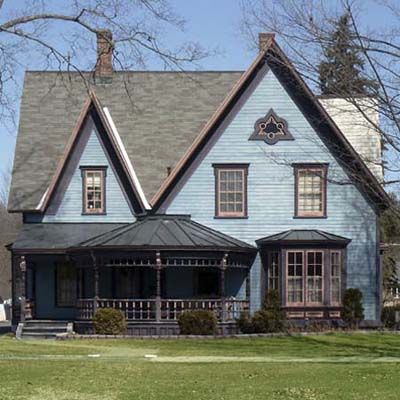 The Neighborhood
Chartered in 1761, Brandon lies along the Neshobe River and has a historic district that encompasses almost the entire town. It's the kind of place where everyone says hello, and Park Street—lined with trees and mid-19th-century houses—is touted by many preservationists as the most beautiful street in Vermont. Brandon has about 4,000 residents, including artists, retirees, and young families. Work opportunities are generally limited to small businesses, including a handful of working farms, a medical center, and the town's two schools (one serving K-8 and the other a regional high school). Middlebury College is just 20 minutes away.
The Houses
The rich inventory here includes Cape Cod, Federal, Greek Revival, Carpenter Gothic, Italianate, and Classical Revival styles. Many houses were built between 1795 and the 1890s.
The Prices
An 1830s fixer-upper might set you back $250,000, while a fully renovated Victorian-era home on Park Street is likely to go for $500,000 or more.
Why Buy Now?
Inviting streets, friendly neighbors, and an unusual cache of early-19th-century houses make this a smart investment for lovers of small-town New England charm.
Among the best for:
RetireesFamilies with KidsArt LoversThe Northeast
Lewisburg, West Virginia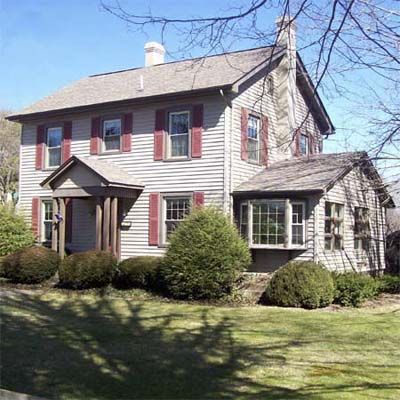 The Neighborhood
Outdoor enthusiasts, artists, and old-house buffs find common ground in Lewisburg. The Allegheny Mountain town boasts hundreds of historic homes, churches, and public buildings, all set in an outdoor paradise known for its fishing, hiking, and canoeing. This 200-plus-year-old community is featured in The 100 Best Small Art Towns in America and is home to the Greenbrier Valley Theatre and a Carnegie Hall—affiliated performing arts center.
The Houses
While some homes here date to the late 1700s, most were built in the early 19th century. Styles include hand-hewn log cabins, brick Federals, and Victorian-era cottages with plenty of gingerbread details.
The Prices
In downtown Lewisburg, a 2,700-sq-ft, circa-1800 house—part of which was originally a log cabin—was recently on the market for $360,000; a Queen Anne needing TLC will run you about the same. A mile outside of town, an ample turn-of-the-century farmhouse in good condition went on the market for $200,000.
Why Buy Now?
Lewisburg's many cultural and outdoor attractions have tourism on the rise, and as more visitors discover this town, the historic housing stock stands to dwindle. Besides, can you get any more nostalgic than an old log cabin in the woods?
Among the best for: