Galena, Illinois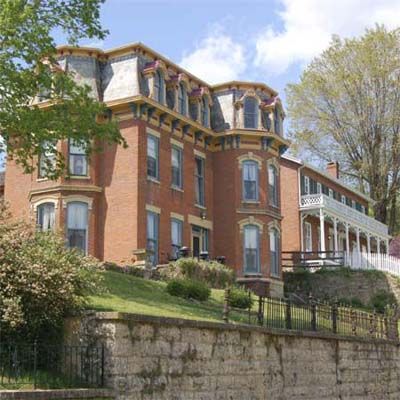 The Neighborhood
Once the busiest port between St. Louis and St. Paul, Galena features hundreds of eye-popping homes built in the early to mid-1800s by shipping magnates and heavy-hitters in the area's lead mines. Today, 85 percent of the town is a National Historic District, with many homes overlooking the Galena River. The town boasts what the Chicago Tribune dubbed "The Best Main Street in the Midwest," thanks to its well-preserved commercial buildings. With one of Illinois's top-performing public school systems, Galena is a great place to raise a family. The 15-minute commute to Dubuque, Iowa's five colleges and universities makes Galena a draw for academics as well.
The Houses
Styles include Neo Classical, Federal, Greek Revival, Second Empire, Gothic Revival, Queen Anne, and Italianate, the most famous of which is the former home of Ulysses S. Grant.
The Prices
A sturdy Greek Revival or Second Empire home can be had for as little as $130,000.
Why Buy Now?
Galena is perfectly positioned as a bedroom community to Dubuque, which has one of the fastest-growing economies in the Midwest. The homes here are in demand and unlikely to drop in value.
Among the best for:
Families with Kids, Bargains, The Midwest
Madison, Indiana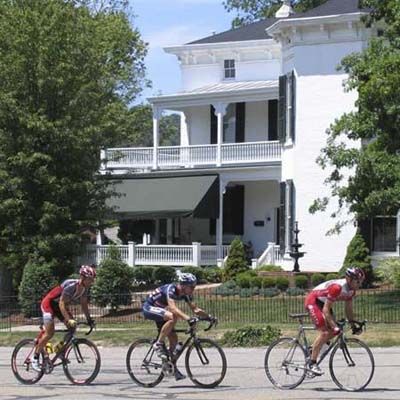 The Neighborhood
This Hoosier State town—with 133 blocks of National Register homes and buildings—offers bliss for all walks. Those who like the great outdoors will enjoy Clifty Falls State Park's 1,400 acres. Music lovers will revel in the free bluegrass concerts held monthly at the Jefferson County Fairgrounds. And for wine connoisseurs, Madison Vineyards offers regular tastings. Those who need to work before playing will find King's Daughters' Hospital, Madison's largest employer, providing over 1,000 jobs, as well as the cities of Cincinnati and Louisville less than an hour away. And there's also a great spot here for kids to keep busy: The Lydia Middleton Elementary School recently underwent a $15 million restoration.
The Houses
Styles of architecture include Federal, Greek Revival, Italianate, Second Empire, Gothic Revival, and Arts and Crafts.
The Prices
A shotgun-style Craftsman can be had for less than $100,000; restored Italianates go for three times as much.
Why Buy Now?
Indiana taxpayers receive 20 percent income tax credits on the cost of historic home rehabilitation or preservation.
Among the best for:
Sherman Hill, Des Moines, Iowa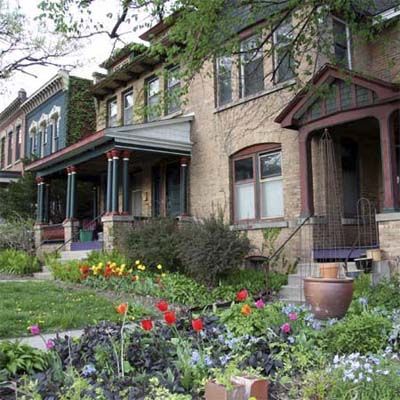 The Neighborhood
"A local resident once said, 'You will know our revitalization efforts were successful when families start moving back into the neighborhood,' " says Sherman Hill Neighborhood Association president Donna Hallstrom. That day has arrived, with young families and couples making their way from the 'burbs into this historic neighborhood in recent years. Despite its comprising only 210 buildings, this urban enclave is packed with amenities, including the historic Hoyt Sherman Place, a meetinghouse with an art gallery and performing arts center. Sherman Hill has its own 185-student, pre-K through fifth grade elementary school; older kids commute to schools around the city.
In the Flood Zone
While many areas of Des Moines have experienced intense flooding in recent
weeks, Sherman Hill, which is on high ground, was unaffected.
The Houses
Queen Annes, Italianates, and other Victorian-era homes dating from the 1870s through the turn of the last century dominate. Foursquare and Craftsman styles can be found, too. Some homes appear on the National Register of Historic Places.
The Prices
Smaller unrenovated houses go for as little as $50,000, while a restored Victorian can cost up to $350,000.
Why Buy Now?
Prices are low, and there are incentives to invest. The Neighborhood Finance Corporation, a local nonprofit mortgage broker, provides assistance for purchasing and improving historic homes, and the state's Historic Resource Development Program also provides grants.
Among the best for:
Lawrence, Kansas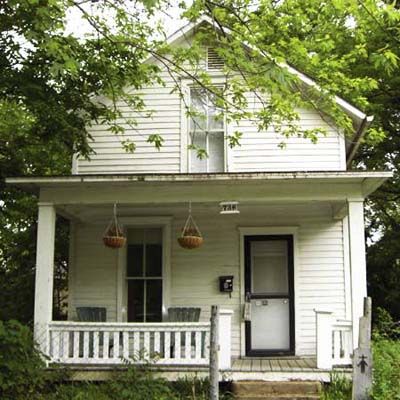 The Neighborhood
This town of 82,000 was established in the early 1850s; the University of Kansas, founded 15 years later, is still the heart of the place. Lawrence is ideal for walking: Mass Street is the main commercial thoroughfare, lined with local shops (coffeehouses, restaurants, and boutiques) and national chains (Gap, of course). Education is key in this town—and not just at the university, which is Lawrence's largest single employer. Langston Hughes Elementary School ranks 22nd among Kansas's 712 public grade schools; Lawrence High School ranks 43rd out of the 326 in the state.
The Houses
The homes in Lawrence's eight historic districts date from 1860 through 1930. Architectural styles include National Folk, Queen Anne, Colonial Revival, Craftsman, Second Empire, and Prairie.
The Prices
You'll pay a pleasing $80,000 for a slab ranch fixer-upper in East Lawrence. An Italianate mansion in the Old West Historic District won't come so easy, though. It'll cost you $1.5 million.
Why Buy Now?
Kansas's State Historic Preservation Office offers financial assistance and administers state and national tax-break programs for the renovation of historic properties.
Among the best for:
Pleasant Ridge, Michigan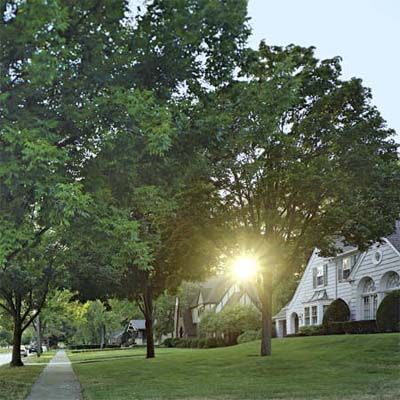 The Neighborhood
Just a 30-minute drive from downtown Detroit, Pleasant Ridge isn't exactly a suburb—it's one of Michigan's smallest incorporated cities, with 2,594 residents. Resident Kate Redmond calls it "a time capsule from the 1920s," when upper-middle-class automobile tycoons built homes and raised families here. It's long been a draw for folks on the family track; it's not uncommon for newlyweds to buy a starter home here, trade up to a larger one when the kids arrive, then downsize as the nest empties, but never leave Pleasant Ridge. Public schools spend almost $2,000 more per student than the national average, and class sizes average just 18 students per teacher.
The Houses
Arts & Crafts homes, English Tudors, Prairie Schools, Georgian Revivals, and Dutch Colonials are all here.
Prices
Prices range from the low $100,000s for a modest bungalow to over a million for a big Colonial Revival or Tudor.
Why Buy Now?
Pleasant Ridge is already home to two national historic districts, and plans are under way to list the city, established in the 1830s, on the National Register. This small city stands to retain its historic fabric long into the future.
Among the best for:
Families with Kids, Retirees, First-Time Buyers, The Midwest
Dayton's Bluff, St. Paul, Minnesota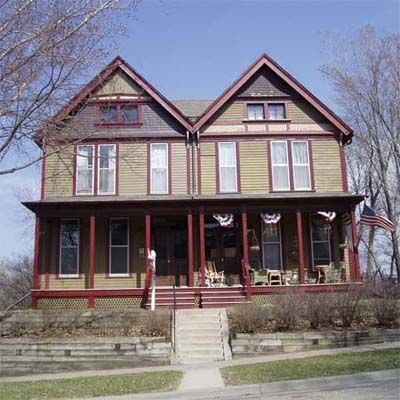 The Neighborhood
A large historic district with about 18,000 residents, Dayton's Bluff overlooks downtown and the Mississippi River valley. Many of this neighborhood's modest homes were built during a growth spurt in the 1880s, when a brewery, a factory, and railroad workers gathered around the local streetcar line. Today, Dayton's Bluff is a diverse urban enclave bursting with restaurants, churches, shops, and galleries (run and stocked by the many artists who call this neighborhood home).
The Houses
The city has designated 600 houses and other buildings as historic, and there's no shortage of other vintage properties to choose from, including Italianate, Queen Anne, Colonial Revival, and Arts and Crafts houses. While many have been restored, there are plenty of fixer-uppers, including long-vacant properties.
The Prices
Selling prices range from $20,000 for an abandoned property to $50,000 for a historic house in need of work to $300,000 for a lovingly restored Queen Anne.
Why Buy Now?
Prices are low, and there's help for home buyers, too. Restore Saint Paul, a private preservation group, provides low-interest loans to would-be owners of historic homes. The nonprofit Dayton's Bluff Neighborhood Housing Services offers down payment assistance, low-interest loans for repairs, and even help finding contractors.
Among the best for:
The Shaw Neighborhood, St. Louis, Missouri
The Neighborhood
Living in the Shaw Neighborhood is sort of like waking up on the set of Meet Me in St. Louis. The Victorian era is all around, from the wide streets lined with hundreds of early-20th-century homes showcasing well-maintained gardens to Tower Grove Park, which borders the Shaw, with grass tennis courts, pavilions, and hundreds of varieties of trees and shrubs. As the neighborhood's stately homes have been refurbished, dozens of new, locally owned cafes, pubs, restaurants, and galleries have opened. The nearby Missouri Botanical Garden, with its massive tropical habitat beneath a geodesic dome, is one of the nation's little-known treasures.
The Houses
Most were built between 1880 and 1940. Aside from pristine rows of brick Victorian-era Queen Anne and Second Empire homes, other styles include Arts and Crafts, Georgian, and English Tudor.
The Prices
An unrestored Victorian here can be had for as little as $125,000; one in top-notch shape will cost twice that.
Why Buy Now?
The Shaw neighborhood has been on an upward trend for more than a decade and shows no signs of flagging, despite the current housing crunch.
Among the best for:
Fixer-Uppers, First-Time Buyers,
City Slickers, Queen Annes, The Midwest
Near South, Lincoln, Nebraska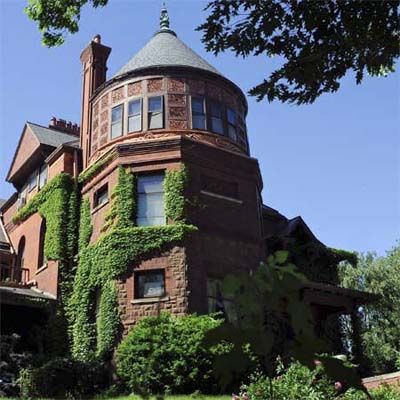 The Neighborhood
On weekends, Near South residents can be found playing with their kids in
small playgrounds or spending family time at the Lincoln Children's Zoo and other parks within walking
distance. Credit for the family-friendly vibe goes in part to the Near South Neighborhood Association, which has promoted
revitalization, preservation, and development of green space since 1972. Near South has a grocery, a bakery, and coffee shops, plus two recently
overhauled elementary schools. It's a 5-minute commute from downtown
Lincoln, home to three major hospitals that provide thousands of jobs.
The Houses
American Foursquare, Neoclassical, Tudor, Colonial-Revival and Richardsonian
Romanesque, as well as Italianate homes dating from 1869 to the 1920s.
The Prices
Restored homes in Near South's Mount Emerald Historic District, Lincoln's
first National Register neighborhood, sell for $200,000 and up—but in the
nearby South Capitol Mall District, an area poised to host the next revival,
a fixer-upper can be had for as little as $100,000.
Why Buy Now?
To get in on Nebraska's Valuation Incentive Program, which
encourages high-quality renovation by freezing property taxes at a home's
prerehabbed rate for 8 to 12 years (yee-haw!).
Among the best for:
Cathedral District, Bismarck, North Dakota
The Neighborhood
The Cathedral Area Historic District is named for the Art Deco Cathedral of the Holy Spirit, whose chimes serenade the neighborhood. Comprising some 20 blocks near downtown Bismarck, it has bragging rights to about 150 homes on the National Register. According to resident Erik Sakariassen, "the Leave It To Beaver theme runs through your head" when you walk the Cathedral District's streets, and newcomers have singled it out as a family place, thanks in part to a solid public school system with a 97 percent graduation rate. Jobs in the energy sector are a draw, with both a working oil reserve and an electrical plant nearby.
The Houses
Homes date from 1900 to 1945 and their "Eclectic Era" architectural styles include Shingle, Prairie, Tudor Revival, Craftsman, Cape Cod, and American Foursquare.
The Prices
A two-bedroom bungalow in need of upgrades can be grabbed for $125,000, while a large two-story Craftsman-style house may sell for as much as $300,000. Grant money is occasionally available from North Dakota's State Historic Preservation Office to assist preservation and restoration projects.
Why Buy Now?
Entry-level homes for less than $150,000 to start, plus plenty of opportunities to trade up in the years to come.
Among the best for:
Lakewood, Ohio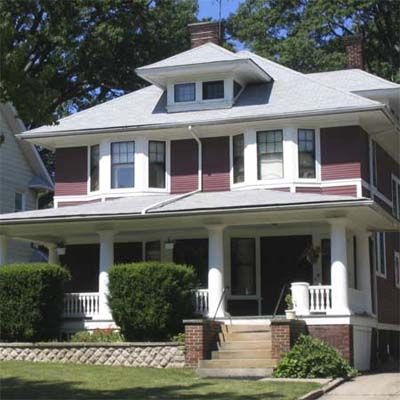 The Neighborhood
A well-established Cleveland bedroom community situated on Lake Erie, Lakewood has about 55,000 residents and thousands of single-family and multifamily homes built between 1890 and 1930. Locally owned shops, restaurants, theaters, and art galleries, strung behind vintage storefronts along a former streetcar line, are where families meet in summer—when they're not relaxing by the lake. Home to a celebrated public library, the Beck Center for the Arts, Lakewood also has great schools that have been making news for their rapid test-score gains and high graduation rates.
The Houses
Queen Anne, Spanish Revival, Tudor, and Colonial Revival houses can be found with all their original details, including magnificent millwork and stained-glass windows.
The Prices
Colonial Revival and Victorian-era houses in need of work start at foreclosure prices as low as $50,000, while large lakeside beauties go for as much as $600,000.
Why Buy Now?
The Cleveland Restoration Society, a nonprofit preservation group, offers low-interest loan programs for rehabs and renovations. And the Lakewood Heritage Advisory Board offers consultations and assistance for those looking to rehab old houses.
Among the best for:
Families with Kids, First-Time Buyers, Art Lovers, Queen Annes, The Midwest
Brady Heights, Tulsa, Oklahoma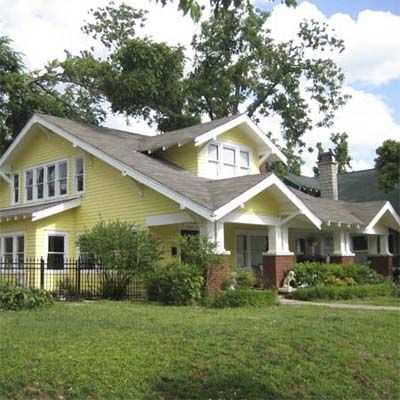 The Neighborhood
Brady Heights existed before Oklahoma was a state. The area, originally known as the Silk Stocking neighborhood, saw hard times before making a comeback in the 1980s. Now on the National Register of Historic Places and just blocks from downtown Tulsa, Brady Heights is adjacent to the Tulsa branch of Oklahoma State University and encompasses an eclectic choice of housing, populated by a diverse mix of owners and renters. Four churches and an active community group that helps older residents take care of their homes provide the social glue.
The Houses
Tate Brady, an early city booster and real estate entrepreneur as well as the neighborhood's namesake, built his mansion here in 1907. You'll also find bundles of bungalows and Foursquares built between 1900 and 1924, along with Colonial Revival, Folk Queen Anne, Folk Victorian, Craftsman, Italian Renaissance Revival, and Prairie School houses.
The Prices
An undated Foursquare might go for $160,000, while a bungalow in need of work can be had for less than $40,000. Got your eye on the Tate Brady mansion? It's for sale—for only $989,000.
Why Buy Now?
Two words: Forty grand! As George Aveilhe, a Brady Heights Neighborhood Association board member, puts it, "You can get a really nice antique house here for a very reasonable price."
Among the best for:
West Boulevard, Rapid City, South Dakota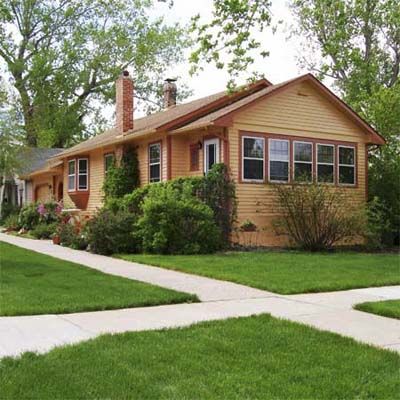 The Neighborhood
Founded in 1876 by gold miners, Rapid City quickly established itself as the "Gateway to the Black Hills," drawing tourists long before the faces of Washington, Jefferson, Lincoln, and Roosevelt were carved into the granite of Mount Rushmore 20 miles outside of town. Today, tourism remains the city's biggest industry, though many residents work in manufacturing (cement, chipboard, and farm equipment) or at Ellsworth Air Force Base. The city's two historic districts include the city center, with its Italianate, Renaissance, and Classical Revival storefronts, and West Boulevard, a haven for a mixed bag of residents that includes lots of retirees.
The Houses
Three building periods spanning 1875 to 1949 produced an eclectic mix of styles, including Queen Anne, Colonial Revival, Craftsman, Prairie, and Art Deco.
The Prices
A renovated 4,000-square-foot Craftsman built in 1917 was recently on the market for $335,000. If you're handy, Victorian-era fixer-uppers can be had for as low as $138,000.
Why Buy Now?
Housing prices here have dropped within the last year, although values in the West Boulevard Historical District tend to hold steadier than those in the rest of Rapid City.
Among the best for:
Third Lake Ridge, Madison, Wisconsin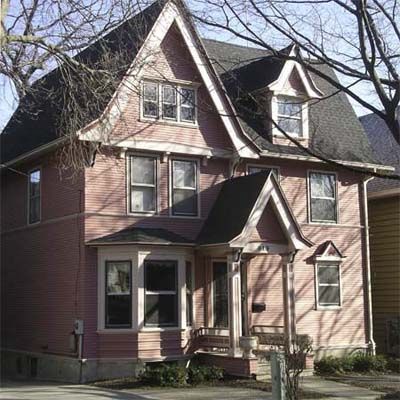 The Neighborhood
Third Lake Ridge, a 30-block area two miles from downtown and the University of Wisconsin, was settled in the 1850s and prospered when it became a destination for German and Norwegian immigrants after the Civil War. It is now one of two local districts listed on the National Register of Historic Places. Wisconsin's capital city is known for its progressive politics, neighborhood activism and preservation, and stellar educational institutions: Madison's highly lauded elementary, middle, and high schools make the city a magnet for families. Besides the state government, the University of Wisconsin and the growing high-tech and biotech industries are major employers.
In the Flood Zone
Though Wisconsin lies within the region hit by the 2008 spring floods, Madison has not been greatly affected; the Third Lake Ridge community has been untouched by floodwaters.
The Houses
Greek Revival, Italianate, Queen Anne, Prairie School, and Craftsman houses are all here, along with more modest bungalows. The most coveted homes span the neighborhood's mile of Lake Monona shoreline.
The Prices
The range goes from $160,000 for a rough-around-the-edges Craftsman to $1 million for a lakeside mansion designed by Prairie School architects Louis W. Claude and Edward F. Stark.
Among the best for:
Craftsman Houses, Families with Kids, City Slickers, The Midwest