Casey-Shattuck, Juneau, Alaska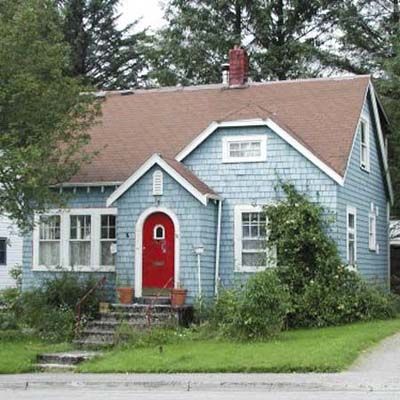 The Neighborhood
Set on the Pacific and surrounded by mountains, Juneau is one pretty little city—complete with historic neighborhoods containing various architectural styles from the late 19th and early 20th centuries. The best bargains here are in Casey-Shattuck, named after the two men who developed the former farmland into Juneau's first subdivision. The neighborhood has seen renewed interest recently, as young professionals and those seeking an outdoorsy lifestyle move here to work in the city's growing tourism industry. Now that five or more cruise ships arrive here almost daily, it's not as quiet as it used to be!
The Houses
Most Casey-Shattuck homes were built between 1905 and 1940 in the Craftsman style, with low-pitched gabled roofs and wide overhanging eaves.
The Prices
Craftsman homes range from just under $300,000 for a two-bedroom fixer-upper to nearly $400,000 for a larger model in good shape.
Why Buy Now?
Juneau offers a four-year, $20,000 "tax assessment forgiveness program" for those restoring older homes.
Among the best for:
Craftsman Houses, Outdoor Enthusiasts, The Northwest
Bisbee, Arizona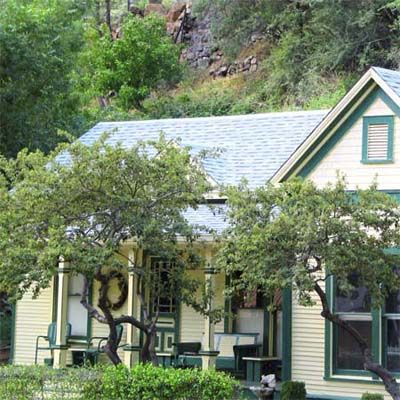 The Neighborhood
A former mining town nestled in the Mule Mountains, Bisbee rivaled New Orleans in the early 1900s as one of the most raucous locales in the country, with more than 50 saloons and a busy red-light district. Nowadays, it's a haven for artists who think of it as a mini San Francisco and retirees who've fled Florida. Saloons have been transformed into galleries and restaurants, and the old brothels are more reputable these days, reincarnated as B&Bs. "Quaint" is the operative word here, but the town is more Wild West than it is antiques and afghans.
The Houses
No-nonsense Victorians—primarily Queen Annes—and Arts and Crafts homes are set on hillsides along the city's narrow, winding streets.
The Prices
Househunters can make a killing for $200,000 or less in Bisbee, whether their heart's desire is a restored-to-the-nines Arts and Crafts home or a well-loved Queen Anne. The recent listing of a 1905 Craftsman-style home for $300,000 would be considered a splurge.
Why Buy Now?
Once a secret, Bisbee—which is enticing newbies thanks to its low property taxes—has been discovered. Get there soon to get in on this little jewel in the dusty Southwest.
Among the best for:
Eureka, California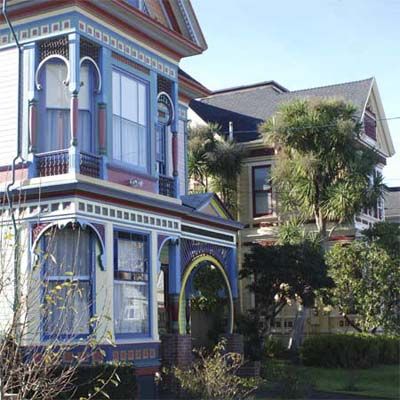 The Neighborhood
Sandwiched between Humboldt Bay and redwood forests 275 miles north of San Francisco, Eureka (population: 26,000) was settled in the 1850s as a home base for gold miners and remained inaccessible by road until 1924. Today, the town's median income is about half of the rest of the state's, but tourism helps keep the economy afloat, sustaining galleries, bookstores, restaurants, and other businesses. Tucked up at the ocean's edge are the College of the Redwoods, Humboldt State University, museums, parks, a wildlife refuge, and a cottage industry in outdoor recreation: hiking, biking, kayaking, birding, and sightseeing.
The Houses
The most sought after are ample Queen Annes with plenty of decorative detail. Fine Arts and Crafts—inspired houses, built primarily in the 1920s, can also be found here.
The Prices
A Queen Anne cottage in need of work fetches about $200,000, and a larger Victorian-era house that's showing its age can go for as little as $260,000. Arts and Crafts homes in good shape run from $240,000 to $500,000.
Why Buy Now?
Home prices in Eureka are low by California standards, and this area, surrounded by protected parks and forests, is likely to remain a draw for visitors as well as old-home lovers.
Among the best for:
Mapleton Hill, Boulder, Colorado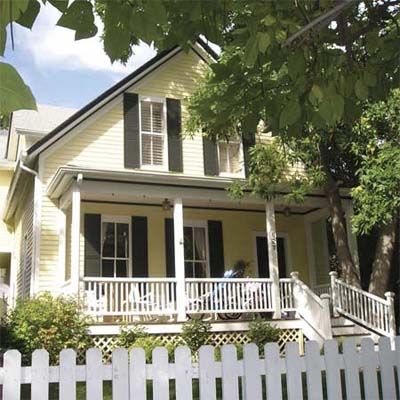 The Neighborhood
The Mapleton Hill Historic District, established in 1882, was named for the 200 silver maple and cottonwood trees planted here in the 19th century to draw newcomers to its wide residential streets. These days, those thoroughfares are populated by homeowners who approach old-house renovations from an eco-conscious angle (think salvaged building materials and energy-saving products). The community is a blend of longtime residents, first-time homebuyers, and young families, some drawn by the local Whittier Elementary School's affiliation with the prestigious International Baccalaureate Program, an intensive college-prep curriculum. Adults have opportunities here, too: Area employers include the University of Colorado, IBM, and Ball Aerospace.
The Houses
Architectural styles here include Renaissance Revival, Shingle, Queen Anne, Tudor Revival, and Colonial Revival.
The Prices
Asking figures range from $417,000 to more than $2 million, and many homes on the market are advertised as "ready for renovation."
Why Buy Now?
Hot, cool Boulder seems to forever continue on the upswing, and the state of Colorado offers a 20 percent write-off for owners of historic properties who are engaged in renovation.
Among the best for:
Waimea, Kauai, Hawaii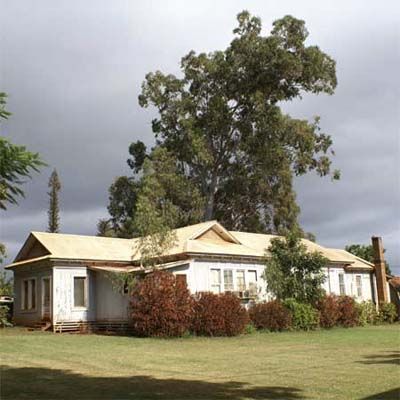 The Neighborhood
Bargains are hard to come by on the Hawaiian Islands, where waterfront home prices stride casually past the $10 million mark. But Waimea, on Kauai, offers affordable pieces of paradise—including beaches, mountains, and hikable canyons. Those arriving to work in the tourism industry, as well as nature addicts buying into the dramatic landscapes, are finding older, more reasonably priced homes in the island's flat coastal plains in and around Waimea, whose small town center has a grocery and a library.
The Houses
Rambling plantation-style homes built by sugar companies in the 1920s to house workers are the best buys here. Expertly crafted by Portuguese, Japanese, and native Hawaiian carpenters, they feature hipped, corrugated metal roofs and original double-hung windows.
The Prices
"Deal" is a relative term in Hawaii, but it's possible to score one of these properties for about $500,000.
Why Buy Now?
Many of the historic houses here are being torn down to make way for larger "vacation homes." You can stop the teardown madness by buying and restoring one now. Rest assured that your investment is safe: Home prices in Eden don't drop.
Among the best for:
North End, Boise, Idaho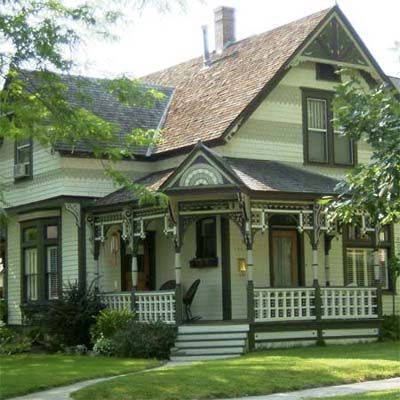 The Neighborhood
North End is one of Boise's oldest neighborhoods, and children walk to school here to this day, gathering around Hyde Park, the district's National Register-designated retail area, or on the trails that snake through Camels Back Park and the Boise Foothills. A growing job market includes employers such as Micron Technology, the Mountain Home Air Force Base, Hewlett-Packard, and St. Luke's Regional Medical Center. In addition, there is a smoothly running school system that consistently graduates kids with SAT scores above state- and national averages.
The Houses
Homes were first built here in 1878, and the neighborhood features a variety of styles, including Queen Annes and cottage bungalows. The entire residential district is listed on the National Register of Historic Places.
The Prices
Restored homes in North End range from $300,000 to $3 million, and there are still plenty of restoration candidates starting at about $200,000.
Why Buy Now?
Not only is Boise's North End a great place to land a historic property, it's also a great place to score the good life. The city made Forbes magazine's list of "Best Places for Business and Careers" in 2007. Homes here are in demand and stand to hold their value.
Among the best for:
Madison, Indiana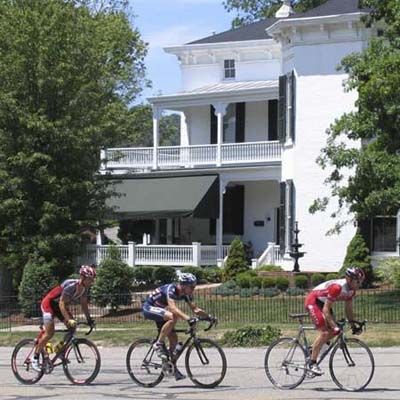 The Neighborhood
This Hoosier State town—with 133 blocks of National Register homes and buildings—offers bliss for all walks. Those who like the great outdoors will enjoy Clifty Falls State Park's 1,400 acres. Music lovers will revel in the free bluegrass concerts held monthly at the Jefferson County Fairgrounds. And for wine connoisseurs, Madison Vineyards offers regular tastings. Those who need to work before playing will find King's Daughters' Hospital, Madison's largest employer, providing over 1,000 jobs, as well as the cities of Cincinnati and Louisville less than an hour away. And there's also a great spot here for kids to keep busy: The Lydia Middleton Elementary School recently underwent a $15 million restoration.
The Houses
Styles of architecture include Federal, Greek Revival, Italianate, Second Empire, Gothic Revival, and Arts and Crafts.
The Prices
A shotgun-style Craftsman can be had for less than $100,000; restored Italianates go for three times as much.
Why Buy Now?
Indiana taxpayers receive 20 percent income tax credits on the cost of historic home rehabilitation or preservation.
Among the best for:
Eastport, Maine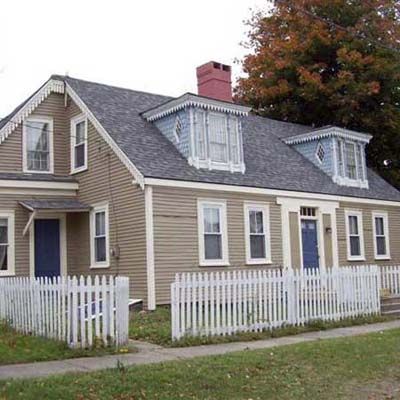 The Neighborhood
Here's the best thing about Eastport, Maine: Since it's the easternmost city in the country, residents here receive, literally, the very first sunshine of the day. Located on Moose Island in Passamaquoddy Bay, tiny Eastport (population: about 2,000) was settled by fishermen drawn not only to the abundant shoals but also to a harbor that never seemed to ice over. The town grew into a major shipping port, even rivaling New York. These days, tourists flock here to enjoy Eastport's maritime history and to catch glimpses of whales, seals, ospreys, and bald eagles. It's also a magnet for artists, thanks to its numerous galleries and an arts center that offers classes as well as frequent concerts.
The Houses
Eastport features turn-of-the-century Colonials and Cape Cods, as well as Victorian-era Second Empire and Queen Anne homes.
The Prices
A needy Cape Cod can be had for as little as $100,000, while the higher-end Second Empires run $300,000 and up.
Why Buy Now?
In a state where few of the properties along the water are still affordable, Eastport offers the charm of coastal living and loads of natural beauty, for a reasonable price.
Among the best for:
South Central, Helena, Montana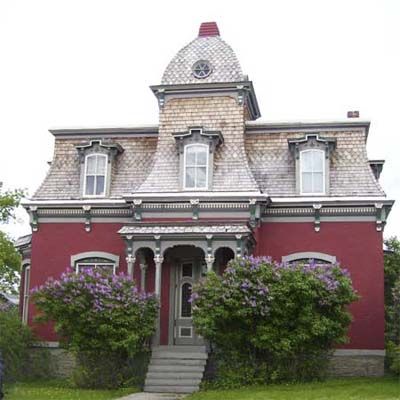 The Neighborhood
Spanning the 10 blocks between downtown Helena and the Montana State Capitol building, South Central is attracting first-time home buyers who want to walk or bike to work and also live a few blocks from the hiking and mountain-biking trails of the Helena National Forest. The neighborhood has old-time appeal, with a corner market and well-maintained trails through a forested park, and approximately one-third of its homes are listed on the National Register. The sounds of hammers and drills are common here, as residents remove tattered aluminum siding, tack on additions, or erect picket fences in front of historic homes, most built between 1890 and 1920.
The Houses
South Central has everything from Queen Anne cottages with highly ornamented front porches to jaw-dropping Second Empires with mansard roofs and cupolas. There are also dozens of shotgun and bungalow homes.
The Prices
Houses range in price from $100,000 for a cottage or bungalow in need of care to more than $300,000 for a fully restored Queen Anne.
Why Buy Now?
South Central is seeing a lot of investment right now as people rediscover the joys (and fuel-cost savings) of living close to where they work. Helena offers property-tax breaks for those looking to restore National Register—listed homes.
Among the best for:
Las Vegas, New Mexico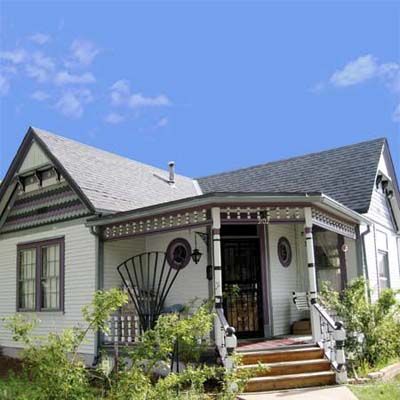 The Neighborhood
"The other Las Vegas" was the location for the Academy Award—winning film No Country for Old Men, perhaps because of its stuck-in-time quality: The town has more than 900 buildings on the National Register of Historic Places. Home to a diverse, heavily Latino community, the town hosts the United World College of the American West, which lures students from all over the globe. Las Vegas also has natural wonders—a national wildlife refuge, the Gallinas River, and Storrie Lake State Park—and plenty of goodwill. "You break down on the side of the road here, and someone will stop and help," says longtime resident Diane Ortiz.
The Houses
Most residential architecture in Las Vegas predates World War II and is astonishingly well preserved. One-story Spanish adobes stand alongside Italianates and Georgian Revivals. The town is home to nine historic districts on both the state and national historic registers.
The Prices
A ranch-style house might run as low as $100,000, while a Victorian with an adjacent guest house can be had for as little as $300,000.
Why Buy Now?
New Mexico recently doubled its tax credit—from $25,000 to $50,000—for individuals renovating historic properties.
Among the best for:
Outdoor Enthusiasts, The Southwest
Albany, Oregon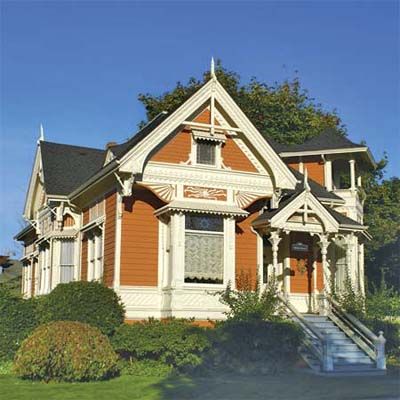 The Neighborhood
Albany boasts 100 blocks and four distinct national historic districts' worth of great historic architecture. "No two homes are identical," resident Heidi Overman says of the Victorian-era structures lining streets here. Locals see the Willamette River town as a smaller alternative to nearby Portland and Seattle, and its citizens take pride in its big-city attractions, including museums, theaters, and watering holes. Albany is just 12 miles from Oregon State University, and Hewlett-Packard is also a major employer in the area.
The Houses
When architect George McMath visited in 1977 to inventory historic homes, he found just about every housing style built between 1840 and 1920, including Federal, Gothic Revival, American Farmhouse, Second Empire, Eastlake, Italianate, and Colonial Revival.
The Prices
Home prices in Albany's national historic districts range from $90,000 for a run-down Italianate to $400,000 for a fully restored one.
Why Buy Now?
Get your hands on that $90,000 fixer-upper before it's too late. Despite slumping markets across the country, property values continue to rise here as people put off by growth in Portland and Seattle discover the place's charms.
Among the best for:
Bargains, Outdoor Enthusiasts, The Northwest
Central Bench Historic District, Ogden, Utah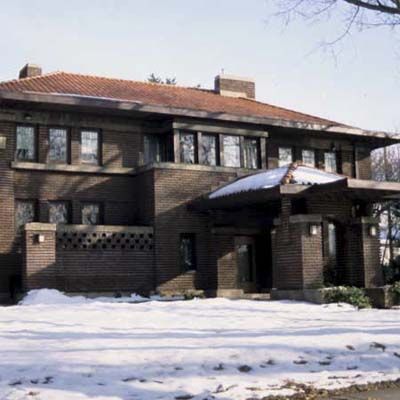 The Neighborhood
Central Branch, a cluster of about 80 blocks near downtown, had its heyday in the late 1800s when Ogden was a transcontinental railroad stop-off and tycoons put up grand houses. Later, development halted, and those great old homes grew old gracelessly. A new crop of bungalows and ranches crept in during the 1920s, '40s, and '50s, but the neighborhood teetered until the city launched a district-revitalization campaign in 2002, and bargain-seeking home buyers flooded in. "Retirees, young unmarrieds, blue collar, white collar," says Sue Wilkerson, a local broker and landmarks commissioner, describing the current neighborhood mix. Besides the great homes, the biggest draw for newcomers may be the area's boundless outdoors: snowboarding, skiing, hiking, biking, kayaking, water skiing, fishing, and mountain climbing are all within 30 minutes of Ogden.
The Houses
Gothic Revival and Prairie homes are interspersed with Modern, Folk Victorian, and Arts & Crafts styles.
The Prices
Prices range from $125,000 for a bungalow to $320,000 for an updated Queen Anne.
Why Buy Now?
Decent prices and tax credits for qualified restoration sweeten an investment in this up-and-coming area.
Among the best for:
Lewisburg, West Virginia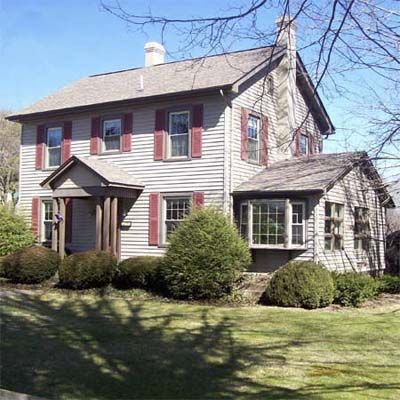 The Neighborhood
Outdoor enthusiasts, artists, and old-house buffs find common ground in Lewisburg. The Allegheny Mountain town boasts hundreds of historic homes, churches, and public buildings, all set in an outdoor paradise known for its fishing, hiking, and canoeing. This 200-plus-year-old community is featured in The 100 Best Small Art Towns in America and is home to the Greenbrier Valley Theatre and a Carnegie Hall—affiliated performing arts center.
The Houses
While some homes here date to the late 1700s, most were built in the early 19th century. Styles include hand-hewn log cabins, brick Federals, and Victorian-era cottages with plenty of gingerbread details.
The Prices
In downtown Lewisburg, a 2,700-sq-ft, circa-1800 house—part of which was originally a log cabin—was recently on the market for $360,000; a Queen Anne needing TLC will run you about the same. A mile outside of town, an ample turn-of-the-century farmhouse in good condition went on the market for $200,000.
Why Buy Now?
Lewisburg's many cultural and outdoor attractions have tourism on the rise, and as more visitors discover this town, the historic housing stock stands to dwindle. Besides, can you get any more nostalgic than an old log cabin in the woods?
Among the best for: