The 8 Best Mattresses for Adjustable Beds
By clicking on the product links in this article, Mattress Advisor may receive a commission fee at no cost to you, the reader.
Scouring the internet for the best mattress for an adjustable bed can feel like tilting at windmills, i.e., as if you're taking on a hopeless task. Mere clicks away are an enormous selection of online beds, any number of which might seem right for you based on a brand's bold claims about comfort and compatibility with an adjustable base.
But how can you trust a bed-in-a-box you haven't tested yourself? Fortunately, our Reviews Team is here to help. We also had the help of Mattress Advisor, whose sleep experts tested each of these adjustable base-compatible mattresses in its Raleigh, N.C.-based sleep lab.
Plus, most of the mattress brands we've rounded up also manufacture adjustable bases. That means if you're still in the market for an adjustable frame, you can purchase your base and mattress together — and when you bundle your buys directly via the brand's website, you often get a steeper discount. So, if you're feeling so inclined, read on to discover our picks for the best mattresses for adjustable beds:
Best Mattress for Adjustable Beds – Our Top Picks
Pros and Cons of the Saatva Solaire
| Pros | Cons |
| --- | --- |
| Micro-firmness adjustments available for customizable sleep needs | May be out of budget for some |
| Mix of gel memory foam, latex and air inflation provides support, cooling, and bounce | Different feel from that of a traditional memory foam or innerspring mattress, if those are preferred |
| Durable eco-friendly build, and lifetime warranty ensures a sustainable purchase | |
| Pros | Cons |
Material: Adjustable airbed
Firmness: 50 customizable levels
Customer Rating: 5/5
Delivery: 9-21 days, free white glove delivery
Warranty: Lifetime
When paired with an adjustable bed base, the Solaire is the embodiment of customizable comfort. An adjustable base lets you tilt at will, meanwhile, the Solaire's sleep surface can oscillate between a staggering 50 distinct mattress firmnesses. Technically, that firmness customization is made possible by Solaire's inflatable air chamber layer — but make no mistake, the bed is light-years from an everyday air mattress. In fact, the bed scored at least 8 out of 10 or higher in every sleep lab performance metric, including motion transfer (9/10), edge support (8.5/10), durability (9/10), and cooling (8.5/10). Testers said that the 3-inch luxury pillow top added an uber-luxurious feel, regardless of where they technically landed firmness-wise. The pillow top gets its comfort from a 100 percent breathable organic cotton cover stuffed with foam for softness and pressure point relief on the sleep surface. Layers of gel-infused memory foam and natural latex also add durability, bounce, and cooling. If a bed with so much tech involved makes you nervous, fret not: Saatva covers any and all repairs the first five years, with excellent tiers of coverage the next 10 years thereafter.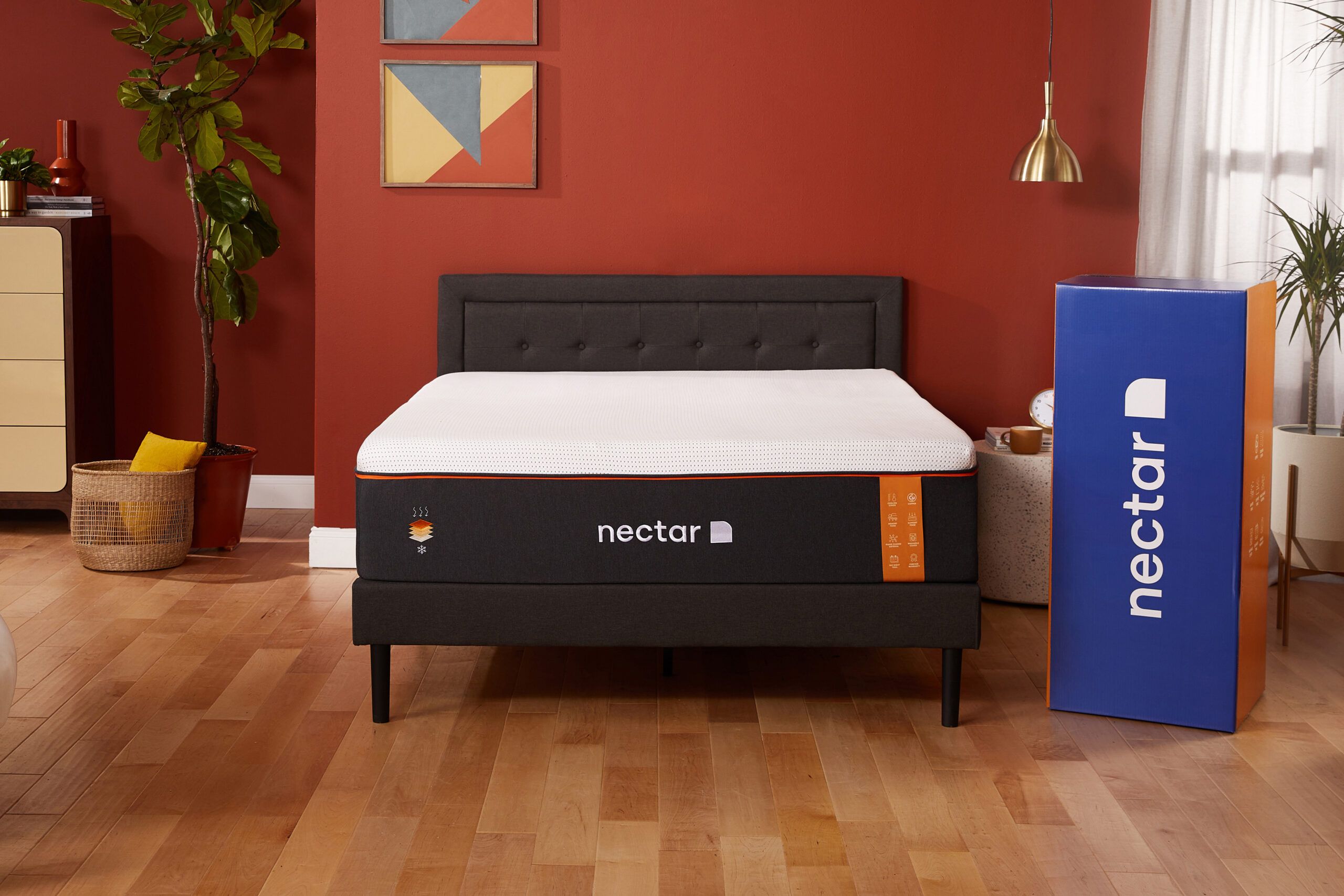 Pros and Cons of the Nectar Original
| Pros | Cons |
| --- | --- |
| Indecisive shoppers have a year-long sleep trial to decide on Nectar | May not feel cool enough for hot sleepers |
| Excellent for couples, back, stomach, and side sleepers | Not best for those who like to sleep firmly "on" rather than snugly "in" the mattress |
| Garnered at least 8.5/10 score in motion isolation, pressure relief, responsiveness, and edge support | |
| Pros | Cons |
​​Material: Gel memory foam
Firmness: Medium-firm (6/10)
Customer Rating: 4.8/5
Delivery: 2-5 business days
Warranty: Lifetime
Bargain brand, manually adjustable bed frames can fall (price-wise) as low as $300 for a queen-size. However, even the higher-end, motor-driven options are often available for under $1,000. Tricker, perhaps, is snagging a high-quality mattress under $1,000. There, Nectar has you covered. Testers, in particular, like Nectar's three-layer memory foam build for its contouring side sleeper support. Nectar's memory foam is also infused with cooling gel to keep body heat at bay and is impressively edge-supporting (scoring 9 out of 10), ensuring that side sleepers who stray from the center feel supported all through the night.
One of the best parts for budget-conscious buyers: This bang-for-your-buck mattress comes with a 1-year sleep trial and lifetime warranty, giving you plenty of time to decide if this is the bed for you.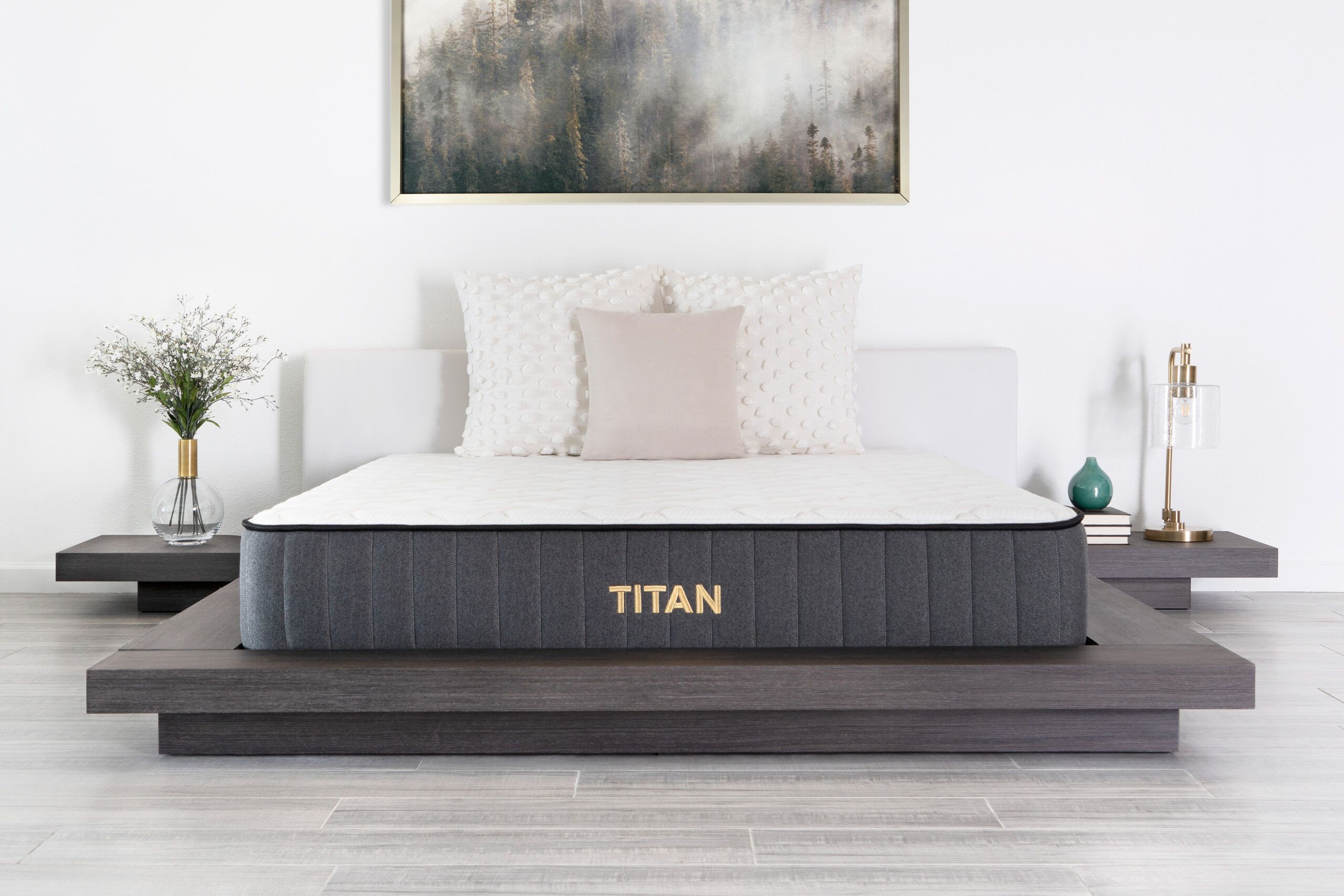 Pros and Cons of the Brooklyn Bedding Titan
| Pros | Cons |
| --- | --- |
| A firm mattress lover's dream | May be too firm for some, especially lightweight sleepers |
| Excellent value for price | Side sleepers with sore hips or shoulders are advised to seek a mattress with better-scoring pressure relief (7/10) |
| Near-perfect scores in spine alignment and responsiveness ideal for back and combination sleepers | |
| Pros | Cons |
Material: Hybrid
Firmness: Firm (8/10)
Customer Rating: 4.7/5
Delivery: 3-4 business days
Warranty: 10-year limited
An adjustable bed frame can provide relief for heavier sleepers, who are at an elevated risk of conditions that exacerbate insomnia, including sleep apnea, acid reflux, and osteoarthritis. A bed built for heavier sleepers, Brooklyn Bedding Titan can provide 360 degrees of coverage when paired with an adjustable base. A well-postured spine can go a long way toward back pain relief and prevention, and the Titan hybrid mattress has a build that lends itself to spinal alignment, which testers rated a near-perfect 9.5 out of 10. The Titan also provides relief for hot sleepers with its airflow-friendly coil base and gel-infused memory foam. However, colossally hot sleepers can also add a cooling top panel to the mattress for a surcharge.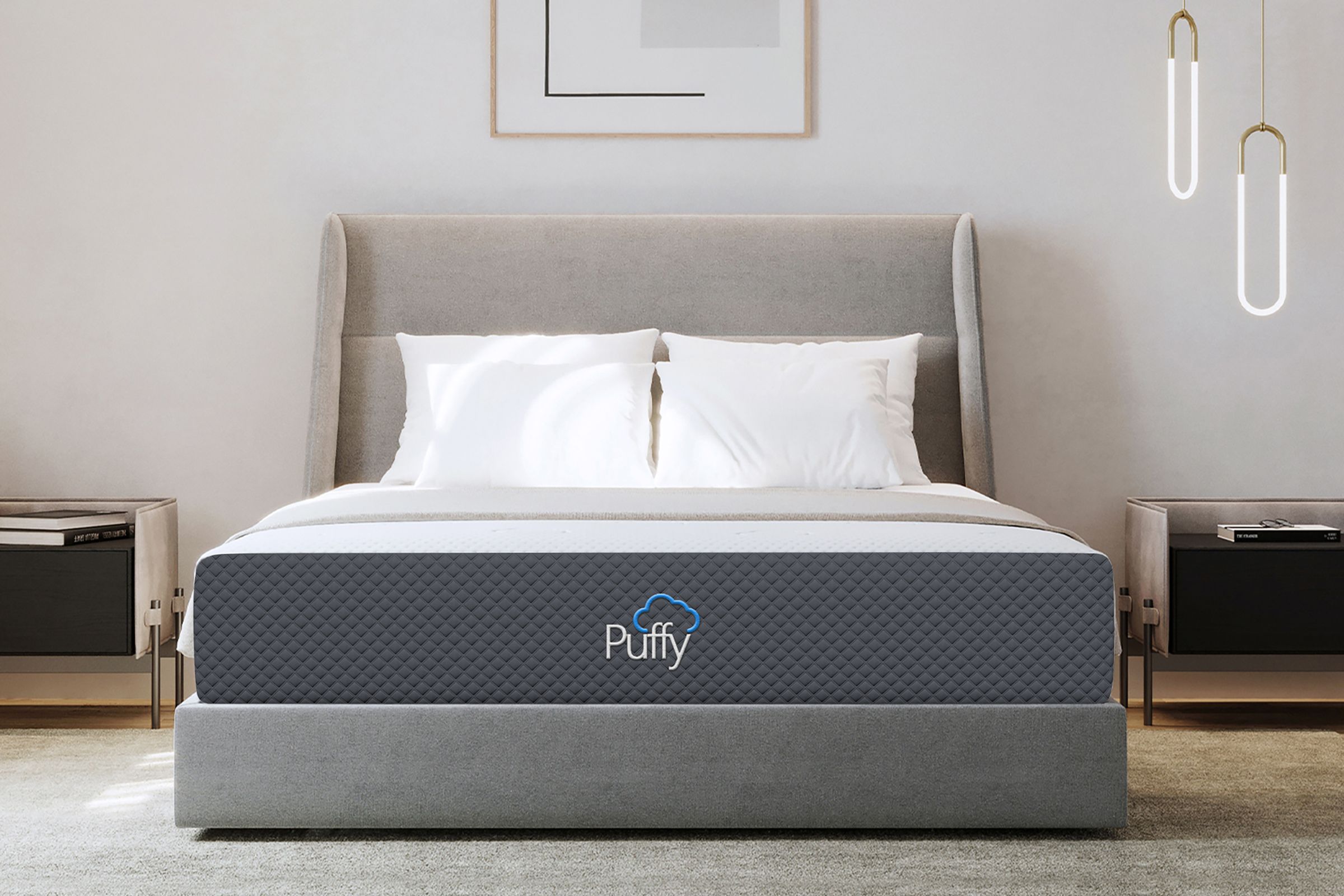 Pros and Cons of the Puffy Original
| Pros | Cons |
| --- | --- |
| Great for side sleepers, lightweight sleepers, and couples | Heavier sleepers might find that the foams sink too much underneath them |
| Scored at least 8/10 in every performance-related sleep lab test | Some indecisive sleepers prefer a longer sleep trial period (101 nights) |
| Lifetime warranty coverage | |
| Pros | Cons |
Material: Memory foam
Firmness: Medium-firm (7/10)
Customer Rating: 4.6/5
Delivery: 2-5 business days
Warranty: Lifetime
An adjustable bed frame purchase can be pricey, leaving your remaining bedding budget to be more rigid. Fortunately, the Puffy mattress is a fantastic choice for sleepers on a budget who crave the support of a high-quality, new mattress, without the scary price tag. In concert with offers from the brand, the Puffy generally hovers in the $1,250 price range. Despite its more humble price point, Puffy excels in motion transfer (9.25/10), edge support (8.75/10), responsiveness (9/10), and cooling (8/10). The mattress review team also scored Puffy at a 8 out of 10 in pressure relief and an 8.75 out of 10 in spine alignment, two key areas for side sleepers, which is a predominating sleep position preference.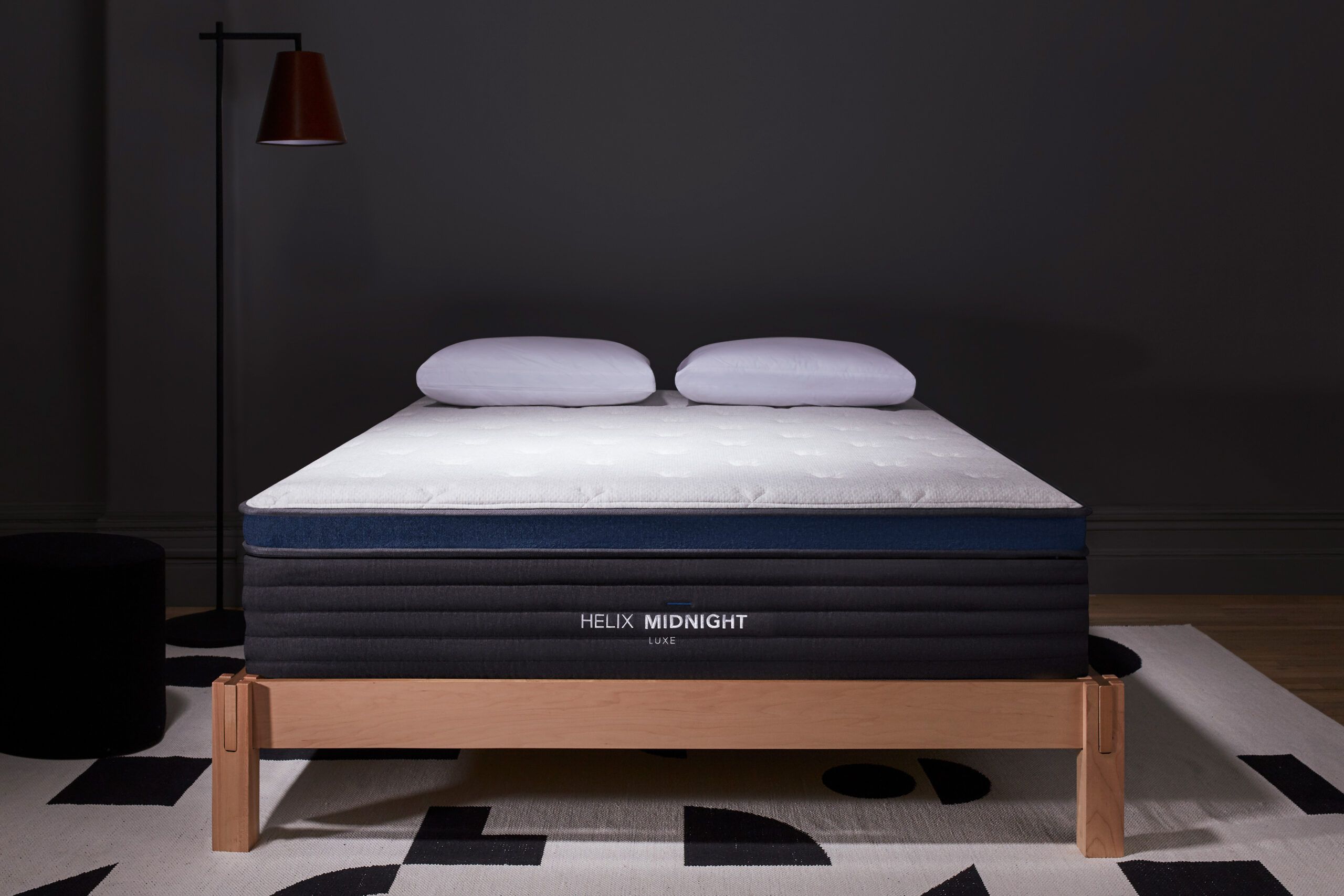 Pros and Cons of the Helix Midnight Luxe
| Pros | Cons |
| --- | --- |
| Similar to the brand's most-popular Helix Midnight, but with extra inches of luxury | High-end mattress with a price point on the higher end to match |
| Scored 9/10 or higher in cooling, spine alignment, responsiveness and durability | Couples may prefer a bed with better motion isolation (7.5/10) |
| Furnished to suit side sleepers, the most common sleep position | |
| Pros | Cons |
Material: Hybrid (foam and coils)
Firmness: Medium (5/10)
Customer Rating: 4.6/5
Delivery: 3-7 business days
Warranty: 15-year limited
Hybrids are one of the most flexible options, suiting most — if not all — types of sleepers. Yet, you may wonder if a hybrid bed is malleable enough to move with an adjustable base. The answer? Yes, and testers' recommended hybrid bed is the Helix Midnight Luxe. Innerspring base mattresses like the Helix Luxe have more flexibility than ever. After all, they're able to arrive at your house rolled up in a box. And in that same vein, the coils are built to move independently, and adjust with an adjustable base. The modern, luxury hybrid build of the Midnight Luxe also made it a hit with mattress testers, who scored the bed well in pressure relief (8.5/10), spine alignment (9/10), responsiveness (9/10), and cooling (9.5/10). Where the Midnight Luxe falters slightly is in motion isolation. However, couples sharing an adjustable base bed generally opt to sleep on a split king (two twin mattresses pushed together). In this case, you won't need to worry about your movements reverberating to your partner and their sleep surface.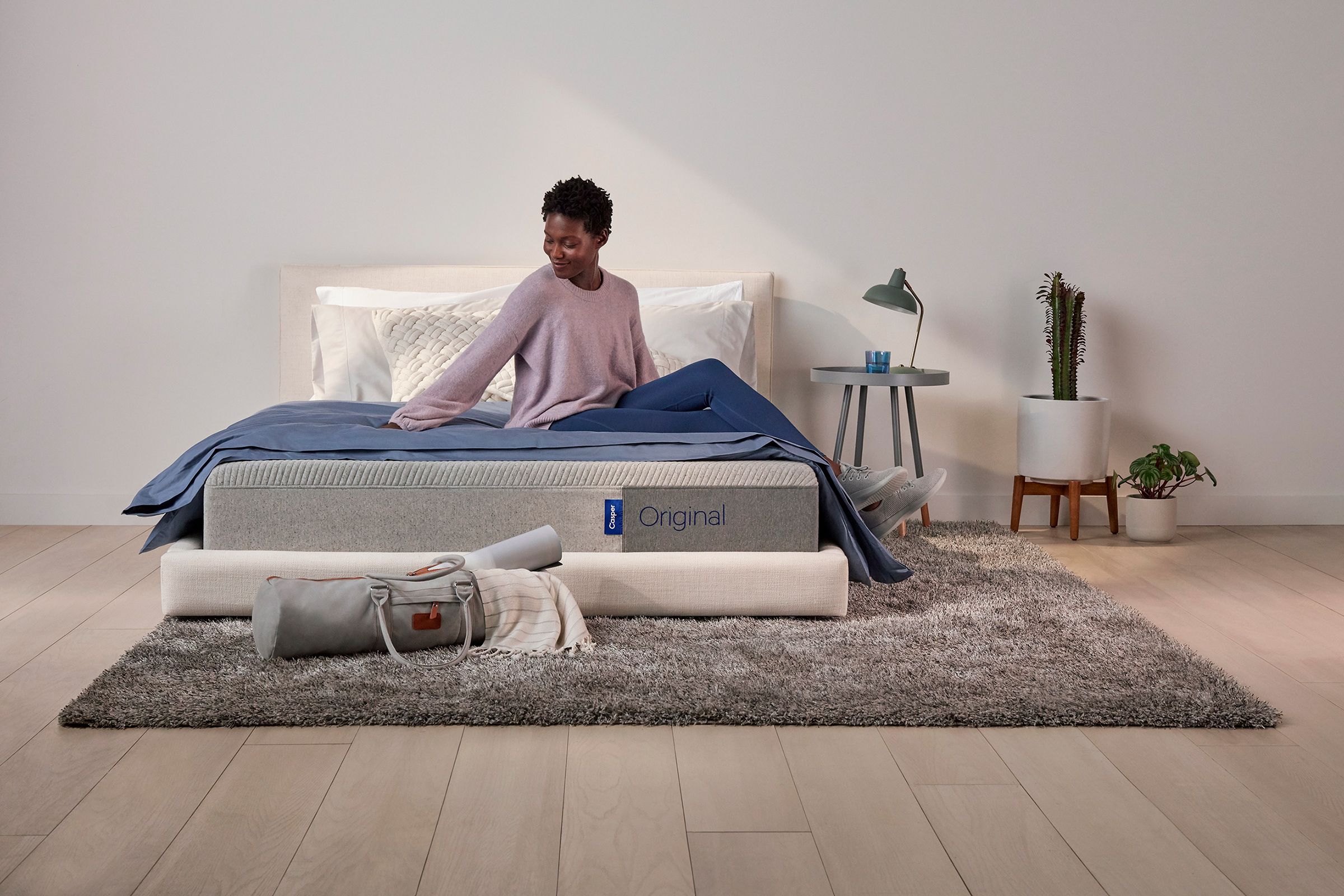 Pros and Cons of the Casper Original
| Pros | Cons |
| --- | --- |
| Works for all sleep positions, but especially back sleepers | Those who want a firm mattress may find Casper too soft |
| Great option for couples and those with back pain | Shoppers who sleep hot and want an extra cooling feel may prefer a hybrid or innerspring build |
| Pros | Cons |
Material: Memory foam
Firmness: Medium-firm (6/10)
Customer Rating: 4.5/5
Delivery: 2-7 business days
Warranty: 10-year limited
The Casper Original mattress is one of the best memory foam mattresses made to accommodate all types of sleepers. The medium-firmness suits side, back and stomach sleepers. For those who tend to switch positions often, you won't have to worry about feeling stuck either, given Casper's perfect responsiveness score. And finally, if the specter of back pain haunts you, then the Casper Original mattress is especially your friend: Testers awarded the bed 9.5 out of 10 in spine alignment. One small drawback to note is that Casper is slightly more coy with sales on its premium all-foam bed, often saving offers for special occasions only.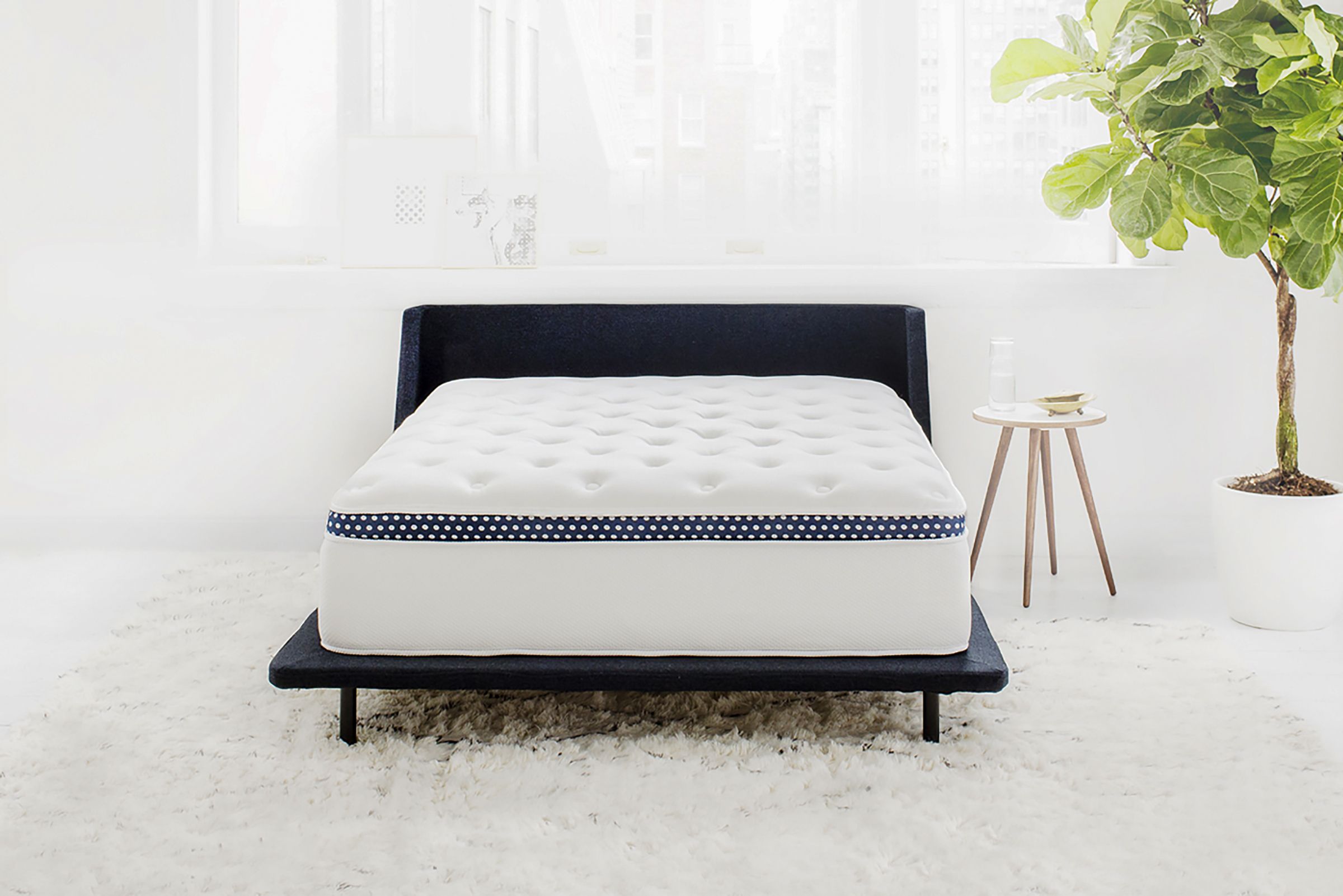 Pros and Cons of the WinkBed
| Pros | Cons |
| --- | --- |
| Firmness, responsiveness and cooling properties suit back, stomach, combination, and hot sleepers | Memory foam lovers might not be keen on the bed's springy feel |
| Lifetime warranty included | Middling motion transfer (6.4/10) not great for couples who sleep light |
| Customizable firmnesses available | |
| Pros | Cons |
Material: Hybrid
Firmness: Soft (4.5/10), luxury-firm (6.5/10), firm (7.5/10), plus (8/10)
Customer Rating: 4.5/5
Delivery: Within 7-14 business days
Warranty: Lifetime
Those with back pain can achieve better quality of life with an adjustable bed frame. However, all that can be undone if a sagging mattress still prevents you from getting a wink of sleep. To prevent that, a safe bet to pair with your adjustable mattress is a robust hybrid like The WinkBed. The WinkBed has a pocketed coil support system designed in varying thicknesses, providing targeted support on the lower back. For comfort, you sleep atop cushioning gel memory foam and a quilted, cooling pillow top. Testers said the bed's edge support, responsiveness and spine alignment worked in tandem to make them feel seamlessly held wherever they laid on the sleep surface.
A relief for those who are particular about firmness, the WinkBed also furnishes the hybrid in multiple firmness levels. You can go with the softest model if you love plush comfort, firm if you swear by the benefits of a firm mattress, or compromise by meeting in the "luxury-firm" middle. A firmer, fourth "plus" option for heavier sleepers is also available.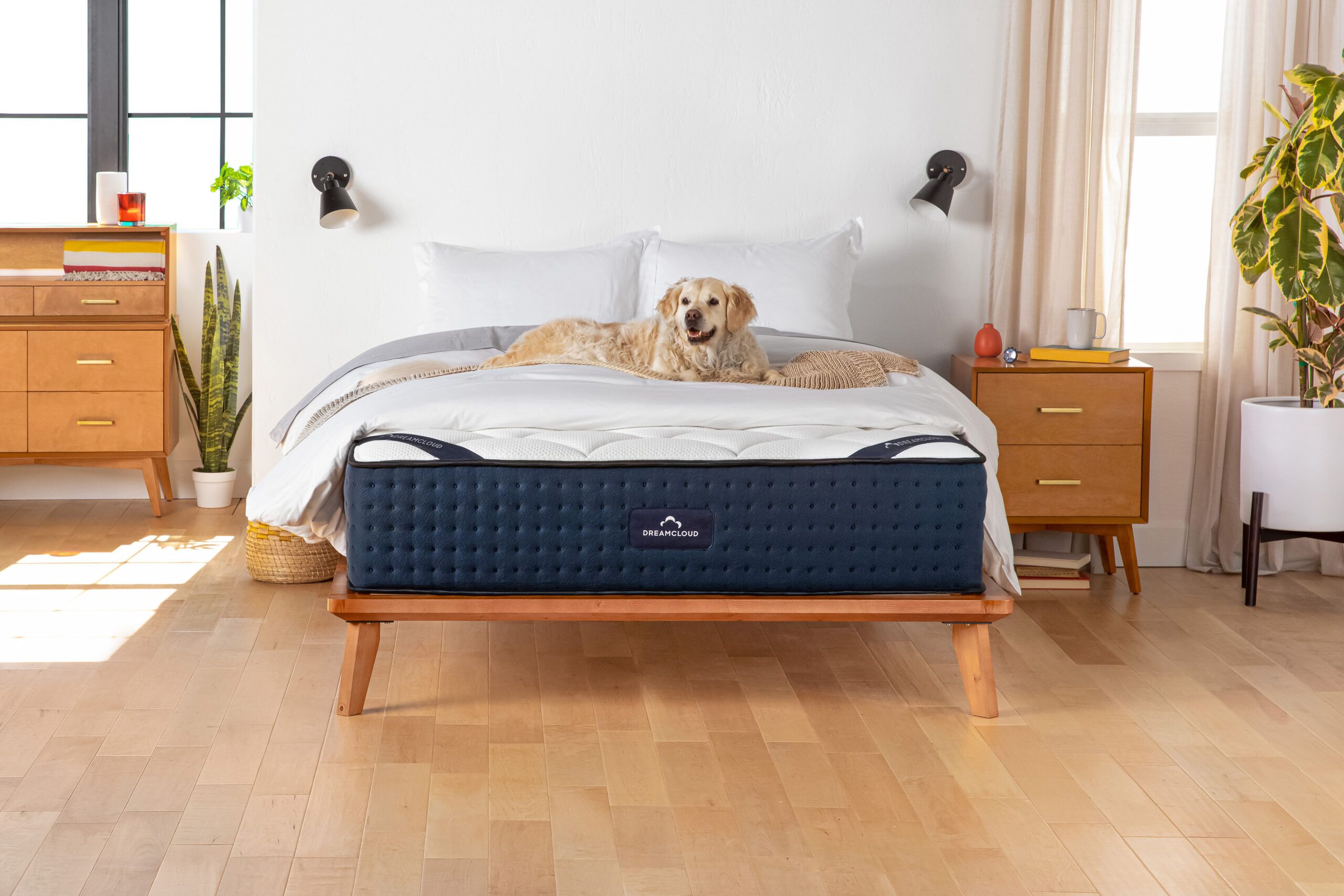 Pros and Cons of the DreamCloud Original
| Pros | Cons |
| --- | --- |
| Works for most body types and sleep positions | More affordable than some luxury brands, but still on the pricey side |
| Great for hot sleepers and those with back or hip pain | DreamCloud Premier may be preferred for those who want a plush top layer |
| Lifetime warranty coverage | |
| Pros | Cons |
Material: Hybrid (foam and coils)
Firmness: Medium-firm (6.5/10)
Customer Rating: 4.8/5
Delivery: Within 18-21 business days
Warranty: Lifetime
The DreamCloud Original earns its "affordable luxury" tag because despite its sub-$1,000 price point, the bed boasts a high-end hybrid build. That's an impressive feat, mattress testers said, especially for a bed that also backs its durability with a lifetime warranty. The bed's core of individually wrapped coils is flanked by foam for balance and comfort, including five inches of gel memory foam and polyfoam. Although it's slightly overshadowed by the DreamCloud Premier's even plusher top, the foam and cashmere quilted cover is also beloved by DreamCloud Original testers. Another reflection of the bed's quality were its high lab marks, with excellent scores in edge support (10/10), pressure relief (9/10), spine alignment (9/10), responsiveness (9/10, and durability (9/10).
Key Traits to Consider When Seeking the Best Adjustable Bed Mattress
An adjustable bed base can (pun alert) elevate your sleep experience to a whole new plane. But to unlock its full potential, your mattress needs to complement rather than clash with your new base. Here's the key factors to keep in mind:
Firmness
Mattress Advisor testers use a simple 1 to 10 scale to assess a bed's firmness, with 1 being the softest and 10 the most firm. Sometimes brands use their own terminologies to describe firmnesses, so if you see phrases like "luxury-firm," or "plush-soft," just know these terms are simply other ways of saying a bed is medium-firm or ultra-soft, for example. Firmness tends to strongly — but not completely — correlate with how supportive a bed is. Make sure you select a firmness option that deftly straddles your preferences for support and cradling.
Durability
Mattresses that live on an adjustable base will be subject to more stress than mattresses atop a platform base or box spring. For that reason, buying a mattress made with durable, malleable materials won't slump from the strain of bending and moving is extremely important. Beds with sturdy pocketed coils, latex, and resilient, high-density foams are some of the most worthwhile materials to invest in when looking for a bed for an adjustable base.
Size
Depending on your sleeping arrangements, bed size can be everything with an adjustable base bed. If you elect to sleep with a partner on an adjustable queen base, for example, you'll have to agree not only on a mattress but the incline you share at any given time. For that reason, split base king size adjustable bases are a popular choice. A split king will necessitate the purchase of two twin mattresses. But you won't need to feel cheated out of space — to many folks' surprise, a king mattress is equivalent of two twin mattresses. Companies do manufacture California king-size adjustable bases, but note a California king doesn't neatly split into two twins like a regular king.
Thickness
A thicker mattress may impede smooth adjustment of the bed's incline. If you want the process to be as seamless as possible, choose a mattress with no more than a 12-inch thickness. Generally, it's a good idea to double-check that the brand states the mattress thickness is compatible with an adjustable base — and you can rest assured that all of the brands we've rounded up in this list are.
Additional features
Adjustable bases can be minimalist, manually adjustable pieces of furniture, or they can flaunt a lot of technical bells and whistles at the touch of a remote control. A few things to keep in mind as you consider the bed for your base are if the base has a massage feature, a "zero-gravity" setting for a weightless feeling, and whether both the head and foot portions can be adjusted. Depending on what all is available, you may need more — or less — from your mattress.
Weighing Mattress Type When Choosing a Bed for an Adjustable Base
Some mattress types are outright incompatible with an adjustable base. For example, a waterbed would lack the structural integrity needed to conform to the base. Other mattress types, like memory foam, lend themselves to contouring and curving with an adjustable base. Ultimately though, type of mattress is largely a matter of subjective preference, since all of the most popular, modern mattresses work with an adjustable base. Here's a bit more about each type, and the sleeper they suit:
Memory foam: An all-foam mattress is typically at least three layers of foam: a dense, foam base for support, with transition foams and comfort foams on top. Brands typically use proprietary methods and materials within the foams that incorporate desirable traits into the bed's all-foam build. Think: Better bounciness, aeration for more cooling, avoiding certain chemicals for hypoallergenic builds, etc.
Innerspring: Innersprings are typically divisive: You love them or you don't. However you feel about an innerspring, you wouldn't want to get an only-innerspring bed with an adjustable base, since the bed will be less keen on conforming as the bed moves. That's especially true if the innerspring is a continuous coil build, rather than springs that are individually encased, and thus bend and flex more easily.
Latex: Mattresses that are 100 percent latex, or have latex layers, are some of the most well-suited for an adjustable base. The material, which can be natural or synthetic, has flexibility, durability, and reforms quickly. Depending on the manufacturing process, the end result is either "Dunlop latex," with a dense and supportive finish, or "Talalay latex," a more aerated, breathable mold. Latex mattresses are typically on the pricier side because of the cost of materials.
Hybrid: Hybrid mattresses combine innerspring support with memory or latex foam comfort layers. Most modern hybrids use a pocketed coil system, or house coils individually within fabric pockets. The pocketed coil design helps the bed bend and move with the adjustable base and adds cooling airflow, making hybrids a great option for hot sleepers.
Performance Factors to Consider in a Mattress for Adjustable Beds
Set-up: With the exception of Saatva Solaire (white glove delivery is included), mattresses we recommend arrive at your home in a box. Many do offer the option of doorstep delivery and assembly for an extra fee. Some mattresses recommend up to 24 hours of time to wait out off-gassing, or the dissipation of chemicals released from the bed, before sleeping on your new bed. Be sure you've planned accordingly.
Pressure relief: One of the best parts of an adjustable bed is the sophisticated level of pressure relief that can be provided via manipulation of your positioning. That can be great during the day, but some folks can only get shuteye when the body is stick straight. In that case, look for mattresses that have solid pressure relief scores, so that your spine and other points of contact are soothed.
Spine alignment: A slumping spine is a prime cause of back pain, and if your mattress slumps, it won't matter how high-tech your adjustable base is. For extra support and spinal alignment, consider a hybrid bed with a coil support base. The best memory foam builds for spinal support will often have "zoned" foams, or denser, more robust foam support beneath the lumbar and hips.
Motion transfer: Motion transfer, or how much and how far movement is felt across the mattress, is largely a non-issue for solo sleepers, nor may it be a huge concern for couples who aren't easily awakened. On the other hand, lack of motion isolation can be a deal-breaker for some. If a bed fits your other needs but doesn't cut it when it comes to absorbing motion, consider using a split king base with two twin mattresses, rather than a solid regular king or queen adjustable base.
Temperature regulation: Achieving cooling is sometimes tricky — even adding a thin mattress protector can upset the delicate balance of airflow and a cool-to-the-touch feeling on your mattress. So if you sleep hot, make sure you use accessories that add, and don't subtract cooling. And look for mattress builds that incorporate cooling into every layer, including the foams.
Responsiveness: The amount of give-and-take you want from your mattress is another subjective preference. Some people love feeling stuck in their bed like quicksand. Others prefer to feel perched atop, ready to make a flighty exit or switch positions. Beds with innerspring layers or latex layers will typically boast the most bounce.
Edge support: The high durability required of adjustable base mattresses means the ones we've listed also have robust edge support. A mattress periphery that doesn't slump can add a lot of value, especially if you tend to use the edge of your bed like a bench.
How Much is a Mattress for an Adjustable Bed?
It can definitely feel a tad nerve-wracking to make such a big one-two punch purchase of an adjustable base and a mattress that's appropriately durable. But the effort will be well worth the time if your selection helps with back pain, sleep apnea, GERD, or other boogeymen that interrupt restful sleep. On the lowest end, there are a few good options under $1,000, including the $899 (for a queen) Nectar. Among our picks the $3,320 Saatva Solaire runs the steepest, but has the highest-end build and customization available.
What Should I Know About Shipping and Delivery for Adjustable Mattresses?
Beds that are made-to-order typically ship within a week or so, while others can be readily en route to you in as few as 2-3 business days. Bear in mind however that any ongoing disruptions to the supply chain could prolong the shipping time. Also, some manufacturers permit longer, but as a rule of thumb, unbox your mattress within three days of reception so that you don't risk damaging the bed before you've had a chance to enjoy it.
FAQs
Do adjustable beds ruin your mattress?
An adjustable bed frame will, understandably, wear on a mattress faster than a regular, non-moving bed frame. You can mitigate and extend your mattress's lifespan however with a mattress protector, and by rotating the mattress, if the manufacturer suggests so.
Should you periodically flip a mattress for an adjustable bed?
Rotating the mattress is typically suggested for an adjustable bed frame. Flipping, on the other hand, won't be appropriate for any given mattress. Check with the brand for its recommendation on flipping.
What health issues do adjustable mattresses help with?
An adjustable mattress can prevent and alleviate some of the most frustrating, insomnia-inducing symptoms. Among them are back pain, snoring, acid reflux and heartburn, and arthritis.
Summary of Our Top Picks for the Best Mattress for Adjustable Beds