Each product we feature has been independently selected and reviewed by our editorial team. If you make a purchase using the links included, we may earn a commission.
When we lie down to sleep at night, we expect to wake up refreshed and ready to tackle the day's tasks, but waking up with back pain can make sleeping–and arising–a lot more difficult. Back issues are more common than we think: According to Georgetown University's Health Policy Institute, roughly 8% of adults are affected by long-term back pain during the course of their lives. How we lead our daily lives is a big factor, but another consideration to make is how we're sleeping. If you've had to pause your DIY project because of recurring aches and pains, it's time to look for the best mattress for back pain.
The type of bed you rest on at night can be playing a huge role in causing your back pain, and conversely, the right mattress can work wonders in relieving it. Most of us spend nearly a third of our lives sleeping or at least laying in bed, which makes the type of mattress you're using that much more important, especially so if you deal with regular back pain.
Choosing a new bed to alleviate some of your aches is not as simple as selecting a firmer mattress. Experts at Harvard found that among test subjects with back pain, there "was no difference in sleep quality between those who used medium-firm and firm mattresses." Instead, focusing on other factors such as spinal alignment, pressure relief, and support in critical areas of the body can guide you as you choose a mattress that helps keep your posture supported throughout the night, helping you to wake up rejuvenated.
But how can you find the best mattress for back pain? This Old House Reviews team asked Mattress Advisor sleep experts to weigh in. We've compiled nine top picks for the best mattresses for back pain with their expertise and thorough mattress testing process. Read on to learn which mattress for back pain will best heed your needs.
Affiliate Disclosure:This Old House's Reviews Team is committed to delivering honest, objective, and independent reviews on home products and services. To support this business model, This Old House may be compensated if you purchase through links on our website.
The Best Mattresses for Upper and Lower Back Pain
Best Overall – Saatva Classic
Hybrid mattresses tend to embody the "best of both worlds" adage, and the Saatva Classic mattress is no exception. Even better, this hybrid mattress is exceptionally well-suited for sleepers with back pain. In fact, when Mattress Advisor reviewers test drove Saatva's "Luxury Firm" model, a medium-firm bed, they scored its spine alignment a perfect 10 out of 10. Testers noted that the Saatva Classic hugs your back with its soft foam while supporting your lumbar with two innerspring coil layers, making for a snug and secure feel.
If you lie down at night with a light-sleeping partner, you may want to consider an all-foam bed with enhanced motion isolation (the Saatva Classic scored a respectable 7.5 out of 10, but there's room for improvement). Otherwise, this luxury hybrid is a fantastic option to ease back aches and pains. Plus, the back-breaking labor of assembling your bed is included in the price tag since white glove delivery is a complimentary inclusion.
Firmness: Plush, Luxury-firm, Firm
Customer Rating: 4.8/5
Delivery: 10-15 business days
Trial Period: 365 Nights
Lifetime Warranty
Pros and Cons of the Saatva Classic
| Pros | Cons |
| --- | --- |
| Multiple firmness options available to choose from | May be cost-prohibitive for budget shoppers |
| Free white glove delivery and set up | More motion transfer than memory foam mattresses |
| Quilted top layer adds a cozy cushion | |
| Pros | Cons |
Best Value – Nectar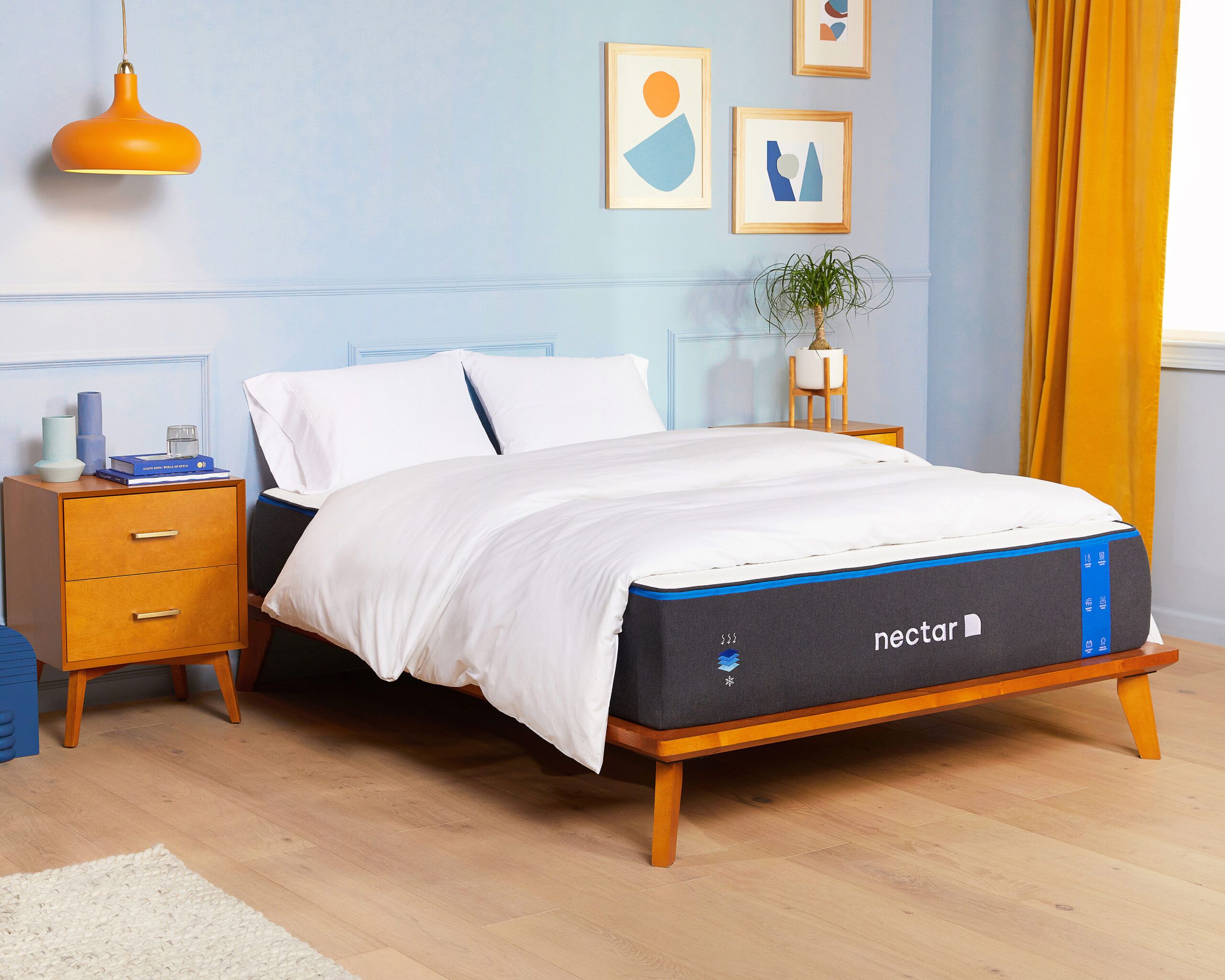 You don't have to spend a lot of money to find the best mattress for back pain. Both This Old House Reviews Team and Mattress Advisor testers love the Nectar mattress because it delivers high scores on performance factors important to back pain sufferers, like spine alignment, pressure point relief, responsiveness, and edge support. On top of superb test scores, the Nectar mattress also takes the cake for offering the most value. Not only is it the top pick in our "Best Mattress Under $1,000" roundup, but it also comes with a full-year sleep trial period and a generous lifetime warranty. This mattress is budget-friendly and high quality if you're redoing your teenager's or guest bedroom.
Firmness: Medium-firm
Customer Rating: 4.8/5
Delivery: 2-5 business days
Trial Period: 365 Nights
Lifetime Warranty
Pros and Cons of the Nectar Original
| Pros | Cons |
| --- | --- |
| Good option for those who sleep with their pets | Not the best option for hot sleepers |
| Full-year sleep trial period | Mild scent when unboxed, which can take a few days to fully dissipate |
| Inexpensive | |
| Pros | Cons |
Best Luxury – DreamCloud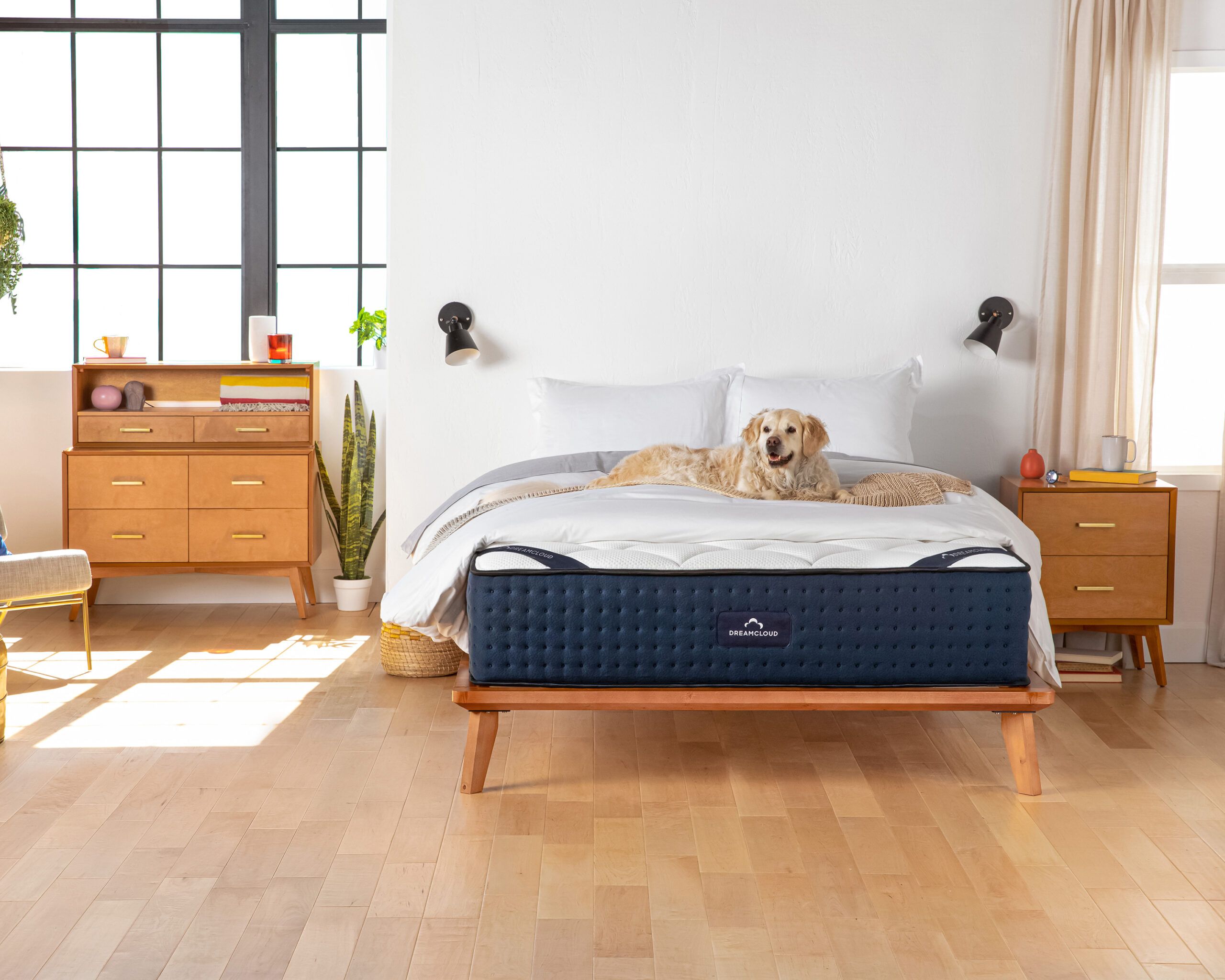 Combination sleepers, back sleepers, and stomach sleepers can all find comfort on the DreamCloud. The memory foam bed boasts some of the best stats among all mattresses that have undergone Mattress Advisor's 14-point assessment: Spinal alignment and responsiveness scored 9 out of 10 in the lab, and edge support was near-perfect at 9.75 out of 10. What's particularly nice about a memory foam mattress with well-rated responsiveness? You get the cradling comfort of foam without feeling like you're overly sunk into the mattress.
If you've saved some money from your recent bedroom renovation DIY projects, treating yourself to this mattress is a choice you won't regret. DreamCloud also scored well in pressure relief (8.75 out of 10), providing excellent support in all the right places, helping you wake up without any of the backaches you've been dealing with.
Firmness: Medium-firm
Customer Rating: 4.6/5
Delivery: 18-21 business days
Trial Period: 365 nights
Lifetime Warranty
Pros and Cons of the DreamCloud
| Pros | Cons |
| --- | --- |
| Highly responsiveness makes DreamCloud great for sleepers who move around often | DreamCloud is a luxury mattress with a luxury price tag to match |
| Solid edge support makes getting in and out of bed seamless | The upgraded DreamCloud Premier model has superior motion isolation |
| Extensive trial period and lifetime warranty | |
| Pros | Cons |
Best for Pressure Relief – Puffy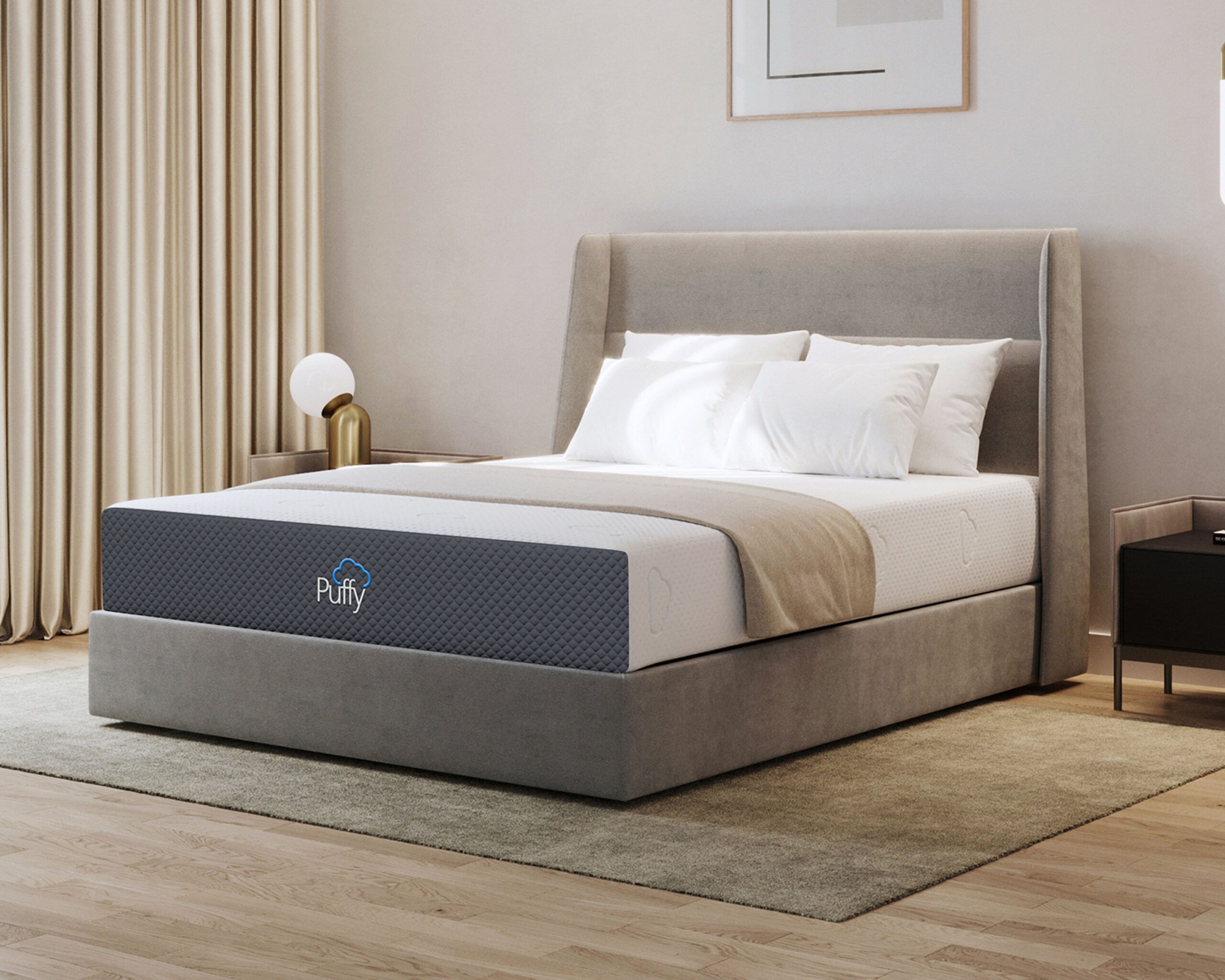 Perhaps it's not just backaches you're aiming to be rid of, but body aches too. For sleepers who regularly deal with back, hip, neck, and pressure point pain, find a supportive mattress that cradles these areas if the body is more important for quality rest. If your mattress doesn't adequately support these areas and the lumbar region, it could worsen or create back pain. The testing team recommends the Puffy mattress to ensure pressure relief and needed spine alignment. The Puffy does a good job of cradling the hips and shoulders, which are prime pressure points for side sleepers. Testers also gave this all-foam mattress high marks for motion isolation (9.25 out of 10), which is good for couples or light sleepers.
Firmness: Medium-firm
Customer Rating: 4.6/5
Delivery: 2-5 business days
Trial Period: 101 Nights
Lifetime Warranty
Pros and Cons of the Puffy Original
| Pros | Cons |
| --- | --- |
| Good choice for couples | Slight scent after unboxing which usually goes away after a few hours |
| Proprietary foam can withstand temperature extremes | May still sleep hot despite cooling technology |
| Stain-resistant cover | |
| Pros | Cons |
Best for Side Sleepers – Helix Midnight Luxe
The Helix Midnight Luxe hybrid mattress offers superb pressure relief that makes it another excellent choice for side sleepers dealing with back pain. The Helix Midnight Luxe provides a plush, cooling pillow top, responsive polyfoam, and support with 1,000 individually wrapped pocket coils. Mattress assessors said its "zoned support" build makes the mattress more supportive around the hips yet softer near the shoulders, nudging a side sleeper into proper spine alignment and earning a 9 out of 10 in this category. Hot sleepers will also like the Luxe's cooling technology: Testers said the mattress literally stays cool to the touch months after unboxing, and it earned a 9.75 out of 10 in cooling tests.
Firmness: Medium
Customer Rating: 4.5/5
Delivery: 6-10 business days
Trial Period: 100 Nights
15-year Warranty
Pros and Cons of the Helix Midnight Luxe
| Pros | Cons |
| --- | --- |
| Outstanding cooling for hot sleepers | One of the pricier options on this list |
| Zoned lumbar support keeps the spine aligned | Not a good option for people who prefer a firm bed |
| White glove delivery available, but for an upcharge | |
| Pros | Cons |
Best Innerspring – WinkBed
Long gone are the springy coils of yore and their association with squeaking, sagging, and overall uncomfortable mattresses. Modern hybrid innerspring mattresses, like the WinkBed, use pocketed coils or rows of upright coils whose structural integrity is ensured via being encased in fabric. By being wrapped into these "pockets" the coils can react to different amounts of weight, adapting to your body's shape and pressure points. The benefit of this build for your back is superior support (rated 8.75 out of 10 in spinal alignment). As a hybrid, the WinkBed's lush memory foam guarantees a degree of cradling comfort, but without the sensation of feeling like you're stuck in quicksand.
The WinkBed is offered in four firmness levels, so there's a model to fit your style, although Mattress Advisor recommends the luxury-firm and firmer models for back pain relief. The WinkBed's warranty guarantees the bed for life, but this brand gives you a 120-night sleep trial before requiring that level of commitment.
Firmness: Softer, Luxury Firm, Firmer, Extra Firm
Customer Rating: 4.5/5
Delivery: 10-15 business days
Trial Period: 120 Nights
Lifetime Warranty
Pros and Cons of the WinkBed
| Pros | Cons |
| --- | --- |
| Hybrids like the WinkBed with breathable coils are great for hotter sleepers | The WinkBed doesn't isolate motion as well as other mattresses, so you may wake up if your partner gets up |
| Range of firmness options are furnished, accommodating all sleeper sizes and styles | Not the best choice for budget shoppers |
| Very durable for over 10 years of continuous use | |
| Pros | Cons |
Best Extra-Firm – Brooklyn Bedding Plank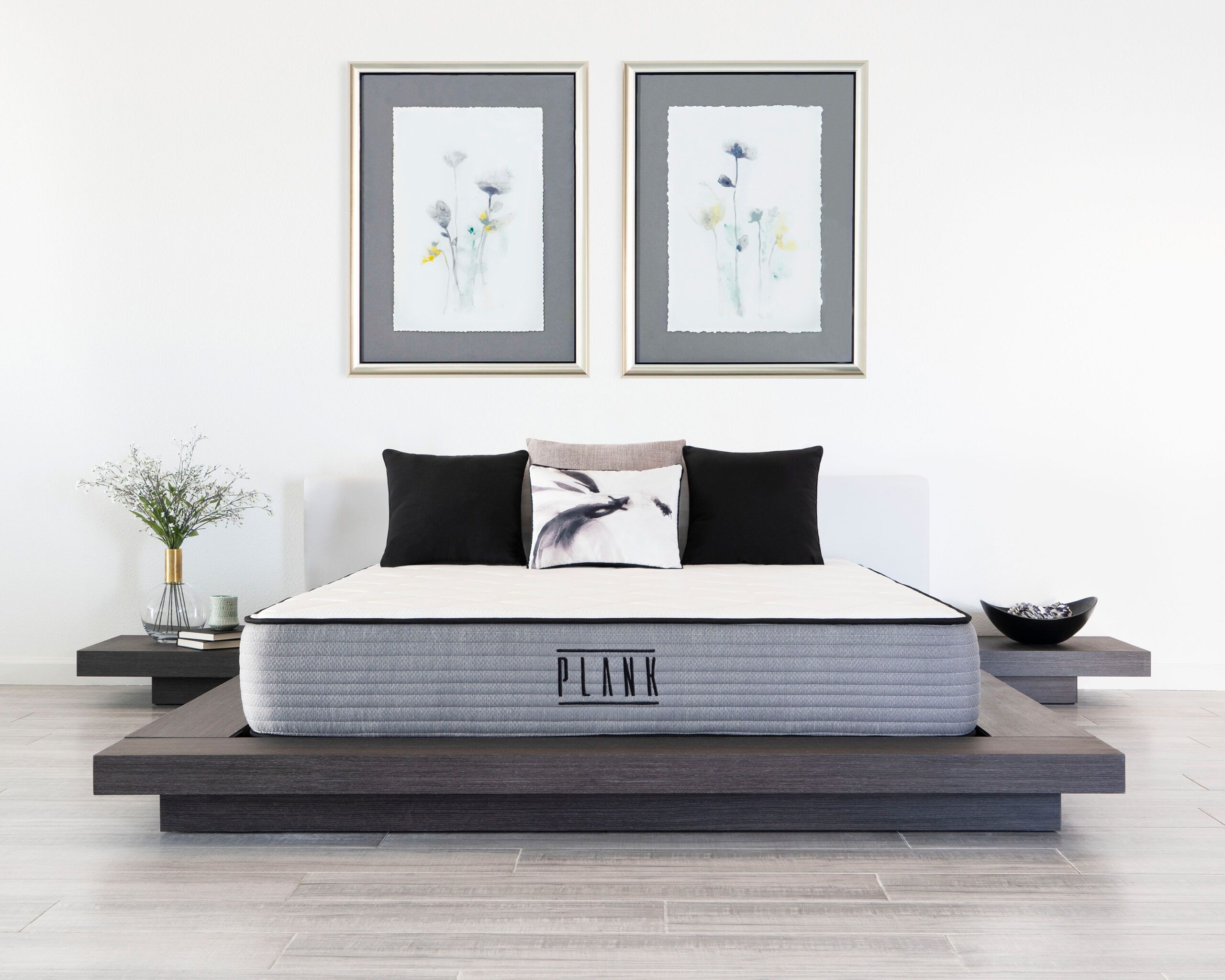 While the research hasn't been replicated enough to be considered conclusive, many sleepers swear by the benefits of a firm mattress when it comes to alleviating lower back pain. Brooklyn Bedding's Plank mattress comes in as one of the firmest mattresses tested by the Mattress Advisor team, with the extra-firm side scoring a 9 out of 10 in firmness. This dual-sided bed provides two firm sleeping surfaces, with the option to choose between firm and extra-firm for customizable back pain relief. If you are a back or stomach sleeper, the extra-firm side offers unrivaled spine support, earning an 8.75 out of 10 for spine alignment and a 9 out of 10 in pressure relief.
With an all-foam construction, the Plank mattress can sleep hotter than innerspring, hybrid, or latex mattresses, which is why this bed comes with an optional cooling panel with temperature-regulating material to provide a more comfortable night's sleep.
Firmness: Firm, Extra-firm
Customer Rating: 4.8/5
Delivery: 3-4 business days
Trial Period: 120 Nights
10-year Warranty
Pros and Cons of the Brooklyn Bedding Plank
| Pros | Cons |
| --- | --- |
| High-density foam construction makes this bed more durable than other foam beds | Optional cooling panel costs an additional $250 |
| Good responsiveness makes it easy to change positions and move around | Not optimal for side sleepers who need a less-firm mattress |
| Provides excellent pressure relief | |
| Pros | Cons |
Best Flippable – Layla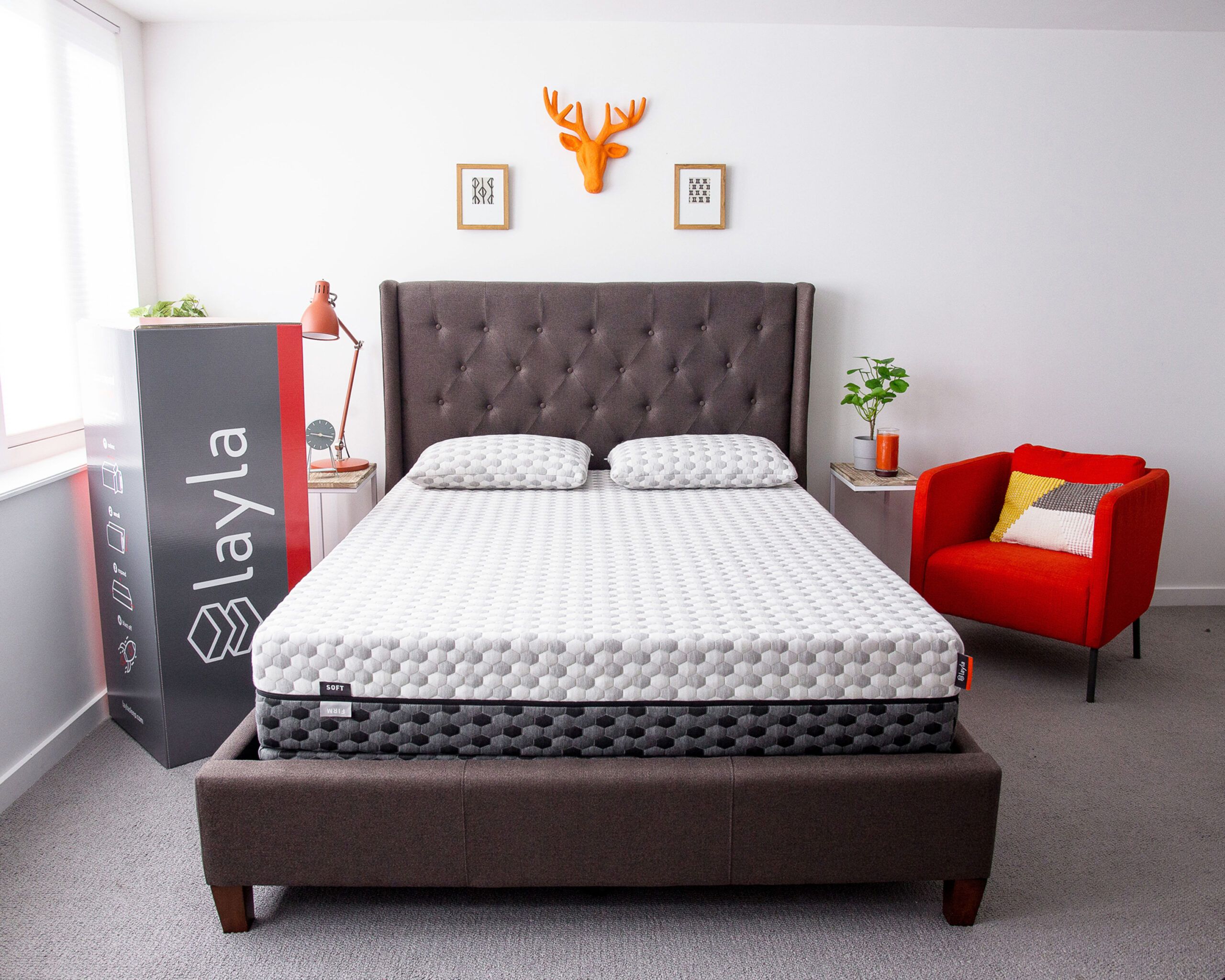 The Layla mattress is an excellent choice for backache sufferers who also have problems with painful or stiff joints. Not only is this mattress flippable for customizable firmness, but Layla's foam layers also provide support around deep compression areas. The extra support and contouring foam make the Layla especially good for people with rheumatoid arthritis or osteoarthritis. Side sleepers and combination sleepers will love the softer side of this bed, while those who prefer to sleep on their back or stomach will rest easily on the firmer side. This mattress also scored high for pressure point relief (9 out of 10) and responsiveness (9.5 out of 10). Its solid edge support offers a little extra strength at the perimeter of the mattress to make it easier for you to get out of bed.
Firmness: Medium-soft, Medium-firm
Customer Rating: 4.5/5
Delivery: 4-8 business days
Trial Period: 120 Nights
Lifetime Warranty
Pros and Cons of the Layla
| Pros | Cons |
| --- | --- |
| Flippable mattress means customizable firmness | Not a good choice for hot sleepers |
| Great for people with hip pain | Can take up to 30 days to fully break in the mattress |
| Top scores for pressure relief, responsiveness, edge support, and spine alignment | |
| Pros | Cons |
Best Latex – Avocado Latex
There are a lot of benefits to choosing a latex mattress, and the Avocado Latex is a great option if you're suffering from back pain. Latex is naturally hypoallergenic and sleeps cooler than most other mattress types, giving you a sleep experience that's cool, comfortable, and sneeze-free. If you're a green shopper, this organic mattress is also eco-friendly. Each Avocado mattress is carbon negative, meaning no carbon emissions from production. The firm latex construction of his bed provides excellent support and spinal alignment, so you'll wake up in the morning without feeling any of the backache you may have experienced from your other bed.
Firmness: Firm
Customer Rating: 4.4/5
Delivery: 7-10 business days
Trial Period: 365 Nights
25-year Warranty
Pros and Cons of the Avocado Latex
| Pros | Cons |
| --- | --- |
| Made with naturally cooling materials, making it great for hot sleepers | Not all motion is absorbed, so those with a sleep partner who moves a lot may not do well |
| Environmentally friendly company and product | Not ideal for side sleepers |
| Great for those with allergies | Not good for budget shoppers |
| Pros | Cons |
MA Score: The Mattress Advisor Score is a weighted score that takes into account 14 different factors related to the mattress' performance, function, convenience and the brand's social responsibility.
What Makes a Mattress Best for Back Pain?
According to experts at Johns Hopkins Medical, back problems can be caused by several issues–aging, obesity, heavy lifting, muscle overuse and tension, or certain medical conditions. Poor or inadequate sleep can also worsen your pain, leading to a cycle of pain and sleeplessness. To make sure you're addressing the right factors, we recommend consulting your doctor whenever you select a product with the intent of alleviating pain or fixing health issues.
If you're one of the millions of Americans who suffer from low back pain, upper back pain, neck pain, or even shoulder pain, you know how debilitating it can be. Back pain is one of the major reasons why people skip work or miss out on daily activities. It's also one of the main disruptors of sleep. And, poor sleep only exacerbates pain.
A good mattress can help. Mattresses designed with key performance factors, such as keeping the spine aligned and relieving pressure points at the hips and shoulders, can be game-changers for back pain sufferers. Different mattress materials also provide unique comfort elements, such as firmness levels or cooling. Let's dive into each type of mattress.
Types of Mattresses for Back Pain
Memory foam: Memory foam is known for its cozy, enveloping feel and can deliver on performance factors important to back pain sufferers, like spine alignment and pressure relief. Memory foam tends to sleep hot if not made with cooling properties.
Innerspring: The main element of innerspring mattresses are steel coils interwoven together. These beds have more bounce and are more cooling but may offer less pressure point relief and spine alignment.
Latex: Latex is cushioning like memory foam but with a bouncier feel. Latex tends to sleep cooler than memory foam, too. And it's naturally hypoallergenic and dust mite-resistant.
Hybrid: A variety of materials are built into one hybrid mattress, but the most common builds involve a layer of coils with more layers of foam on top.
Airbed: With support cores composed of air chambers rather than coils or springs, airbeds allow for an unparalleled amount of customization for firmness in problem areas. They are more durable compared to other types of mattresses, but they are also more expensive.
Mattress Features Important to Back Pain Sufferers
Pressure relief: The body's main pressure points are the hips and shoulders, where pressure can build when side sleeping or dealing with joint pain. Mattresses will use foam and pocketed coils that react to varying levels of pressure and transfer it to full-body weight distribution, thus taking the pressure off these areas.
Spine alignment: People who suffer from lower back pain or chronic back pain will want to look for a bed that keeps the spine aligned while they sleep.
Durability: A mattress's foundation is just as important as the support layers built atop it. Look for high durability testing scores that will help indicate the longevity of the mattress. The majority of online mattresses are manufactured to last the test of time.
Motion transfer: Mattresses with motion isolation keep you from being shaken awake when your bed partner moves around. This is also a good quality for people who share their bed with pets.
Temperature regulation: People who tend to sleep hot will appreciate mattresses made with cooling elements, such as memory foam infused with cooling gel or latex which naturally promotes airflow.
Responsiveness: If you move around often, switching back and forth from your side to your back, finding a mattress that springs back into shape will be important. Responsiveness denotes how reactive materials are, parlaying support at all times.
Edge support: Reinforced support at the very edge of the mattress is helpful for its long-term durability and for sleepers who find themselves sleeping on the outermost edges of their mattress.
Set-up and Delivery: The convenient part of mattresses in a box is delivery. Once your new bed has been ordered online with the click of a button, it will be shipped to your home address in a couple of days. Some affordable luxury brands include white glove delivery that entails the delivery, set-up and removal of your old mattress as part of your purchase.
Frequently Asked Questions
What are the most important performance factors people with back pain should consider in a mattress?
The perfect mattress for those dealing with back pain keeps the spine in alignment–promoting good posture even while sleeping–and keeps weight from compounding on pressure points. If a mattress is too firm or easily sags, it won't provide the support system for your spine at the neck or the lower back. A medium-firm mattress for sleepers with back pain will provide the best balance of cushioning pressure relief and firm support. However, plus-size sleepers with back pain will need a firmer, more durable mattress.
How long should a new mattress last?
At minimum, online mattresses are developed to perform for 10 years. With high-quality materials, these mattresses can last much longer and are backed with generous warranties, spanning from 10 years to lifetime coverage.
What if my new mattress doesn't help my back pain?
Each of the mattresses on this list comes with a sleep trial, and many brands ask that you take 30 days to "break in" your new bed. After this time, if you still aren't loving it, reach out to your mattress company's customer support team to discuss the return and refunding process. Some will charge a fee to ship the mattress back.
How much does a new mattress cost?
Browsing and buying a new mattress can be an overwhelming process. One way to narrow down the process is to set a budget. Be realistic with your price. There are plenty of good, affordable mattresses on the market, but you don't want to skimp on quality.
Summary of Our Top Recommendations for the Best Mattress for Back Pain