Each product we feature has been independently selected and reviewed by our editorial team. If you make a purchase using the links included, we may earn a commission.
Your bedroom is arguably the most important room in your space—you spend nearly one-third of your life asleep in bed. So, it's essential that the design of your bedroom promotes a good night's rest. But bedroom makeovers can be costly, not to mention time-consuming. With the best mattress under $1,000, you can redo your bedroom while still sticking to your budget.
But, just because these beds are priced affordably doesn't mean they sacrifice quality. Our experts have reviewed and tested hundreds of beds to find the best mattresses under $1,000. These bed-in-a-box mattresses are available online and can easily be ordered and delivered to your home. Many of them may come in at slightly above $1,000, but most offer discounts and deals that bring the total cost to that coveted below $1,000 mark. For a DIY bedroom makeover–this is about as simple as it gets. A new mattress in your bedroom can drastically improve the quality of your sleep, and with all the money you'll save on your new bed, you're free to redecorate the rest of the room as you see fit.
Take a look at our top picks in this mattress review, and read on to find out what we loved about each one–and why they'll take your bedroom to the next level.
Affiliate Disclosure:This Old House's Reviews Team is committed to delivering honest, objective, and independent reviews on home products and services. To support this business model, This Old House may be compensated if you purchase through links on our website.
The 9 Best Mattresses Under $1,000 – Our Top Picks
Best Overall Mattress Under $1,000 – Nectar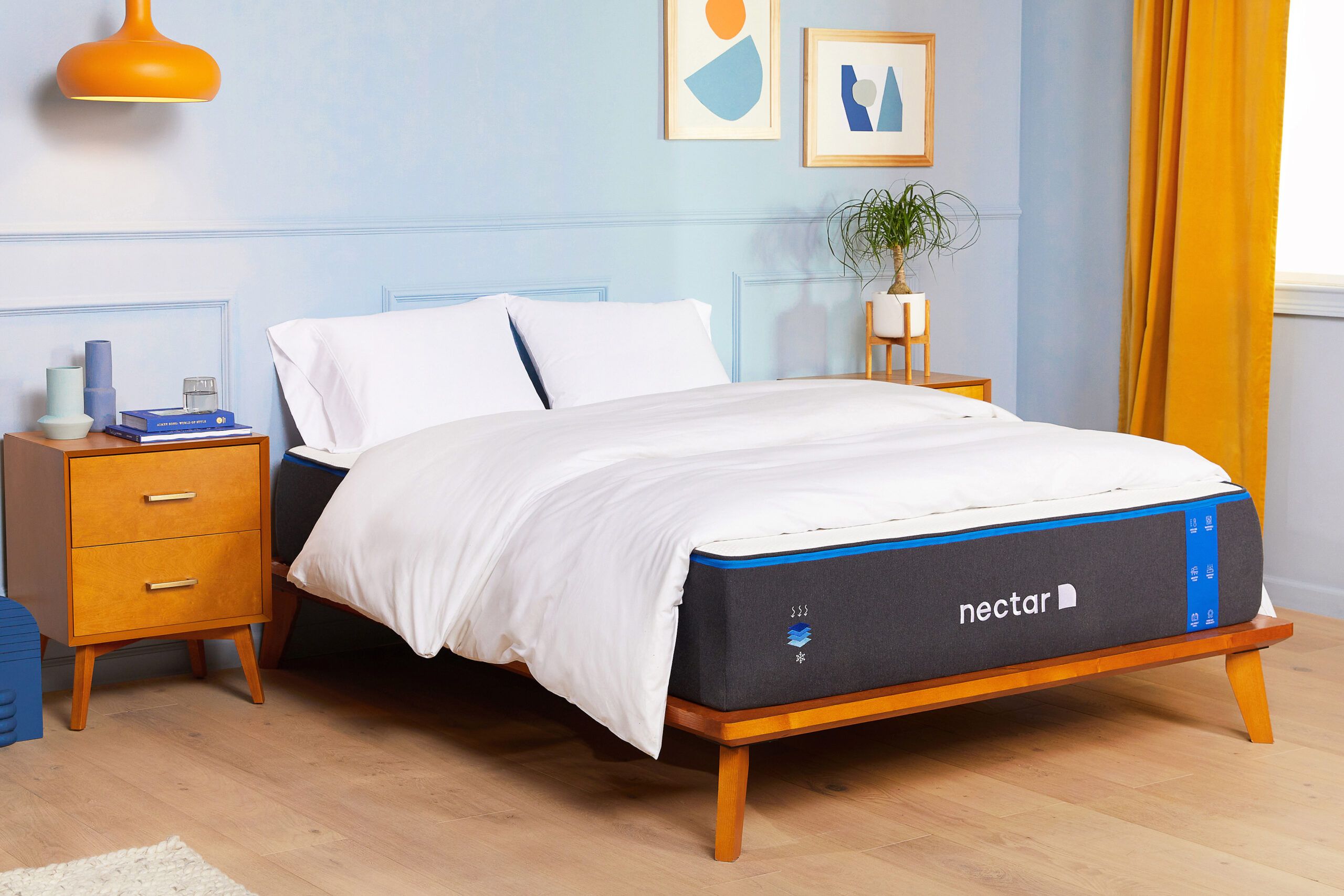 Pros and Cons of the Nectar
| Pros | Cons |
| --- | --- |
| High scores in edge support and motion transfer, great for couples | Mild scent upon unboxing requires mattress to be aired out for a few days without sheets |
| Lifetime warranty and one-year sleep trial | Hot sleepers may need cooler construction |
| Offers excellent pressure relief for those with joint pain | |
| Pros | Cons |
Material: Gel memory foam
Firmness: Medium-firm (6/10)
Customer Rating: 4.8/5
Delivery: 2-5 business days
Trial Period: 2-5 business days
Warranty: Lifetime
The Nectar mattress is one of the most popular bed-in-a-box brands in the industry, known for its affordable price point and high-quality materials. But what really stands out about the Nectar is its gel memory foam layers that distribute weight evenly and provide great pressure relief (8.5 out of 10). For those who love to feel cradled by their bed, the Nectar is a top contender; the foam layers melt tension in the shoulders and hips while also absorbing motion (8.5 out of 10). Its memory foam quilted cover also works to contour and cushion pressure points. Nectar also backs up its mattress with a lifetime warranty. And, with $499 of free gifts included with your purchase, including a mattress protector, sheet set, and two pillows, Nectar gives you the most bang for your buck.
Best Mattress for Side Sleepers Under $1,000 – Helix Midnight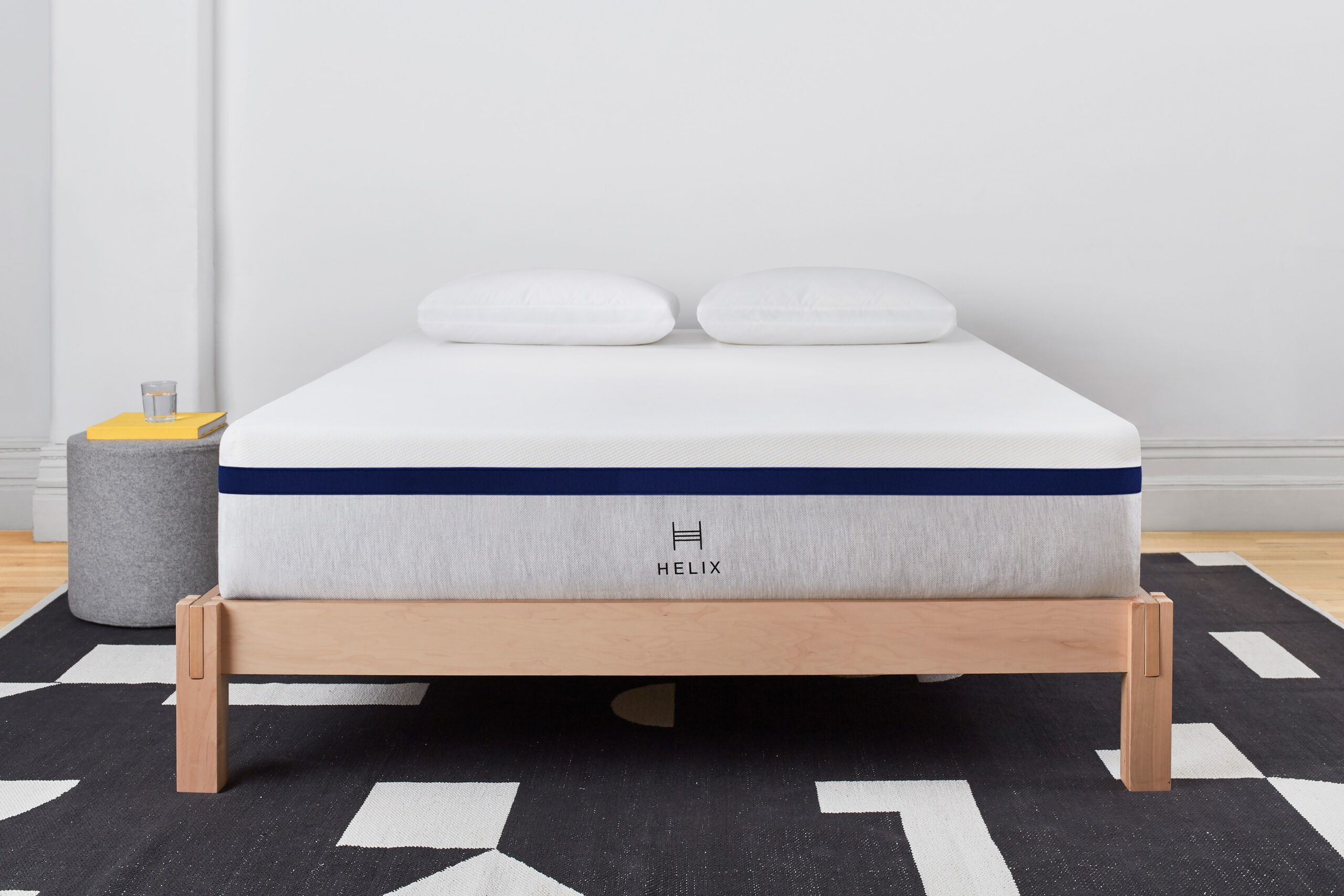 Pros and Cons of the Helix Midnight
| Pros | Cons |
| --- | --- |
| Lumbar support for all sleep positions | Requires at least a 30-day break-in period before mattress can be returned |
| Excellent motion transfer score means minimal disruption when your bed partner moves | Helix mattresses use eco-friendly materials, but they are not certified organic |
| Pros | Cons |
Material: Hybrid
Firmness: Medium (4-7/10)
Customer Rating: 4.5/5
Delivery: Delivered in 3-7 business days
Trial Period: 100 nights
Warranty: 15-year limited
The Helix Midnight hybrid mattress brings a lot to the table for side sleepers. This sleep position relies on solid spine alignment and good pressure relief for a comfortable and pain-free night's sleep, and the contouring support offered by the Helix Midnight is just about perfect. Cushiony memory foam and bouncy coils help this mattress nab solid scores for spinal alignment (9 out of 10), pressure relief (8.5 out of 10), and motion transfer (9 out of 10). The latter is perfect for couples and co-sleepers, ensuring you won't be woken if someone grabs a glass of water in the wee hours. Though it's slightly over the $1,000 mark, the hybrid construction and high marks make this mattress worth the money. You can test out this American-made mattress for yourself during the 100 night sleep trial Helix offers.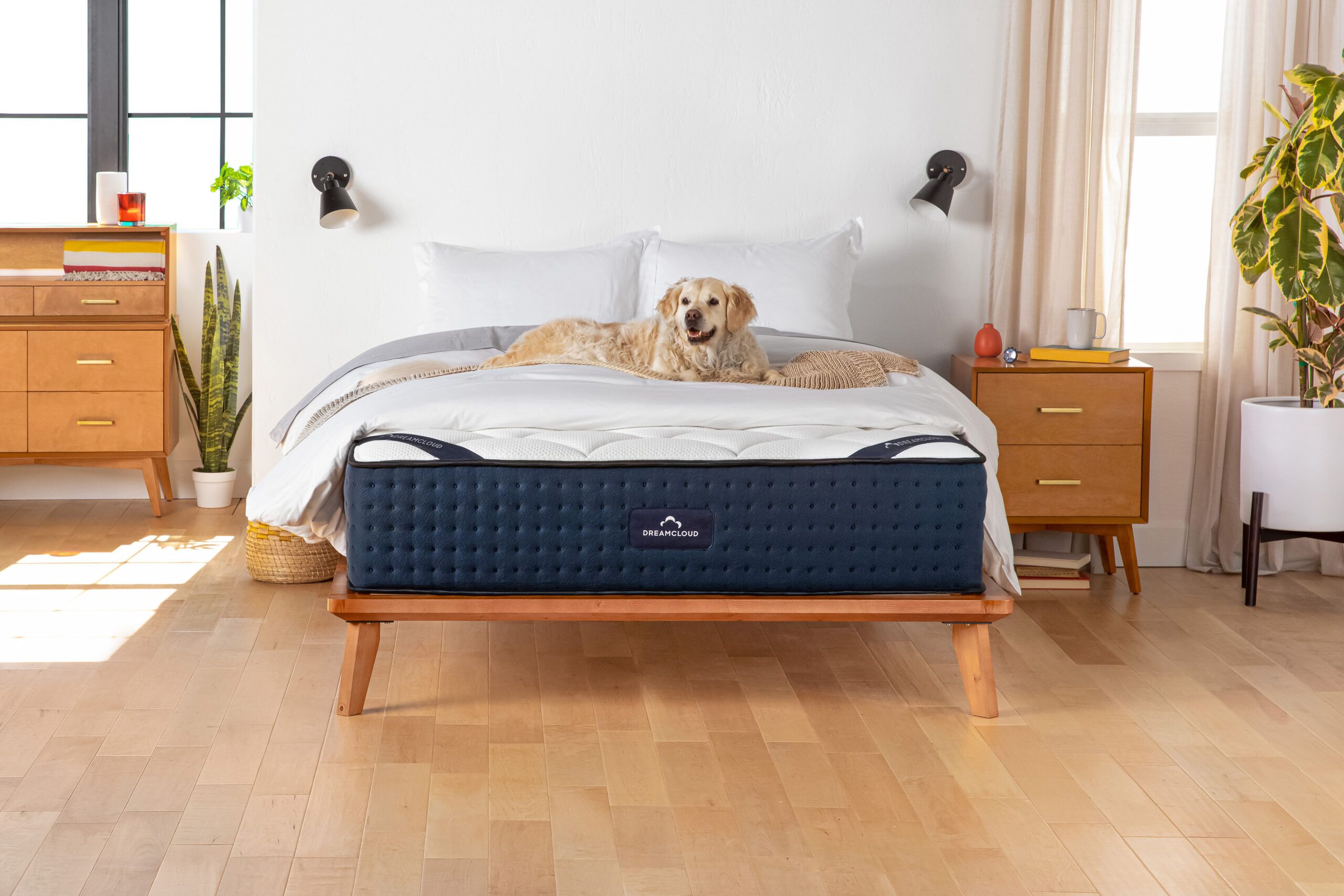 Pros and Cons of the DreamCloud Original
| Pros | Cons |
| --- | --- |
| Near-perfect spine alignment is great for those with back pain | Motion transfer could be a bit better, not ideal for couples with restless partners |
| Uses cooling materials to keep hot sleepers comfortable | |
| Pros | Cons |
Material: Hybrid
Firmness: Medium-Firm (6.5/10)
Customer Rating: 4.6/5
Delivery: 18-21 business days
Trial Period: 365 nights
Warranty: Lifetime
The DreamCloud Original is a luxury hybrid mattress that comes in at an affordable price, so if you're looking for a hotel-like sleep that still comes in on (or under) your bedroom renovation budget, this is a great pick. High scores in spine alignment (9 out of 10), responsiveness (9 out of 10), and pressure relief (8.75 out of 10) give sleepers with back pain the tension reduction they need to sleep (and wake up) without the usual aches and pains. Nearly-perfect edge support comes from a supportive system of pocketed coils; this means sitting or sleeping on the edge of the bed is possible and you shouldn't experience sagging. Two layers of foam, both of which are CertiPUR-US certified, cradle the body and allow all sleep positions to find comfort. The luxurious cashmere cover is the cherry on top of this dreamy mattress.
Best Mattress for Couples Under $1,000 – Layla Original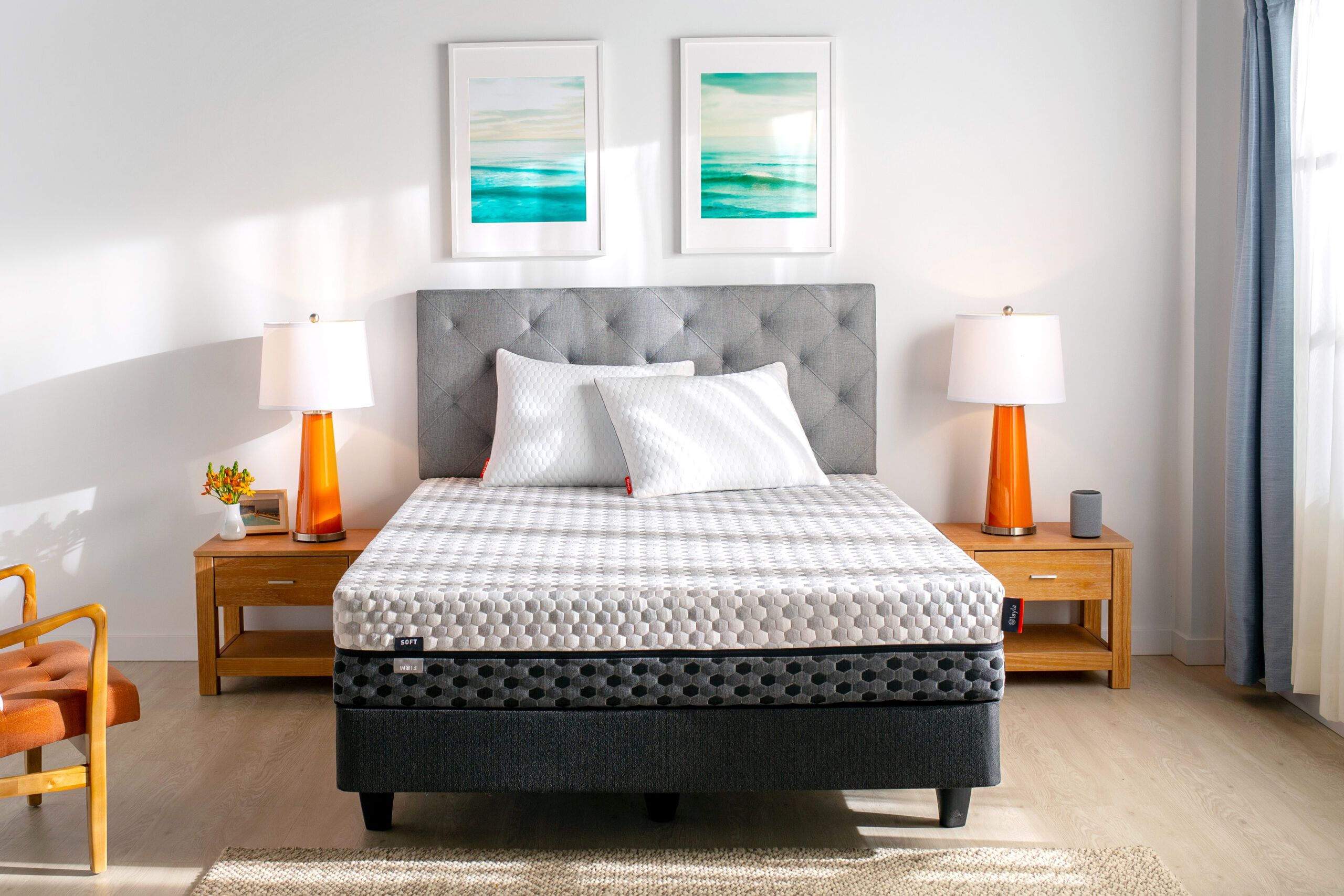 Pros and Cons of the Layla Original
| Pros | Cons |
| --- | --- |
| Foam layers isolate motion well | Memory foam may be too warm for hot sleepers |
| Flippable design with two firmness levels | Heavier sleepers may want more support |
| Suitable for all sleeping positions | |
| Pros | Cons |
Material: Memory foam
Firmness: Medium-soft, medium-firm
Customer Rating: 4.5/5
Delivery: Free shipping in 4-8 business days
Trial Period: 120 Nights
Warranty: Lifetime
The Layla Original mattress is not only a budget-friendly pick, but it offers two firmness options, essentially giving customers two beds in one. The top foam layers on both sides are infused with copper, which is reputed to offer cooling capabilities to the memory foam. The softer side boasts an additional layer of textured support foam to improve breathability, pressure relief, and airflow, and the extra cushioning makes it suitable for those whose sleep preference is to lie on their sides. The firm side uses the copper-infused memory foam, though the layer is thinner to offer more support.
Stomach and back sleepers who prefer a firmer mattress should find this side suitable. A durable polyfoam core makes up the center of the Layla mattress. Listen up, couples: All these foam layers are great for comfort, but they're also exceptionally good at preventing motion transference, which means your partner's movements won't be disruptive to your sleep. In addition to the Layla's remarkable pressure relief, responsiveness, and motion isolation, plus the flippable design, they've given customers another reason to love their mattress (not that we needed one): The mattress cover is removable for easy cleaning.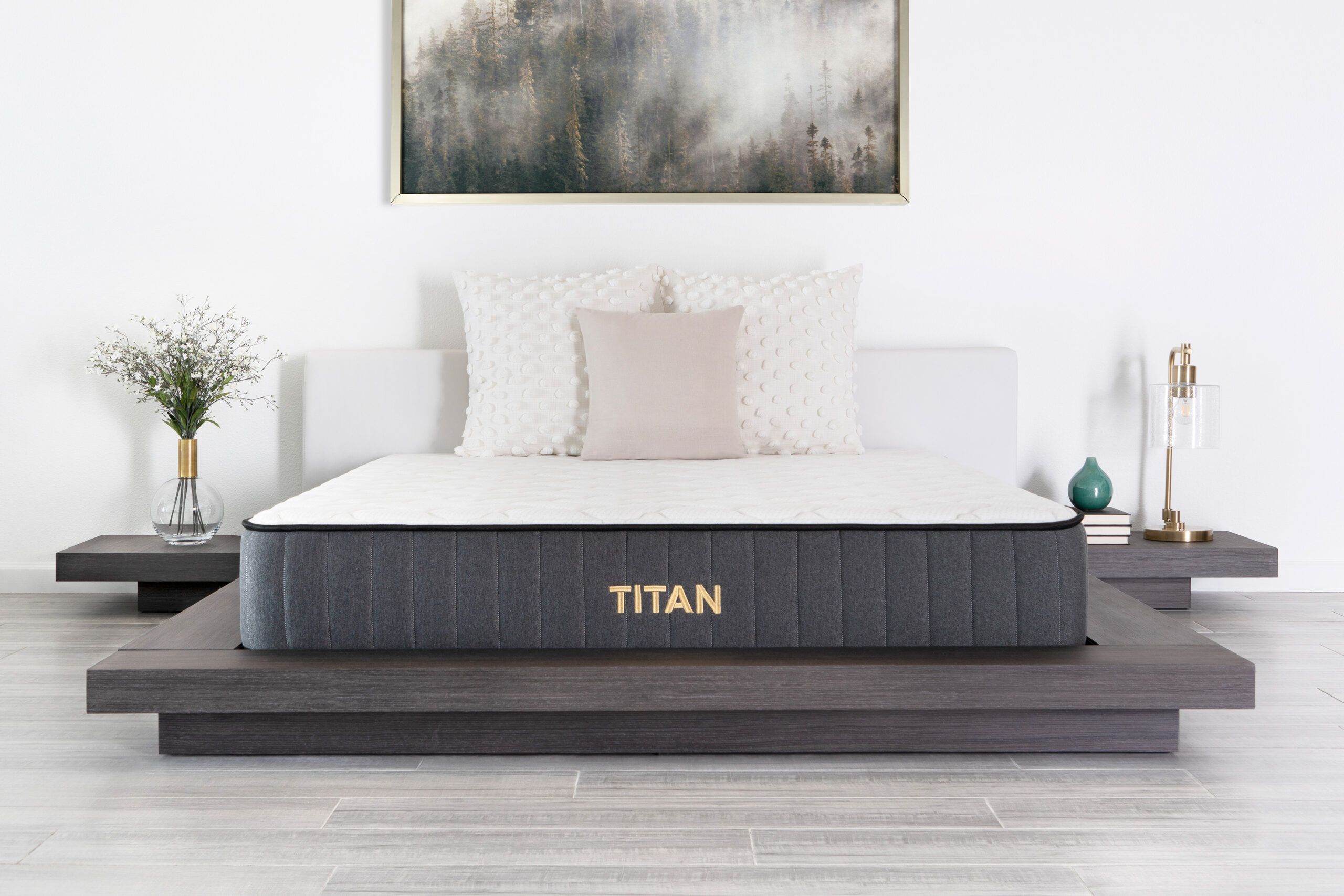 Pros and Cons of the Brooklyn Titan
| Pros | Cons |
| --- | --- |
| Top durability, responsiveness, and spine alignment scores | Soft mattress lovers should aim for a foam bed or softer hybrid |
| Great for stomach and plus-size sleepers | Did not achieve high pressure relief marks |
| Pros | Cons |
Material: Hybrid
Firmness: Firm (8/10)
Customer Rating: 4.7/5
Delivery: Delivered in 3-4 business days
Trial Period: 120 Nights
Warranty: 10-year
Just because you're searching for a budget mattress doesn't mean you have to skimp on support. A firm mattress is the best choice for stomach sleepers, people with back pain, or plus-size sleepers, as there is not a lot of "sinking" to be had on the mattress surface. This protects the spine from being subjected to pressure and misalignment. The Brooklyn Titan Plus's extra-firm design packs in durable coils and resilient foam that react to any movement and support your lower back. Hot sleepers can add a cooling panel to their bed for a small fee, too.
Hot sleepers can add a cooling panel to their bed for a fee, too. The Titan Plus far exceeds the industry standard when it comes to weight capacity with its ability to support up to 1,000 pounds. A combination of memory foam and high-density foam add some cushioning to this mattress, while a core of industrial-grade coils gives it exceptional durability and support.
Best Mattress for Back Pain Under $1,000 – Bear Original
Pros and Cons of the Bear
| Pros | Cons |
| --- | --- |
| Mattress cover promotes cooling | Bear doesn't do much in the social world |
| Medium-firm feel works for a variety of sleepers | Didn't score high in pressure relief, not great for side sleepers |
| Durable and supportive, good pick for couples | |
| Pros | Cons |
Material: Memory foam
Firmness: Medium-firm (6.5/10)
Customer Rating: 4.7/5
Delivery: Delivered in 4-7 business days
Trial Period: 120 Nights
Warranty: Lifetime
The back can start to ache after long days spent DIY-ing, but your mattress can help. Dealing with back pain can make quality sleep difficult to come by, but the Bear Original is here to make the nighttime hours "bear-able" again. An all-foam, affordable mattress, the Bear mattress has received high customer ratings for its durable support and lasting comfort. It has a special cover that aids in cooling (9 out of 10), plus high scores in responsiveness and spine alignment. Good responsiveness can help sleepers with low mobility get in and out of bed, plus it makes changing positions much easier (9 out of 10). A high spine alignment score indicates that your back will remain in good posture as you sleep, essential for recovery and minimizing future pain (8.5 out of 10). It's also one of the most affordable mattresses on this list, making it super budget-friendly.
Most Comfortable Mattress Under $1,000 – Nolah Original
Pros and Cons of the Nolah Original
| Pros | Cons |
| --- | --- |
| Near-perfect spine alignment is great for those with back pain | Not as durable as other options |
| All-foam construction lends to great motion isolation, ideal for couples | Off-gassing odor present at unboxing |
| Super responsive for combination sleepers | |
| Pros | Cons |
Material: All foam
Firmness: Medium-firm (5.5/10)
Customer Rating: 4.7/5
Delivery: Delivered in 5-10 business days
Trial Period: 120 nights
Warranty: Lifetime
The Nolah Original is an all-foam mattress that offers all the things we love about memory foam without any of the drawbacks. Its excellent spine alignment score (9.5 out of 10) denotes how comfortable sleepers should find this mattress, experiencing excellent lumbar support regardless of their sleep position. Nolah's proprietary "Airfoam" keeps sleepers cooler than traditional memory foam, keeping pressure points cushioned while offering enough support and responsiveness (9.25 out of 10). Beneath the Airfoam is a high-resilience foam that supports the spine and prevents sleepers from sinking into the mattress too much, as can happen on some memory foam beds. The combination of foams and a breathable cover forms a mattress that provides deeply restful and comfortable sleep, so you can kick back and relax after a long day of housework.
Pros and Cons of the Dreamfoam Essential
| Pros | Cons |
| --- | --- |
| Available in multiple thicknesses | Responsiveness isn't very impressive |
| Good for spinal alignment | Not a great choice for hot sleepers |
| Super affordable price point | |
| Pros | Cons |
Material: Memory foam
Firmness: Medium-soft to firm (varies based on thickness)
Customer Rating: 4.7/5
Delivery: Free delivery in 10-15 days
Trial Period: 120 Nights
Warranty: 10 years
Queen-size mattresses are a great option for most of us, but if you're sharing the bed with a partner, child, or a large pet that takes up their fair share of the bed, a larger mattress can make a world of difference in your quality of sleep. While many king size mattresses tend to cost quite a bit, the Dreamfoam Essential is a memory foam mattress that falls within a reasonable price range (read: Super affordable), regardless of which thickness you opt for (it comes in 6, 8, 10, 12, and 14 inch thick models). Whether you prefer your mattress on the softer or more supportive end of the firmness scale, you'll be able to find your perfect match in the Dreamfoam Essential. A base of high-density polyfoam and a comfort layer made with cooling gel memory foam work together to isolate motion and provide ample pressure relief for the body. Despite its enticingly low price tag, the Dreamfoam Essential is still a quality mattress, and is one of the best memory foam mattresses for those on a strict budget.
Pros and Cons of Brooklyn Bedding Signature Hybrid
| Pros | Cons |
| --- | --- |
| Customizable firmness | Motion transfer could be improved |
| Cooling construction is good for hot sleepers | Some off-gassing present at unboxing, but should dissipate within a few days |
| Top notch pressure relief | |
| Pros | Cons |
Material: Memory foam
Firmness: Medium-soft to firm (varies based on thickness)
Customer Rating: 4.7/5
Delivery: Free delivery in 10-15 days
Trial Period: 120 Nights
Warranty: 10 years
With customizable firmness, the option to add a cooling top layer to the bed, and a modest price tag, the Brooklyn Bedding Signature is one of the best hybrid mattresses available for those seeking a top-notch queen-size mattress. Designed to provide comfort for all body types, this bed boasts a quilted topper, premium memory foam, pocketed coils, and layers of transition foam and high-density foam for the ultimate blend of cushioning and support.
The testing team awarded this mattress a near-perfect score in pressure relief, which makes it ideal for those who can't seem to find a mattress or sleeping position that doesn't leave their bodies feeling sore or stiff. If buying American-made products is important to you, you're in luck: Brooklyn Bedding manufactures its beds from start to finish in Arizona, eliminating the costs of middlemen and helping them keep their products priced affordably. In fact, our biggest complaint about this mattress is its 10-year warranty, we wish it were a bit longer.
MA Score: The Mattress Advisor Score is a weighted score that takes into account 14 different factors related to the mattress's performance, function, convenience, and the brand's social responsibility.
What Should I Consider When Shopping for a New Mattress?
A mattress is an investment in your health and well-being, because a good mattress is key to getting a good night's sleep. Restful sleep enables the body to repair itself for the day ahead and can also help ward off heart disease and other chronic illnesses. You can spend a lot of money on a high-end mattress, but there are several good mattresses available for under (or around) $1,000.
When shopping for a new bed, look for good quality materials that will hold up over time. You don't want your mattress to start sagging. A mattress with a good support layer should last about 10 years. Many mattress companies stand by their mattresses and offer warranties of 10 years or more. (Two on our list offer lifetime warranties.) You'll also want to consider various types of mattresses, as well as their performance factors, to be sure you're getting exactly what you need for restful sleep.
Type of Mattress
Memory foam: Memory foam contours to the body and gives the sleeper a sinking feeling. They're a great pick for side sleepers that need pressure relief, and combination sleepers that need responsiveness. Memory foam can run on the warmer side, easily retaining body heat.
Innerspring: Its main ingredient are steel coils located in the core of the mattress. Innerspring mattresses tend to sleep cooler and have more bounce than beds without innersprings, but won't have as much pressure relief to give.
Latex: Latex mattresses make you feel like you are floating on top of the bed instead of feeling like you are sinking into it with memory foam. Natural latex is also hypoallergenic and resistant to dust mites, mold, and mildew.
Hybrid: Hybrid mattresses use different mattress materials to offer a more specialized sleep space. Hybrids excel with cooling and lumbar support, thanks to the implementation of coils with foam and latex.
Performance Factors
Set-up: Some mattress companies offer white glove delivery that includes the unboxing and setting up of your bed. Otherwise, you can expect to do the unboxing and setting up on your own. This generally takes a few minutes and may require more than one person, since the mattresses can be heavy. Be aware that mattresses will need a few hours or days to air out or expand to their maximum height.
Pressure relief: Mattresses with pressure-relieving characteristics evenly distribute body weight to relieve pressure at key points like the shoulders and hips.
Spine alignment: Keeping your back supported and your spine in its healthy posture is important to avoid upper and lower back pain. Look for high spine alignment scores when researching mattresses.
Durability: A high-quality, durable mattress will stand the test of time and give you more bang for your buck.
Motion transfer: If the materials in the mattress are able to stop the feeling of movement from shaking the bed, or disrupting sleepers on either side of the mattress, it prevents motion transfer.
Temperature regulation: If you sleep hot, you may want to look for a naturally cooling mattress such as latex, or a memory foam mattress infused with cooling gel to help keep you cool at night.
Responsiveness: Responsiveness is how quickly your mattress adapts when you change positions. A mattress with low responsiveness scores may leave you feeling "stuck" in bed.
Edge support: A mattress that provides good support at its edges is easier to get out of, and keeps you supported if you tend to sleep at the perimeter.
Shipping and Delivery
All of the mattresses on our list can be purchased online and delivered to your door in a box. Delivery is usually free and in some cases white glove delivery is offered, where a representative will install your new mattress and get rid of your old one. This service is either available for free or at an extra cost depending on the company.
FAQ About the Best Mattresses Under $1000
What mattress type is the most popular?
There is no one type of mattress that stands out above the rest as the most popular, but foam mattresses and hybrid mattresses tend to be more common than other types (such as traditional innerspring or latex mattresses) due to their lower cost and varying levels of comfort and firmness (where as innerspring and latex tend to be generally on the firmer end). Since foam and hybrid mattresses can come in soft, medium, and firm feels, plus offer different capabilities in terms of cooling and support, they're the most versatile options.
How does the sleep trial work?
Most online mattress companies (and all the mattresses on our list) include a 100-day to a full-year sleep trial. This gives you the opportunity to try out your mattress to be sure it's perfect for you and addresses your sleep needs. Some companies require you to try the bed for at least 30 days. Others go to greater lengths to ensure your comfort before you can return your mattress.
What are the benefits of buying a mattress online?
Buying a mattress online can save you money because it cuts out the showroom fees, delivery costs, and retail markup. Plus, you have the convenience of shopping from your home without the pressure of a sales consultant. Most online mattress companies have a generous sleep trial so you can feel confident in your choice of mattress.
What is a mattress warranty?
A mattress warranty is a guarantee from the company that your bed will hold up over time. Warranties generally range from 10 years to a lifetime and cover manufacturing defects and quality issues such as sagging, frayed seams, or broken coils. Be aware that you can invalidate your mattress warranty if you don't follow the care instructions provided by the manufacturer.
How long should you own a mattress?
The typical lifespan of a mattress is between 7-10 years, though this can vary depending on how regularly the mattress is slept on, the weight of the sleepers using it, the type of mattress it is, and a host of other factors. A good rule of thumb is to change your mattress after 10 years of use, though if you find your current mattress isn't up to snuff and is no longer providing you with quality sleep, replacing it before the 10-year mark is a no-brainer.
Summary of Our Top Picks for the Best Mattress Under $1,000