Each product we feature has been independently selected and reviewed by our editorial team. If you make a purchase using the links included, we may earn a commission.
As you seek the best cooling mattress to help with banishing body heat, there are plenty of factors to consider. Some materials naturally allow more air to circulate to help cool you down. Others offer advanced cooling technologies, like gel beads or mineral infusions to help draw heat away from your body.
And of course, hot sleepers must consider the same performance factors as any other mattress shoppers, like comfort, support, spine alignment, price, warranty, and more. Not all mattresses are created equal, but in this guide, you'll find some of the best options to dissipate body heat and sleep cool. Working with expert testers at Mattress Advisor and their 14-step testing process, This Old House Reviews team has come up with a cool 9 mattresses to check out.
Affiliate Disclosure:This Old House's Reviews Team is committed to delivering honest, objective, and independent reviews on home products and services. To support this business model, This Old House may be compensated if you purchase through links on our website.
The Best Cooling Mattresses for Hot Sleepers
Best Overall – Saatva Classic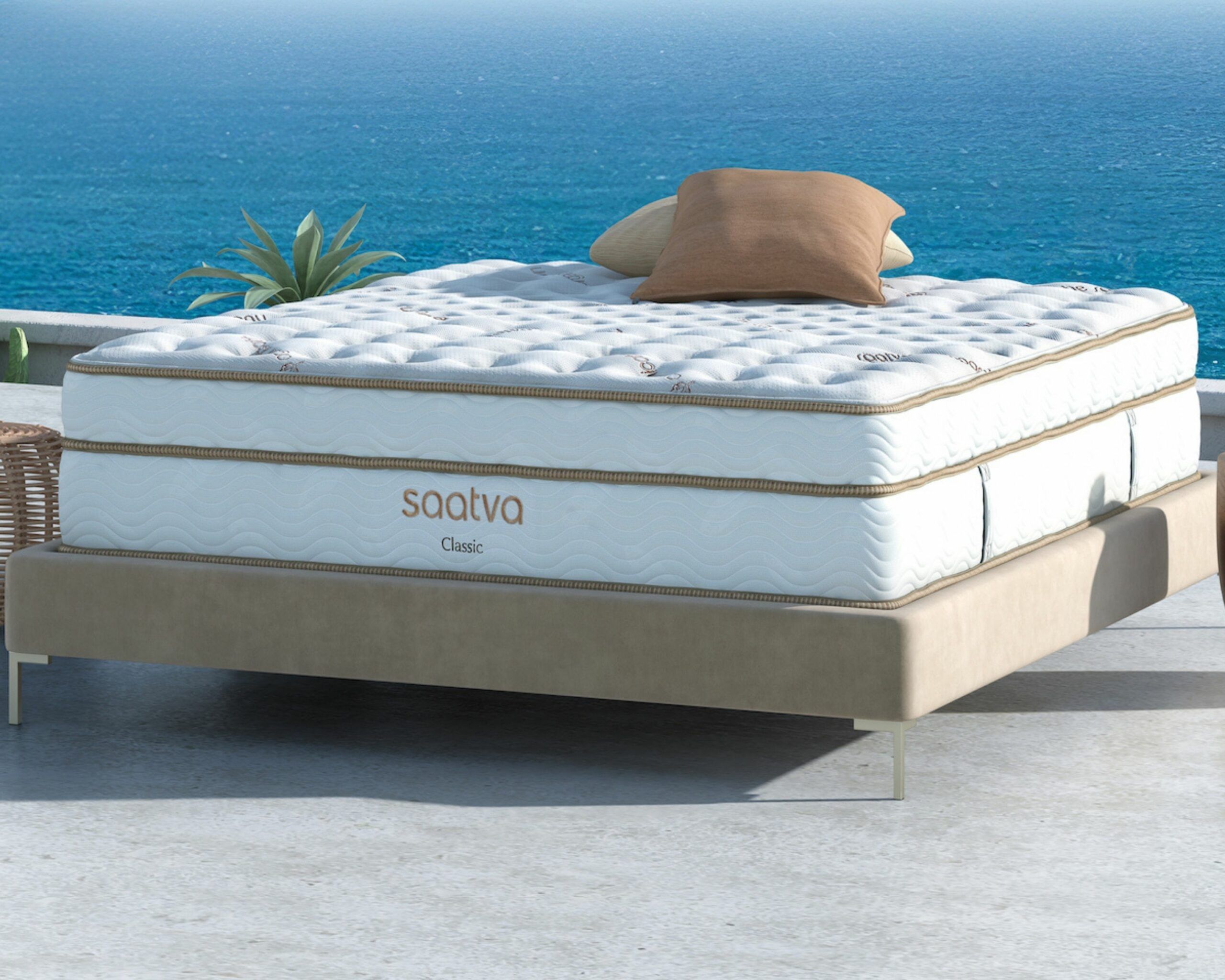 Looking for a mattress that offers you luxurious hotel quality, complete with state-of-the-art cooling properties? The flagship mattress from Saatva offers the height of opulence, from the sophisticated mattress design to the free white-glove setup. What makes the Saatva sleep so cool is the inclusion of two coil layers, allowing plenty of air to circulate throughout the night. Plus, a soft Euro-style pillow top cushions the spine and while keeping your body boosted and supported.
Firmness: Plush (3/10), Luxury-Firm (6/10), Firm (8/10)
Customer Rating: 4.8/5
Trial Period: 365 nights
Delivery: Up to two weeks
Lifetime Warranty
Pros and Cons of the Saatva Classic
| Pros | Cons |
| --- | --- |
| Customize this hybrid to your liking with three firmness levels and two height options | On the pricier side |
| Materials designed for optimal support and preventing back pain | Lower motion transfer test score, couples may feel this bed shake a bit while moving around |
| Free white glove delivery handles setup for you | |
| Pros | Cons |
Best Cooling Mattress for Back Pain – Brooklyn Aurora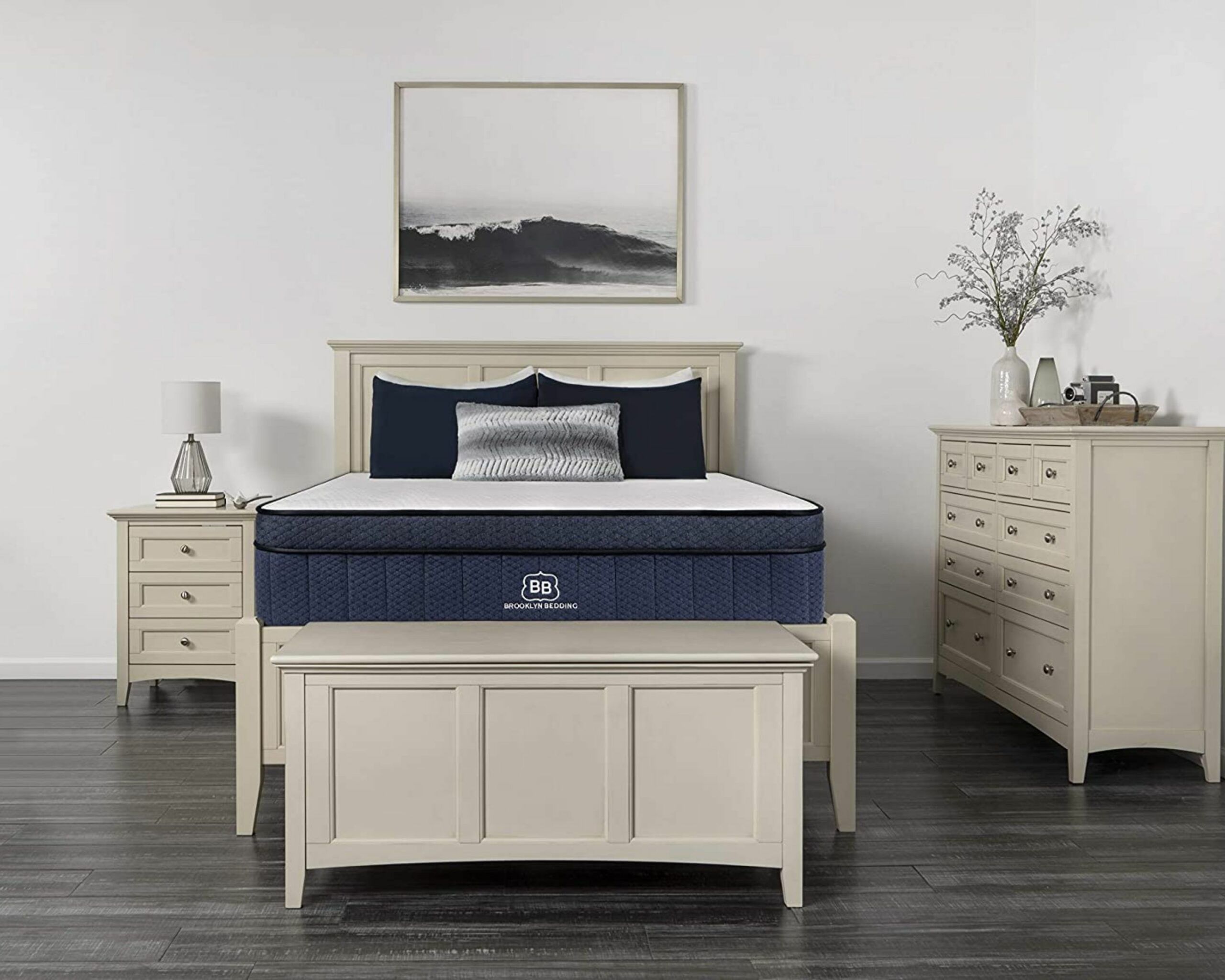 Struggling with back pain and keeping cool? The Brooklyn Aurora, a hybrid mattress that excels at staying cool to the touch and keeping your lumbar region firmly supported. A big part of this bed's cooling ability is the top layer of copper and gel-infused foam that was developed by Brooklyn Bedding. This technology mediates body temperature and absorbs excess body heat. Cooling gel beads liquefy when the temperature gets too high, giving an immediate rush of coolness. Responsive memory foam and coils below the cooling surface push the lower back upwards, to prevent sinking and back pain. Besides cooling and spine alignment, the Brooklyn Aurora has a highly responsive design and exemplary pressure point relief.
Firmness: Soft (3/10), medium (5/10), firm (7/10)
Customer Rating: 4.7/5
Delivery: Delivered in 3-4 business days
Trial Period: 120 nights
10-year warranty
Pros and Cons of the Brooklyn Aurora
| Pros | Cons |
| --- | --- |
| Excellent cooling and spine alignment scores | Even at the softest option, will not feel as soft as a memory foam bed |
| Accommodates every sleeping position | Higher price point may be out of budget for some shoppers |
| An especially good option for lightweight sleepers | |
| Pros | Cons |
Best Cooling Mattress for Side Sleepers – Helix Midnight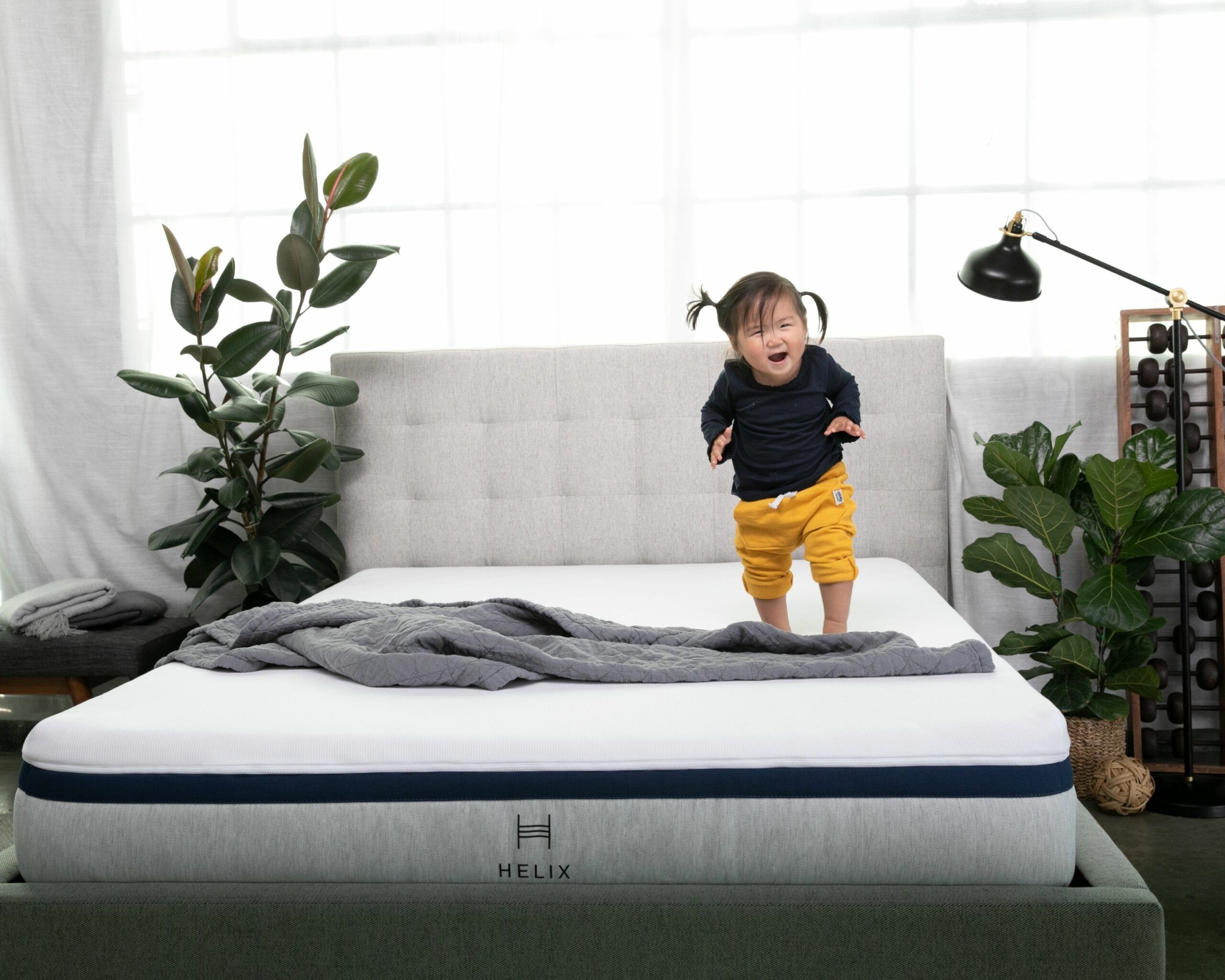 Innerspring mattresses on their own don't tend to contour enough for this sleep style, but Helix Midnight's hybrid model gives side sleepers exactly what they need. It supplies individually pocketed coils to support the body and keep the spine in a natural "S" curve alignment, and the cushioning of contouring foam to ease shoulder pain. And best of all for hot sleepers—the hybrid innerspring-memory foam support system is topped off with a luxe cooling cover.
Firmness: Medium (5.5/10)
Customer Rating: 4.5/5
Delivery: Up to two weeks
Trial Period: 100 nights
15-year limited warranty
Pros and Cons of the Helix Midnight
| Pros | Cons |
| --- | --- |
| Fantastic spine alignment and pressure relief for side sleepers | May not feel supportive enough for plus-size sleepers |
| A hybrid build plus cooling cover means breathability and cool-to-the-touch surface | You will need to let your mattress breathe for a few hours after unboxing for any off-gassing smells to dissolve |
| Superior edge support that's great for couples | |
| Pros | Cons |
Best Luxury Cooling Mattress – WinkBeds EcoCloud
Only sourcing the most luxurious eco-friendly materials, the WinkBed EcoCloud shows what a cooling organic mattress is all about. Naturally cooling latex, sourced sustainably via the Talalay production process, has the pressure relief of memory foam sans the stuffiness of built-up heat. EcoCloud, as part of its commitment to stay in your bedroom and not a landfill, is made with extremely durable materials as well which makes it a great long-term investment for lifelong hot sleepers. Adding to the cooling factors of EcoCloud are the breathability of its zoned, pocketed coils, which offer solid spinal support.
Firmness: Medium-Firm (6.5/10)
Customer Rating: 4.5/5
Delivery: 7-10 business days
Trial Period: 120 nights
Limited lifetime warranty
Pros and Cons of the WinkBeds EcoCloud
| Pros | Cons |
| --- | --- |
| Made with sustainably-sourced, hypoallergenic materials, including breathable, durable latex | Due to natural material usage, this is a more costly mattress |
| Memory foam gives pressure relief and plush cushioning for side sleepers | May feel too soft for stomach sleepers and firm mattress lovers |
| Lifetime warranty to back up EcoCloud's touted durability | |
| Pros | Cons |
Best Cooling Mattress for Couples – DreamCloud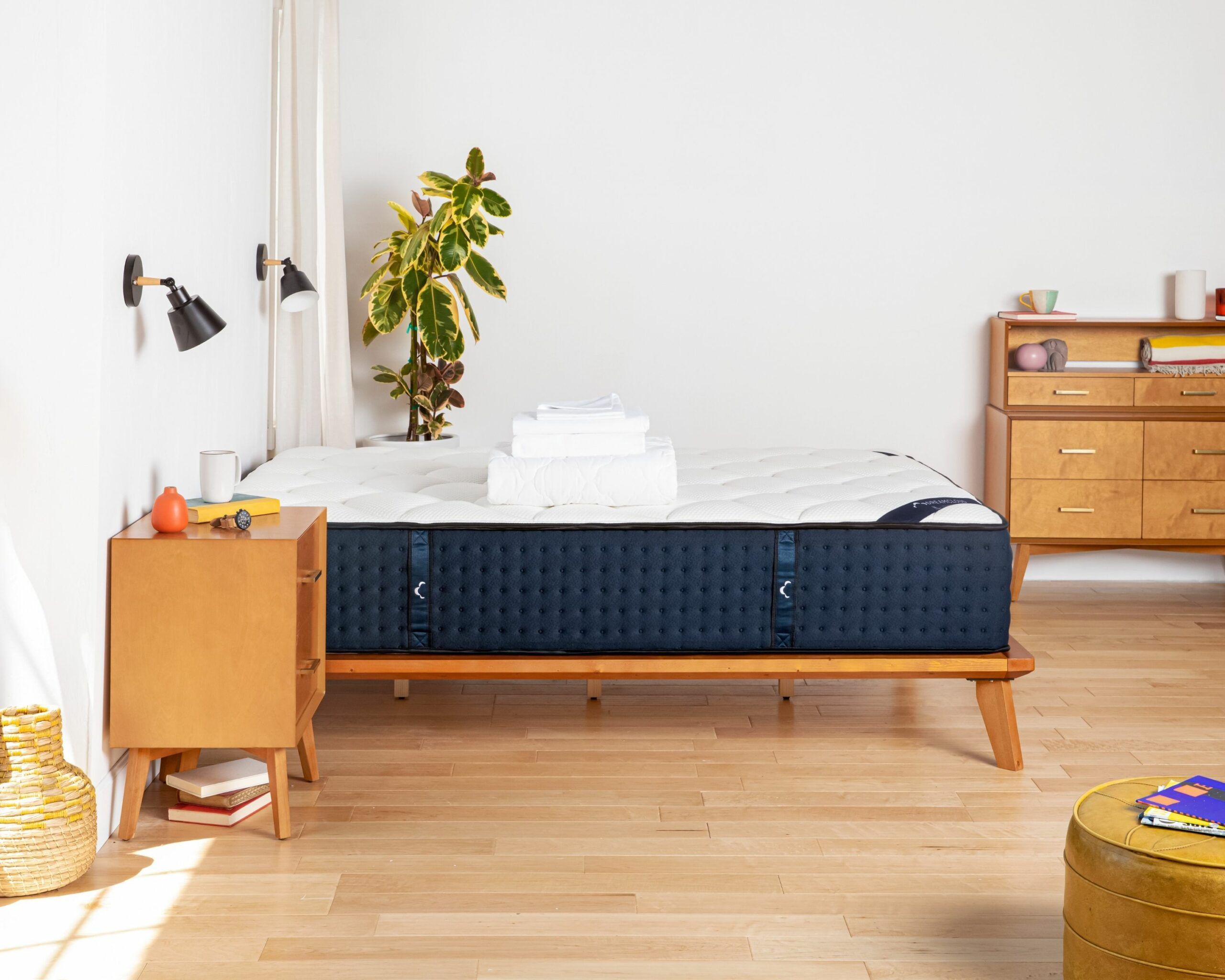 Need a cooling mattress for two? The DreamCloud is a medium-firm mattress with stellar motion transfer and cooling, which makes it ideal for couples who share a bed. You can toss, turn, or get out of bed with minimal risk of waking up your partner. The DreamCloud is also built for temperature regulation, with one cooling material on top of another. A top layer of soft, breezy cashmere, air-circulating coils, and gel memory foam layers work to keep sleepers supported and feeling cool. The DreamCloud also comes with a year-long sleep trial to ensure you're totally happy with your new mattress.
Firmness: Medium-Firm (6.5/10)
Customer Rating: 4.6/5
Delivery: 18-21 business days
Trial Period: 365 nights
Lifetime warranty
Pros and Cons of the DreamCloud
| Pros | Cons |
| --- | --- |
| Very sturdy, with high test scores for edge support and durability | May feel too firm for soft mattress lovers and lightweight sleepers |
| Responsive and keeps the spine aligned, scoring a 9 out of 10 in both test categories | Longer shipping time, which may be an issue if you are in a time crunch |
| Year-long sleep trial and lifetime warranty | |
| Pros | Cons |
Best Cooling Memory Foam Mattress – Layla
Memory foam is great for a lot of things, including pressure relief, motion transfer, and durability. It's not always great at mitigating body heat. If you want to sleep cool but also want the soft, contouring feel of memory foam, Layla is the best mattress for you. The Layla is a flippable mattress that comes with two firmness levels, medium-soft, and medium-firm. There are plenty of cooling properties built-in, including heat-deterring gel that's embedded in the mattress cover.
Firmness: Medium-soft (4/10) and Medium-Firm (7/10)
Customer Rating: 4.5/5
Delivery: 3-7 business days
Trial Period: 120 nights
Lifetime warranty
Pros and Cons of the Layla
| Pros | Cons |
| --- | --- |
| Stays responsive as you move to get comfortable | Fair spine alignment score, but sleepers with back pain may need an even more supportive option |
| Supports pressure points to keep weight off | Both sides of the mattress may not be supportive enough for heavier sleepers |
| Pros | Cons |
Best Value Cooling Mattress – Nectar
Need the best mattress for hot sleepers that doesn't break the bank? The Nectar consistently gives some of the best value in the online mattress space, offering a lifetime warranty and a year to try out the mattress. When it comes to cooling, Nectar's foam layers are breathable to let air and body heat easily pass through instead of getting trapped around the surface. A soft cover and gel memory foam top layer take this one step further by absorbing heat and dispersing it. Aside from cooling, Nectar does a great job at preventing pressure build-up around the joints and responding quickly to motion.
Firmness: Medium-firm (6/10)
Customer Rating: 4.8/5
Delivery: 2-5 business days
Trial Period: 365 nights
Lifetime warranty
Pros and Cons of the Nectar
| Pros | Cons |
| --- | --- |
| Cooling cover and breathable foams disperse heat | Not a top pick for sleepers with back pain, as foam may not feel supportive enough |
| Responsive | Despite cooling features, will not be as much air circulation as a hybrid or innerspring mattress |
| Good scores for pressure relief and motion isolation | |
| Pros | Cons |
Best Cooling Mattress for Pressure Relief – Puffy Lux
Cool, cushioned, and cloud-like, there's a lot to love about the Puffy Lux hybrid. Not only did Puffy develop its own line of cooling foam to help with temperature regulation, but it also incorporated specialty coils to preserve healthy spine alignment and relieve pressure. If you have been dealing with warmer temperatures in the bedroom and pain in your pressure points, the Puffy Lux aims to solve both. In testing, it excelled in these categories, sweeping the board with nearly flawless scores.
Firmness: Medium-firm (6.25/10)
Customer Rating: 5/5
Delivery: 2-5 business days
Trial Period: 101 nights
Lifetime warranty
Pros and Cons of the Puffy Lux
| Pros | Cons |
| --- | --- |
| Cooling foams and coils help with air circulation and heat absorption | Hybrid design comes with higher price tag |
| Top test scores for pressure relief, spine alignment, and responsiveness | Foam top layers may feel too soft for firm mattress lovers |
| Lifetime warranty | |
| Pros | Cons |
Best Cooling Hybrid Mattress – Bear Hybrid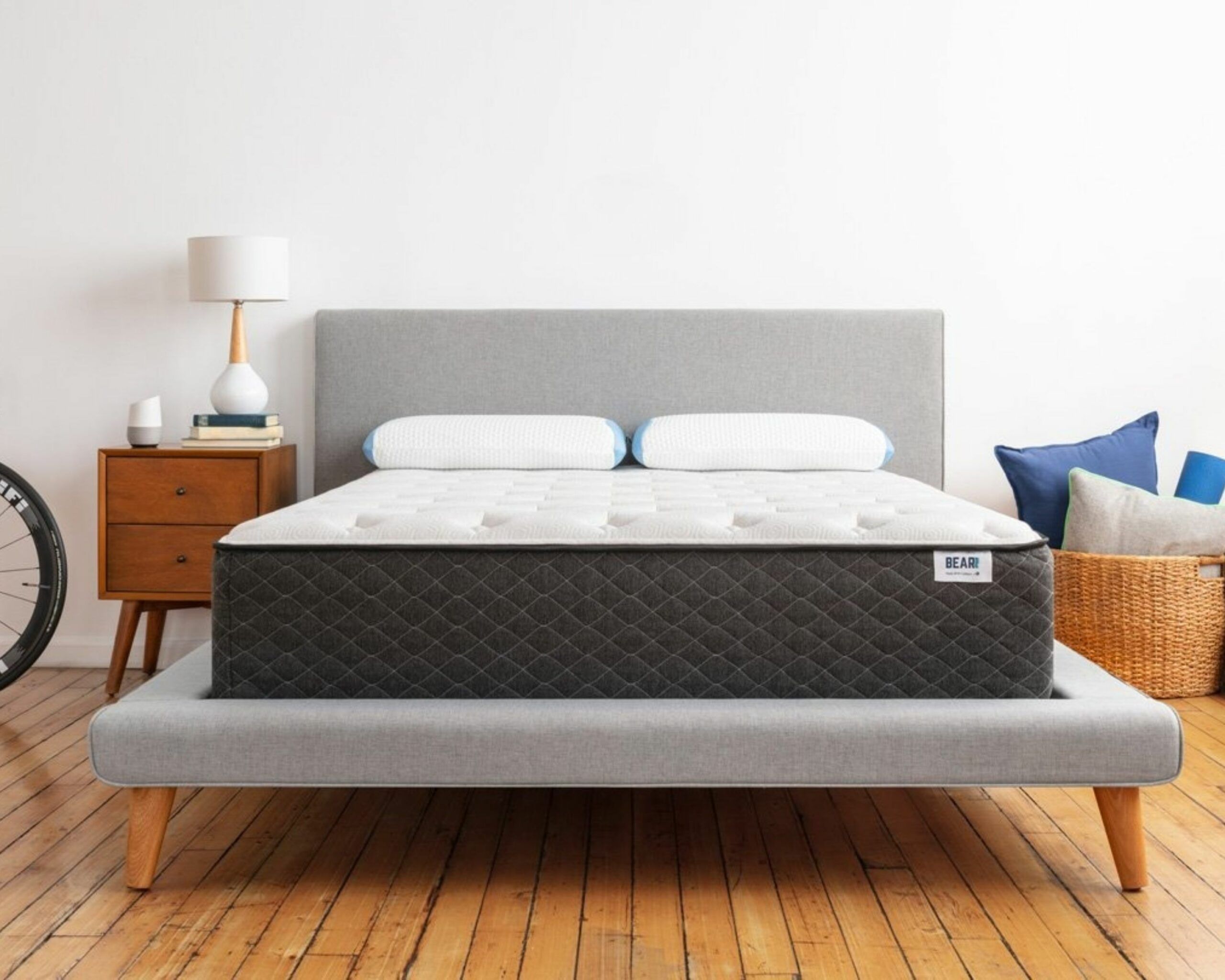 The Bear Hybrid is made with both springs and foam, allowing it to give a great, cool sleep experience. It's comfy, supportive, and has a contouring effect, all while staying breathable. It also happens to be a terrific pick for athletes, thanks to its cooling technology and supportive coils that assist with recovery and rest. This is a great example of what a hybrid mattress design can yield: a sleep experience that excels in virtually every category, and is compatible with sleepers of all kinds.
Firmness: Medium-firm
Customer Rating: 4.7/5
Delivery: ~7-10 business days
Trial Period: 100 nights
20-year warranty
Pros and Cons of the Bear Hybrid
| Pros | Cons |
| --- | --- |
| Mattress cover and innersprings help with breathability and cooling | Low motion isolation score, couples may feel this bed shake more so than others |
| An outstanding pick for combination sleepers thanks to high responsiveness score | May not give enough pressure relief for side sleepers, as it only scored a 7.5 out of 10 in this test category |
| Innerspring core keeps lower back uplifted | |
| Pros | Cons |
Shopping for the Best Cooling Mattress
There are lots of factors to take into account while looking for the best mattress for hot sleepers. For example, different kinds of mattresses address body heat in different ways. Materials such as gel foam work by actually drawing heat away from the body, whereas a phase change mattress cover is more adapted to staying temperature neutral. It's always a smart idea to read up on different technologies and materials, and how they work to help you sleep cooler.
Naturally, concerns for cooling should be accompanied by other performance factors: Will the mattress sag over time, or does it offer robust edge support to keep its shape and support? How's the motion isolation, and will it respond to movement? These are all key considerations as you seek a new bed that is made for sleeping cool.
What is a Cooling Mattress
Let's evaluate what a cooling mattress is. This mattress type can be classified as any memory foam, innerspring, latex, or hybrid mattress that incorporates the use of various cooling materials. These fibers, foams, coils, and mineral additives actively absorb body heat and assist with air circulation.
Best Cooling Mattress Types
Memory foam:
Memory foam is known for heat-retention, but there are plenty of ways in which mattress companies can offset its heat-trapping tendencies, through the use of open-cell foam or by including materials that help dissipate body heat.
Innerspring:
Innerspring coils allow for air circulation that keeps your body nice and cool. Coils tend to give a nice, responsive bounce, something that's especially welcome for combination sleepers and couples.
Latex:
Not only is latex a good pick for eco-conscious sleepers, but it's also naturally heat-resistant. Latex beds almost always score well in the cooling category.
Hybrid:
A hybrid design simply means a mattress is made with multiple types of materials, such as innerspring coils combined with plush foam. Most hybrid designs are made with temperature in mind, with one or two materials included to help mediate heat.
Cooling Materials
Phase change:
Phase change materials respond to the ambient temperature in the room and prevent the mattress from overheating, contracting, or shrinking due to seasonal fluctuations.
Gel-infused memory foams:
Gel is often injected into memory foam because it naturally draws body heat, keeping the surface of the mattress nice and chilly.
Coils:
Springs and coils leave plenty of room for air to pass through, preventing the mattress from trapping heat or becoming too stuffy.
Plant-based fabric:
Additional examples of cooling, plant-based fabrics include bamboo, organic cotton, and even wool.
Best Cooling Mattress Accessories
Cooling Mattress Covers:
Quilted covers are primarily designed to keep your mattress safe from stains and spills, but they can also help mitigate moisture from your body; in other words, if your mattress leaves you sweaty, a cooling cover may offer some relief.
Cooling Pillows and Sheets:
Another way to augment your mattress? Get pillows and sheets that are made from breathable fabrics, allowing more opportunities for your body heat to escape and dissipate. Linen and organic cotton are especially good options.
Cooling Mattress Toppers:
Mattress toppers can add firmness to your existing mattress; or, in other cases, make a firm mattress feel a bit plusher. But when choosing a mattress topper, you can also seek cooling, breathable materials that provide greater opportunity for airflow. Again, organic fabrics are often the way to go.
Summary of the Best Cooling Mattresses of 2023