Before: A Plain Dresser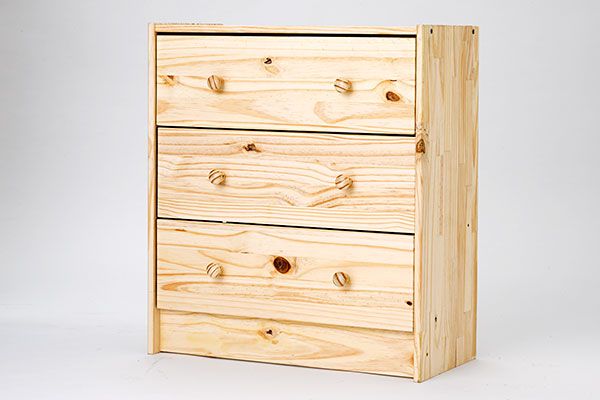 Anything can inspire a furniture makeover—a bold paint color, for instance, or a favorite wallpaper. But sometimes the finishing touches can be the starting place for a whole redo. After spotting a range of handsome vintage-inspired pulls and knobs, we were so charmed that we used them to build out complete looks for a plain flat-pack dresser. From mid-century conical knobs to Victorian-style drop pulls, these hardware pieces have such distinct styles that it's easy to let them inform a total transformation.
Of course, you can use any piece of furniture to re-create the looks shown on these pages, though solid wood offers more versatility for adding stain and custom skirt cuts than MDF might. But no matter your canvas, the looks here offer such a big style boost, it's hard to believe their roots started in anything so small.
Shown: Rast chest, about $35; IKEA.
DIY Mid-Century Modern Dresser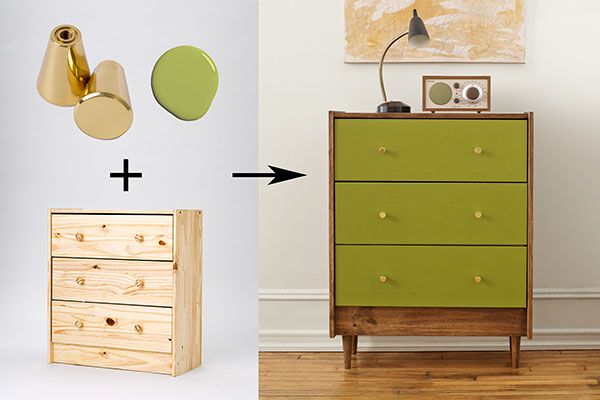 Gleaming brass knobs in a sleek cone shape recall the days of Mad Men and Sputniks. To match the look, we warmed up the dresser's frame with a walnut stain—a mid-century classic—and added tapered legs. Olive-hued paint on the drawers creates an eye-catching contrast.
Shown: Deltana cone cabinet knobs in brass, about $6 each; build.com. 6-inch white pine legs, about $10 each; tablelegs.com. Minwax Dark Walnut stain, about $9; The Home Depot. Dutch Boy's Submarine
WATCH THE HOW-TO VIDEO FOR THIS PROJECT: How to Make a Mid-Century Modern Dresser
DIY Art Deco-Style Dresser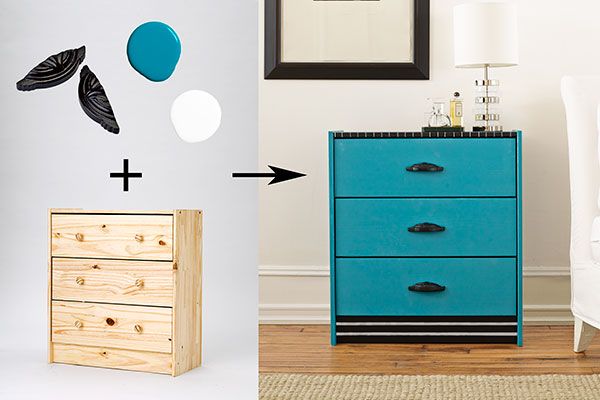 Streamlined Jazz Age bin pulls in a black finish are highlighted by an allover coat of showstopping teal. Graphic gray stripes on black bands suggest the style's signature metallic inset details and add dimension to the chest's recessed kickplate and top edge.
Shown: Art Deco solid iron bin pull, about $10 each; LookInThe Attic & Company. Glidden's Hawaiian Teal and
WATCH THE HOW-TO VIDEO FOR THIS PROJECT: How to Make an Art Deco Dresser
DIY Cottage-Style Dresser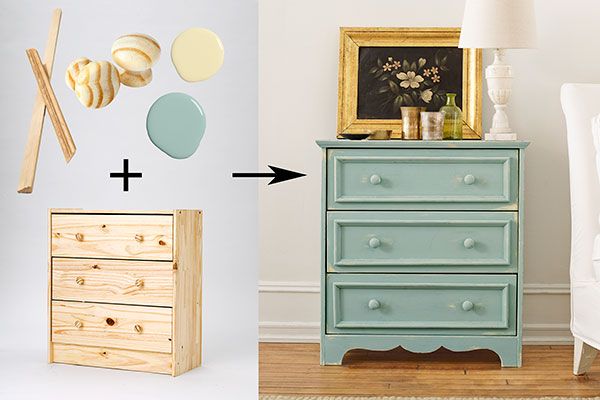 The chest's existing wood knobs inspired this charming redo. Pushing the kickplate forward made room for a scrolling jigsaw cutout to create an apron-front style. Nose-and-cove molding frames on the drawer fronts and a cornice made from solid crown molding finish the look. For a timeworn patina, we painted everything pale yellow before topping it with soft blue; then we sanded in spots to reveal the color beneath.
Shown: Wood knobs, included with IKEA Rast chest; IKEA. Solid crown molding and nose-and-cove molding, available at most hardware stores. Maison Blanche's Jolie Blonde and Maison Blanche's Creme De Menthe.
WATCH THE HOW-TO VIDEO FOR THIS PROJECT: How to Make a Cottage Dresser
DIY Victorian-Style Dresser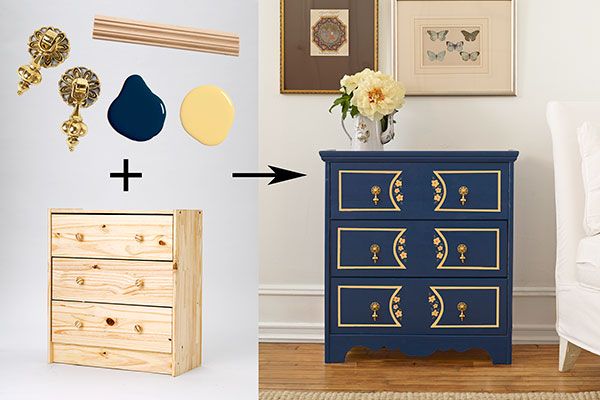 Dainty drop pulls invite intricate embellishments, such as the tray-style top wrapped with solid crown molding and a curvy jigsaw-cut apron front made by moving the kickplate to the fore. Inky navy-blue paint sets the stage for multihued details, including faux panel trim in buttery yellow and stenciled floral designs that bring the focus front and center.
Shown: Small William and Mary pendant pull with floral backplate, about $7 each; House of Antique Hardware.
Solid crown molding, available at most hardware stores. Clark + Kensington's Dark Diversion and
Clark + Kensington's Golden Ticket
WATCH THE HOW-TO VIDEO FOR THIS PROJECT: How to Make a Folk Victorian Dresser
DIY Campaign-Style Dresser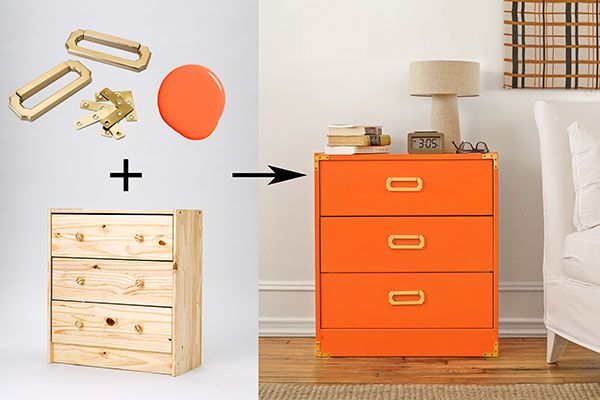 Swinging campaign pulls and brackets anchor this minimalist dresser that was inspired by the 1970s revival of turn-of-the-century traveling furniture. Pushing the kickplate to the dresser front and building out the top edge with thin shelf-edge molding creates a perfectly boxy surface for brassy corner brackets—after a high-gloss coat of orange, that is.
Shown: Champagne bronze pull with four corners, about $8 for a set; The Home Depot and
Sherwin-Williams' Obstinate Orange
WATCH THE HOW-TO VIDEO FOR THIS PROJECT: How to Make a Campaign Dresser