Each product we feature has been independently selected and reviewed by our editorial team. If you make a purchase using the links included, we may earn a commission.
Curious if a flippable memory foam bed like the Layla will suit you? This unique and versatile memory foam mattress is meant to be flipped, so you can choose your ideal firmness level. Layla mattress review explores why this one of the best affordable mattresses out there if you want to reap the benefits of firmness level flexibility without overextending your mattress budget—queen-sized Layla mattresses are often on sale for under $1,000. We've broken down what testers had to say, including the sleep positions the mattress best suits and how Layla rates for co-sleepers, sleepers with back pain, hot sleepers, and beyond. Read on to explore for whom mattress reviewers most recommend the Layla and why.
Affiliate Disclosure:This Old House's Reviews Team is committed to delivering honest, objective, and independent reviews on home products and services. To support this business model, This Old House may be compensated if you purchase through links on our website.
Pros and Cons of Layla
| Pros | Cons |
| --- | --- |
| You get a soft mattress and firm mattress in one | All-foam mattresses like the Layla won't have as much airflow as mattresses with an innerspring layer |
| Copper-infused memory foam has antimicrobial properties | There's a slight off-gassing smell when the bed is initially opened |
| Layla backs its durability with a lifetime warranty | |
| One of the best memory foam mattresses for the price | |
| Pros | Cons |
Layla is an elegant solution for those who find it hard to commit to either a firm or soft mattress. For that reason, Mattress Advisor reviewers especially love the flippable Layla for indecisive memory foam lovers and sleepers who like to mix it up. The mattress also tested well in categories that testers said make it a great match for couples and those with back pain. Anyone looking for a high-quality affordable mattress can get great value from Layla as well.
The soft side of the mattress is exceptionally well-suited for solo side sleepers, as the plush comfort layers will cradle pressure points on the shoulders and hips. On a firmness scale of 1 to 10, testers rated the soft side a plush 4 out of 10, and clocked the firm side at a 7 out 10. On the firm side of the Layla, testers said you still get excellent pressure-relief, but with more reinforced-feeling edges and better support for the spine.
The solid spine support on Layla's firmer side allows the mattress to also cater to stomach and back sleepers. Key for stomach and back sleepers is a mattress that's supportive enough to keep the hips from slumping out of alignment with the back, which Layla's firm side achieves well (testers rated spinal alignment 9 out of 10).
However, one thing to note is that body weight (and thus the amount of force you exert on the foam) will affect the bed's feel. For example, lightweight sleepers might feel ultra-firm support on Layla's firm side and medium-soft support on Layla's soft side.
Conversely, heavier sleepers may experience the firm side as more akin to a medium or medium-firm. Fortunately, if you find that neither side meshes with you, you have 120 days to return the Layla scot-free and a lifetime warranty to back the bed's longevity.
Unlike the more pleasant "new car smell," Layla may expel an unpleasant "new mattress smell" upon unboxing, typical of bed-in-a-box brands made with foam. Fortunately, the smell dissipates fairly quickly, and isn't the result of harmful chemicals, per Layla's use of 100% CertiPUR foams. The Layla mattress is also snoozable on any type of bed frame from a box spring to your DIY storage bed frame. That's good news if you don't want to upheave your whole bedroom design when you replace your mattress.
Highlights of the Layla
Material: Dual-comfort memory foam build
Firmness: Firm (7/10) on one side, and soft (4/10) on the other
Customer Rating: 4.5/5
MA Score: 8.8/10
Trial Period: 120 nights
Warranty: Lifetime
MA Score: The Mattress Advisor Score is a weighted score that takes into account 14 different factors related to the mattress' performance, function, convenience and the brand's social responsibility.
Layla Mattress Features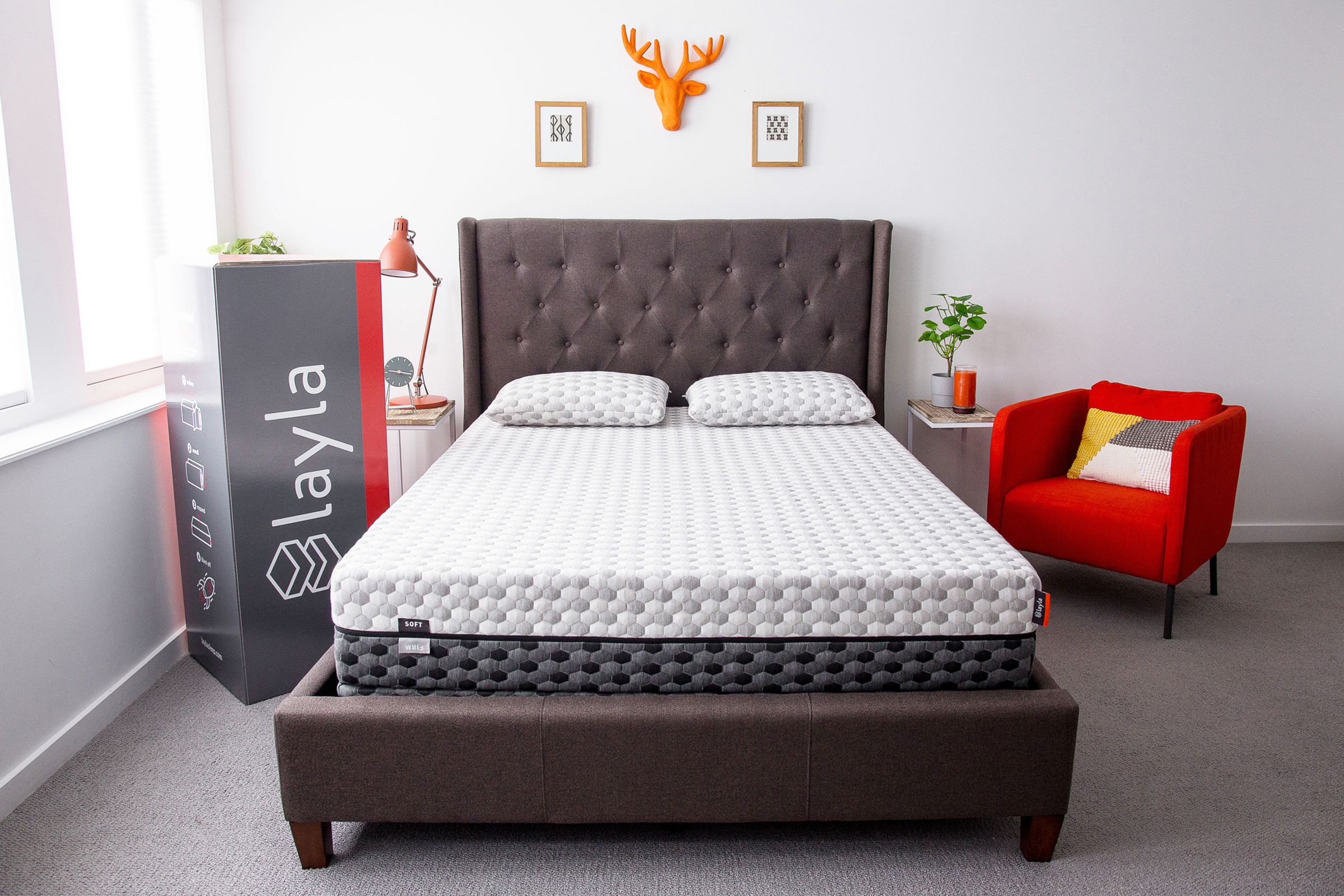 The stakes are high when selecting a new mattress given how vital it is to get a good night's rest. Many factors will most likely influence your mattress choice, like whether you sleep alone or with a partner, if you sleep hot, and if you need support or pressure relief for an achy back or joints.
We unpacked Mattress Advisor testers' feedback to highlight how the Layla mattress performs in these areas, among others.
Motion Isolation:
Layla's memory foam build lends itself to exceptional motion isolation (testers awarded 8.5 out of 10 points in the category). You may feel slight movement when your partner or pet switches positions or leaves the bed, especially if you sleep atop the more firm side, but overall, motion transfer is very limited.
Edge Support:
With a 9 out of 10 edge support rating, testers were impressed with Layla's robust perimeter, especially on the firm side. The bed's durable base also gives solid edge support on the soft side. However, sleepers, especially heavier sleepers and those who migrate to their bed's outskirts will likely prefer Layla's firm side.
Firmness:
Layla has dual firmness levels, with a 7 out of 10 rating on the firm side and 4 out of 10 on the soft side. The sides' firmnesses are color-coded and labeled, so you won't have to guess which side is which. It's cumbersome but still possible to flip the mattress (a queen weighs 69 pounds) on your own, but having a helper is ideal.
Pressure Relief:
An all-foam construction gives excellent pressure relief (9 out of 10) on both sides of the mattress. If you also experience back pain, the firm side is probably your better bet to keep the hips aligned with the spine, alleviating pain. Although both sides hug and cradle the body, Layla's firm side gives more of a feeling of being "on" the mattress, rather than nestled in.
Temperature Regulation:
Layla's copper-infused memory foam helps the mattress sleep cooler than typical memory foam. Layla's cover also uses ThermoGEL, a cooling agent, to help you sleep more crisp in warm temperatures. If you sleep especially hot, we recommend pairing the Layla with the brand's cooling, moisture-wicking bamboo sheets.
Sleeping Positions Best for the Layla
A mattress that suits the position you doze off in might be the most important factor to weigh. Be sure one or both sides of the Layla can accommodate how you—and any co-sleepers—typically sleep before replacing your old mattress. Fortunately, Layla's flippability makes the mattress more versatile and accommodates a broad range of sleep styles.
Side Sleepers
Either side of the Layla should work well for average-weight side sleepers, and the side you choose—soft or firm—will be a matter of personal preference. Lighter side sleepers may not get enough firm cushioning and prefer to sink in more on the soft side. Likewise, heavier side sleepers may prefer the firm side, if they sink too deep into the soft side.
Back Sleepers
Layla's robust foam core and transition layers offer a solid balance of lift and contouring, making the bed, especially its firm side, a solid option for back sleepers who seek cradling pressure relief and a well-aligned spine.
Stomach Sleepers
Lightweight and average-weight stomach sleepers should find plenty of support foam on each side of the Layla, and choosing a side is mostly a matter of preference. However, heavyweight stomach sleepers may prefer a more firm, supportive mattress, if the hips sink too low on either side.
Combination Sleepers
Layla's foam is faster to reform than typical memory foam mattresses, making it a good fit for combination sleepers. Testers gave the bed a near-perfect 9.5 out of 10 responsiveness score in the mattress lab. You'll especially feel Layla's good bounce on the firm side.
Layla Mattress Materials
Layla's flippable build gives the bed a unique construction.
Cover – Layla starts with a soft, stretchy cover in the brand's signature honeycomb pattern. The cover is made with a blend of polyester, rayon, viscose and poly/lycra.
Comfort layers – Regardless of which side you sleep on, Layla's main comfort top layer will be memory foam infused with copper (the pieces of copper are too small to feel, but add a heat transfer effect).
Soft side comfort layer – On the soft side of the Layla is a thicker, 3-inch layer of memory foam, followed by transition foam.
Firm side comfort layer – On the firm side, a simple 1-inch memory foam layer separates your body from Layla's base.
Base layer – Four inches of high-density polyfoam comprise Layla's support core, which also adds to the bed's longevity.
More About Layla
As with any large purchase, there are practical aspects to consider. Here's a bit more about Layla's policies and track record to help you make a smart investment.
Eco-Friendly Materials
Layla memory foam mattresses use foams that pass CertiPUR-US inspection, so it's a solid purchase for the eco-conscious consumer. However, if you want to go above and beyond, consider a mattress furnished with materials like natural latex and wool.
Price Point
Compared to similar brands and models, the Layla is truly a bargain. The memory foam mattress has a high-quality build, flippability, and an overall attractive design and look. All of that is attainable for a more affordable price point (the mattress is frequently on sale for under $1,000) than a lot of its competition.
Free Shipping and Returns
Mattresses are made-to-order within 3-5 business days, and ship for free (including returns within 120 days) if you live in the continental United States.
120-Night Trial Period
A four-month sleep trial is slightly more generous than the usual 100 day return policy offered in mattress world. That means you'll have plenty of time to test both sides of the Layla and decide if it's a good fit.
Lifetime Warranty
Layla offers a generous lifetime warranty, well above the industry standard 10-15 years, so you're covered in the event of excessive sinkage. Granted, a lifetime warranty is only worth its weight if the company backing it thrives. Layla has been in business since 2016 and shows no signs of slowing, launching its second mattress, a hybrid, in 2020.
Layla Hybrid Mattress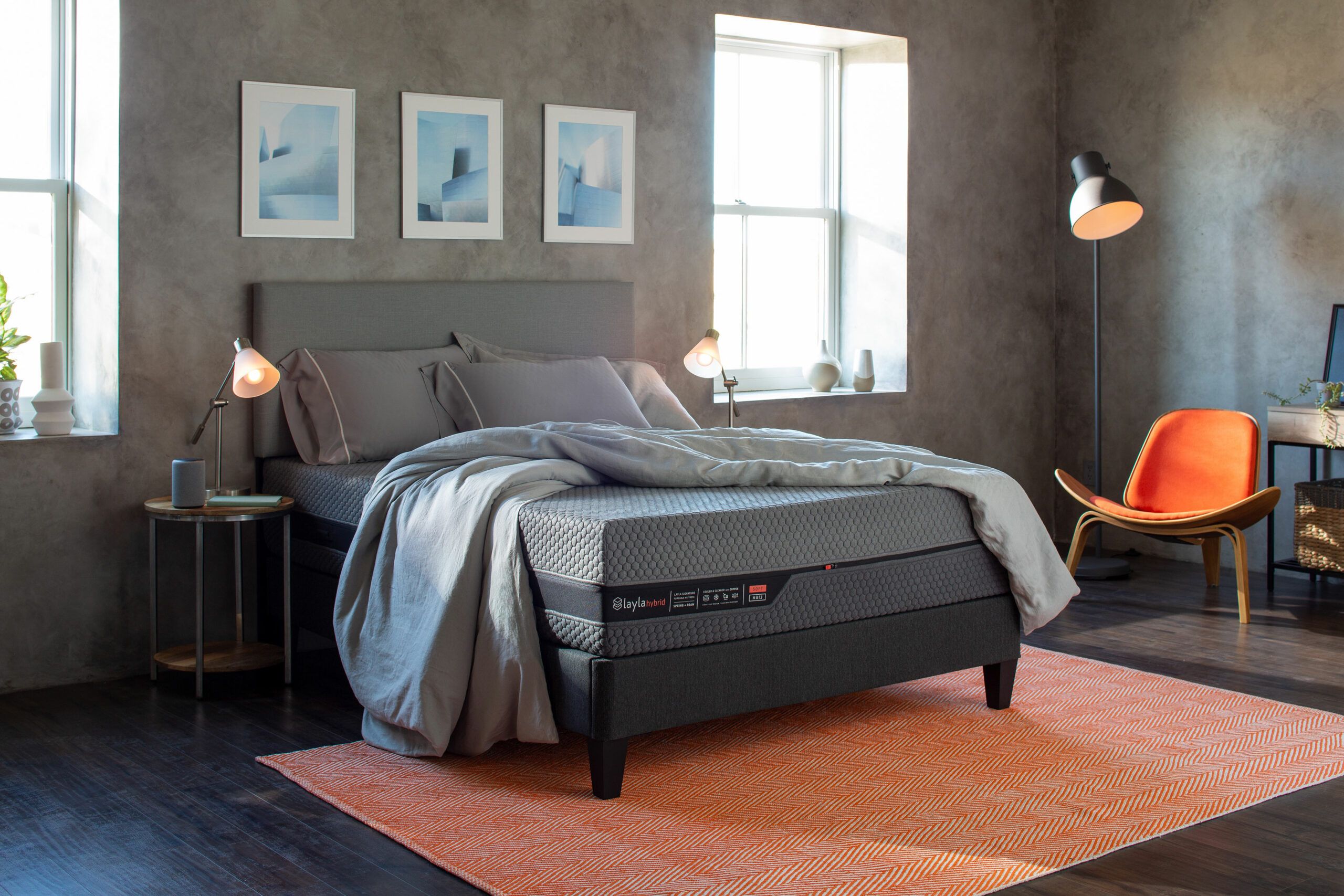 Want a sleep experience with multiple firmness options, but one that offers more support? Mattress Advisor suggests you consider the Layla Hybrid. Layla's newer model also boasts the brand's signature flippability, but includes one big addition: innersprings. The added support layer of innersprings is excellent for back and stomach sleepers, heavier sleepers, and combination sleepers who like a lot of bouncy responsiveness. As a hybrid bed, you'll still get the comfort of cushioning foam layers on each side. The bulkier Layla Hybrid includes handles on the cover, so that it can be flipped more easily.