Each product we feature has been independently selected and reviewed by our editorial team. If you make a purchase using the links included, we may earn a commission.
Buying a new mattress is exciting, carrying the promise of better, more comfortable sleep. It can also create concerns about spending some serious cash. Picking out a new mattress doesn't mean you have to compromise your budget–the best affordable mattress will combine top-of-the-line designs and features with a great price. You can get all of the comfort you need for the price tag you deserve, with cash left over for your bedroom renovation projects. Whether you're looking to upgrade your guest room mattress or create a personal sleep retreat, there's a mattress in your price range out there for you. From luxury materials to back pain relief, there's something for every sleeper in this guide.
Affiliate Disclosure:This Old House's Reviews Team is committed to delivering honest, objective, and independent reviews on home products and services. To support this business model, This Old House may be compensated if you purchase through links on our website.
Best Affordable Mattress – Our Top Picks
Best Overall – Nectar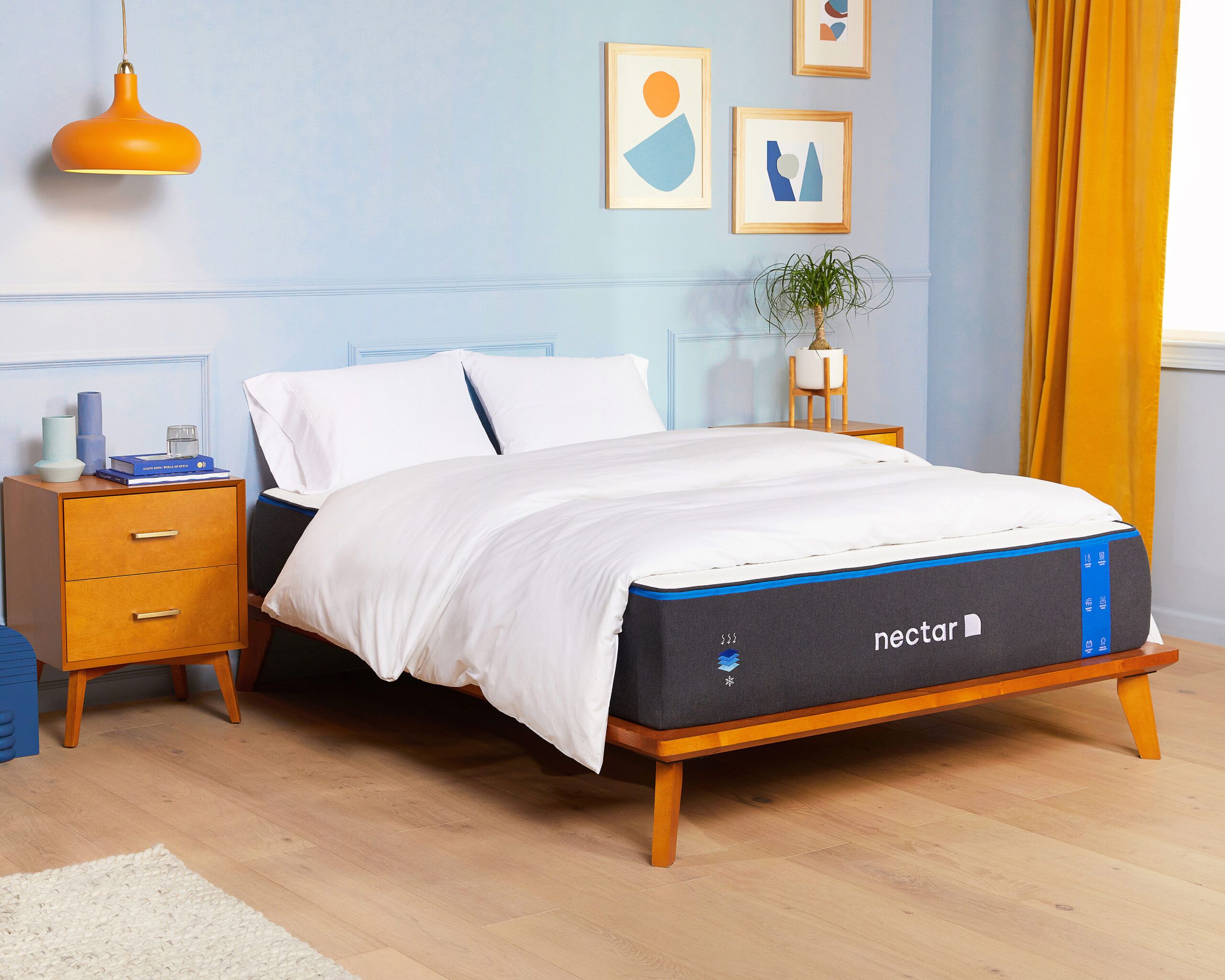 When it comes to getting the most out of your mattress purchase, Nectar arguably provides some of the best value and pricing in the online mattress space. When it's on-sale, this memory foam mattress is $1,000 and has some incredible perks like its lifetime warranty and a full year-long sleep trial with your purchase. Nectar uses a gel memory foam to help mediate body heat, and each foam layer is expertly crafted to help alleviate pressure points (8.5 out of 10) for the perfect balance of cushion and support–making it an ideal choice for side sleepers who need to keep weight off their hips and shoulders.
Material: Memory foam
Firmness: Medium (6/10)
Customer Rating: 4.8/5
Delivery: Free shipping
Lifetime Warranty
Pros and Cons of the Nectar
| Pros | Cons |
| --- | --- |
| Solid test scores for motion isolation, pressure relief, and responsiveness | Exceptionally hot sleepers may prefer the breathability of a mattress with innersprings |
| A great option for couples | |
| Budget-friendly | |
| Pros | Cons |
Best Mattress for Back Pain – Helix Midnight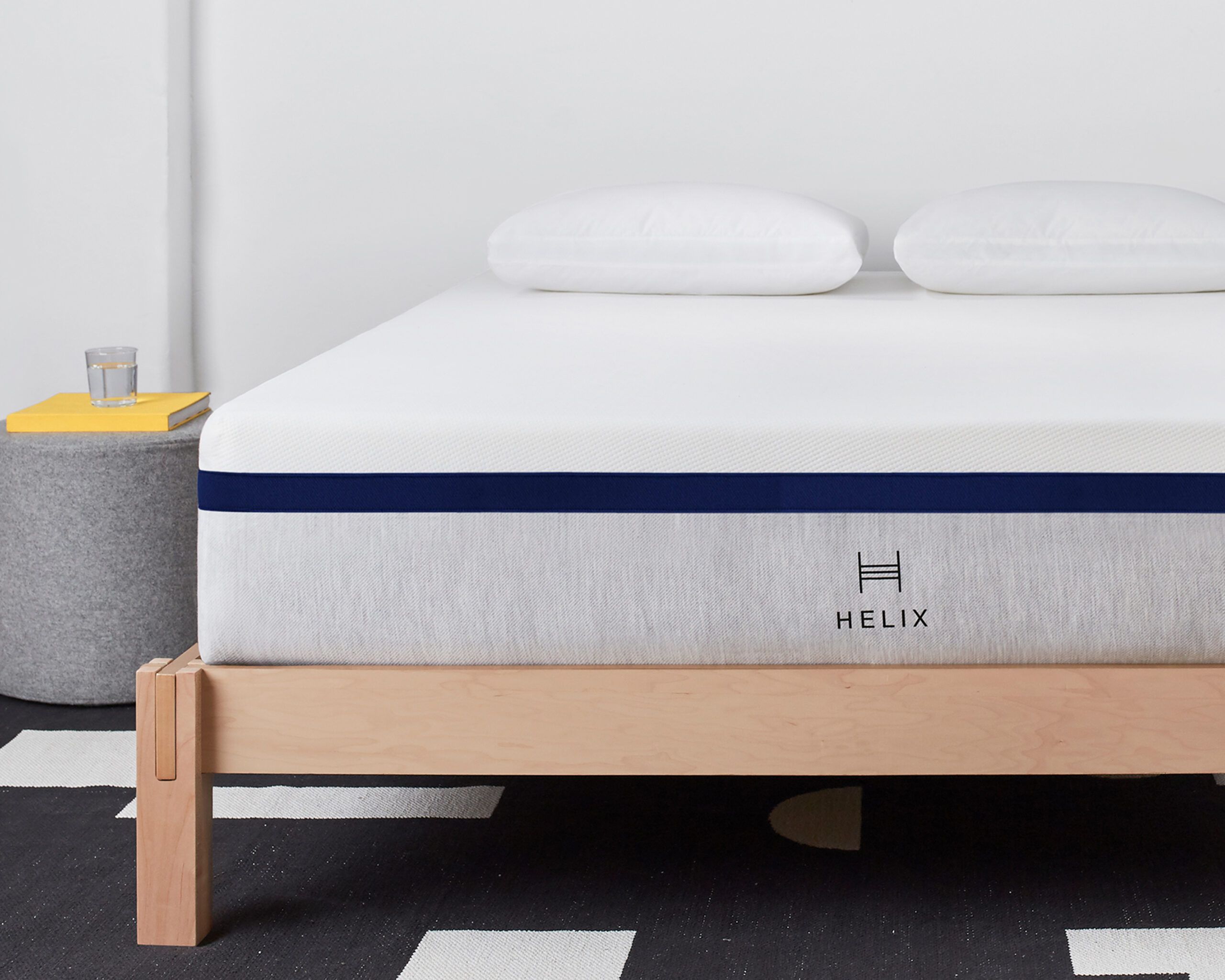 If you suffer from recurring back pain, a good night's sleep can feel priceless. Thankfully with the Helix Midnight, you can get a supportive hybrid mattress without paying top dollar. Using foam and innerspring coils, testers applauded its ability to keep the spine supported (8.75 out of 10) and the strain off your lower back, hips, shoulders, and neck (8.5 out of 10 for pressure relief). Earning a perfect 10 out of 10 in edge support, the Helix Midnight is also a great choice for those who like to sprawl out in bed and want to avoid rolling (or pushing their partner!) off of the bed.
Material: Hybrid
Firmness: Medium (5/10)
Customer Rating: 4.5/5
Delivery: Free shipping
Warranty: 15-year limited
Pros and Cons of the Helix Midnight
| Pros | Cons |
| --- | --- |
| Cooling features built in for hot sleepers | Not great for those who prefer the hugging of a memory foam bed |
| Responsive enough for combination sleepers | |
| Excellent edge support | |
| Pros | Cons |
Best Mattress for Side Sleepers – Layla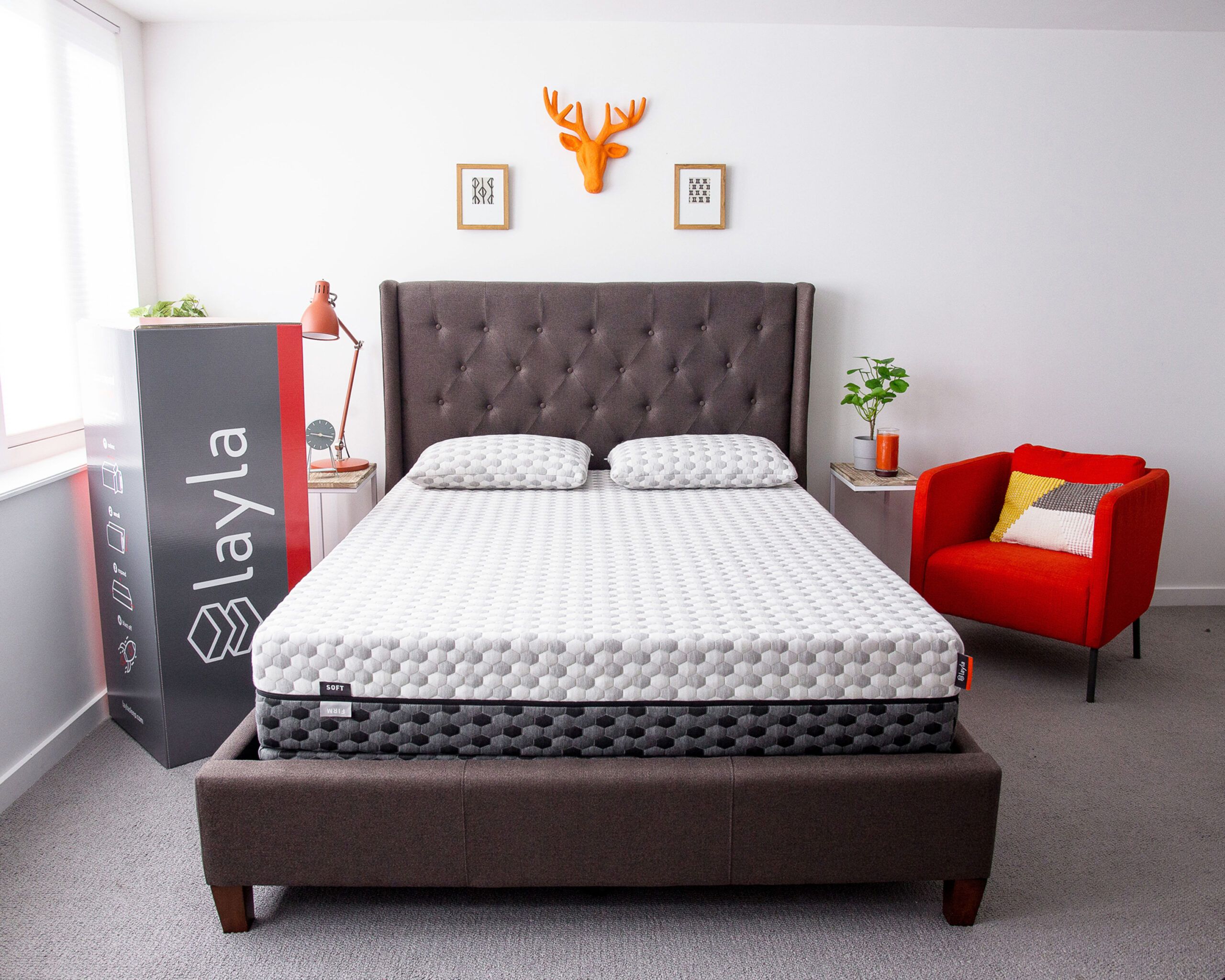 If you're a side sleeper looking for the best cheap mattress that supports your pressure points the Layla presents a value that's hard to beat. Sleeping on your side requires ample shoulder and hip support to stop you from sinking into the mattress and avoid feeling bunched-up or (worse) even causing back and joint pain. Layla's two-sided "flippable" design gives you a choice between a firmer and a softer side, so you can customize your mattress based on your sleep needs. Both work well for side sleepers, and testers found both sides performed well when it came to needed pressure relief (9 out of 10) and lumbar support (8 out of 10). With the Layla, you essentially get two beds in one and all for a very reasonable price point.
Material: Memory foam
Firmness: Medium-soft (4/10) and medium-firm (6/10)
Customer Rating: 4.5/5
Delivery: Free shipping
Lifetime Warranty
Pros and Cons of the Layla
| Pros | Cons |
| --- | --- |
| Two firmness options | Those who sleep hot may want to avoid an all-foam mattress |
| Offers a classic memory foam feel | Plus-size sleepers may not feel supported enough with the Layla's foam build |
| Pros | Cons |
Best Cooling Mattress – Cocoon Chill
Nobody likes to wake up feeling sticky and sweaty. If you're someone who sleeps hot, it's crucial to find a cooling mattress that protects you from overheating. Completely made of memory foam, testers found it helped them stay cool throughout the night. The secret: The Chill's memory-foam layer is covered with a cool-to-the-touch material that promotes breathability and airflow while absorbing heat. The Chill is a great match for couples, achieving a top motion isolation score (9 out of 10) while dispersing excess body heat.
Material: Memory foam
Firmness: Medium-firm (6/10)
Customer Rating: 4.7/5
Delivery: Free shipping
Warranty: 10-year limited
Pros and Cons of the Cocoon Chill
| Pros | Cons |
| --- | --- |
| Cooling materials absorb excess heat | There is a low weight limit, so heavier people might not find the support they need |
| Excellent motion isolation and cooling for couples | |
| Top-notch responsiveness makes the Chill a great pick for combination sleepers | |
| Pros | Cons |
Best Mattress Under $1,000 – Tuft & Needle
Tuft & Needle's affordable memory foam mattress is designed to support any sleep position and body type. Testers found its foam layers gently hug around the body for a cushioning night's rest while still adapting your movements (8 out of 10 for responsiveness). The result is a mattress that springs back quickly once pressure is applied while still keeping your back uplifted and your body supported. Coming in under $1,000, this budget mattress offers superior responsiveness and high-quality materials.
Material: Foam blend
Firmness: Medium-firm (6/10)
Customer Rating: 4.6/5
Delivery: Free shipping
Warranty: 10-year limited
Pros and Cons of the Tuft & Needle
| Pros | Cons |
| --- | --- |
| Solid lumbar support | Hot sleepers may still feel too warm on its all-foam construction |
| Foam layers efficiently absorb excess motion to keep the bed stable | Those who sleep near the edge of the bed may prefer a mattress with more robust support |
| Highly responsive to motion, which is helpful for couples and combination sleepers | |
| Pros | Cons |
Best Hybrid Mattress – Brooklyn Bowery Hybrid
Hybrid mattresses use many types of materials to capitalize on the best of what each has to offer. Hybrids tend to be pricier, but the Brooklyn Bowery offers all the perks of a hybrid design without a sky-high price point. Balancing the breathability of porous foam with durable innerspring coils creates a mattress that is both cooling and supportive for the lumbar area (8.75 out of 10 for spine alignment). Plus, the Brooklyn Bowery is excellent with motion transfer, so you won't have to worry about waking your partner as you move around throughout the night (8.75 out of 10). The targeted pressure relief and optimal support are on par with more expensive hybrids but at a far lower price.
Material: Hybrid
Firmness: Medium-firm (6/10)
Customer Rating: 4.8/5
Delivery: Free shipping
Warranty: 10-year limited
Pros and Cons of the Brooklyn Bowery Hybrid
| Pros | Cons |
| --- | --- |
| A great pick for back sleepers | Combination sleepers may not feel the mattress offers enough responsiveness, or give-and-take |
| Top scores in cooling, spine alignment, and motion transfer testing categories | Side sleepers may require more pressure relief |
| Pros | Cons |
Best Latex Mattress – Dreamfoam Elements Latex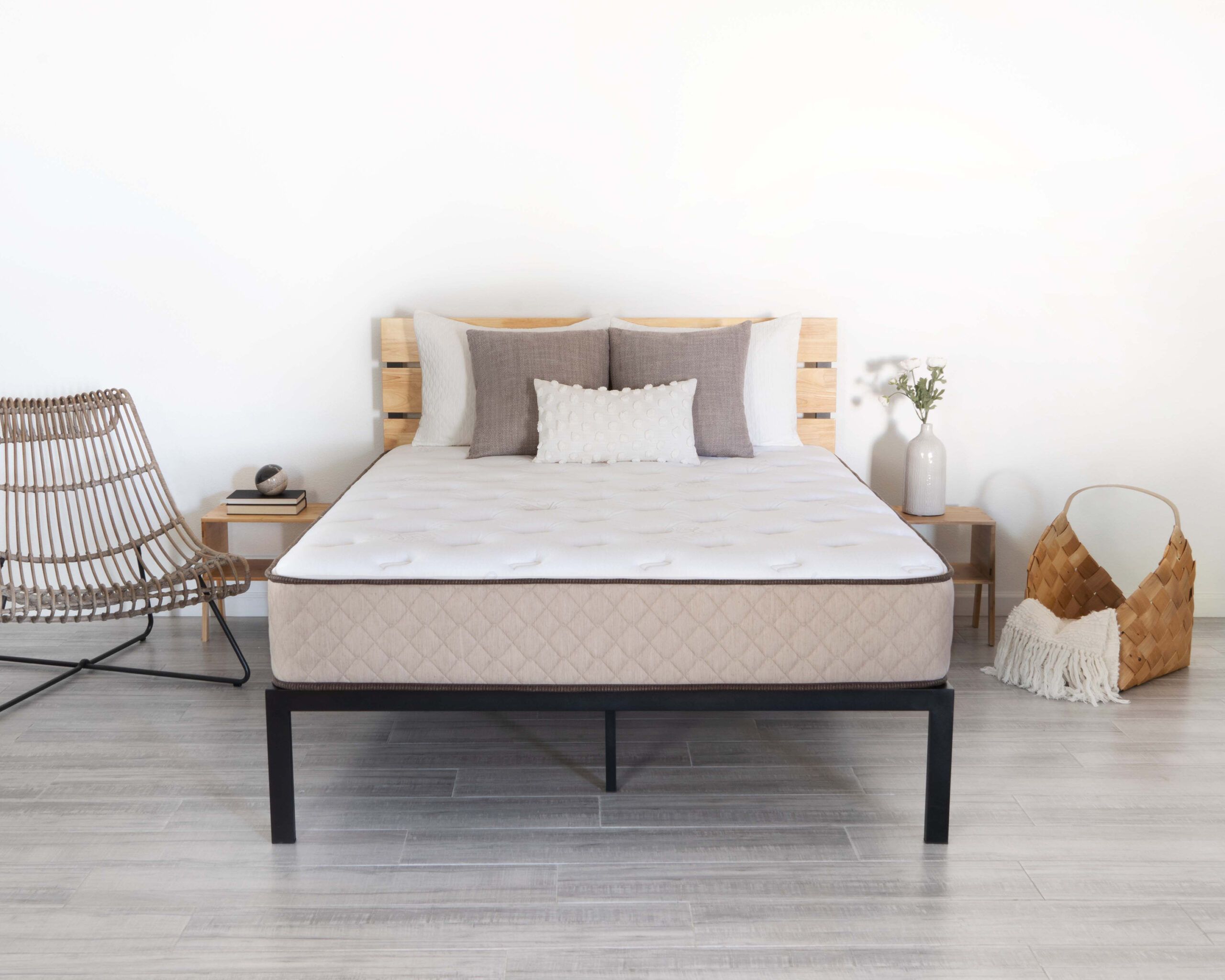 Latex is known for its natural, cooling and responsive qualities–it also happens to be one of the more expensive mattress materials available. The Dreamfoam Elements Latex is an eco-friendly budget mattress that provides sleepers with the pressure-relieving, responsive feel of latex (8 out of 10), minus the high price point. This hybrid relies on innerspring coils with latex foam, ensuring plenty of airflow to keep you cool (8.5 out of 10). Testers noted that DreamFoam Elements Latex did a good job of preventing pressure from compounding around sensitive joints–helpful for side sleepers and those with joint pain (8.7 out of 10).
Material: Latex foam hybrid
Firmness: Soft (4/10), medium (6/10), and firm (8/10)
Customer Rating: 4.5/5
Delivery: Free shipping
Warranty: 10-year limited
Pros and Cons of the Dreamfoam Elements Latex
| Pros | Cons |
| --- | --- |
| Customizable firmness | Doesn't provide the best support for edge-of-bed sleepers |
| Great pressure relief | |
| Latex is hypoallergenic, which is an ideal mattress for sleepers with allergies | |
| Pros | Cons |
MA Score: The Mattress Advisor Score is a weighted score that takes into account 14 different factors related to the mattress' performance, function, convenience and the brand's social responsibility.
Buying the Best Affordable Mattress for your Budget
What makes one mattress more expensive than the next? Often, the main factor is the materials used in its construction. Different certifications like CertiPUR-US can make a mattress a bit more expensive but still attest to its quality.
Type of Mattress
Memory foam: Memory foam is one of the less expensive mattress materials, and is a great choice for anyone who values motion transfer, edge support, and pressure relief. Memory foam's plush, contouring feel is exceedingly popular, but there is one drawback: Mattresses made from foam tend to trap heat more than other mattress types.
Innerspring: An innerspring mattress consists of metal coils, capped with a top foam layer for comfort. The coils promote stability and circulate air within the mattress, though innerspring beds can lack the motion isolation ability of a foam mattress. The price of innerspring mattresses usually hinges on the quality of the coil and the amount used.
Latex: Hypoallergenic and cooling, latex can be harder to find at a lower price point. Latex foam is a good alternative, fusing the feel of latex with the material of foam to mimic natural latex, but at a much lower cost.
Hybrid: It's harder to find a cheap mattress with a hybrid design, though not impossible. Mixing and matching different materials results in a cooling, supportive mattress that combines all of the best qualities from foam, latex, and innerspring so you can experience optimal comfort.
Performance Factors
Firmness: Mattress firmness usually doesn't impact price, but can impact spinal alignment and overall comfort. Back and stomach sleepers often need firmer mattresses, while a side sleeper requires a bit more of a plush feel. Ultimately, the firm feel you want comes down to personal preference and sleeping style.
Durability: Whether you're looking for an all-foam mattress or something with springs, premium materials can guarantee that your mattress lasts–saving you money in the long run.
Motion transfer: For couples, motion transfer is crucial. This basically measures the extent to which your sleeping partner feels your movements in the night.
Temperature regulation: Keeping your body well-regulated throughout the night is essential to waking up feeling refreshed. Even a budget mattress can promote airflow and draw heat away from your body, preventing you from overheating.
Pressure relief: Foam beds like the Tuft & Needle mattress and the Leesa mattress are well-known for their targeted pressure point relief, avoiding pressure on sensitive or sore joints.
Spine alignment: It's important to find a mattress that will help you maintain a straight spine, minimizing any stiffness or pain upon waking.
Online Shopping
Sleep Trial: Online mattress providers offer a set trial period, allowing you to test out your mattress to make sure it's to your liking. If you find the mattress to be unsatisfying, you can return it within that sleep trial window and get your money back.
Warranty: Mattress manufacturers will give you anywhere from 10 years to a lifetime, backed by solid consumer warranties. These can give you some peace of mind as you consider purchasing a new bed.
Shipping: Most online mattress companies will ship their product for free no matter the price range. A few even throw in white-glove delivery and setup, though this is usually toward the more expensive end of the price spectrum.
FAQ About the Best Affordable Mattresses
What's the best time of year to score the best deal on an affordable mattress?
You can often get the best deals on major shopping holidays–think Black Friday, Cyber Monday, Memorial Day, Labor Day, President's Day, and the Fourth of July.
Can you save more money shopping for a mattress online than in-store?
Absolutely! Online mattress sites usually offer lower price points, coupon codes, free accessories, and an overall more convenient shopping experience. Many brands also provide free shipping. Overall, mattress shopping online is meant to be a painless, stress-free experience.
How do sleep trials and warranties work?
A sleep trial period gives you anywhere from 100 nights up to a whole year to try out your mattress before fully committing to it. If you do not love your new bed during this time, you can opt to return it and receive a full refund. Keep in mind though that most brands ask you to give it a thirty-day break-in period before you make your final decision. Meanwhile, warranties offer either a full refund or mattress replacement if your mattress begins sagging, losing its shape, or prematurely breaking down.
Summary of the Best Affordable Mattress