Beauty On a Budget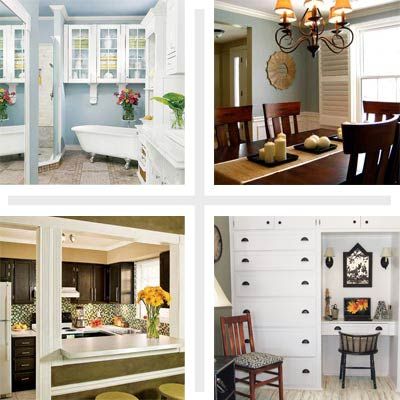 You don't need loads of cash to refresh a room! DIY is a big money-saver. Pair that good, old-fashioned elbow grease with smart shopping for materials and the results can be inspirational. See how these readers transformed a mudrooms, kitchens, dining rooms, and baths at bargain prices—without sacrificing on function or good looks.
The $564 Farmhouse Kitchen
When Jillian Woods faced her kitchen's dark rust walls and builder-grade cabinets, she figured out that opening up a room doesn't always require knocking down walls.
Jillian turned her attention to the cabinets. After removing doors from some of the upper boxes to lighten their look, she and her husband, Derek, installed a header capped with molding to add more height. A two-tone paint job—white on the uppers and gray-green on the base units—gave the cabinets a style boost. Now the room has a relaxing, more spacious feel.
See more of this budget remodel at A Farmhouse Kitchen for Cheap.
The $661 Stylish Dining Room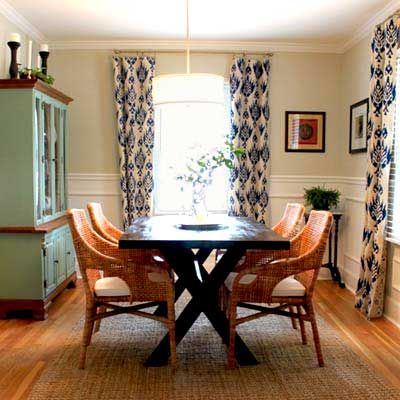 Once Amy and Chad Whited purchased their 1951 ranch house, in Durham, North Carolina, years of builder-grade finishes made them anxious to take a hammer and paintbrush to their bare dining room in hopes of making it a comfy, cozy gathering spot. New panel-frame wainscoting adds old-house charm, while wood and wicker furnishings keep the room looking warm and fresh.
See more of this budget remodel at A Stylish Dining Room Redo.
The $539 Living Room Lift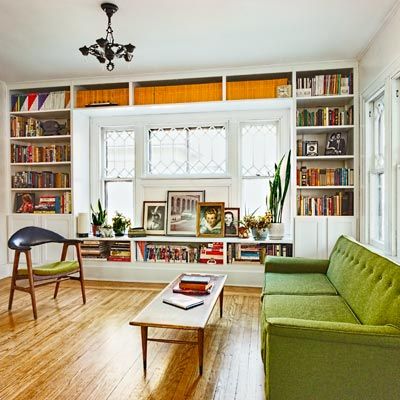 Even well-preserved period charm requires tweaking—and a little elbow grease—to bring it into the 21st century. Newlyweds Katherine and Conan Fugit found a lot to like in the living room of their 1917 house, in Wichita, Kansas.
DIY built-ins complement the original windows, and clean-lined furniture brightens the space.
See more of this budget remodel at A Living Room Lift.
The $470 Mudroom Built-In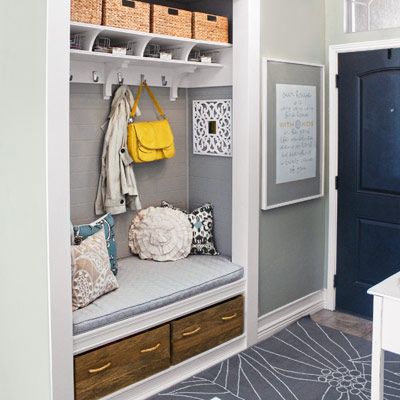 Sometimes standard issue just doesn't cut it. At Shelley and Cason Smith's Salt Lake City home, five years with no mudroom and three kids under the age of 7 had turned the poorly lit, inaccessible foyer closet into a hazard.
Over one week, the seasoned DIYers removed the door and 2 ½ feet of wall next to it to create an open alcove in the closet's existing footprint. Cason installed a medium-density-fiberboard (MDF) bench hung on a cleat of 2×4s and trimmed with molding—perfect for pulling on shoes. He built cubbies finished with corbels and hand-cut curved dividers for mail and schoolwork, leaving room at the top for baskets to hide lightbulbs, batteries, and the like. They lined the alcove with horizontal beadboard and finished it with casing and leftover paint. Two lightweight, kid-friendly poplar boxes hide everyone's shoes. The new built-in is the perfect place to enter and unload.
The $705 Powder-Room Revamp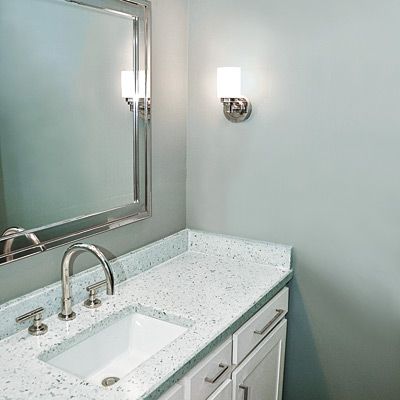 Some redos take an army, while others are best left in the hands of one enterprising DIYer. Justin Moret, 27, and the reno of the windowless half bath in his parents' 1960s lake house outside Fort Worth, Texas, fall into the latter category. A tight budget meant he wouldn't be gutting the space, but the dated sink and vanity had to go.
See more of this budget remodel at A Powder-Room Revamp on a Tight Budget.
The $50 Paneled Accent Wall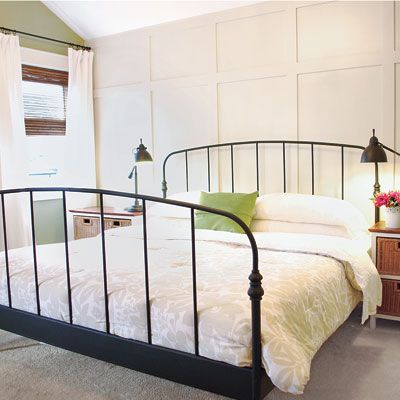 Ashli and Lee Malinek loved the Arts and Crafts-style wainscot in their front entry and downstairs study of their builder spec house. But the second floor, and their master bedroom in particular, lacked any similar flourish.
So after spotting ½×4 MDF trim for a song at the home center, the couple decided to tackle a DIY version of the downstairs paneling for the wall behind their bed. Lee took measurements, made sketches, and mocked up a few configurations on the wall before they settled on the five-panel design shown here.
See more of this budget remodel at Create a Paneled Accent Wall.
The $1,527 Kitchen Overhaul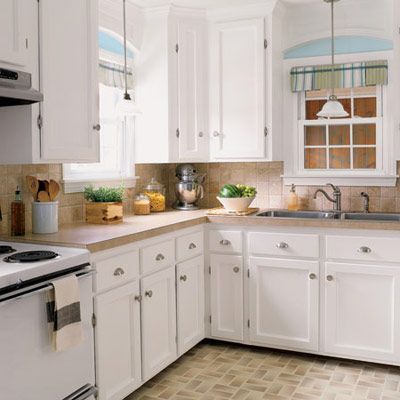 Homeowners Samantha and Bryan Langdeau, worked nights and weekends to put together a better, more efficient kitchen. New upper cabinets mean the Langdeau's no longer have to walk across the house for Tupperware and pots they used to store in a guest bedroom closet. They refaced the old base cabinets to match.
Plus, they dressed up the dated room with new brushed nickel hardware, pendulum light fixtures, and trim. "Now we find ourselves in the kitchen more often than the living room," says Samantha. "It's one of our favorite spaces."
See more of this budget remodel in A Charming Kitchen Revamp for Cheap.
The $4,000 Bathroom Transformation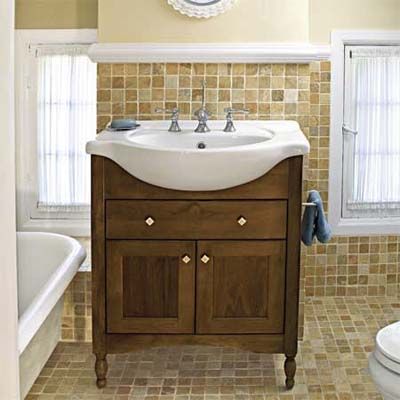 Sometimes staying flexible is the secret to renovation success. It's how Winnetka, Illinois, homeowner Catherine Karabas was able to afford her bath's overhaul. The upstairs bath in her 1921 Tudor Revival is small, but what bugged her was its look, complete with a rust-stained tub and cracked tile floor.
"It was like a gas station bathroom," she says. Catherine was already redoing the kitchen and downstairs baths when she asked contractor Charlie Schumacher to squeeze in tweaks to the one upstairs. When he offered her a stash of marble tile—left over from another job—at half price, she said yes, even though yellow wasn't her first choice. Schumacher's other money-saving idea, of keeping the 18-inch-deep tub and having it professionally cleaned, was a winner too. Now the room is her golden-toned retreat.
See more of this remodel in Budget Bath Revamp.
The $967 Mudroom Makeover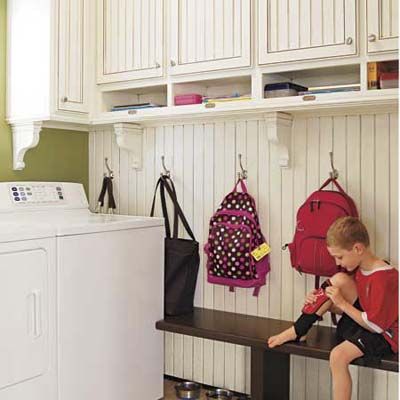 Allan Wiggins and his family of Suwanee, Georgia turned a spartan laundry into a well-appointed mudroom for less than a grand. They loved having their laundry room right off the kitchen, but it seemed like the space wasn't being put to good use. Shown here, Son Tanner, 5, gears up for soccer on the new built-in bench. New cabinets, labeled shelves, and coat hooks add function while beadboard paneling and curved corbels lend some charm.
Allan saved money by building the cabinet boxes, and finishing the installation himself. The new mudroom provides plenty of storage space for laundry detergent, pet food, bulk supplies, and the kids' school and sports gear.
See more of this budget remodel in A Low-Cost Mudroom for Tidying Up Kids' Gear.
The $1,474 Dining Area Do-Over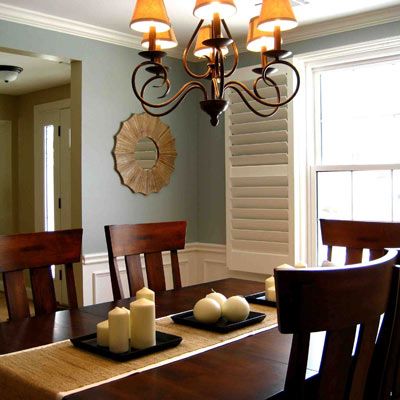 For J.K. Pfannmuller and her husband, the dining room in their 1985 Colonial Revival was a high-traffic area that needed a lot of work. With a kitchen short on eating space, they needed a dining spot for regular meals as well as entertaining, so they wanted to give it a "formal air but casual feel."
The laminate floor and baseboards were in good shape, so the couple turned to the walls, rolling a gray-blue above the chair rail before adding crown molding. Wall frames made of panel molding glued in place created a low-cost wainscoting. All of the trim and the lower portion of the walls were coated with a white semigloss to complement newly installed shutters, and wood furniture warmed up the room's cool tones. A new chandelier and a pair of lamps, tied together by their natural-fabric shades, add a soft glow to complete the transformation.
See more of this budget remodel in A Warm, Welcoming Dining Space For Less.
The Craigslist Kitchen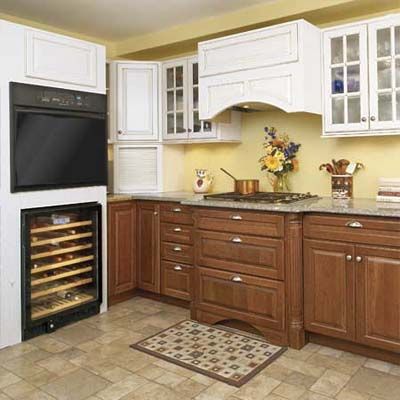 You spend weeks painstakingly picking cabinets and researching countertops…or, sometimes, you just get lucky. During a remodel, a couple from Massachusetts ran across an ad for a kitchen showroom that was relocating and selling off a complete floor model. They were doubtful, but checked it out anyway—and it worked! They got base and upper cabinets, plus additional cabinetry, trim, side panels, and appliances, all for less than $7,000.
See more of this budget remodel in "We Found Our Dream Kitchen on Craigslist!"
The $6,000 Vintage Bath
If the bath of your dreams seems out of reach, you've typically got two choices: Cut corners or compromise. Or, you could follow Susan and Mark Nitchman's lead and get creative—and a little dirty. For this couple, affording a spa-like retreat for their 1876 Queen Anne in St. Charles, Missouri, started with bidding their contractor farewell once the drywall and subfloor were in.
Susan and Mark resolved to do the finish work themselves to stay under the $6,000 cap they'd set for completing their master bath addition filled with high-end fixtures and finishes, such as a claw-foot tub, marble tile floors, a generous glassed-in shower, and a furniture-style vanity. And because there were no existing materials to preserve, they also knew they'd have to be resourceful—shopping garage sales, building all the cabinetry, even making their own trim.
See more of this remodel in Vintage Bath on a Budget.
The Affordable Home Office Addition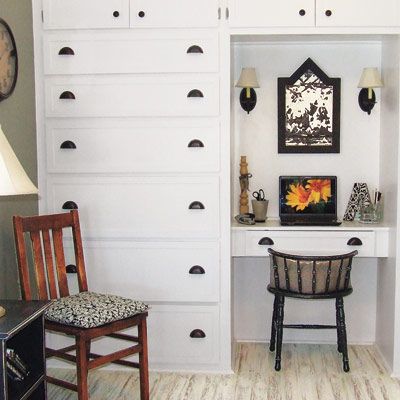 Unlike the rest of this 1916 home, this room's good bones were buried under 1950s "updates": pale pine slab-front cabinets that were chipped, and fir floors with a crazy tricolor painted border beneath ugly brown carpeting. Kelly and Wayne Averbeck in Jerome, Idaho, gutted the room and left the built-in intact. A contractor hung new Sheetrock on the walls. White paint and dark pulls refreshed the built-in, while a faux-grain floor and repro sconces added to the space's vintage charm.
See more of this budget remodel in An Office Update With Vintage Appeal.
The New $967 Kitchen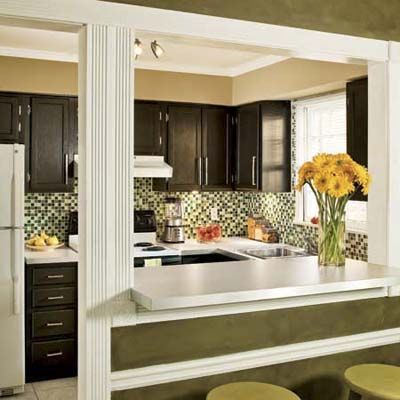 With kitchens, simple does not necessarily equal streamlined. For homeowners Eduardo Perez and Moo Sirikittisup, the kitchen that came with their Atlanta condo fell short on both frills and function. They did the work themselves, adding a colorful glass-tile backsplash and a new sink. They removed and reinstalled the existing cabinets after a new paint job and bar pulls. They replaces the laminate counters with new ones featuring stainless-steel edge banding.
See more of this budget remodel in The Complete Kitchen Redo.
The $439 Luxury Bath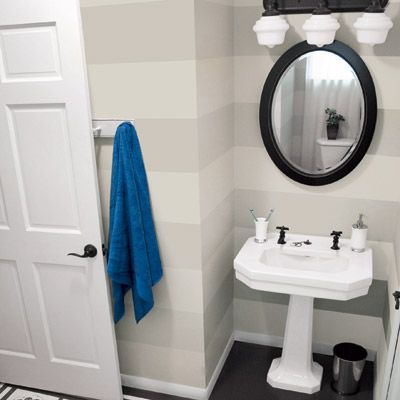 Even in long-haul remodels, some spaces cry out for prompt design attention. For Roeshel Summerville of Butler, Pennsylvania, that space was the first-floor bath. Located between a home office and the family room, it's the most trafficked of the 1927 farmhouse's three baths and two powder rooms. But when Roeshel, her husband, and their two daughters moved in, it sported bare drywall and grungy carpeting.
Two years in, with a full redo out of the question, Roeshel decided to make the space "less embarrassing." Refinishing everything from the plywood subfloor to the original sink fixtures with paint, she updated the bath over four weekends with a gray-and-brown palette and low-cost touches, such as a sophisticated paint job and three-light vanity fixture.
See more of this budget remodel in A Luxury Bath Remodel for Less.
Deal Hunters' Luxe-Look Kitchen for $6,000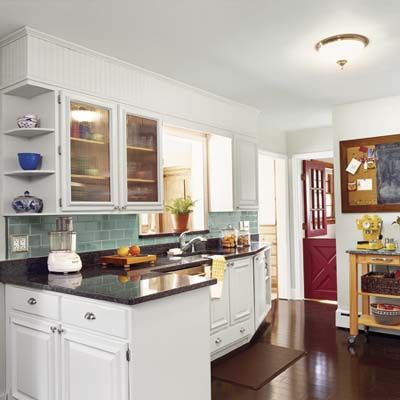 How do you afford stainless steel and stone on an almond-bisque-and-laminate budget? For Augie and Emmeline Harrigan of Milford, Connecticut, the answer was to preserve those elements of the existing kitchen that were still in good shape, cut out labor costs by doing the work themselves, and shop sales and Craigslist.
"To stay within the $6,000 we allotted for the project, gutting the whole kitchen was not an option," says Emmeline. By keeping the basic layout and painting the oak cabinets rather than replacing them, the couple saved big right off the bat. Augie took a carpentry course and spent many nights trying out his new skills. Emmeline trolled the Internet and roamed big-box stores in search of well-priced replacements for their tired appliances, disco-era vinyl flooring, and coordinating laminate countertops. Her first find was a one-year-old stainless-steel Bosch range on Craigslist for a third of its original price. The next biggie: granite countertops from Costco.
See more of this budget remodel in The Deal Hunters' Luxe Look Kitchen.
The $645 Kitchen Redo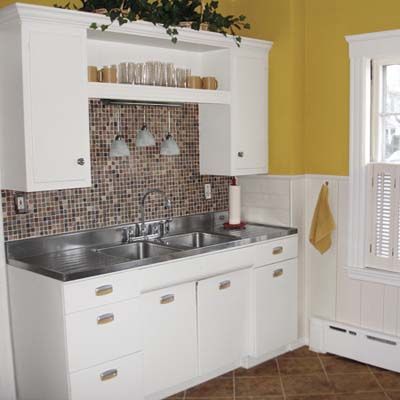 Nick Macke and Ted Moss in Milton, Massachusetts, gave their old cabinets a stylish yet frugal makeover. "We wanted to keep some of the original retro details such as the stainless-steel sink and metal cabinets," says Nick. That's the initial reason why he and his partner decided to go with mostly surface updates to their kitchen. Realizing that doing so would save a huge chunk of cash as well as the kitchen's vintage charm was a bonus.
See more of this budget remodel in The Low-Cost Kitchen Cabinet Redo.
The $2,238 Total Bath Redo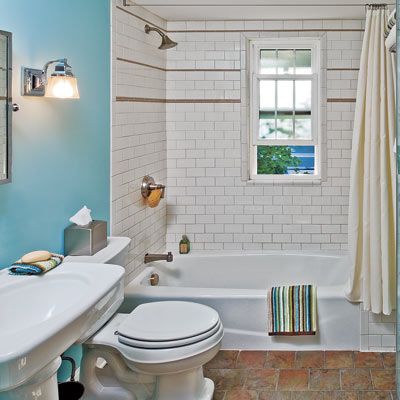 Sometimes it takes an addition to the family to kick a remodel into high gear. Such was the case for Lisa and Jim Steele of Syracuse, New York. The couple was "skeeved out" by the grim lone full bath left behind by previous owners, and they dealt with the eyesore by taking quick showers—never baths.
After gutting the place, Jim changed all the plumbing to Pex, installed the cast-iron tub Lisa wanted, and laid glazed porcelain tiles on the floor instead of pricey slate. To free themselves up to finish the kitchen and nursery first, they hired a contractor to tile the shower surround, put up the drywall, and paint the room.
See more of this remodel in A Tranquil Bath On a Budget
$935 Cheerful Kitchen Upgrade
In some spaces, surface changes can make a huge impact. The owner of this 1935 bungalow in Durham, North Carolina, loved the size of the kitchen. "But otherwise," she says, "it was just dirty, disgusting, and dated."
With no budget for a complete redo, she decided to use simple, low-cost touches to give the room a new look and highlight original details, such as hardwood floors and the scalloped wood valance above the sink window. While all the cabinets and appliances are the same, new paint, fabric panels, and nickel-finished hardware give the room a colorful new look.
Take a look at A Colorful Kitchen Makeover to pick up a few money-saving pointers and design ideas.